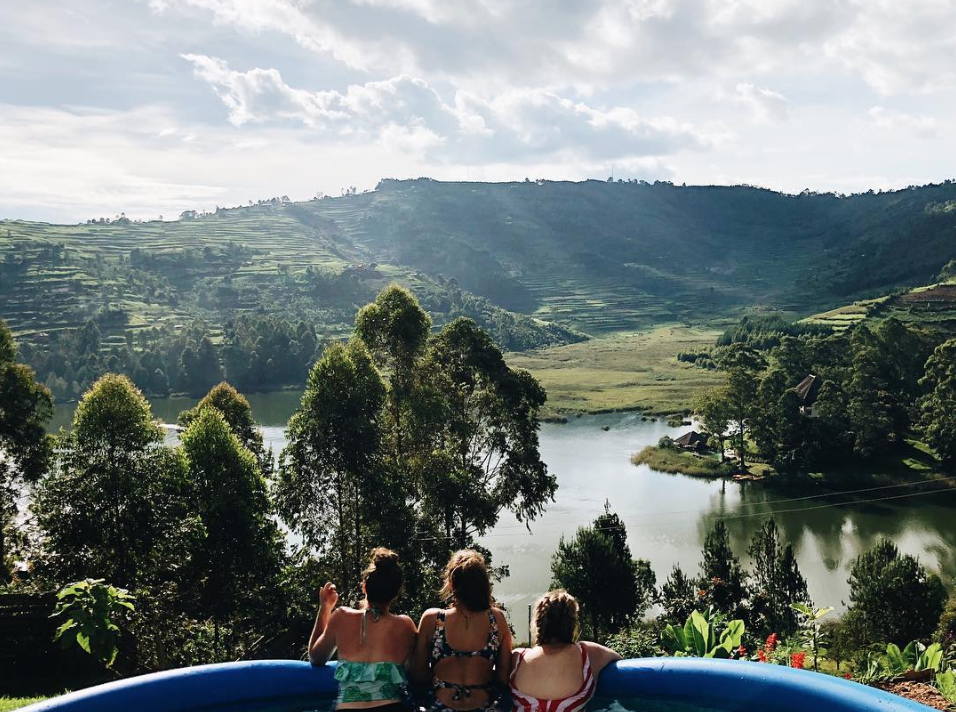 "Magical" and "beautiful" are just a couple descriptions you'll hear people say about this Ugandan destination!
Heading to Uganda? ILP volunteers are! They're teaching English to local kindergarteners near Kampala for a semester and using their vacation time to travel around and enjoy all this country has to offer, like Lake Buyonyi. Learn more about volunteering in Uganda with International Language Programs here.
Plan Your Trip To Lake Bunyonyi, Uganda:
Activities and attractions
How to get here
Where to stay
What's There To Do Here?
Lake Bunyonyi is a popular destination for both locals and tourists, so you'll find that there's tourist accommodations around the area which makes planning your trip a bit easier. You should be able to book tours or rent things pretty easily upon arriving! You'll likely find tours as soon as you get to the town just outside of the lake, but we recommend checking with your hotel first to see what deals they can get you on activities.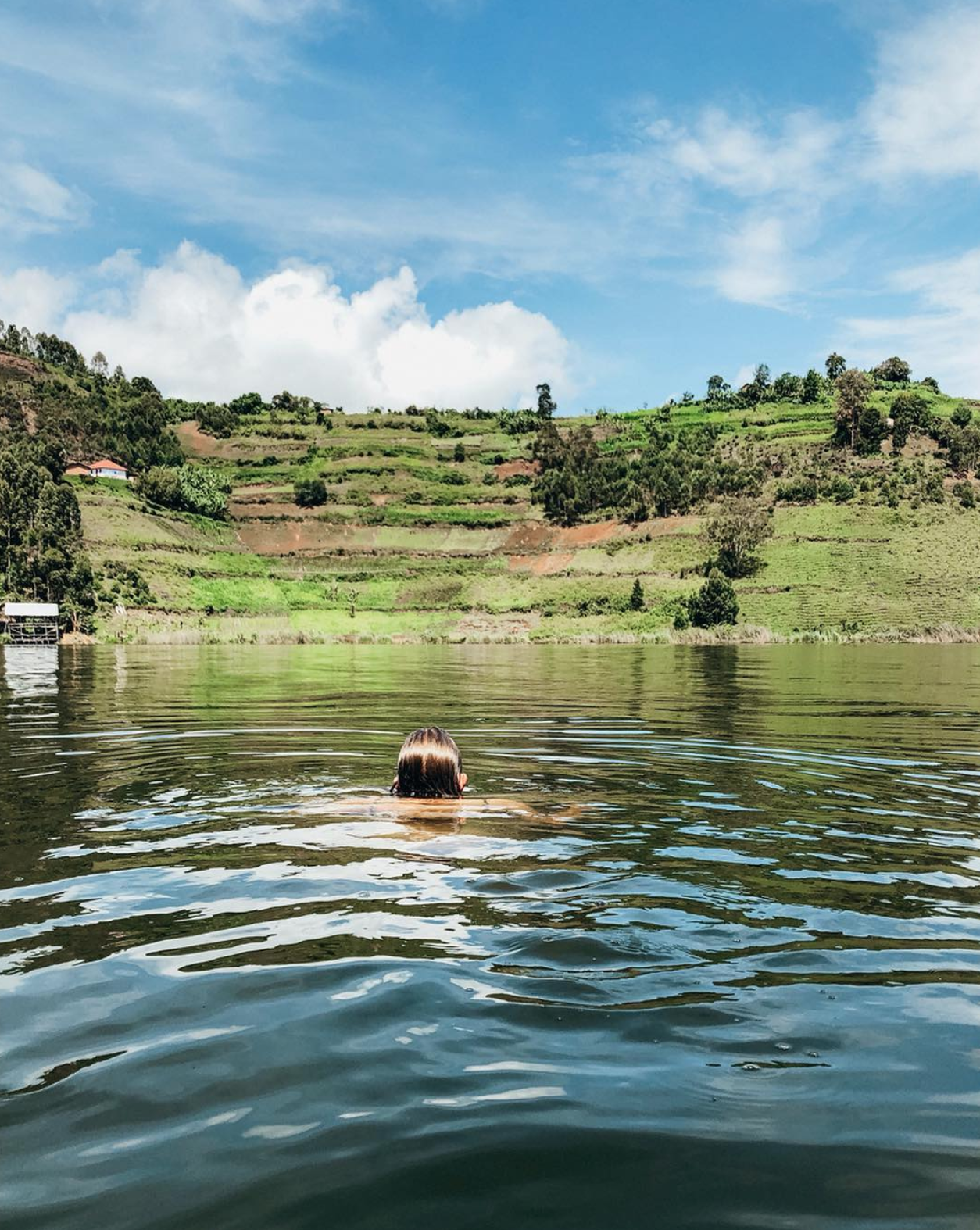 Swimming + Canoeing
This is one of the few lakes you'll find that is safe for swimming (meaning it's known to be free of crocs, hippos, and a parasite that will keep you out of most other Ugandan lakes). So if you love swimming and being out in the water as much as we do, take advantage of it here.
You can even stay right on the lake so that your morning view is beautiful - or even go for a night swim before heading to bed.
Canoes here are "dugout" - wooden and carved in traditional style. You can go on a guided tour or simply rent one and explore yourself! Most people are able to explore most of the lake themselves in around 2 hours and recommend going in the morning mist adds to the experience. Don't forget to get some shots for your Instagram of these unique canoes. Canoe rentals are in the $5-10/day range which isn't bad when you split it with your group.
Boat Tours To Popular Islands
Jump on a boat tour that will take you to see different islands and even to visit local communities who were original inhabitants. The two main tribes here are Bakiga and Batwa (also known as pygmies). They allow you to come see their way of life and have even been known to perform a cultural dance for visitors. Pretty cool! There are operating schools on some of the islands and with the right tour you might even get a chance to visit the students who live here. This is a unique way to get to know more about the locals and their customs.
There are many small islands within the lake which can be visited on a tour. You might want to check out Kyahugye because it's the only island with wild animals! People don't really come here specifically to see animals (as there are so many other national parks that take care of that) but take a walk and you might get lucky enough to spot impalas, zebras, monkeys ... and of course birds! Lake Bunyonyi actually get its name because there's SO many species here - it literally means "Place of Many Little Birds".
There are other islands that are quite well known for their historical past - any tour guide can give you the stories behind the islands.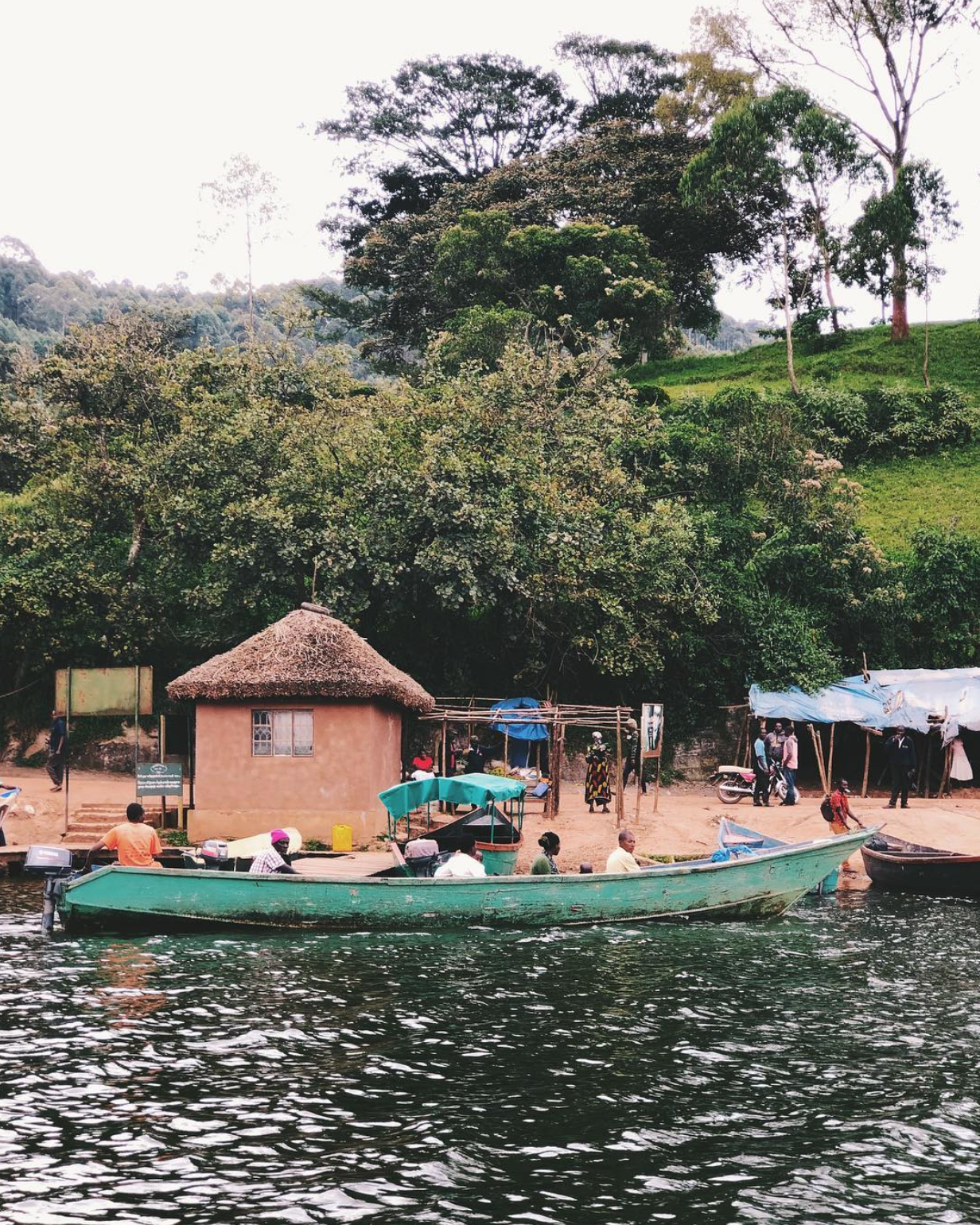 Hike With Zebras
There are green, terraced hills surrounding the lake with trails where you can get to panoramic view points of the many islands throughout the lake. Because of the high elevation, the weather feels cooler here even on sunny days which makes your treks even more enjoyable. Pull on your hiking shoes and get exploring.
You can join little tours that will take you out to areas where you're most likely to spot some animals. Cross your fingers that you'll be able to spot impalas and zebras while you're out walking around the hills overlooking the lake! We have all the details about visiting the island where you can hike around with zebras here (it's a must do).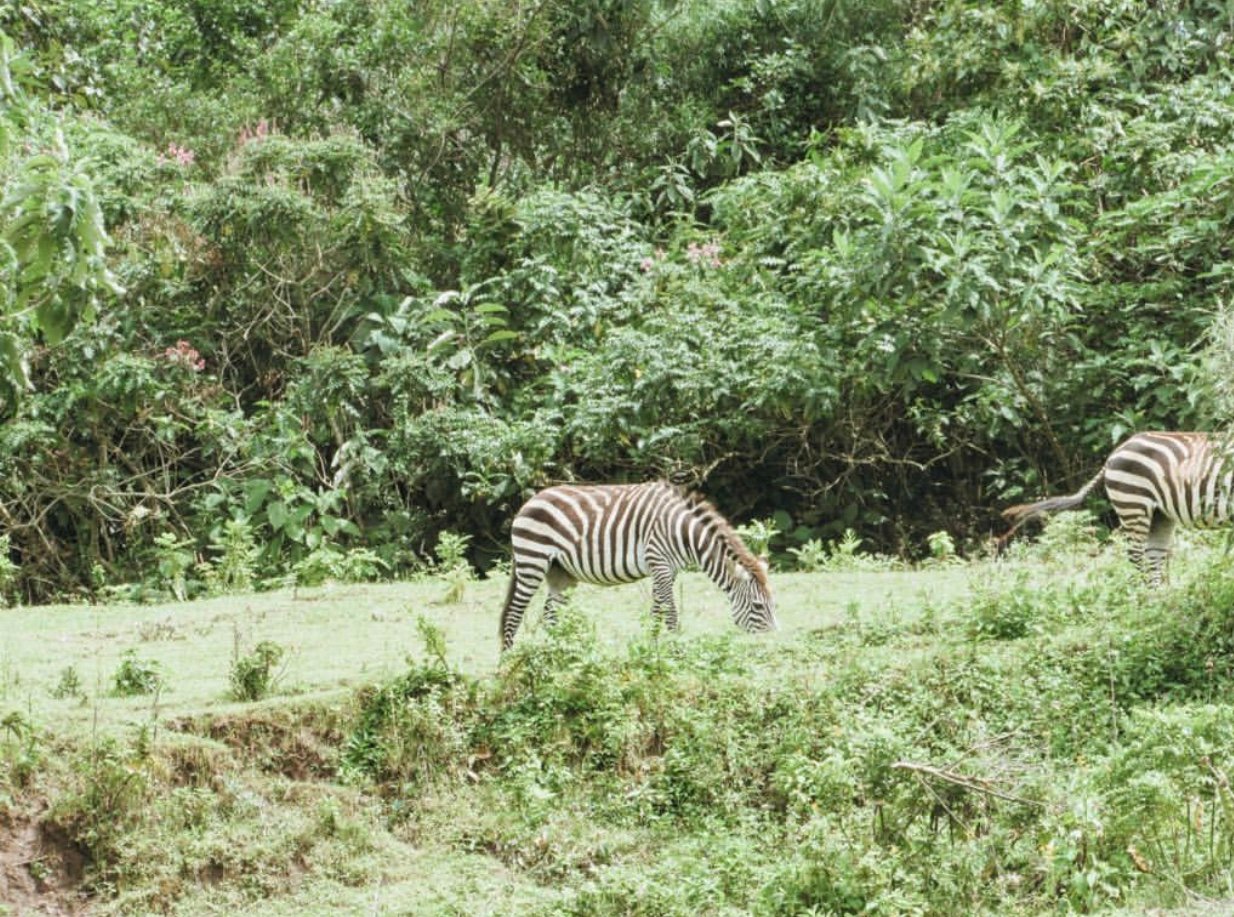 Zipline + Ropes Course
If you're up for a little more high adventure, your hotel can help you arrange a day ziplining or playing around in a ropes course. A part of the course even has you flying right over the lake which is going to be a highlight for you, trust us.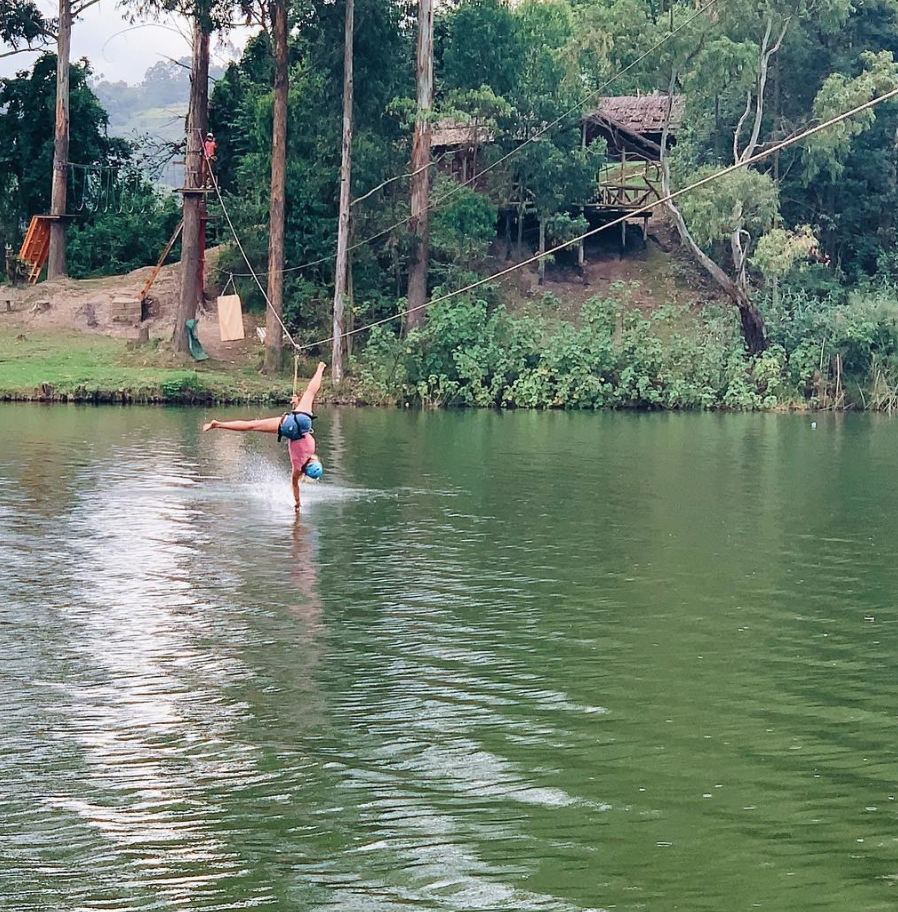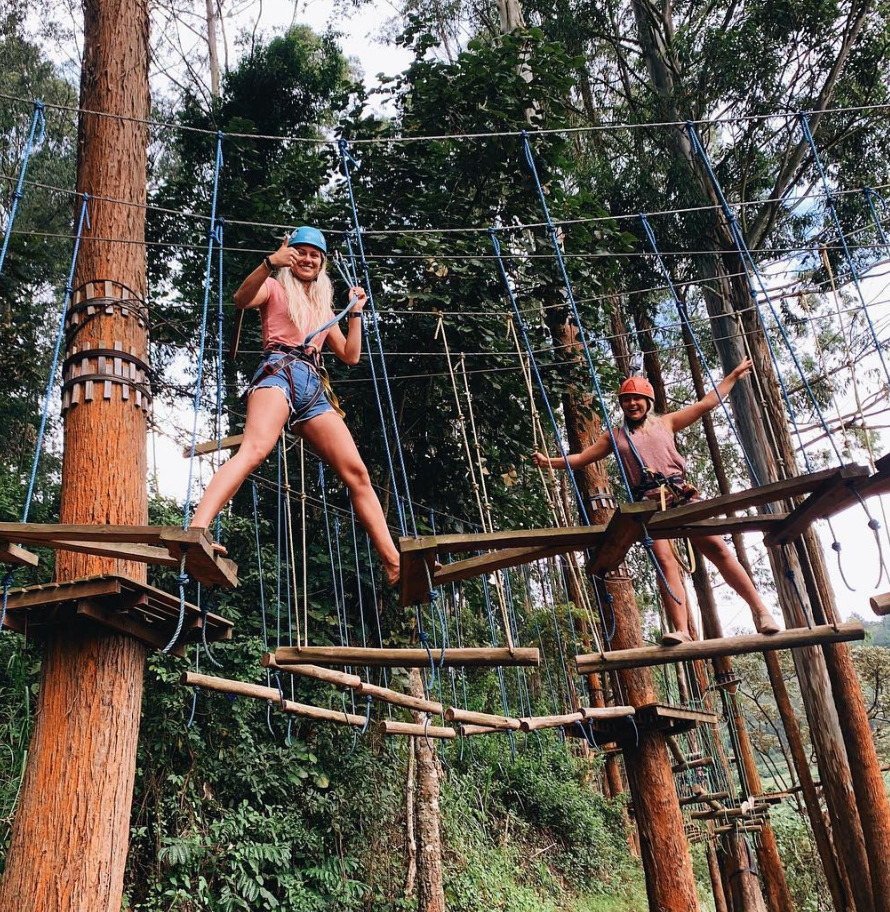 Relax
One of the main draws for visitors here is how peaceful it is. Many tourists come here after gorilla trekking (because the Bwindi Impenetrable Forest is nearby) and so they're looking for a quiet spot to enjoy the rest of their time in this country. Bring a book and just hang out! If you time it right, you can watch the sunset and cross your fingers that you might get one of their famous beautiful, bright orange ones. A lot of the places you stay at will have things like hammocks and areas you can just relax and enjoy the quiet.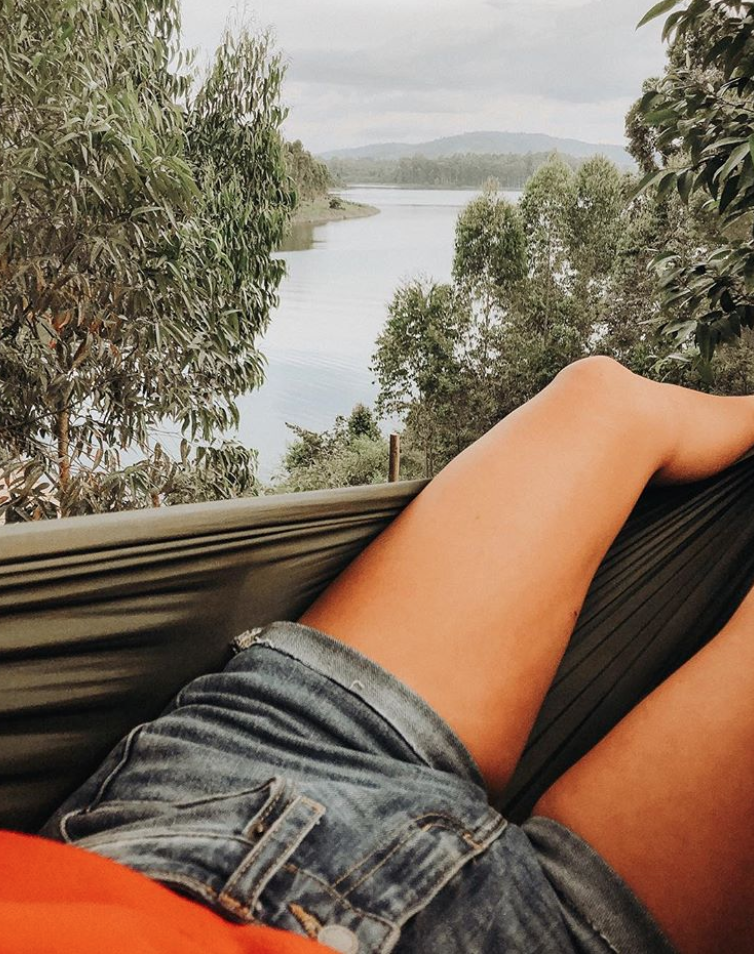 Tips For Your Trip:
You'll be up in the mountains, so elevation will bring the temperature down a bit compared to the warmer weather you're used to in other parts of Uganda. In the morning and evenings it can cool down quite a bit, so it's a good idea to bring a sweatshirt and longer pants. In April the temperature got down to about 50 degrees Fahrenheit, with some rain.
There's soooo much to do in Lake Bunyonyi. Our ILP volunteers who have visited said it was one of their absolute favorite vacations during their semester abroad in Uganda! They spent 5 days here and said that was perfect ... and actually would have stayed longer if they could. Make sure you allow yourself enough time to stay and enjoy the area if you can.
Getting There:
The lake is located in south western Uganda, close to the border of Rwanda to visit this getaway.
Coming from Kampala, the drive to Kabale town is about 8 hours. There are plenty of buses and minivans you can arrange to get you here. Groups in the past have booked with Jaguar bus (you can WhatsApp Gordon +256 781 544600) to help you get reserved seats.
One group suggested getting regular buses for 30,000 schillings then getting the VIP seats on the way back for 40,000 schillings. The regular bus does take longer because it'll make more stops, so you're looking at about an 11 hour drive compared to the 8 hour drive on the VIP bus, but it's a more local experience!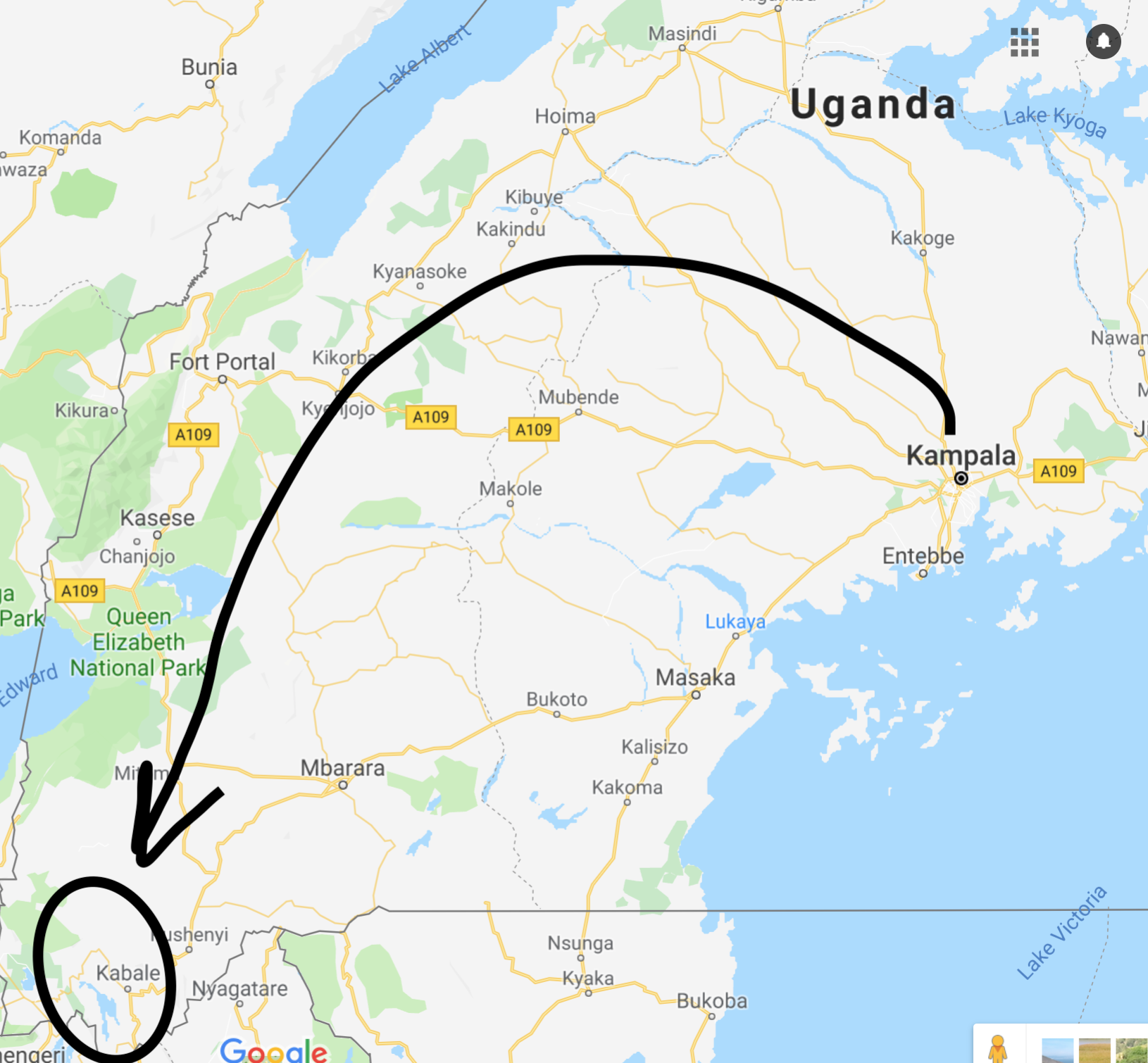 From there it's just a quick 5-10 minutes to get to the lake. The hotel room you book will likely have more specific directions on how to get there from Kabale. That will be your first stop to drop off your bags before getting out to enjoy the lake! They'll also be able to help you to know how to book any excursions.
Where To Stay:
One of the draws is being able to stay right at the lake. You'll find plenty of options for accommodations along the shores for a wide range of prices from just under $10-hundreds/night, so it really just depends on what you're looking for. You can even find some Airbnb homes around the lake and in Kabale!
Good to know: Our ILP volunteers have stayed at Hawks Eye Lodge and have highly recommend it! Another groups really (really!) recommend Paradise Eco Lodge with rave reviews.
Here's a few places you might want to check out, starting with budget rates first:
Byoona Amagara: Dorms at around $7/night seem to be the best deal around! Their website states that they are a non-profit organization who donates proceeds to education and sustainable community development at Bunyonyi, so can't help but be a fan of supporting that.
Bunyonyi Safaris Resort: Rooms start at $25/night for a dorm (including breakfast!). We especially love their long list of activities on their website that they can help you arrange at a great price, including a massage for $10!
Craterbay Cottages: Split a twin room starting at $35.
Buyoni Overland Resort: Plan to pay around $35-40 for a bed in a cabin with the option to add on an affordable breakfast as well.
Birdnest Resort: If you don't mind splurging on the room rate a bit, you might want to check out this beautiful resort.
You can also find places to stay on the islands within the lake (although they may tend to be a bit more expensive):
Bushara Island Camp: We have our eye on their dreamy sounding tree house rooms where a group of 3 can split the cost of the $58/night rate.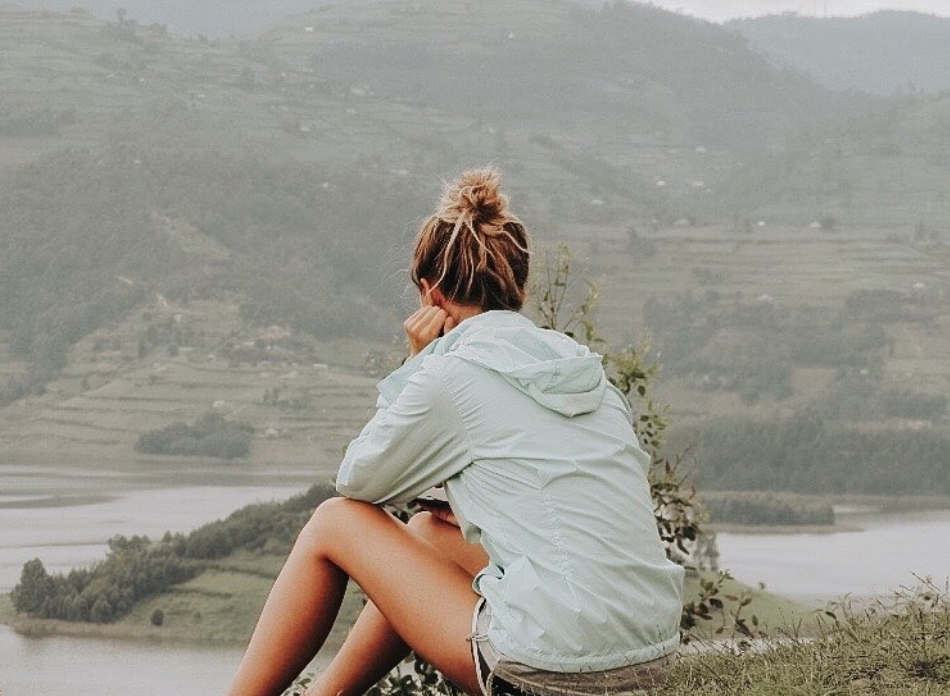 We have spots available for you to volunteer in Africa with us!
Like we mentioned above, ILP has a volunteer program with opportunities to teach local kids near Kampala and chip in on other humanitarian projects like building wells for communities to have clean drinking water.
Spend your time in Uganda giving back and making a difference while you also explore and see all the beautiful destinations here. Learn more about our Humanitarian Program in Africa by clicking that button!