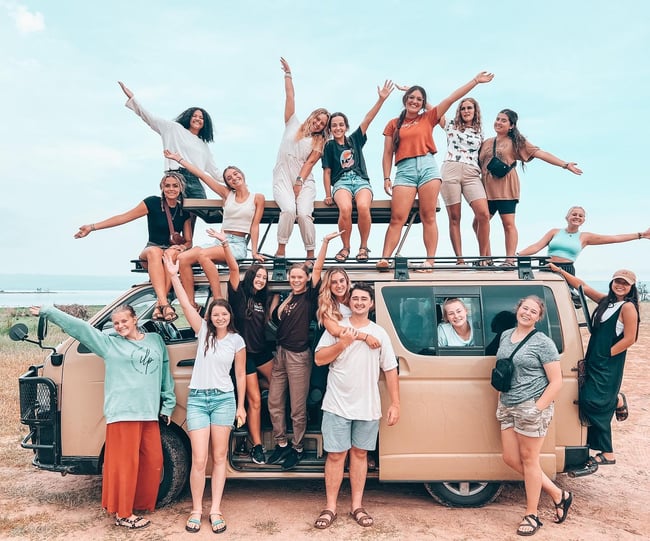 Headed to Uganda? Lucky you! There are a few world-class spots to safari in this ILP country.
I'm not sure who in world doesn't want to go on an African safari — driving across African plains to spy on herds of zebra, spotting prides of lions on the prowl, or see a family of elephants splashing around in the dust and try to say "no, I'd rather not". There's no way! It's a pretty iconic bucket-list adventure, that's for sure.
---
Safaris are just the beginning on ways to experience Africa.
Get an idea of volunteering in Uganda is like.
---


Called the Pearl of Africa, you can see every animal on your safari bucket list basically in your own backyard if you're living in Uganda for a spell. Below, we have some safari tips and the highlights of our favorite parks to you can plan out which ones to check out during your semester.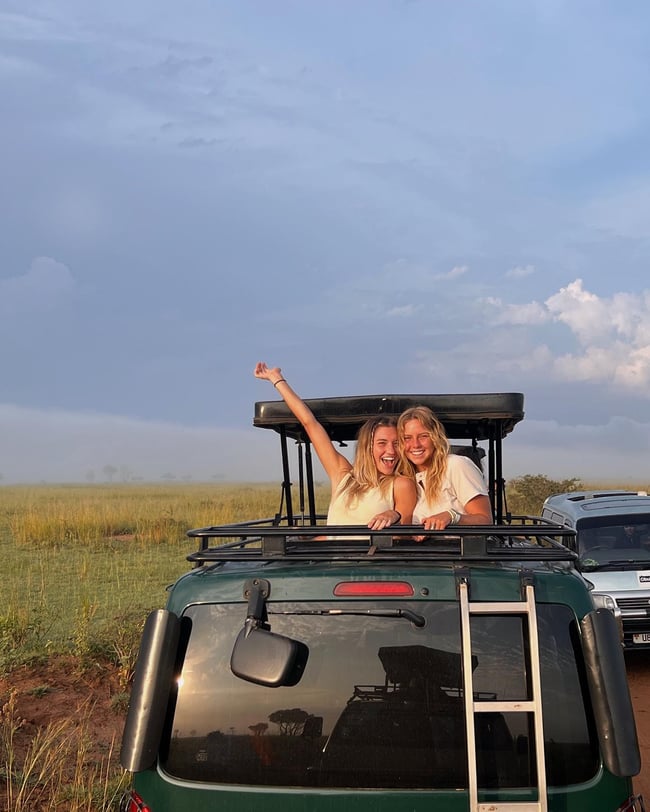 A Couple Of Safari Tips
All About The Big Five
Pretty much everyone wants to see the Big Five (lion, leopard, rhinoceros, elephant, and Cape buffalo), which is a term coined by big-game hunters whose goal was to track down some of Africa's largest and most difficult animals to hunt.
There are also Little Five (the elephant shrew, buffalo weaver bird, the rhino beetle, the leopard tortoise, and the lion ant) and the Ugly Five (the warthog, wildebeest, hyena, vulture, and Marabou Stork). You don't need to go on safari to see that last bird… you can spot these giants hanging out in the trees in Kampala!
What To Wear
It'll be warm and potentially rainy, so wearing a hat and packing up sunscreen is going to be a good idea. It's also smart to wear a classic "safari" outfit — beige shorts and top. The neutral colors help you blend in and get closer to the animals you want to see. Bright colors can attract unwanted attention or spook some animals.
When To See Animals
Best times for viewing animals are typically in the early morning and the evening. A typical day might start with a sunrise breakfast, then trekking out to spot a few of the animals while they are still active in the cooler weather. Lunch may be back at camp or at your lodge to try and escape the sun for a spell before heading out in the early evening or setting of at night with powerful headlights on your safari Jeep to spot leopards hiding in the trees or prides of lions prowling around.
Uganda is also one of the spots in Africa for chimpanzees in gorillas; we're including these spots in a separate post because these parks are all about savannah animals, like giraffes, elephants, lions, cheetah, gazelles, buffalo and more.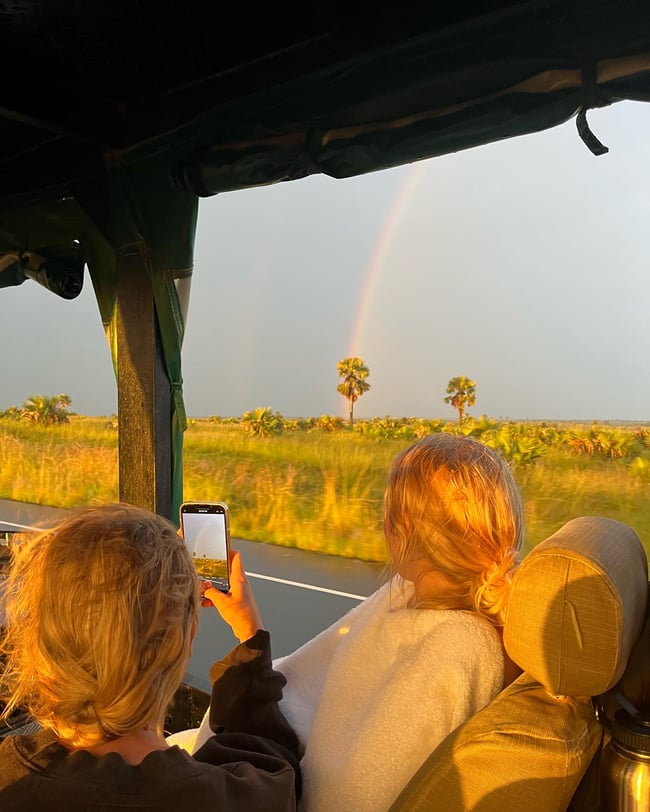 Murchison Falls National Park
This is our top pick! We always ask locals about spots we can't miss and when it comes to safaris, we're always hearing "Murchison Falls!". And we agree. Not only do you get to see just about all the animals you're dreaming of, but it's one of the greenest safari parks in Africa.

Come to see some of the most popular safari animals here, plus some stunning scenery. Lush and green, and found on the eastern border of the country, Murchison Falls National Park is one of the most popular places to safari and explore for a few reasons. Because of a constant, thundering water source, its prime-safari season pretty much all year round. You'll also see forests and sprawling grasslands which means you can see lots of animals you're itching to see, including four of the big five.

The Nile River is the water source that cuts through the park, and creates the impressive Murchison Falls. This is also a top spot for any bird watchers; you'd be very lucky if you found the rare Shoebill bird here! We have more of a guide to Murchison Falls right here.
What Animals To See:
Five of the Big Five!
Elephants, giraffes (actually those who really want to spot giraffe come here), buffaloes and hippos in particular are very common here. You'll find a Ziwa Rhino Sanctuary here which is a pretty unique experience. There is also the occasional lion, and a rare leopard every so often. Crocodiles (and hippos) are often seen in or on the banks of the Nile river.

Best Time To Go:
Rather excellent year round.
(December - February can be very warm, and June - September are slightly cooler but with more rain).

Kidepo Valley National Park
Found in the northern tip of Uganda, Kidepo Valley National Park also spills in South Sudan. Vast, rugged plains blanket the area, bookended with distant mountains and split by a couple of rivers, which provide fresh water to all the animals that live in this isolated area.
Kidepo is often regarded as one of the most isolated places to safari in Uganda, so if you make the trek north, you won't be sharing your cheetah siting with hordes of tourists. The park is rather remote and home to some animals you can't see anywhere else in the country.
The Karmonjong people also call this valley home, a tribal people who depend on hunting and gathering in this modern world.
What Animals To See Here:
Cheetahs. Hard to find, but they aren't really found anywhere else in Uganda.
You might also see the occasional hyena, leopard and lion and the odd ostrich
Elephants, buffalo and zebra are quite common.
Here, giraffes are rare.
Best Time To Go:
The Dry Season (September to March, November to February in particular)
May to August are fair.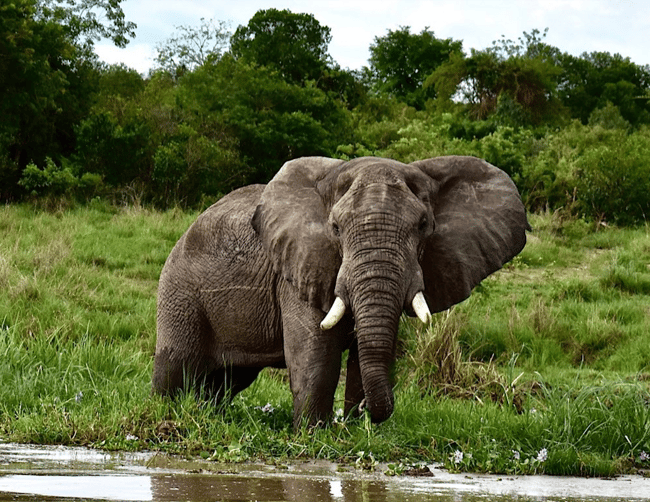 Lake Mburo National Park
Found just south west of Kampala (making this a good safari for a weekend), this is a pretty unique park for a couple of reasons. Because of the landscape and the animals that call this park home, it's the only park where you can safari on foot, or on bicycle. Or you can tour the savannah via horseback or in a vehicle if you'd rather.
You can also spot these striped beauties at another favorite vacation destination, Lake Buyoni. Peek the pictures below to see these cuties hanging out by the shores of the lake.
What Animals To See:
Spot the occasional giraffe, herds of zebras, hippos and buffaloes.
Lake Mburo is the only place in Uganda to see impala.
Best Time To Go:
June to August and December to February, but fair to visit year round.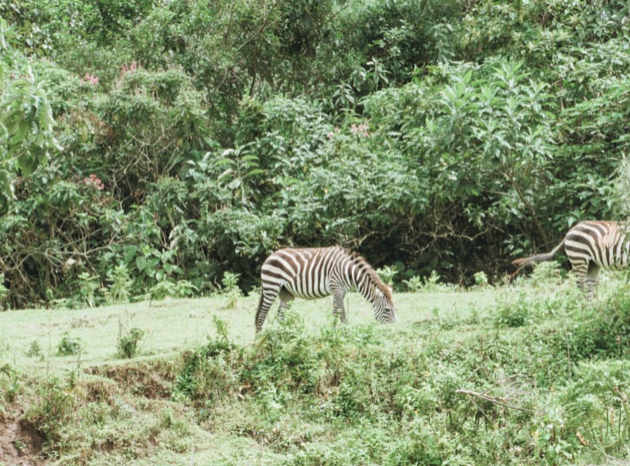 Come to Africa with us!
ILP volunteers are teaching English and helping with clean water projects during the week, with weekends and vacation time to go on safari. If that sounds like the absolute dream, come learn more about the ILP program in Uganda!