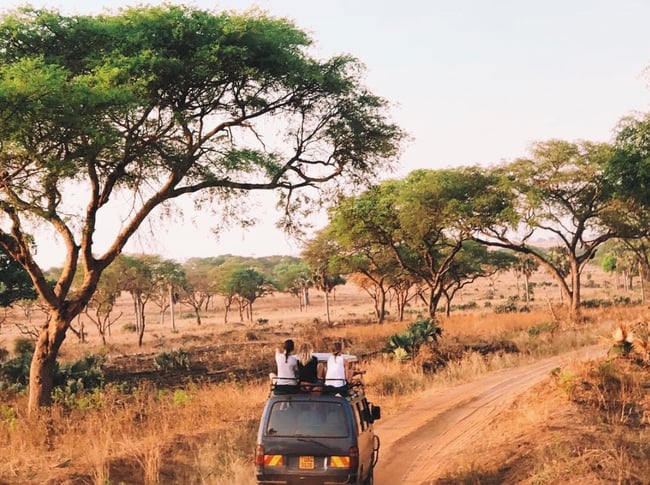 Spending time in Africa means spending time on safari — here are the answers to all of your questions about our favorite safari spot: Murchison Falls National Park in Uganda.
One of the main reasons people flock to Africa is for a safari, and for good reason. The idea of hopping in a car and driving through golden plains to spot lions, cheetahs, giraffes, elephants, and more in person is almost too much to actually come true … unless you're a volunteer in Uganda!


---
Get more on what a semester in Africa is really like:
All about volunteering in Uganda
---


Now, in the country of Uganda, you're completely spoiled when it comes to safaris. This country is world-renowned for safaris with a bunch of places to choose from, each with their own perks (here's our guide to safaris in Uganda, Africa) but today, we are all about one: Murchison Falls National Park.
Why Come To This Park?

What To Expect
Things To Pack

All About Booking A Tour
Why Come To This Park?
With a few places to safari in just Uganda alone, why choose Murchison Falls? Well, in a nutshell, it's one of the most popular for several reasons. One big one is that it's a good place to safari all year round: the national park is home to the thundering Murchison waterfall so it keeps parts of the park lush and green, and gives all the animals who live here a place to get a drink.
Also, you actually see the elusive Big 5 here (the five animals that make up a classic African safari) if you include a trip to the Ziwa Rhino Sanctuary. There is an extra fee to visit (not included in your Park entrance fee), but it's incredibly special if you can swing it because this is the only spot in Uganda you can track rhinos on foot with a ranger. Rhinos have been threatened in past years by wars and poachers, but this sanctuary is thriving and heavily protected. Pretty incredible that you can come see white rhino here!
An insider tip: During dry season more animals are moving to water so you might be more likely to see lions. Whereas during wet season you will see a lot more elephants out on the prairie since they don't need to be at the water holes.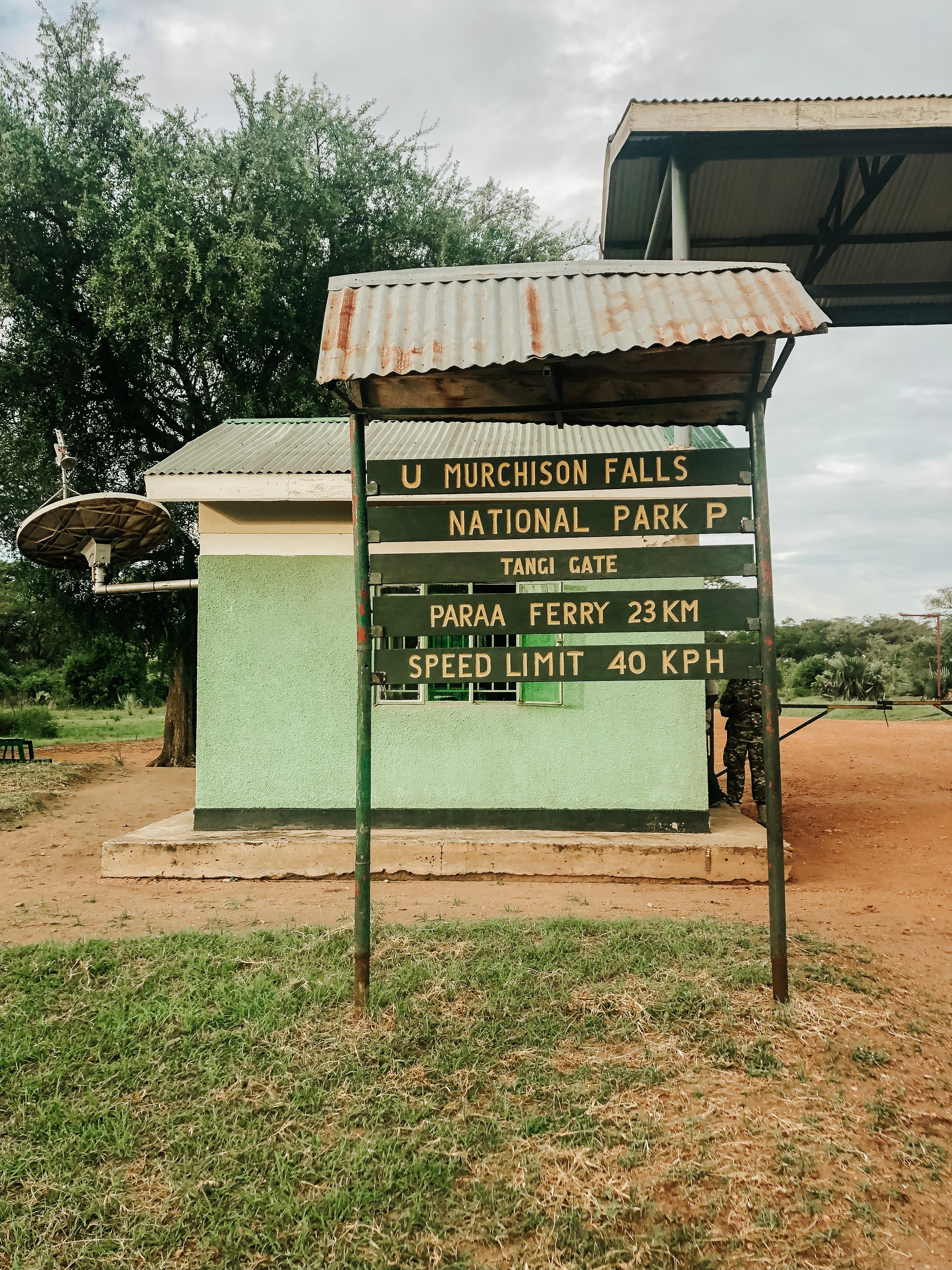 What Animals Will I See?
In love with all the pictures our volunteers have taken in Murchison — you can see so many animals here!

Here's what some volunteers saw on their safari: "We saw antelope, wildebeest, many buffalo, giraffes, elephants, warthogs, baboons, hippos, a crocodile, and some dope birds." Sounds like quite a few of the animals you think of when you go on safari! While this time around the big cats were super elusive, that's not always the case.

Another group of ILP volunteers had a great guide who could spot some of the trickier to find animal celebrities. That group saw three or four lions, a leopard, and hyenas, along with elephants, giraffes, warthogs, hippos, crocodiles, water buffalo, monkeys, African antelopes and tons of different birds.
And of course, rhino! You are stopping by the Ziwa Sanctuary right? Just let your guide know that you'd like to and they can include it on your trip.
Something to keep in mind: Because a safari is not a zoo where the animals are kept in closed exhibits, there is never a guarantee what you'll find on a day out on safari. However, some animals are pretty common like antelope, lots and lots of birds, giraffes (especially in this particular national park), and others. It's just best to keep an open mind and get excited about whatever you see, instead of having your hopes set up on a specific animal.
Oh, and if you'd like to spot zebra, you'll need to head to another park in Uganda. We suggest visiting Kidepo or Lake Mburo to spot those black and white beauties.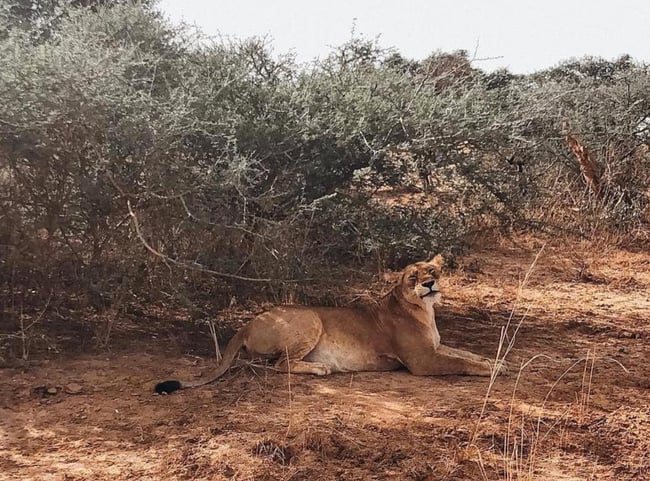 What To Expect
Time In The Car
We will get into this in a minute, but most of our volunteers tend to book a 3-day safari, and since it takes a bit of time to get out into the national park and then drive around during the safari itself, you're in the car for most of those three days.
Typically, it's a half day drive from Kampala (then a half day in the park), a full day of driving inside the park to see warthogs running around and giraffes just strolling about, and another half day drive back to Kampala.

Also when it comes to your safari, it's a very bumpy ride! Expected to be jostled around while trying to shoot spectacular pictures of elephants and lions. Volunteers were glad they packed a pillow (like a sweatshirt or a travel pillow) so they could lay down against the windows, and packed something to battle car sickness. Ginger chews or something like Dramamine is key.
Have No Expectations
We mentioned this before, but here it is again from Kelsey, an ILP volunteer: "My advice is to go into it with very little expectation. You might not see all the animals that you wanted to but don't let that disappoint you. Just enjoy seeing all the animals you do get to see. Also make sure that you don't spend the whole time taking pictures! Live in the moment a little and enjoy what you are doing."
Your Camp
Most tours should include overnight accommodation which is great as long as you know what to expect. You'll likely stay somewhere just outside of the park's boundary. Accommodations will vary depending on the tour you've booked with, but in general you can expect low water pressure, no air conditioning, and slow WiFi (if any at all).
Oh, and even though you're not staying right in the national park, that doesn't mean you aren't still in wildlife territory! You'll probably have some animal visitors around your room. It's not uncommon for you to see warthogs or baboons (like this little cutie!) running around, and may even hear hippos if you're staying near the river bank.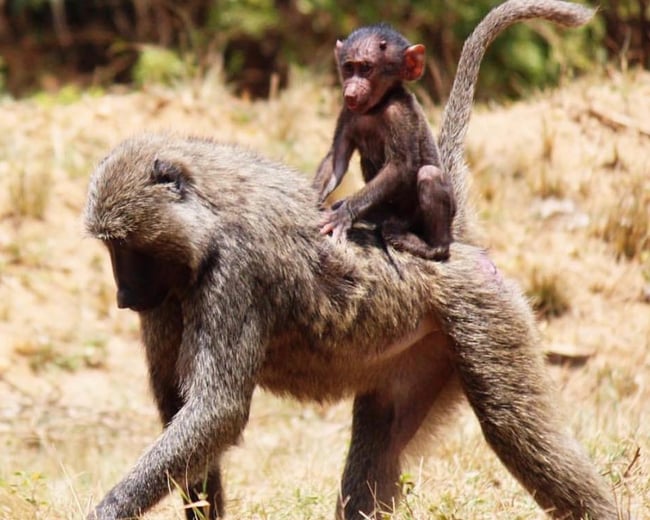 Things To Pack
Along with what you'd normally toss in your bag for a 3-day adventure, we have some tips:
Bug Spray
Cozy Clothes. You'll be mostly sitting all day long, so pack for the car (and for the weather)
Cool PJ's. It can get super hot at night
Flashlight for your camp at night
Binoculars or a zoom lens on your DSLR for good pictures

Power bank/external battery charger. At least one, maybe two! You most likely won't have access to an outlet while you're driving around all day (or at camp) but you'll want to make sure your phone (and camera!) are fully charged.
All About Booking A Tour
With dozens of options out there .. which one should you choose? We have a couple of recommendations to help you sort out what to look for (but feel free to also do your own research).
Tours will greatly range in price, some catering towards a more luxury experience for tourists. Since most of our volunteers are college students on a budget, we've got recommendations for the best deals we can find while still getting the incredible experience you're looking for.
Go With Denis!
ILP volunteers have booked multiple trips with Eastern Travelogue and we're giving rave reviews. Denis started his own tour company and will make sure you're taken care of. Oh and he also does tours for hiking Sipi Falls or going gorilla or chimpanzee trekking as well as tours all around Eastern Africa.

Just send him a message on Whatsapp (+256 759 046262) and tell him you are with the new ILP group thats teaching in Lugala and he will know who you are! "He will set up everything, from the transportation to the accommodation and he comes on the safari with you and we love him!"

Prices for the 3-day safari is $380 for a group of 7 people which is a one of the best prices around, especially for a private vehicle and a private tour. (Prices do increase per person the smaller your group gets ... but if you have more people the price does get cheaper!) It includes transportation from where you live to and from Murchison, all the entrance fees to the park, your guides, accommodation for 2 nights in huts along the Nile river, a game drive through the park, a tour along the Nile river, hiking to Murchison falls, and all your food except for lunch on your drive there and back.
For Murchison Falls trips he typically books rooms at the cutest little spot, just outside of the park. You'll usually get to stay in open air huts like these ... so fun and feels so luxurious at a great price!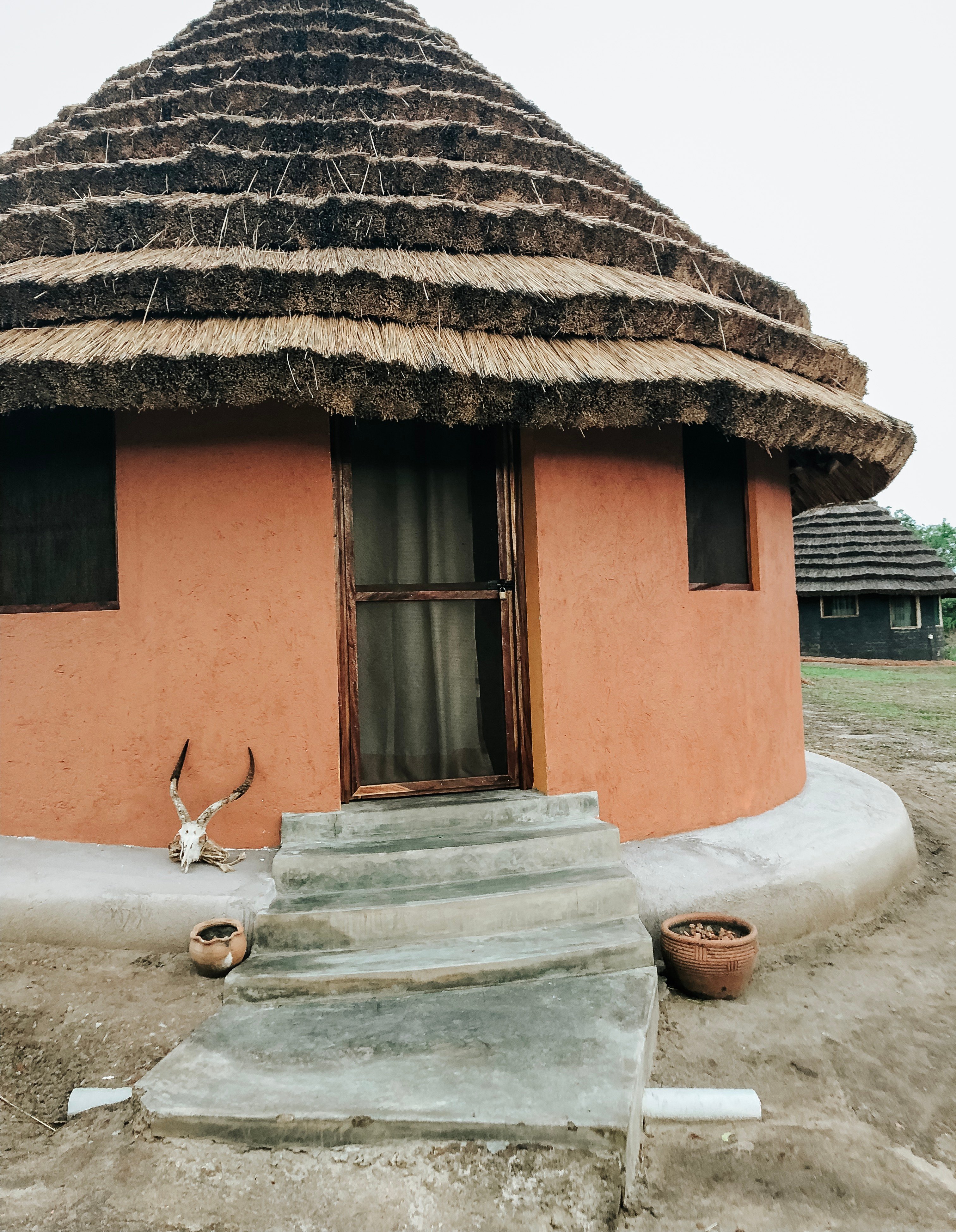 We highly recommend booking with Denis! He's very friendly, responds quickly to your WhatsApp messages, and makes the trip so fun.
Go With Red Chilli
This is another company to check out if you're looking for a great price on a safari: they have multiple tour packages (you can look at their website here) but they have budget options that hang around the $320 - $380 range for a three day trip. Their safaris for Murchison falls often are three-day trips with rafting or boat trips down the Nile. Depending on your group size, you may have others on safari included in your tour.
This option includes time on the safari, on the falls, and a trip to the nearby Rhino sanctuary for $380 per person. This option has time near the falls and on the safari for $320, but they have other packages you'll want to check out.
Probably Don't Go With …
Unofficial guides. Volunteers in Uganda are working with a few friendly locals who probably have a friend who can take them on safari. This sounds like a totally chill option, but remember: these people may not be official safari guides, and there is some skill when it comes to driving around the plains.
You'll probably see pretty common animals like antelopes and lots of birds, but if you want a bigger chance to see some elusive big cats and other animals, go with an official guide who knows the tricks to up your chances.
What To Look For In A Tour
You'll want to make sure your tour includes transportation from Kampala, overnight lodging, and food in some or most cases (they may ask you to pack a lunch the first day). You can often look at an itinerary, or ask for the company to email you what your three days will look like so you know what to expect.
As an example, here's what the tour with Denis looked like:

Murchison Falls is about 6-7 hours from Kampala, so you basically drive there the first day. The second day you start very early, and start going out on the game drive to see the animals, then come back for lunch. Then hike up to the Falls. The last day you may drive out in the morning, or just head right back to Kampala.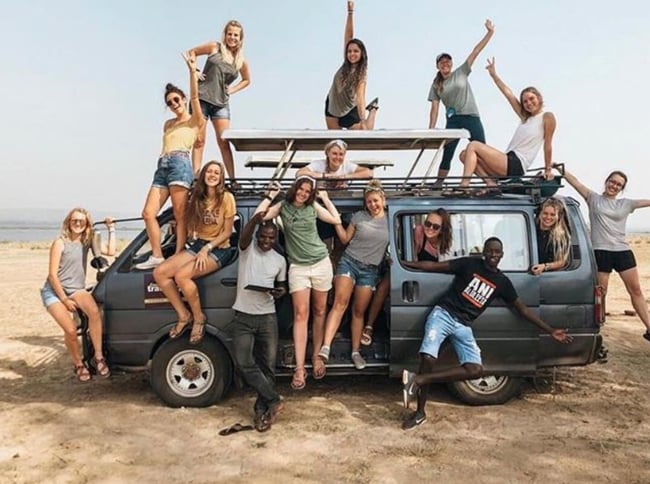 Can't wait to get to Africa?
We thought so! Come volunteer in Uganda — you'll have a semester full of safaris, humanitarian projects, and more adventures.