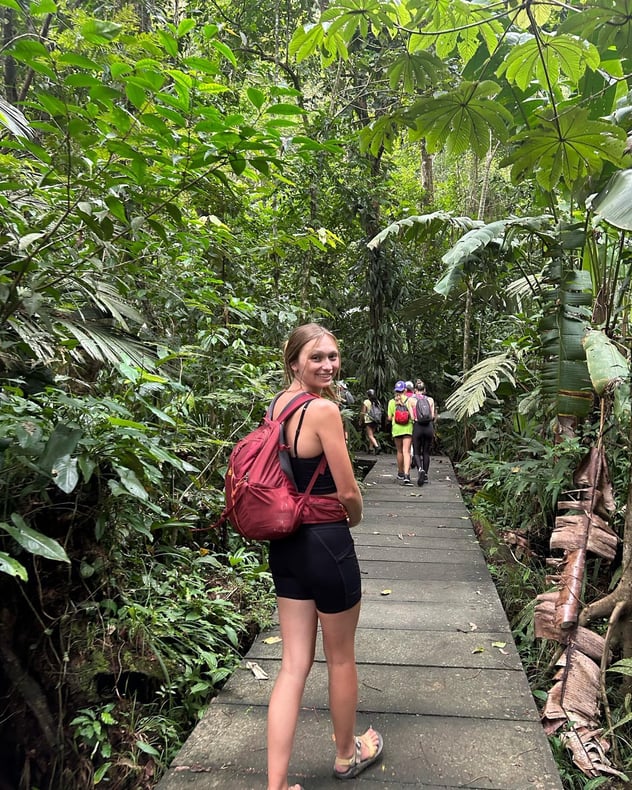 As if you could resist visiting a place called the "Land of Turtles", right?
Costa Rica is full of things tourists totally flock to — famous waterfalls, popular volcano hikes, and animals that have reached a celebrity status (hi, sloths!) but one thing I love about this country are the corners that haven't gotten all the attention yet. San Jose is one of those spots. The capital city is well-known, don't get me wrong, but there are a countless number of day trips and weekend getaways that are just within reach that aren't swarming with tourists.

Think of Tortuguero as exactly that — a remote corner of Costa Rica covered in the things you love and untapped adventures, just for the locals and people in the know. It's only accessed by boat or air, so you can count on a totally remote and isolated adventure.


---
Don't miss a thing when it comes to travel
Find favorite vacays, top foodie spots, and money-saving tips here.
---

Tortuguero is found along the eastern coast of the country, on the Caribbean side of Costa Rica. It's a network of freshwater creeks and lagoons (perfect for canoeing) and home to thick jungles that are home to monkeys, birds, the elusive jaguar, endangered green macaws, and a few other favorites. But the real star of the show? The turtles — Tortuguero translates to the "Land Of Turtles" with miles of beaches that are famous nesting grounds for these cuties. Here are the details so you know exactly how to spend your time here.
A Bit More About The Park
Tortuguero is a small, remote village right on that eastern coast but the real star is the Parque Nacional Tortuguero — a protected wilderness area nearby which provides the home and nesting ground for so many sea turtles. It's a massive span of over 19,000 hectares covering a myriad of habitats and animals species like river otters, spider monkeys (as well as howler and capuchin monkeys), caimans, several hundred species of birds (including the endangered green macaw, egrets, herons, and toucans), and of course, turtles. It's been a protected nesting ground since 1963 and was officially declared a national park in 1970.
The area is very quiet. It's an untapped section that feels so far removed from the tourist infrastructure found in other national parks in the country. You'll find things like zip lining and other adventures in other spots in Costa Rica (like Monteverde) but Tortuguero is all about a more local feel, kind of like what Costa Rica was like before all tourists came to visit. You're closer to nature in a more remote way than most parts of the country — most sections are only reached via boat or by air. To me, that all adds to the experience as long as you know what you're getting yourself info.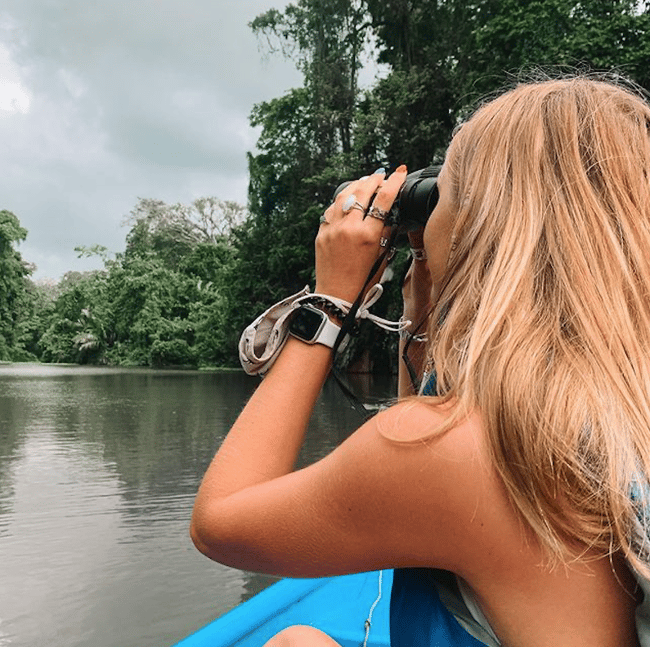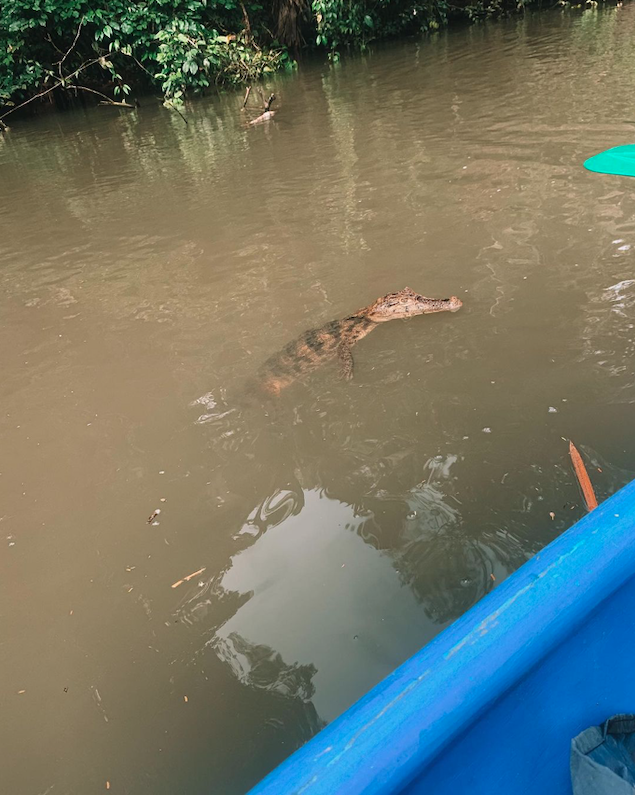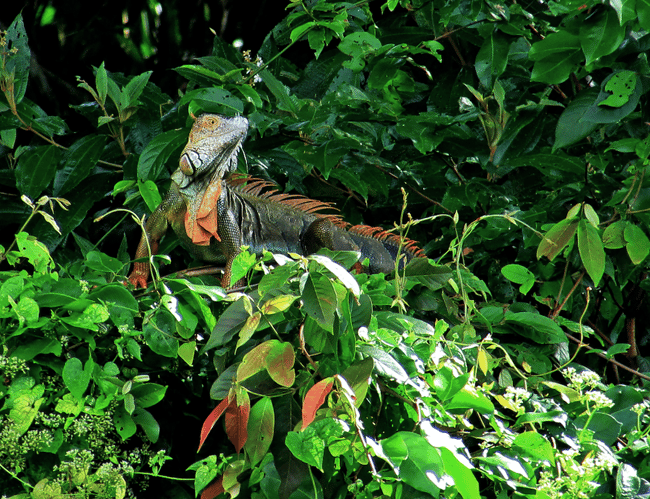 The Top Things To Do
All About The Turtles
The turtles are really the stars of this part of Costa Rica. Tortuguero is home to huge nesting sessions, from four different species (Green, Leatherback, Hawksbill, and Loggerhead). Some of these turtles are endangered and absolutely massive. Example? The Leatherback turtle can grow up to be 6-7 feet long and weigh more than 1500 pounds.
If you want to be visiting during the nesting season, plan to visit from early March to about mid-October. The species have different nesting periods, but that's a good range to hopefully catch the nesting season. The best way to see this is via tour, which are led by night with a guide. You'll be able to check the dates with your tour (who will know when the best time to visit for nesting is).
Tours are typically 2-3 hours and have a whole range of prices. Some include the entry price to the park, while others don't, so be sure to check on that. This tour option is $30 (plus the entrance fee of the park), but there are a few more available especially if you arrange something through wherever you are staying. Some tours are full packages that offer roundtrip transportation from San Jose, so that's also something to consider if you want to spend something in the $180-$250 range.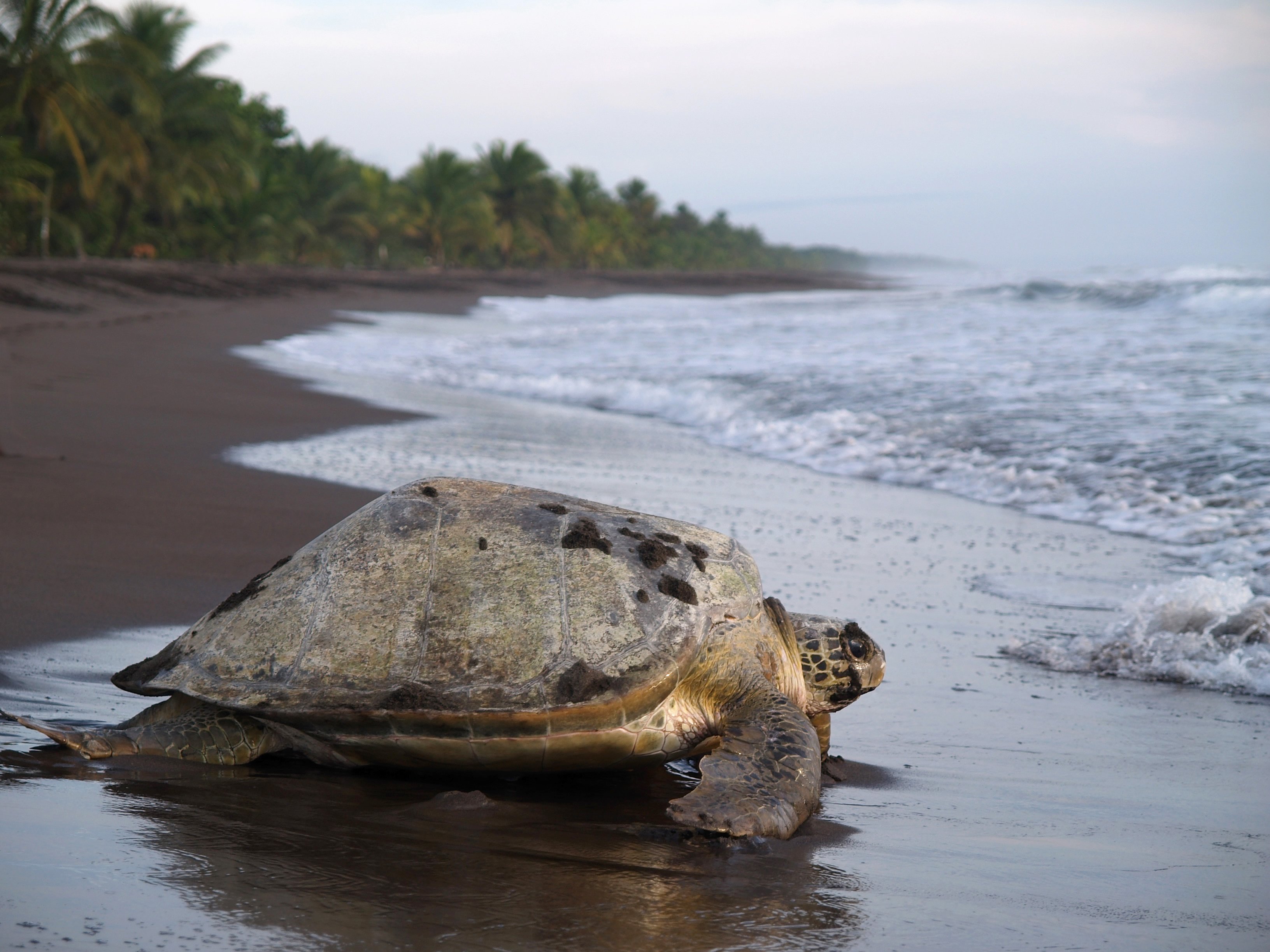 Visit The Turtle Center
Before or after your turtle tour learn more at the Caribbean Conservation Corporation's Visitors' Center and Museum in Tortuguero Village. It's packed with info and all the proceeds towards your ticket go towards turtle conservation and protection.
Cost: Around 1,200 CRC

Hours: 10:00 AM to 12:00 PM, 2:00 PM to 5:00 PM

Address: Marcador 28 400 metros al norte de la escuela Barra del Tortuguero Limón Tortuguero, 70206, Costa Rica
Canoe The Canals By Tour
A boat tour of the canals is another must-see. The area is a thick blanket of trees and foliage, only cut by the canals which wind their way through the jungle. Paired with parrots flitting above your heard and the echo of howler monkeys around you, it feels very Amazon-esque. There are a few different tour options to choose from — some include transportation from San Jose and lodging, while others are just a day tour. Here's a site to look into (options for a longer, multi-day tour, as well as a 4-hour boat tour). Most places to stay have a tour option as well.
One ILP group went with Roots with glowing recommendations. Some travelers also mention the tour at the Casa Marbella (you don't have to be a guest to go on the tour).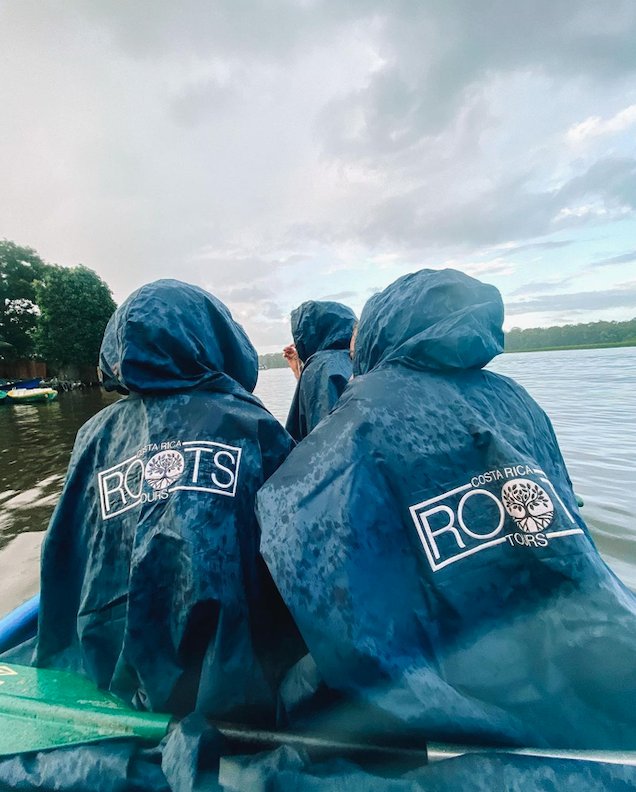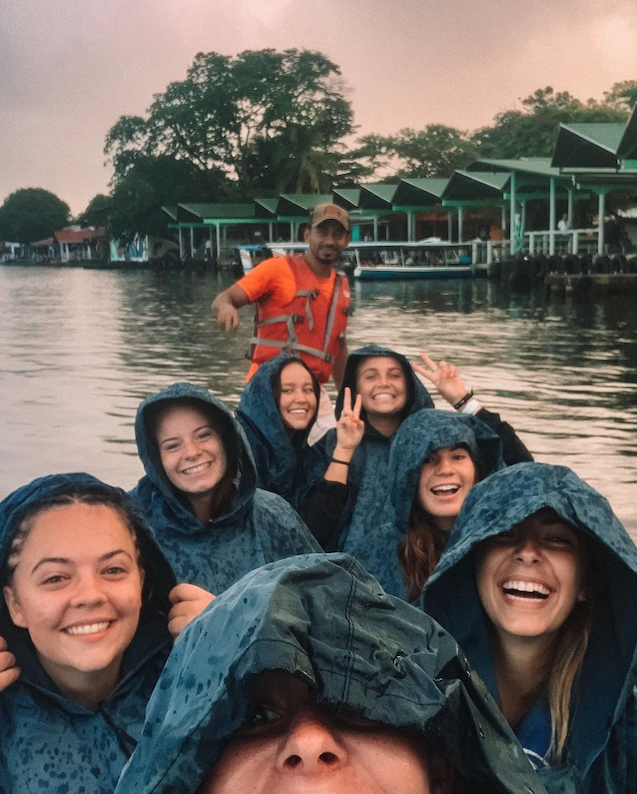 Renting Canoes (Or Kayaks)
If you'd like to take time to explore on your own, the main canal is a good place to paddle around in a rented kayak or canoe. Around town, you'll find a few spots that rent them out. Prices hang around the 11,200 CRC range (around $20 USD) for an all-day rental.
Walk The Beaches
Oh, and just so you know, the beaches here aren't for swimming (especially on Tortuguero Beach). There are strong currents and reports of shark attacks. It's off-limits to tourists and locals for swimming, but still make for a really gorgeous walk in the late evening, in particular.
A Few Trip Planning Tips
Where To Stay?
You can only get around via boat, so finding a place to stay by the coast means easy access to where you want to go. There is a range of options when it comes to places to stay, but all feel pretty remote because they're all surrounded by the jungle.

If you want to splurge a little, Tortuguero Lodge and Gardens is highly recommended with lots of perks like tour options, complimentary breakfast, a pool, and some stunning views. Aracari Hostel is more in the budget with perks like tour options and a pretty garden. There are a few more options to choose from, just look around for options which have tour packages available and have transportation options to make your trip a bit easier.
Most people stay north, near Tortuguero Village, the Archie Carr Refuge, and the turtle observation beaches if that helps you orient yourself.
Getting Around Tortuguero + A Few Tips
You'll need to grab a water taxi to get around (there aren't really roads). Plan on paying at least $10 USD for a one-way trip somewhere, or chatting with your accommodation about transportation option. Most accommodations offer tours which include transportation.
To help orient yourself, most things are situated on two, parallel peninsula-like strips split and surrounded by canals. Most of the lodging is centered at the top and bottom of both of these little strips, same with the little eateries and little grocery stores. See how you'll need a boat to get around?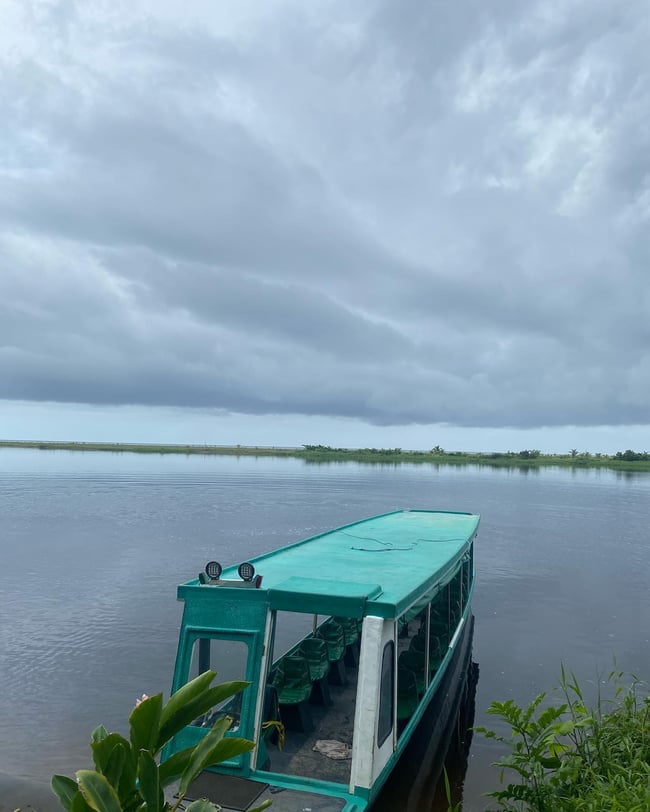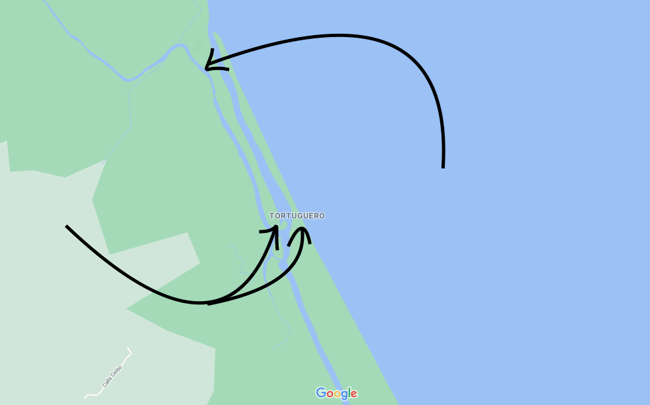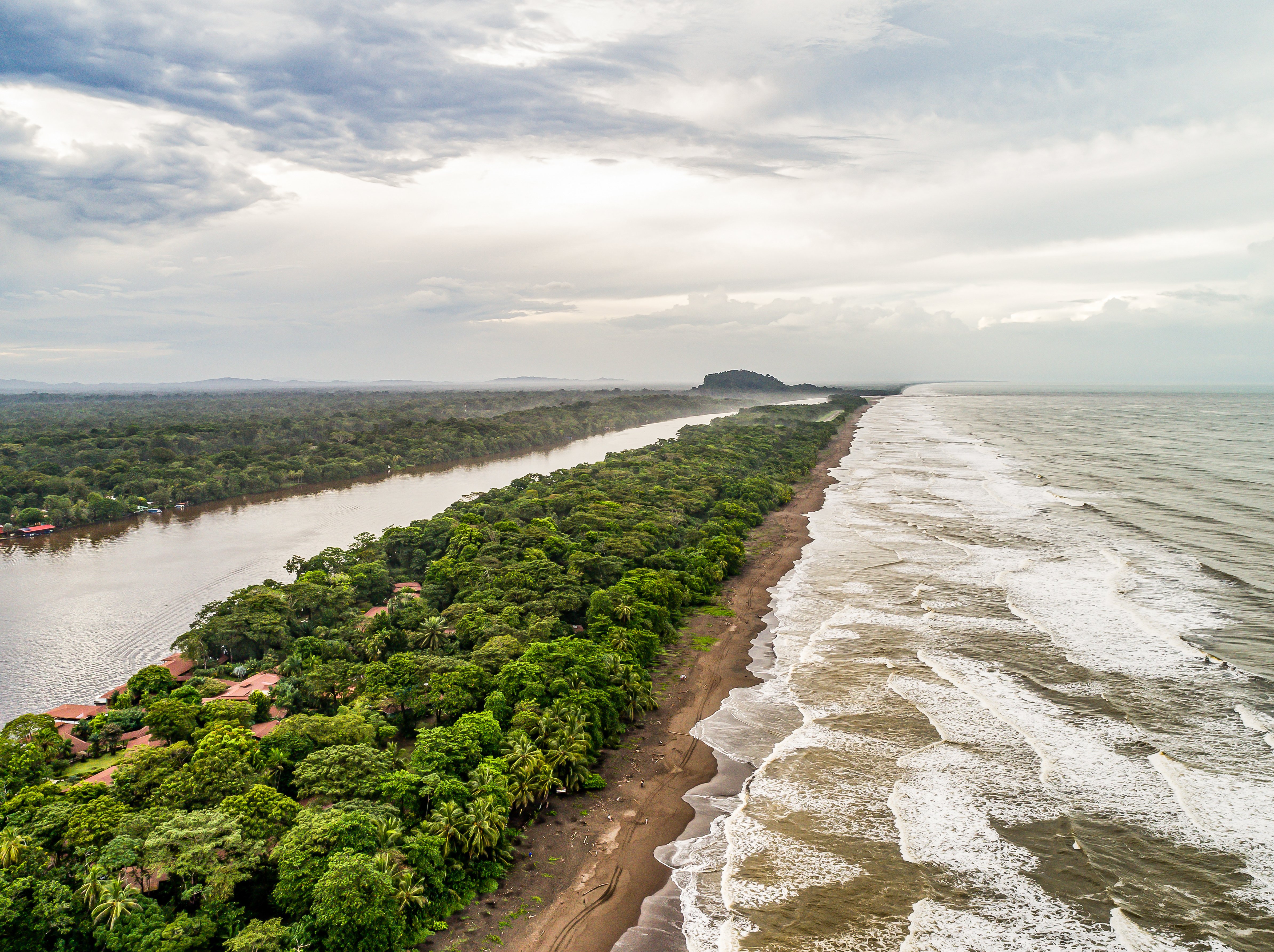 Some Things To Pack
The weather here is unpredictable. It's one of the rainiest corners of the country, so even in the dry season, the afternoons are prone to a short downpour. You'll want a rain poncho and shoes you don't mind getting wet. I'd also recommend a waterproof bag or phone case for taking pictures and storing your stuff.
If you want a better chance at spotting wildlife on a jungle hike or canal tour, a pair of binoculars comes in handy. You can also plan a trek earlier in the morning when the animals are more active.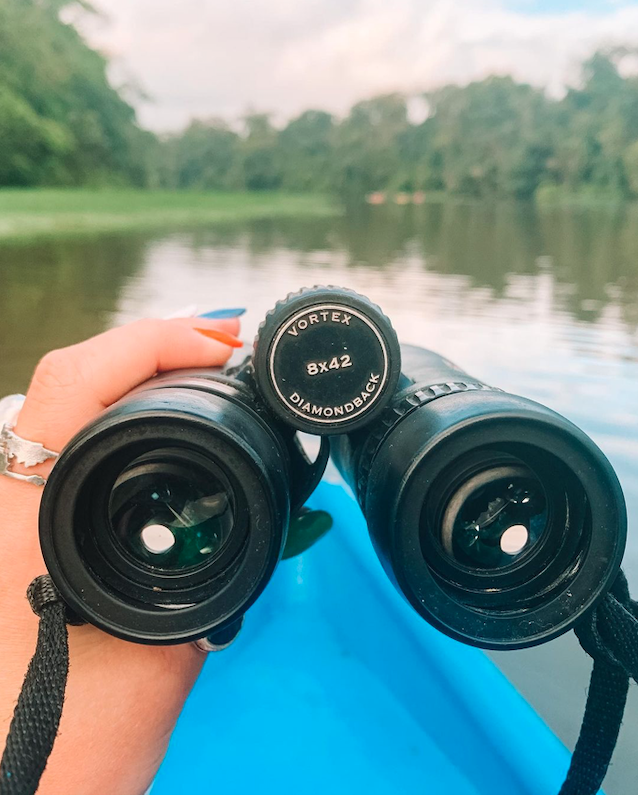 Getting To Tortuguero
It's a bit tricky to access, but that's what makes this place so special. We've outlined a couple of ways to do it on your own if you don't want to book a tour option which includes transportation to and from San Jose. San Jose is the best jumping-off point, no matter which option (tour, air, or bus/boat) you choose. This blog has an overview of either option explained below.
By Air
There is a very small airport in the area, with rather frequent flights from San Jose. Look at Sansa and Aerobell who both have flights that depart from San Jose, daily. It's a short flight, between 30-60 minutes. From the airport, it's just a short boat ride to where you're staying. Flights are in the $70 - $125 range each way. It's a more expensive option, but if you're short on time and want to fit this into a weekend trip, that's the way to do it.
Bus + Boat
This way to travel is kind of part of the vacation itself. There are two places with boat departures that will get you to Tortuguero: La Pavona and Moin. If you're leaving from San Jose, La Pavona is your best departure point.
Snag a public bus from San Jose to La Pavona first. Departures are from the Gran Carib terminal. First, you'll take a direct bus to Cariari (around 2 hours) then connect to the bus headed to La Pavona (1.5 hours). It's a very short walk (about 5-6 minutes) to get from where the first bus drops you off, to the second bus pick up (which is just north of the Escuela Campo Kennedy, Cariari). Both tickets are in the $2-5 range, so the whole journey is pretty inexpensive.
From La Pavona, you'll make your way to the dock. The boat does wait for that local bus to arrive from San Jose via Cariari but you'll want to head there quickly. The bus departs at 5:30 AM, 11:00 AM, 1:00 PM, and 4:30 PM. It's around an hour boat ride through the thick jungle (the scenery is spectacular). The boats seat around 15 - 25 people and are window-less longboats, so prep for the weather if necessary. Tickets are ₡1600 and are purchased inside the restaurant which is found in the main building. Your luggage will be stored in another boat (pay around ₡1000 per bag).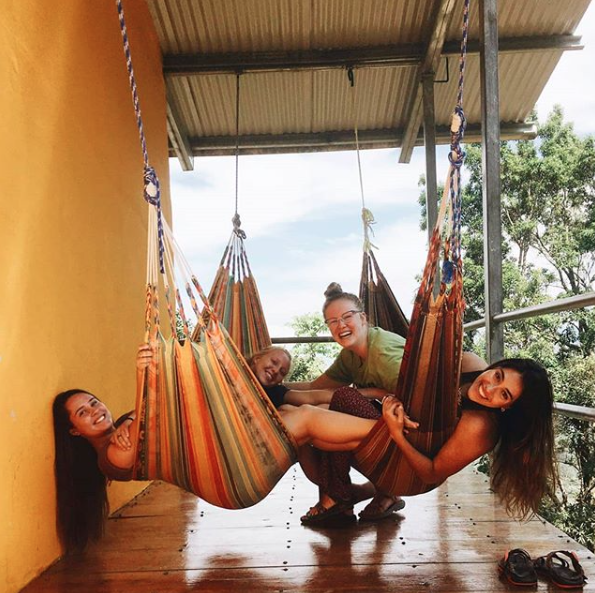 Come to Costa Rica with us!
Join a group of college-aged American teachers for a semester of teaching English and traveling around Central America. ILP Volunteers have weekends off + vacation days for all sorts of exploring, plus only spend part-time teaching the cutest kids. It's a semester of adventures you don't want to miss.