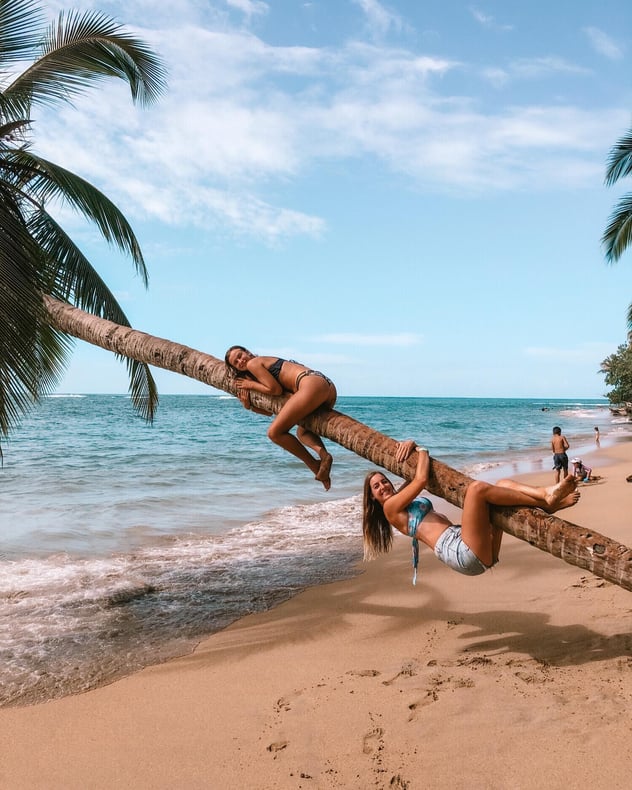 Costa Rica is rimmed by beautiful beaches that make for the ideal getaways! And this one on the Caribbean coastline is just unreal.
Punta Uva is known for having soft, tan sand and palm tree-speckled beaches. And it's one of the few places in Costa Rica where you can swim out to a coral reef, making the shallow reef an ideal place for snorkeling. There is also a lot of wildlife that roam freely through this area! We're talking sloths, monkeys, river turtles, and so many colorful birds. If you're headed to Costa Rican as a volunteer, or just on a vacation, this is a beachside location you'll just love!


---
How about spending a semester here as a volunteer?
Learn About Volunteering In Costa Rica
---

This is just one of the towns on a stretch of Caribbean coastline, starting with the beautiful Puerto Viejo, that is another wonderful place for a weekend getaway. In fact, you can travel between the two quite easily. And the locals here are so friendly. You'll see many of them selling things along the road, like pipa frias (cold coconut water) and little souvenirs. Here's all you need to know for planning your adventures in Punta Uva!
What Makes Punta Uva A Favorite Spot
This area is high on our list of must-see places in Costa Rica ... for a few reasons. You'll know that around Puerto Viejo, there are a strong of some of the most beautiful beaches in the entire country, but Punta Uva is our most favorite. Wondering why? It's not busy like the ones around Puerto Viejo: Plan on coming here to surf, play in the waves closer to shore, or build sandcastles. Oh, and there's a "the scenery of palm trees and vines wrap around you in a C shape that opens up to a vibrant blue ocean"... that quote is from one volunteer who said Punta Uva is a hidden gem.
Along this magical stretch of sand, two of our favorites here are Playa Punta Uva and Playa Punta Uva Arrecife. You can get to these beaches by way of the entrance to Punta Uva Adventures or from the road near Selvin's Restaurant. The Adventure's entrance is called "Sloth Point", and if you're lucky, you may even see some sloths hanging around.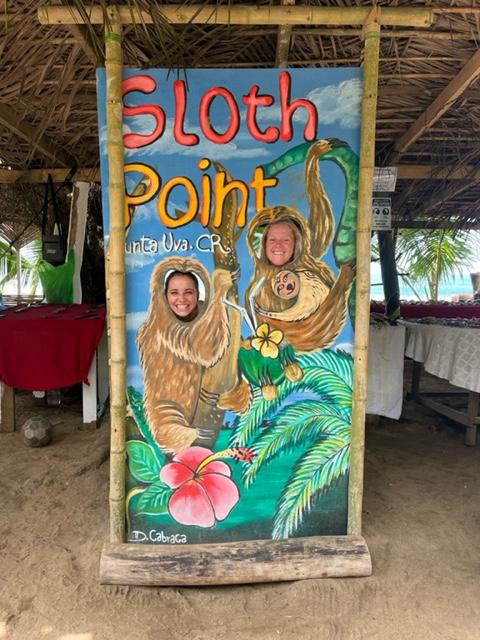 Sightseeing Trail
In between Playa Punta Uva and Playa Punta Uva Arrecife is a great sightseeing spot with a short trail. The trail itself is easy and it only takes about 5-10 minutes to walk the entire thing.
Snorkeling
The waves here are often not gentle, but it still makes for a wonderful place to snorkel since you can go out to the coral reef.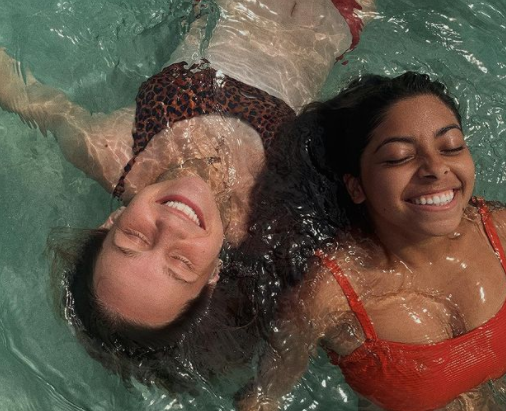 Surfing
Some past groups have gotten surf lessons here or just rented a board (about $10) for an afternoon of riding the waves.
Kayaking
For beginners: If you've never been kayaking before, then we definitely recommend renting a kayak and riding down the river. It's nice and calm, but you'll see some incredible scenery and local wildlife. And the best part? Since your boat doesn't have a motor, you'll be able to hear all of the animals and birds chattering to each other, too.
For those with experience: This is such a fun place to rent kayaks since you can check out the rivers but also head out into the ocean. Even if you're a pretty experience kayaker, we still don't recommend ocean kayaking if there is any kind of wind blowing—you will get knocked over by the waves.
How about booking a tour? While this does cost more than just renting a kayak yourself, you will get a lot more out of the experience! This one includes a hike and snacks on the beach. It costs $55 per person, and if the kayaking isn't possible due to weather, they will take you on a more extensive hike.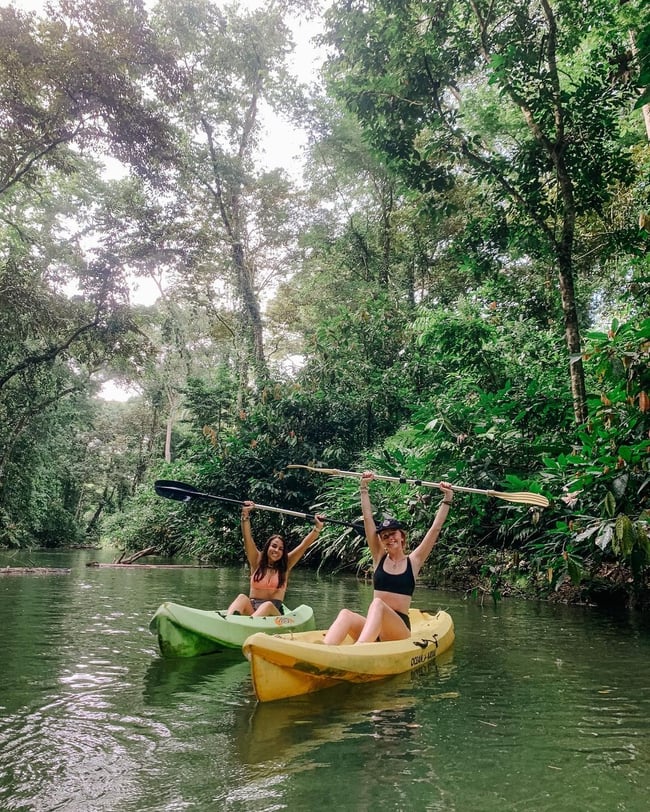 Spotting A Few Animals
Like we mentioned, venturing into the jungle that backs the beach may be running into your very own animal adventures if you look up in the trees. It's not uncommon to see monkeys (or hear them chattering in the treetops), or spot a large iguana trying to catch a few rays of sunshine. The country's local celebrity, the sloth, is also know to be hanging around.
If you don't find a real sloth, you can always snap a picture behind the sloth frames at Sloth's Point!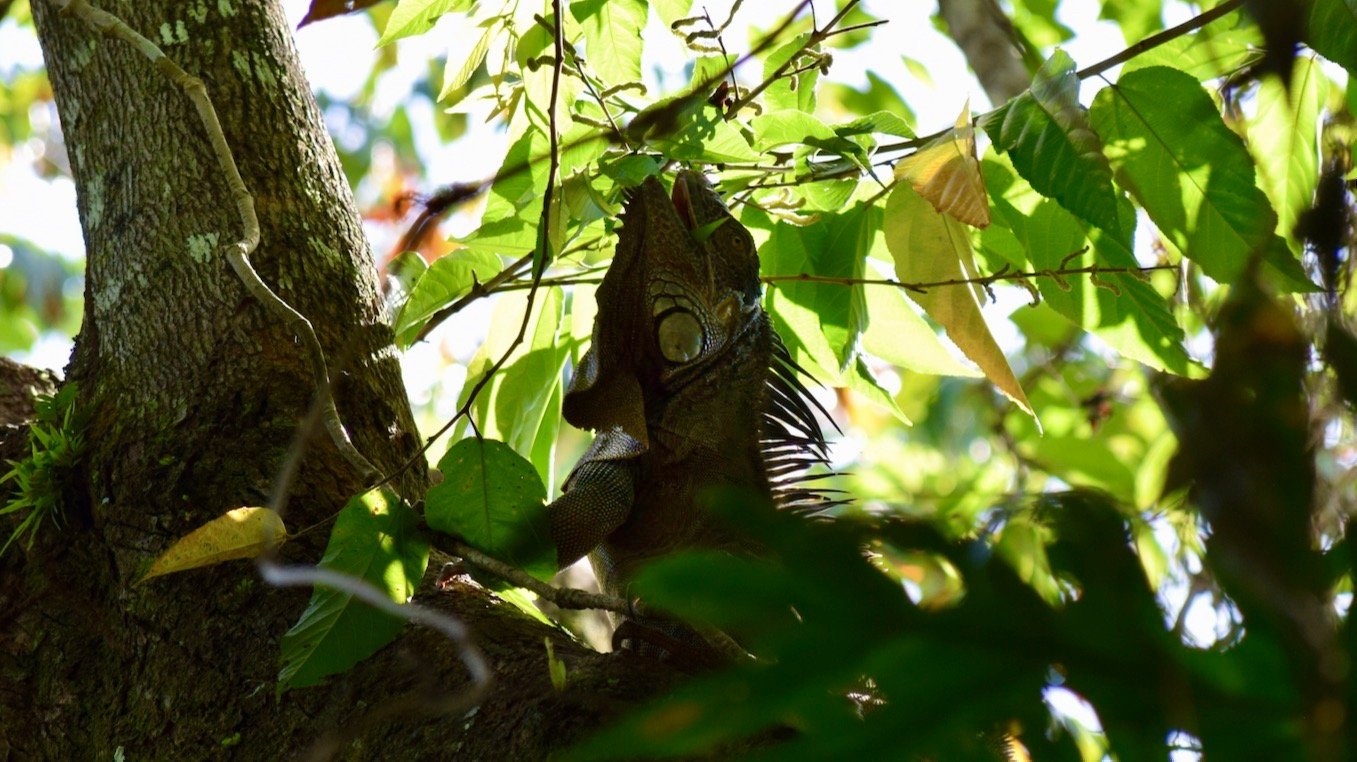 Standup Paddle Boarding
Similar to kayaking, this can be difficult if the wind is blowing. But it is possible to rent paddleboards here, and such a fun way to spend a warm afternoon.
Green Water SUP Tours costs quite a bit more than renting a paddle board on your own ($75 per person) but they have just good reviews! You'll get to experience the river (with all of the amazing wildlife) and the views of the coastline which are remarkable.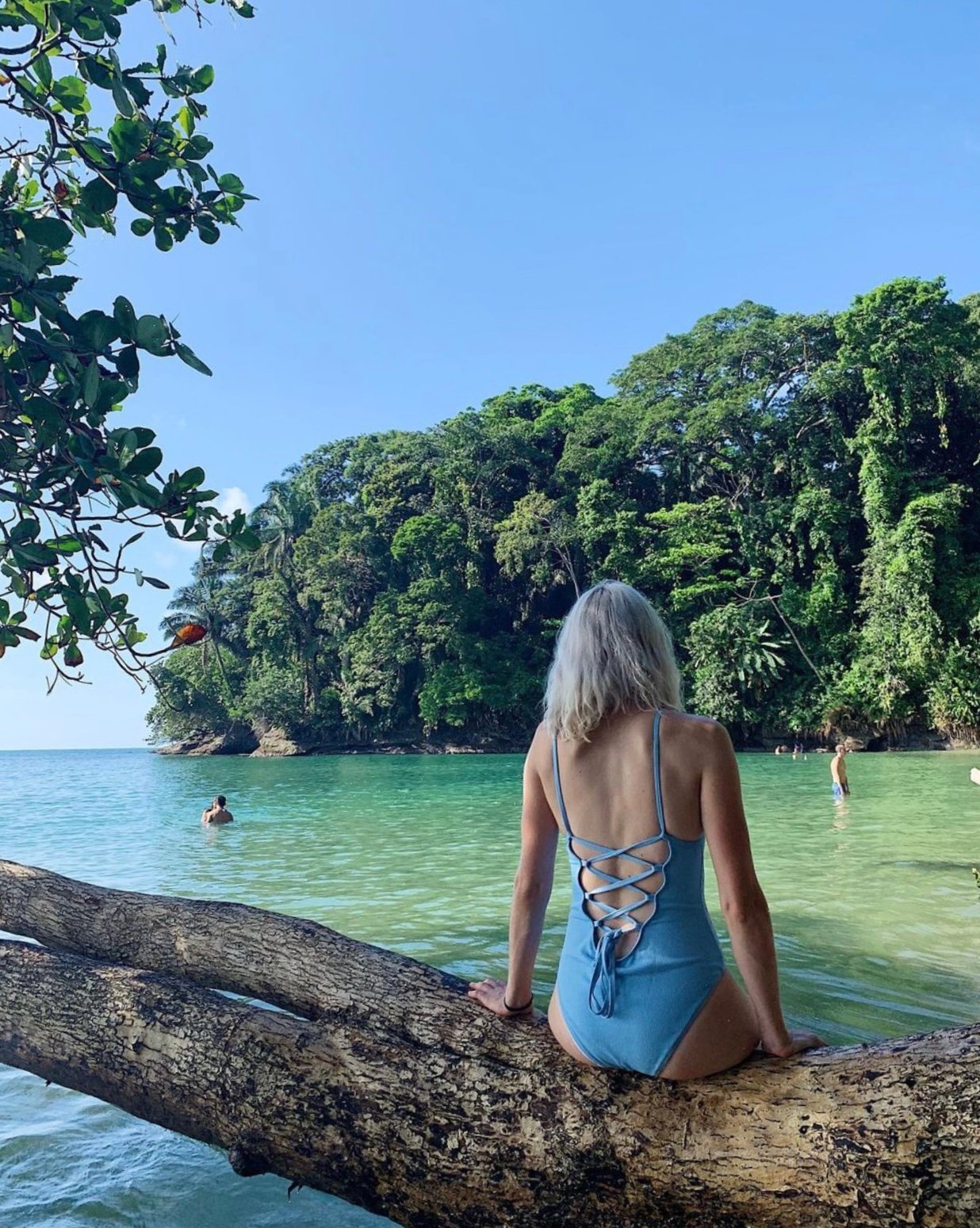 Where You Should Eat
Since this is such a small town, many of the local restaurants don't have their official addresses posted anywhere online. But, they are on the main road and pretty easy to find! If you have trouble finding one though, just ask your Airbnb host, or the front desk manager at your hostel.
You can also sometimes run into locals walking around the beach selling homemade empanadas or cotton candy!
Pita Bonita
If you're feeling like some Middle Eastern food, this is the place to find it! We're talking hummus, kebabs, falafel, and of course, pita bread. Check out their Facebook page.
Hours: Open Monday-Saturday from 12 pm to 9 pm. Closed on Sundays.
Selvin
This place has the best of the best local Caribbean food! This means a lot of rice and beans, seafood, and fried plantains. YUM! It's the most popular restaurant in this tiny town. Check out pictures of their food on Tripadvisor.
Hours: Only open Friday-Sunday from 12:30 pm to 7:30 pm.
El Refugio Grill
The most popular entrees at this little restaurant are some kind of grilled meat with a side of fried potatoes and a green salad. Fresh and simple! But they also have great dessert options. Check out their Facebook page.
Hours: Open Tuesday-Saturday from 12 pm to 9 pm. But only from 5 pm to 9m on Sundays and closed on Mondays.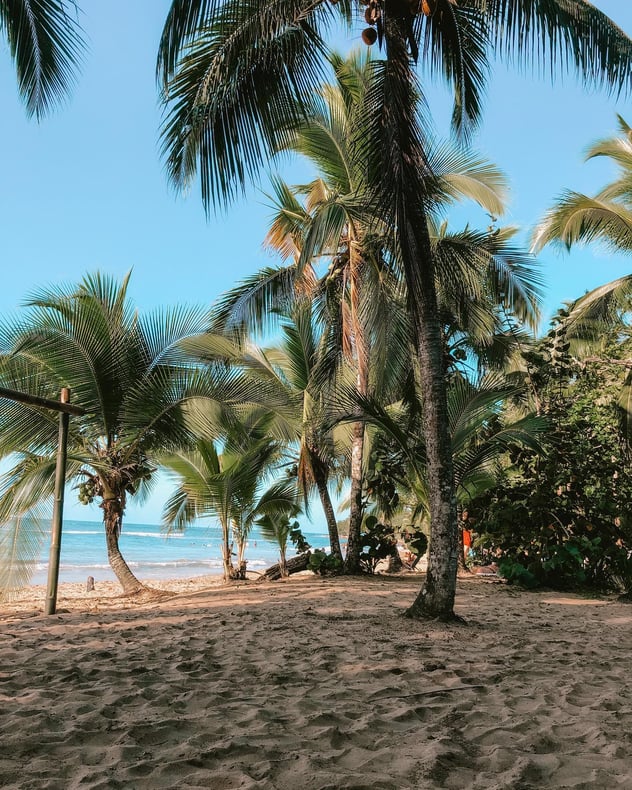 How To Get Here
Puerto Viejo is the biggest hub in this area, so you'll probably be planning to get to Punta Uva from there. Lucky for you, it's just 5 miles away from downtown Puerto Viejo, so you can easily get there by taxi or bus.
Jump on the bus headed to Manzanillo which leaves at 6:45, 7:45, 9:45, 11:45, 13:45, 16:45, 18:45, and 19:45 every day. On Sundays, they have extra service at 12:45, 15:45, and 17:45. Then just get off at Punta Uva.

You can also taxi here for a couple of dollars.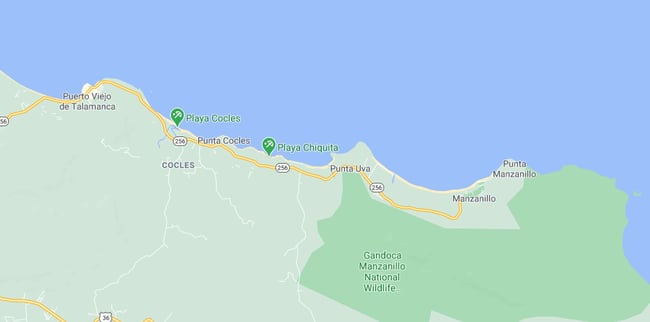 What The Weather Is Like
The weather in Punta Uva can be quite unpredictable, but is usually around 80 F during the day and around 70 F at night. One thing you can plan on though is quite a bit of humidity. It can rain here during any time of the year, but the driest months are usually February, March, September and October. So plan on packing what you'll need for hot, sunny weather (sunscreen, hat, sandals, swimsuits, etc.) but also bring waterproof stuff.
Where To Stay
Lucky for you, we wrote an entire blog post about our favorite Airbnbs and hostels to stay in while visiting this area! Many of them are super colorful, which we think is just absolutely adorable.
Wondering what the difference is between the an Airbnb and a hostel? Check out this blog post.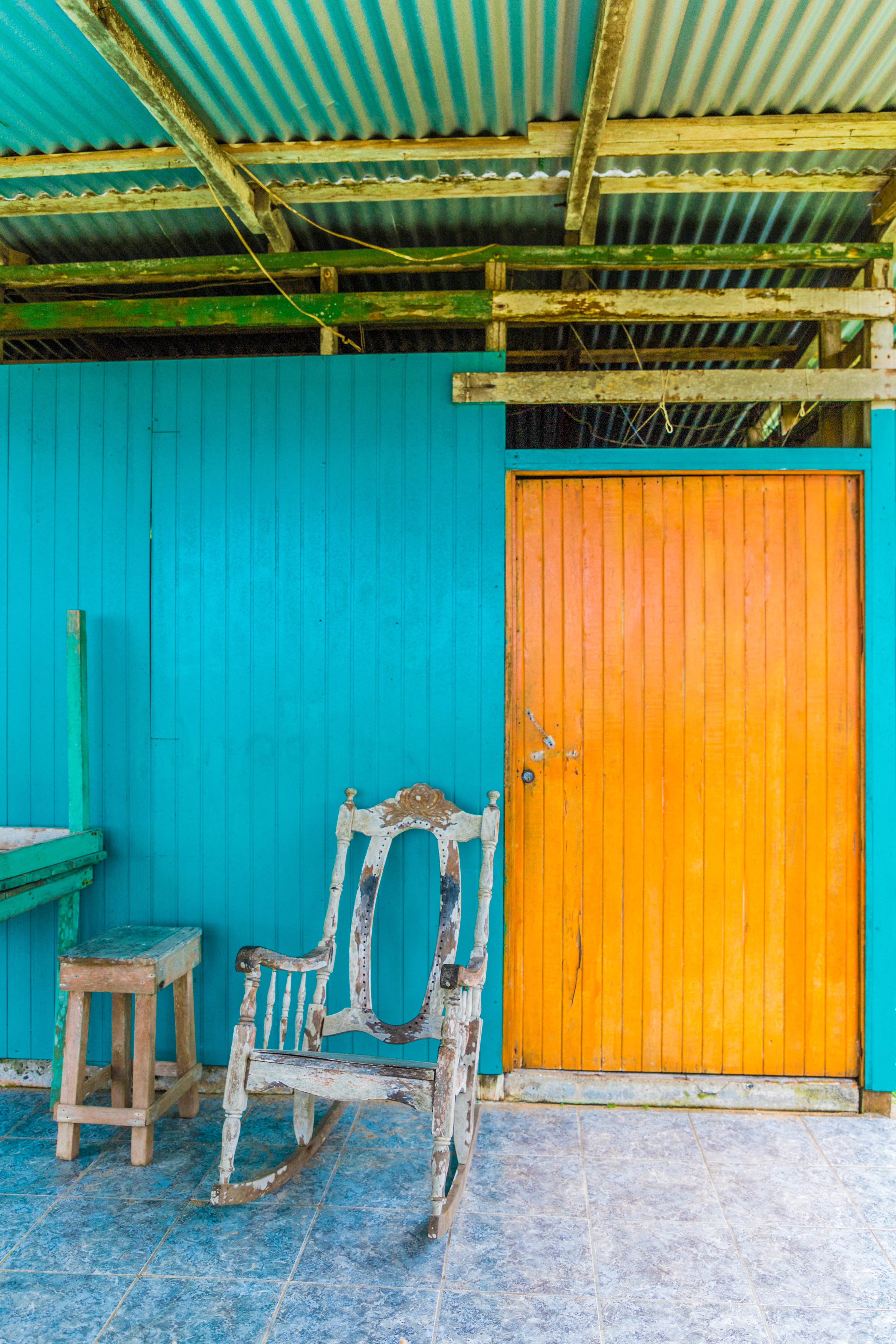 Wanting to spend a semester abroad but not sure if ILP is the program for you?
We totally get that! In fact, most of our volunteers look into a variety of other programs before going abroad through us. And there are so many great programs out there! But there is a lot that makes ILP unique.
Click the button below to learn how it all works: