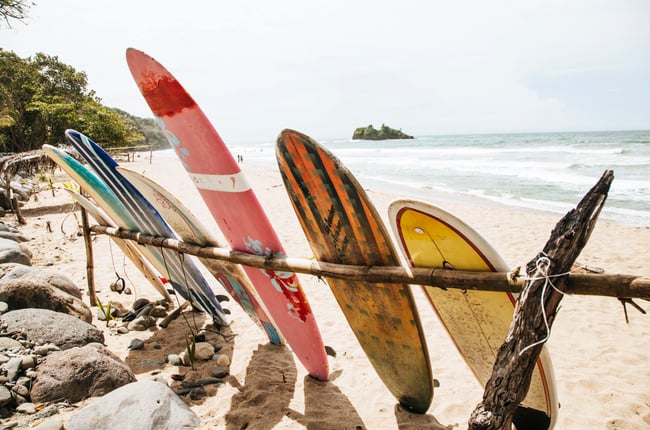 A beachy getaway? What could be better! You're going to want to stay in one of these unique spots if Costa Rica is calling your name!
We LOVE Costa Rica! The palm trees. The white sand and turquoise water beaches. The cutie wildlife. The friendly locals. Even better when you can avoid the masses of tourists, right?! That's exactly what you'll find on Costa Rica's Caribbean coastline that stretches from Puerto Viejo to another tiny town, Manzanillo.
And guess what?! You can experience all of this and more while living in Costa Rica for an entire semester as a volunteer through International Language Programs. Sound too good to be true? It isn't. And it only gets better. As a volunteer, you get quite a few vacation days. Plus, all of your weekends are free! So, what does that mean? Plenty of time to explore this adventure-filled country! And if you're like us, that probably means heading straight for the beach. Yes, please!


---
Does spending a semester in a tropical destination sound idea?
Learn More About Volunteering In Costa Rica
---

One of the most important parts of successful vacation planning is finding the perfect place to stay. Lucky for you, when traveling along Costa Rica's breathtaking Caribbean side, your options are not limited. And, this area is so beautiful that most of its beaches are included on our list of "The Best Beaches In Costa Rica". Here are just some of our top choices in the tiny towns sprinkled along this stunning coastline!
Places To Stay In The Towns Of Costa Rica's Caribbean Coastline
Heads up: The prices and availability of Airbnb's frequently change based on demand and season. Also, there are always cleaning and maintenance costs in addition to the initial price listed for each Airbnb, so your booking may end up costing you $50+ from what you were originally planning on). Just keep that in mind!
Oh and remember that you'll be splitting the total cost with your travel buddies, so essentially the larger your group, the more budget friendly it is!
Puerto Viejo de Talmanca
Seeing as this is one of our very favorite travel spots in Costa Rica, we have an entire blog post completely dedicated to helping you plan the most perfect vacation here! We're talking chocolate tours, whitewater rafting, the Jaguar Rescue Center, and so SO much more!
This is one of the more well known backpacker towns on this side of the country, so just know that you're going to run into more crowds here. A lot of people base themselves here though before they head out to more untouched parts of the nearby coastline.
Casa de Barro
All you need is one look at these pictures and you'll be hooked! Private swimming pool. Hammocks. Palm leaves on the roof. Front porch. Outdoor fireplace. Great views of the surrounding jungle and wildlife. And just a 5-minute walk from Playa Negra beach? Count us in!! The owners also say they'll help you to book whitewater rafting, zip lining, snorkeling, kayaking and many other tours at no additional cost.
Book it here!
Guests: 5
Price: Starting at $195 per night.
Villa Seabreeze
Brightly painted bedrooms. Comfy couches. Hammocks. Tropical garden. Shared pool. Outdoor terrace. Gigantic kitchen. And just across the road from the Playa Negra beach? We'll take an entire weekend here—please and thank you!
Book it here!
Guests: 6
Price: Starting at $163 per night.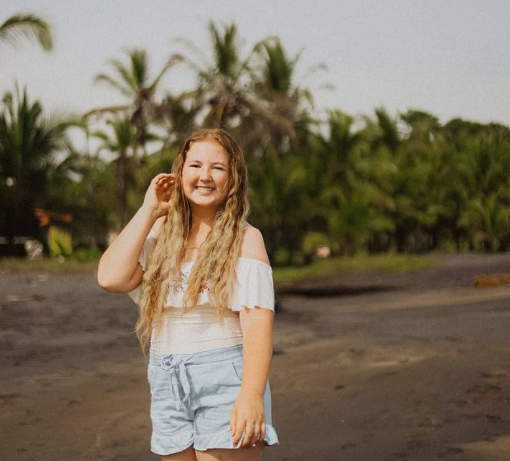 Dreamy Art House
Have you seen Gaudi's colorful architecture in Barcelona, Spain? Well, this entire house is full of bright rainbow mosaics and curved edges, just like that! And are the two bathrooms with outdoor showers actually museums? You tell us! This is easily our favorite spot on our list. Just sayin.
Book it here!
Guests: 4
Price: Starting at $179 per night.
Colorful Casa Amarilla Bungalow
A little rainbow bungalow surrounded by tropical jungle? Bright tiles in every room! The cutest front porch with chairs and a hammock. Not to mention the picnic table in the garden. And just a quick walk to the beach! Definitely an all-around winner.
Book it here!
Guests: 5
Price: Starting at $96 per night.
Wooden Chalet
A stunning, clean home set on a hill overlooking the surrounding jungle, mountains, and ocean? That sounds like something we'd love. But then you add in the private swimming pool and giant windows and we're ready to book the place today! Make sure you keep an eye out for toucans, butterflies, monkeys, and other local friends.
Book it here!
Guests: 4
Price: Starting at $150 per night.
Vibrant Casa Tuareg
The exterior is cute and quaint, with blue walls and palm leaves on the roof. But the interior is a full of African mosaics that will have you ready to get the party started! With the airy, open feel, you'll be sitting right in nature, surrounded by the jungle and local animals.
Book it here!
Guests: 5
Price: Starting $78 per night.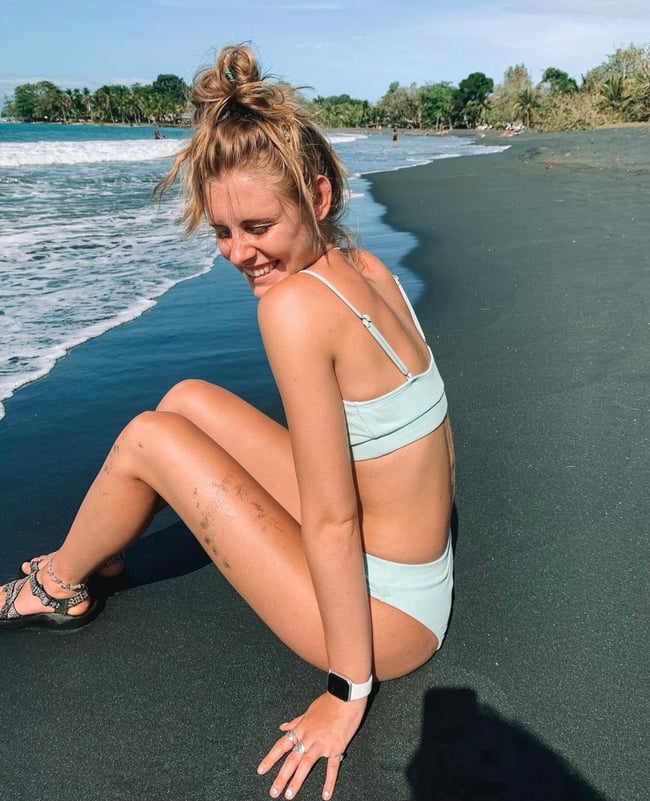 Near Punta Cocles
Garden Cottage
Who doesn't love a bright yellow house with white railings? And this one gives us all of the tropical vibes! We can't get enough of all the wood accents and the mosaics in the bathroom. If you want to enjoy the simplicity of the Costa Rican lifestyle, here's where it's at.
Book it here!
Guests: 4
Price: Starting at $77 per night.
Beachfront Cottage
Another house nestled in the jungle, but this one is quite a bit more spacious than some of its neighbors. We adore the rocking chairs on the front porch and also love that it's just a 1-minute walk to Playa Chiquita! Definitely getting a treehouse vibe from this one.
Book it here!
Guests: 5
Price: Starting at $102 per night.
Casa Marisa
Direct access to Cocles Beach! Literally steps away. Isn't that all we need to know? But this clean and comfortable home is also surrounded by lush vegetation frequently visited by the local wildlife. Plus, we love the security gate! And of course the hammocks.
Book it here!
Guests: 4
Price: Starting at $113 per night.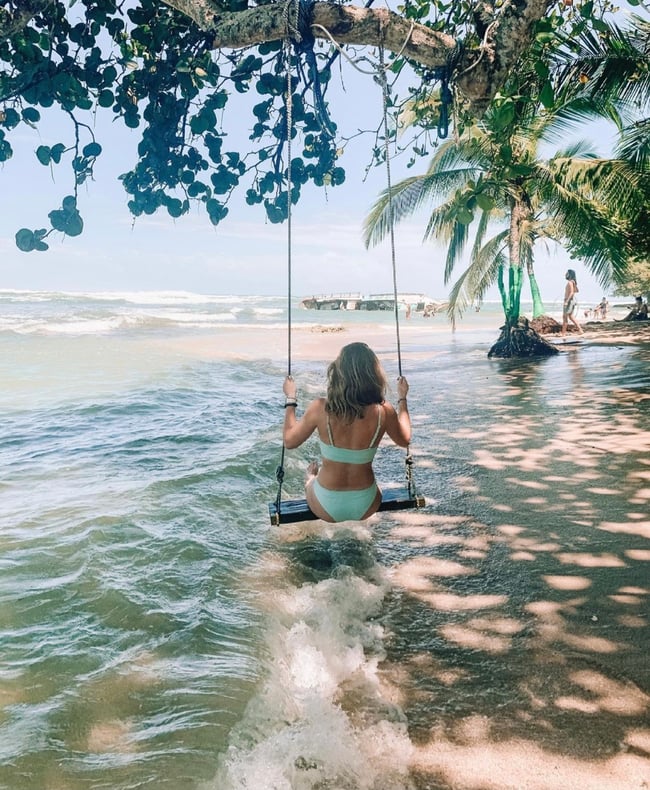 Near Punta Uva
Casa Mayor
That pink front gate alone is enough to convince us to spend a weekend here! But check out those two terraces upstairs—one overlooking the jungle, and the other with a clear view of the ocean! So comfortable, so pretty, and so close to the beach.
Book it here!
Guests: 6
Price: Starting at $129 per night.
Casa De La Musa
If you're looking for a super colorful and tropical stay, look no further! This Caribbean-style cottage is right on Punta Uva and it is so charming! And we love this written in the description: "This home was also where famous Costa Rican author, Anacristina Rossi, lived for nearly 15 years and wrote stories about the life and beauty of the Caribbean coast. Her works include 'La Loca de Gandoca," which, after its release in 1992, helped save the Gandoca-Manzanillo Wildlife Refuge from development. As you sit in the home's screened in and breezy porch, looking through the magnificent jungle gardens towards the gorgeous Punta Uva beach, you can easily imagine how Rossi felt inspired to write about this Costa Rican paradise."
Book it here!
Guests: 4
Price: Starting at $135 per night.
Get more about Punta Uva here.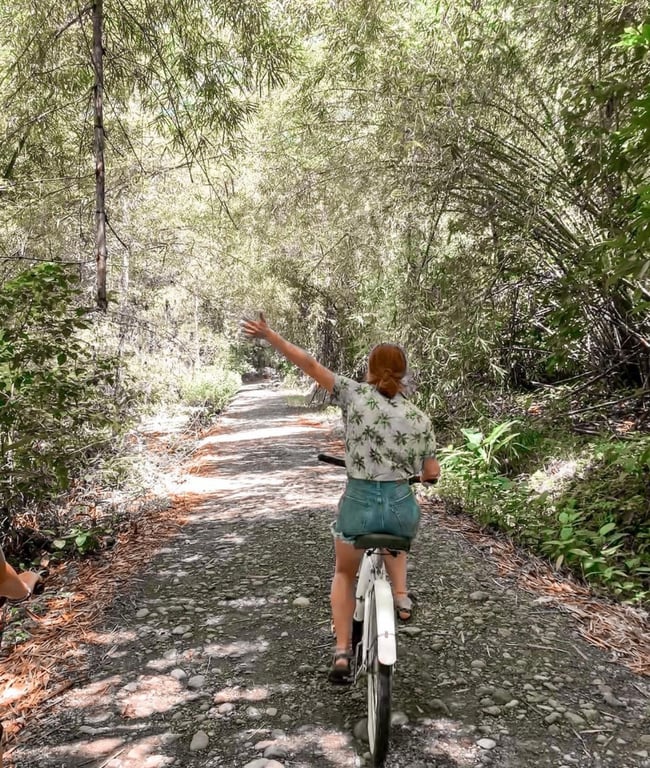 Manzanillo
Jungle House
This is definitely the biggest home on our list, and check out those upper level windows! With a private balcony, fully-equipped kitchen, a washing machine, and dryer, you'll be comfortable here for as long as you want to stay. Plus, it's a short walk to both the beach and the town. The owners also supply 4 bikes, although you'll be able to get around to most places on foot. Among some of the activities to do in the area, they list guided nature walks, horseback riding, dolphin watching, snorkeling, surfing, whitewater rafting, and so much more!
Book it here!
Guests: 8
Price: Starting at $169 per night.
Dream Caribbean House
This majorly cool house has direct beach access and is located in the Gandoca-Manzanillo Wildlife Refuge. We love the quirky details, and of course all of the outdoor seating. You can cook all of your meals here, plus wash laundry!
Book it here!
Guests: 4
Price: Starting at $154 per night.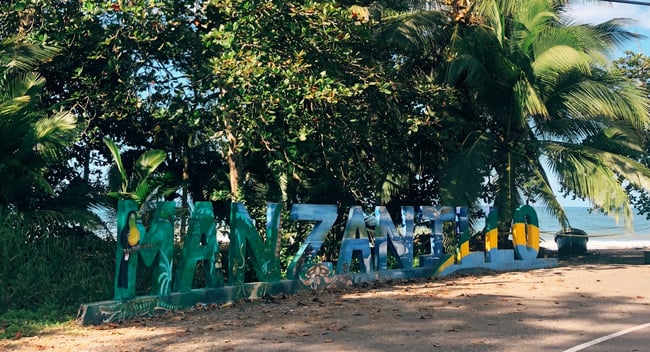 +Cheap Hostels In The Area
If you're looking for an extremely budget-friendly option, this is the way to go. Also, read this post to learn more about hostels + how to find a good one!
Roots Family
Roots Family has awesome reviews and won't disappoint. This bamboo house has dorm rooms and although it isn't anything fancy, it's unique and fun! It is pretty close to a beach and easy to find as well. Can't go wrong!
Book it here!
Price: About $15 a night
La Ruka
La Ruka is another simple hostel that covers all your basic needs for a good stay! Everyone is extremely welcoming and the location is in a great part of town.
Book it here!
Price: About $13 a night
Hostel Selina
Hostel Selina is so cool. The common areas and rooms are really unique and you'll love the feel of the space. They have a lot of options when it comes to rooms you can book, the staff is helpful, and they even have a pool to hangout in. You can stay in a big dorm room like a normal hostel, smaller two-four people rooms, or even funky tents outside.
Book it here!
Price: Dorms are about $18 a person and room prices go up from there.
Love getting travel tips and tricks for destinations all over the globe?
Seeing as we've been sending volunteers to other countries for just about 30 years now, we've learned a thing or two about traveling. And we loving sharing all of these tips so that you can have the best experiences and vacations as possible! Click the link below to sign up for regular adventure updates: