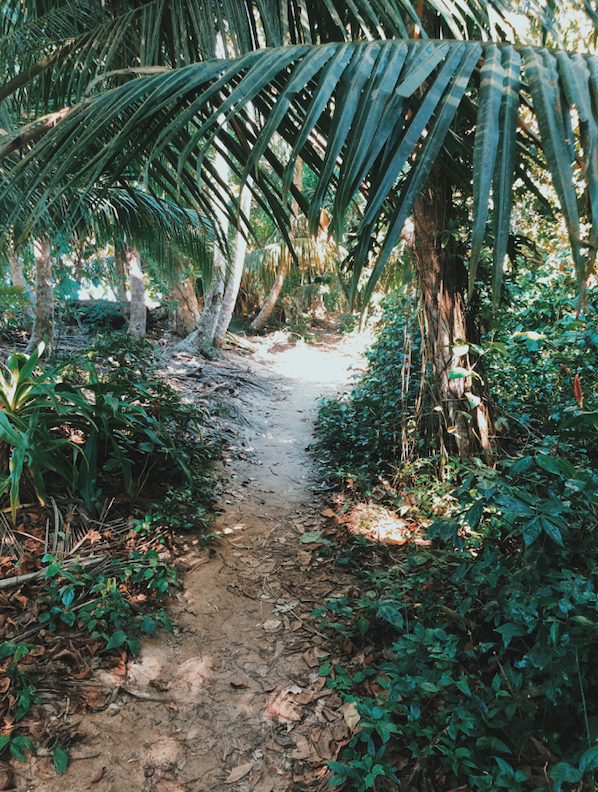 We're loving all the outdoor adventures found in this Costa Rican National Park — It's one of the highlights of the Caribbean coast.
When you think of Costa Rica, I'm guessing miles of beautiful beaches and thick jungles come to mind. And you're totally right, especially if you take a visit to the Cahuita National Park. This section of Costa Rica is full of the kinds of things you want from a day in this tropical country — picture beaches with amazing snorkeling, hiking trails that wind between huge trees in the lush rainforest, and spotting your favorite animals all along the trail. See why we're such a fan of visiting here?
---
We love Costa Rica for a vacation ...
But love volunteering in Costa Rica for a semester even more!
---

The Caribbean side of Costa Rica is a favorite for our volunteers, and for good reason. It's home to a coastline of turquoise beaches and some of the best kind of adventures around, like whitewater rafting the Pacuare River and dense rainforests. But this post is all about hitting the highlights of the Cahuita National Park.

A Bit About The Park
This gem of a park is one of the smallest in Costa Rica and was founded in 1970 to protect the coral reef, rainforest, and beach habitats. The park includes a thick section of the jungle in the interior and a large portion of the beaches, plus the coral reefs found underwater. To allow visitors to appreciate the park, there are a couple of hiking trails that wind through the jungle, plus beach access so you can get closer to the marine life that's so fervently protected. The protection efforts are ongoing, particularly after a 1991 earthquake hit the area, which exposed a large section of the coral to the sun at low tide.

This earthquake caused a dip in visitors at the park, meaning it's rarely overcrowded now (since it's off the tourist radar), but it's full of so many things we love about Costa Rica. When one of the ILP Directors visited here, he saw so much wildlife just walking around the trails — more than he's seen in other sections of the country. It was a total highlight of his trip here (and he's been all over!) if that gives you an idea of what to expect.

The National Park status has done a lot for the wildlife here, which has flourished. Among so many others, you'll be able to spot huge green iguanas, a rainbow of poison dart frogs, green vine snakes, and a few other reptiles who live here. The park is also home to a variety of brightly colored birds like parakeets, parrots, herons, egrets, toucans, and more. We have a bit more info about the animals to spot while you're hiking and snorkeling if you keep reading.
Hiking Trails + Animals To Spot
When visiting the Cahuita National Park, you'll want to spend time in both the jungles and along the coastline. And hiking is the best way to explore the dense rainforest that's protected here.

You can find a map at the entrance offices, but the hiking path is pretty easy to follow. It's a trail that runs parallel to the beach, about 5 miles (it's a straight line that connects the two entrances, the Kelly Creek entrance and the Puerto Vargas one). If you'd like to hike the whole park, you'll need to backtrack, which ends up being around 10 miles.
You can get an idea of what the trail is like here.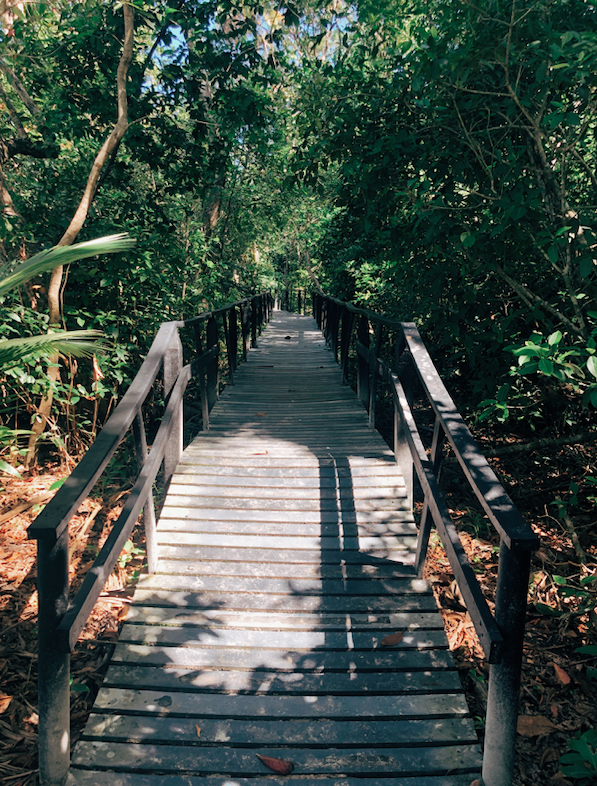 Animals To Spot
This national park is home to so many animals. While you're out walking on the trail, spot howler monkeys lounging up in the trees, cute little capuchin monkeys jumping around, and even the slow-moving sloth. Members of the raccoon family are also common sitings, same with the armadillo, green iguanas, little blue and red-dart frogs, and these long and bright green vine snakes. Keep an eye out for butterflies too — those huge, bright blue species are pretty common here. Whip-tailed lizards have been known to dart along the walking trail, but look above, and see birds flitting around in the sky. Toucans, aracaris, parakeets, herons, egrets, and parrots are common sitings in Cahuita National Park!

As a reminder, please don't feed the animals (you'll see signs reminding you to not share snakes with the raccoons and monkeys in particular). Another reminder? Don't touch any of the animal friends you see along the trail (those bright tiny little frogs are extremely poisonous). The walking paths are flat and smooth, with a couple of river crossings if that helps you know what shoes to wear.

You can pay a guide to walk with you and point out animals if you'd like more information on the creatures you're spotting. Another perk? The guides hike with a telescopic lens which helps you see more animals. It's around $20 for a guide and you can hire one right at the entrance.

Hitting The Beaches
There are two beaches within the park, both boasting turquoise water, and white sand beaches. Playa Blanca is the most popular which is just south of Kelly Creek. Playa Vargas is on the opposite side of the peninsula is typically less crowded.

If you take a peek below the waves, you see the vibrant ocean life which consists of over 35 types of coral and over 100+ types of fish. The sandy shores are also known nesting grounds for sea turtles.
+Snorkeling
There are also two shipwrecks just off the shore which are fun to snorkel around. If you'd like to go snorkeling know you have to go with a certified guide to make sure the reefs stay protected (you can't go on your own with your own gear). Most Cahuita snorkeling tours will take you on a boat to Punta Cahuita then on a tour through the park. Plan on around $55 for the day.

Also good to know? Good snorkeling depends heavily on clear visibility levels which changes often on the Caribbean coast. Typically the best months for snorkeling are in September and October.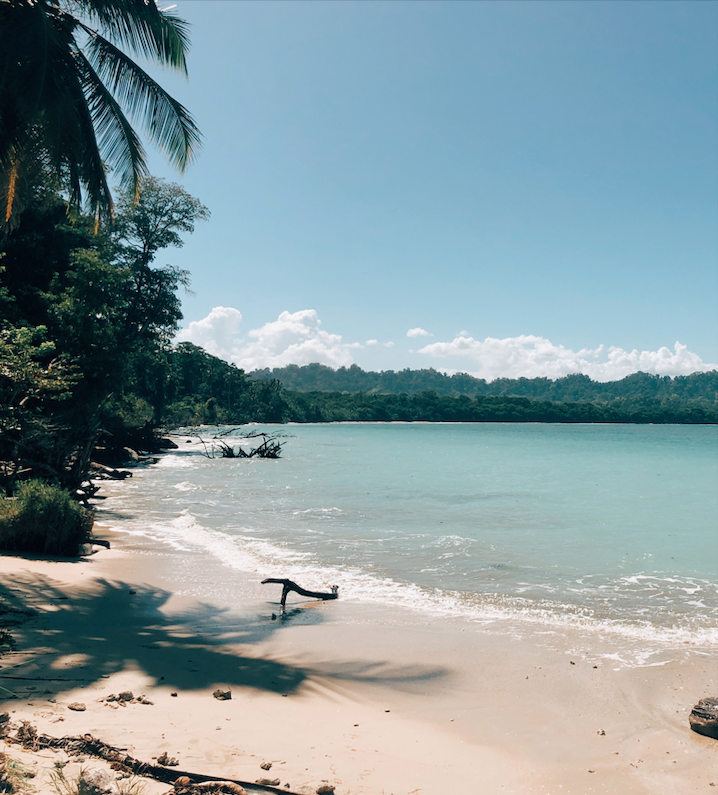 Things To Help You Plan Your Trip
Entrance Hours, Cost + Info
Cahuita Park is open from 8 AM to 4 PM daily.
Cost: The Kelly Creek Ranger Station encourages a donation while the other entrance has a $5 USD entrance price for foreigners.

Find public restrooms, showers, and picnic tables at the Kelly Creek Station (bring your own hand sanitizer and tissues for the bathroom — you won't find toilet paper or soap).
What Entrance To Use?
You'll find two entrances to use to the Cahuita National Park: The Kelly Creek Ranger Station and Puerto Vargas.

The Kelly Creek station is found along the eastern end of Cahuita's "Main Street" while the other entrance is found along the eastern base of the peninsula (the 5.6-mile hiking trail connects the two stations). Most start at the Kelly Creek entrance (most of the wildlife is seen at the first two miles at this entrance).
The map below outlines the beaches, the entrances, and the dotted line is the hiking trail to help you orient yourself.
About The Weather
It's hot and humid in Cahuita, with temperatures around 80 or 90° Fahrenheit, plus there is a lot of rain in this part of Costa Rica. The driest months are February and March, then again in September and October. The other times of the year see heavy rain which can sometimes close portions of the hiking trail.

Anytime you visit, you'll want to dress in cool clothing, bring a hat, pack up sunscreen and bug spray, and make sure you drink plenty of water.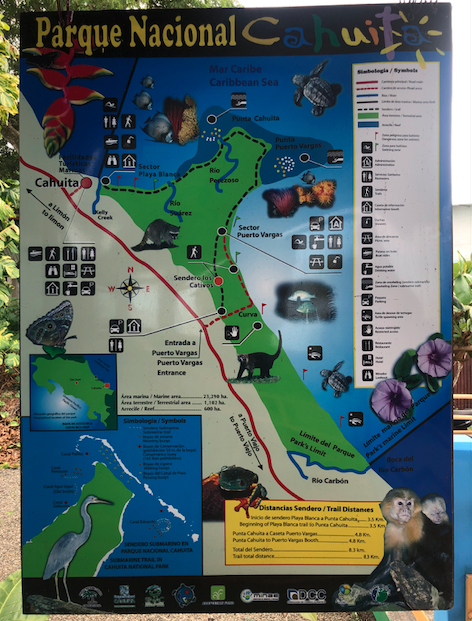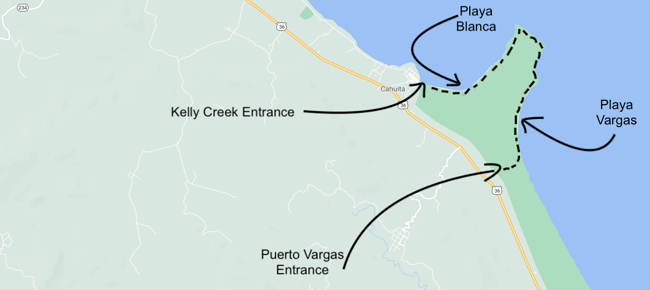 Getting Here
From Puerto Viejo
If you'll be around Puerto Viejo, you can hop on the Limon to Puerto Viejo bus and get off a Cahuita. It's the MEPE bus, and rough schedules have departures from Puerto Viejo at 6:30 AM, 9:30 AM, 11:30 AM, 1:30 PM, 3:30 AM, and 5:30 PM. It's around a 30-minute bus ride.
You can get more info on traveling by bus in Costa Rica, here.
From San Jose
There is a bus from San Jose to Cahuita that runs multiple times a day (get on the bus route that goes towards Puerto Viejo). Catch the bus at the MEPE station downtown in San Jose (avenida 9, calle 12) and get off at the Cahuita Bus Terminal (it's found just outside of the park, a 5-7 minute walk). The bus departs at 6:00 AM, 8:00 AM, 10:00 AM, 12:00 PM, 2:00 PM, 4:00 PM, and 6:00 PM and is around a 4-hour drive.
You can get more info on traveling by bus in Costa Rica, here.

Hoping to spend a semester in Costa Rica?
You probably have questions about what volunteering is like, so let's chat! Click the button below to talk to an ILP representative who has volunteered abroad before.