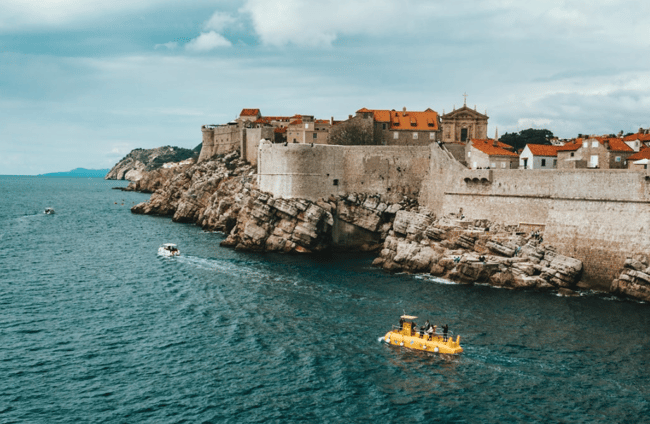 We love just hanging out in Dubrovnik, but you'll be missing out if you don't head to all these nearby islands + day trip spots.
If you'll be spending some time in Europe, you'll want to come spend some time on the shorelines of Croatia after reading this post. Dubrovnik is a red-roof top tiled city, hugging the turquoise coast of the Adriatic Sea, and is crammed with dozens of ways to spend a day or two. But the real highlight of Dubrovnik are all the ferries and buses — the shore here shatters off into dozens of dreamy islands just waiting for you to explore, plus the city itself is just a couple of hours away from spots like Montenegro or Bosnia.
---
Want to make a trip to Europe absolutely perfect?
Read this European Destination Guide
---
To help you plan your trip to Dubrovnik, that guide details the best things to do, see, where to stay, and all the other info you'll need to spend a few days here … but when it comes to all the best islands + nearby day trips to explore, this is your go to guide:
Lokrum
The Nature Reserve
Hop on a 15 minute ferry and leave the beaches of the mainland for the shores of this shaded and cacti-studded island. Lokrum is a nearby nature reserve, home to easy hiking trails, an old monastery, stunning views of Croatia's coastline and other surprises. Peek around for peacocks strutting their way between the trees, and rabbits hopping around on this nature reserve. On the island, you'll find the crumbling ruins of an old Benedictine Monastery, which was used in the filming of the popular "Game of Thrones" series (you can even go sit on the Iron Throne during your visit). You can also trek up to Fort Royal, which used to be a French Garrison. From the top, you can get quite the view of Dubrovnik, so bring your camera (and head up here near sunset).
Swimming In Caves + On The Coast + Salty Lakes
The island is also home to some stellar swimming spots. You won't find sandy or pebble beaches here, just rocky coves where you can dive right in. If you want to go swimming in the ocean, the best jumping off points are on the eastern side of the island where there are some ladders set up to help you in and out of the water. On the south side of the island, there's a dirt trail that leads hikers to a little cave, complete with a rocky archway that leads you right into a swimming hole. The "Dead Sea Lake" (Mrtvo More) is also a nice saltwater swimming spot on the island (it's found near the center of the island).
Lokrum is one of the most popular half-day or day-long adventures you can take from Dubrovnik, especially if you want a break from the busy city and crowds of Dubrovnik. Plan on spending anywhere from 2-8 hours here (longer if you really want to explore all the sites and do some swimming). The island itself is small, just about 1.5 miles long, so expect to do a lot of walking on your visit.
This website has more info about the island, like ferry times and a map of the island.
Getting Here + Costs: The ferry leaves from Dubrovnik's Old Town Port, with multiple crossings every day during the warm summer months. In May, the ferry leaves every hour from 10:15 AM to 5:15 PM. From June to September, crossings are every 30 minutes, starting at 10:15 AM (10:45, then 11:15, then 11:45 etc) until 7:15 PM. The ferry only takes cash, leaves promptly on time, and is for foot passengers only (no bikes or cars). The company sells tickets for 150 KN (About $22 USD), which includes the 120 kn entrance fee the island. It's a round trip ticket.
You can get more details on the Lokrum ferry here.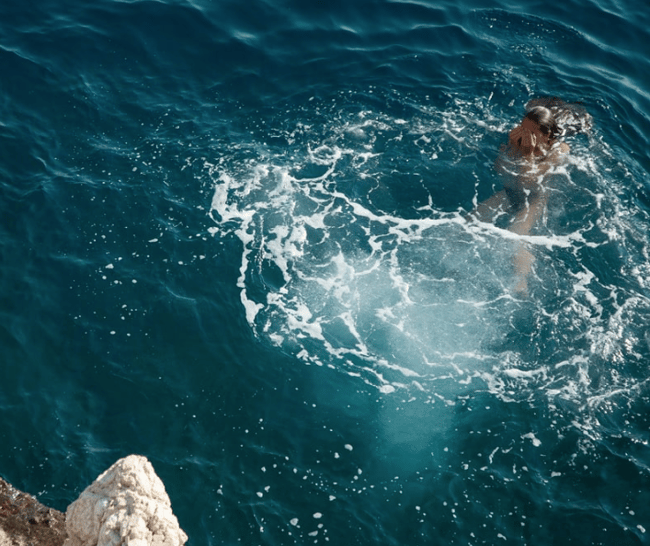 Mljet
Called one of Croatia's best islands, Mljet is an island covered in a thick blanket of forest. It's home to hiking and biking trails, plus tiny seaside villages that cling to the coastline. A few highlights include the deep blue waters of the Odysseus cave, a protected national park, world-class scuba diving to a shipwreck buried beneath the waves, and kayaking on the salt water lakes. Here's a bit more about what there is to do on Mljet:
Mljet National Park
Found in the western third of the island, this national park is most famous for the two salt lakes found here: Veliko Jezero and Malo Jezero ("Big Lake" and "Small Lake"). You're welcome to hop in for a swim, rent kayaks, or explore the tiny islet on one of the lakes which is home to a Benedictine Monastery. There are canoes you can rent if you want to paddle over to the island to explore the church (or you can check out the boat schedule here). There are trails around the lakes for you to walk around if you want to do your own exploring or you can email turizam@np-mljet.hr if you'd like to arrange a bicycle tour or a half day/full day tour with a guide.
Pro tip: You can rent bikes at the entrance of the park for 40 kn an hour, or you can rent bikes in the nearby city of Polace for 50 kn, and that's for the entire day.
Costs + Info: The National Park is open from 8:00 AM to 8:00 PM in tourist season (from November to the end of March, time on the island is by prior arrangement only). Entrance costs vary depending on when you are visiting. You can get more information about pricing on for the National Park here, but in general, entrance costs are 70kn during low season (January to May and October to December) then 125 kn from June to September. Your ticket price includes the bus services in the park, and a boat ticket to the island.
Odysseus Cave
According to legend, Odysseus was so enchanted with Mljet that he stayed here for seven years! This cave could explain why he found Mljet so enchanting: Odysseus Cave is a gem-blue swimming spot, framed by rocky walls that create an eerily beautiful place to hop in for a swim. It's found on the southern tip of Mljet, near the small town of Babino Polje. There's a bus that can take you from goes from Pomena to Sobra (via Goveđari, Pristanište, Polače, Ropa and Babino Polje). Look for bus 18.
The hike is about an hour, a winding pathway over some jagged rocks and steep slopes, but you'll soon reach the "Hotel Penelopa". Yep, you have to walk through the hotel's lobby to continue your hike (it's about a 3-minute walk from the hotel to the entrance of the cave). The trail stops cold right on top of a rocky platform where you have to dive straight into the perfectly blue water, and can swim into the entrance of the cave.
Getting Here: There are two regular ferries from Dubrovnik to Mljet. It's about a two hour ferry ride (you can get the ferry departures here), and costs 90 kn each way.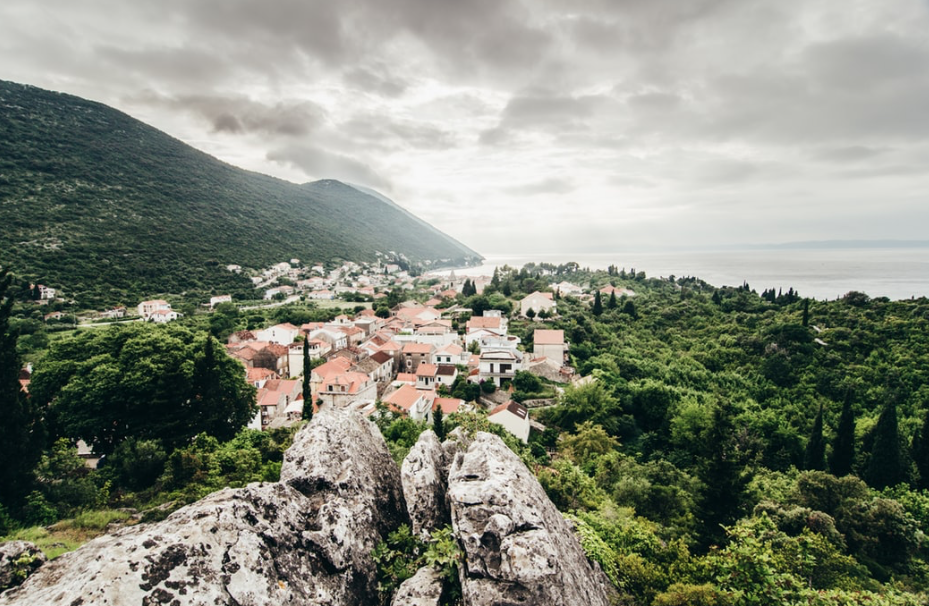 Elafiti Islands
A series of 13 islands make up the Elafiti Island chain, and make for a very popular day trip from Dubrovnik (or longer, if you want to visit a few islands!). Typically, people visit the inhabited islands (Kolocep, Lopud, and Sipan) which are all full of quiet adventures like churches hiding in pomegranate coves, quiet seaside villages selling olive oil and fresh jams, and some stunning caves to swim in. It's a relaxing escape from the crowds you'll find on the mainland.
Kolocep
Just around 300 people call this car-free island home, walking along the network of trails that lead tourists and locals through the dense forests to the turquoise coastlines. A visit here is quiet, relaxing, and off the beaten path. It's the closest of the Elafiti islands to Dubrovnik, making it an ideal day trip if you want to come explore a series of caves and have some beaches all to yourself. While there are some rocky shores for swimming, the most popular things to do on Kolocep is exploring the caves: Blue Cave and Three Caves. Blue Cave is absolutely mesmerizing, a swimming spot where the light blue water flows into a rocky cave, with pockets that allow sunlight to stream inside the cavern. It's a secluded spot you can only reach by boat, and has stellar snorkeling. You can also visit the Three "Emerald Caves" where a series of three caves all have water that fluctuates between three distinctive colors.
There's one major company that arranges boat trips to the caves (book here), which has a 60€ tour option that takes you to the Blue Cave, the Three Caves, Sunj Beach, and back to Old Town for sunset. The tour includes an English speaking guide, lunch, and snorkel gear, and is a 6 hour outing.
Lopud
A small, carefree and car-free island is what you'll find on Lopud. Walk or rent bikes to check out Sunj Bay (and go for a swim). Because the island is so small, it's about a 20 minute walk to reach the bay. It's a sandy beach, with calm and shallow waves which are perfect for wading in. The island is also home to a smattering of churches: take the chance to trek up to the top of the 15th century Franciscan monastery for a view of the island. Plan on spending part of your time just meandering on the trails that lead you to thick olive groves, hilltop fortresses, past churches, and around sparkling coastlines. There are a string of resorts and restaurants on the island, but Lopud still feels relaxed and quiet. Tip: Visit the tourist office (right on the harbor, where you'll disembark) to grab a map of the island to help you get around.
Sipan
Sipan's the largest of the Elafiti islands, with two small villages and a proper road where you can catch a bus to take you to either end of the island. You'll see small and quiet villages hugging the coast, shops selling fresh pressed olive oil, and tiny markets selling fruit and fish. There are kayaks to rent, pebble beaches to swim in, and churches tucked away in pomegranate groves, right where you'll disembark from your ferry. A visit to Sipan mostly means docking at in Sudurad then visiting the nearby town of Sipanska luka, if you want to rent a bike and see another town on the island.
Getting Here: There are tours from Dubrovnik that will take you to all three islands, giving you a taste of what there is to see on each, but your time will be limited. It's like a planned, scheduled little "mini cruise". Prices tend to be much higher than just ferrying over yourself (typically around $50-$61+), but these tours often include lunch, and arrange all of your transportation between Dubrovnik, Kolocep, Lopud and Sipan, then back to Dubrovnik.
If you want to DIY, you can ferry over to the individual islands yourself. Croatia Ferries is going to be your best resource to finding the routes, times, and price between Dubrovnik and the individual islands (Dubrovnik to Lopud, Dubrovnik to Sipan, etc) and the routes between the Elafiti islands.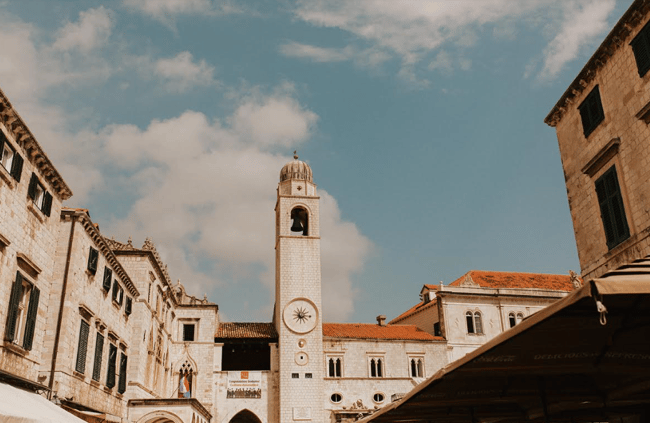 Korcula
The Charming Old Town
Who wouldn't want to visit a place called the Emerald Isle? A day trip to Korcula has to include a tour around the city's Old Town, nicknamed "Little Dubrovnik" because you'll find similar red tile rooftops and towering churches here, plus a few surprises. Found on Ulica Depolo, you can tour the Marco Polo museum, walking around the small home and climbing up stairs to get a view of the city (for 20kn, about $3).
The architecture on this island is really the highlight: quiet, stoney buildings, cobblestone walkways, walls dripping with flowers and ivy, with the whole area completely surrounded by the turquoise water of the Adriatic. Make sure you climb up the winding streets to get a great view of the Adriatic.
Bike To The Beaches
The island is also home to some stunning beaches — we suggest checking out Vela Przina Beach, which is just a 15 minute ride from Korcula Old Town and sports sandy shores. Waves here are calm and clear. Pupnatka Luka Beach is another favorite. This pebbly beach is a prime swimming spot, with chair rentals for those who want to lounge in the sun, and kayaks for rent if you're looking for something to do. Near the Old Town, the beach on Put Svetog Nikole (Ispod Duvana Beach) is a swimming spot you'll love.
You'll want to bike all around Korcula: you'll make your way past green vineyards, and little coastal cities on your way to these beaches. Bike rental shops are found in the Old Town, and typically are around 50 kn (about $7.5 USD) for three hours, or about 100 kn ($15 USD) for the whole day.
There's certainly enough for you to explore for a few days if you can spare the time! A lot of visitors come for a week or so, and take a few days trips from Korcula to split up their time. This blogger has an outline of a day trip you can take from Korcula, the stunning Badija island.
Getting Here: Take a two hour ferry. There are multiple operators and price ranges depending on whether you're there during high season and what operator you're booking with (typically 90 kn to 130 kn). Ferries tend to leave three times a day but you can check the ferry schedule here to get exact times for the month you're visiting.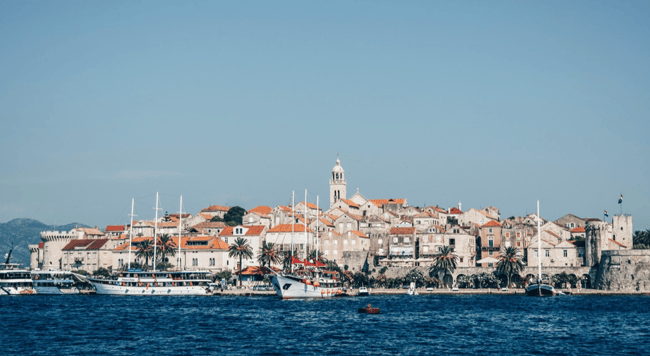 Cavtat
Okay, I'm all for seeing "the city" in the country you're visiting. I mean, there's a reason why people go to Paris to see the Eiffel Tower … it's just something you do. And in Croatia, Dubrovnik is absolutely "the city" that everyone just heads to. But if you're wanting to skip out on the cities that are much too crowded, way too touristy, and are looking for something a bit more untouched, I think we can be good friends. And if you're thinking that you might not love the crowds and high prices found in Dubrovnik, I'm happy to introduce you to Cavtat.
Find Renaissance palaces, ancient villages clinging to the cliffs, all nestled right on the Adriatic. I say anytime you can escape the crowds in Europe, do it … especially when Cavtat is only 30 minutes away.
This city has a relaxed low-key vibe. While Dubrovnik swarms with tourists willing to pay higher prices, you'll find more affordable options here. Places to stay are going to be less, meals are going to be less, and things to do are going to be less. Perfect for anyone looking to travel Europe on a bit more of a budget. We love love love it here.

Bosnia & Hercegovina
Trebinje
Trebinje probably isn't a city you've heard of, let alone one on your travel list, but it definitely should be. Nestled in the heart of Bosnia's wine-country, a visit here is all about strolling through the postcard-pretty town. It's a red-tile rooftop city, tucked on the shores of a lake where weeping willow trees drip into the water. Stone bridges guide you over to rolling fields of grapes, all found at the base of a pine-studded mountain. It's definitely your favorite city you haven't heard of yet.
This guide to Trebinje has all the info to help you plan your trip.
Getting Here: The bus ride from Dubrovnik is quick, about 45 minutes (or around an hour) and affordable, with one-way bus tickets in the 3 euro range. It's common that bus tickets for this route aren't available online for purchase, but you can check potential schedules here and here.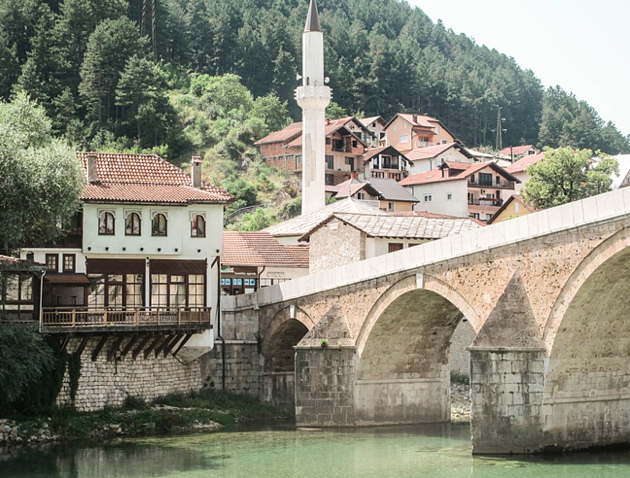 Mostar
The city of Mostar in Bosnia & Herzegovina is home to what might be the prettiest bridge in all of Europe, and is an easy day trip from Dubrovnik. This high, half moon frames a picturesque city, tucked in front of rolling green hills. It's what postcard pictures are made of. You can hang out on the bridge, watch the daredevils who jump off, and hike around to ancient monasteries before heading back to Dubrovnik. Just a few hours outside of the small city is an enchanting national park, studded with thundering waterfalls. While the city of Mostar is easily seen in a day, you'll definitely want to plan on more time if you'd like to hike around and swim in the Kravice waterfalls …. better to plan on this being a 2-day trip instead!
This guide to Mostar outlines the best places to eat, the best photo spots around the city, and other helpful info for your day trip.
Getting Here: Hop on a bus for 3-4 hours, and you're there. Scope out bus prices and options on Get By Bus.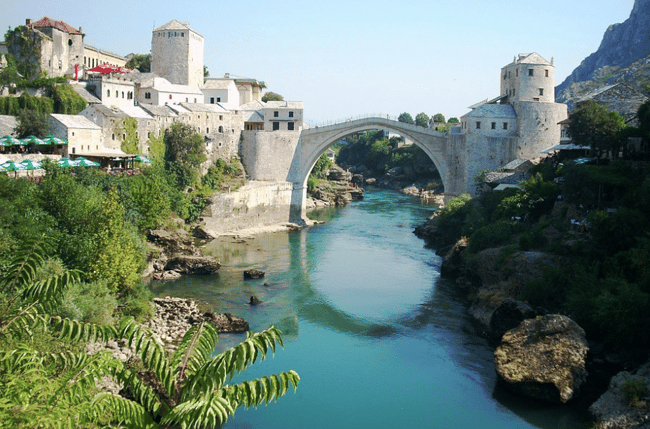 Looking for travelers!
We're accepting applications to come volunteer in Europe with ILP — spend part of your time teaching English or volunteering in an orphanage, then have weekends off and vacation days to hop over to places like Croatia.