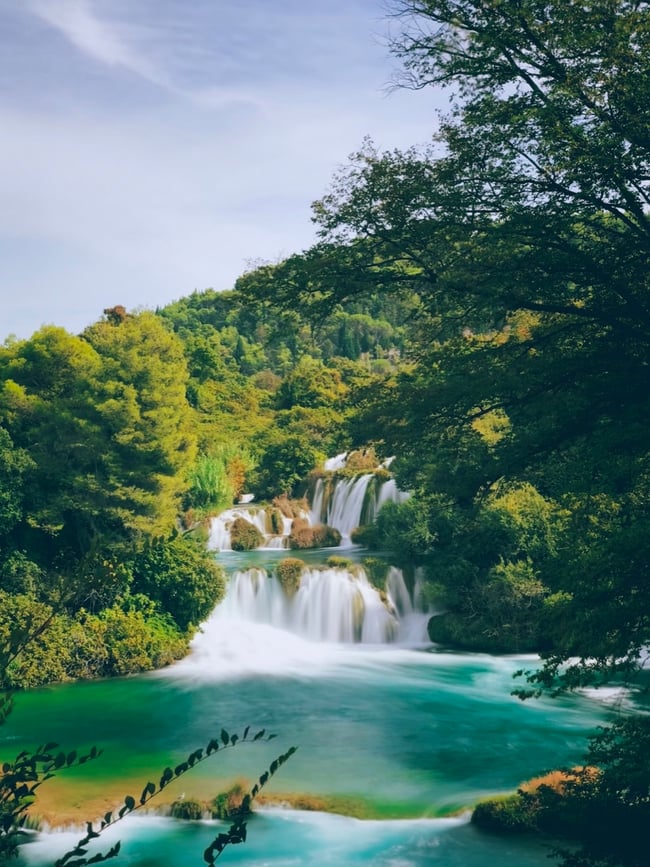 Europe is full of thundering cascades, but you can't swim in all of 'em ... which is probably why we love Krka oh-so-much.
Croatia is actually a dream come true. I hadn't heard much about this corner of Europe but the minute I started looking into this country, I was hooked. Based on all the pictures of red-tile roofs, glittering coastlines, and the change to hike to turquoise waterfalls before diving in for a swim, I've decided Croatia is the most photogenic and adventure crammed country I can't wait to visit. See why this is a top-vacation spot for our ILP volunteers living in Europe?


---
I wish I knew about Croatia while I was volunteering in Europe!
Don't miss a thing with these adventure updates.
---

Don't get me wrong, I loved the countries I saw on my long vacation while living in Europe as an ILP volunteer (here's how I planned that trip) but I wish I had time to hop over to Croatia ... sounds like it's time to volunteer for another semester just so I can check this place out. Especially since this post is full of all the info and details you'll need to make it happen.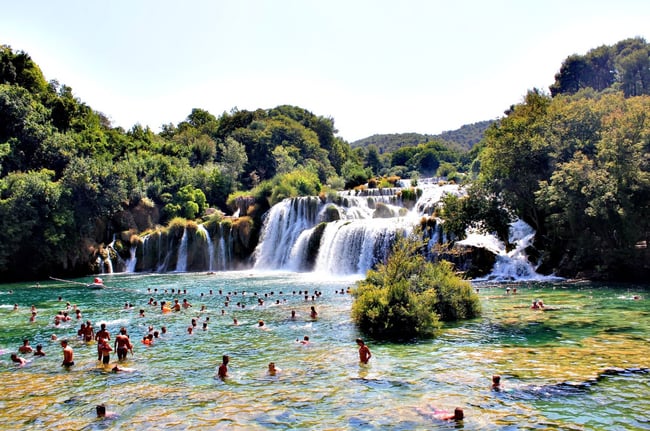 All About Krka
The Park is Huge
But really — it's home to waterfalls (or "slaps" if you're speaking Croatian), caves, lakes, a sprawling nature reserves, a couple of monasteries (one of which is floating on an island in a turquoise lake), and more. To really paint the picture of Krka National Park, let's highlight the Skradinski Buk waterfalls, which is built up of 17 different cascades ... some of which are over 150 feet tall!
What Should I See?
Since this place is so massive, you'll want to narrow down what's worth seeing or not. You can find more info on this brochure but in general, most tourists hang out at the Scradinski buk waterfall.
You can reach Scradinski buk waterfall by boat (more info on that below when we talk about entrances to use) but it's a thundering network of blue cascades, each more impressive than the next. A short hike along a circular pathway leads you to various turquoise pools where you can easily spot frogs sunning themselves on lily pads. There is also a small village complete with windmills perched along the cliffside. You'll catch the best views from this working village so bring your camera. The main set of falls is the main attraction: the swimming spot. You'll find vendors selling drinks and ice cream, and buoys in the water roping off the sections where the current is strong.
Another top pick? If you have time and energy to climb almost 600 steps up for the best viewpoint (then some swimming after) go to Roški slap. It's a deep gorge home to several smaller cascades with wooden stairways hanging on the cliffside that lead you up higher and higher to the Ozidana cave (where the best viewpoint is).
The famed Franciscan monastery of Visovac is also rather noteworthy. It's a picturesque stone church situated on a tiny island found in the middle of Visovačko Lake. Think about boating over and spending 30 minutes checking out the monastery (the interior houses historic dishes and linens), or just admiring the view from above.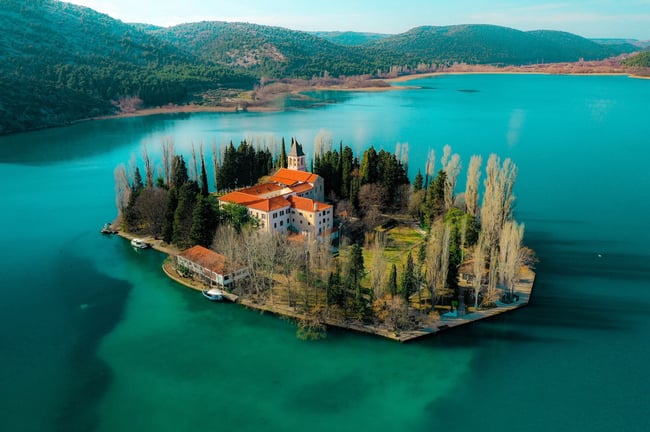 Read This Brochure!
You can find tons and tons of info about the Krka park on this brochure. There is a handy park map that details all the main attractions, outlines different sections of the park to explore (and how long they take). There is also info about boat rides ... this place is huge, and the brochure does a good job breaking it all up. It's a handy way to help you plan your trip.
Where Can I Swim?
The park's FAQ page outlines that swimming is allowed (at your own risk) at designated sections like Skradinski buk and Roški slap. The water is icy even in the summer months, but you really can't beat a swimming spot as pretty as Krka.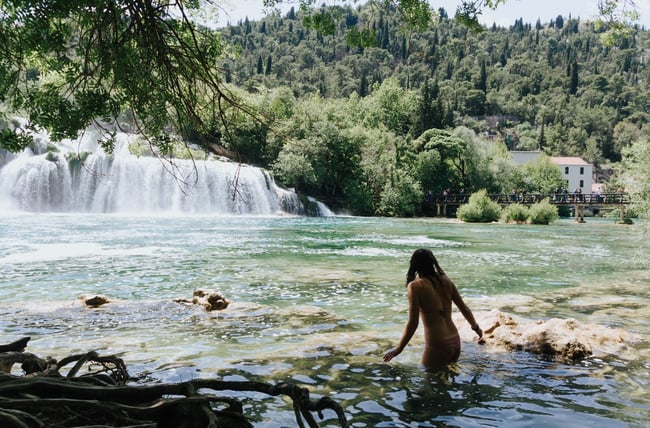 Details To Know
Park Cost + Tickets
Cost: 200 kunas for June to September (150 if you visit after 4:00 PM)

100 Kunas for April, May, and October.

30 Kunas for November to March.
Tickets include boat rides from Skradin to Skrdinski buk and Lozovac to Skradinski buk (boats don't operate from November to March). There may be a student discount available, so don't forget to show your student card when purchasing.
Lines do get long in the summer, but you can book online here. That link also has more detailed ticket info (there are less expensive tickets that only cover certain sections of the park if you'd rather not buy full-access tickets).
Park Hours + Which Entrance To Use?
9:00 AM to 4:00 PM from November through February

8:00 AM to 6:00 PM from March through April (May's open until 7:00 PM)

8:00 AM to 8:00 PM from June through August

8:00 AM to 7:00 PM in September

8:00 AM to 6:00 PM in October (until the 15th, then things close at 5:00 PM).
There are five park entrances, but most use the two most popular entrances: Skradin and Lozova. To get to the main waterfall, you can boat to the Skradin waterfall. The boats run from April to October and run every hour. Remember, this boat ride is included in your ticket (a 25-minute boat ride).
From the Lozova entrance, you'll have to use the buses (but they only run in the summer months) to reach the Skradinski Buk falls. It's recommended you use the Skradin entrance.
When Should I Visit? How Long To Stay?
If you're planning on swimming, hit this park in July and August when it's going to be the hottest. The summer is the most popular time to visit, by far. Avoid some of the crowds by visiting in May and September, or go in the shoulder seasons where the park lights up with golden foliage or gets twinged with frost in the winter months.
As to how long you should spend in Krka, that depends. You can easily do the highlights in a day, especially if you're just concerned with swimming in Skradinski Buk (which is what most tourists do). But there is also enough to do on a slower paced, two day visit. You can explore multi-entrance ticket options if you'd rather stay longer.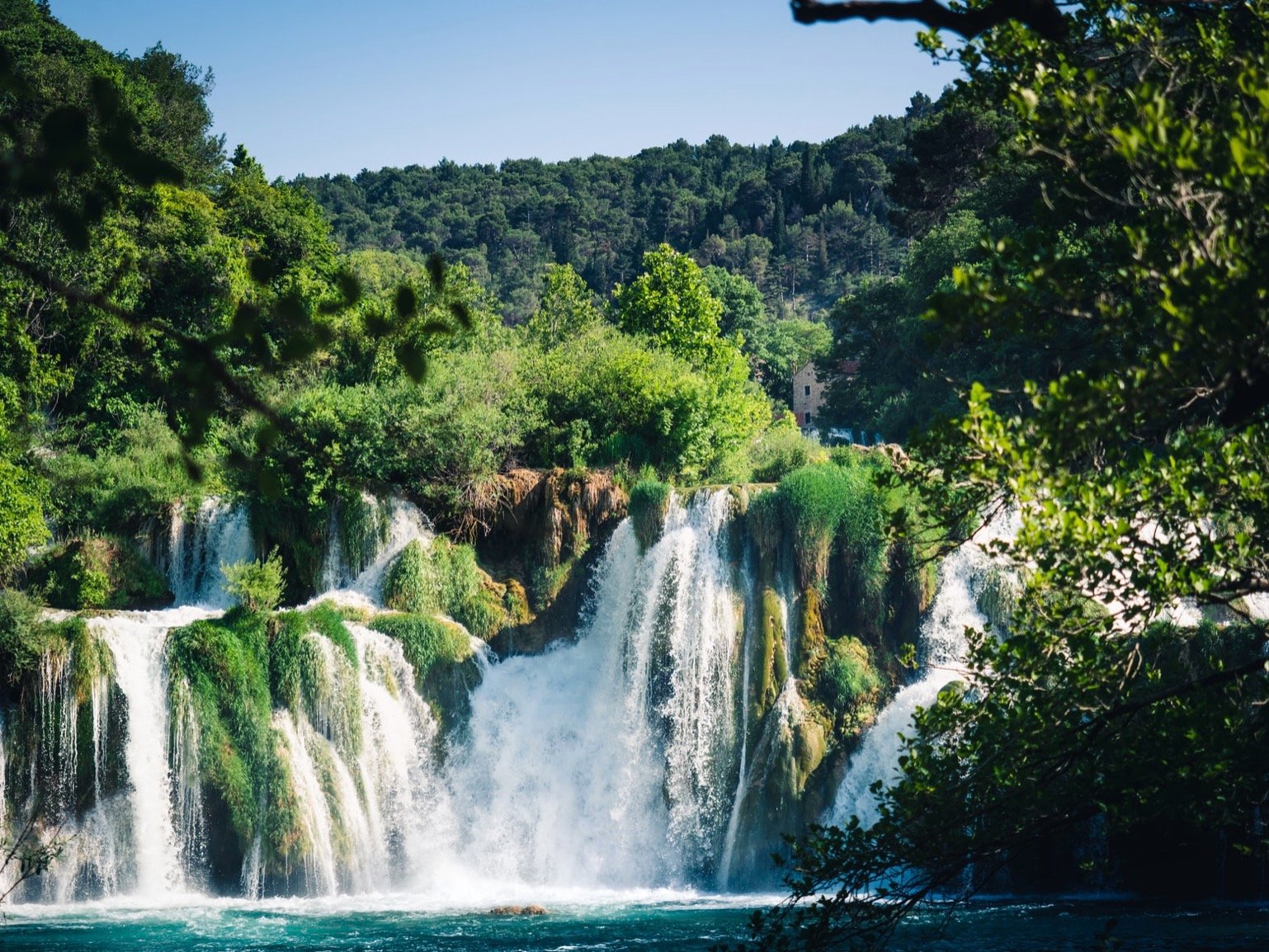 Don't Confuse This With Plitvice!
Plitvice is another stunning collection of waterfalls, complete with winding boardwalks and trails that lead you between the cascades. It's slightly more famous as far as tourist attractions go, and is definitely worth a visit if you have the time (it's found in the northeastern section of the country). Just don't confuse the two — You can swim in the pools at Krka, but plan on just admiring Plitvice from the trails. Get more on Plitvice here.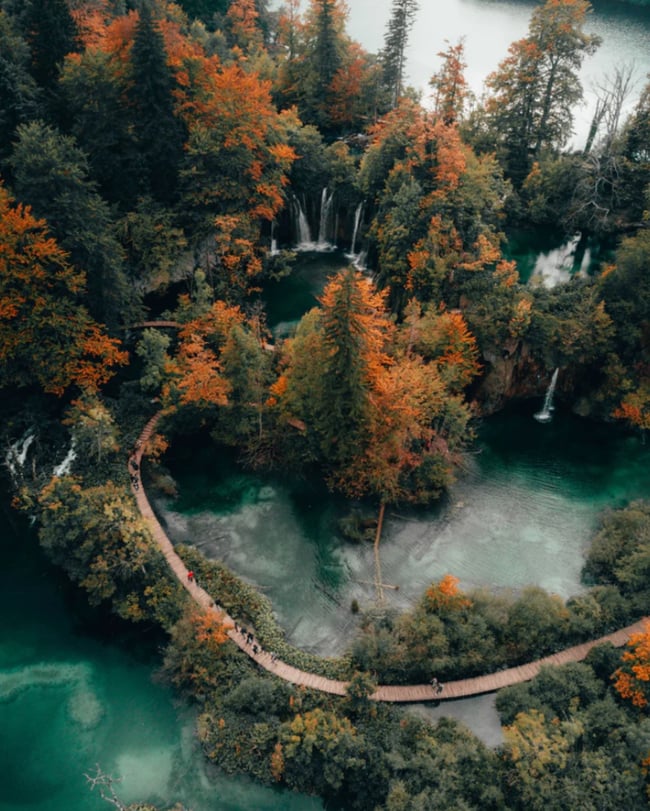 Getting There From Split
Split is going to be your best jumping off point. From that coastal city we love oh-so-much, there are buses that can take you to Krka National Park. Most tourists use a trip to Krka as a fun day trip while visiting Split since the ride to Skradin (the town closest to the park entrance) is only 1.5 hours or less. Remember, Skradin is the park entrance that most people use.
You can check out routes and prices on Get By Bus, but plan on paying 9-10 euros to get there from Split (a total steal in my book).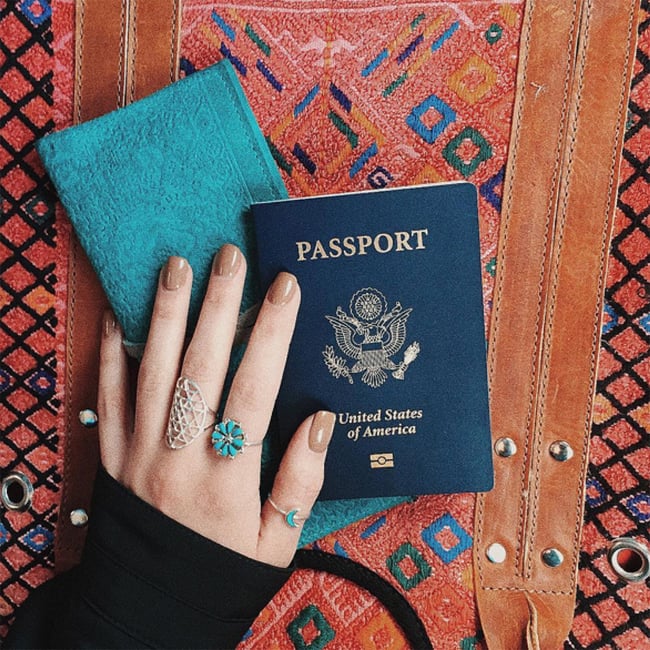 Come tour Europe with us!
Spend a whole semester traveling and living in Europe with ILP — we're a non-profit organization based in Utah who has years of experience sending college-aged volunteers abroad. You'll spend part of your time teaching English or helping in an orphanage, with weekends off + vacation days to hop over to places like Croatia. We have locations all over the world (but my fav are in Europe!)