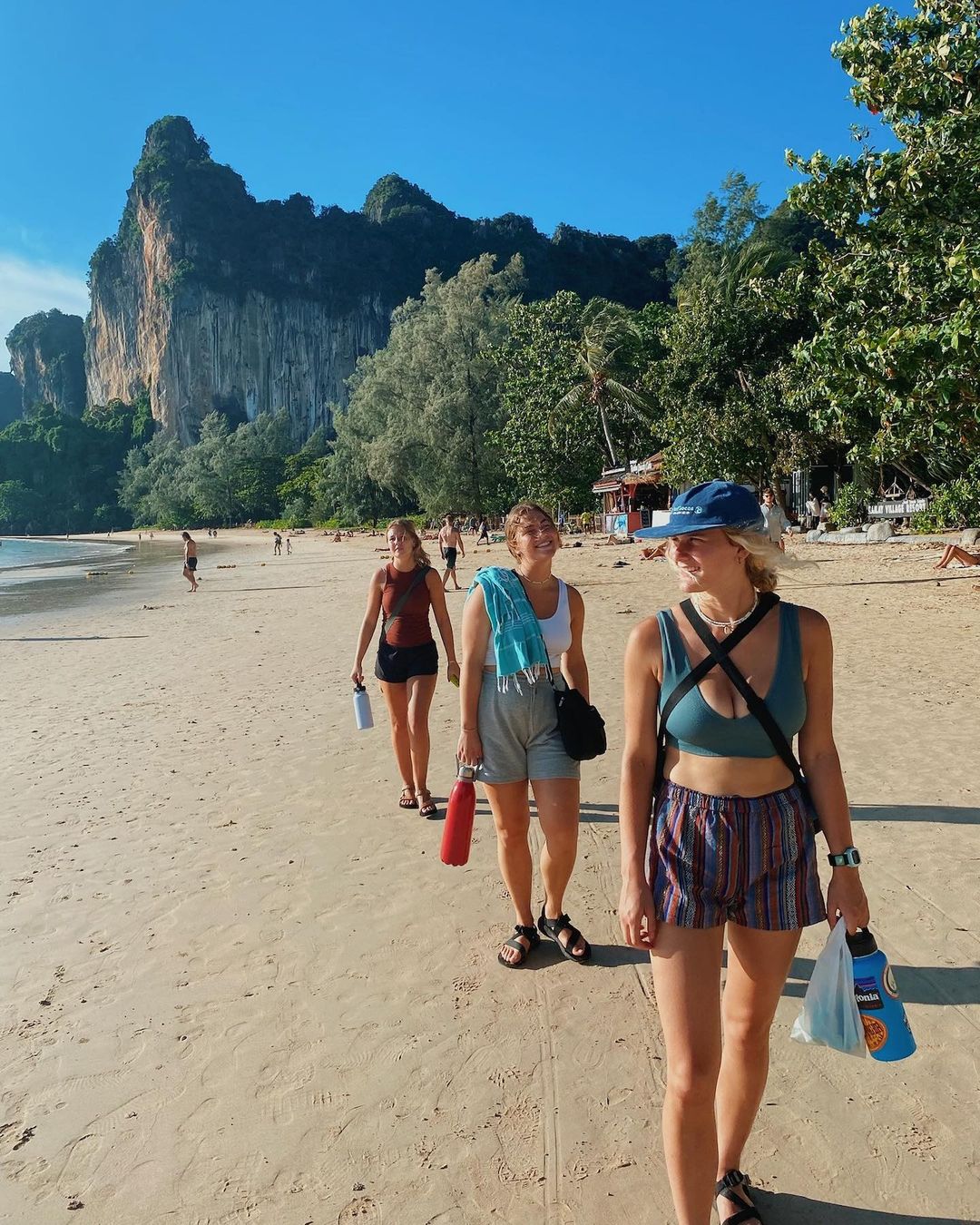 Talk to any ILP volunteer and they'll tell you to totally skip over Phuket and head to Krabi instead.
Everyone has to take a trip down to the southern part of Thailand ... that's where all the gorgeous beaches are! But you'll want to do a little bit of research before you plan your trip here. Hands down, Krabi is way better than Phuket.

To give you a bit more of a visual, around 8 million tourists visit Phuket, so you're looking at more crowded, more expensive and more commercial areas. The beaches can be crowded especially in the high season and some tend to have more of a party reputation that get loud and leave trash on the beaches. But in Krabi? 3 million tourists come here, and there's so much more to do. I'm talking one of the best hikes in Thailand, easy island hopping access, and so much more. It's still touristy, but feels way less crowded than Phuket.


---
Want to know how to get the inside scoop on Thailand?
Come volunteer in Thailand for a semester!
---

Totally sold on spending some vacation time in Krabi? Great choice — pretty much all of the ILP volunteers say to completely skip Phuket and hang out in Krabi, hitting all the highlights:
Krabi's Best Adventures
This part of Thailand is all about the adventures, but you can absolutely find ways to unwind and relax. Most groups tend to spend 3ish days here either hitting up all the hikes, snorkeling trips, rock climbing, boat tours and more, while others decided to take full advantage of all the beach-side massage spots. We've pulled together some of the top activities (no matter what kind of trip you're looking for) right here.
Hiking To Tiger Cave Temple
An incredibly steep hike, straight up a mountain to a Buddhist temple and one of the best views you'll see in Thailand is what's waiting for you if you can make it to the top. In typically Thai style, hiking here is like the most ultimate stair-stepping challenge ever — you'll need to make it up 1260 steep stairs before you can soak in the view at the top. If you're up for hiking in a sauna (thanks to the humidity) and love the idea of seeing the temple perched at the top of this peak, you will love this hike. It's easily one of the top things to do in Krabi, so don't skip out!

Get all the details about the Tiger Cave Temple hike here.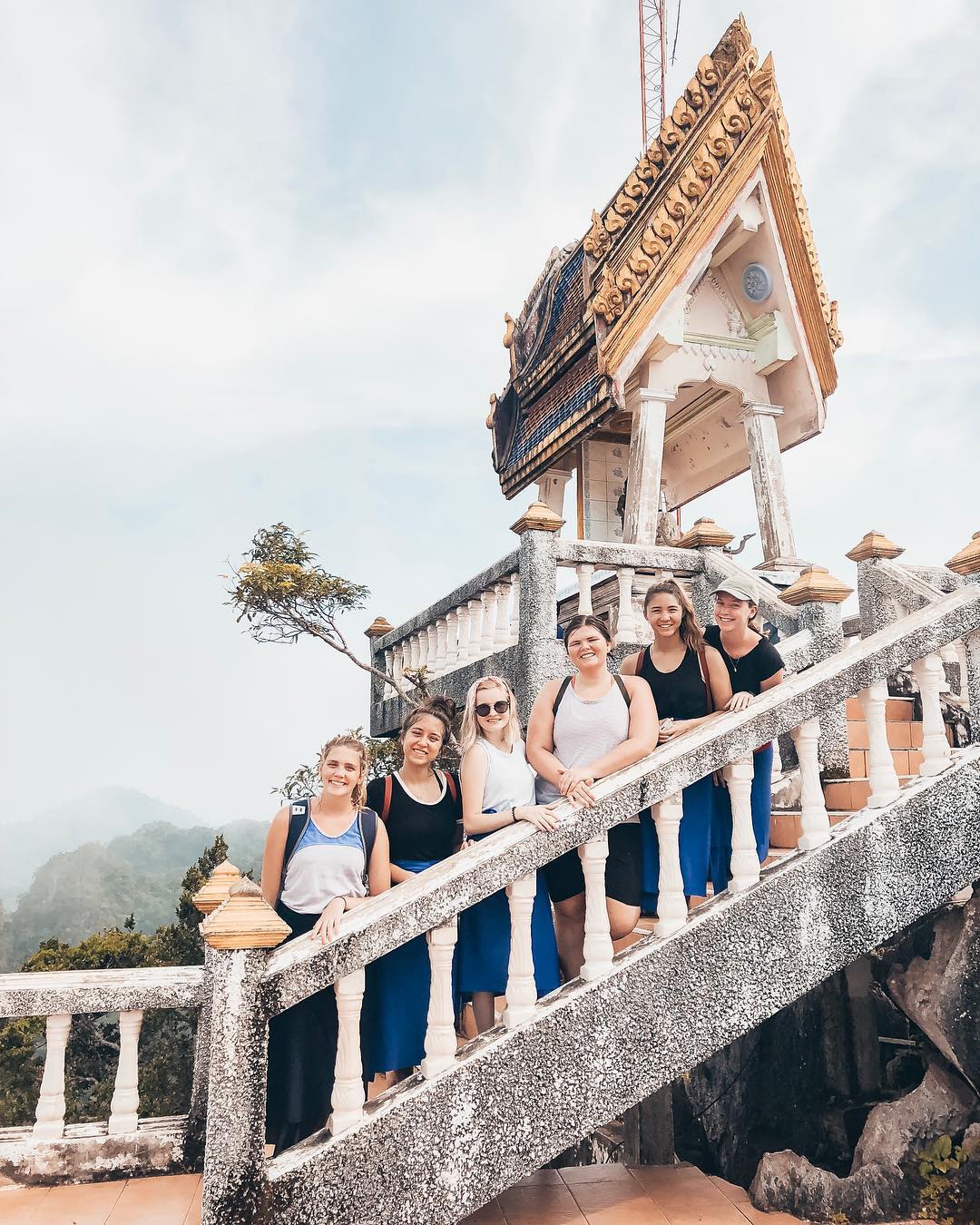 Snorkeling Galore
There are lots of places to snorkel in and around Krabi, but one of the most popular options is snorkeling on one of those 4-island tours. Most tours pick up a few places in Krabi and take you around to four of the small islands surrounding the Krabi Province. You'll explore a couple of beaches, go snorkeling near Chicken Island, stop off at a sandy beach on Poda Island, and admire Marvel Tup Island before heading back to Krabi.
Tons of tour operators have a 4 or 5-island tour that includes some snorkeling, with pick ups in Krabi Town, Ao Nang Beach, and sometimes Railay Beach. They're typically 6-8+ hours long, so it's an all day thing. Here's an example of a 4-island tour to help you picture what's available. There's not off beach snorkeling in Krabi, so you'll want to book a snorkeling tour.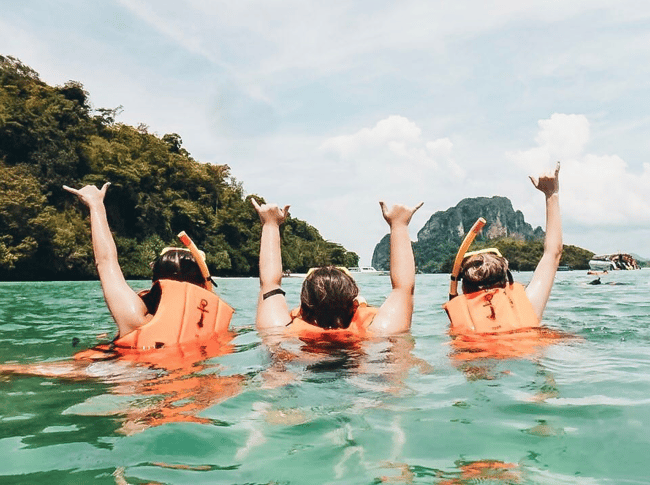 Try Cliff Hanging + Rock Climbing
The jutting limestone cliffs in Krabi are like magnets to climbers from all over the world. Rock climbing is a very popular thing to do, even if you've never climbed before. Some of the best climbing spots are around Railay Beach and Tonsai Beach (more on those two later on). To help you picture a day out climbing, King Climbers has a 1000 baht package where you'll be picked up in Krabi Town, brought over to Railay by boat, and they also set you up with all the gear for the half day climb. But that's just one example of what's out there. Krabi Rock Climbing is another really popular rock climbing schools with half and full day climbs set up for beginners, for 1200 baht.
Some volunteers also have tried their hand at cliff hanging, more popular on the floating islands on the outskirts of Krabi. Instead of wearing a harness, you'll free climb on the rock face and drop right into the ocean below you once you've finished your climb.


Kayaking In Krabi
It's a total favorite thing to do, so even if you're around Krabi for just a day or two, I'd recommend heading out on kayak either in the ocean or in one of the shallow rivers that curl through thick mangrove groves, past huge caves, and deep into the thick jungle (best to go mid-tide for these tours).
Test your hand at kayaking in a clear bottomed kayak as you paddle through the bioluminescent plankton — it glows at night, so it's like paddling through pockets of glow-in-the-dark paint. Go Free Bird is one company that has this evening glow in the dark tour for 2,000 baht. They also rent out these clear kayaks for daytime tours for 1,000 baht.
If you're into sea kayaking, there are lots of options. You can typically find kayaks to rent out by the end of Ao Nang beach (more on that beach later on). Prices are typically 500 - 1000 baht for a half day or daily rental, but check on hourly rates too. The water here is a gorgeous blue/green, plus there are magnificent karst formations that jut out of the ocean around Ao Nang beach, making for a rather picturesque paddle. You can also head out on kayak from Railay beach. You'll see kayak rentals for the hour (about 100 - 150 baht per hour). Make sure your rental includes life jackets and a dry bag for your rental time.
One ILP group took a Krabi Lazanya Tour and raved about it ... but just look at the photos below to get a sneak peek. They have both full and half day tours about 15 mins from Ao Nong beach that take you kayaking out to Crystal Lagoon. Book your tour on their Facebook page here.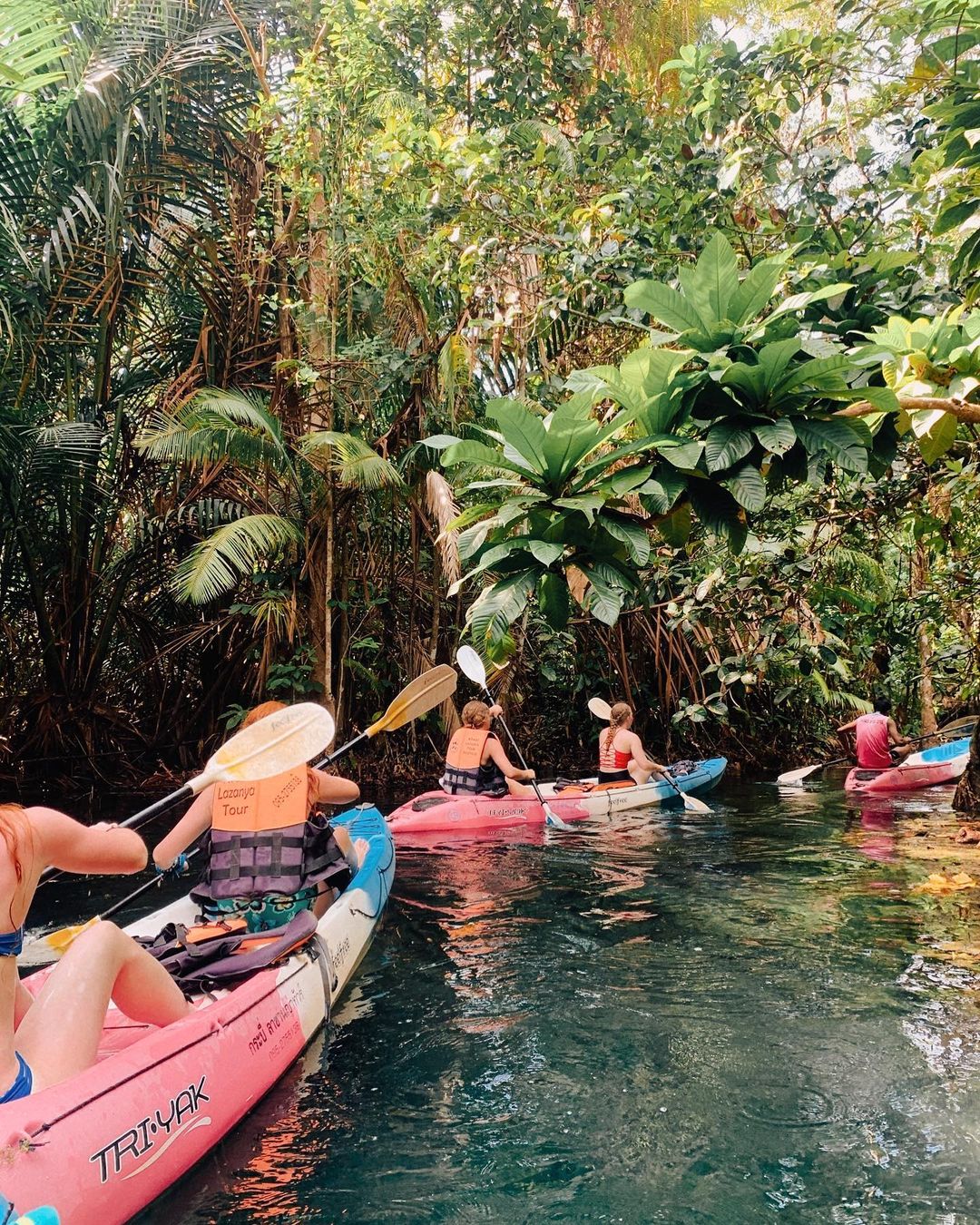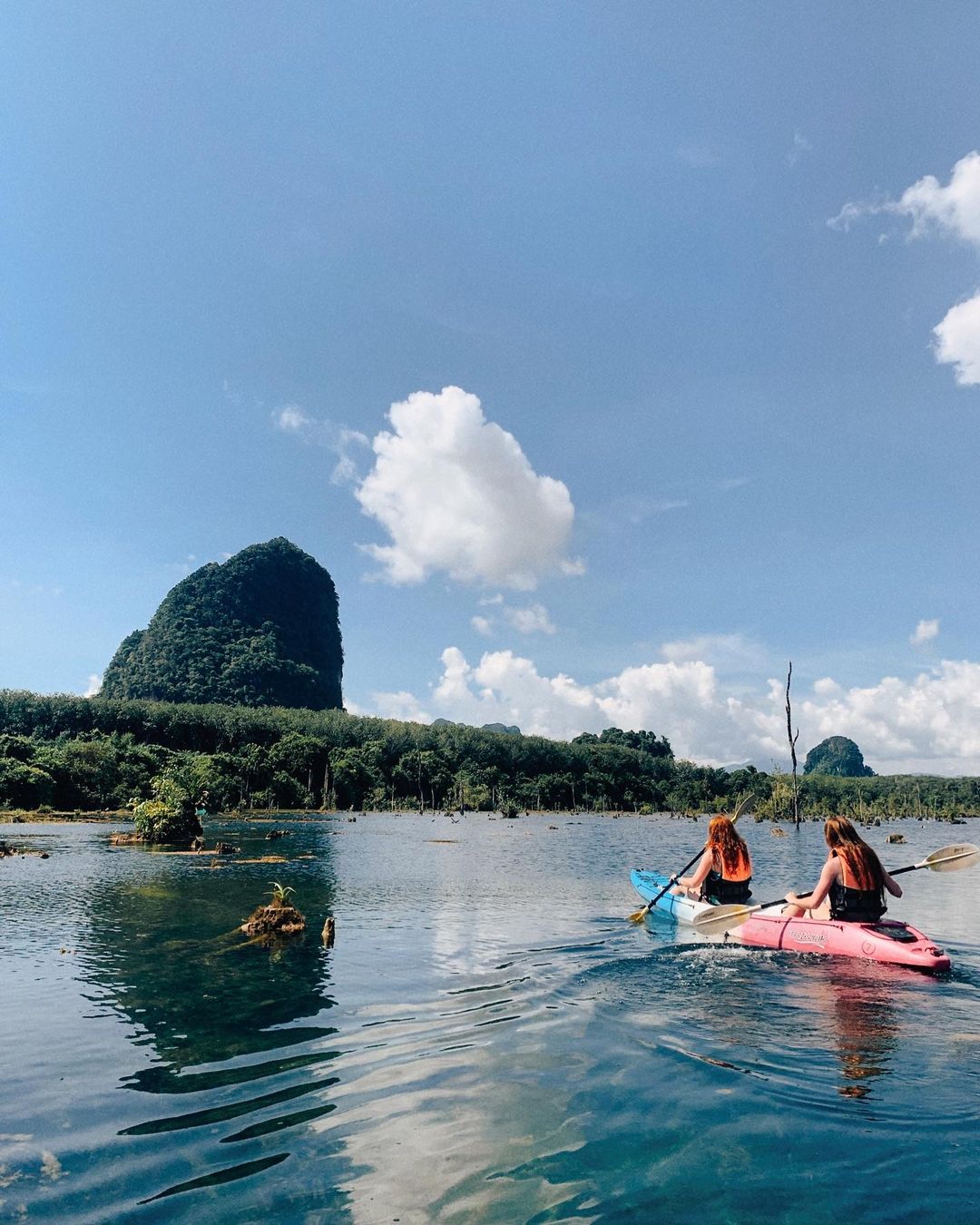 A Tip For Booking Tours
Here's what what ILP volunteer had to say: "I would highly recommend taking a day when you first get there to book all of your tours THERE, not online. If you book them online you'll have to pay the original price, if you book them there you can get usually around half off." Once you get to Krabi, you can easily talk to your hostel or maybe message your AirBnB host if you go that route, or just walk around the popular beaches or Old Town to get an idea of what tours are available.
I've linked to some companies that are popular in the area just so you can get an idea of what's out there and what the tours include/don't include … but if you want to save, book 'em once you arrive, not beforehand online.
Another tip? Book through your hostel. Taylor absolutely loved staying at The Bananas Hostel (more on them later) and had a fab snorkeling experience with them — they had great prices for renting kayaks through the mangroves and snorkeling places like Hong Island.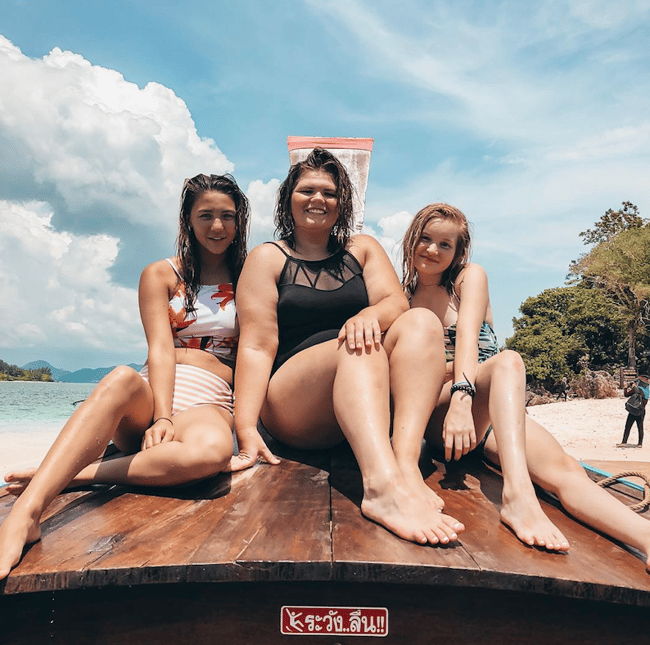 Massages + Manicures
A fair number of ILP volunteers also mention doing quite a bit of relaxing while in Krabi, thanks to all the massage spots and nail salons dotting the coastline and Krabi Town. You can typically get a massage for $10 (unreal!) and a manicure for less than that. Never had a Thai massage? Here's what you can expect.
The Beaches
Krabi is home to a handful of really popular beaches which we talk about in more detail below, but know that there are dozens of little beaches around the peninsula that won't be as crowded (some you may have all to yourself). I'd recommend hitting the popular ones, but also scheduling in some time to find your own secluded beach if you don't feel like sharing your beach day with the rest of the tourists here.
Ao Nang Beach
This is probably the most famous beach in Krabi, for good reason. It's a seemingly endless stretch of sand, with a beach town backing the beach (good to know for when you're hungry after a day at the beach and want some pad thai). The beach lines a huge straight stretch of the coastline and is backed restaurants, tour agencies, cafes, rental booths, and more on the other side of the road that sandwiches the beach and the little beach town.
The beach does get crowded especially in high season, but since it's so huge, it helps to spread the crowds out a bit. Ao Nang also has everything you're looking for, entertainment wise. You can rent out kayaks, book island hopping tours on the beach, find massage outlets, and of course, there are tons of restaurants and cafes for you to try. It's more than easy to spend a whole day on this beach.

Getting Here: Hop into one of the songthaews (little white trucks, kind of like taxis) and they can take you there for a few baht.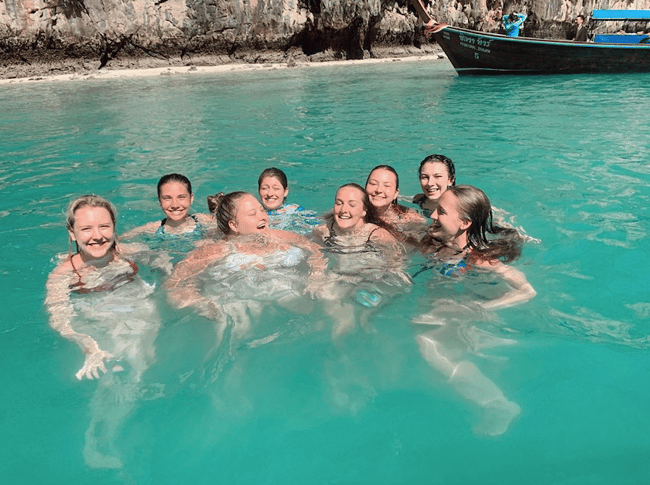 Railay Beach
Another one of Thailand's most beautiful (and famous beaches) Railay beach is only accessible by boat. It's actually not an island, but a little peninsula that sticks out from the mainland of Krabi Province. And what's waiting for you here? The kind of Thai beach you're dreaming about … actually there are a couple to choose from, so here are the details for those.

The most popular is West Railay. West Railay is the main beach (found on the western side, go figure). It looks out over the blue green waters of the bay, and is a good spot to rent out a kayak for an hour or two. There are a set of little rocky islands that are fun to paddle to, especially since there are little (and totally private) beaches that stretch between Phra Nang Beach and East Railay beach. Feel free to paddle up, park your kayak on the soft sand and hang out for an afternoon. Plan on renting for 2-3 hours (plus whatever time you want to spend on the beaches if you go this route). With all the things to do here plus the amazing views (and gorgeous sand and good swimming) you can see why West Railay is the fan favorite.
Around Phra Nang Beach, you'll find lots of limestone cliffs a couple of caves around, which makes it a popular rock climbing spot. It's probably the second most popular and famous beach on the peninsula. Similar to West Railay, you'll find a really pretty stretch of water, that pristine water, and the limestone "floating islands" jutting out from the ocean, all framed by a long-tail boat. There are also sections tucked away below these overhanging stalactites. It's postcard perfect. There's also a really intense climb that you'll need to be in good shape for— it's basically straight up and is less of a trail, and more like a climb up muddy hills to get to a viewpoint, and further on, a blue lagoon you can swim in. This blogger has a detailed guide.
Getting To Railay : Like I mentioned, you can only get to Railay beach by boat. From the Krabi pier, you can get tickets for a ride on the long-tail boats. From the pier in Krabi, plan on tickets around 150 to get to Railay, it's about a 25 minute ride. From Ao Nang beach, they are more like 100 baht, and it's around a 15 minute ride. Prices will be more expensive if you're leaving at night. Boats leave when full, so there's not a set schedule, and both locations have an official ticket booth where you can purchase your tickets.
To get to the pier or Ao Nang, hop into one of the songthaews (little trucks, kind of like a taxi) and they can take you there for 20-60 baht. This post has a more complete guide to getting to Railay beach (and to a couple of other destinations).
Just so you know, there are a handful of places to stay along with a fair amount of restaurants, so it's an easy place to stay for a whole day. I don't recommend staying on Railay (for reasons I'll get to in just a minute) but know it's an option.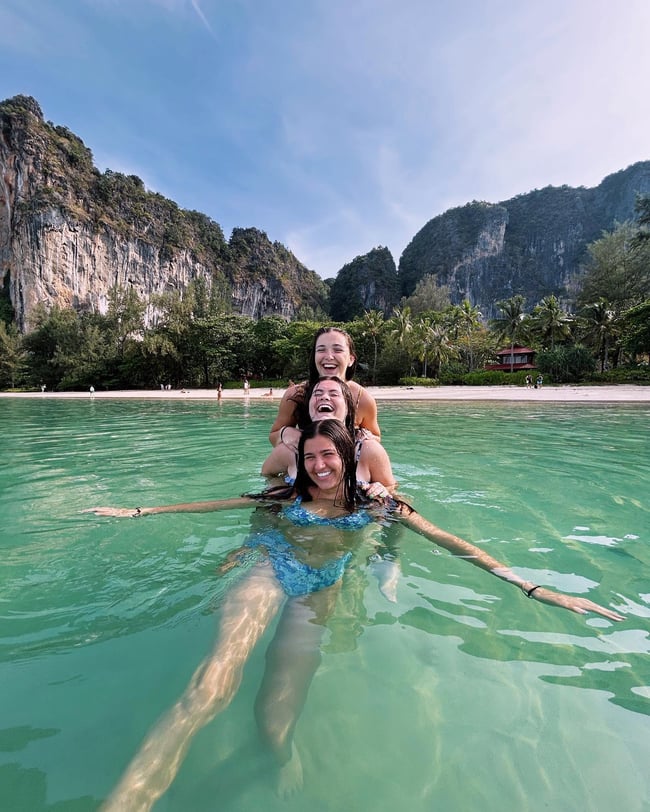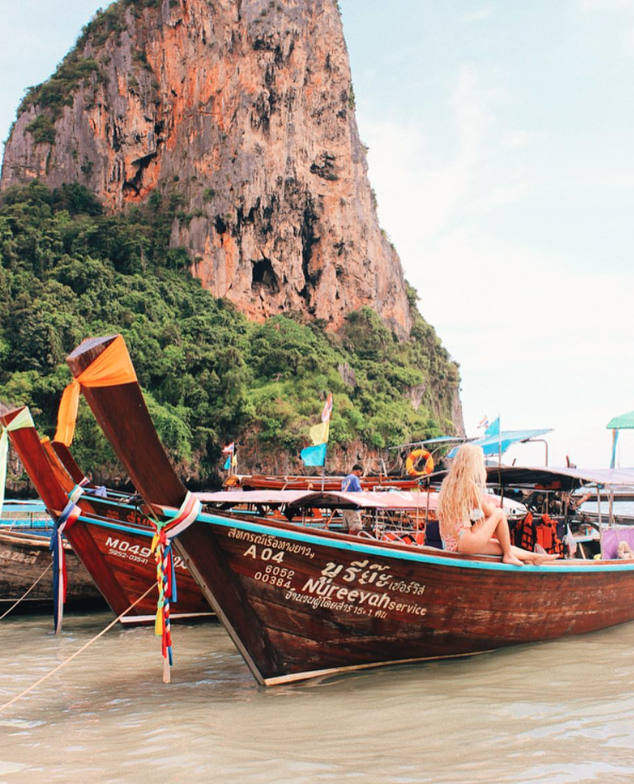 Nopparat Thara Beach
Found north of Ao Nang beach on Krabi, Nopparat Thara Beach is another long beach that lines the coastline, boasting those pretty viewpoints, complete with turquoise water and the floating jungle islands. It's known for a more relaxed feel, with shallow water, and a low tide that reveal thousands of little crabs that run around the sand. Napporat Thara beach is also one of the best spots to watch the sunset, so think about hitting up on the of the little smoothie shops while the sun colors the water with streaks of orange and pink.
Getting Here: Get here via songthaews, or make the 15ish minute walk from the northern tip of Ao Nang to get to Napporat Thara.
This Bomb Hot Spring
The ocean isn't the only place to swim in Krabi. Hiding in the Klong Thom district (near the Khao Phra Bang Khram Nature Reserve) are a series of jacuzzis carved out of the rock. Naturally warmed by thermal water shooting up from the jungle floor, these popular pools have become quite the swimming spot. Some of the pools feel more natural, while others have been diverted into man-made pools perfect for a long soak so you can find what you're looking for.
The temperature of the water hangs around 95° to 102° and supposedly has healing powers. It's recommended you stay in for only 15-20 minutes at a time to soak up the skin-healing properties. Once you're finished soaking in the heated waters, you can hike down a bit to soak in the river that's just below the cascading pools (it's a refreshing dip after swimming in the thermal pools). But don't leave quite yet because the picture-perfect Emerald Pool is just a 15 minute drive away.
Get an in-depth guide to visiting these hot springs here.
Where To Stay
In general, most ILP volunteers were glad they hung around Ao Nang beach. You'll be within walking distance of the beach, and close to all the boats that can take you out to the surrounding islands for a day of island hopping. Plus, most tours pick up around Ao Nang Beach or Krabi Town, while not everyone picks up at Railay Beach (so best to do Railay Beach on a day trip). Here are a couple of recommended places past volunteers have loved:
Pak-Up Hostel - In Krabi Town
This hostel has lots of perks, like a helpful staff who can help you book tours or give some travel advice on how to spend your time, a rooftop gym where you can host your own little morning yoga session, A/C, a hang out space downstairs, and a shared kitchen if you guys want to cook dinner instead of going out. It's closer to the city (Krabi City) rather than the beach, but you can easily hop on a tuk-tuk or a songthaews to the beaches.
Past groups also had this to say: "We booked our island boat tour through the hostel as well since there were so many of us they got us really good deals. We booked a 4 island snorkeling tour through them. It cost 20$ each and included lunch, 4 islands, snorkeling off the boat and transport. We decided to have a chill beach day and they arranged a van to take us to and from the beach for $2 each. When we moved from Krabi to Koh Lanta they arranged for the van to take us there as well."
Dorms are in the $9-11 range, book here.
Hogwartz Hostel Krabi - In Krabi Town
Stay right in Krabi Town in a semi-Harry Potter themed hostel — basically you can live out all of your Harry Potter dreams if you stay here for a night or so. Past volunteers mention that it's not as Harry Potter themed as you'd want in your wildest dreams, but there are some touches from the popular book series and movies. Just know that you'll be staying in Krabi Town, which is a ride away from all of the beaches. Some groups stayed here the first night they got in, then moved over to a hostel closer to Ao Nang beach.
Dorms are in the $10ish range, book here.
The Bananas — Northern Krabi
This place is gorgeous, because it's situated right in the mangroves. Seriously, you are totally going to want to stay here! You'll wake up to the monkeys who love to throw coconuts on your roof. It's a secluded place, with some really gorgeously rustic bungalows, or more upscale ones with A/C. Another major major perk? They have free bikes that can help you get around (you'll want to go outside the area to hit more of the restaurants and things to do) … the hostel also has a bomb restaurant. Since you're right on the river, you can take a long boat down the river to one of the beaches. The staff is also helpful with booking tours, who have a minimum of 3 people so it's a really intimate tour experience. We LOVE this place.
You'll want to check prices and availability here.
One thing to note — you're going to be more removed from Krabi town and the beaches, which is all south of where you're staying. It's an abosolutely dreamy place to hang out, but you're not right in the thick of things (about 40 minutes away).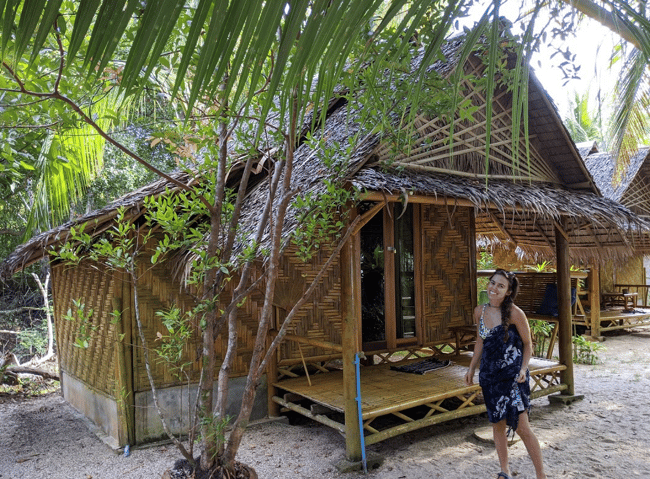 Pop-In Hostel - Near Ao Nang Beach
Have a 10-15 minute walk to the beach when you stay at the Pop-In Hostel. This hostel also has weekly activities you can join in on, like kayaking, hikes around Krabi, plus perks like a cute hang out space, and dorm beds that have a lamp and a curtain (total lifesavers).
Dorms are in the $10-13 range, book here.
iDeal Beds - Near Ao Nang Beach
Groups have loved the close location to Ao Nang beach and a few perks at this hostel. There's a locker for your stuff, a 5 minute walk to the Ao Nang beach, and right in the middle of all the shops and restaurants. It's also really close to a few travel agents — one group booked a 7-island tour for 850 baht where you could visit a few islands, snorkel in a sport or two, provided a buffet style dinner, then some night swimming in the bioluminescent plankton. So fun.
Dorm rooms are in the $15 range, book on Hostelworld.
Oscar Villa - Inland From Ao Nang Beach
These dreamy villas are a top pick if you want something a bit more luxurious. You're a 10 minute drive to Ao Nang beach but you're set up with pool which is a big perk.

Prices aren't too bad either, with rooms for $50 or $70ish a night that can be split between 3 or 4 people. Book here.
Places To Eat
Krabi Town Night Market
Found right in Krabi Town, this is definitely something you can't miss while in Krabi whether you're here for dinner or just to walk around and soak it all in. Typically you'll find some sort of live music, plenty of food options (like stalls serving Pad Thai, Basil Chicken, Papaya Salad, and a few different curries and noodle dishes. You can also get a whole fish, skewers of fish and veggies, yummy cups of cut up fruit, whole coconuts to sip on, and more. There are little pockets of plastic tables and chairs where you can sit down and eat, or eat on the go while you do a little bit of shopping.

Shopping wise, poke around for bags of spices, dried fruits, shoes, some electronics, woven baskets and bags, backpacks, clothes (like those flowy elephant printed pants), t-shirts, and more. It's not a huge, gigantic market, but definitely a fun place to grab dinner and walk around at least for a night or two.
Address: Pak Nam, Mueang Krabi District, Krabi.

(It pops right if you Google "Krabi Town Walking Night Market".
Hours: 6:00 PM to 9:30 PM, Friday, Saturday + Sunday only.
Every Season Cafe
Some groups came to this cafe not twice, but three times during their short stay in Krabi! The fried ice cream was the most popular dish recommended by this group, but the salads, sandwiches, fried rice, pasta, and pancakes were also favorites.
Address:

10/1 อ่าวนาง เมือง Krabi 81180, Thailand


Hours: Not Available
May And Mark's House
Our hands down favorite restaurant in the city, May and Marks'! You can read all about this cutie restaurant here — because we just love it so much. You'll find favorites like yogurt, granola, fresh fruit, smoothie bowls, great coffee, thick style pancakes, plus lunchtime favs like Pad Thai.
Address: 34 Maharaj Road Soi 10 Paknam, Krabi, 81000, Thailand
Hours: 7:00 AM to 9:00 PM
The Whale Bar
Want to have some great food and hang out in an infinity pool? This is your restaurant. It's actually a hotel and restaurant, but you're welcome to just come to eat … and if you purchase something off the menu, you can totally hang out in their pool. Order up your go-to Thai dishes like Pad Thai, fried rice, and other favorites (with some vegetarian options, too).
Address: Khao Thong, Mueang Krabi District, Krabi 81000, Thailand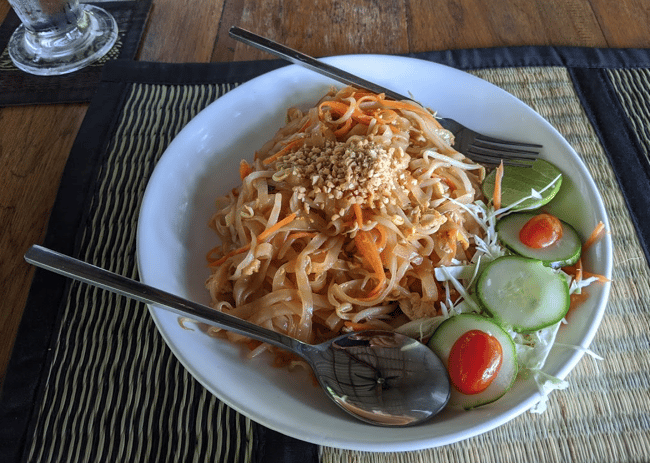 Best Time To Visit Krabi
Thailand has a definite rainy season, with storms that make days at the beach a wet and rainy affair. If you can swing it, visiting in November through March is the ideal time, with less storms, and sunnier and slightly cooler days. However, December to March is also pegged as high season, with the most crowds. It's particularly busy around Christmas and the New Year, just as an FYI.

January to March are pretty much ideal because you'll be able to hit all the things to do without the big swells of crowds, but also enjoy the good weather.

The rainy season is May to October, with the most storms typically in June, creating rough seas that can make island hopping difficult. You'll find some rain in July and August as well, but usually you'll have shorter rainstorms in these two months. September and October tend to be very rainy as well, just so you know. However, the rainy seasons are all the "off season" when it comes to the crowds. Visiting when it's wet means finding beaches almost completely empty and sections all to yourself. As with any rainy season, it's very unpredictable. Some months, you'll find torrents of rain, but other times, you can find days of endless sun. Because there are some other adventures (like kayaking and hiking) that can be done in the rain, a cloudy and wet day isn't always a total bust while in Krabi.


Your Island-Hopping Guide
Krabi is my favorite jumping off point to all the other islands. Phuket has a similar advantage, but it's way more crowded and expensive. Skip Phuket and just visit all the other islands from Krabi. There are tons and tons of itineraries, but here are some nearby spots our ILP volunteers absolutely love, along with a little outline on how long to stay. Some are a good day trip, while others are worth a few days of your time.
This Thai island hopping blog post is also a resource to have in your back pocket — it outlines a few popular itineraries and has sites to book your ferries and scope out prices at the bottom.

Koh Yao Noi
This dreamy island is just a 20-45 minute boat ride from Krabi's Tha Lane Pier.
It's a small island with a few places to stay, a smattering of cute cafes, and not much else when it comes to tourist infrastructure. It's a peek into what the rest of Thailand used to look like before being slammed by tons of tourists. So if you're into relaxing, finding empty beaches, spending time in a stress-free and quiet island destination that's Koh Yao Noi. Get more about Koh Yao Noi here.
Koh Lanta
So Krabi is pretty dreamy, but Koh Lanta is really where it's at. So many volunteers vote that Koh Lanta is officially their favorite Thai island, so you'll want to get here and spend more than a day here. It's easy to do a day trip (the ferry ride is only 2 hours), but I say you're going to want to stay here for 3-4 days. Get our Koh Lanta guide right here.
Hong Island
This island has a picture perfect cover, perfect snorkeling, a couple of "I can't believe this place is real" beaches, and makes for a lovely day trip from Ao Nang. Since the island is a protected part of a National Park, it's a 400 baht charge, but something that's worth it to access these kind of beaches. My vote is to hire a private long tail boat (from Railay or Ao Nang) and visit here for the day. Private boats are in the 2,500 or 3,000 range and usually sit around 6 people, so not bad if you split it.
Plan on a 40ish minute ride by long-tail boat from Ao Nang, longer from Railay. It's best to visit in the morning where you'll find less people and find the pretty lagoon more swimmable, rather than at low tide.
Koh Phi Phi
Koh Phi Phi boasts some impressive viewpoints and some mad snorkeling. I think it's best structured as a day trip, because hanging out on Krabi or Koh Lanta is going to be a better use of your time (both islands have way more to do, or the same kinda stuff you'd find on Koh Phi Phi anyways. The ferry ride from Ao Nang beach is just under two hours.
Get all the info you need on Koh Phi Phi here.
Khao Phing Kan (James Bond Island)
James Bond Island is a beyond-popular day trip from Phuket, but tours are going to be less expensive from Krabi (love that). You'll find the iconic views made popular by the 1974 movie (they're particularly stunning), plus most tours also tack on a visit through the Ao Phang Nga National Park, the floating village of Koh Panyee Island, and maybe some kayaking along the way. This tour gives you an idea of what a possible itinerary could look like.
Koh Yao Noi
Easily walkable, with little shops and pretty beaches, fun day trip (but you can stay overnight here if you'd like). It's small, but you can do a half trip to this mini paradise from Krabi, not problem. Koh Yao Noi is a small island filled with 360 views of those pretty islands the shoot out of the water, small little beaches that hardly ever get crowded, and the chance to hop over to the south side to relax on the huge sandbar Lam Haed sandbar beach. Ask a long-tail boat to take you over for about 50 baht. It's a really undiscovered island that not many people go to, which is why I'm such a big fan.
From the Tha Lane Pier, you can hop on a long-tail boat (150 baht, 45 minute ride) or speedboat (about 200 baht, for a 20 minute ride). From the Ao Nang pier (Nopporatta Pier) it's a 45 minute speedboat ride, with varying prices and schedule (just ask around).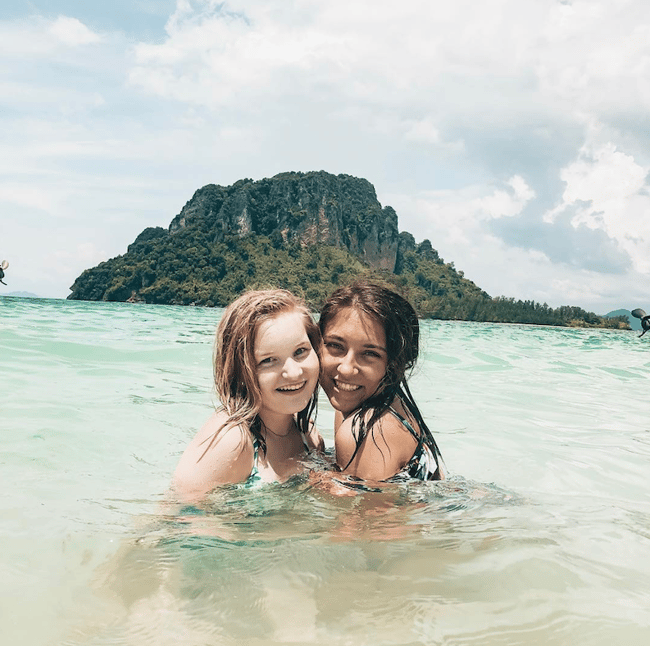 Visit Nearby Khao Sok National Park
Okay, not an island but just a couple hours north of Krabi is another absolute favorite and unfortunately overlooked section of Thailand. You can book a night on these lakeside bungalows and slip into a couple days of untouched paradise. Khao Sok is home to colorful bungalows floating on deep blue pools, hiding behind waterfalls and groups of jabbering monkeys — if you're looking for a prettier place to relax, we wish you luck finding one!
From Krabi, it's a 2.5 - 4 hour bus ride to get here, through the mountains, but so worth it. From Krabi, Phantip buses are the way to go because they are pretty comfy and have A/C for the drive. You can find them leaving from the Krabi Sea Pearl Travel office (here's the address: Utarakit Rd, Pak Nam, Mueang Krabi District, Krabi 81000, Thailand). You can also go by passenger van. Some have a slightly shorter itinerary (3ish hours) while others are more in the 5 hour range. You can book tickets and get prices for the Phantip buses and vans on 12Asia. Prices start at around $12 and go up from there.

Get details on Khao Sok here.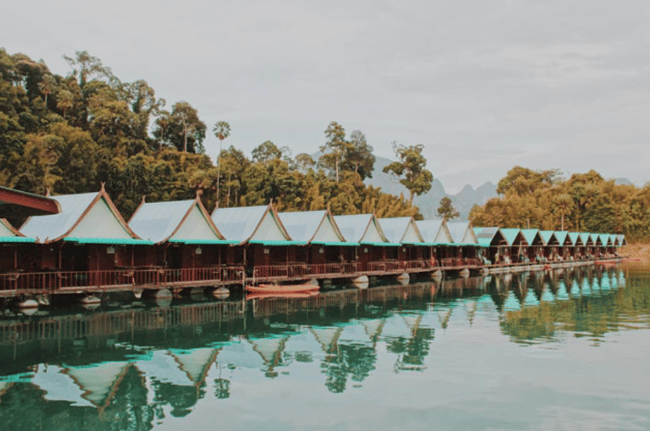 Getting To Krabi
From Bangkok
You'll find the best prices out of the capital city of Bangkok. Keep in mind that Bangkok has two airports: Don Mueang International Airport (DMK) and Suvarnabhumi Airport (BKK). Both airports have flights in and from the islands pretty much every day. Know which airport you're flying in and out of to avoid any mistakes.

When flying into Krabi (KBV), you'll find flights for about$30 - $50ish on airlines like Air Asia, Vietjet Air or Thai Lion Air. It's about a 90 minute flight, with multiple flights per day (about 20+ flights from Bangkok to Krabi). I love looking at flights on Skyscanner and on 12Asia.
From Phitsanulok
Already up in northern Thailand and want to see if you can find a flight down south without heading to Bangkok? It's a possibility, but with some limits. Prices are in the $175 range (and higher), but some have 24 hour itineraries where you have a really long layover in Bangkok. If you can swing it, there is a 7ish hour itinerary where you just have a 5ish hour layover in the Bangkok airport. Right now, there isn't a direct flight from Phitsanulok to Krabi. It's a 90 minute flight from Phitsanulok to Bangkok, then about an hourish flight to Krabi. I love looking at flights on Skyscanner and on 12Asia.
From The Airport
There are shuttle buses that can take you to Ao Nang (around 150 baht) or to Krabi (around 100 baht) so ask around if you're a fan of that option. Or you can call a taxi or a ride share, like Grab to drop you off at your hostel. To get around to all the beaches and other sites, keep on reading.
Getting Around Krabi
Since you'll probably be splitting your time between Krabi Town (where you may be staying, or at least checking out the Night Market) and the beaches, you'll want to know how to get around on land. Songtaews are the best way. In Krabi, you can pretty much get a songtaew anywhere for about 50ish - 150ish baht in the town.
Long-tail boats are also popular ways to get around. You can actually hire ferries and speed boats and long-tails to take you to separate islands on a private tour, or you can hop on group long-tails to take you to places like Railay Beach. This site has a more detailed guide of how to get around Krabi. Tours are something else to think about: most organized tours will pick up in Krabi Town or Ao Nang, and sometimes Railay Beach.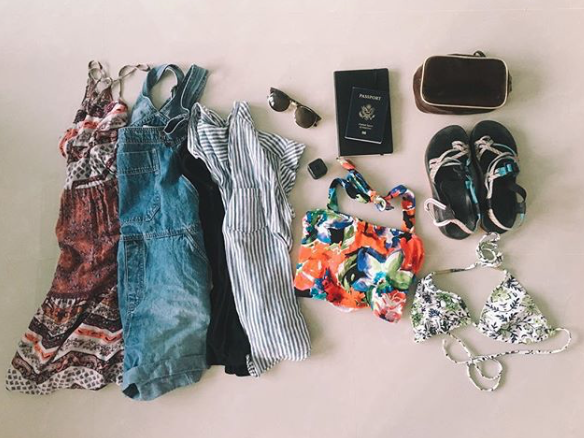 Ready to come explore the Thai islands?
Krabi is just one of the unreal places we love to vacation in Thailand — and as an ILP volunteer, you'll be able to see places like Krabi, Bangkok, Chiang Mai and so many others. If you'd love to spend a semester volunteering here, just click that green button to find out more.