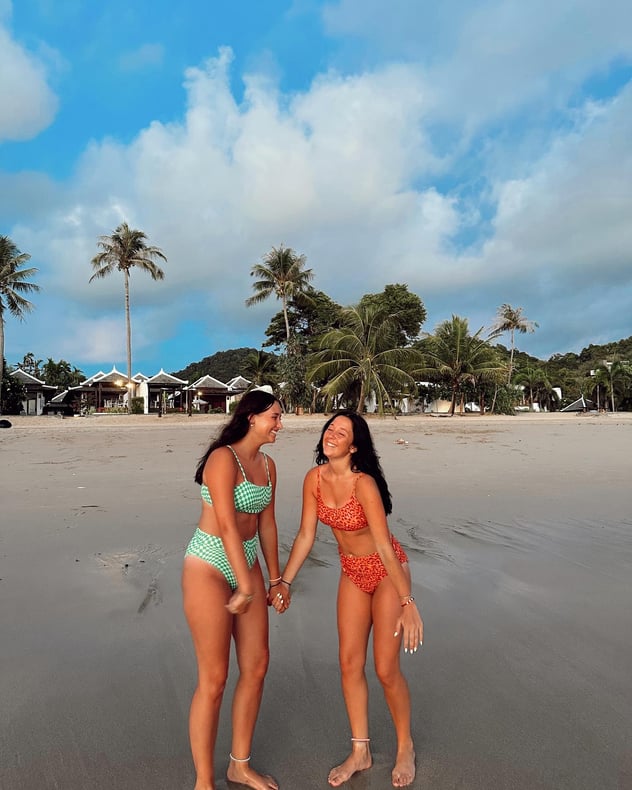 Stay right on the beach in a bungalow, wander empty stretches of sand, find waterfalls in the jungles of a national park? This place has it all.
I'm guessing the reason you want to visit Thailand are the beaches. I mean, the elephants are amazing, there are some really underrated jungle adventures and a few other things you should add on your itinerary, but you absolutely have to spend some time in the Thai islands.


---
See way more Thailand than you could as a tourist
Volunteer in Thailand and call this country home for a semester
---
But even choosing which beaches and islands to spend time on can be tricky. There are more than a few to choose from, so … how do you choose? Oh, it's easy once you know that actual paradise can be found on a little island known as Koh Lanta. So many ILP volunteers say Koh Lanta is their favorite. It's a chill, more relaxed, and low-key vacation, so if that's what you're looking for, you'll love Koh Lanta.
The Beaches
Islands are known for beaches, right? The ones you'll find here are pretty dreamy. The beaches in Koh Lanta are quieter than the bigger and more popular islands with loads and loads to choose from. As a general rule, you'll find the best beaches on the west coast, with a few quieter beaches in the south.
Here are some favorites to check out:
Klong Dao Beach
Found on the western side of the island, this is a top pick for beach-goers who want a calm beach set up with everything you could want for a full day: smoothie spots, restaurants, massage parlors, and a few resorts, too. There are also resources for some water sports like stand up paddleboarding in the calm water, kayak rentals by the hour, or windsurfing lessons. The beach here is very relaxed, with shallow water that hardly has any waves. It's a big beach with plenty of room to spread out, too making it a top pick.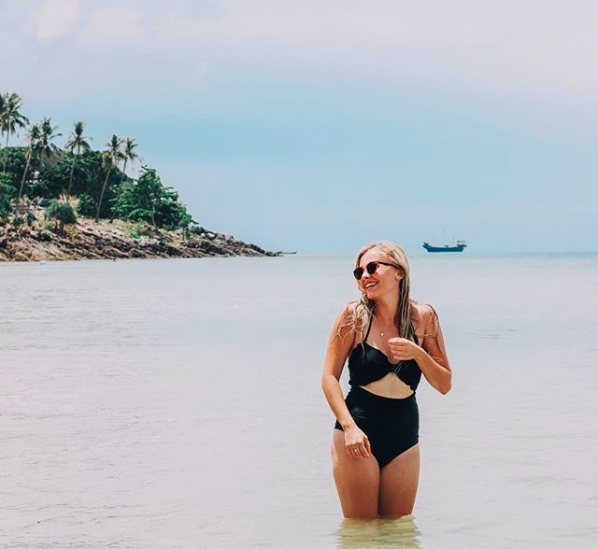 Long Beach
Sometimes known as Phra-Ae Beach, this place has a name that instantly makes sense the minute you visit. Long Beach is a huge, 2+ mile stretch of sand that's backed by swaying palm trees. It feels like you could walk forever on the golden sand here and never run out of beach! There are a few resorts, restaurants, and other shops (like massage parlors) behind the sand, but it's all really spread out. Most of the restaurants are on the northern portion of the beach (mostly Thai food stalls), but the southern portion has Italian, pizza joints, and other dishes.
The water here is calm, clear, and shallow. It's a great swimming beach.


+ Long Beach Bays
There are a few little bays that are barely not connected to Long Beach, like Relax Bay and Lanta Secret Beach (sometimes known as Beautiful Beach).
Relax Bay is just south of Long Beach, a smaller half-moon bay bookended by rocky points, but a sweeping section of soft golden sand, fringed with thick palm trees in the middle. There are a smattering of little wooden bungalows with open sides — you can rent chairs and umbrellas or bring your own beach things. There are a few places where you can get smoothies or juices, too.
Lanta Secret Beach (AKA Beautiful Beach) is about a 20 minute walk south of Relax Bay, and is a stunner. This bay is broken up into a couple of sections, one is a bit rockier (and has a bit of snorkeling if you're not too picky) but the other side is great for swimming.

Since both bays aren't connected to Long Beach, they're even more secluded and tend to be even less crowded. Score. You'll find that same calm, shallow, and blue water in these bays. The sand is golden and soft and perfect for a day of laying out. Love it.
Katiang Bay
Also known as Bamboo Bay, this beach is found in the southern part of the island, nestled right next to a small Thai town. You'll find a few restaurants and massage parlors here, but the beach is where it's at. It's usually really quiet, with more tiny crabs scurrying around than tourists. It's a good swimming beach, with clear waters and a soft sandy shoreline (without too many rocks). Behind the beach are a handful of restaurants and bungalows.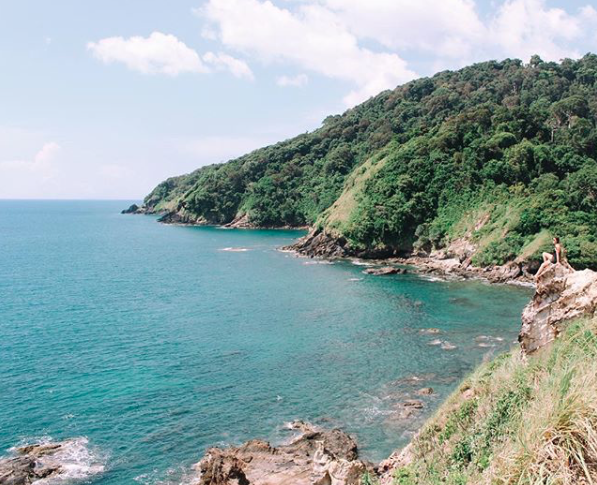 Things To Do
Go Kayaking
In the words of one ILP group: "We went on a kayaking tour for the whole day and it was SO MUCH FUN". Kayaking the coves around Koh Lanta is easily a top thing to do — there are sets of little limestone islets sprinkled around the coastline of Koh Lanta and are best seen by kayak. The "4 Islands" is a popular kayaking itinerary if you see advertisements for that (Koh Mook, Koh Chuek, Koh Kradan and Koh Ngai are the four islands you'll see on your tour).
There's also mangrove forest on the southern tip of the island that's worth exploring by kayak: the Thung Yee Pheng Mangrove Forest. Sounds like some kayak time is kinda mandatory here.

There are more than a few tour companies to book with depending on where you are on the island and what you'd like to see. As was mentioned earlier there are some kayak rentals right on the beach if you just want an hour or two, or you can go with an all-day tour. This typically includes a boat tour, lunch, an hour or two on kayaks (or more), and maybe something else, like snorkeling. What your tour includes really varies the price: one ILP group got an all-day tour for 750 baht by asking around, while companies like Lanta Kayaking have a full day adventure for 1,500 baht that include more of the things listed above.
See Elephants
Yep. Dream come true! Not only are you at an actual gorgeous Thai island, but you can also see elephants here! For reals.
But the actual best part is that this organization, Following Giants, is an observation only park. World Animal Protection has been working with Following Giants to implement better practices that will create a more peaceful environment for these gentle giants that we all love. Now, when you visit you'll be able to watch the elephants just being elephants! No riding. No bathing. We love that.
There are 2 hour, half day, and full day excursions available where you can do things like walk through the jungle with the elephants, make and shoot seed balls into the jungle which the elephants will later eat (something you never knew you wanted to do but is so cool!), and if you're here for the full day you get to do a waterfall hike.
Prices start at 1,500 baht (about $46 USD) and that includes transportation from your hotel — get more info and book your trip on their website here.
Go Snorkeling
If you're not booking a kayaking tour that includes snorkeling, you may want to plan on doing some snorkeling separately before leaving Koh Lanta. As a general rule, the best time to snorkel is between November and April when the water is the clearest. During the rainy season, the water can get cloudy and some tour companies shut down, just so you know. Similar to kayaking, you have a lot of options for snorkeling that totally range in price. Some of the beaches may have boats that take you out for a couple of hours of snorkeling or you can book a snorkeling-only tour.
One of the most popular places to snorkel is Koh Rok, a towering limestone island found south of Koh Lanta. It takes about 1-2 hours to get there by boat, but is so worth it. Koh Rok island is rimmed with gorgeous beaches, amazing water, and some of the best snorkeling around. Tin Adventure is one company that takes you out to Koh Rok for the day, which includes lunch on the island but that's just one example.
Looking for more? The Four Islands are also very popular snorkel spots (including Koh Mook, Koh Chuek, Koh Kradan and Koh Ngai). This blog post outlines a few more popular snorkeling spots for you to check out.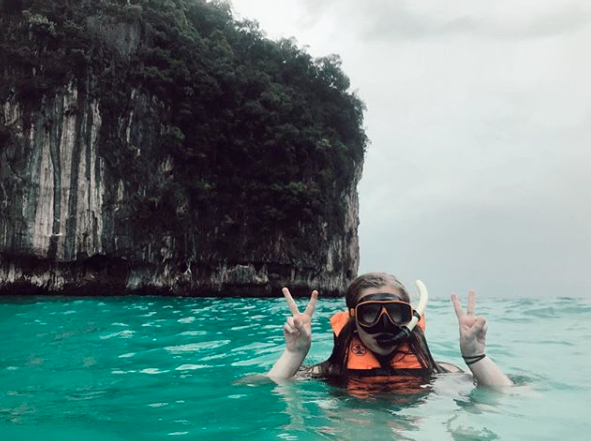 Hiking To Khlong Chak Waterfall
This park is one of the main reasons to visit this island (not every Thai Island has thick jungles with tropical hikes). The actual waterfall is more of a simple, trickling cascade (especially in the dry season which is from November to March) but the 20-30 minute hike to get up there is why you really come. The muddy trails lead you through the Thai jungle where you may spot monkeys and lizards. The hike isn't too difficult, but you'll want to wear comfortable shoes that can get wet. The trail leads you right along in a small stream that you may need to cross until you get through the waterfall. In the wet season, the falls pool at the base where you can hop in and wade through.
The park is also home to a pretty impressive cave that you can hike to. There's a network of tree roots that seemingly hold the huge boulders of the cave all together, which produces a pretty impressive cavern to explore. Inside, there are some bats so don't shine a light into the crevices or disturb those guys! The pathway to get to the waterfall and the cave are the same (there are some signs in English) but you'll head right to get to the falls, and go left if you want to hit the caves.
Just so you know, you may see some tourists riding elephants to get to the waterfalls. While we love hanging out with elephants, there are more ethical ways to interact with these animals while in Thailand. Here are our favorite elephant sanctuaries to check out.
Cost: There's a 20 baht fee for parking (bikes included). As a heads up there are parking "managers" who'll say they don't have change if you pay in large bills, or tell you parking is more like 100 baht. It's just 20, so don't pay more than that.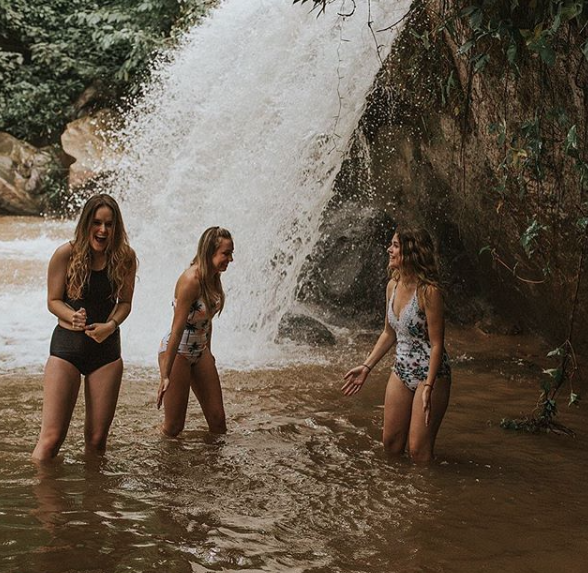 All About Old Town
You'll find the island's Old Town on the east side, a bit of journey because most tourists are staying and vacationing on the western side of the island. The Old Town is really small, colorful, and quaint — it's more of a thing to explore as a break from the beach, rather than somewhere you'll want to spend all day. It's more remote and feels less-developed.
There are souvenir stands, a couple of small pagoda temples, smoothie shops, painted bamboo huts, and places to grab lunch, along with a long fisherman's pier that reaches into the ocean. Historically, the Old Town used to be a fisherman's village which pulled in fisherman from all over: China, Malaysia, Indonesia, etc. You can see remnants of a Chinese-Thai population (spot the red lanterns) but now it's more of a tourist spot. If you're out exploring the rest of the island, stop in Old Town!
If you get hungry on this side of the island, Baja Tacos is where you'll want to get lunch — it's easily the best place for Mexican food in Koh Lanta. Salsa, tacos, and nachos? Yes, please. All of our other favorite restaurants are on the western side of the island, keep reading for those.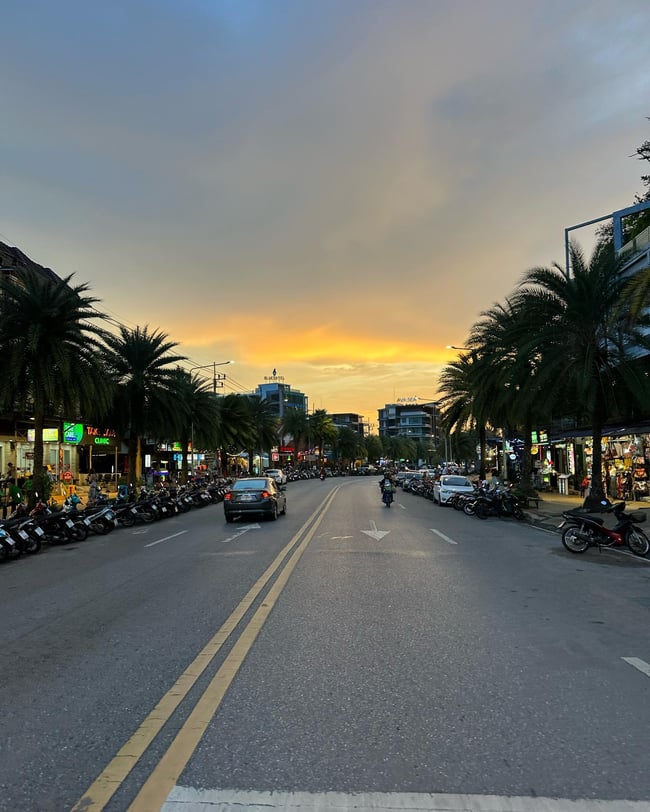 Mu Ko Lanta National Park
Found in the very southern-most tip, this national park is one of the things that sets Koh Lanta apart. There are a few winding trails around the park, a stark white lighthouse, and access to another beach we love, and lots of monkeys who are all about stealing any snacks. Plan on spending a few hours here especially if you plan on swimming (there are restrooms and changing rooms by the beach). If you'd like to just to hiking, plan on about an hour in the park.

Cost: 200 baht fee, with a 20 baht parking fee (bicycles included).
Some Other Adventures
Koh Lanta is home to a handful of other things you may want to check out. Getting a Thai massage is a big thing to do (you'll find places to get a massage all over — on the rims of the beaches, near where you're staying, etc). Here are a few more things to do:
Be A Trash Hero
Every Sunday, a group of people get together to pick up trash around the island for an hour or two — around the rainy season especially, you'll find bit of plastic and trash washing up on those pristine shores. There's a company who sponsors this cleanup, so all you have to do is show up! Gloves, bags, water, and fruit area all provided. To date, they've picked up over 40,000 pounds of trash. Get more info here (like where they're meeting this Sunday).
Time For Yoga
There are a couple of studios around the island if you really want to get your zen on. Oasis Yoga is a popular option with multiple classes catering to multiple levels. Classes are 400 baht. Get more on Oasis Yoga here (like their weekly schedule, hours, address, and classes offered).

Lanta Yoga is another option, with classes that cater to whatever your yoga level is. Classes are also 400 baht per class. Get more on Lanta Yoga here (you'll find their weekly schedule, address, and a few discount options).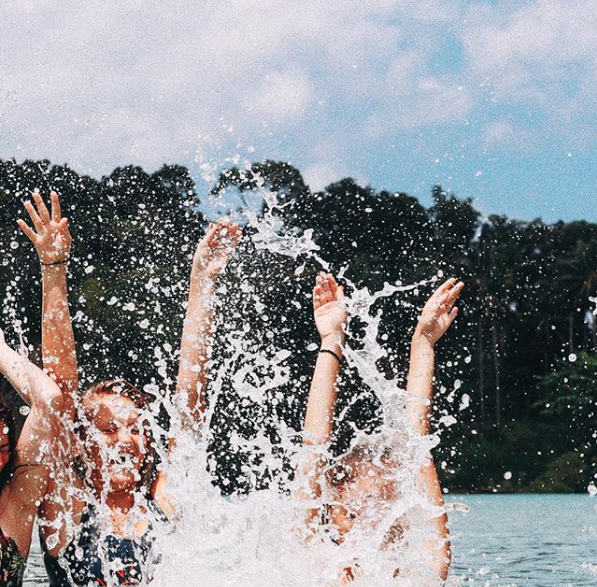 Where To Eat
Greek Taverna (Near Klong Dao)
"If you like Greek food, go to Greek Taverna. This awesome restaurant was right on the beach, the owner is from Greece, and it was amazing food with huge portions." This quote is right from our ILP volunteers, so you know it's good. Another perk? The beachside location right on Klong Dao Beach. Come for Greek salads, souvlaki, grilled meats with tzatziki sauce, and spinach phyllo pie.
Address: Klong Dao Beach, Moo 3 House 231, Ko Lanta
Hours: 10:00 AM to 10:00 PM
Time For Lime (Near Klong Dao)
If you'd like to splurge on a meal or two, this is the place for it. The prices here are higher than what you'd find elsewhere on the island, but the sunset views from your table really can't be beat. The menu is all focused on Thai favorites (this place also hosts a cooking class) so you know the food is good. Tuck into piles of rice, stacks of egg rolls, bowls of spicy curries, a plate or two pad Thai, and more.
Address: 72/2 Moo 3, Saladan, Koh Lanta, Krabi 81150, Thailand
Hours: 5:30 PM to 10:00 PM
Two Scoops Gelato (Near Klong Dao)
In the mood for something sweet? Find it at Two Scoops Gelato. This place also has A/C so it's going to be love at first sight. Find yummies like banana splits, ice cream cakes, and all the gelato flavors you could want. Test out things like lemon and blueberry, banana cashew, coconut cream, cookies and cream, strawberry shortcake, Thai tea, and more.
Address: 73/1 moo 3 saladan, Ko Lanta District, Krabi 81150, Thailand
Hours: 11:00 AM to 6:00 PM (This location closes in the low season, just FYI, but their location in Old Town stays open year round).
Yawee (By Long Beach)
Yum, come for your favorite Thai dishes for a good price. Find stir fry, bowls of noodles, all the curries (red, green, yellow, panang), papaya salad, mango sticky rice, crispy tofu, pad Thai, and others. There are a handful of Western options too so it's a number one pick for all the people in your group. It's our favorite restaurant in Koh Lanta for Thai food.

Address: Provincial Highway 4245, Sala Dan, Ko Lanta District, Krabi 81150
Hours: 9:00 AM to 10:00 PM
Fruit Tree Coffee Shop (By Long Beach)
A go-to spot for breakfast, hands down. This coffee shop is also a bungalow if you'd like to stay overnight … the brekkie here is that good. Just to give you an idea, you'll have your pick of waffles, coffee, bowls of fresh fruit, homemade granola, smoothies, and others. They're also known for a great bunch, and are open for lunch and dinner as well. It's a health-conscious cafe with vegan, vegetarian, and gluten-free options.
Address: Pra-ae Village (Long Beach), Ko Lanta District, Krabi 81150, Thailand
Hours: They're a bit funky (closed on Tuesdays part of the year, open later other parts of the year) so best to send them a Facebook message about their hours during your visit.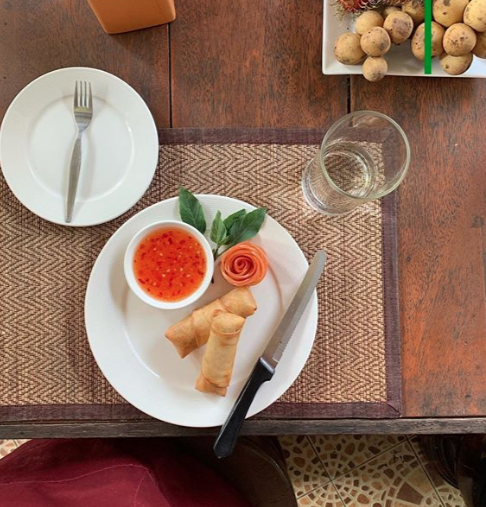 Places To Stay
Lemonade Boutique Hostel
This hostel is within walking distance of Klong Dao Beach, which is a plus. We also love that this hostel does rent out bikes (300 baht for 48 hours, or 200 for the day). There's also a 7-11 just around the corner which is handy (we love all the snacks you can buy at 7-11 in Thailand). Dorms start at around $8 a night, book here.
Let It Bee Econo Hostel
Found tucked back from Long Beach, this is another ILP volunteer recommended hostel that has some major perks. It's about a 5 minute walk to the beach, has a free brekkie you cook yourself (toast and eggs, plus tea and coffee), and free drinking water. There are also a handful of favorite restaurants right by this place. Dorms start at $5-7 a night, book here.
Lanta New Beach Bungalow
Beachside swimming pool? Restaurant serving up smoothies? Sunset spot spectacular? All that and more is at this set of bungalows. One ILP volunteer said "I'd definitely go back there in a heart beat" if you still need a little more convincing. This place is just south of Lanta Secret Beach (a favorite beach we love, near Long Beach). Prices for all of that aren't bad either, around $18 or $40 a night, split between 2-4 people. Book here.
SERENDIPITY Hotel
Find this gem right by Long Beach ... it's just a five minute walk away! Past ILP volunteers give this hotel a glowing review, and recommend asking if Suzan is there — apparently "she's the coolest" and is so fun to share stories with. Book here.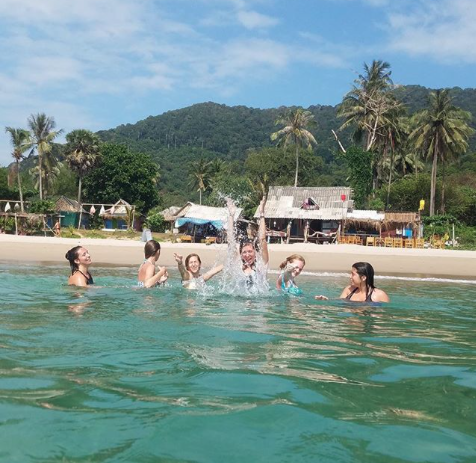 A Map And Some Tips
How Long Should I Stay?
Completely up to you, but ILP volunteers in the past said were glad they spent more time here rather than less time. Some visited just for the day (it's easy to get here from the Phi Phi islands) but ended up coming back to stay longer. One group booked 2 nights and wished they had at least 3-4 nights. Roughly, you'll find all the same things to do on the islands here: snorkeling, beaches, kayaking, massages, etc. But some ILP groups really loved the low-key vibe here and were glad they spend around 3-4 days.
Traveling During Off Season
This place does kinda shut down during the low season which is May through October. It's where you'll see the most rain, but it can also make sea conditions a bit treacherous, making Koh Lanta harder to get to. Some off-shore tour companies close down, same with a few restaurants and places to stay … but for the things that are open, you'll find lower prices and way less crowds. Here's what one ILP volunteer said about her off season visit: "Koh Lanta was a little like a ghost town while we were there, a lot of stuff was closed for the off season. However, I loved the vibe, and we spent a lot of time eating good food and chilling on the beach. We got massages and facials, too!"
A Map To Help You Out
Things on Koh Lanta are a bit spread out, it's helpful for you to orient where most of these things are — you'll notice that I've marked the two main beaches (Klong Dao and Long Beach) which come in handy when booking a place to stay and finding a place to eat … all the recommendations above are in proximity to these two beaches.

As you can see, it's easy to break up the island into little day trips: most tourists stay on that western side of the island, then visit the south for the national parks and waterfall, or trek over to the eastern side to visit Old Town. To give you an idea, it's about a 40 minute drive (by car) to get from Long Beach to the southern tip (where Mu Ko Lanta National Park is).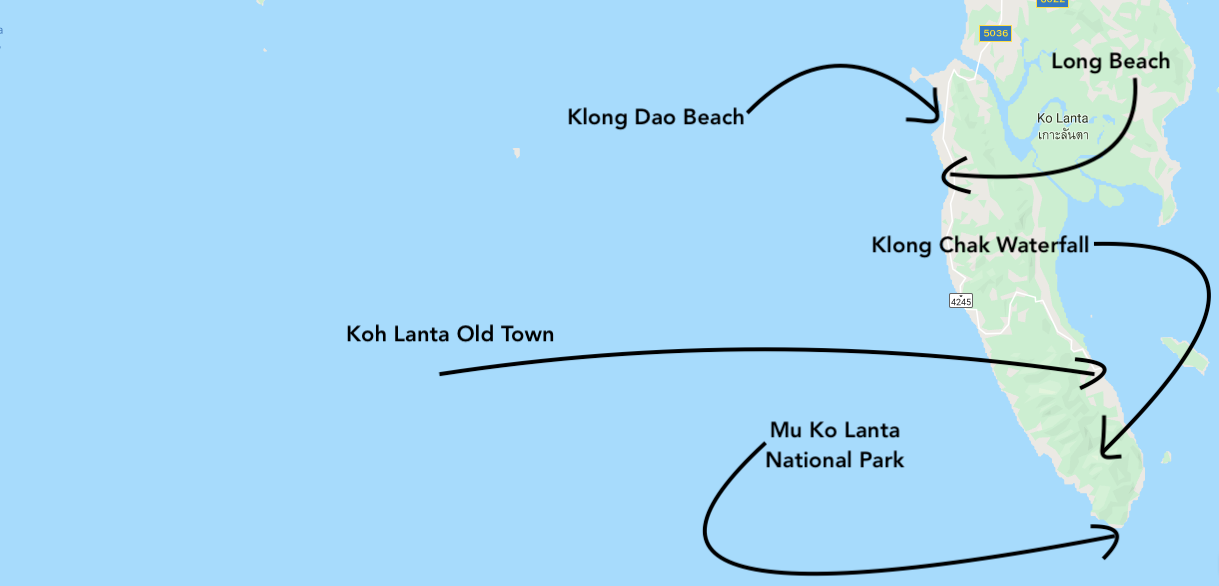 Getting Here
In a nutshell, you'll need to either fly to Phuket or to Krabi. We like visiting Krabi way more for loads of reasons. Here is a whole guide about how to start off your Thai island vacation that breaks down Phuket vs Krabi, then some info on finding a ferry to take you to Koh Lanta, plus all those other islands you'll want to visit on your vacation here.

Ferries To Koh Lanta
No matter where you start your vacation (Phuket or Krabi) or another island (maybe you're in Koh Phi Phi and then want to visit Koh Lanta next) but you'll need to arrive by ferry. Here's my go-to spot for booking ferries.
Getting Around The Island
Certain sections of the island are very walkable. For example, if you're staying near Long Beach, you'll find lots of restaurant options and plus, the beach. Around Long Beach and Klong Dao Beach, there are multiple tour vendors (especially in the high season) where you can book tour options. You can also go by tuk-tuks, like most of Thailand. Find these hanging out on the main roads and by pretty much every 7-11. Make sure you barter the price before getting in.

If you want to go around on your own, bikes are the way to go. A handful of hostels will have bike rentals as an option which is a fun way to get around.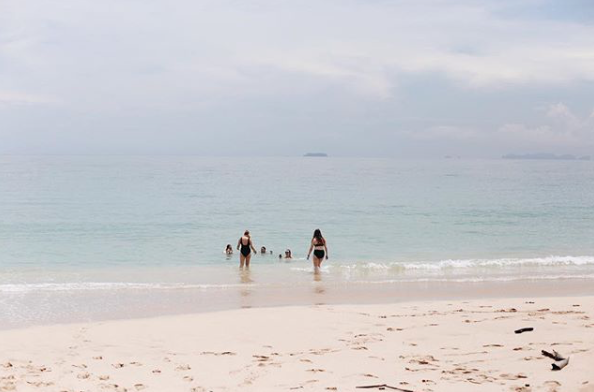 Thailand's what you're looking for
Come call this country home as an ILP volunteer! Live in Thailand for a semester, get weekends off and vacation days to travel to places like Koh Lanta, and make a difference by teaching English.