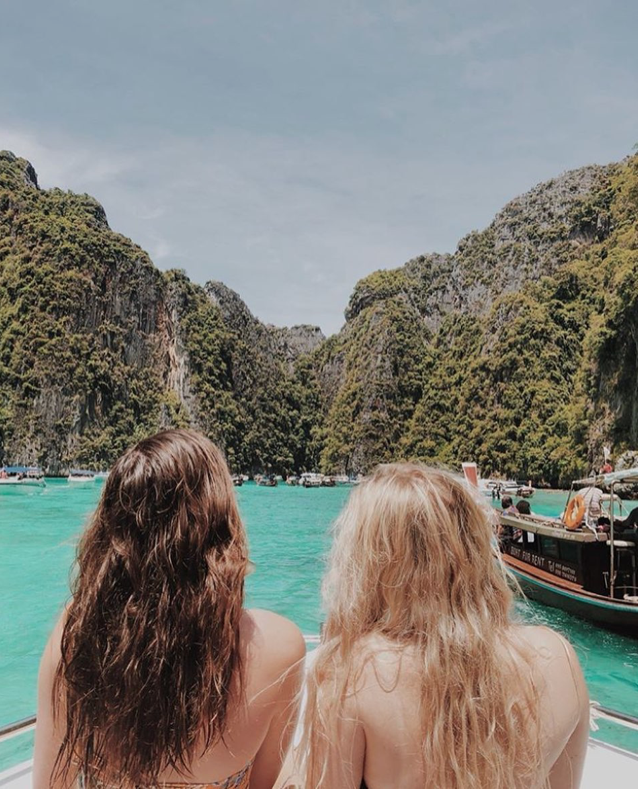 "This island was the one I was most excited to see when I was researching beforehand because the pics were so cool, but in the end it actually wasn't my favorite."
You're pretty spoiled when it comes to vacation time in Thailand. Everyone flocks to the southern beaches and islands because they are pretty close to perfect. Think pristine blue waters, white-sand beaches, and all the snorkeling tours you can handle. Spend afternoons sipping smoothies, hiking to waterfalls, and more when you head to this part of Thailand. It's an absolute dream if you're vacationing in the right place.
---
Did you know you can spend a semester abroad in Thailand?
ILP has a program for college-age volunteers in Thailand learn about it here.
---

If you're planning a trip to this part of Thailand, you'll want to get the insider scoop to make sure you're spending time on the right islands. We've had groups of ILP volunteers spend way too much time on islands they ended up not liking and only planned one day to see the spots that ended up being the absolute favorite island. And when it comes to the Phi Phi islands, you'll definitely want to hear what dozens of ILP volunteers have to say.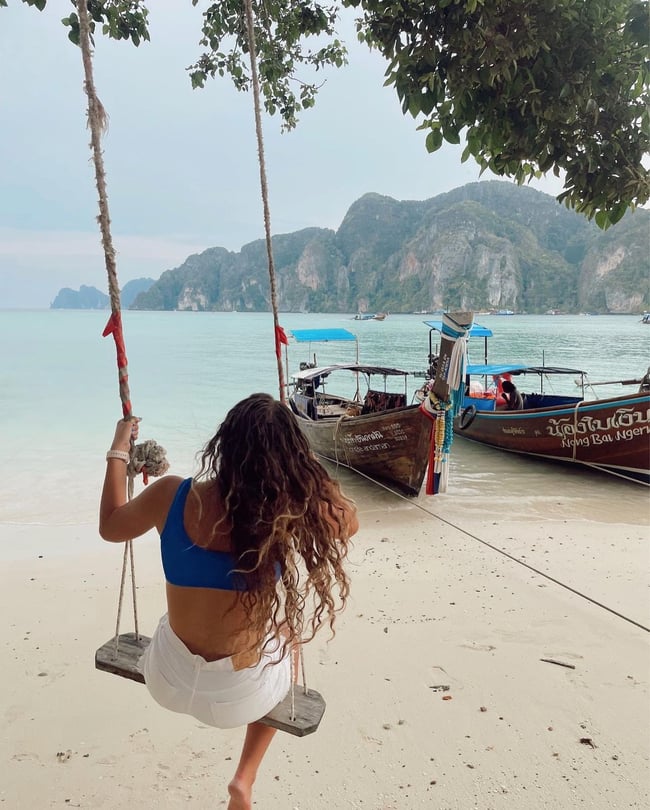 First, Some Things To Know
Okay to start, Koh Phi Phi is really beautiful. It's gorgeous really, with thick jungles and those dreamy beaches that you think about when you think about Thailand. But so (so!) many of our ILP volunteers have such strong opinions about their trip here, which could potentially change your visit to this island.
So before we jump into all the rad adventures to have on Koh Phi Phi, listen for just a minute. I just don't want this to turn into one of those trips where you say "well if I would know THAT" it would have changed everything.
Watch Out For Closures
This place is very very popular and gets crowded. Very crowded. Some estimate that 3,000+ people a day can be found visiting the same beach, day in and day out.
In fact, some of the top spots on the island have been closed for months or even years because of those crowds. These spots were getting so much traffic that it was damaging the environment, and closures allowed the beaches, coral, and marine life to be restored which is exactly what happened to the famous stretch of sand, Maya Bay. Maya Bay was closed for over 3 years!
This happens from time to time because of the heavy traffic, so you may want to do some research ahead of time so you know what to expect.
What Kind Of Vacation Is This?
While the beaches on Koh Phi Phi are pretty (like most beaches in this part of the world) they are known for parties. According to a few ILP groups, "if you stay overnight, be prepared for noise all night long" especially if you stay near the beaches.
We have more info on places to stay and spots to avoid below, but that's a good heads up. If you're looking for a chill beach vacation where you can soak up the island vibes, Koh Phi Phi is not what you're looking for. It tends to pull in a loud, partying, backpacker crowd that isn't shy about staying up all night long.
How Long To Stay
After chatting with some volunteers, here was the consensus: "It is worth the visit, but not where we liked to spend our time." Other groups agreed, chiming in with — "We did 3 days in Koh Phi Phi and that was way too much" or "we spent two days … but we did not feel like the hype of Phi Phi was well deserved. We all wished we had only spent one day there".
Koh Phi Phi might be the most popular vacation stop in Thailand, but you're only going to want to be there for a day. You can hit the unique highlights of this island, then head to more favorite islands (we can't get enough of Krabi, Koh Lanta, or even Koh Chang) after just one day. Luckily for you, Phi Phi is easily reached by other spots like Krabi where we would love to spend 3-5 days.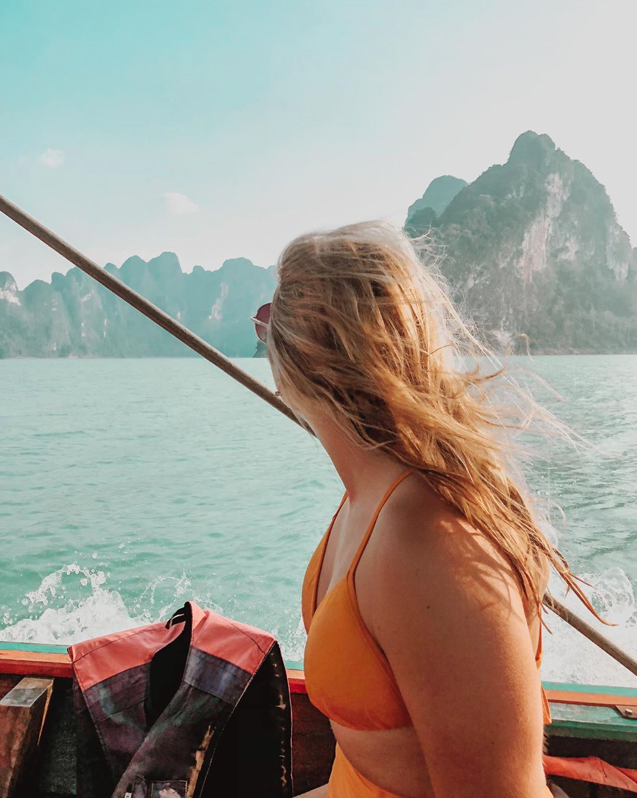 Best Things To Do On Koh Phi Phi
Our Favorite Viewpoint Hike
Okay, this viewpoint is absolutely worth coming to Phi Phi for, it's just that good. At the viewpoint you can see how the island splits, with a small strip of land down the middle, with that dreamy turquoise water on either side. This hike is home to three different viewpoints, with Viewpoint #3 as the prettiest if you want my opinion. The higher you get, the more of that sandy separation is seen, so you get an even clearer view of the two sides of Phi Phi. Make sure you make it to the top!
Plan on about 20-25 minutes hiking, from bottom to the top. The hike has lots of stairs and is pretty steep, but it's doable. If you want to avoid the worst of the Thai heat, start your hike in the early morning or evening, but between 10:00 AM and about 2:00 PM is where you'll get the best colors from the water below you.
Cost: 30 Baht (make sure you have some cash for the fee and the smoothie stand up at the top).
Directions: The hike itself is so easy to find. Ko Phi Phi is a relatively small island so while you're walking around, look out for signs around the island pointing the way to the "Viewpoint hike" or you can pick up a map of the island (your hostel likely has one for free, actually your hostel can also just point you in the right direction). There are two main sides to the island: Phi Phi Don (the larger side) and Phi Phi Leh (the smaller side). The viewpoint hike starts in Phi Phi Don, east of the Tonsai village. You'll start to see "Viewpoint 1" signs and ones for the "Tsunami Evacuation Route". If you find yourself at the base of some very steep stairs, you're in the right place.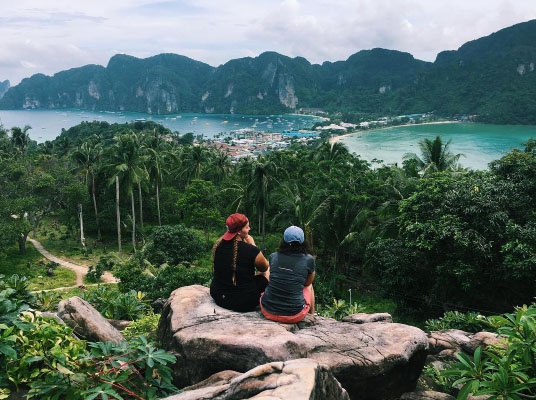 The Nightly Fire Dances
If you happen to be on Koh Phi Phi in the evening, the fire dances are pretty incredible to watch. You'll want to head to Slinky's Bar where the crew starts setting up in the late afternoon. The show is not only choreographed to the latest hits but has everything from fire-throwing, fire-eating, dueling fire stick fights, and a whole assortment of fiery tricks. See why it's the show to see on the island? Visitors mention that you'll want to head out after the fire show because the crowd here gets kind of rough (and also mention you'll want to avoid using the bathrooms here if you can help it).
Getting Here: Find Slinky's Bar (Slinky Bar P P. Sur Kho Phi Phi)
Time: Show starts at 8:15 or 8:30 PM, every night.
Skip The Beaches, Do An Excursion
The beaches on Koh Phi Phi are pretty, but they are always crowded. Our suggestion? Take advantage of the snorkeling tours instead and spend your days at the beach on another island. Since the beaches on the other islands are just as pretty (if not prettier) and way less crowded, you'll have a better beach day if you plan a Koh Phi Phi itinerary like this: book your day full of an excursion and then do the hike and you're good to go.
Groups say to wait to book your excursions until you get to the island if you're planning on arriving pretty early in the day. They have boats that will take you to see the surrounding coves, out snorkeling, and over to the phytoplankton. You'll find signs all over the busiest parts of the island advertising for tours that can take you out for half or full day tours, just make sure to negotiate the price down because they start way too high.
Along with that, we're recommending to skip monkey beach. It's a small (although semi-famous) cove on Koh Phi Phi Don you can reach by hiring a boat so you can hang out with the long-tailed Macaques who live there. It sounds fun, but it's not worth it.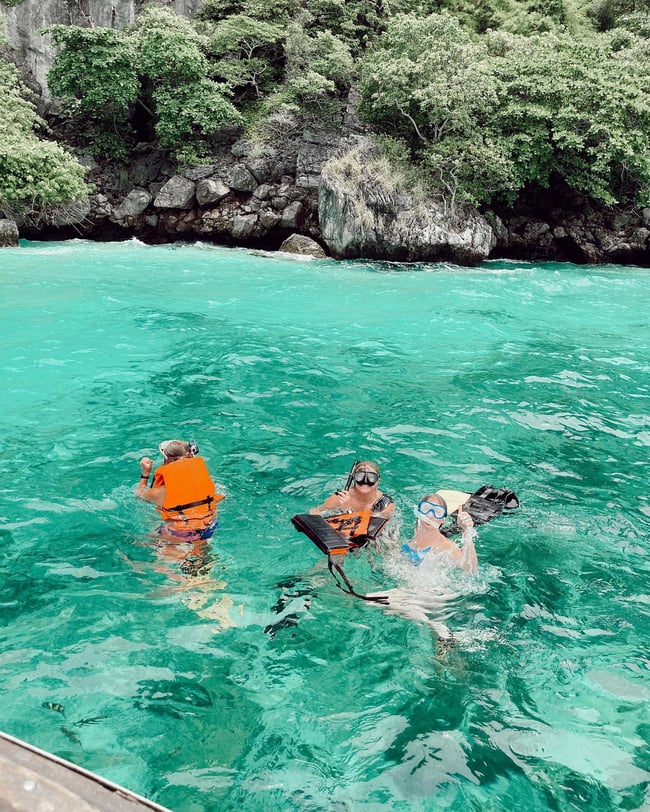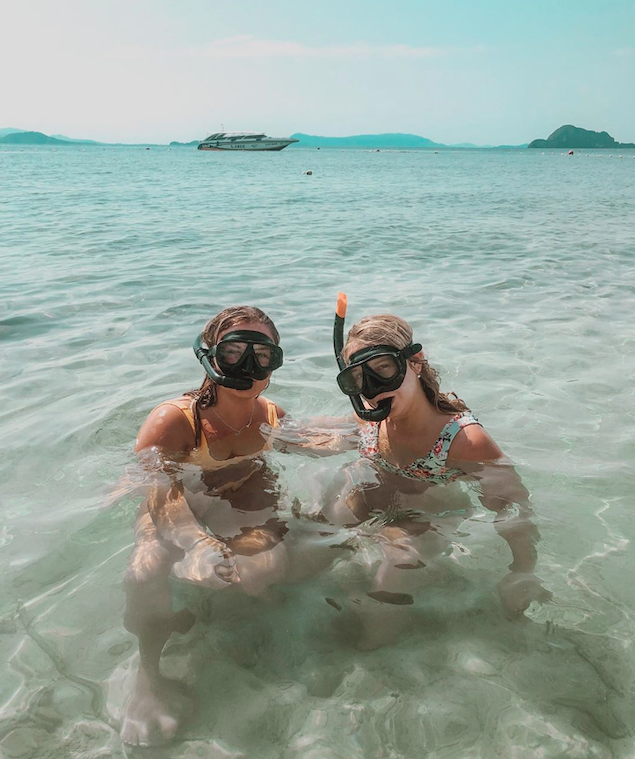 Where To (And Not To) Stay
Avoid These Spots
Typically we provide a few recommendations on where to stay on this blog posts, but Koh Phi Phi is a little different because we have had groups provide more "don't stay here" recommendations than "stay here" guidelines. In a nutshell, you'll want to stay away from the beaches. Since so many people come to this island to party, hostels right by the beach are loud, like "thumping music so loud that it shakes the walls and you can't sleep, loud".
And if you're sharing a dorm room, be prepared for people to stumble in at all hours of the night and morning. not great. In the past volunteers say to avoid Blanco Beach Dorm + Restaurant, Stones Bar Dorm Rooms, or Ibiza House Hostel. Basically, avoid staying in that "curving peninsula' which attaches the two sides of the island.
Stay Over Here Instead
If you avoid the narrow, middle section of the Phi Phi, you'll be in much better shape. One group can't recommend the Bay View Resort enough. It's a 10-minute walk from the beach and has a great restaurant. You'll be paying a little bit more because the island is a huge tourist hub (and this place isn't for the partying backpackers). The resort has a pool, a maid service, and can help you book tours that take you to the surrounding islands and out snorkeling. We love this place!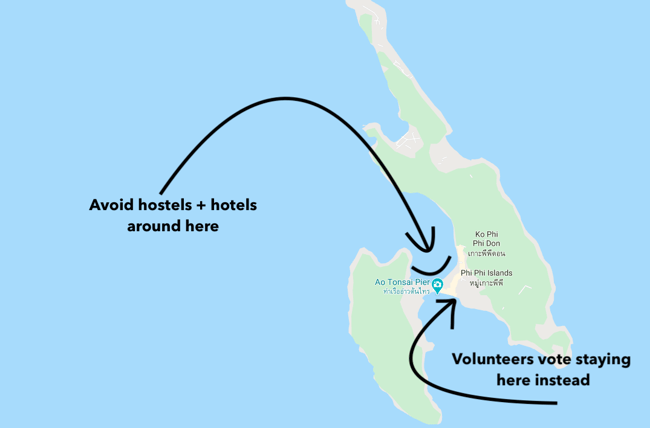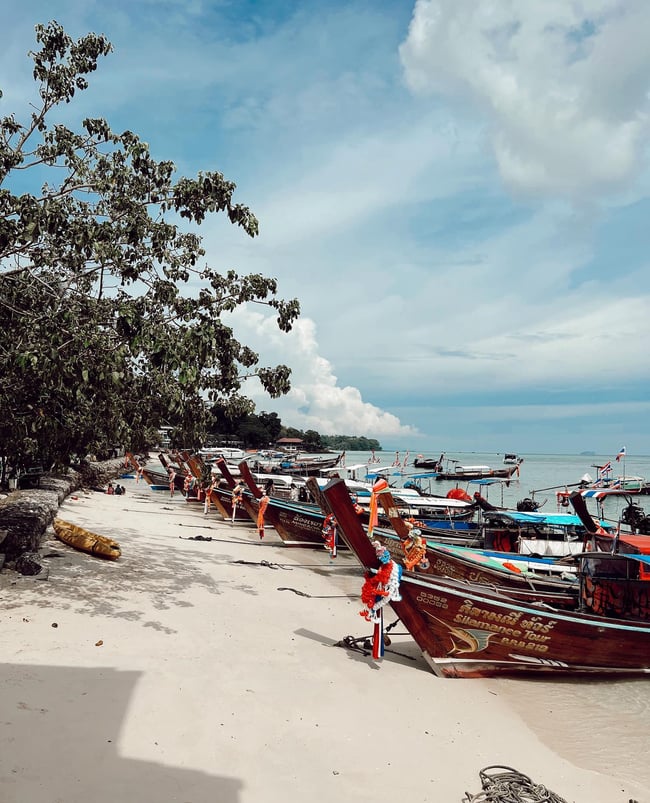 All About Planning Your Trip Here
Getting To The Thai Islands
You'll want to fly into one of the two airports in the area, either flying in Phuket or flying into Krabi. From those two points, you can easily hop on a boat which will take you over to Koh Phi Phi, or another one of our favorite islands. You can find a breakdown of the pros and cons of each airport and some other info you'll want to know in this guide about starting your vacay to the Thai Islands.
Boating Over To Koh Phi Phi + Paying The Fee
Since Koh Phi Phi is the premier tourist destination around, you can reach the island from pretty much everywhere. But if you want my advice? This is the best itinerary — Fly into Krabi, spend some time there, then hang out in Koh Lanta for a few days, then spend a day in Koh Phi Phi. This is my go-to site for finding island-hopping ferries. Some volunteers mention you can get a boat from Krabi over to Koh Phi Phi for about 300 baht if that helps your price things out.
When you arrive in Koh Phi Phi by boat, you'll need to pay a small fee, about 30 baht. They take the fee the minute you get off the boat, so make sure you have cash for that.
Getting Around The Island
Koh Phi Phi is small so plan on walking to get where you need to go. You won't find any cars on the island! Sometimes you can hire a tuk-tuk to take you over somewhere, but everything is within walking distance.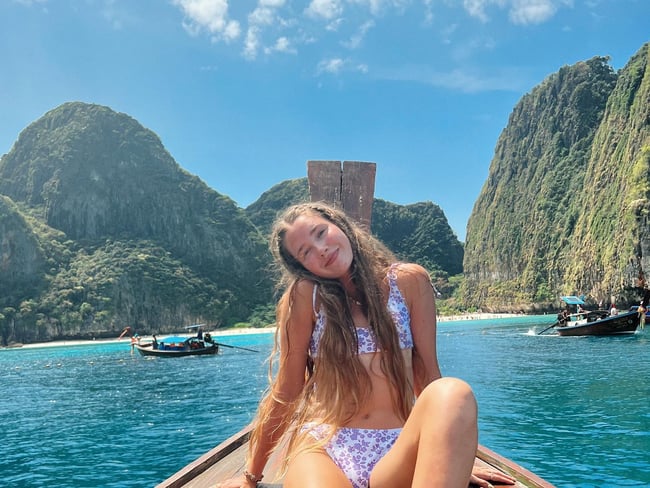 See even more on Instagram
Check in and see what our volunteers are up to! ILP's a non-profit organization who sends volunteers to Thailand (and lots of other countries) and we're constantly posting about all of their adventures!