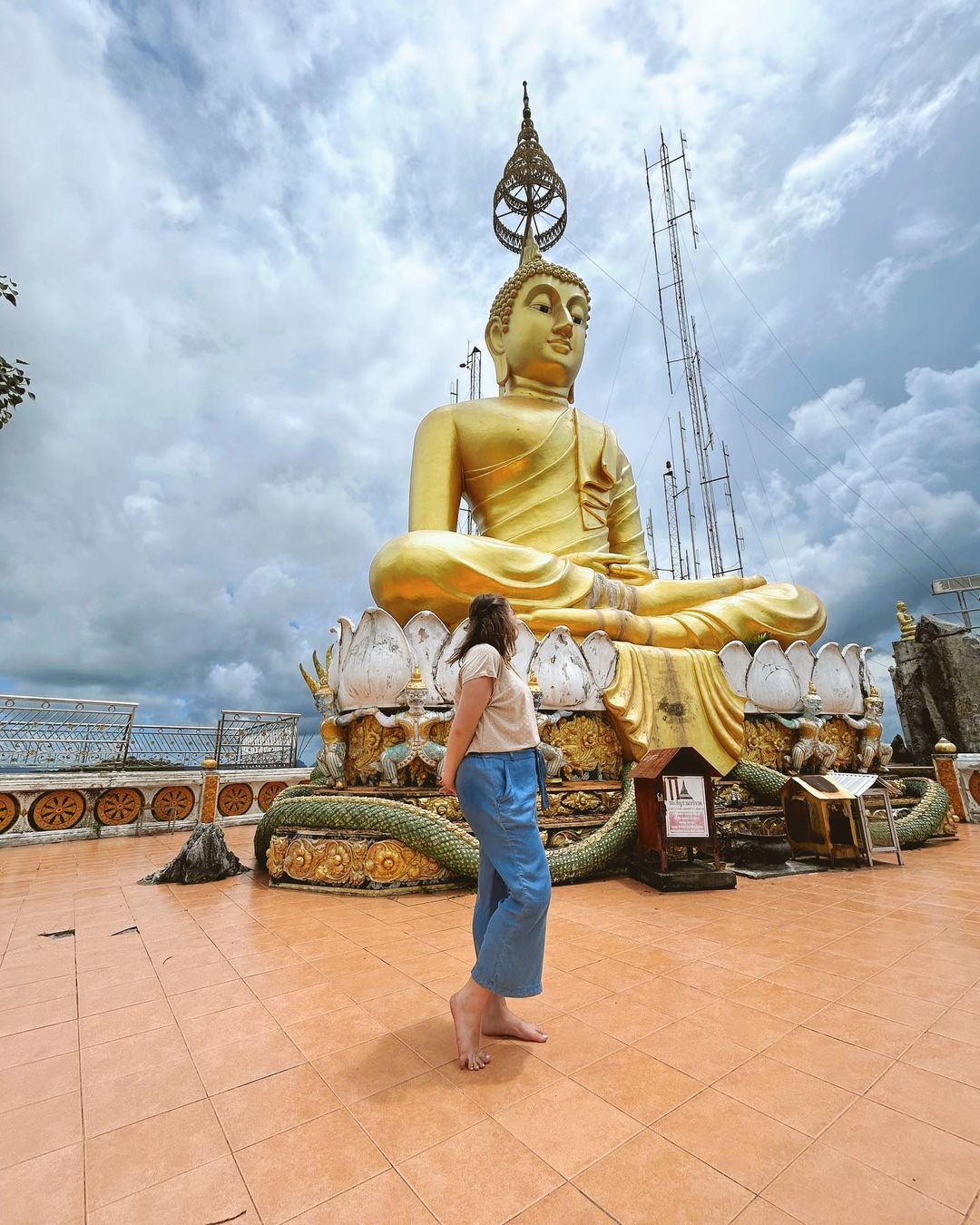 Planning a trip to Krabi, Thailand? Can I come? But seriously, if you're looking for ideas for your vacation here, I'd first send you to the beach of course, but then I'd tell you about this really incredible hike that shouldn't be missed.
I spend a whole semester exploring Thailand when I was living there as a volunteer ... and one of the best things I did was take a vacation to the gorgeous island of Krabi.
---
Love the idea of living in Thailand?
We thought so! Get more about volunteering in Thailand here.
---

There are more than a few reasons why Krabi, Thailand is one of the best places to vacation. I mean, if you're into Harry Potter Hostels, some bomb food and beautiful beaches, you'll love Krabi. But one of the best things to do here is hiking the Thai island — come check out — Tiger Cave Temple!
What Is Tiger Cave Temple?
Tips For Your Hike
How To Get There
What Is Tiger Cave Temple?
Unfortunately (or fortunately?) there's no tigers along this hike so the name is a bit misleading. However there are plenty of monkeys so yep, it's going to be an adventure. Supposedly, when the cave was first discovered, the monk who discovered the cave saw tigers wandering around (hence the name).
What is it? Well it's an incredibly steep hike (1260 stairs to be exact), straight up a mountain to a Buddhist temple and one of the best views you'll see in Thailand. These steps are steep, so you easily climb high above the lush jungle to one of the prettiest views around. To top off the challenge, the Thai humidity is going to make you feel like you're doing a stairstepper in a sauna. If you're adventurous enough to not be scared off by that, you're gonna love this hike.
What's At The Top?
At the top, you'll probably have monkeys greeting you, as well as a huge glittering golden Buddha statue, a platform leading to a tiny temple perched on the mountain top, and a panoramic view. It's like a mini temple complex all on top of a mountain complete with several buildings adorned with mini temples, platforms, Buddha statues and more. It's a must see, that's for sure.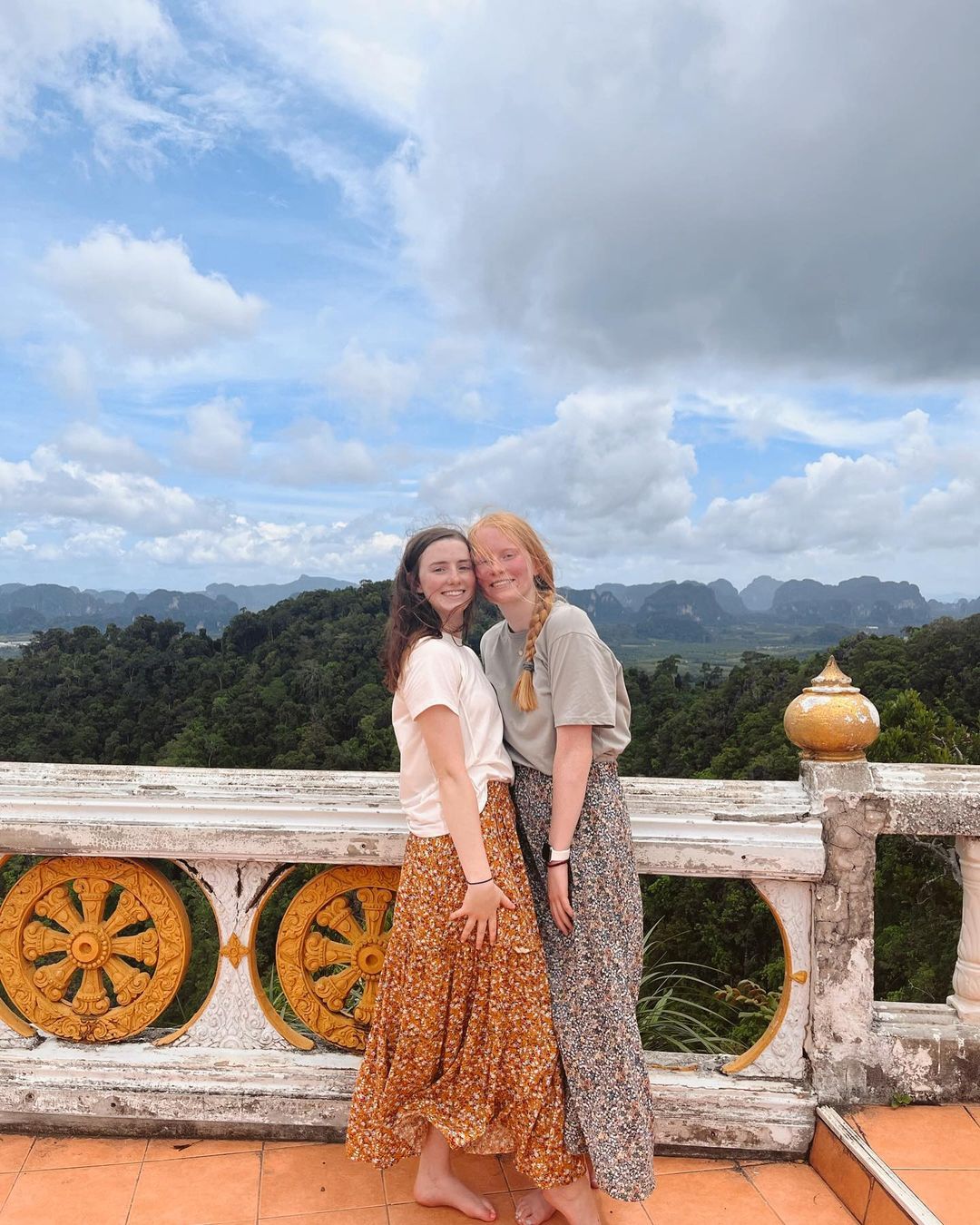 Tips For Your Hike
When To Go + How Long Is The Hike?
Go early in the morning! Thailand is hot and humid and this hike is no joke. Those steep stairs are a serious workout. The morning is really the best time of day temperature-wise pretty much year round. Some volunteers go extremely early and make it up there for the sunrise.
It typically takes most people 30-45 minutes to climb all of the stairs, and around 20 minutes at the top (plenty of time to take photos and rest a bit), then 30ish minutes to walk down the steps. Supposedly someone completed all 1200+ steps in less than 10 minutes. That becomes amazingly fast when you start climbing these steps yourself!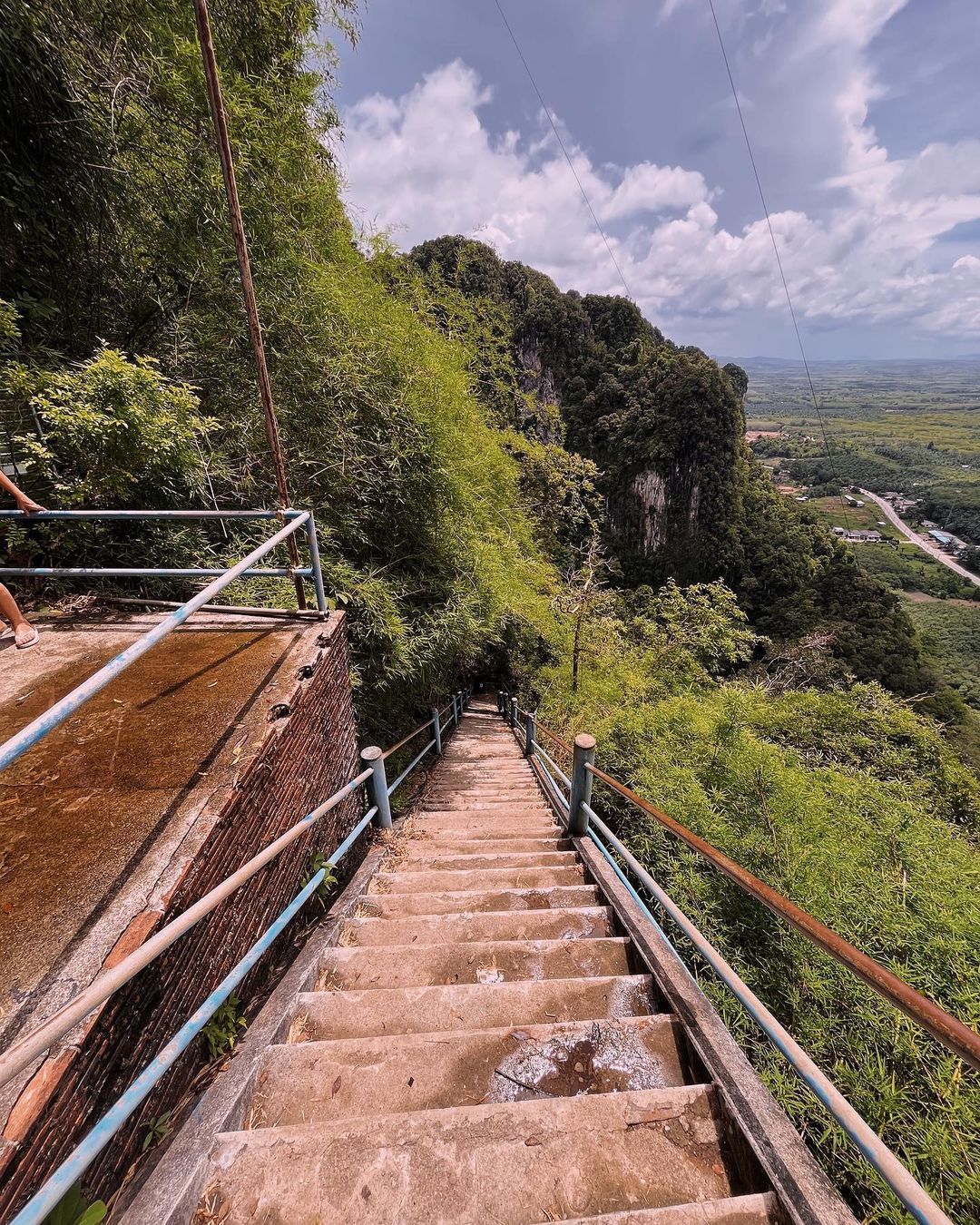 Watch Out For The Monkeys
Watch out for the monkeys (seriously). They're smart and know when you have food in your backpack. They know how to unzip your bag and run. So, if you're bringing a treat for yourself, keep your backpack close to you at all times and be quick and sneaky about eating (aka, don't pull out food when the monkeys are around).
Do not feed the monkeys, and don't keep anything in your outside pockets. If you keep something like a water bottle or bug repellent tucked on the side pockets, monkeys have been known to hop on your back, take the bottle, and run away with it.
Be Respectful
Yes, it's hot outside but it's still a religious site, so thanks for dressing appropriately. Have your shoulders covered, and avoid wearing shorts. There are sarongs you can rent at the top if you aren't dressed appropriately (and yes, there's a man at the top who makes sure visitors are respectfully dressed).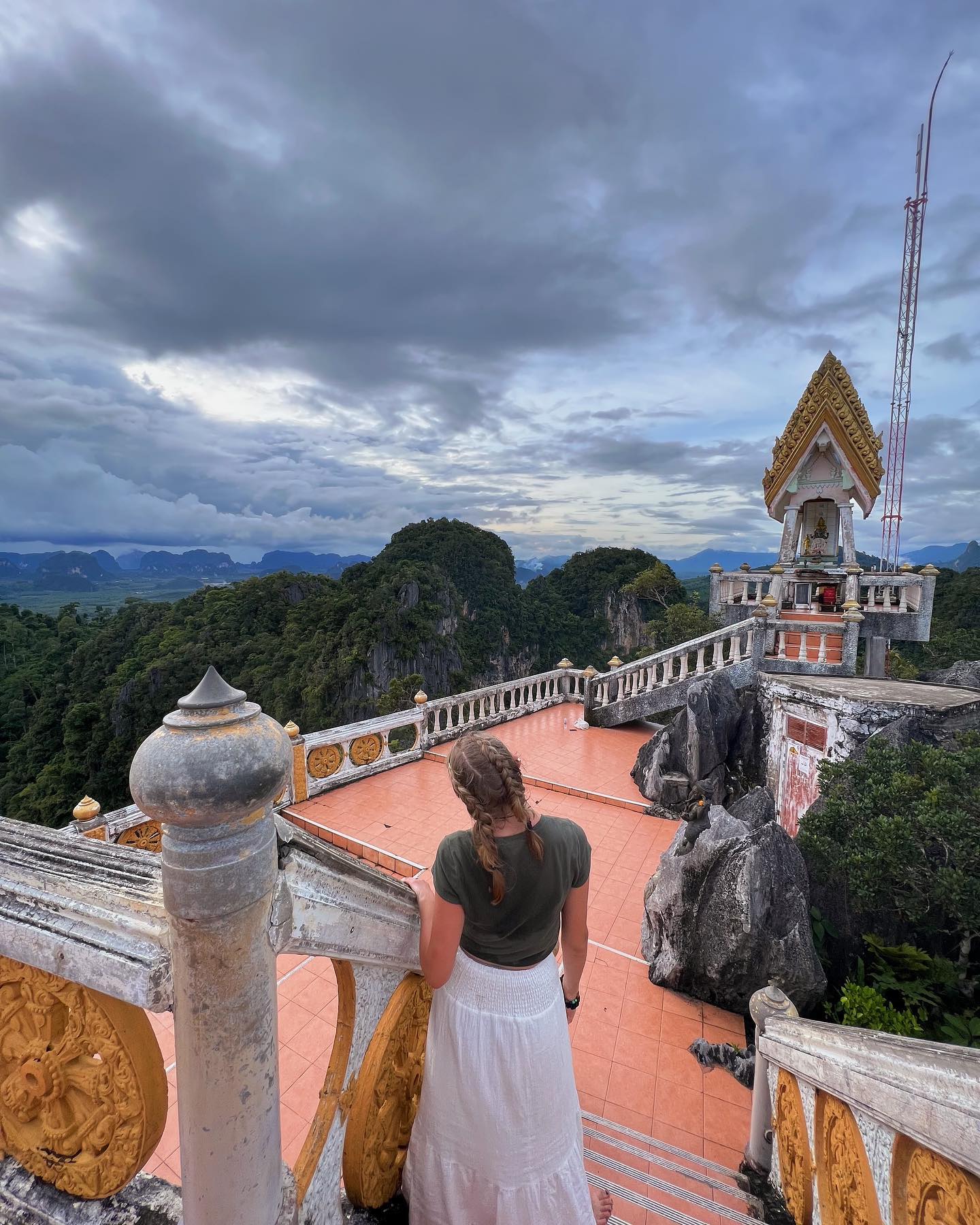 Take It Slow
Don't rush yourself. The stairs are steep and the heat can make you feel a bit disoriented (you'll be climbing about 90 flights of stairs, after all). Thankfully there is a railing you can always hold on to if you need it.
Be smart and pack plenty of water. It's a difficult hike in hot weather, so plan on carrying more than enough water to keep you hydrated.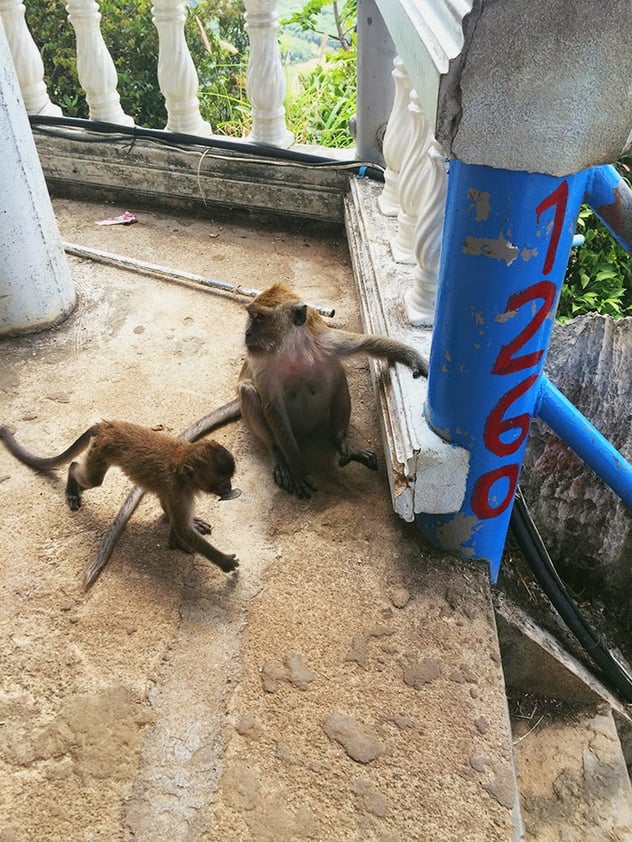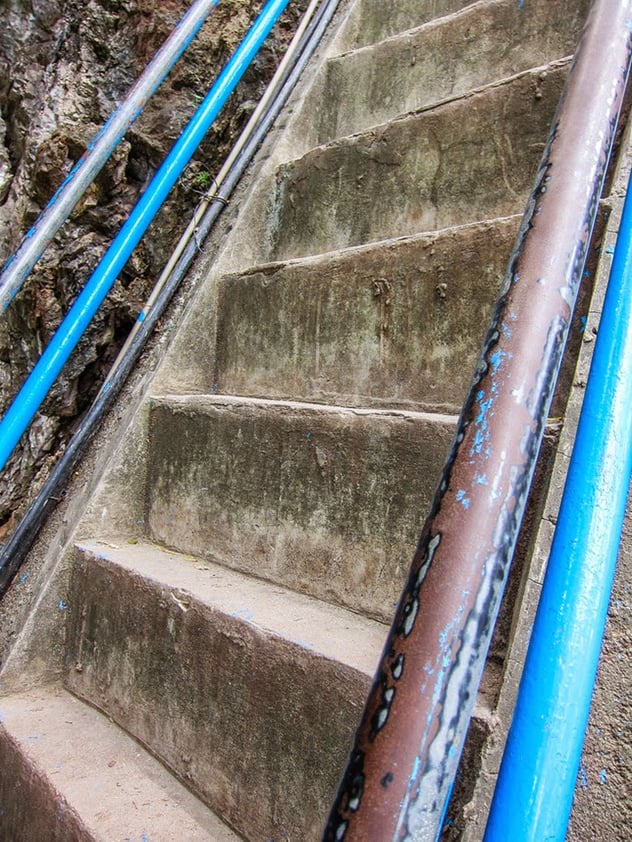 How To Get There
First, get yourself to Krabi — you can take a direct flight from Bangkok. As a perk, we have some more info about Krabi here (which includes more detailed info on getting there).
Once in Krabi, just ask a tuk-tuk driver to take you there. It's a well-known hike and arranging your own transportation is something that's easily done. If you go this route, make sure you arrange for your driver to wait while you hike so you don't have to find a ride back once you're finished with the hike. If you want to leave very early in the morning, arrange your ride the day before. It's found just about 15 minutes outside of Krabi Town, so not far.
You can find tuk-tuk drivers bustling around the city everywhere, but some volunteers were able to flag one down outside of the 7-11 on Maharaj Road. Some travelers said they were able to get a tuk-tuk for about 100 Baht per person to take them to the temple, wait while they hiked, and brought them back to Krabi City.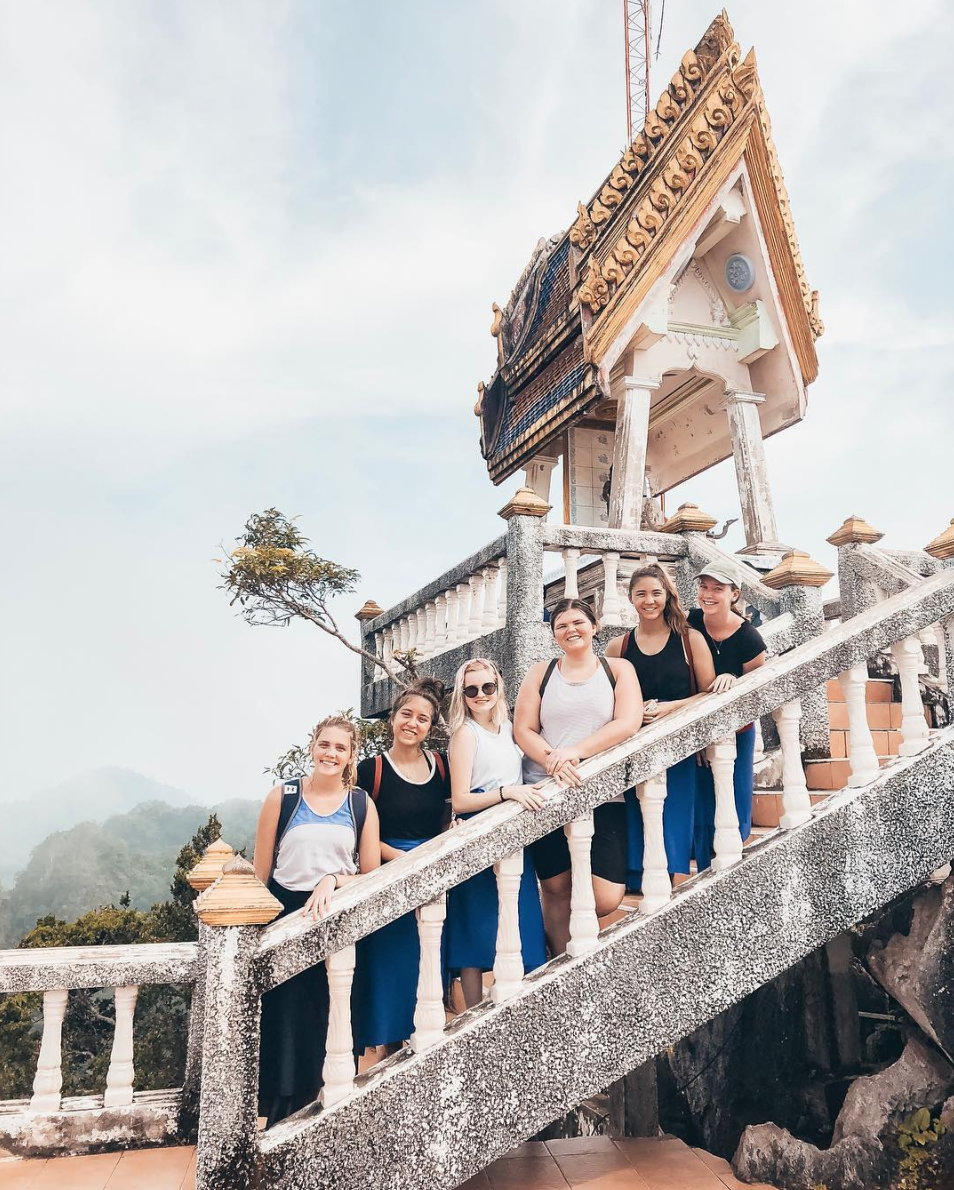 You know what's even better than a vacation in Thailand?
Living there for a semester! ILP provides volunteer opportunities in Thailand and you have an entire semester abroad to travel and explore Thailand. A week or two is definitely not enough time to explore this beautiful country if you ask me.