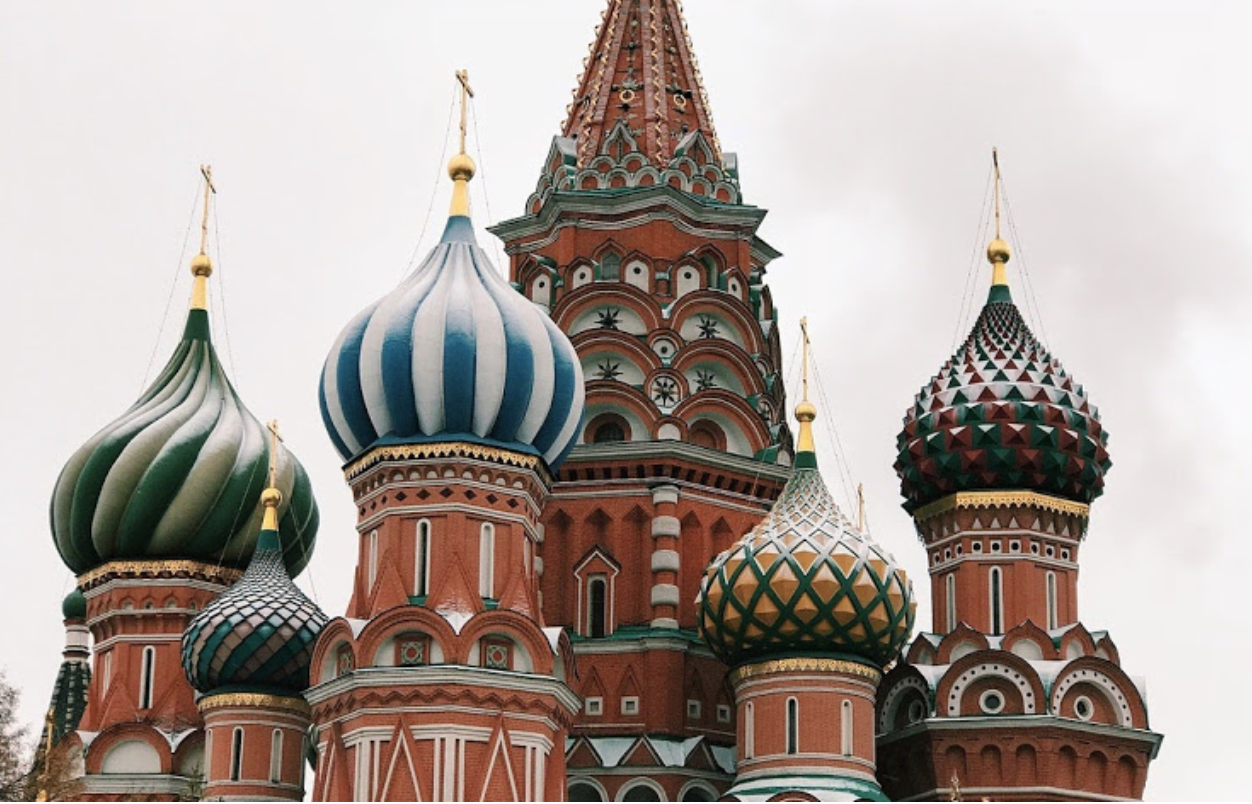 For those who are entranced by the idea of knowing how much sour cream you should add to your borscht by hitting that perfect shade of pink.
I can't start to explain how much I love Russia. It may be the cake-like cathedrals I'm entranced by, but if I'm being honest with myself, the food may be the biggest factor. Living with my own host family when I was volunteering in Russia which meant I got a front row seat to so many of my favorite Russian dishes, which made all the difference in my semester. I remember coming home and just talking with my host mom while she explained how to make bowls of soup, swirled with sour cream, or letting me try my hand at twirling around a ribbon of thin batter that would turn into stacks of blini.


---
*Quick ILP Update — we have closed our semester abroad program in Russia and are not updating info found in this post. We're keeping this post live as it may be a helpful resource for you, but know that information was last up to date at the time this post was published.

---
While all ILP volunteers get their meals covered three times a week, I was so glad that I was living with a host family who provided those meals. I not only came home to the US with a love for Russian cuisine and cooking, but had first-hand experience on how to make some of my now-favorite dishes. Now that I'm home, I find myself pulling out these 100% authentic recipes when the weather turns, turn on the Soviet-Era cartoon my little host brother would watch, and tuck into to food that reminds of me of my time in Russia.

Whether you're trying a serve up a plate of nostalgia for your own time in Russia, or want the basics at what to throw at your own Russian dinner party, these recipes have you covered:
Borscht
Borscht is one of the most well known Russian dishes — maybe the most famous if you ask anyone to tell you a bit about what they know about Russian dishes. Borsht is a beet soup that I get a mad craving for in the winter time because it brings me right back to the bone-chilling days in Moscow. I remember one particularly frigid day, I came home to a bowl of borscht and a whole container of smytana (more on that later). When I'd finished off three bowls and followed up with a request for tea, my host mom declared I was officially Russian.

Truth be told, I wasn't a fan of beets before living in Russia but this soup has me converted: the beets just give the borscht a really vibrant color, but the taste is really simple and tasty, full of veggies like cabbage, potatoes, carrots, and a few other ingredients, with an earthy base from the beets. You'll find that every family has their own borscht recipe (some with meat, some without), but here's the one I use:
Servings
This makes a large pot, feeding 4-6 people with leftovers
Ingredients
3 liters broth (I use veggie broth, but you can use beef or chicken broth)
2.2 pounds of russet potatoes
1-2 large carrots
1 medium-sized beet
1 yellow onion
1 red pepper
1/2 of a large head of cabbage
4 Roma tomatoes
2-3 tablespoons of olive oil
2 bay leaves

smytana / (or substitute sour cream) for serving
chopped dill for serving (if you'd like)
Instructions
Put a large pot on the stove over medium-high heat. Add the broth to the pot. Next, peel the potatoes and cut into cubes before adding them to the broth. I tend to cut the potatoes into bite-sized cubes that'll fit on a spoon, just for some guidance on your chopping method. Let the broth boil to cook the potatoes.

While the potatoes are cooking, heat the olive oil in a large skillet. Dice the onions, and cook until translucent. Grate the carrots, and grate the beets, and fry with the onions for 2-3 minutes. Then, blend the tomatoes in a blender, and add to all the other veggies that are hanging out in the frying pan. Cook all of this for for about 15 minutes over medium/high heat.

At this point, your potatoes should be pretty close to being fork-tender (if not, continue cooking). When the potatoes are done, add the onion, carrot, beet, etc mixture to the pot, along with the bay leaves.

Now, finely chop cabbage and dice the bell pepper. Add both to the pot as well, and turn up the heat to a boil. Add salt and pepper to taste. Serve with a big spoonful of smytana and a sprinkle of fresh dill ... and always serve with bread.
Some Tips
Once you've added everything, I like to let the soup simmer for 30+ minutes just to help the flavors get to know each other. This step usually cooks the potatoes really well, adding a slightly thicker texture. Also good to know? This recipe makes for fantastic leftovers because the flavors really develop ... I think borscht tastes better the second day or third or fourth day.
Oh and if you happen to get the bay leaf in your bowl, get excited. My Russian host mom told me that whoever gets the bay leaf will shortly receive a letter.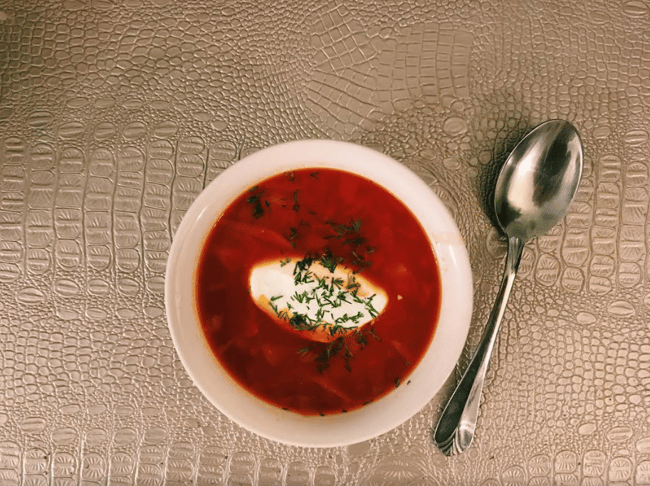 Pelmini
A fan favorite even if you don't think you like Russian food. Pelmini are little boiled dumplings filled with meat, and topped with a whole host of things. I personally like pelmini with lots of black pepper and sour cream, but others like a bowl topped with a pat of butter, or a splash of vinegar.
One of the highlights of making this recipe is doing it all by feel: we have measurements and some instructions below, but my Russian mom says you know the dough is done because "it feels right". It was a bit of a struggle to pull out the measurements because according to many babushkas, recipes like this are done by sight and feel ... something you'll also get good at after whipping up a few batches of these yummy pockets of dough and meat.
It's kind of a laborious process, but do-able if you have lots of help, and some tricks up your sleeve. Here's the recipe I use:

Ingredients
For the filling:
18 oz ground beef (or pork, or a mix of both)
1 small yellow onion, chopped finely
1 tablespoon salt
ground pepper, to taste


For the dough:
1 egg
1 tablespoon vegetable oil
1 teaspoon salt
3/4 cup warm water
3 cups all purpose flour
For serving:
Smytana / sour cream
Chopped dill
Black Pepper
Vinegar
Butter
Instructions
Make your dough. Crack your egg into a liquid measuring cup and scramble it well. Add the vegetable oil, then add enough water until you have a cup of liquid. Add the liquid to a large bowl, and stir in 3 cups of flour. Knead until you have a smooth and elastic dough (I like to stir everything together until it makes a shaggy dough, then tip it onto my counter and knead it for several minutes). After kneading, the dough should be smooth and elastic. Place your kneaded dough back in the bowl, cover with a kitchen towel and let it rest for 30 minutes or so.

In the meantime, prep your filling (it's a straight-forward process). Add all the ingredients into a bowl and mix well.

Once the dough is well rested, sprinkle some flour on your counter and roll out a section of dough that's about the size of a small grapefruit. You'll looking to make a round sheet that'll fit on this pelmini mold.
Lay the first layer of dough onto the mold and add a tiny spoonful of the meat mixture into the little honeycomb spaces — you don't want to overfill these guys. Then roll out a second sheet, and gently press down. To pop out the pelmini, take your rolling pin and roll over the mold until you can see all the connecting lines of the mold. Flip over your mold and gently pop out each pelmini. Place these all onto a tray until you're ready to cook.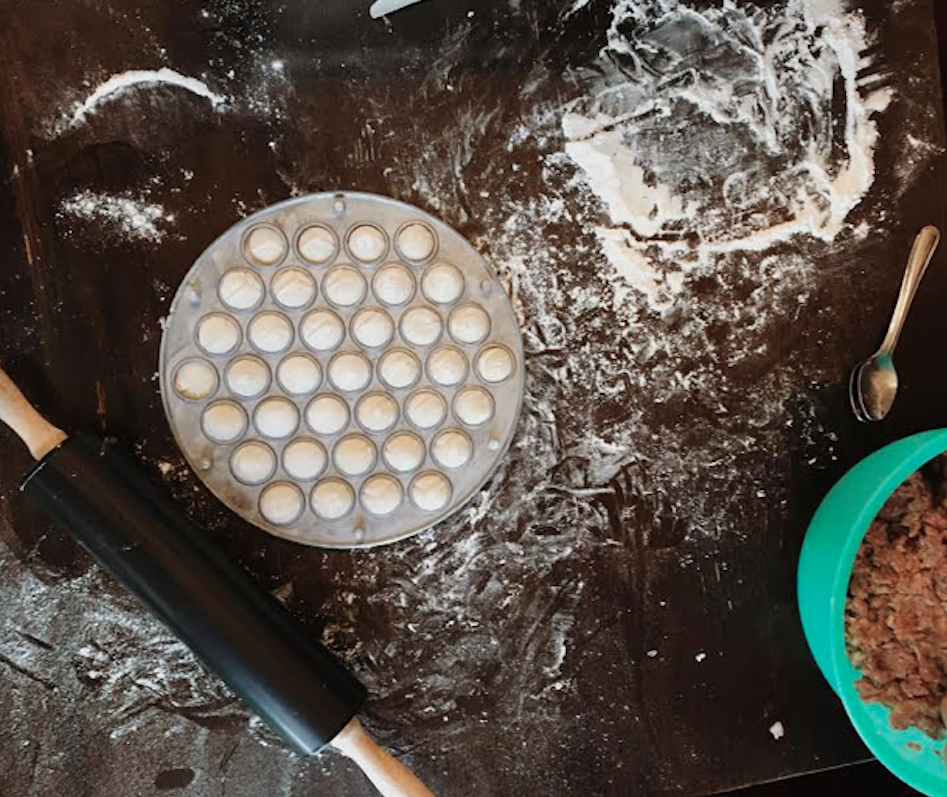 To cook the pelmini, bring a large pot of slightly salted water to a boil. Add a couple of handfuls of the pelmini and cook until they float to the top, about 5 minutes.
Serve warm with sour cream and cracked pepper, butter, or vinegar (or all three).
Tips
Don't have a pelmini mold? Nothing to worry about, you can fold them by hand (it just takes longer). Roll out into a thin sheet and use a 2-inch circle cookie cutter to make little rounds. Fold by hand, using this method.
You can freeze any extras. Just lay them out in a single layer onto a cookie sheet and freeze until frozen through all the way. I like to freeze them overnight, then pop them into a ziplock bag. When you get your next pelmini craving, boil until they float to the top, then for another 2-3 minutes. Serve per usual.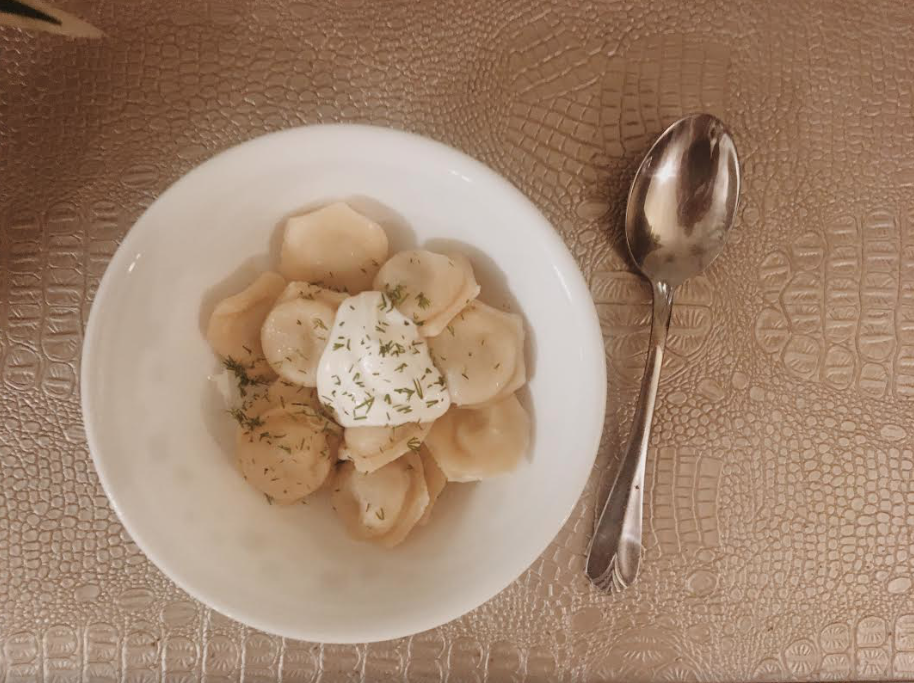 Salat Oliviye
This dish is like Russia's version of potato salad, but one that's a bit more historical than the version you know. This salad is found at nearly every big celebration: birthdays, church holidays, big family events, you name it. The dish had a highbrow, expensive origin when a famous Belgian chef named Olivier used ingredients like caviar and veal tongue ... but once the recipe hit home cooks, fancy ingredients were replaced with more accessible ones, creating the popular salad you can make at home. There are a few variations (some have ham, some call for more eggs), but I prefer the recipe below:
Ingredients
2-3 large russet potatoes
2-3 carrots
3 eggs, hard boiled
4-5 small dill pickles
2 cups peas (frozen is fine, just make sure they're thawed )
1 cup mayonnaise
Salt and pepper to taste
Instructions
Cut two large pots of water onto boil. Peel your potatoes and your carrots. Cut the potatoes into small cubes and boil until tender. Do the same with the carrots. Cool both.

*If you want to cook this like my Russian host mom, put the carrots and potatoes in the same pot, then add uncooked eggs. Cook everything until the potatoes are cooked through. She swore it cooked everything perfectly and made the dish taste better so feel free to test that method.

In a large bowl, add your cooked potatoes and carrots. Dice your hardboiled eggs, and add finely chopped pickles to the mix. Add in the peas and the mayonnaise, and give everything a big stir. Season accordingly, and serve with chopped dill if you're feeling really Russian.

Making Smytana
Okay, you might notice that throughout all of these recipes there's mention of smytana or sour cream. In Russia, I ate pretty much everything with smytana which is a really thick and tangy topping really similar to sour cream. It's found in salads, appetizers, smeared on blini, and tops pretty much every soup — it's a total staple. In a pinch, you can just use sour cream, but if you want a closer replica, follow this general recipe:
3 parts sour cream
1 part greek yogurt
Stir together and taste. It's all done by taste, but those are the rough measurements. You're looking for a thick and slightly tangy mixture. Keep refrigerated until you're ready to use.
Sharlotka (Apple Cake)
This cake is so good and so easy, If you want to tackle something a tad more technical, keep reading .... but this apple cake is something you can easily whip up ... it's one of those "put everything in a bowl, then bake". As with any Russian dessert, serve with tea.
Ingredients
3 eggs
1 cup sugar
1 cup all-purpose flour
1 tsp cinnamon
1/4 tsp baking powder
3 apples, peeled and sliced (I use granny smith)

Butter (for your springform pan)
Powdered sugar, for dusting the cake (optional)
Instructions
Preheat your oven to 390° and generously butter a springform pan.
Beat your eggs and then add your sugar. Beat until the batter gets fluffy and thick. Stir in cinnamon and baking soda, then slowly stir in flour while mixing.
Spread the sliced apples in the bottom of the greased springform pan. Pour the mixture evenly over the top and shimmy the pan back and forth to distribute.

Bake for about 20 minutes — the top should be set and golden.

Let the cake cool slightly, then run a knife around the edge of the pan, then invert onto a plate. You should see the layer of apples you put on the bottom, now on the top. Serve at room temperature and dusted with powdered sugar and don't fret if there are leftovers for breakfast. The cake, once it sits, turns the apples into a delightful pudding-like texture that I prefer over the "day of" version of this cake.
Medovik (Honey Cake)
I was obsessed with this cake when I was living in Russia. It's a unique slice of heaven, with a distinctive toasted "graham cracker" taste that I couldn't get enough of. I've tried a couple of recipes but one by Smitten Kitchen absolutely is the most authentic I've attempted. The recipe isn't too difficult, just time consuming, but the blog post walks you through every single step with plenty of pictures to help convince you that you're on the right track.

I'd add a couple of notes of my own to the list Deb provides in her post: make sure you use a big pot when you're melting together the honey, sugar, and butter. When you add the baking soda, it really froths up.

Don't forget to dock each of your cake rounds (they puff up if you don't). I tried to dock the whole thing really well so no air bubbles could form.

Blitz the extra cake pieces to really uniform crumbs to get a professional look.

Other than that, follow this recipe step by step for an out-of-this-world Medovik. Oh, and as with any Russian dessert, serve with tea.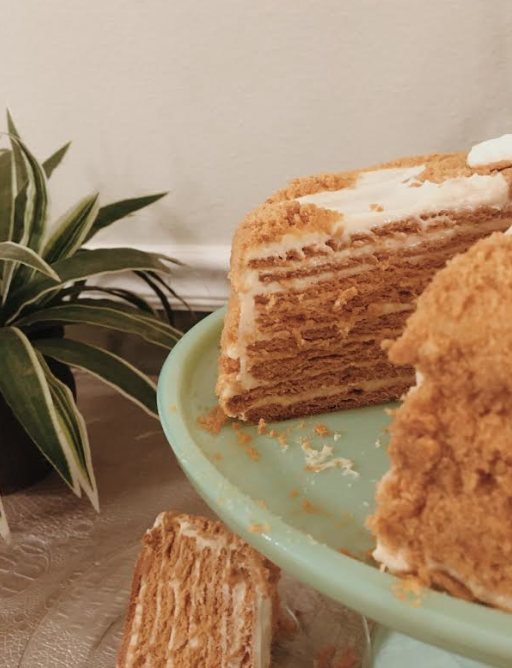 Ready for more world adventures?
We (International Language Programs) host volunteer programs in a handful of different parts of the world. Our volunteers are college-aged individuals who teach English part-time and have weekends plus vacation days off to travel. This means that you get to teach the cutest kids during the week, then hop on a train, plane, or bus to explore everything that country has to offer! Learn more on our Instagram: