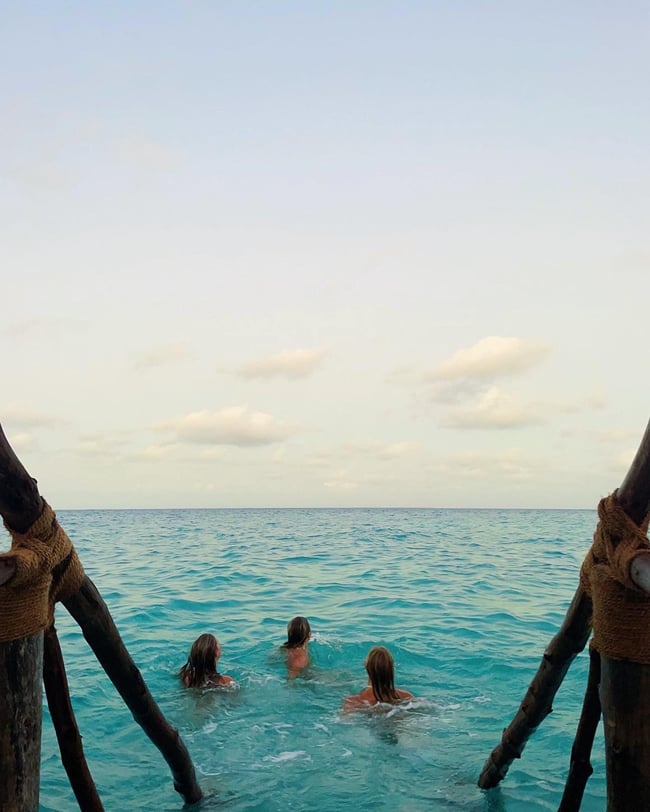 Who knew Africa had the most stunning islands tucked in along the eastern coastline? Head out to Tanzania and you'll find the most perfect crystal clear turquoise waters for your dream vacation!
Our ILP volunteers who live in Uganda are pretty lucky that they are so close to this getaway. While you're not giving back in Uganda for your semester abroad, you'll have plenty of vacation time to see amazing spots ... and after visiting ourselves, we're highly recommending you come check out this Tanzania island, Zanzibar!
---
Curious what it's involved with spending a semester abroad in Africa?
See more about volunteering in Uganda with us!
---
There's seriously SO much to do on this island that we you're going to want as much time here as you can get. Trust us, you won't be wondering how to fill your time.
We have a full island guide here with tons of tips for planning your vacation to Zanzibar like how to get there and where to stay.
26 Can't Miss Adventures in Zanzibar
Boat rides
Snorkeling
Swim with dolphins
Horseback riding
Paddle board at sunset
Yoga classes
Trip to the mangrove forest
Kayaking
Lunch on the beach
Sunset views
Deep sea fishing
Feed giant tortoises
Spot rare monkeys
Hold chameleons and pythons
Shop at the markets
Take a cooking class
Henna tattoos
Get a massage
Dine at a rooftop restaurant
Walking tours in Stone Town
Wander alleyways
Pay respects at the Slave Monument
Hear the call to prayer
Eat at The Rock
Bike the island

Beaches + Sea Adventures
If you're anything like us, the white sandy beaches hugging the turquoise waters is one of the biggest draws to Zanzibar.
Rides On The Classic Wooden Boats
There at the most beautiful, traditional wooden boats that are iconic for this area and you can actually take a ride on one! This is going to be the perfect adventure to tack onto a tour to go do something else like snorkeling, deep sea fishing, and swimming with dolphins. Before you book your tour, just double check what type of boat they have to make sure you get this classic experience.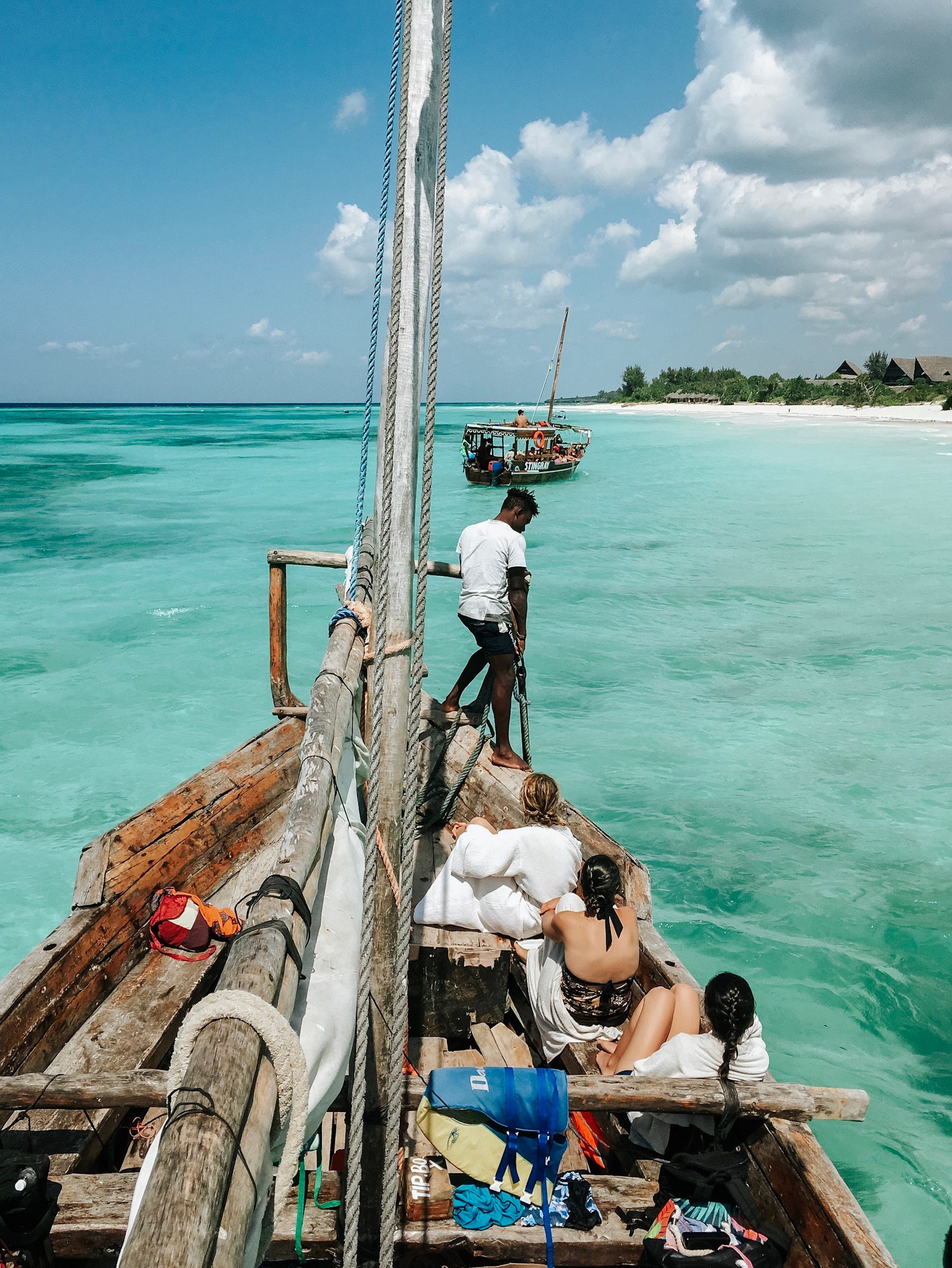 Snorkeling
Like we mentioned, it won't be hard to find a tour that you can jump on to go snorkeling. You can't really go wrong, but we do recommend booking a tour once your arrive if you're on a budget. If you book online, you'll likely be paying quite a bit more. We also recommend booking with a more legit company. You'll see independent guys along the beach offering to take you out, but you never know exactly what you're going to get when you do that.
Mnemba Island: This tiny island off the eastern coast of Zanibar is one of the favorite spots to go snorkeling and where most boat tours will be taking you. We headed out to Nungwi (a beach on the northern coast) and booked a tour once we arrived at the beach with Zanzibar Watersports (they have a little shop at the big yellow Dive Center building, you can't miss it). For just $20 USD, we got a full day (9 AM-3:30PM) of the best adventure! They took us out on one of the magical wooden boats to Mnemba, we got to snorkel with some colorful fish and have a lunch on the beach. So fun!
Safari Blue: Safari Blue is one of the most well known boat tours on the island. This tour is a little more than the one we loved going out to Mnemba, but you're going to see another side of the island, plus there's more included. They start from Fumba which is on the south western coast (so you'll have to also book a transport to get you there). For the $70 package, "Safari Blue Experience" you'll get to sail out to Kwale island, spot dolphins, snorkel, swim in a lagoon, and also have a yummy lunch on the beach. Check out their website here.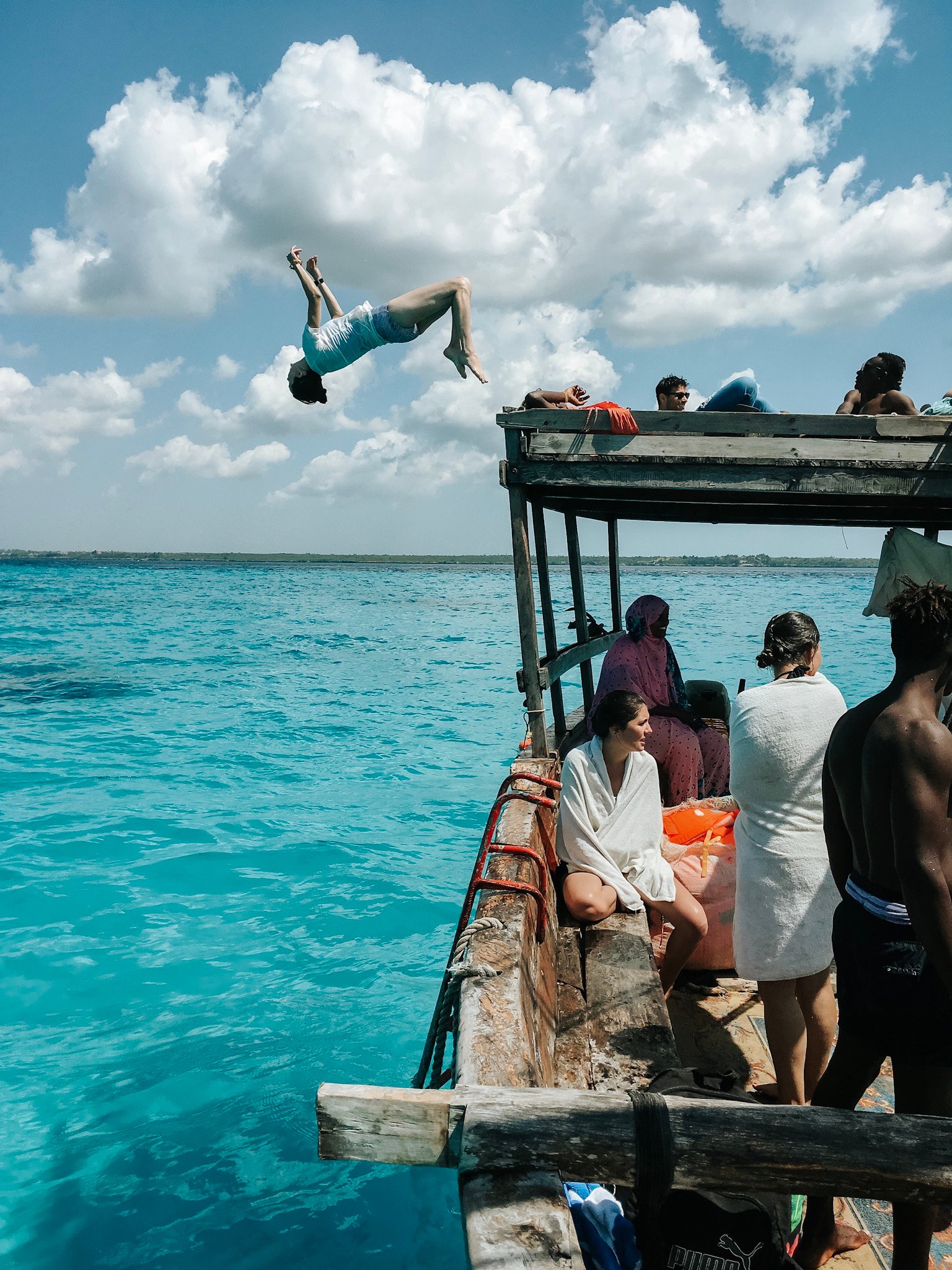 Swim With Dolphins In The Wild
Yep, you head that right. Zanzibar is a great spot for dolphin spotting! You'll find both humpback and bottle nose dolphins playing around the southern end of this island. The best time to give you the best chances of seeing dolphins is during the dry season — from January to February and from June to October. It's also usually an early morning activity because dolphins tend to be the most social then! You can usually grab a tour starting around $45 USD ... such a steal of a deal for such a once-in-a-lifetime kinda experience. There are many tours around, but we especially love that so many of the tours pay special attention to not disturb their natural environment. You may hear promises from small tours that you can see dolphins all over the island, but definitely look for a tour that operates down in the southern part of Zanzibar. Here's more about swimming with dolphins in Zanzibar.
Horseback Riding
You'll find riders of all levels as this is also one of the more popular things you can do on Zanzibar! This is especially popular along the northern coast, so if you're in Nungwi like us you'll see lots of tours for horseback riding. Plus this is a great way to see more of the island that you wouldn't have just walked to on your own. You'll often get a group rate, so pricing depends on how many friends you've got with you.
Paddle Boarding At Sunset
Stand up paddle boarding (SUP) is a must! We did this from Nungwi and absolutely loved it. It was really easy to rent a paddle board from one of the bungalows just right on the beach and they even offered to come out with us since we were new to paddle boarding for no added cost (although tipping is welcome). We timed it so that we were out during sunset which was sooooo gorgeous. Plan on it costing around $20 USD for a short rental (but more well established companies may charge more).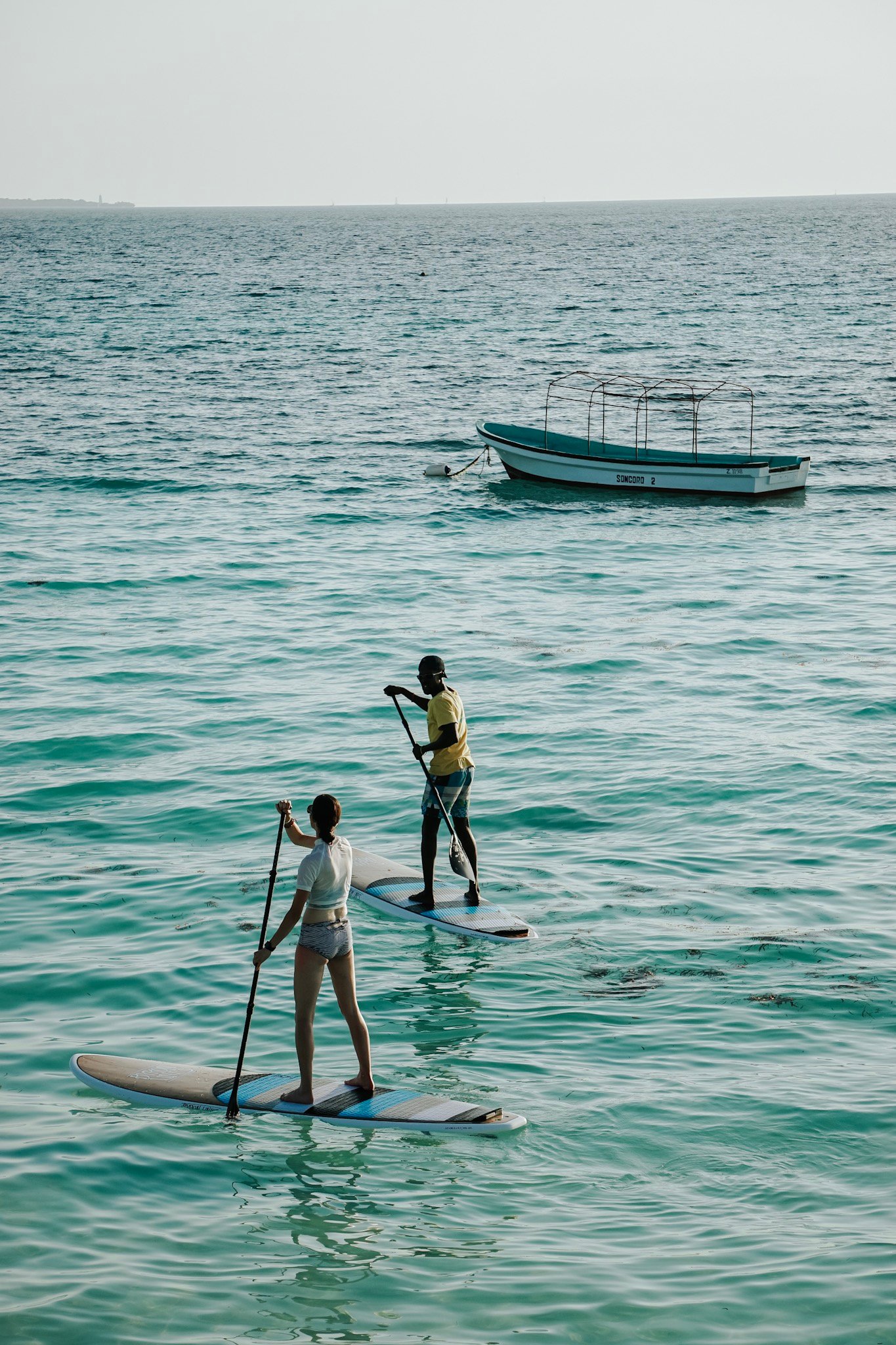 Paddle Board Yoga
You can also book a session to do paddle board yoga. Ever wanted to give it a try? This is the perfect place to give it a shot!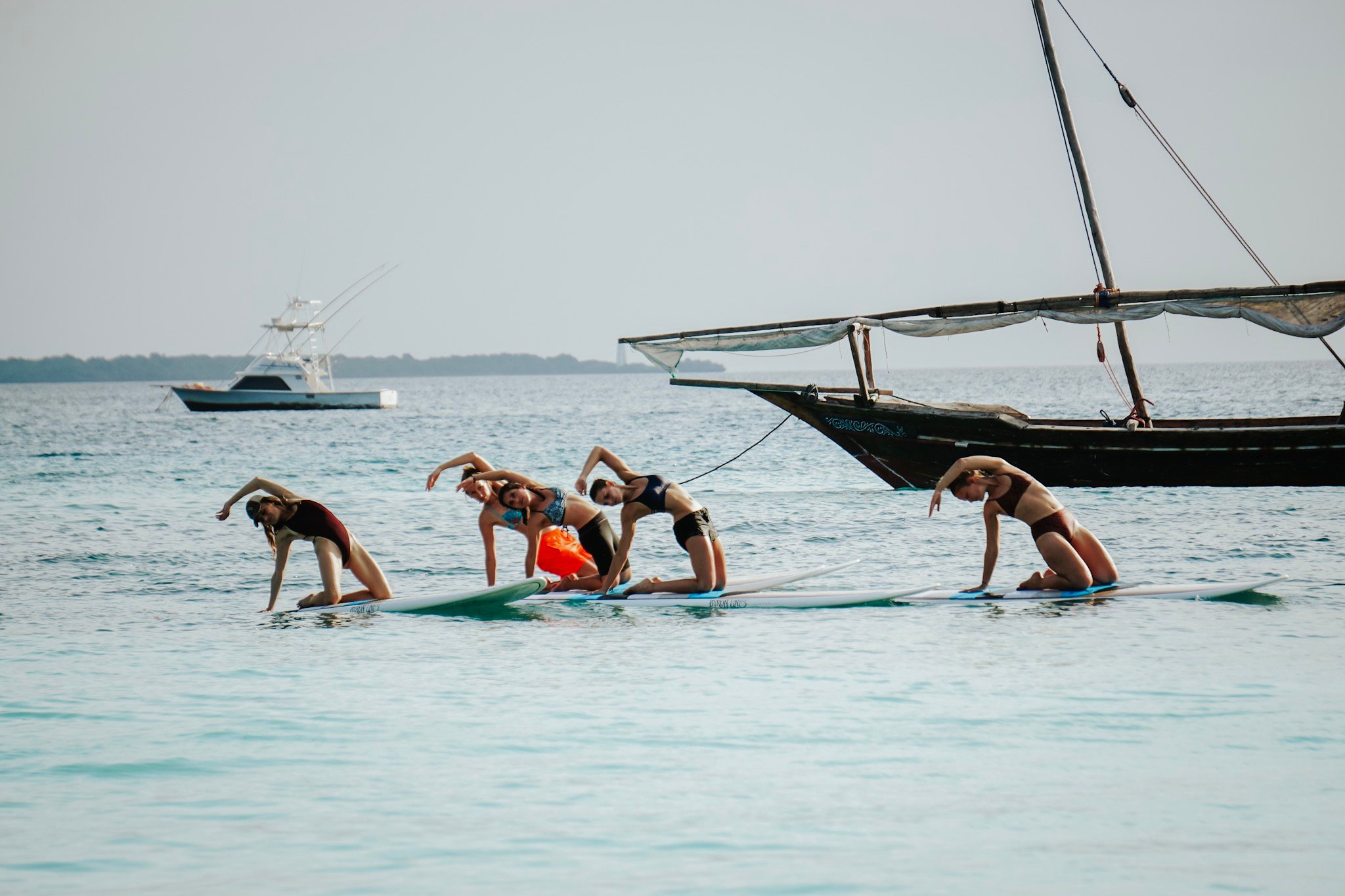 Paddle Board The Mangrove Forest
One of the most beautiful and unknown (because it's harder to get to) areas of the island is the mangrove forest and lagoon on south eastern part of Zanizibar. They are highly endangered and only accessible by SUP. Book a tour that'll take you out here and not only enjoy the beauty of this unique part of the island, but by visiting you are also supporting the conservation here.
Kayaking
You can also rent kayaks if that's more your pace. Pretty much anywhere in Zanzibar is actually great kayaking because it's protected by a reef making the sea a bit more calm.
Lunch + Lounging On The Beach
Don't forget to block out some downtime to just relax on the beach for a minute! There's some oh so yummy dishes in Zanzibar. I know not everyone is a fan of seafood, but if you are ... you're in luck here! You can get some fresh as it comes seafood meals for under $10 USD.
At Nungwi there was a little shop called Mama Mia right on the beach selling gelato and we couldn't get enough. Good thing they had plenty of flavors because we were coming back for more and more! Grab a scoop for about $1.75 USD in flavors like coconut & nutella, pina colada, peanut butter, mango, passion fruit, lime + more!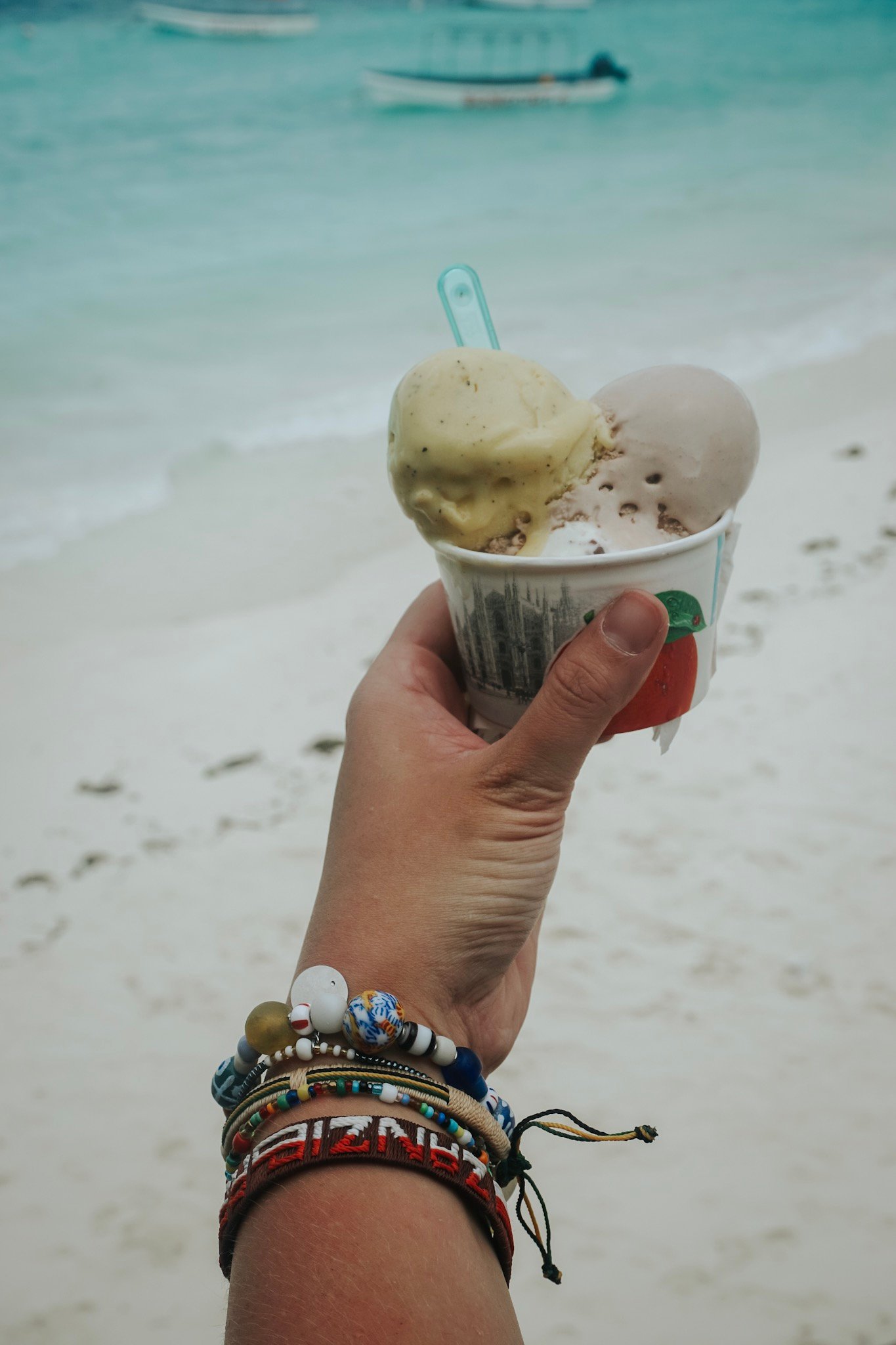 Sunsets + Entertainment
Zanzibar has some killer sunsets! We got some bright red-orange ones for the perfect nights at Nungwi beach (the northern end of Zanzibar). Like I mentioned above, timing our paddle boarding to happen at sunset was one of the best choices.
On the popular beaches around the island you're going to find a lot of people just hanging out and enjoying life. We had fun watching some of the local kids playing soccer on the beach, but Zanzibar is also known for acrobatic shows and other entertainment like that, so you might get lucky if you get a bit of a show.
Side note: Just be cautious when you're out after dark. No matter where you are in the world, it's a good idea to not be out late as a tourist. We say head back to your hostel/hotel right after the sun sets.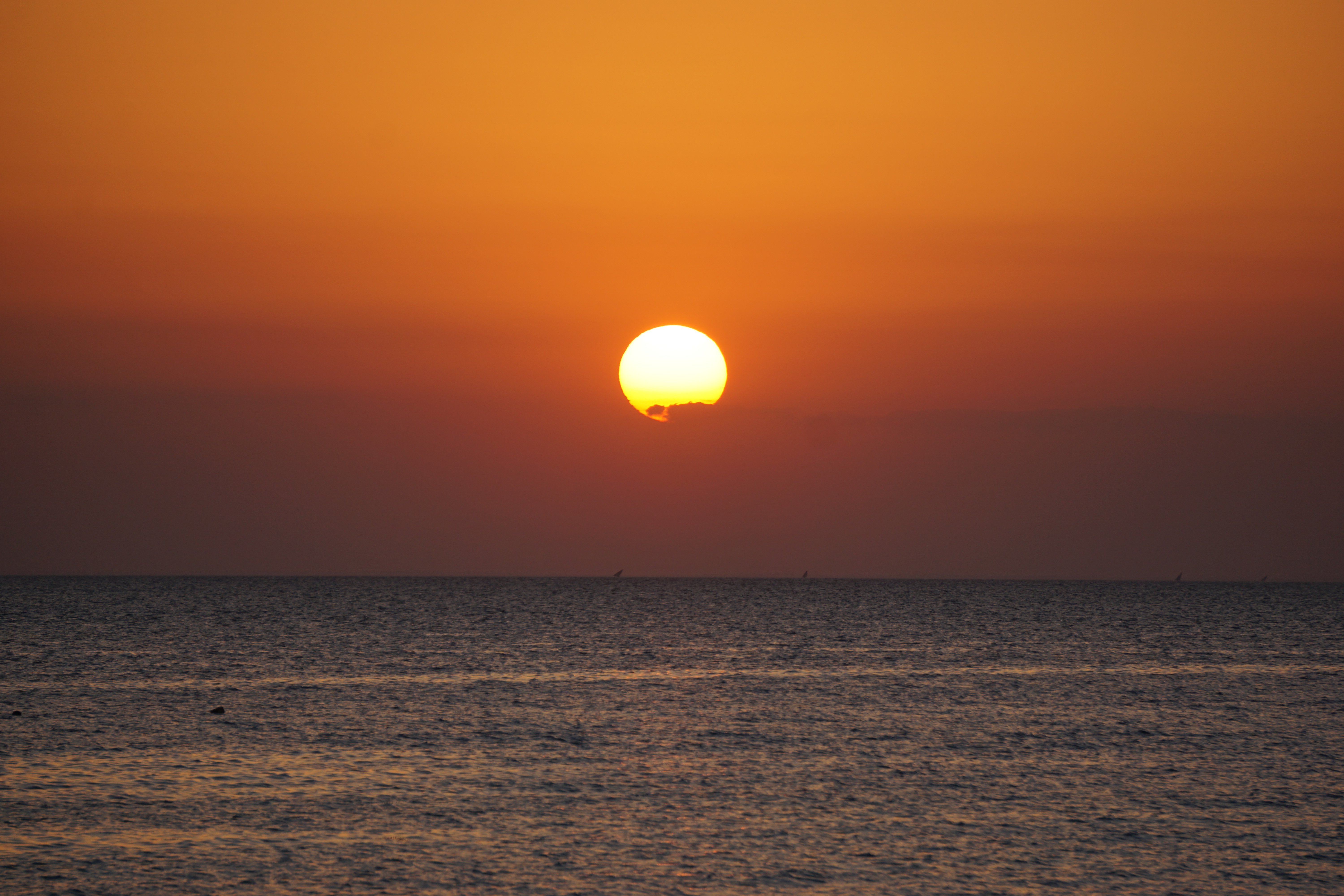 Deep Sea fishing
Ever been deep sea fishing? This might be one of the best times to do it. You can book tours that are typically 4-5 hours and take you out to find all kinds of fish, even shark. The best times for this activity are September to early December and February to April. You'll want to make sure that you're going with a reputable company though that is experienced. Heads up — this is one of the most expensive activities you could do here.
Check Out Nearby Islands + Hangout With Tortoises
Zanzibar is a larger island, surrounded by lots of smaller and equally as gorgeous islands. If you book a boat tour you'll most likely get to see some of those islands, but which ones depends on which part of the Zanzibar you're departing from. Here's just a couple notable ones:
Changuu (Prison Island): This island is a former slave prison as well as a place to quarantine sick individuals, just off the coast of Stone Town. Today it is owned by a hotel and home to giant tortoises imported from the Seychelles (another beautiful African island) as well as other animals like peacocks! You can get close to and feed the tortoises, plus this is a great place to snorkel as well. There are lots of different tours you can book to take you out here (like this one). Prices usually vary depending on how many people in your group, but you can plan to spend around $20-30 USD if you have 3-4 people.
Pemba: This island is world class, and to be honest you'll likely only be coming here if you've got cash to spend. You'll find yachts heading out to this lush green island, with tourists coming to dive at see some of the most pristine coral reefs that Eastern Africa has to offer. If you're a budget traveler like me you might skip out on this island, but I had to mention it because it's home to quite possibly one of the coolest hotel rooms I've ever seen! The Manta Resort has an underwater room where you can stay the night in a room where your windows gives views of the actual ocean around you. Seriously incredible — just go check it out to see how cool. Oh and if there any generous souls out there that want to fund the $5,100 3 night stay for me and a friend, I'll be willing to take you up on that.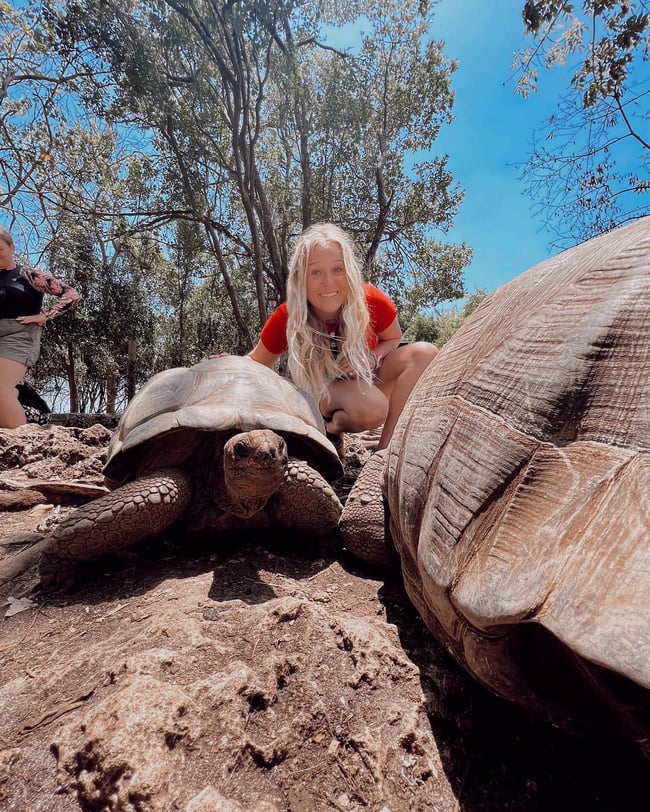 Jozani Forest
Spot Monkeys At The National Park
This is the only national park on the island and it's a place you won't want to miss! It's a nice little activity to add to the mix after you've been spending your days on the beach. Hiding right in the center of Zanzibar, you can talk a walk through this thick lush green forest and spot all kinds of animals from birds and butterflies and even though it's very rare see , it's even inhabited by leopards! Most notable though are the monkeys ... there are several species but the Red and Black Colobus are rare and only found on this island! Years ago they were in danger of extinction, but conservation projects put into place have been very successful and there are now more than 6,000 of that species here. Here are the details about Jozani Park.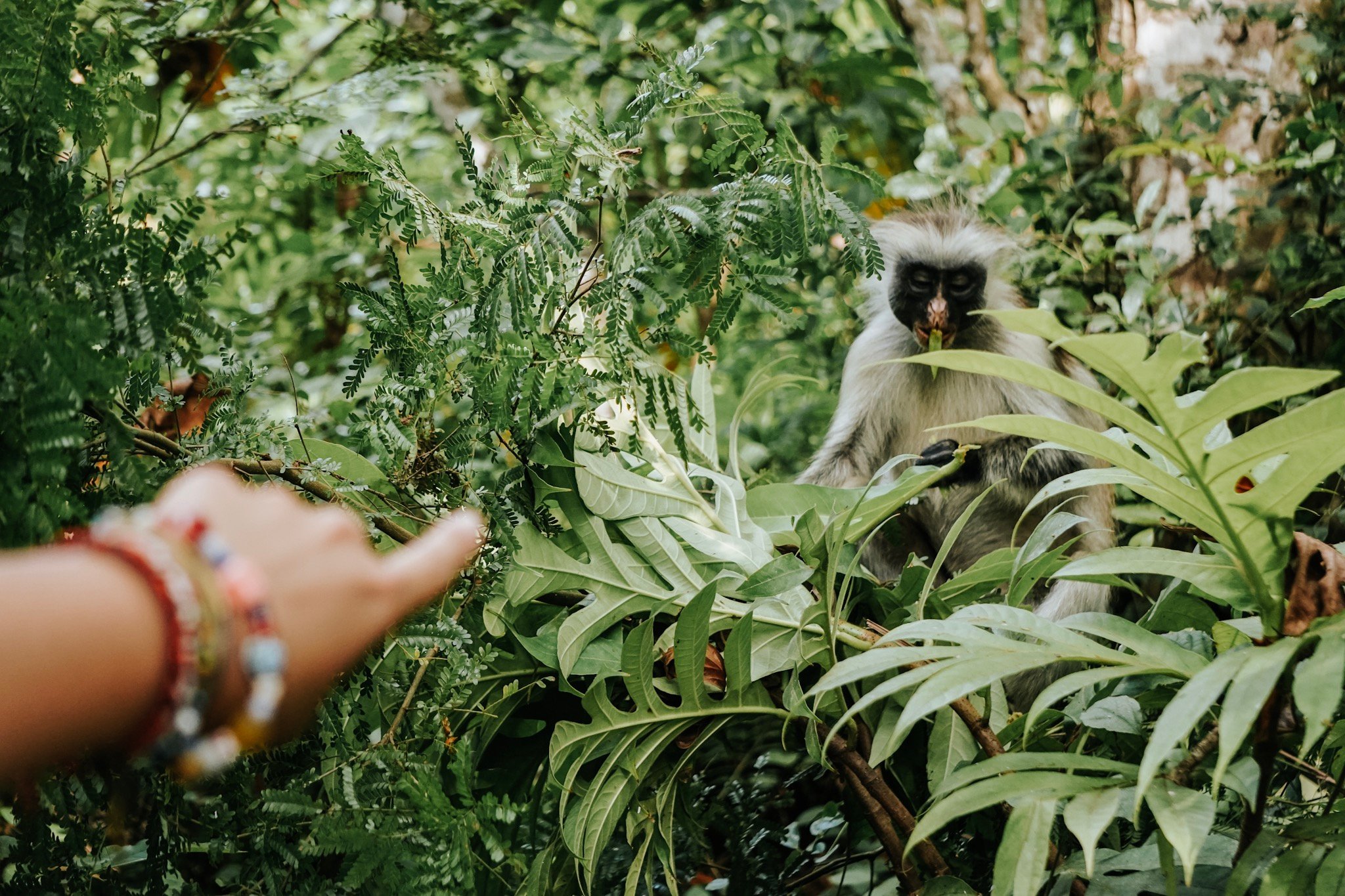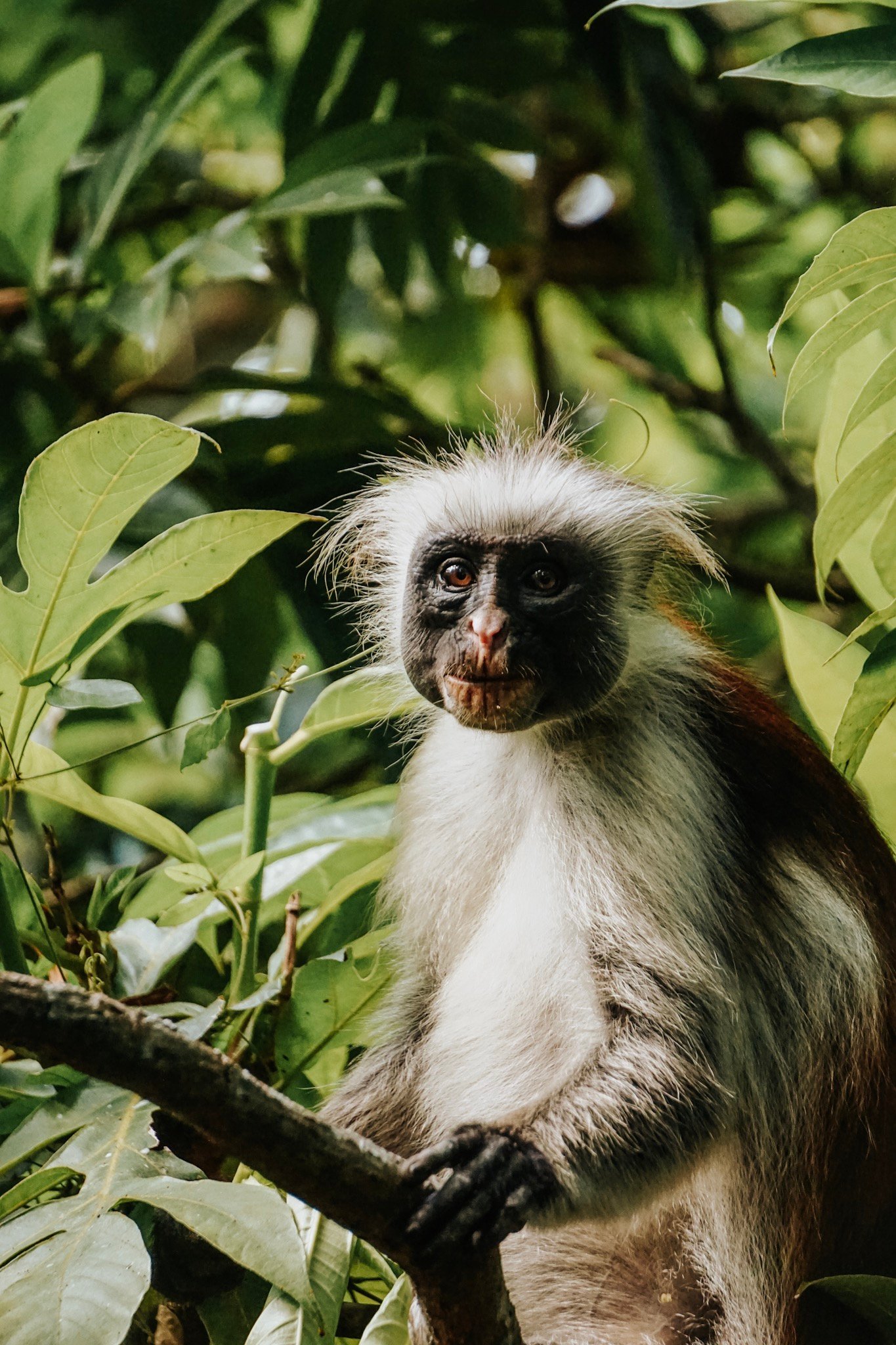 Hold Chameleons At The Conservation Project
Just outside of the Jozani Park entrance is Joriefa Park, another local community conservation effort. You're expected to pay a donation of about $6 USD as your entrance fee. The brave can actually hold a python, or you can just hang out with the giant tortoises and chameleons. Read about Joriefa Park later down on this post.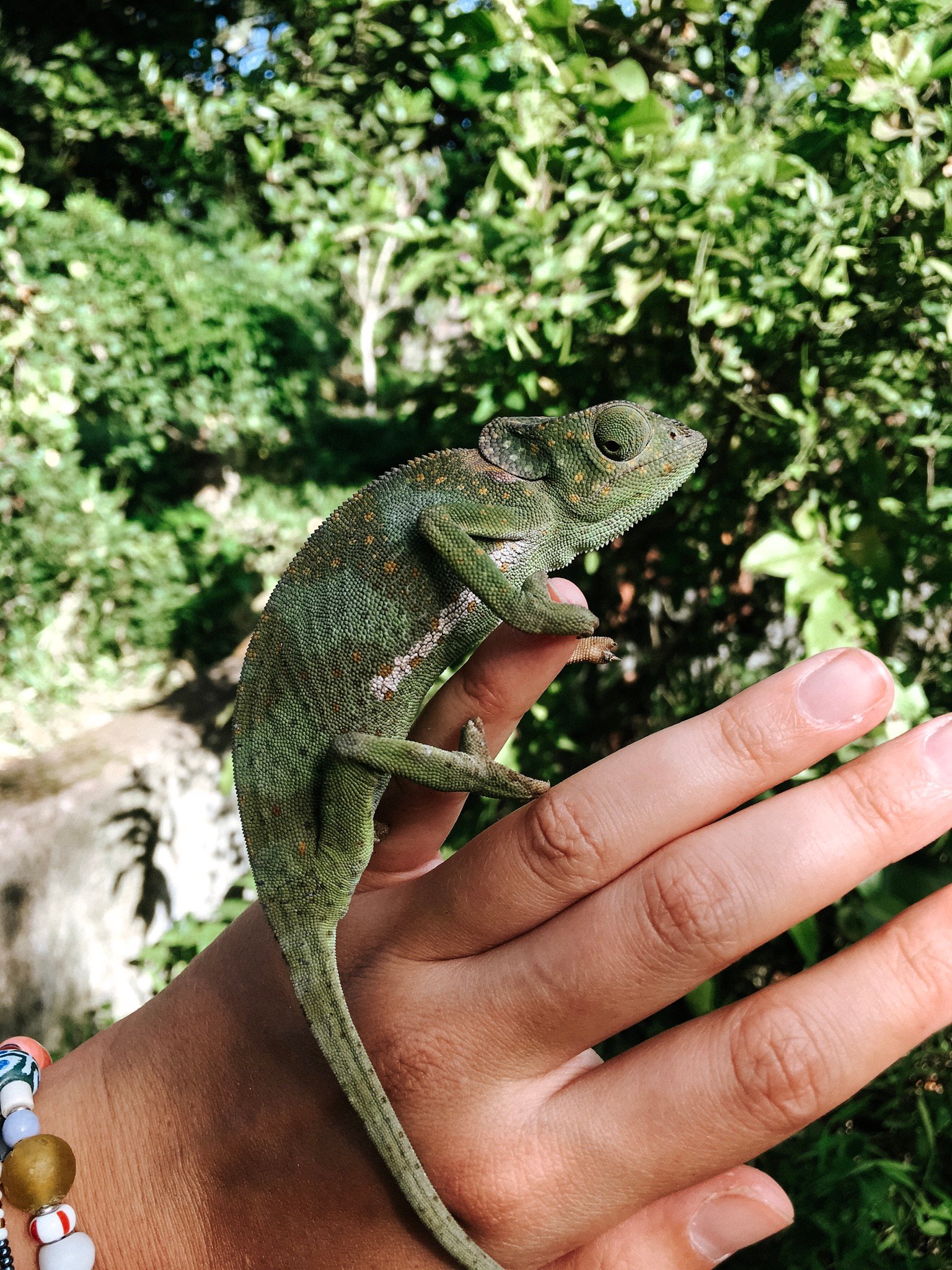 Stone Town
Ever been to the capital of Morocco before? This city on the island is often compared to Marrakech, Morocco! You'll find a maze of winding alleyways that lead to the best spots to grab your souvenirs, yummy restaurants, and so much more. This is the heart of Zanzibar and where many tourists opt to make their main "home base" for their trip. Check out all the things you can do in Stone Town here, but get a sneak peek below.
Shop at the markets
Darajani is the main, central market and one that is worth checking out. Because you'll get around Stone Town by walking, it's likely that you'll just run into this market while you're out wandering! There are pop up vendors and you'll find quite a bit of food at this market ... everything from fruit and loaves of bread to fish and spices, but also keep cash handy for souvenirs.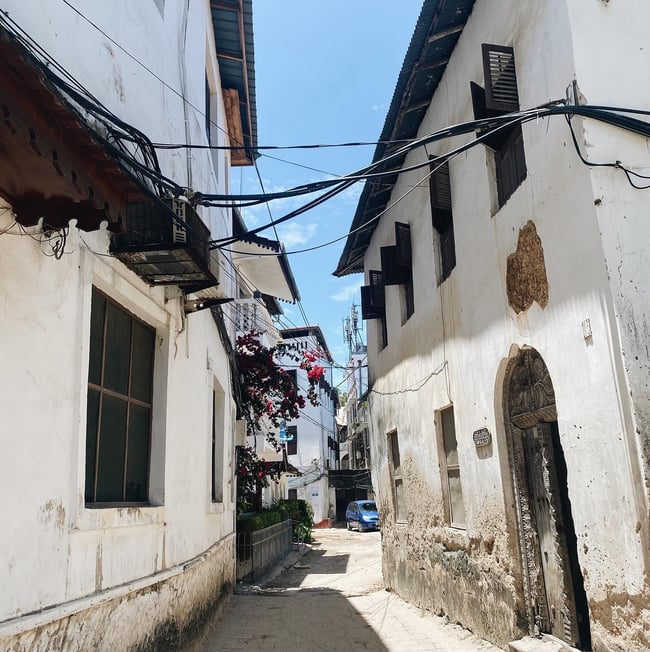 Take A Cooking Class
If you think the best part of traveling is tasting the food, then we would be good travel buddies. Zanzibar has some of the yummiest dishes and you better believe there are awesome cooking classes you can take. Zanzibar is actually known as "The Spice Island" and you can even take spice tours of Stone Town! It's usually pretty easy to book a cooking class by talking to your hostel, but here's another one you can check out.
Get A Henna Tattoo
Have a few dollars to spare? Spend it on getting some henna done! These artisans can give you such intricate designs and we're big fans. The lady who did ours was so friendly and it was fun meeting her as well as watching her pipe out these amazing designs. We'd recommend doing this after all your ocean activities are done so that the henna lasts a bit longer.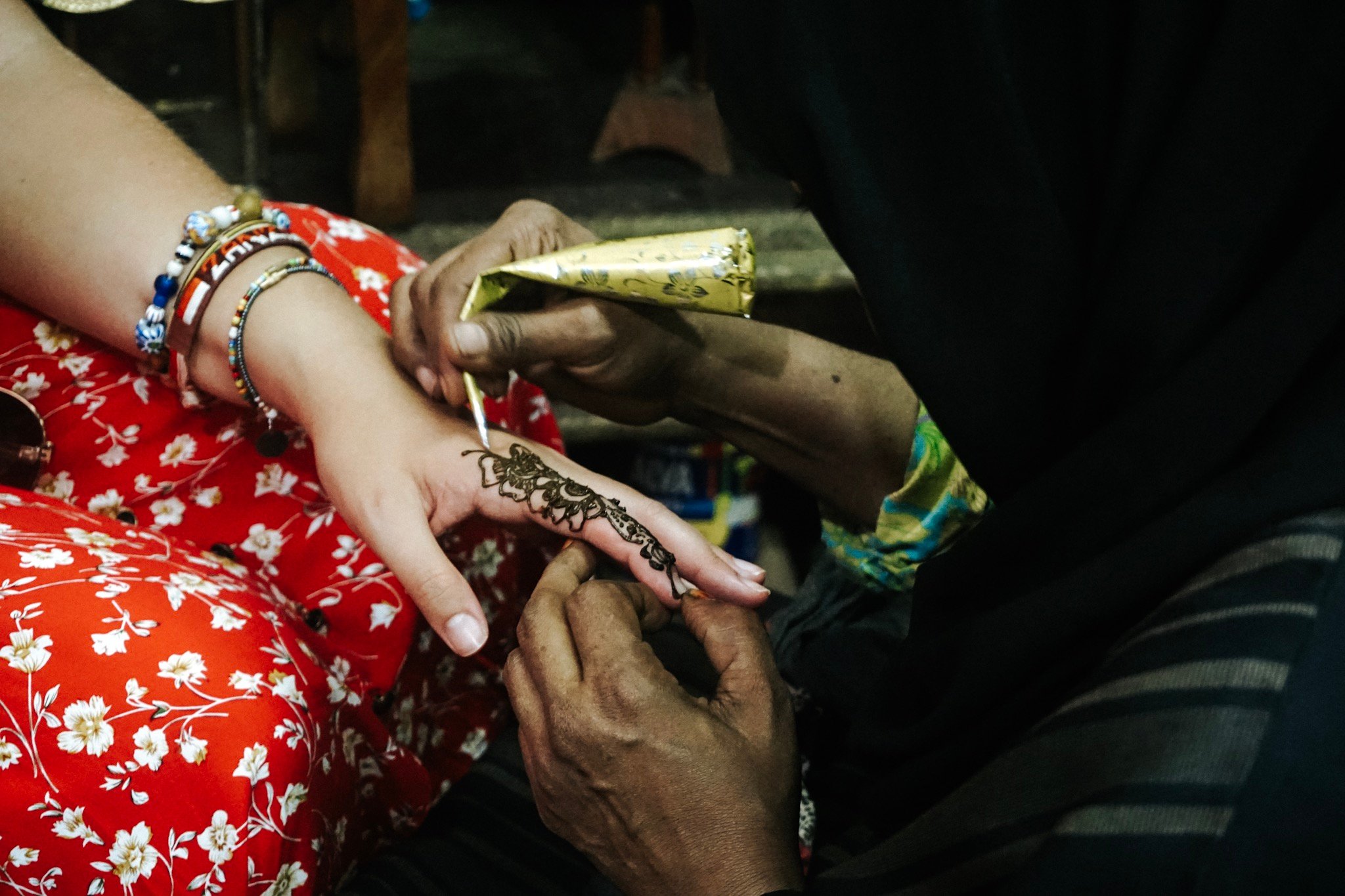 Relax With A Massage
While wandering you'll see lots of signs for massages. Getting a massage while I'm traveling is always my favorite because it's usually soooo much more affordable than getting it back at home. Plus who doesn't need a massage after long plane rides? Stone Town is the place to do it.
Dine At Rooftop Restaurants
There are some rooftop restaurants around the town where you can get a view while you eat, so keep for your eyes peeled for the best one you can find. It's the perfect spot to relax, and this is another perfect thing to time right so that you can watch the sun set. Some are going to be pricier than others, but here's a list to get you started. You can also ask at your hostel/hotel what the recommend — the locals always know the best spots!
Walking Tours
You can jump on a walking tour if you want to get total layout of Stone Town. Stone Town is a very walkable city. The streets are so narrow and winding that you won't really find motorized vehicles in the heart of it, other than motorcycles. It's easy to get lost in those winding alleyways, so you'll find lots of walking tours available that you can jump on if you'd like.
If you are adventurous like me though, I'd say skip the tour guide and just wander it! You might get lost at first, but that's the best way to find new things. It shouldn't be too difficult to reorient yourself, especially if you downloaded a map ahead of time on your phone.
Wander The Alleyways On Your Own
Like I mentioned, Stone Town is very walkable and one of the best (and totally free!) things you can do is just walk around and explore. Another reason I like skipping out on the walking tour is because I like to stop and admire/have photo shoots at spots that I like. I mean ... just check out that door below in that picture! There are tons of beautiful doors around Stone Town just like this one. Just get out and enjoy it by wandering aimlessly.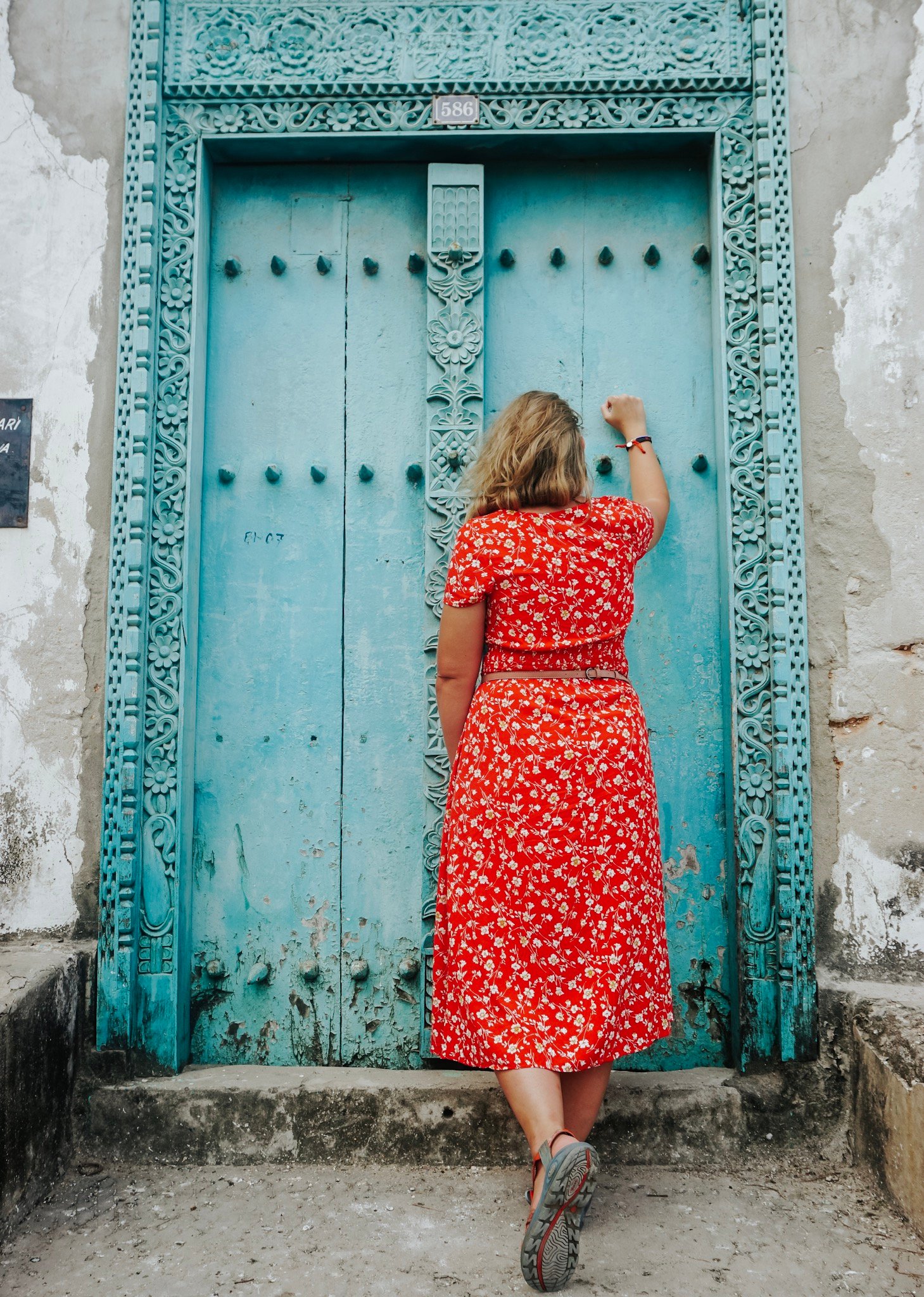 Pay Your Respects At The Slave Monument
Zanzibar is a melting pot of cultures including Arabic, African, Indian and European heritages. For awhile it was a major trading hub, including taking a key role in the slave trade. Many many people were trafficked and brought to Zanzibar before sold and transported to the east and the west. Anytime you travel, it's important to stop and learn the history of where you're at — this is an important and tragic part of Zanzibar's past that you can't overlook.
You can also visit a beautiful Anglican cathedral and the house of David Livingstone, who was a prominent figure during this time period. You e wander the area on your own, but this is one of those times when we highly recommend booking a tour guide who can give you the background information and history on what you're seeing to make the experience much more meaningful. As always in Zanzibar, don't forget to tip.
Hear The Call To Prayer
If you've never visited a predominately Muslim city, hearing the call to prayer will be a new and memorable experience for you. At particular times during the day, the call to prayer is projected over loud speakers throughout Stone Town, so this is a great spot to hear it. To be respectful, for the few minutes that it is playing, you'll pause and just listen. It's beautiful and one of my favorite experiences!
+ More Island Adventures
Eat Lunch At The Rock
Have you seen this super cool restaurant floating around Pinterest under bucketlist adventures? It definitely is one! It's a total experience, with yummy food to boot. Meals aren't even as expensive as you might expect for such a unique spot — you can grab a pasta dish for $10 USD.
Book your reservation for The Rock here.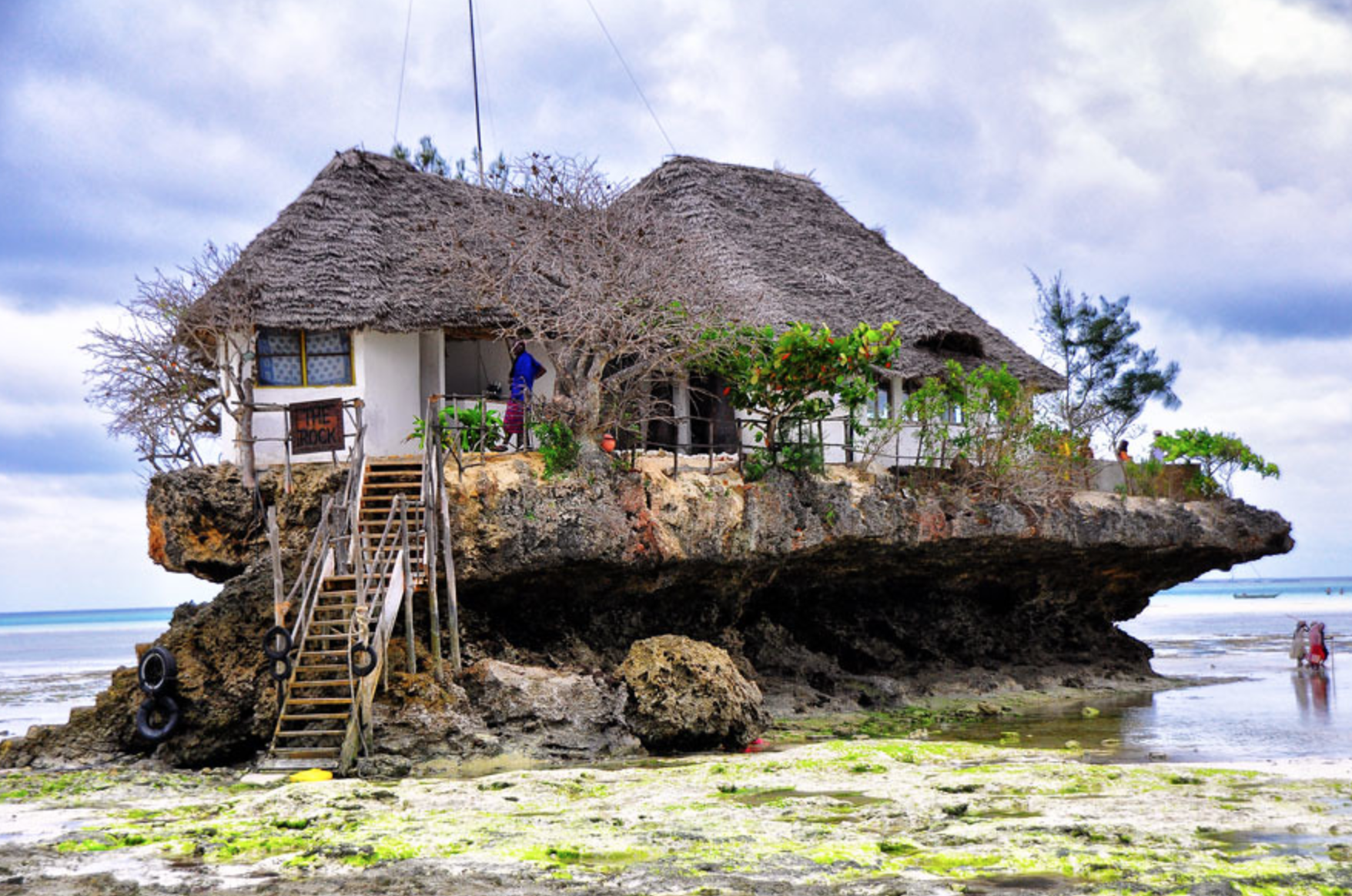 Cycle The Island
Zanzibar is huge, but you can actually bike the circumference of it! How cool would it be to say you've done that? Or there are lots of routes that are a bit shorter and hit just certain areas of the island.
There's a few options on TripAdvisor that you could compare. If you're feeling adventurous, this one takes you on a half day tour over trails to find a hidden (and basically deserted) gorgeous beach that you can't drive to! Just another one of those really unique experiences that not every tourist knows about.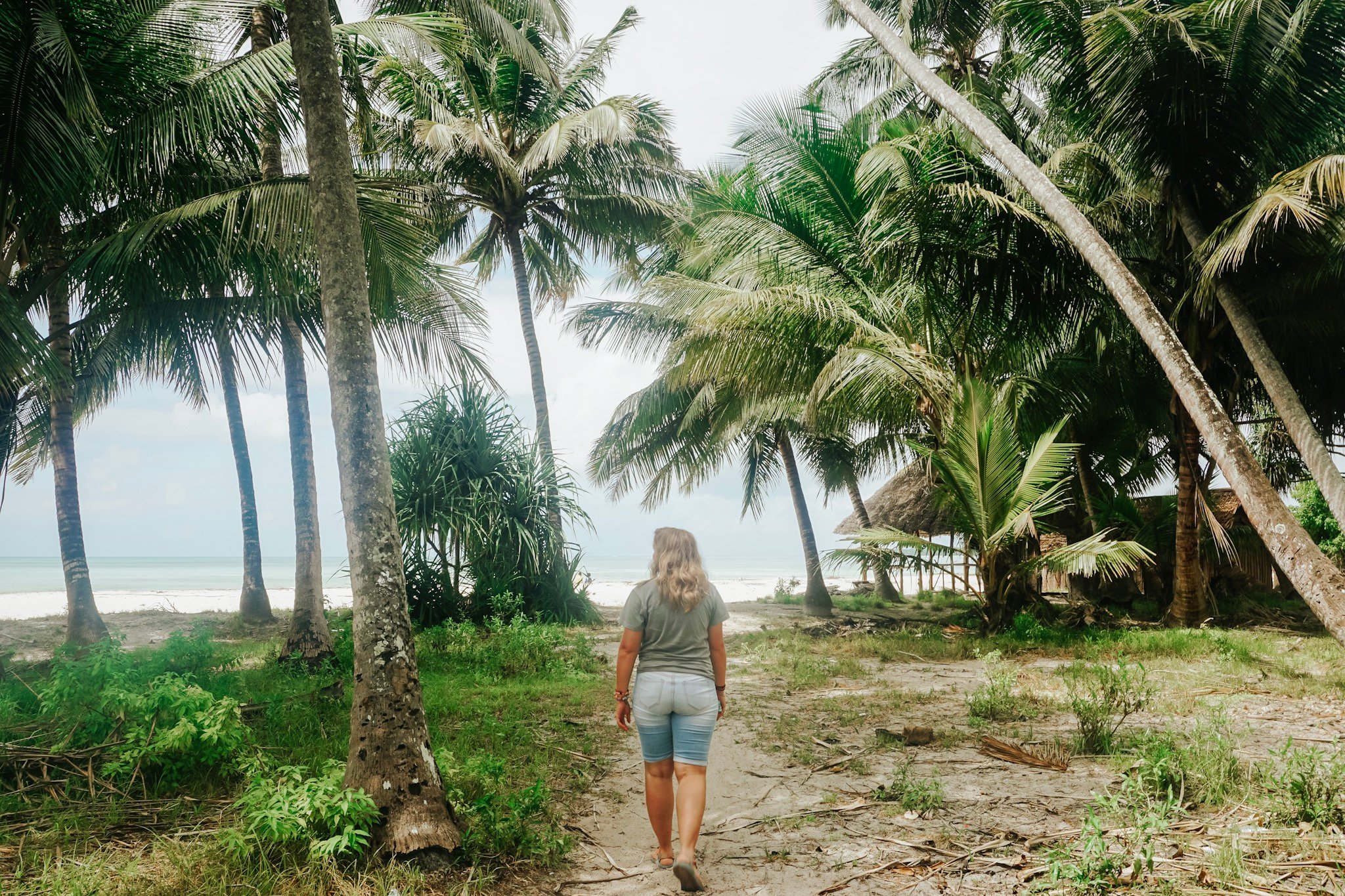 Want to come travel to Zanzibar, Tanzania with us?
ILP volunteers spend their semester abroad in Uganda, serving the local people through teaching in kindergartens, spending time with young babies who have been abandoned, helping build springs so communities have clean drinking water, and so much more. While you're not volunteering you'll have plenty of vacation time to travel with your group to places like Zanzibar!