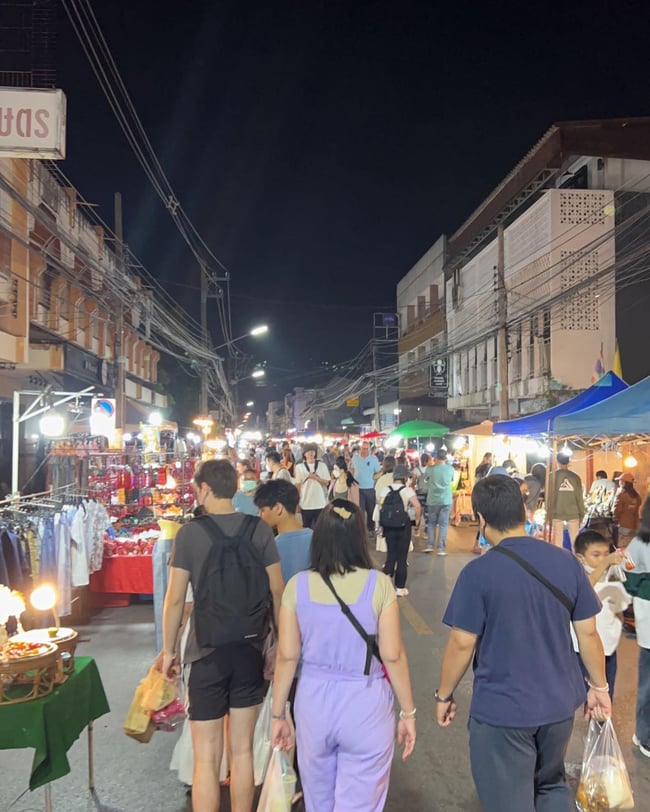 All the tips and info you need to know about souvenir shopping in the Land of Smiles.

Oh Thailand's a dream. Before I went, I knew it was a favorite (and dare I say overrated) vacation spot, but once I saw this place for myself, I was totally hooked. I loved the people, the little villages stacked up in the thick jungles, all the adventures (from hiking to waterfalls, and those postcard beaches of course) and I absolutely adored the night markets.


---
Don't see Thailand as a tourist
Come volunteer in Thailand for a semester with ILP
---

Each city, even the teeny-tiny ones, will have a little night market where you can find practically everything you're looking for. Whether you're there to shop, scanning rows and rows of baskets, colorful fabrics, carved elephants and more, or if you're all about the street food, dive into smoothies and bowls of coconut ice cream. Here's a breakdown of what you should know before heading to a Thai Market:
Favorite Souvenirs To Hunt For
If you're wanting to come home with a few reminders of Thailand, you'll find quite the array when visiting a local night market. There are so so so many things to choose from — most night markets have a clothing section where you can find jeans, jean skirts, t-shirts, Thai silk scarves, and brightly colored dresses, along with socks, sneakers, sandals, and sunglasses.
There are also more traditional souvenirs, like packets of all the spices you'll need to make your favorite curry, elephant statues, printed flowy "elephant pants", painted bracelets, intricate soap carvings, colorful keychains, woven baskets, and wooden frogs that "croak" when you rub a wooden handle down the carved warts on the back (seriously). You can also find artwork, too, along with quite a few electronics (plus CDs and DVDs, typically for about 100 Baht each). It seems like you can find pretty much everything you're looking for.
Currently, our ILP volunteers are loving a few favorite souvenirs, but you'll find much, much more than the ones outlined below. We've pulled together a bit of a price breakdown on a couple of the top items so you know about about how much to pay for.
Elephant Pants (150 - 250 Baht, best bought together for a better price)
Elephant Statues (150 to 200 Baht depending on size)
Sundresses (150 Baht)
Backpacks (Around 400 Baht)
Tassel earrings + bracelets (100 Baht)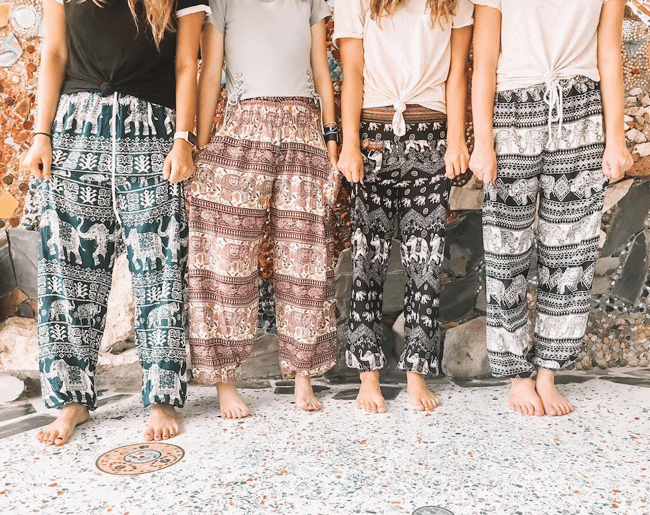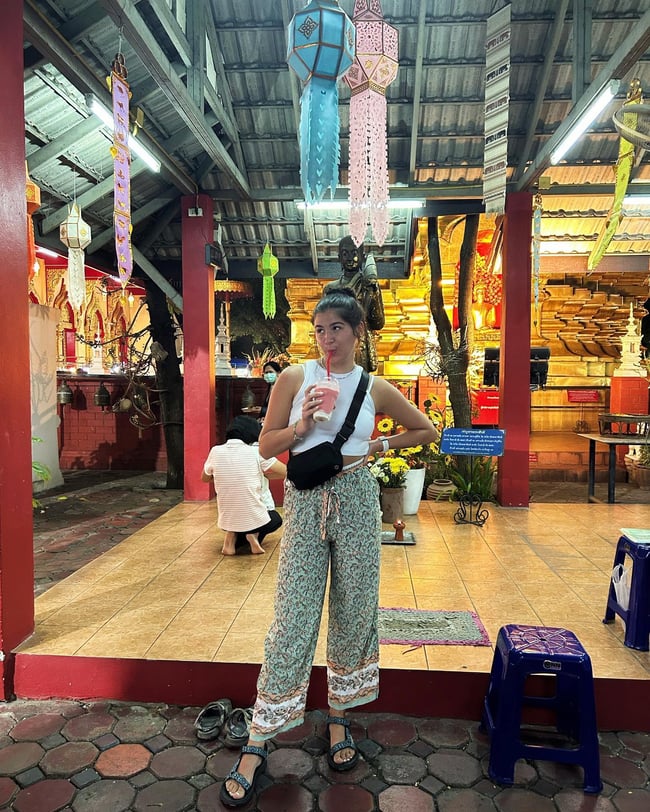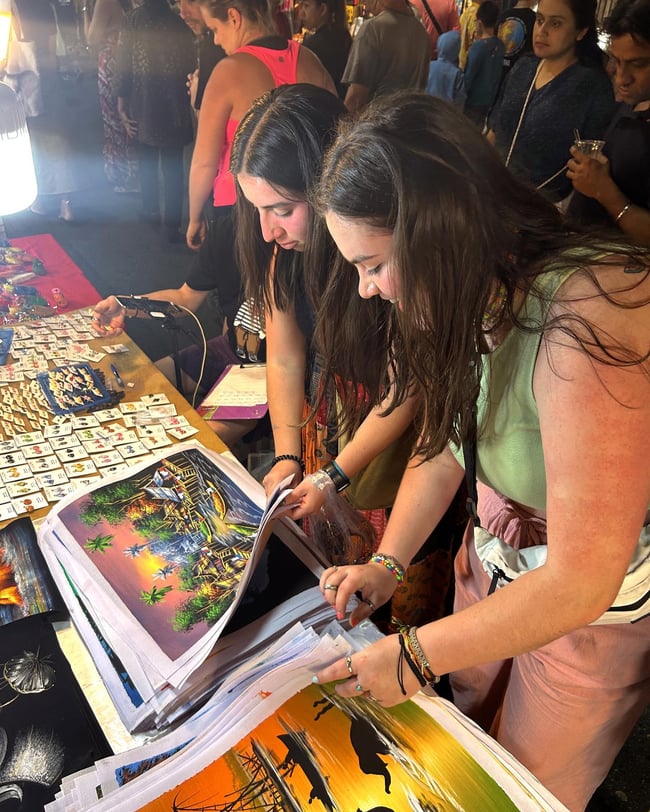 Some Snacks To Look Out For
The markets are also one of the best places to grab a snack, a smoothie, or even dinner. Depending on the size of the market, there may be a bigger food court section with seats set up, or you'll need to walk and snack, which is pretty easy, considering the type of food you'll find at the night market. There are trays and cups filled with cut fruit for as low as 10 Baht, or you can grab a fresh coconut to sip on while you walk. Keep an eye out for anything mangosteen flavored, it's one of my favorite fruits in Thailand (and makes for a killer smoothie). Smoothies (about 40 Baht), Thai tea, and fresh juices are also popular.
For a quick snack, sushi rolls (for 5-10 Baht each) and dumplings are common, same with skewers stacked with chicken, pork, deer, beef, or different kinds of meatballs or Thailand's version of a hot dog. Sometimes you'll see cooked quail eggs stacked up on a skewer, too, all for about 10-25 Baht.
For something more like dinner, you can find noodle dishes, familiar favs like Pad Thai, and a whole host of curries. If dessert is on your mind, I absolutely recommend finding a roti stand, and order up the egg and banana. It's basically like a thin crepe topped with tons of sweetened condensed milk. It's delicious. If you're visiting in the peak of mango season (April through June) you'll probably find more than a few vendors who are serving up mango sticky rice, drizzled with a sweet coconut sauce. Coconut ice cream, drizzled with chocolate, is also ah-mazing.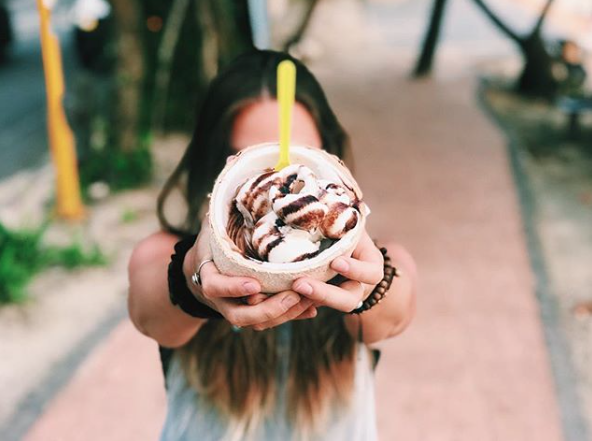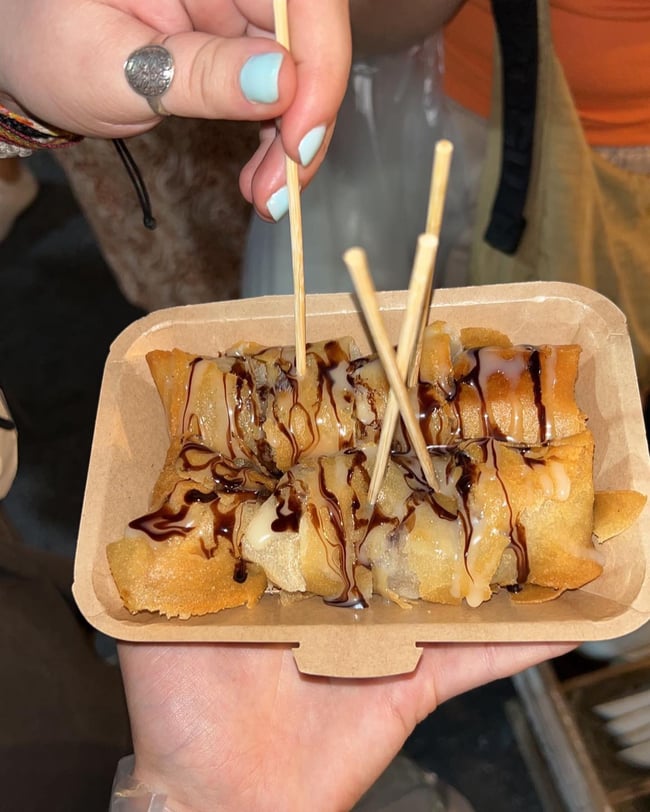 Cities With Our Favorite Markets
You can shop throughout Thailand, but if you can make the trip up north Chiang Mai is by far our favorite place to shop. There's also some large markets in Bangkok as well.
Chiang Mai's Sunday Market
If you can choose a day to be in town for shopping, make sure you're here for the Sunday market. It's the most famous and easily the biggest in Chiang Mai, a very popular place to hang out, have dinner, listen to some live music, and do a lot of shopping. It starts right at the city's Tha Phae Gate, and lines several blocks, with a handful of side streets that are also filled with vendors. The area is a hot spot for dining and hostels so you'll see those on either side of you, along with the set-up-and-take-down style of booths laden with piles and piles of souvenirs.
This market gets very crowded, so plan on arriving before 6:00 if you'd like to see the market without the hundreds of other people. Know that things are pretty much in full swing (especially near the food court) around 7:00 PM. You should be able to ask any taxi, Uber, or tuk-tuk driver to the Sunday market, or just to the Tha Phae Gate.
Address: Thapae Rd, Chang Khlan Sub-district, Mueang Chiang Mai District
Hours: About 5:30 PM to about 11:00 PM, Sundays only
Chiang Mai Night Bazaar
This market is huge, and open every night, adding to its popularity. The sprawling center is crammed full of hundreds of stalls selling everything from DVDs to Pad Thai. Things really pick up around 7:00 PM, if you want to wander around in the thick of things. Similar to the market on Sunday, you'll find lots of food vendors, more souvenirs you can count, live music, and more. Definitely something to check out if you're in Chiang Mai in the evenings.
Address: Chang Moi Sub-district, Mueang Chiang Mai District, Chiang Mai


Hours: About 5:00 PM to 11:00 PM, daily.
Chiang Mai's Saturday Market
Known as the Wualai market is much smaller and quieter than the more popular Sunday market, but it's still worth visiting, especially if you're only in town on a Saturday. You'll find room to walk around with less crowds, plus vendors and stalls selling your favorite souvenirs and a few street snacks. The market stretches between Wualai Road and Thipanet Road, about a 10 minute walk from the Tha Pae Gate.
Address: Wualai Road with Thipanet Road
Hours: 4:00 PM to about 10:30 PM, Saturdays only
Bangkok's Chatuchak Weekend Market
You can find just about everything at this massive, mostly open air market in Bangkok. Even locals shop here as it serves as a quite popular flea market, but tourists can also find sections with souvenir type items as well.
Oh and we're not kidding when we say it's massive. In total its about 35 acres, 27 sections, and more than 10,000 shops. You'll find everything from plants to vintage home decor to clothing and more. Get all the info on their official website.
Tips:
Make sure you can get in touch with the rest of your group that you're traveling with in case you get separated from each other. Ideally you have data so that you can text each other, but at the very least have a meetup time and location. When I went with my ILP group, some wanted to stay and look at the items in one shop and a few others went to the shop a few stalls down ... and before we knew it we lost each other! Yep, it's a big crowded market and easy to get lost if you're not careful.
Have lunch before you come and bring water. There are some snacks you can purchase here, but overall we didn't really find anywhere we wanted to eat a full meal.
Block off a couple of hours to give yourself enough time to wander.
Address:

Kamphaeng Phet Road

|

Lat Yao, Chatuchak

,

Bangkok 10900,

Thailand


Open: Tuesdays -Thursdays the Plant section is open. Fridays the Wholesale night market is open. Saturdays -Sundays is prime and everything is open. For opening times check this site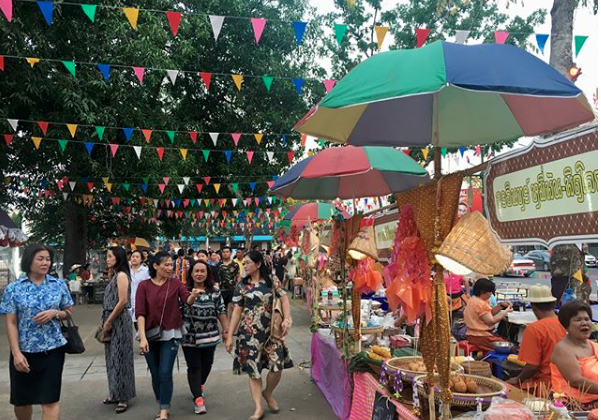 A Few Shopping Tips
You'll See The Same Things
These markets can be massive — I've easily spent two hours wandering the hundreds of stalls and feel like I didn't even see everything … but I kind of, because you'll see the same things over and over again. There are countless stalls who are all selling the same keychains, elephant carvings, and artwork. I'd recommend walking around a few times before actually buying anything. Some vendors near the back or right in the middle have lower prices because most tourists just walk in and buy from the booths right at the entrance (so they can get away with higher prices). This info also helps with price: lots of items are negotiable, so if one vendor won't sell you something for your asking price, maybe another vendor will.
Prices Are Negotiable
This isn't the case for every item, but especially if you don't see a price posted, know that you're welcome to negotiate until the both of you find a price you can agree on. Even when there is a posted price, I've had lots of luck getting a lower price because I was buying multiple items from the same vendor. This is a really handy tip for our ILP groups — if everyone wants a pair of colorful elephant pants, buy from the same vendor and see if you can get a group discount. The posted price may be 150 Baht, but since the vendor will be selling five pairs, he may agree to 100 Baht per pair.
As a general rule, you may want to shoot for a 20% to 40% discount, and remember: you can always up your price but you can't go lower than what you first say. I vote you start low, then slowly up your price if the vendor doesn't want to sell at your first few offers.
A Heads Up On Crowds
If you want to check out everything that's available without all of the crowds for the Chiang Mai markets, head there right when they open or about 20 minutes before. All the vendors will be setting things up or have already set up their tables, so you can do some window shopping without battling the crowds. It's a good way to scope out what you actually want to buy, then hang around until things are officially open for a couple of hours to get the best prices.
You're more than welcome to show up when the market is officially open, but just know that these markets can get really crowded so that little tip can help avoid the swarms.
Pay In Cash
The bigger markets will have ATMs nearby in case you run out, but you'll be wanting to pay for everything in cash. Little markets and stalls aren't equipped to take card payments, unless you're shopping at one of the higher end boutiques who are selling pure silk or cashmere, or one of the antique shops. With that, it's always a good idea to have smaller Baht bills so you can pay in exact change, or close to it.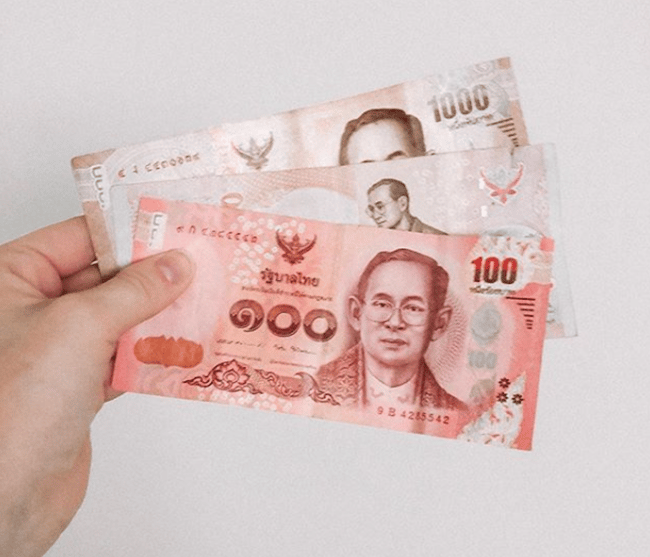 Dreaming to teach English in Thailand?
Make it a reality with ILP! You don't need any teaching experience to volunteer and serve abroad with ILP (International Language Programs)! Learn more about what it's like to spend a semester volunteering in this dreamy country: