I spent a whole semester living in Thailand, and I get asked all the time, "What was living in Thailand REALLY like?"
I absolutely loved volunteering in Thailand! I seriously cannot say enough good things about my time in this dreamy country. I've traveled across the world and I still tell people that Thailand is my favorite place I've ever been! From the ornate temples to the pristine beaches, Thailand has an incredible destination behind every corner!


---
Want to be an ILP volunteer in Thailand?
start your application here!
---
First — All About How I Volunteered In Thailand
So how did I do it? While I was a student at Brigham Young University, I found a local organization (International Language Programs) that offered ways for college students to live abroad for a bit, in countries all over the world. It seemed like such a perfect way for me to go experience another country ... and one thing lead to another and I found myself living in Thailand for the semester with a group of new friends, teaching English to kids, and traveling all over the country!
It is important to note that ILP has a few different groups in Thailand, living in different cities and teaching at different schools, so each group will have their own unique experiences! Plus there are things that change around from semester to semester (such as your school's teaching schedule, or group size). I'm just sharing what a typical day looked like for me while I was volunteering to help you get an idea of what it's like (and yours will probably be pretty similar).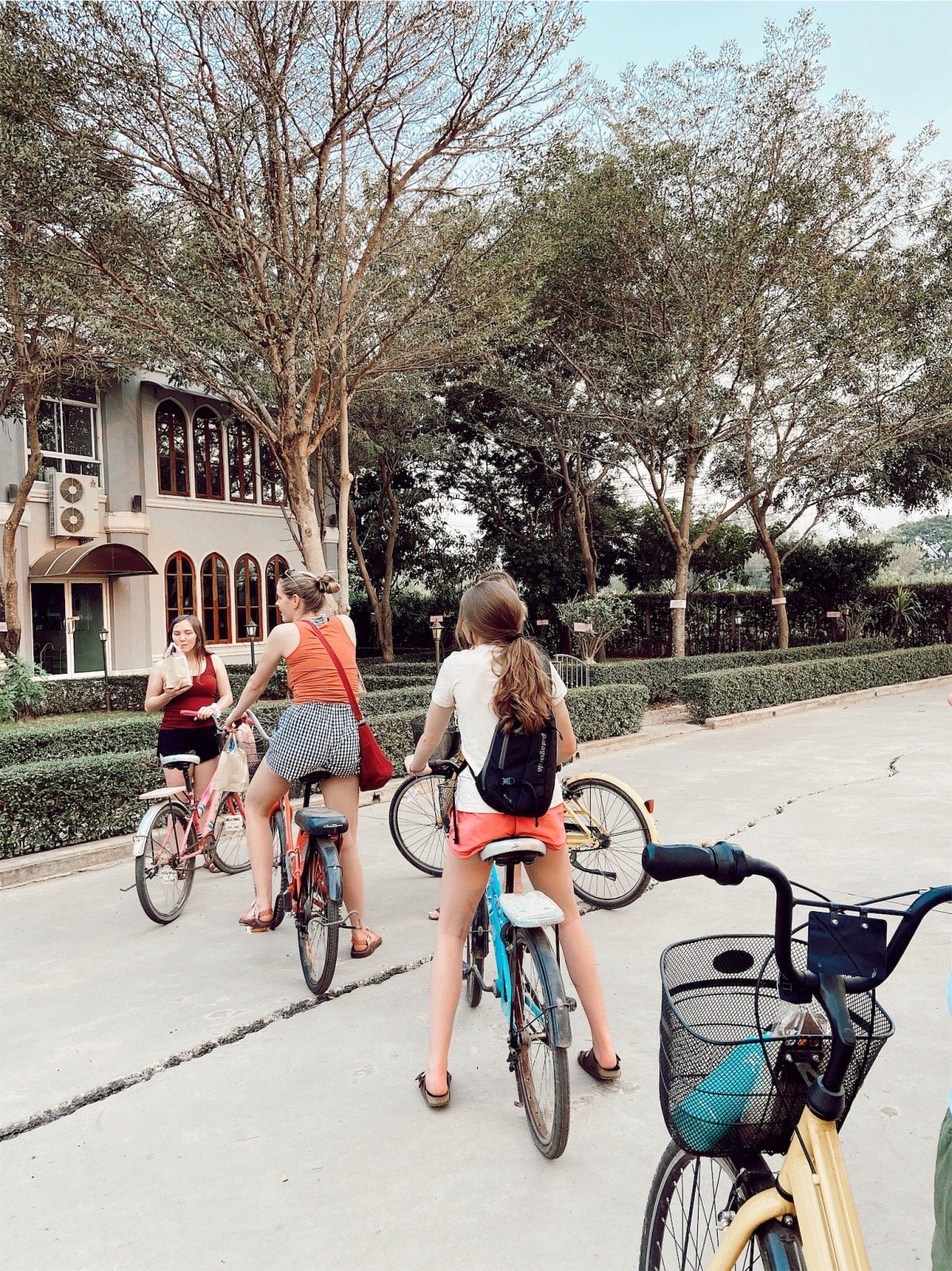 In the Morning
You'll be waking up bright and early to the sound of chirping birds outside of your window (or if you are like me, the sound of monks singing), then heading off to go eat breakfast with the other volunteers in your group. In Thailand, we lived at the school and the school employed a cook who prepared the majority of our meals. We loved her!
Breakfast in Thailand is typically a combo of a local Thai dish, like pull-apart rolls dripping in sweetened condensed milk + some tasty fresh fruit like pineapple, watermelon or lychee. YUM! After you've had a bite to eat, you will grab your (already prepped) lesson materials and walk over to the classrooms for teaching around 8 or 9 AM.
Teaching Time!
Time to slip off your shoes and greet the kids. In Thailand, it's customary to take off your shoes before going indoors in many locations, and that includes the classroom. So yep, the students and I were both bare-footed during classes! There was always a pile of sandals at the door and I loved that part of the culture.
In Thailand, the ILP program is offered as a supplementary class to the student's typical school day. The kids would come to school and have classes with their local Thai teacher, and there was time blocked off each day for English lessons with the ILP teachers (that's me!). Speaking English is a sought after skill in many other parts of the world and in Thailand the kids start taking being introduced to it at a very young age. I got to teach kids as young as 3-4 and up through early Elementary ages.
We would always start off ILP classes singing songs with the kids and settling them in before lessons would start. Then we would break off into smaller groups and have a fun activity with each group of kids, all in English. Most of the kids were just starting to learn English so it took some strategy to teach in a way that they could understand, but ILP helped with all of that. They have a particular way of teaching that immerses the kids in English so I would plan activities that fit that method. Part of the trick is making sure the class is so fun that the kids want to participate (which consequently helps them become naturally fluent in English). So even though this was "English class", we were doing fun things like playing balloon volleyball or making bead necklaces. And nope, I didn't speak any Thai! Classes are completely in English to maximize their learning.
The other thing I loved is that ILP classes are in small groups of about 5-8 kids. So that let me work closely with each student, get to know their little personalities, and watch them grow. Each activity lasted for about 20-30 minutes and then the groups of students would rotate to another teacher for a new lesson.
Things can vary between locations, but understand as an ILP volunteer, you'll spend about a half day volunteering (up to 4 hours of direct interaction with the kids, plus preparation time, transportation, and clean up). You'll be volunteering Monday to Friday.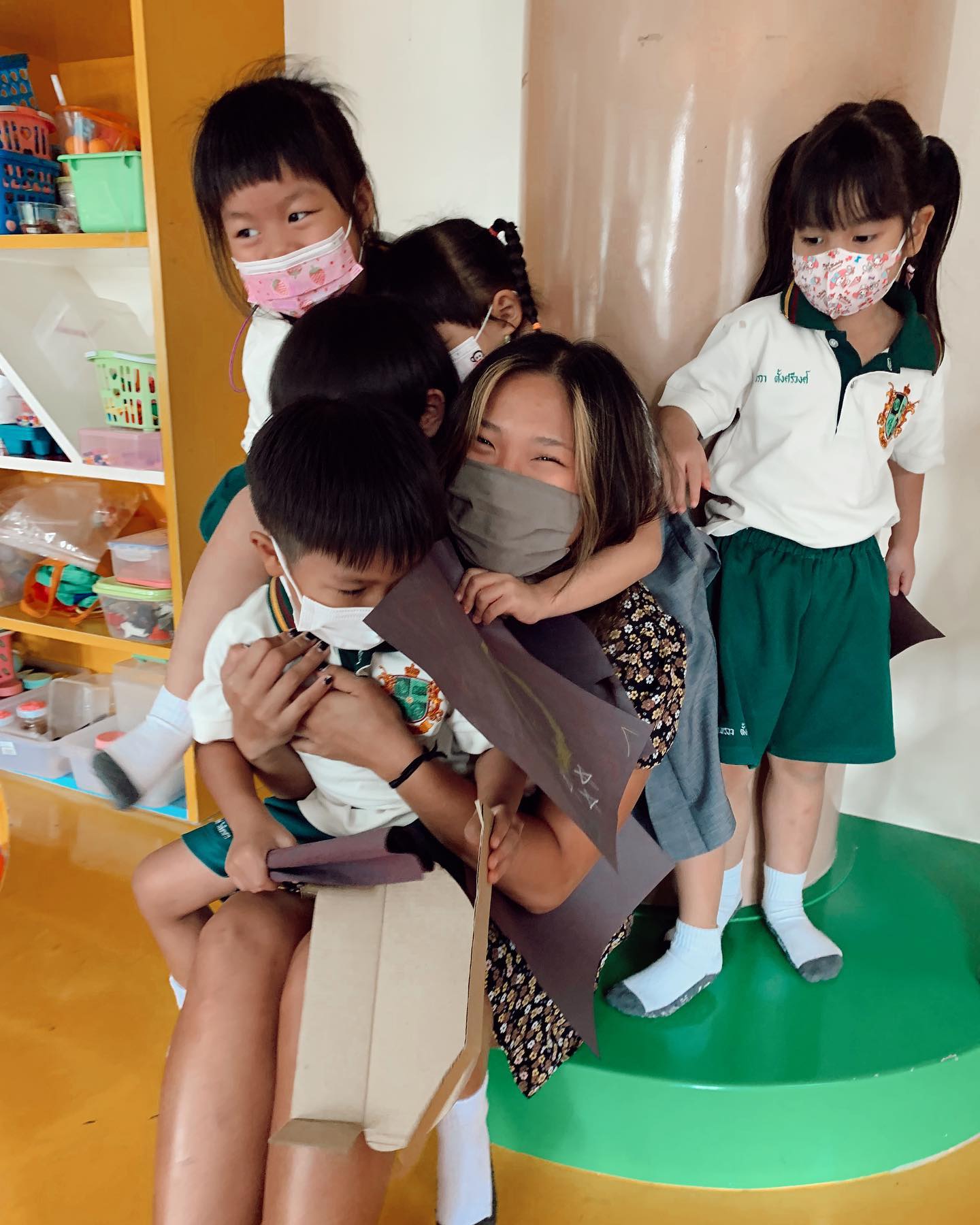 After Teaching + Free Time
My teaching schedule finished around noon or 1:00 PM. After you wrap up the teaching day, you'll tidy up your classroom (by wiping down the tables, sweeping up the scraps of paper, etc). Then we walked over to the kitchen to eat some lunch with the other volunteers and swap hilarious teaching stories! Then, I had the rest of the day for free time!
The afternoons in Thailand are very hot and humid and most of the schools only run the AC for a few hours a day to help keep the costs down. So for us, we were able to use the AC in our rooms from 3-6 PM. That was okay though because it gave us a good excuse to go out and do something fun instead of sitting around at home, so right after class my group would typically ride our bikes around and explore our city!
There are bikes provided, which makes getting around a cinch. They had been heavily used so they aren't in the best condition but we were so happy we had them. And at my school, the cute little security guard at the front of the school would help us pump up our bike tires! We would ride our bikes through the Crocodile Park to our favorite bagged drink stands (the ice-cold cocoa is heavenly) or we would also stop in and get snacks at the 7-Eleven (yep, the same 7-Eleven convenient stores we have in the U.S). In Thailand 7-Elevens are kind of a big deal, you'll see them on almost every corner, and they are packed with tons of unique and tasty treats for a good price. Another major plus is that they always have the AC blasting so it was a great place to go and cool off!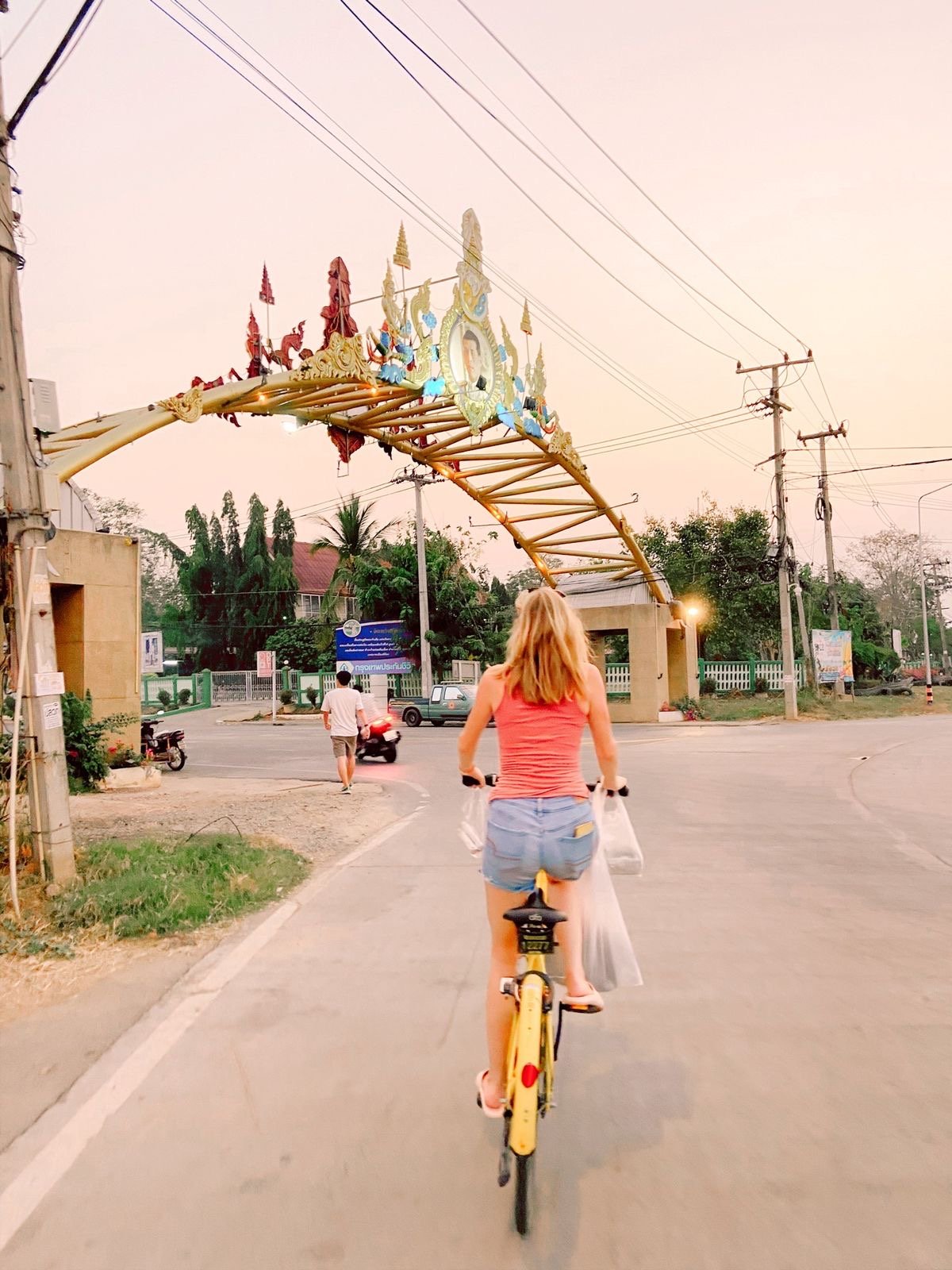 We also loved riding over to a mall called Tops, and wandering around the cute stores, getting our nails done, buying sweet Roti from the market or going to get some Thai Toast from an adorable little cafe called Nom Nua (be sure to try their lavender milk!).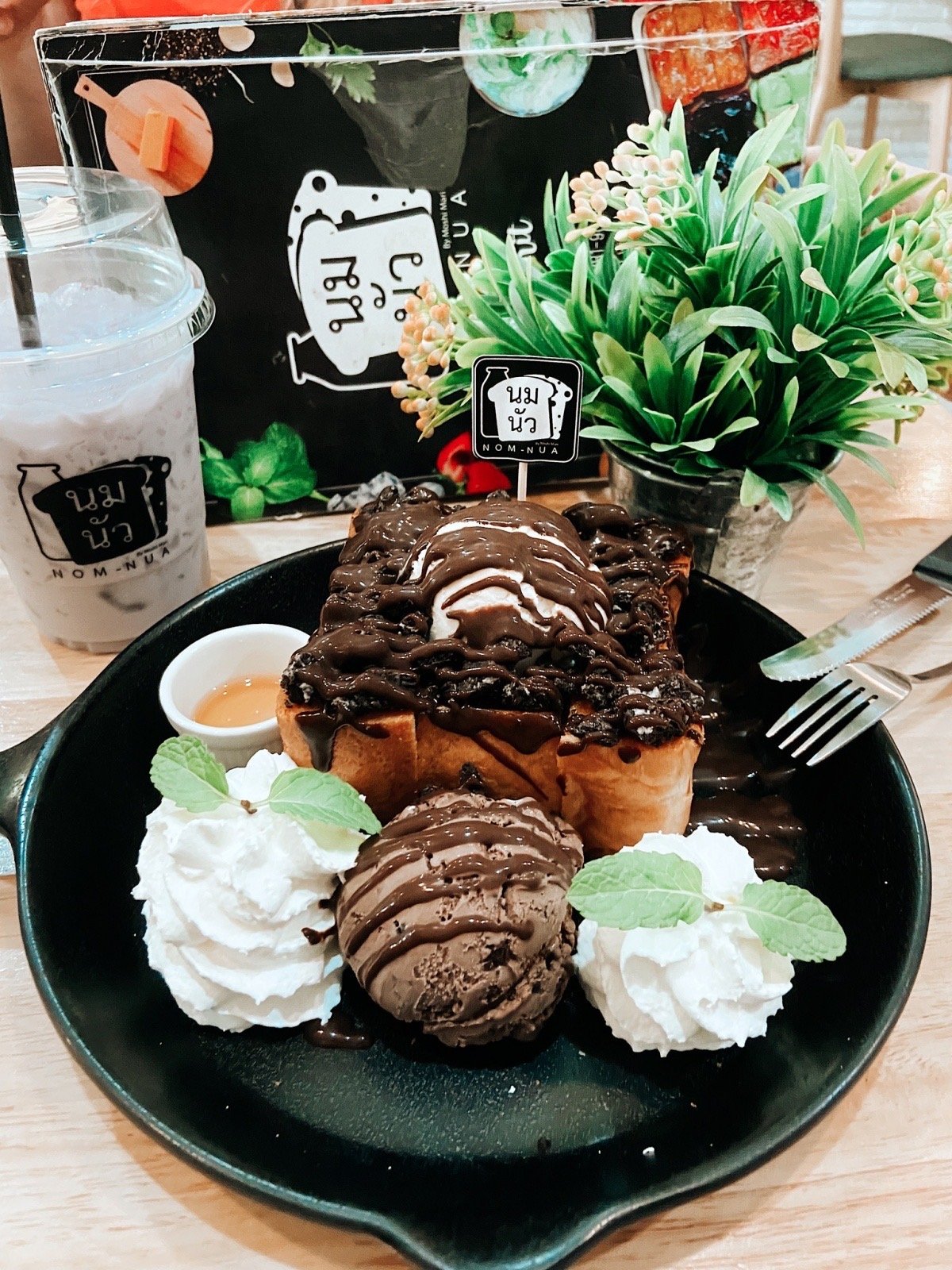 Some girls in my group took up water coloring and would sit outside and practice painting all afternoon! This is such a great time to really get into your hobbies and do things that you don't have time for back at home.
I lived in a small town outside of Phitsanulok, but ILP also has groups who live in Phitsanulok. If you're living there, check out this blog post for tons of fun ideas for things to do in your city!
In the afternoons when the AC turned on, we would lesson plan and prep our materials for teaching the next day (get lesson ideas here), Facetime our friends and family back home, take a nap, or plan out our weekend vacations.
Evenings/Winding Down for the Night
The school cooks would leave a dinner for us in the kitchen that they had prepared before ending their day. It was usually a yummy local Thai dish — our favorite was the cashew chicken with rice, or spring rolls with a side of sweet chili Thai sauce!

Sometimes we would ride our bikes into town, eat out somewhere new, and watch the bright red sun set over the lake at the Crocodile Park. We often heard the monk's song ringing throughout the town as the sun went down.
A few times we even ordered pizza to the school! We loved spending the evenings playing card games, working out, taking a swim in the pool (we were lucky enough that our school had one!), or watching the Bachelor together. It is also a great time to wind down with a little journal writing so you can remember all the little details of your semester abroad.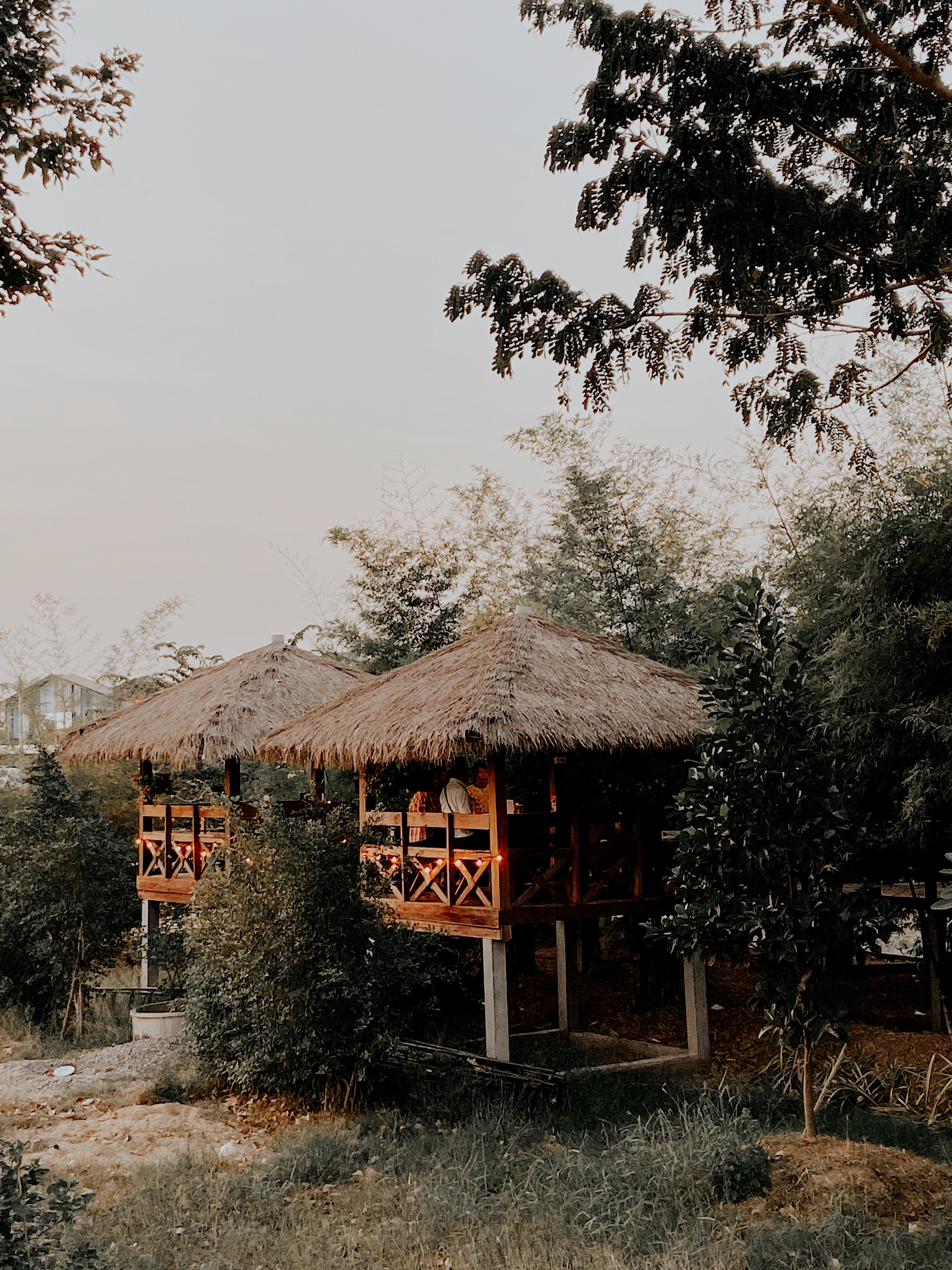 Weekends!
After you've had a busy week filled with teaching the cutest kiddos around, you are ready to have some fun! There are lots of incredible. places you can visit on the weekends in Thailand — some of our favorite quick vacays are Khao Kho, Bangkok, Sukhothai Ruins, and Chiang Mai! Thailand is filled to the brim with adventure and hidden gems, so we recommend that you definitely spend every weekend exploring somewhere new.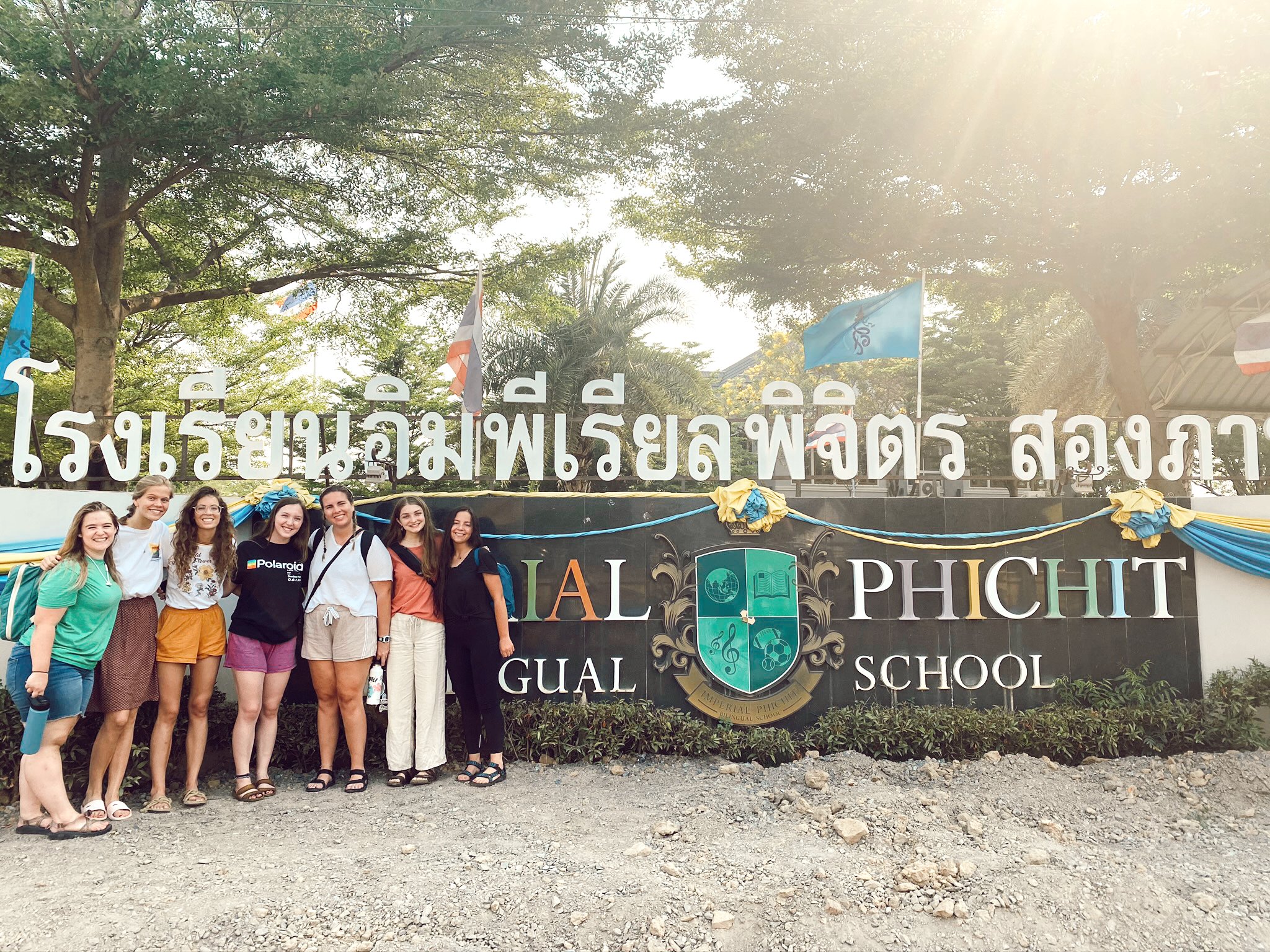 Does living and traveling in another country for a semester
sound like a dream come true?
Come volunteer with ILP! We have countries all over the world where you can really dive into the culture and get to meet a group of fellow volunteers to teach, travel, and live with! Start your application today by clicking the link below!