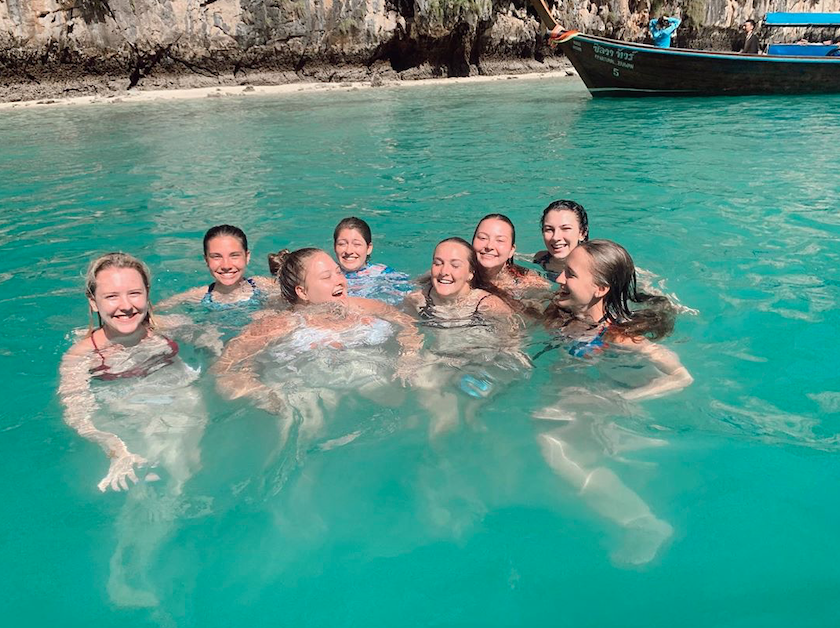 As if you needed more reasons to travel to Thailand, we've got 20 more to convince you to hop on a plane right now and do them all!
After looking up a few pictures of white sand beaches and beautiful temples, I bet you are looking up flights right now….right? Sometimes the cost of travel can outweigh our dream to do it but...


---
Ready to make your dream of going to Thailand a reality?
Come join a group of volunteers and live there for a semester!
---


I mean, the beaches are gorgeous but that's not all you gotta do while in this country. Don't miss out on the foods, these favorite vacation spots and all the things that make their culture what it is. As a volunteer teacher living in Thailand, you should have plenty of time to do all twenty:
Stuff To Eat
Cashew Chicken

Roti

Pad Thai (of course!)

Bag Drinks

Bangkok's Sky Bar

Smoothies
Stuff To See
Glass Temple

A Gorgeous Sunset

The Lantern Festival

White Temple
Places To Vacation
Koh Lanta

Bangkok

Chiang Mai

Krabi

Cambodia
Things To Do
Climb Tiger Cave Temple

Hike Waterfalls

Get Blessed By A Monk

Spend Time With Elephants

Get a (cheap!) Massage
Stuff To Eat
Cashew Chicken
You are going to fall in love with the food while living in Thailand. If you're staying here as ILP volunteer, you're here long enough to really try everything, like the best places to get a big plate of cashew chicken…yum!
Roti
It's sort of like a crepe, but waaaaaay better because it's smothered in sweetened condensed milk. There's often other yummy things you can add, like bananas and Nutella.
If you're staying in Phichit there's a cart on the ride side corner right as you are turning into town. You can get 2 for 20 Baht so double fist it. Roti is all over the country though and you'll be able to spot them quick because you're going to want it as much as possible.
ILP Thailand volunteers come home addicted to sweetened condensed milk ….it's everywhere and it's delicious.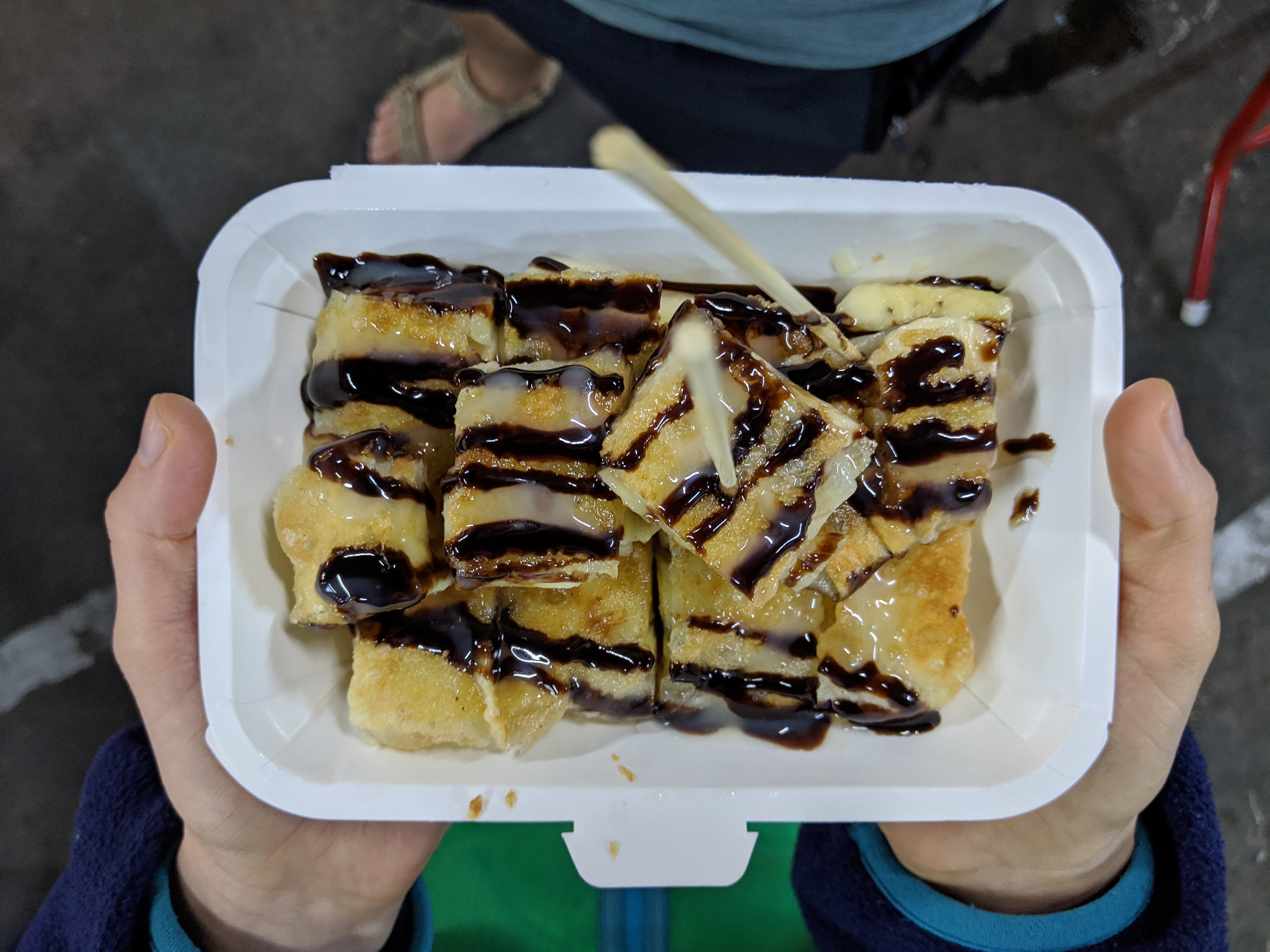 Pad Thai (of course!)
Eat Pad Thai in every city you visit in Thailand because you will miss getting a plate of it for a dollar after you come back home. Crunchy bean sprouts, yummy stir fried noodles, topped with peanuts .... it's amazing. I think this is the best place to get Pad Thai but feel free to find your own favorite spot .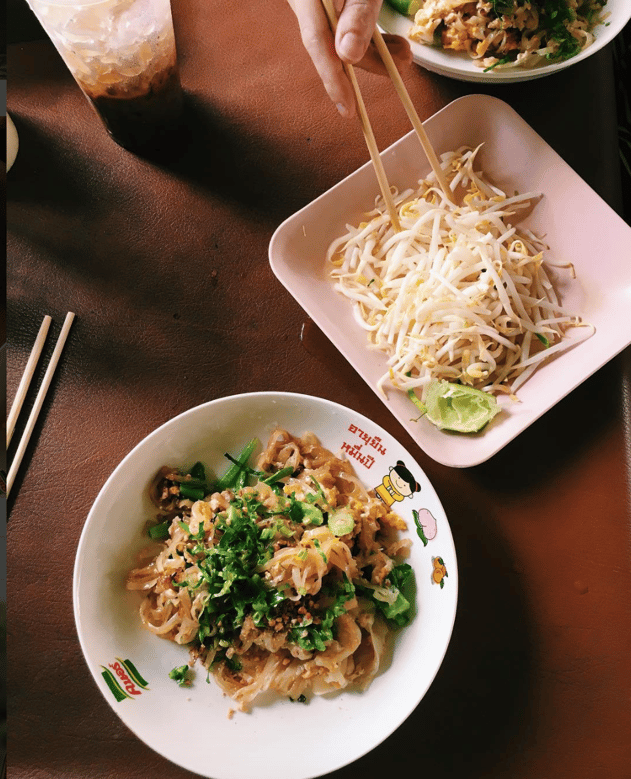 Bag Drinks
They are exactly what they sound like. Get your favorite drinks (and some local favorites) served up in a clear bag with a straw. I loved the coco version; cold milk, cocoa, and you guessed it, sweetened condensed milk — it made our list of 10 Thai treats to fall in love with.
Bangkok's Sky Bar Smoothies
So technically this isn't a specific food, but this restaurant can't be missed when visiting Bangkok. Dinner is sure to taste better 47 stories up, especially with a view of the whole city! Check out our favorite sky bar and how to get there right here.
Smoothies
Get a smoothie every day. They're everywhere and so delicious and so cheap — less than $1 for a big, fresh, fruit smoothie (it's the best way to best the humidity).


Stuff To See
Glass Temple
With 5 million colorful glass mosaics (not exaggerating), you'll know why it's called the most colorful temple in Thailand. You can't get here by public transportation (which means no tourists!), so talk to your local coordinator about hiring a private car for the day to get you up there.
This is a hidden gem that we've found and every one of our volunteers love it. It's located about an hour or two outside of Phitsanulok in the mountains, in central Thailand.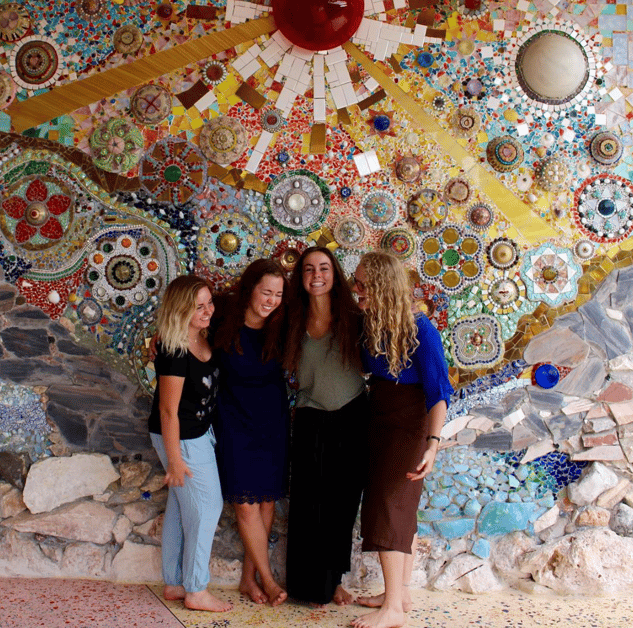 A Gorgeous Sunset
Living here as a volunteer will sure give you enough time to soak up some really beautiful Thai sunsets. While they are beautiful all over the country, a sunset over the beaches (with some Roti or a fruit smoothie) really can't be beat.
The Lantern Festival
If you are lucky enough to be in Thailand during a lantern festival, be sure to go! Sleep for a couple hours, then head to see the sky lit up for the lantern festival at around 4:00 in the morning. Teach English in Thailand and then yes, your life can be just like Tangled. If you're headed here during the Fall, make it happen.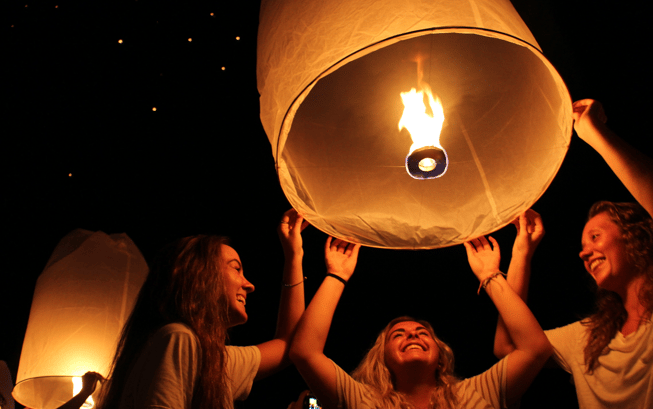 White Temple
This is one of the most unique sites you'll ever see, plus it's gorgeous. Head up to Chiang Rai to see the White Temple (and do some other cool stuff).
Chiang Rai is waaaaay up north, so it makes for a great trip to tack on if you're already headed to Chiang Mai, which is my personal favorite spot in Thailand. We'll talk more about Chiang Mai below, in vacation spots you should definitely plan into your trip.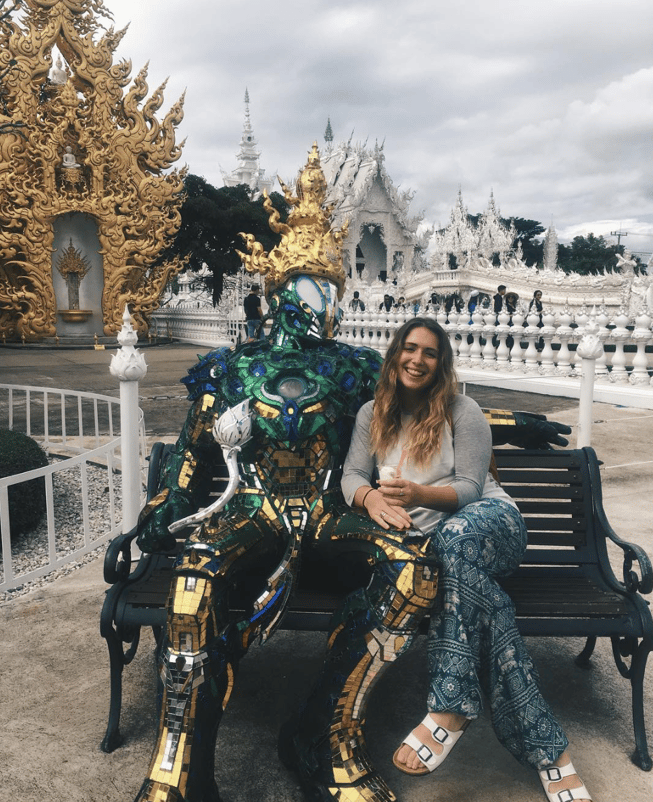 Places To Vacation
Koh Lanta
As a volunteer with our program you get ILP vacation time — you can choose to stay in Thailand and visit places like Koh Lanta or hop over to other countries (anyone love a vacation in Bali?). We recommend seeing it al!
A trip to Koh Lanta is basically paradise. Get your fill of beach days, renting scooters or kayaks, and drinking smoothes. Head to "Patty's Secret Garden" for lunch and call it a day. Koh Lanta made our list of the best beaches in this country for a few reasons.
Bangkok
There is lots to see in this bustling city, but we have your weekend itinerary for Bangkok right here to make sure you have time to see the floating markets, the Grand Palace and the great Reclining Buddha, all in a weekend.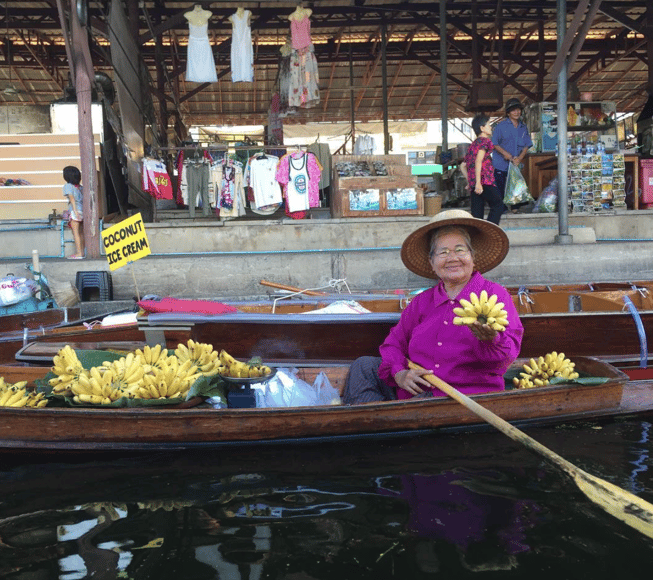 Chiang Mai
This city is the place to do all of your shopping. Get the good deals at the Saturday and Sunday market (or these other Chiang Mai markets). While we love the islands, they are the most expensive places to buy your souvenirs. Don't leave for home without a few pairs of elephant pants, curry paste and some more of the cheapest things to buy in Thailand.
Krabi
We. Love. Krabi. It's the best place to start your island vacation, see floating islands, amazing beaches, it has less crowds than Phuket, and the cutest Harry Potter hostel. Get fresh mangoes peeled and cut for you right on the beach, rent jet skis, pet monkeys (at your own risk) and see the colorful fish while snorkeling. Oh, and here is our favorite restaurant for when you need lunch. We love it here and think you will too!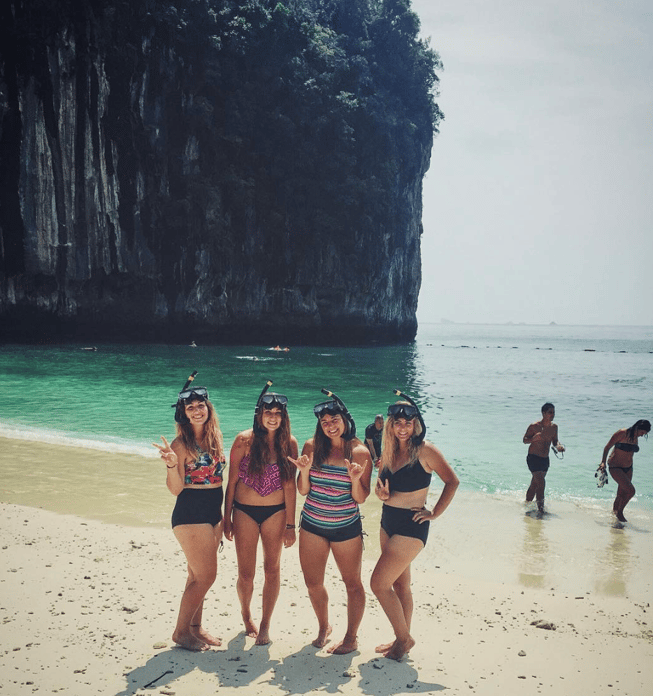 Cambodia
Sitting right next door to Thailand, this is an easy country to jump over to, especially since there are quick flights from Bangkok into Cambodia. Our ILP volunteers like to vacation in Cambodia to see some amazing sites like Angkor Wat. It's a World Wonder and we're not surprised. It's seriously incredible. We've got some tips right here to help you plan your trip to Angkor Wat.
The country of Cambodia is still relatively young and has endured so much tragedy, but the people are still so happy and so hard working, plus seeing Angkor Wat at sunrise can't be missed.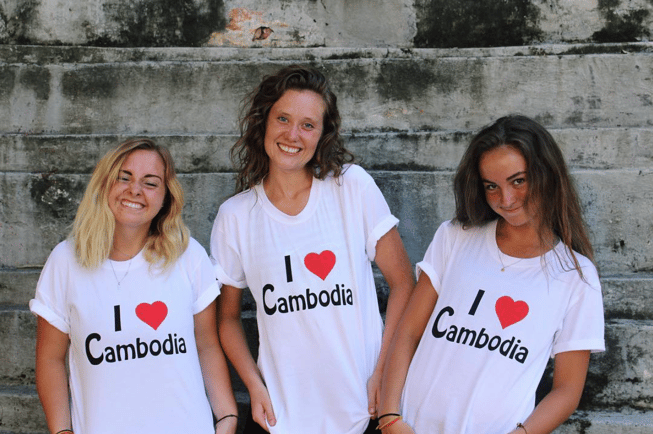 Things To Do
Climb Tiger Cave Temple
Wake up early and watch the prettiest sunrise of your life on one of your ILP vacations in Krabi. This temple is atop a high mountain and takes a few hundred stairs to reach (1,237 to be exact) but it's well worth it.

Get instructions and see pretty pictures of the temple here.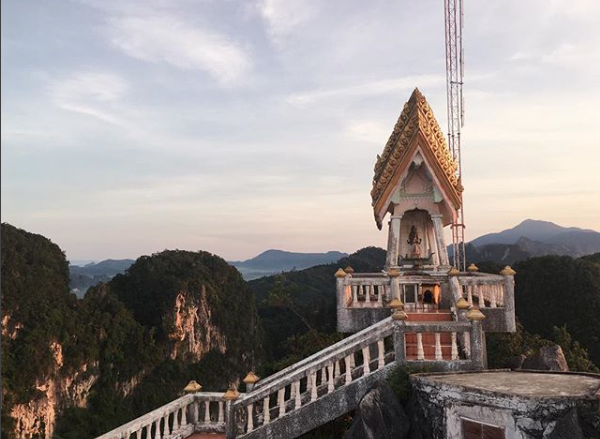 Hike Waterfalls
Explore Thailand's jungles by hiking some waterfalls — prepare to get muddy if you are traveling during the rainy season. Pay for the national parks pass when you are in Krabi and check out some of the awesome hikes and waterfalls there.
Get Blessed By A Monk
When in Thailand, right? When you're at a temple and you see people kneeling in front of a monk, just follow their lead — take your shoes off and make sure to always be lower than the monk (so kneeling).
He'll say something, sprinkle water over your head, and tie a white bracelet around your wrist. Leave a cash donation afterward, and that's it! I have no idea what he says (because I don't speak Thai!), but a blessing from a monk couldn't hurt, right?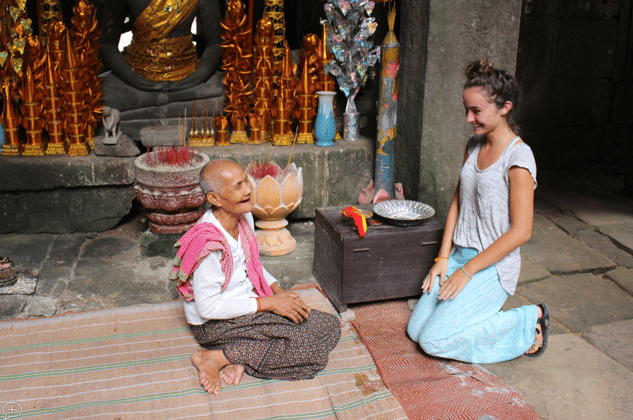 Get a (cheap!) Massage
Get a 2 hour massage for $10. Seriously. You can go for the traditional Thai massage (there's a lot more stretching and pulling…it's more authentic and aggressive but makes you feel incredible after) or test out a "head, neck, shoulders" massage for a gentler approach. Ahhhh….so nice.
Spend Time With Elephants
An afternoon with elephants doesn't sound half bad, right? We've got the tips to finding the best place to getting some special one-on-one time with these magnificent animals.
Be sure to read reviews and make sure you are going to a park that does not abuse their elephants!! Every website will say they don't, but the reviews will let you know the truth.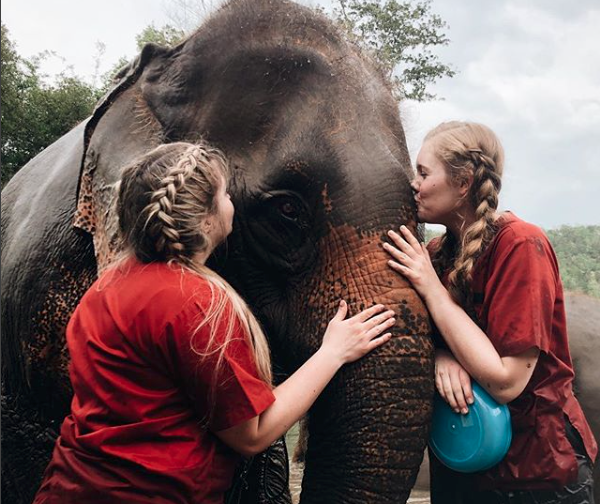 Come see Thailand with a group of ILP volunteers!
Truth be told, this list was so hard to narrow down…there is a lot more than that to do while living and volunteering here, not to mention the adorable children! For more info on even more things to do in Thailand, check out the ILP Blog.
Haven't signed up as a volunteer yet? Spots fill up super quick for this country, so fill out an application by clicking below (even if you're not 100% positive you want to live in paradise)!