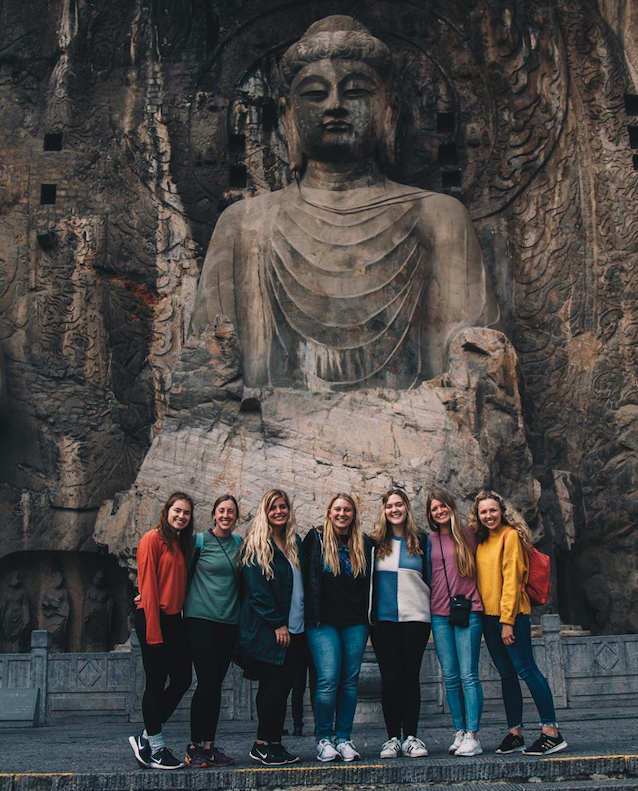 Don't get me wrong, I loved the Great Wall, but some of my absolute favorite trips in China were the ones I had never heard about.
China is a country that has something for anyone. But really. If you want gorgeous mountain hikes, sprawling cities crammed full of skyscrapers, towns that look like postcards and a World Wonder, come to China. There really is too much to see in just a short visit, which is why I'm a huge fan of volunteering there for a whole semester. I'm not saying I did everything right, but choosing to live in China rather than just take a short visit was 100% the best choice.


---
Yep, I lived in China for a semester an absolutely loved it
Come see what volunteering in China is like with ILP.
---

Because I was only teaching part time, I had weekends off and vacation days to explore all over China, and I still didn't get to see every single thing I wanted to see ... but I did make room to see the Yungang Grottoes and they were ah-mazing. And because I want your trip to be as rad as mine, here are the details for planning your trip here.
What Are The Grottoes? (+Hours and Costs)
Getting To Datong
Things To See + Do Nearby
What Are The Grottoes?
Found near the city of Datong, the grottoes are ancient Chinese Buddhist temples with an impressive history. The stone carvings have been around for centuries, first thought to be around since the 5th and 6th centuries. It's a UNESCO site and is often sited as one of the most influential forms of Buddhist art in the world, something that's even more impactful with a little history. There used to be many more cave networks supporting Buddhist art, but were destroyed in Mao's cultural revolution. The artwork here mostly remained unscathed, meaning you can walk through these passageways just like worshipers did centuries ago.

In a brief summary, the grottoes are a network of caves with hugely impressive and intricate carvings that fill every cavern. All together there are 252 grottoes with more than 51,000 Buddha statues inside! One cave is home to thousands (and thousands) of 3-inch high little carvings. It's amazing to see in person ... I can almost promise you'll spend a few minutes wondering how much time it took to carve so many figures into the solid rock.
Other segments of the cave have towering structures that just get more interesting the longer you look at them, hiding little windows with even more rows and rows of hand-carved statues. The detail starts at the floor level and reaches well into the ceilings of these huge caverns.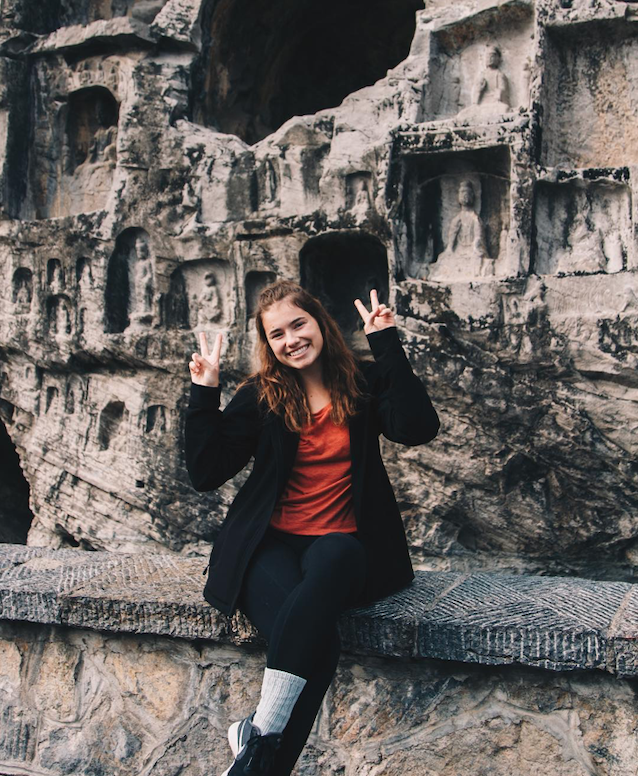 What Caves To See?
With over 200 caves, you'll want to hit the highlights, right? Most of the major caves are numbered 1-20 if that helps you get around. But if you're really looking to tighten your itinerary, I recommend you head to Cave #5 and Cave #6 — they are double caves, one housing a sitting Buddha Statue that's around 55 feet tall. It's the largest statue found in these grottoes. Find this guy in cave #5, but see the "most spectacular" grotto in the complex at cave #6. The carvings here are a series that detail the life of Sakyamuni, outlining how he became a monk then to be Buddha.
#9, 10, 11, 12 and 13 are also worth seeing, home to the only sculptures with color. Another thing to note? Cave #12 is sometimes nicknamed the "cave of music" thanks to the carved musical instruments found in the rock.
#16, 17, 18, 19, and 20 are also some of the other noteworthy caves to stop into, all constructed under the same monk, Tan Yao. They're nicknamed the Tan Yao caves if you want to really tap into the lingo. These are supposedly the oldest caves, built to impress the imperial power of the royal family (of the Northern Wei Dynasty). You'll easily recognize cave #20, there's a huge sitting Buddha to admire.
Hours + Costs
April to October: 8:30 AM to 5:30 PM — 120 CNY
November to March: 8:30 AM to 5:00 PM — 100 CNY
The Exhibition Hall is open from 9:30 to 4:30.
If you are a student you can get half price, so make sure you take your student discount card or student ID with you. (Pst you can get student discounts all over China.)
Here is a link to all of the information on their website.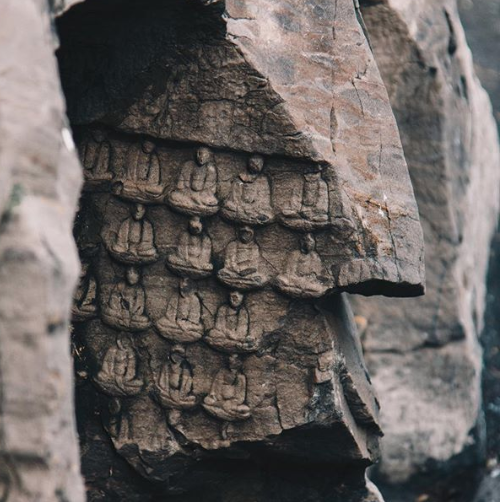 How Long To Visit?
Most tourists (myself included) felt like 2 hours was a good amount of time to wander in and out of most of the major caves, though you can easily spend longer if you want to hike around and see more.
I have more info below for planning your itinerary. Personally, I spent a day in Datong before heading off to another adventure, and thought that was pretty perfect.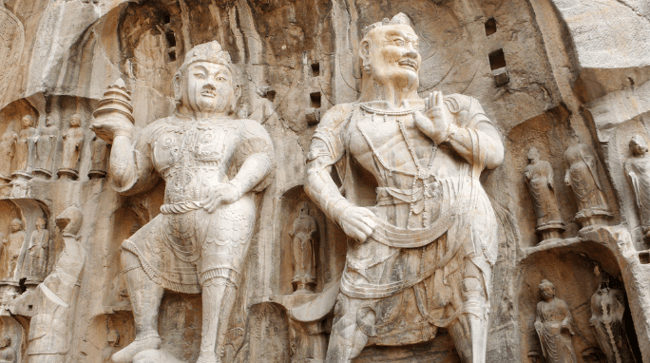 Getting To Datong
The grottoes are in the Northeast part of China, near the city of Datong. Datong is fairly well connected with the rest of China, especially if you're coming from a big northern city like Beijing. Trip is the easiest way to book a train ticket in China, or you can also book a flight here, also via Trip.
To help route your trip, here's a breakdown of major cities that are somewhat close:
Once You're In Datong, Get To The Grottoes
Head to the Datong Railway Station if you're not there already. Take bus #4 and get off at the stop Xin Kai Li. From there transfer to bus #3-1 to the Yungang Grottoes. Buses are 1-2 yuan each, so very affordable, and the ride is about 30 minutes.
If you don't want to take a bus you can also look into hiring a tax or van. It shouldn't be that expensive when you split the cost with your group, but make sure you check on the price first so you can bargain down if they offer you a price that's too high. Plan on paying around $10 USD for this option.
If you're heading here from the airport, you can get a taxi to the grottoes for about 350 CNY, around $50 USD.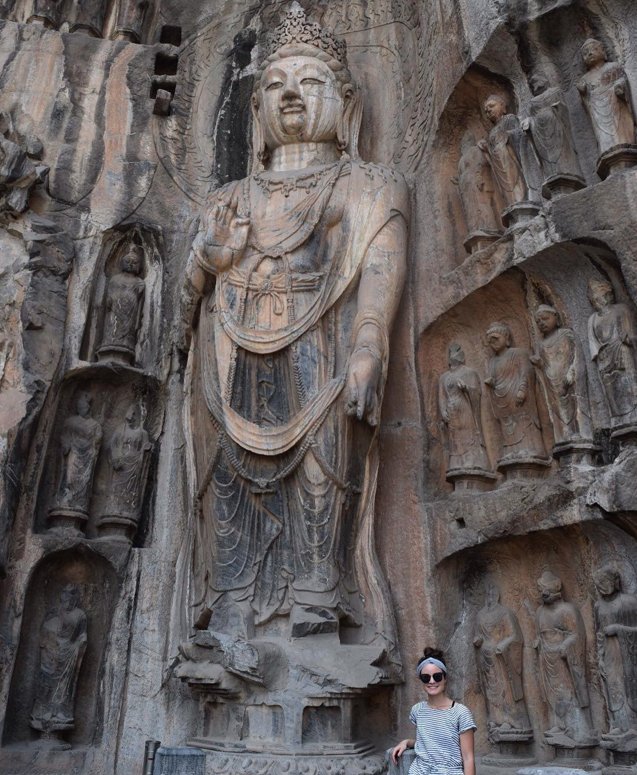 Things To See + Do Nearby
Because the grottoes are the main attraction, but only take a few hours, people are typically visiting just for the day, or overnight. Visitors tend to see the grottoes, hang out and explore the city or visit a nearby spot (we have those down below) then hop off to another destination, like Xi'an or Beijing. When I visited, I started in Beijing, then took a train to Datong, before taking a train to Xi'an if that helps you put together a quick itinerary.
The Hanging Temples
This is probably the coolest monastery you'll explore while in China. The Hengshan Hanging Temple stands at the foot of Mt. Hengshan, and since it hangs on the west cliff of Jinxia Gorge more than 160 feet above the ground, it is called the hanging temple or monastery. Oh, and it's been around for over 1600 years to make it even more impressive. It's an easy half-day trip you can do after exploring the Grottoes.
You can easily reach the monastery by taking a public bus from Datong, then taking a taxi to the mountain. Get more info about the Hanging Temple here.
The Wooden Pagoda
China is all about qualifiers, so if you're into seeing the oldest and highest wooden structure in the country, you'll want to visit the Wooden Pagoda. Some call this pagoda the first in the world, first built almost 900 years ago and is completely constructed without a single nail. It's amazingly intricate and stands apart from the other pagodas you'll admire while touring China (and takes about an hour)
To get here, make your way to the Yinxian West Bus Station (there's a bus that goes there from the Datong North Long Distance Passenger Transportation Station). From the Yinxian West Bus Station, you can take a short (5 yuan) taxi to the scenic area where the pagoda is.
Open from 8:30 AM to 6:00 PM
50 CNY entrance fee.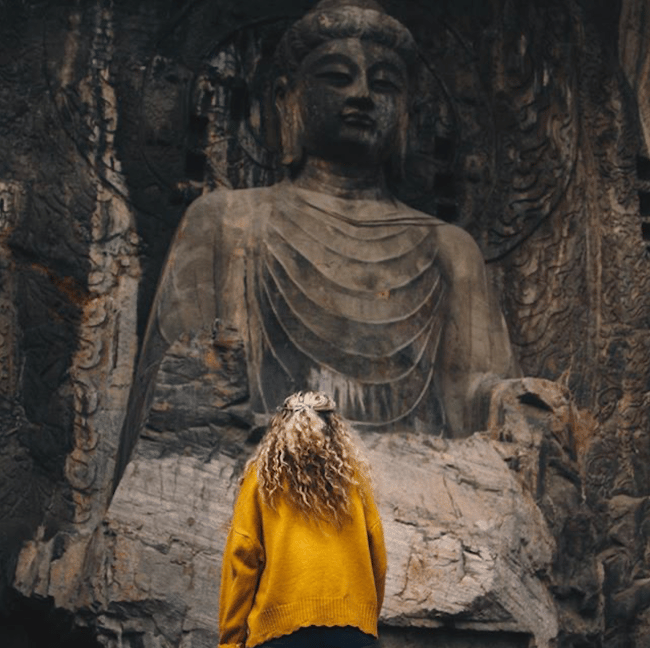 Ready for your semester abroad in China?
You should be! I talk about my semester in China all of the time — It's home to some of my favorite people, adventures, and food ... Out of all the places I've been, I have a huge soft spot for the things I got to see and do in China.