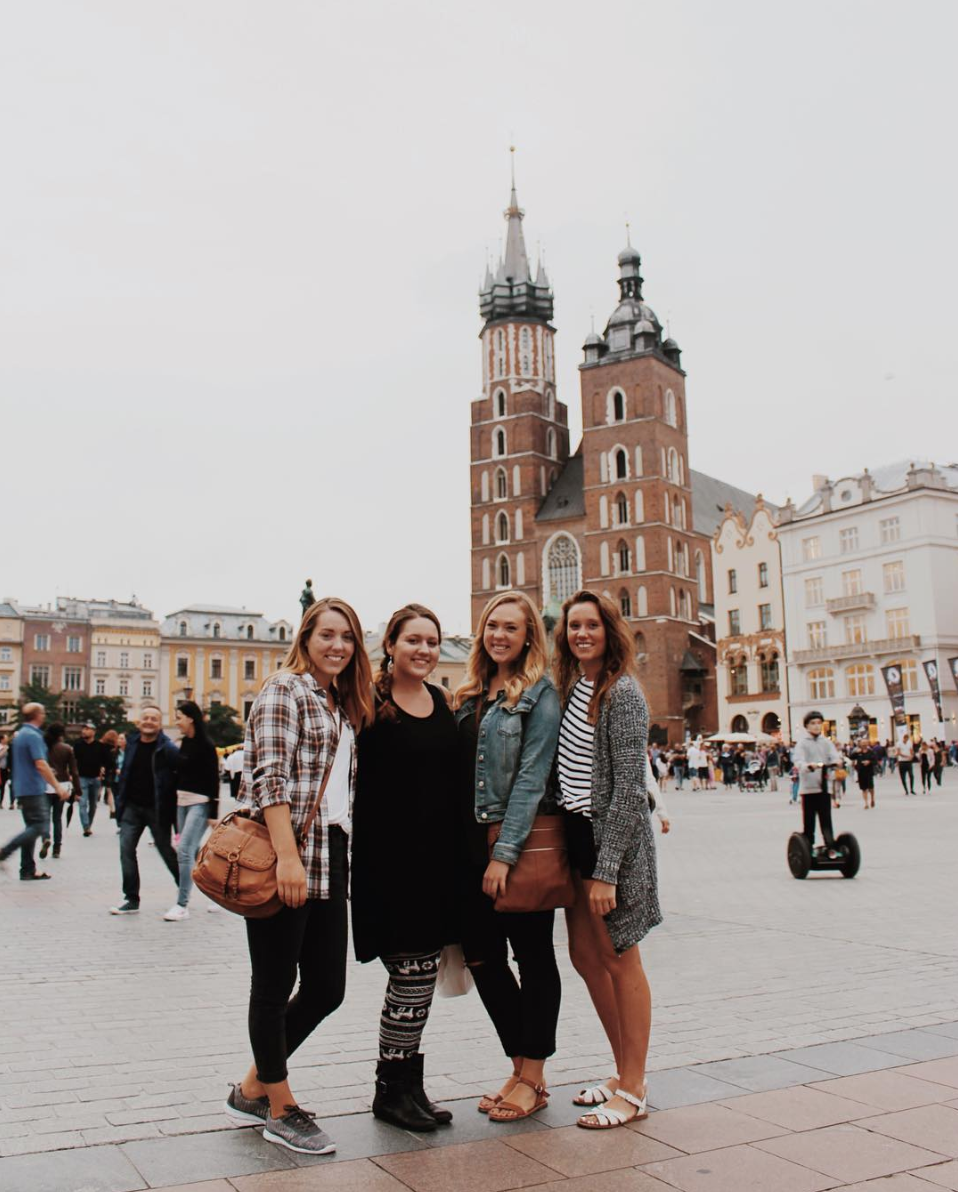 If you're ready to call this city home for the next semester or are planning on visiting during your ILP semester from another one of our European countries, here's what you'll want and need to know about Krakow.
---
Ready to travel Europe?
ILP sends college-aged volunteers around the world to teach English: some volunteers get to call the city of Krakow home, while others love vacationing here!

See what volunteering in Poland is really like, here.
---
The city of Krakow is captivating; with quintessential European charm that is swirled with a fascinating yet sobering history, Krakow is a trendy city that connects the old with the new. It also sports a list of things to do that will keep you busy for a four day trip or a four month semester.
We've talked with ILP volunteers who call this city home and volunteers who have taken the chance to visit to collect our best insider tips on what's worth seeing, our favorite restaurants, best places to stay and other helpful tips to make your time in Krakow more than memorable.
Where Is Krakow?
This Polish city sits on the southern part of the country, rather close to the border of Slovakia. It's a historic city with a well maintained Old Town complete with medieval touches, a towering basilica, charming buildings and a prominent Jewish quarter. The city is broken up into a few separate regions, partly split by the river Vistula.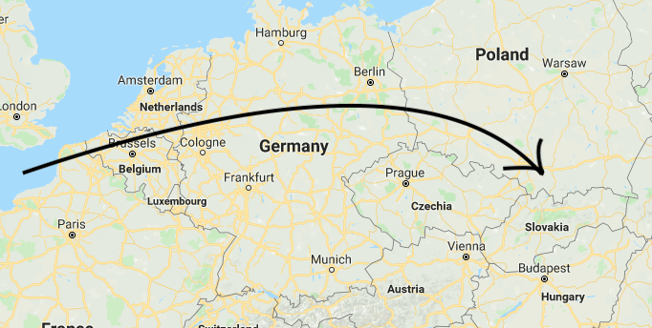 Getting To Krakow
Krakow is incredibly well connected — here are a handful of cities and countries that are just hours away from Krakow to help prove that point. Whether it's easiest to get here via plane, train or bus you won't have much trouble finding a route to get you to Krakow.
By Plane
The Krakow Airport is about 7 miles outside of the city; Domestic and international flights are frequent here (airport code KRK). Airlines like RyanAir, KLM, EasyJet and several others fly into this airport regularly. You can check out these discount airlines from Krakow to see which countries you can fly from to get pretty good deals.

Once you land, you can take a taxi into town (bargain hard, don't pay around PLN 70 or so in the day time), or you can take a public bus which will be lots cheaper. Buses #252 and #208 run from the airport to the city center rather frequently. Tickets for a one way ride are 4 Zloty. If you're arriving in the evening, there's a night bus #902 that you might be able to catch into the city.
By Train
Dworzec Glówny PKP is the central train station (just located outside of Old Town). Inside the train station, you'll find 24 hour ticket booths, an expansive mall (seriously this mall is huge and cool to check out), cafes and eateries, currency exchange, etc.
From the train station, it's a short walk to Krakow's Old Town. If you'd rather not walk, you can take a bus or tram (get information about that below in the sub-section, "Getting Around Krakow).
By Bus
Several European countries are close enough to reach Krakow by bus. Volunteers in Lithuania have taken Luxexpress buses here for example. Once you arrive, it's a similar situation to arriving via train (the bus station is semi-separate from the train station) but you can walk to Old Town quite comfortably from the bus station side.
You can find taxis on the upper and lower floors if you'd rather not walk, or can take public transportation (get info about that below in the sub-section, "Getting Around Krakow").

The most direct way to Market Square is underground, through the train station. Follow signs for "Stare Miasto (Old Town)" or ul. Lubicz.
Getting Around Krakow
Most of Krakow's Old Town and surrounding areas are walkable, but you will most likely want to use a bus or tram to hep you visit the farther away districts. Downloading the Jakdojade app is going to be a life saver. You just type in your starting location and where you want to go and it gives you the direct route, time, and which bus and tram to take. You can find Jakdojade online, but the app is really convenient when you're on the go: it is free on Android and costs $4 on Apple.
To buy tickets, visit the kiosk or ticket machine by the tram or bus stop (you'll see them in multiple languages). If you don't see a kiosk but see a tram or bus with a large "A" on the front, that means you can buy your ticket onboard. You'll want to have exact change (the driver will not give you change).
Once you board you'll validate your ticket by punching it in the validation machine. You can use a single ticket for multiple rides as long as it's still in the time period you purchased it in. Twenty minute ticket are 2.80 Zloty, 40 minute tickets are 3.80 zloty, one-hour tickets are 5 zloty. You can also get 24 hour tickets (15 Zloty), 48 hour tickets (24 Zloty) and 72 day hour tickets for 36 zloty.

If you have an ISIC card, you can get half off bus and tram tickets.
Top Things To See In The City
There is a lot to do here, but we've narrowed down the must-see sites to help you plan your itinerary.
Tour Old Town
One of the most iconic parts of the city is Krakow's Old Town. Several of our favorite restaurants are located nearby, so combined with dozens of churches, a castle, a historic town hall, palaces, and little markets found in Old Town, you can spent quite a bit of time here.
Since Old Town Krakow covers quite a bit of ground, it's helpful to know that you'll find most of the iconic spots you're looking for in the Rynek Główny portion of town; places like the Cloth Hall and St. Mary's Cathedral (which is stunning inside, I might add). Oh, and while you're around, you have got to go inside the St. Francis of Assisi cathedral and admire the bright blue ceilings.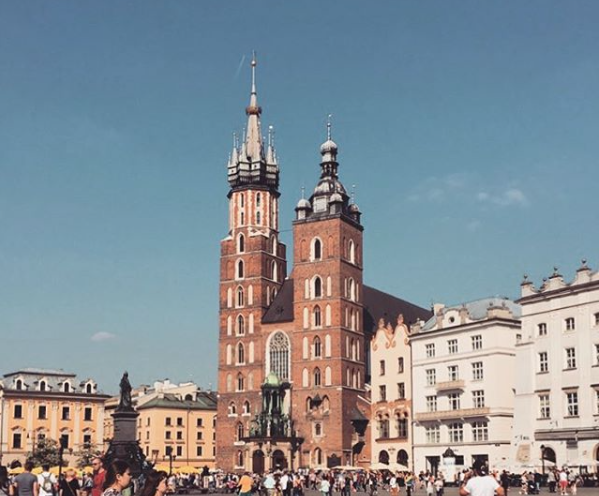 Cloth Hall Shopping Market
Found in Old Town across from St. Mary's Basilica is a shopping mecca. The Cloth Hall is is by far the best places to get souvenirs in the city of Krakow.
This stunning building looks more like an Indian fortress than what you'd find in Poland, but inside there are rows and vendors selling everything from menorah magnets, crystal goblets, purses, embroidered scarves, chess sets, nesting dolls, lacquer boxes, jewelry boxes, mugs with the Krakow dragons on it, and other items.
Address: Rynek Główny 1-3, 30-001 Kraków, Poland
Hours: 10:00 AM to 6:00 PM, closed Mondays.
Visit The Jewish Quarter
Known as Kazimierz, this district of Krakow is worth time all to itself. Found south of the main hub of Old Town's Rynek Główny, this area used to be the center of Jewish life in Krakow for hundreds of years and was destroyed during WWII. Now, Kazimierz is home to modern Jewish life; a vibrant quarter of synagogues, street art, bohemian charm, and art galleries.
You can also get some cool souvenirs in a flea market in the Jewish Quarter and find this kind of famous painted pottery from Poland.
Though there is a lot to see and you'll be happy just stumbling upon the surprises found in Kazimierz, you might want to make a point to see the High Synagogue (ul. Józefa 38) which is the third oldest synagogue in Krakow, built in the 1500's. The mural on Plac Bawół 3 is also rather iconic, as is the colorful mural found on the corner of Corner of ul. Nowa & ul. Józefa.
While wandering through Krakow you'll see plenty of tours offering to take you around the Jewish Quarter which can be a great option, especially if they're English speaking and can give you a bit of a history behind these historical sites you're seeing.
Pst: We have a complete guide to the Krakow Jewish Quarter to help you out.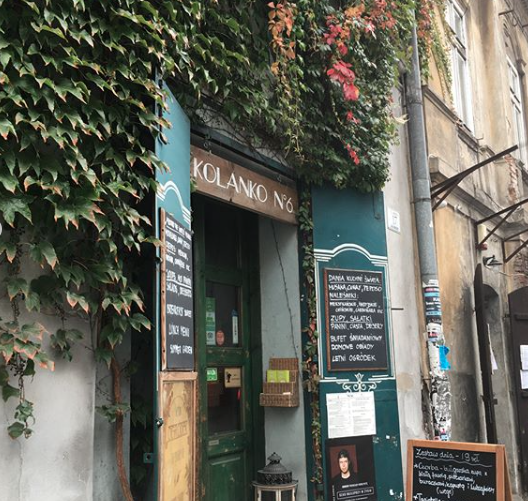 See Wawel Castle
There's a rambling, massive castle tucked away in Krakow, didn't you know? It comes with a legend about a dragon and everything (get the Wawel legend + other helpful hints about visiting here).
This place is pretty enough to see and tour from the outside, but if you'd like, you can go inside and see a collection of impressive state rooms, some of Poland's most famous works of art and tapestries, and other artifacts. Plus you can pay a bit to tour the dragon caves which sounds weird, but is actually pretty rad.

Address: Wawel 5, 31-001 Kraków, Poland
Hours: 9:30 AM - 5:00 PM (Tuesday - Friday)
10:00 AM - 5:00 PM (Saturday - Sunday)
Closed Mondays
Cost: The grounds are free to visit, but you can buy a ticket inside (around $3-4) if you want to see the museums, towers and state rooms, which are lovely. Get info on discounted or free entrance days here.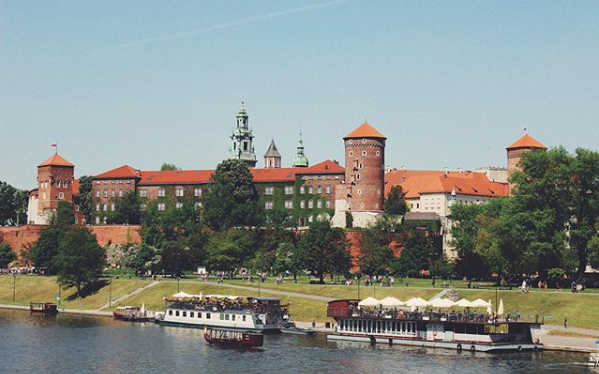 Wawel Cathedral
Another stunning building, you'll find Wawel Cathedral south of the main hub of Old Town. Complete with red bricks, green copper towers and a golden dome, this cathedral was the coronation site of all of Poland's monarchs. Inside, you can even visit some tombs of these former rules.
Address: Wawel 3, 31-001 Kraków, Poland
Get hours for the cathedrals, Mass and the crypt here.
Admission is free for church-goers, but tourists are asked to pay 12 zloty, and can purchase an audio guide for 7 zloty.

Tour Oskar Schindler's Factory
Turned into a museum, this used to be Oskar Schindler's Enamel Factory which inspired the iconic Steven Spielberg film, Schindler's List. Through the museum, visitors are shown artifacts, poignant film segments , and sobering photographs of what occurred during the Nazi occupation of Krakow, outlining what everyday life was like and the fate of the Jews in the area.
Past visitors mention doing some research about Schindler before visiting is helpful (the museum doesn't really outline his pivotal role or life story) but that aside, this is an incredible museum; one not to be missed.
Head's up — if you're are short on time, it's best to pick between this museum and Auschwitz; there is similar material covered in both.

Lines to the museum get very busy, so we suggest booking online (3 or more days in advance) or getting there crazy early. Tickets are 24 zloty.
November – March Hours
Monday 10:00 AM - 2.00 PM
Tuesday - Sunday 10:00 AM - 6:00 PM
April – October Hours
Monday 10:00 AM- 4:00 PM
Every first Monday of the month - open to 2 PM
Tuesday - Sunday 09:00 AM - 8:00 PM
Address: 4 Lipowa Street, 30-702 Kraków
To get here, take the tram to Pl. Bohaterów Getta, and take a 5-10 minute walk down ul. Kacik (under the train overpass) and onto ul. Lipowa.
Looking for more things to do?
We have a list of things to do in Krakow if that's helpful.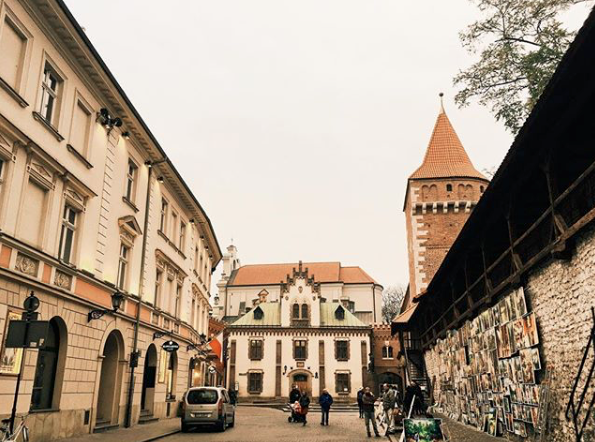 Top Things To See Out Of The City
(Or things that take full day or half-day).
Auschwitz Birkenau
This is one of the main reasons that many initially choose to visit Krakow. About an hour outside of the city is one of the most infamous concentration camps. You will find Auschwitz tours to book all throughout your city and your hostel can help you as well (most tours include transportation and the cost of the tickets to Auschwitz).
We suggest booking a tour for the next day, so arrive in Krakow and arrange a tour for tomorrow, and spend that day you arrive exploring things inside of Krakow. Your Auschwitz experience will take pretty much all day, so plan on it being a 9:00 - 5:00 activity, minimum.
We have tips and info about touring Auschwitz Birkenau here.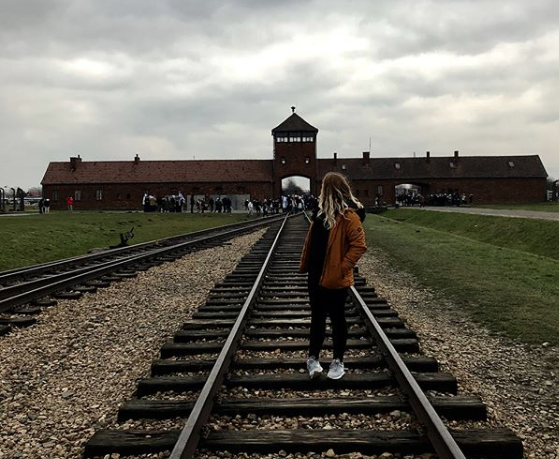 Wiezliczka Salt Mines
This place is amazing; down in the depths of this mine are domed ceilings, a church, life-like carvings …. all carved out of salt. The walls, ceilings and ornamentations down here are all carved out of the rich salt deposits that people have been harvesting for hundreds and hundreds of years. It's pretty mind-blowing.
Get what you need about touring the Wizliczka Salt Mines here.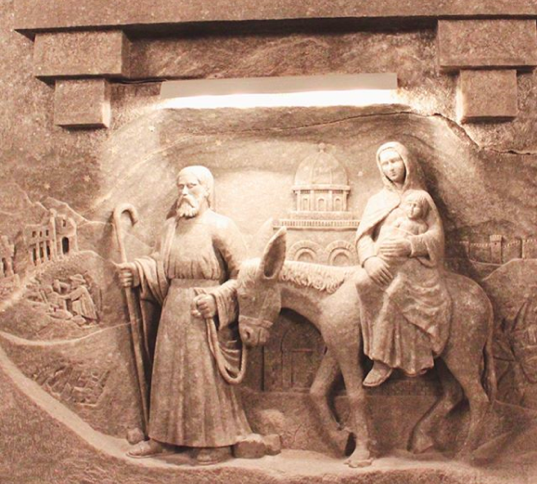 This Lake
In the summer time, you have got to make the trip out to this lake. It used to be a mining site, but it's been turned into our favorite Krakow getaway. You get seriously blue Caribbean waters here (the water temperature is chillier than the Caribbean but the water is seriously that blue).
Snag your packing list and bus direction for a day at Zakrzowek Lake.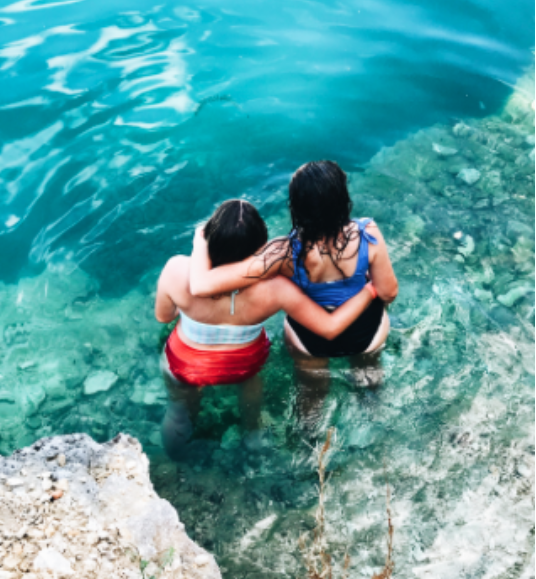 Head to
Zalipie
Maybe an adventure better suited for volunteers who are living in Krakow and have more time to really explore hidden gems, you can take a trip to see the painted town of Zalipie if you have the time. Some of the quaint houses, barns and chicken coops in this tiny Polish town are painted with darling floral embellishments and other folk art. It's a cute little excursion.
Come visit Zalipie and get directions and tips here.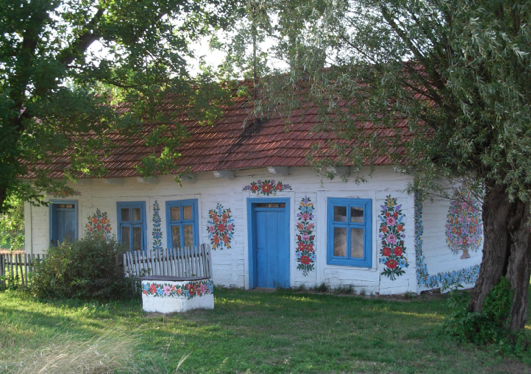 Where To Stay
There are no shortages of places to stay in Krakow, but if you're looking for hostels for a good price that have a good location, and come recommended by ILP volunteers, you've found it:
Dizzy Daisy Hostel
About a 10 minute walk to the main highlights of Krakow, Dizzy Daisy Hostel is bright, and pretty spacious. ILP volunteers were very happy with their stay here, and found dorm rooms for about $10 per night.
Cracow Hostel
Situated on the main market square, Cracow Hostel has an excellent location but also boasts a very helpful staff than can help you get around Krakow and book tours around and outside of the city. Breakfast is also free at this place, with dorm rooms for about $10 - $12 per night.
Greg & Tom's Hostel
Free breakfast and free dinner at this hostel, located right on the main square. It's a popular spot for backpackers who want to make friends and have fun (they have pub crawls every night), but ILP volunteers loved the good deals for Auschwitz tours and the free dinner ("which was amazing" according to one ILP volunteer). At Greg & Tom's hostel, dorm beds are about $16 per night.
Atlantis Hostel
Just 10 or so minutes away from the center of the Old Town, Atlantis Hostel boasts very helpful staff and a convenient location. The staff will set you up with a city map when checking in and can help you book popular city tours if you'd like. Rates are also affordable, with dorm beds around $10 per night.
B Movie Hostel
Found between Old Town and Kazimierz, B Movie Hostel has a pretty prime location and does offer a clean night's stay at a good price. Breakfast is included and the place has a 24 hour service which means checking in and checking out at all hours a cinch. Dorm rooms are around $7, with more expensive and private rooms available.
Where To Eat (+Must Try Treats)
Our volunteers have found more than a few restaurants in Krakow, so many that we have a completely different post dedications to our favorite restaurants in Krakow. Just walking around Krakow you will see endless restaurants and cafes, so you really can't go wrong, but here's a few suggestions.
Just know that if you're looking for the best ice cream, head to Good Lood (it's yummy enough to be a tourist attraction!), but that list is also full of the best spots to get local Polish favorites like pierogi, brunch places, cute cafes and spots to get American food.
When it comes to foods to try in Krakow, you've got to test out some sort of Pierogi, which is a filled dumpling (usually stuffed with meat and veggies, but you can find some sweet varieties too). You can find this popular dish in many Polish style restaurants.
Also, be sure to visit the kiełbasa van (head east of Old Town by the bridge) from 8:00 PM and later to grab hot sausages cooked over a grill, a fluffy roll and a smear of mustard, all for 8 zloty.
Zapiekanka's are open faced sandwiches with baked toppings like cheese and mushrooms, topped with lots of mustard or garlic sauce. You can usually find this street food more frequently in Place Nowy Market in Kazimierz.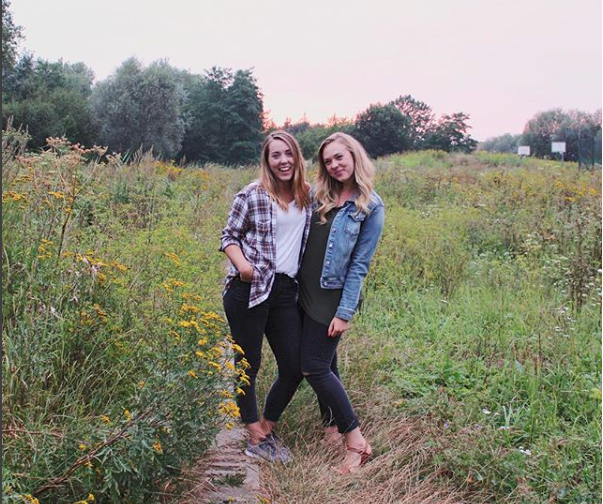 Thrilled to dive into a semester living in Europe while you're volunteering in an orphanage or teaching English? We thought so. See if you can find which country in Europe would be the best fit for you, and get your questions answered by chatting with an ILP representative.