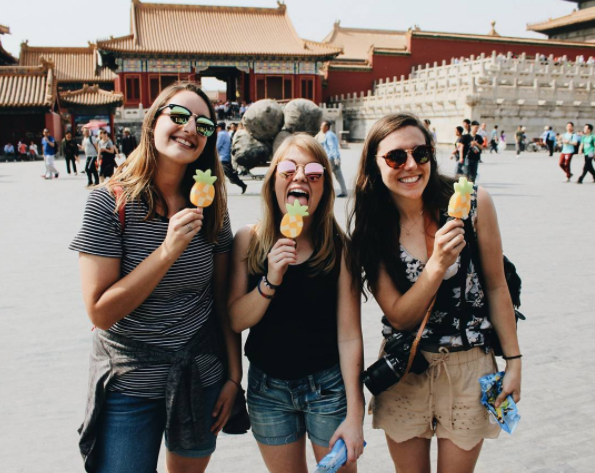 Headed to vacation in Beijing? While staying there you have a million options for hostels, AirBnbs and other places to stay and we're here to narrow it down.


If you're traveling to China, you'll most likely visit Beijing ... after all, how can you see China if you skip out on the Great Wall and the Forbidden City? Planning a trip in this city (and this country!) can be a little daunting, unless you have some insider info on the best places to stay and which cities are worth skipping. That's where we come in!
---
Come spend your semester abroad in China!
Learn more here
---


But when it comes to Beijing, we've talked to our ILP volunteers and gotten their favorite options for hostels in this city, that are in the right spot for the right price.
Oh and to help you plan the rest of your trip, we've got lots more tips. Here's our complete guide to planning your trip to Beijing.
Know This About Beijing
This city is huge (very huge). Although Beijing's metro makes it incredibly easy to get around the city, it's a good idea to choose somewhere to stay that's near most of the sites you're planning to see so that you can cut down some of your transportation time. We suggest booking a place in the Dongcheng District —there you'll find most of the tourist attractions on your itinerary (places like Tiananmen Square, the Temple of Heaven, the Wangfujing Walking Street) and others.
Beijing Hostels To Look Into
Red Lantern Hostel
Chinese Box Courtyard Hostel
Leo Hostel
365 Inn
Sitting On The City Walls Courtyard Hostel
Red Lantern Hostel
We've heard that the rooms are clean and full of charm. It also has a great location and within walking distance of three subway stations (which is the best way to get around Beijing), it won't take you long to get to The Forbidden City and other popular areas of downtown Beijing.
You can book a good variety of tours through the hostel and they offer several different tours of the Great Wall.
Dorm rooms start at around $20 a night. Book here.
Leo Hostel
Our ILP volunteers love this hostel (and reviews on Hostelworld agree); this spot has a couple thousand fabulous reviews that mention a perfect location, really helpful staff, plus a cool vibe. I loved, loved, loved the cool courtyard (helpful when it came to repacking your bags after a long day in the city).

It's tucked away from a metro stop and is within walking distance to places on your Beijing itinerary (like Tiananmen Square). Plus, they offer really highly rated Great Wall Tours.

Dorm prices hang around $10 per night. Book here.
365 Inn
Another one recommended by ILP volunteers, this hotel has a super central location (just a 10 minute walk from Tiananmen Square) and the reviews from our volunteers (and a few thousand on Hostelworld) also mention the great staff.

Dorm beds are around $20 per night, and private/shared rooms are around $60. Book here.
Chinese Box Courtyard Hostel
The Chinese Box Courtyard Hostel has amazing ratings and it's easy to see why! It is super beautiful and clean with a very helpful and kind staff.
Within 20-30 minutes you can walk into downtown and be right at the Forbidden City. And, it's only a 5 minute walk to a subway station so it's quick to get all over the city. The area surrounding the hostel is also really unique and fun to explore.
On Monday they have BBQ's, Wednesday is Family Dinner and Friday is dumpling night so be prepared to have some great food. They also offer traditional tea ceremonies where you can be introduced to Chinese culture ( how cool is that?!).
Rooms start at around $22 a night for a dorm room.
Sitting On The City Walls Courtyard
Okay, this place is super rad! The decorations are traditional and there is a really cool courtyard full of plants, statues and lanterns, which is a great place to hang out in (and meet new friends).
Most importantly in my opinion, the location is unbeatable. Only about a 15 minute walk to the Forbidden city and it is really easy to find. Another cool part about the location is the neighborhood. You are not that far from a busy city but it seems very quiet and peaceful where you're staying.
Dorm rooms start at around 15$ and you can get private rooms closer to $40.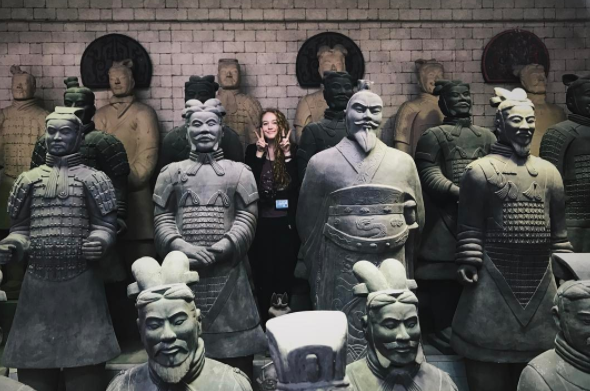 Excited for China and everything it has in store?


We love China. Like seriously obsessed with all there is to see and do in the part of the world. And our ILP volunteers who have spent their semester abroad in China will tell you the same thing. It's such a unique corner of the world. There's so much to see though, you'll need several months to even just get a glimpse of it. Click on that button to see what a semester in China with International Language Programs looks like!