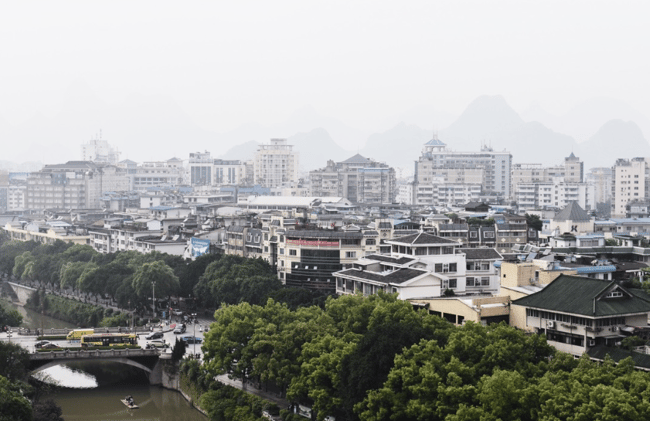 Home to the prettiest rice terraces around, don't miss out on the city of Guilin (especially if you're already planning on visiting Yangshuo, China).
Ask anyone who's been to Yangshuo China, and they'll most likely tell you a dozen reasons why it's their favorite vacation (here's a whole blog post about why we love Yangshuo and how to plan the perfect trip there). But you'd be missing out majorly if you didn't stop in the nearby (and larger) city of Guilin. It's home to China's most stunning set of rice terraces, a charming park with twin pagodas bookended a lake-with-a-lightshow, and a few other surprises. It's the perfect stop before or after your time in Yangshuo.
---
Planning to visit the best of China?
This China Destination Guide has our favorite places to see.
---
Guilin is a larger city than Yangshuo, meaning if you're visiting Yangshuo from another part of China, your route will likely take you here first which is actually fantastic news. When I was vacationing in southern China, I hung out in Guilin for a couple of days, then went down to Yangshuo and was so glad I planned my vacation that way! After seeing everything to do here, you'll want to plan your trip the same way:
Things You Can't Miss

Where To Stay
A Few Tips For Your Trip

Getting To Guilin
Things You Can't Miss
The Longji Rice Terraces
Guilin is known for some impressive landscapes. We're talking karst mountains that are blanketed with green, all set near the curling Li River … it's as pretty as a postcard. And outside of the city? There are rims and rows of stacked rice terraces just waiting for you to see in person. Also known as the Longsheng Rice Terraces, or Dragon's Backbone Rice Terraces, the Longji Terraced Fields were a highlight of my trip to China.
The area is actually a combination of several terraces which cut into the hillside of a massive valley; Once you make it to the top (you can either hike up or take a cable car) you can see this entire mountain valley rimmed with terraces. It's amazing. The terraces are a bit outside of the city of Guilin itself, so you will need a full day blocked out to make the trek there and back again. Plan on about 2 hours via bus on twisty mountain roads to get there and back, plus time touring the terraces.
You can actually stay overnight on the terraces if you really want to soak up all of the views, but you can easily visit on just a day trip if you'd rather. We have way more information about the Longji Rice Terraces (and way more pictures) that will help you plan all the details of your visit. Don't miss this spot!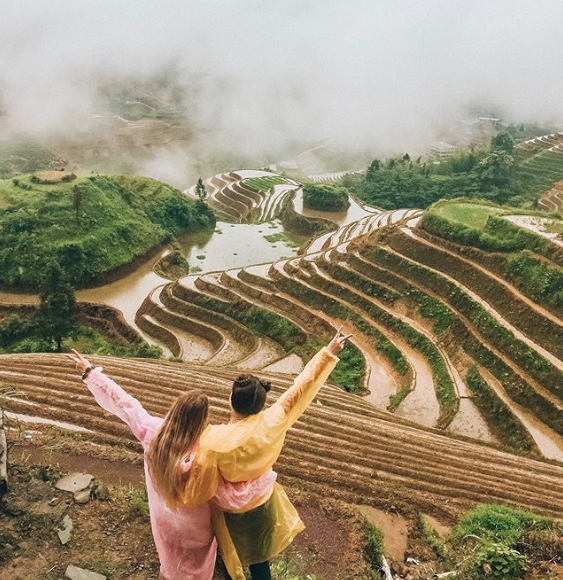 Stop By Elephant Trunk Hill
Another icon of Guilin city is this stone archway, curving into the lake like an elephant's trunk. Elephant Trunk Hill (Xiangbishan) is rooted in an old story — it's been said that the hill is actually an embodiment of a God Elephant who was ridden by the Emperor of Heaven. In a battle, the two were separated and the elephant was stranded in Guilin, severely hurt. A local couple saw the elephant and cared for it until he recovered. The elephant loved the people and the city of Guilin, and decided not to return to its heavenly palace. It's said he never left the city of Guilin, slowly turning into the Elephant Trunk Hill you see today.
Legend aside, Elephant Trunk Hill is only one of the things to see in Xiangshan Park. The park is home to the Water Moon Cave, a couple of pagodas and temples and a few of the city's most scenic spots. Visiting this park is one of the main things to do in Guilin, full of some local history and picturesque views. I gladly spent a couple of hours here wandering around.
Getting Here: From the city, ride buses 2, 16, or 23 and get off at Xiangshan Park Station.
Costs: 55 CNY
Hours: April to November: 6:30 AM to 9:30 PM
December to March: 7:00 AM to 9:30 PM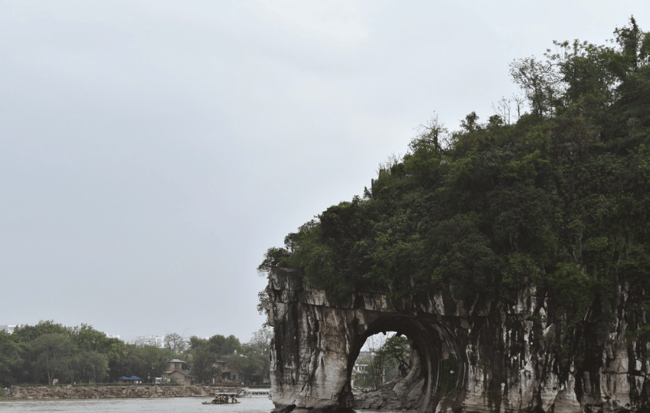 The Views At DieCai Park
Also known as Folded Brocade Hill, plan on spending about two hours here, though some ILP volunteers wish they had spent more like four! The park is full of surprises, like a sloping Good Luck Rock Slide that's unbelievably fun, and the chance to rent some local costumes and dress up for a photoshoot. The real pull of DieCai parks are the views: Wear your comfy tennis shoes and get ready for so many stairs that will lead you up to some of the prettiest views of the city. The park is home to a spiderweb of trails that lead up four peaks, where you can see the green karst mountains jutting up between stacked buildings.
Getting Here: Take bus 2 or 203 and get off at Diecai Hill (Diecaishan) Station.. Or you can take bus 1, 18, 89, 100 or 203 to Dongzhen Rd (and just make your way over to the hill).
Costs: 120 CNY (Some attractions cost extra, like 20 CNY for the Good Luck Slide, and the costume rental for 15 CNY)
Hours: April to November: 600 AM to 6:30 PM, December to March: 7:00 AM to 6:00 PM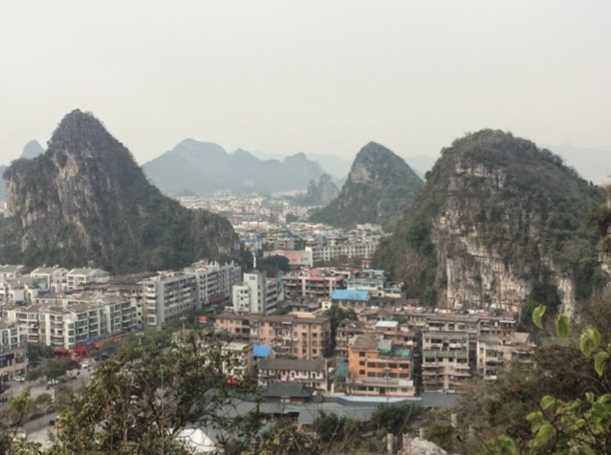 See The Twin Pagodas At Night
Found smack in the heart of Guilin are matching Sun and Moon Towers — Both build in the Buddhist pagoda style, the Sun Tower is built from copper, and the Moon tower is made of marble, but they're best seen at night, all lit up. The two towers are sometimes said as a symbol of Guilin's future (but are one of the main landmarks of the city).

Officially, this whole area is called the Two Rivers and Four Lakes Scenic Spot, full of lots to do. When I visited, we walked around the lake at night, soaking in all the sites and joining in on a little dance party happening in one of the squares. But you can do loads more: there's a daytime or night time boat tour of the lake. You can get more info on boat routes and prices here.
Getting Here: Bus 2, 3, 10, 11, 99 or 100 and ride to Yangqiao Station. If you're already at Elephant Trunk Hill, you can walk along Binjiang Road until you reach Wenchang Bridge and cross the bridge to reach Wenchangqiao Dock
Hours: The Pagodas are open from 8:00 AM to 10:30 (if you want to go inside)
Cost: 35 CNY (there's an underwater tunnel that connects the two towers) but of course, it's free to just soak up the view.

Get A Fish Pedicure + Something To Eat
The Pedestrian Street is a popular place to wander around and bump into a few adventures, like a kissing fish pedicure. Yep, you put your feet into tubs full of fish for this spa treatment. The idea behind it is that the fish will eat all the dead skin off your feet leaving fresh baby soft skin and making your feet look great. It's a total experience and something you can do on the pedestrian street in Guilin for about 10-25 CNY (It's usually 10 CNY for 10 minutes which I thought was plenty of time).
The Pedestrian Street has a few offshoot alleys you'll want to explore. Look for one lined with food vendors that opens up into a bigger square with even more vendors. Go down the alley and turn right where you'll see the little courtyard of vendors. I had some of the best food of my trip to China at this place (these crispy fried potatoes were unbelievably delicious and the veggie potstickers? Unreal). Taste things like pineapple fried rice in a pineapple boat for 12 CNY, cheese naan 18 CNY, fried mashed potatoes 15 CNY fried chicken 6 CNY and more. YUM!
Getting Here: It's known as the Zhengyang Walking Street (it's close to the two pagodas)
Hours: All day and late-night.
The Multicolored Reed Flute Cave
Another one of Guilin's highlights is the Reed Flute Cave. One thing to know about visiting this cave (it's good advice for any cave you'll visit in China) is a combo of natural beauty plus some pretty rocking artificial lights. You'll see splashes of bright green, rosy red, and neon yellow lights on the stalagmites and stalactites. It's a neon dream, especially if you're paying attention to what all the landmarks are named. Waltz past the huge Crystal Palace (big enough to hold 1000 people), skirt around the Tower-Shaped Pine, and peek at the ink inscriptions supposedly dated as far back as the Tang Dynasty (792 AD). The history of this place is pretty impressive too, only discovered in the 1950's. Some 180 million years ago water slowly seeped into the rock to slowly open up huge caverns, we only know about this cave because a group of refugees fleeing Japanese forces in World War II found safety in this huge cave.
Plan on spending about 1-2 hours around and in the cave. The route takes you in a "U" shape, so you'll exit pretty close to where you enter in. Oh, and you'll probably want a sweater because it gets a little chilly inside. There are some stairs to get you to the entrance of the cave, or you can pay a fee (around 35 CNY) to ride a train that can take you up if you don't want to tackle all of the stairs. At the cave's exit, you can do a smidge of souvenir shopping: The cave gets its name from the reeds in the front, used to make flutes: The reeds were used to make flutes which are for sale near the exit of the cave.

Getting Here: City buses 3, 58, or 13 and get off at Reed Flute Cave Station. (The caves are 4 KM outside of the city, so not far).
Hours: April to November: 7:30 AM to 6:00 PM, December to March: 8:00 AM to 5:30 PM.
Cost: 90 CNY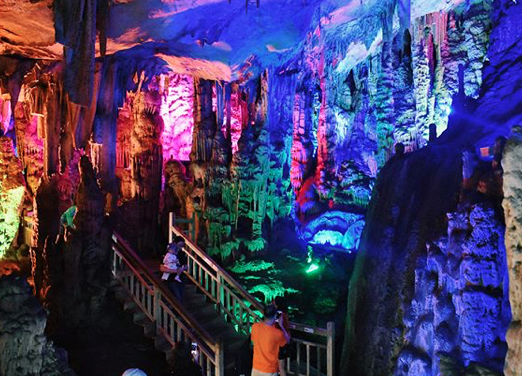 Where To Stay
Sky Palace Hostel
This hostel wins when it comes to location. It's right in the middle of the downtown, so you're just a couple minutes away from that pedestrian street full of shopping, and about 10 minutes away from some of the biggest tourist attractions in the city like Elephant Trunk Hill and the Twin Pagodas. Plus, the staff is here to help you out, hosting a hiking tour around the city and some help planning your visit. Dorms are about $5-6 a night, book here.
Ming Palace International Hostel
Big fan of the Sky Palace Hostel? Ming Palace International Hostel is actually a sister hostel to Sky Palace, so you can get a good idea at what a stay here is like. Great location, helpful staff, hostel activities like free dumpling making nights, cycling tours, and help booking tours to a few of the city's most popular attractions. Dorm rooms are about $5 a night, book here.
Guilin Central Wada Hostel
Another good one to choose from, this hostel has some pros you're looking for — it's not as centrally located as the others, but it has a helpful staff who can help you out, a hangout space to meet other travels and the dorm rooms have those privacy curtains which I think should just be mandatory for every dorm room. It's one recommended by a few ILP volunteers. Dorm rooms start at $6, book here.
This Old Place International Hostel
Dumpling classes, a rooftop hang out space, and tour options has you set if you stay at this hostel. Prices are hard to beat too, with dorm rooms around $6 a night, book here.

A Few Tips For Your Trip
Wait For The Mountains
It's a popular thing to hang out in Guilin and see the amazing Karst "Dr Seuss Mountains" (lots go on a boat trip), but we say save all of that for Yangshuo. The landscape is more dramatic there, and since Yangshuo is a smaller city, you get a closer "nestled right next to the mountain" experience. My advice is to see all the Guilin things (the rice terraces, and a couple of city things) then head to Yangshuo and really experience the karst mountains there instead. In Yangshuo, you can rent bikes for the day and ride out into the countryside to see the mountains up close, surrounded by fields of flowers. It's way more magical.
Taking Buses Around
The city of Guilin is pretty well connected by public bus which is very, very inexpensive (2 CNY each way). We've listed some bus directions to get around to the most popular parts of the city, but this website does have some more in-depth info about the bus system in Guilin. The post has info on the most popular tourist spots and a search tool to help you figure out where you want to go.
How Long Should I Stay?
I was in Guilin for less than two days and thought it was perfect. You'll need close to a full-day to experience the rice terraces, then we spent the second morning and afternoon touring Elephant Trunk Hill and a couple of other spots before riding down to Yangshuo. Most volunteers agree to spend 75% of your time in Yangshuo, and do a quick visit in Guilin (mostly for the rice terraces). Or, others who were very short on time spent all of their time in Yangshuo and just headed up to Guilin on a day trip to see just the rice terraces.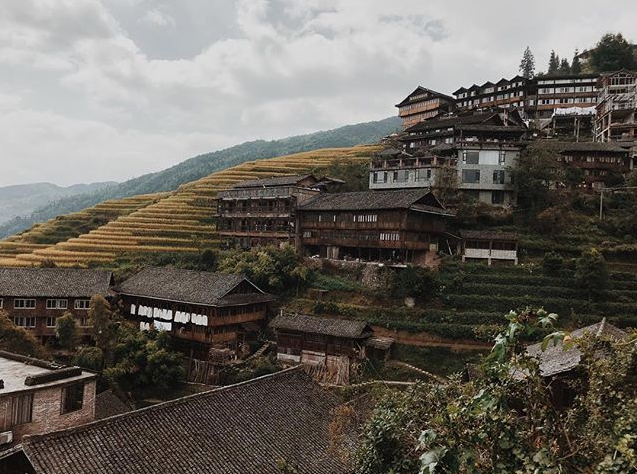 Getting To Guilin
Your best bet is by train or plane. Either way, we love using Trip.com to book your tickets.
By Train
Trains is an easy way to get to Guilin, with multiple routes from major cities: You can get here from Shanghai in 9 hours on the fast train, about 9 hours on the fast train from Beijing, and routes from other cities all over China. However, there are some long train options, with 24 hour (or longer!) itineraries. ILP Volunteers suggest that you go with a fast train, or check out a flight because spending a full day on a train isn't the best way to maximize your time touring China.

Just know that Guilin has 3 stations; Guilin Station is in the center of town, Guilin North Station is far away from downtown area, and Guilin West Station is even farther from downtown. Guilin Station is the one you want if you have a choice. From any station, you'll notice several taxis waiting to take you to your hotel or hostel. Some hostels include instructions on how to get to their location from certain train or bus station by bus, so be sure to check for that to help you get around.
By Plane
You can also fly into the Guilin Liangjiang International Airport if you'd rather. Sometimes, the flights are less than the trains and take a fraction of the time. I was visiting Guilin from near Shanghai, and plane tickets were about the same as a flight but was just under 3 hours. So, cheaper and faster? It was a no-brainer so don't forget about that option.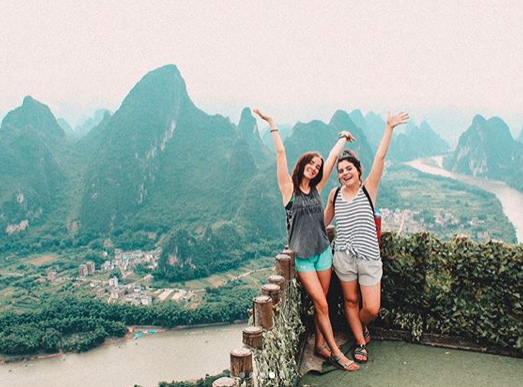 China's waiting for you!
I spent a whole semester living in China as a volunteer and found some of my favorite places in the whole entire world — who knew China was hiding so many adventures? Come see what volunteering in China is like with ILP, right here: