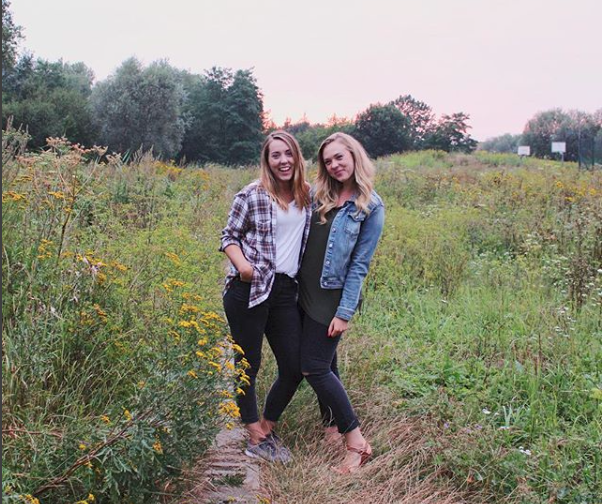 If your volunteer is preparing to leave for their semester abroad and you're looking for gift ideas, these things may just be the PERFECT present they've been hoping for.
Sending a child abroad is always hard, but it makes it just a little bit easier if you know your volunteer is prepared for their new adventure! There are different ways to make sure they're prepared (one of which is making sure they are packing the right things).
We have the ultimate ILP Parent Guide to help guide you through the experience as well.
Best gifts for your international traveler:
Now, these gifts may seem less than crucial to those who aren't preparing to leave the country for a little while, but you're just going to have to trust me -- your volunteer will consider these gifts invaluable while they're living abroad!
An Insulted Water Bottle
Teaching Supplies
A Sturdy Backpack
Good Quality Walking Shoes
American Snack Basket
Travel Neck Pillow
Gift Eard For E-Books
Portable Charger
Nice Head Phones
A Memento From Home
Of Course -- Cash
An Insulted Water Bottle
Water bottles are something every traveler needs. You can always purchase bottled water at the nearest 7/11 or convenience store while you travel, but that can get pretty pricey abroad (plus it's not so great for the planet anyways), so having a reusable water bottle to refill every day is key.
I would suggest getting an insulted water bottle, especially for hot weather countries. ILP volunteers will have access to filtered water at their home or school so that they can fill up, but it can quickly get warm in those humid countries. There's nothing worse than living in hot weather and having to drink warm water every day.
These are our favorite water bottles to travel with if you want to know our go-to brands.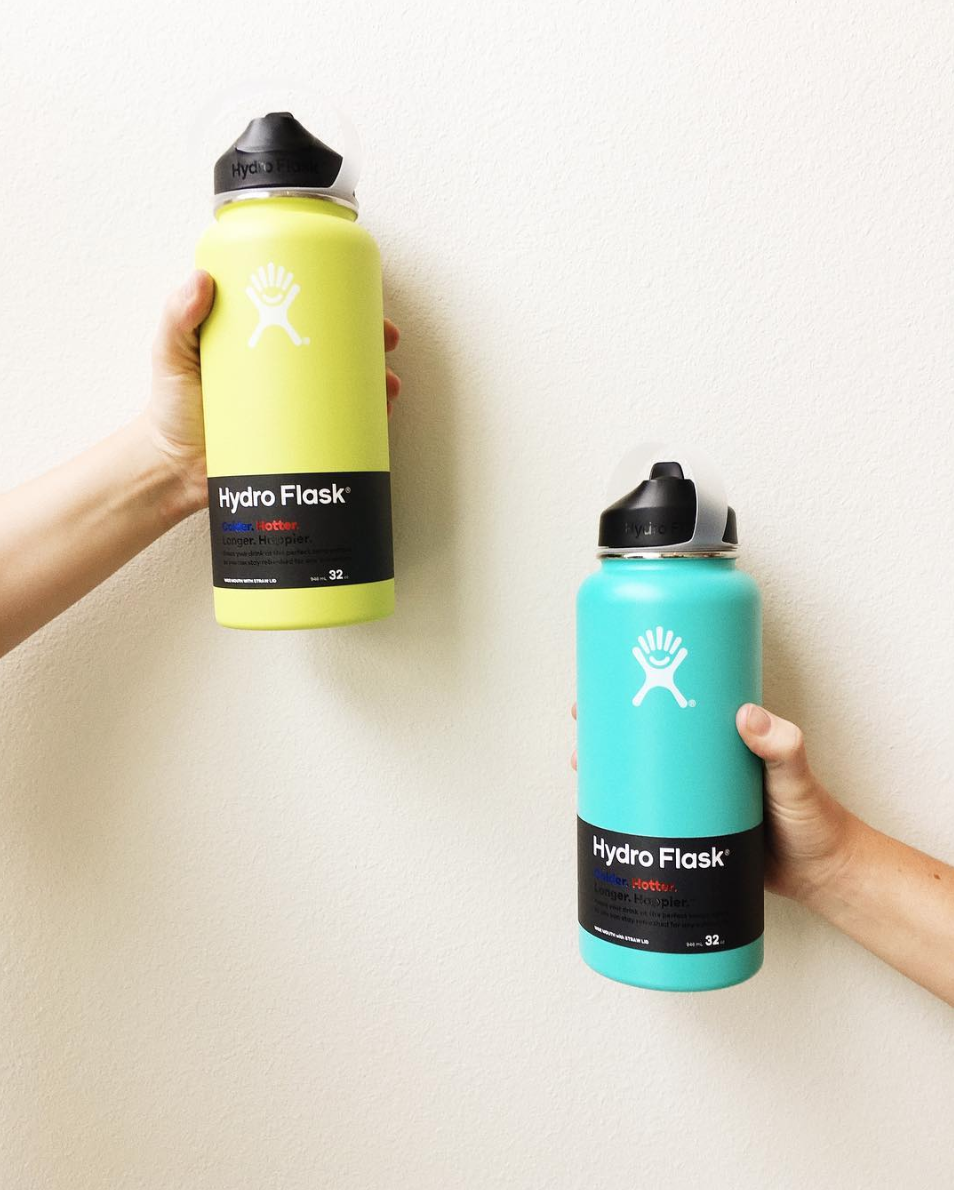 Teaching Supplies
ILP volunteers who are teaching will bring supplies with them, so giving them a goodie basket full of teaching supplies is a great gift!
Just as a heads up, we actually recommend that volunteers get their supplies donated because they don't need to be new (or expensive!). But, it can be nice to have some fun supplies or small toys to share with their kids that weren't a part of their donation process. Just an idea!
A Great Backpack
Your ILP volunteer will have the opportunity to go on some pretty amazing vacations. They will mostly be living out of their backpacks during these trips, so having a good quality, decent sized, sturdy backpack is important.
There are different kinds of backpacks (ones intended for school, for hiking, traveling, etc). Make sure you look for one that is intended for hiking and traveling. They will have some extra features like chest clips to make carrying weight easier, more pockets and they will probably be a little bigger.
They have really big backpacker's backpacks and just normal size (maybe a little bigger than a school bag) backpacks. Unless your volunteer is planning on traveling for weeks out of a backpack, I'd go with the smaller version.
Here are some of our favorite backpacks you can look into!
Volunteers also love having a day-to-day backpack. So this would be a smaller one (like they would use at school at home) so that they can carry supplies to and from their ILP classes or just to have if they're riding their bikes to the market. Fjallraven backpacks are a HUGE hit right now and a great gift. You might want to check for deals on Amazon.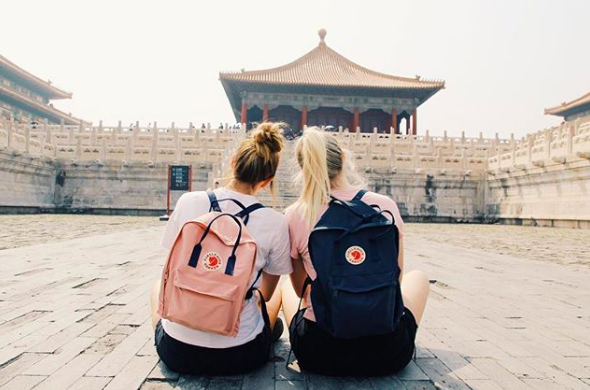 Good Quality Walking Shoes
Your volunteer is going to be walking A LOT. Whether that's walking from bus station to bus station, exploring on vacation, or walking around their school. Save their feet some pain and get them some good quality walking shoes that have a lot of support.
The type of shoes you will want to get them will depend on where in the world they are going. If they're going somewhere hot -- shoes like Chacos and Tevas will be the best. Somewhere cold? A nice pair of warm, water proof, insulated boots will be best (we love Sorel)! They may want to buy the boots there though, so check with them first.
Looking for the best shoes we would recommend packing for an international trip? We've got you.
American Snack Basket
Your volunteer will LOVE you if you gift them some American snacks for their trip. They may not know it yet, but those snacks will be a life saver when they are deep in the middle of their semester abroad. When you're out of your comfort zone, familiar things like snacks from home are so nice to have.
Things like Easy Mac, just add water baking mixes, cheese flavored snacks, their favorite candy, cookies, or any of these hard to find items will be the best.
American snacks are one things almost every past ILP volunteer says they wish they had more of.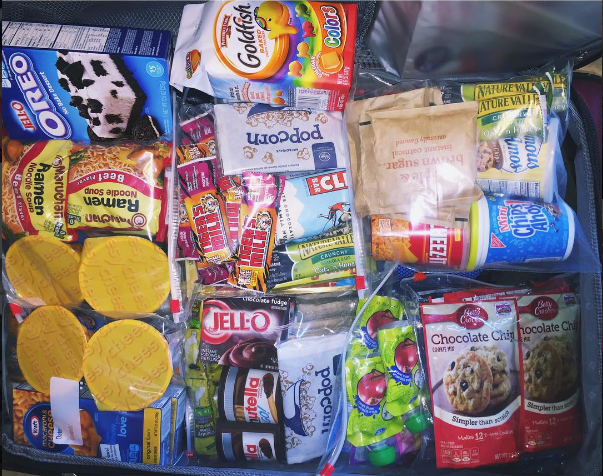 Travel Neck Pillow
They are the best on those long flights and train rides.
Depending on your budget, you can find cheaper ones ($10) or you can find some nicer microfiber ones. It depends on preference, but IMO-- the firmer the neck pillow, the better. You want your pillow to totally support your head and keep it from falling all the way down to your shoulder (hello neck pain if you are in that position for too long).
You can find neck pillows all over the place, so just keep your eye out. Places like Target, Amazon, travel stores ... you name it.
Gift Card For E-Books
It can be for a Kindle book or an audio book depending on what your volunteer prefers. Like I mentioned earlier, your volunteer will have the amazing opportunity to travel around and will be on lots of long plane, train and bus rides. They will need some good entertainment to help pass the time.
I love Audible from Amazon. You don't need to buy an extra device like a Kindle because you can use their app right on your phone. There's a monthly fee of $15 and that gets them 1 book per month.
If your traveler loves to read, e-books and audio books are such a thoughtful idea.
Portable Charger
They will be using their phones, tablets and computers a lot while they're abroad to keep in contact with you at home, read their new E-books, listen to music and just keep themselves entertained.
It'll be important for them to have an extra charging source for their vacations because we all know electronics don't hold charges for nearly long enough (plus lots of train rides and bus rides don't let you charge up). .
Portable chargers are easy to find and there are some for every kind of device you'd need one for. Amazon has a great selection and great prices for these.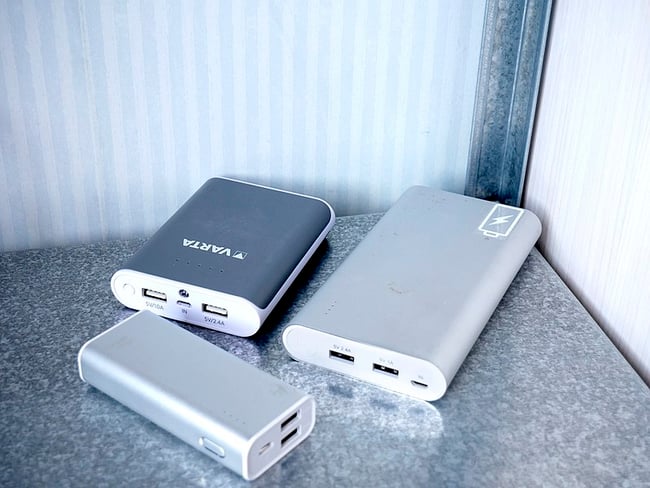 Nice Head Phones
I'm sure you've noticed a trend that a lot of these gifts will be the most useful when you're volunteer is traveling (because that happens quite a bit). A nice pair of head phones will make that traveling all the better.
There are different kinds of head phones you'll have to chose from, so make sure you know what your volunteer prefers before getting them some.
A Memento From Home
Just about every long term traveler gets home sick every now and then. It happens to everyone and it's nothing to worry about, but having a little memento from home can help them through that tough time.
Some good mementos would be a nice picture of the family, something that will remind them of a good memory or even a hand written letter for them to read when they're down.
If your volunteer is experiencing homesickness, here are some ways you can help them through it.
Of Course - Cash
If in doubt, cash is one of the best gifts for a young traveler! You can never go wrong with this gift and it will be just as appreciated as anything else.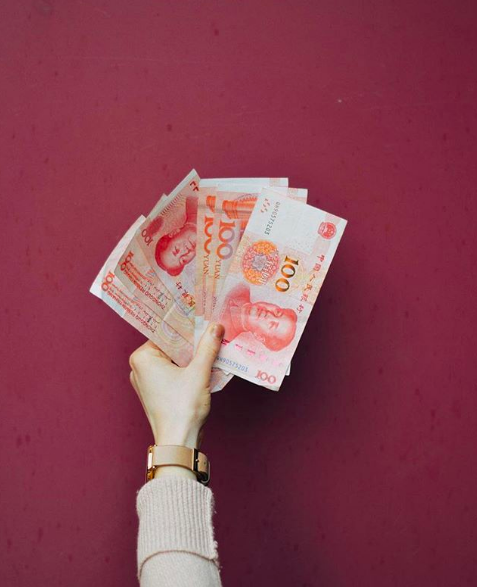 Just keep in mind when buying gifts for your volunteer that they'll have limited packing space. Try and keep everything small and light and don't get them anything that will take up their whole suitcase.
Want some more tips like this? Did you know there's a whole section "For The Parents" on our blog? It's all about ILP for parents and making it easy for you. Make sure you check that out.
If you still have questions about ILP and want to speak to someone in the office who has participated with ILP before, click below!