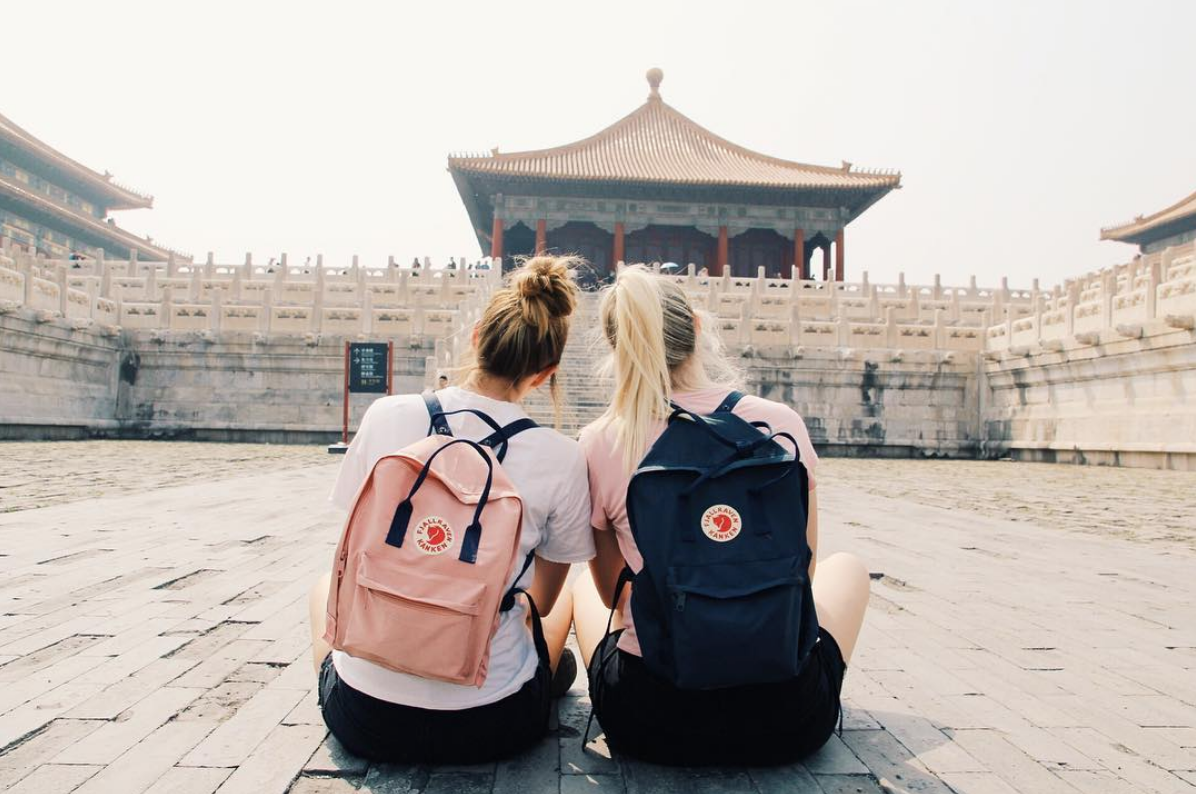 Check out what backpacks volunteers recommend as you backpack Europe, vacation in Thailand, or wherever your semester takes you!
Having the right bags for a trip is so important — and we're big fans of avoiding the suitcases and just packing up a backpack for those week-long getaways. Having a good backpack can make a huge difference during your trip (you want one that will last through a few plane and train rides plus one that can fit all of your stuff). But with so many options, where do you even start?
Want to spend a semester volunteering? Get your application started today. It's easy and we'll help you along the way.
Here's some advice from volunteers who have tried these backpacks out and love them. There's some for all budgets and you're sure to find one to fit what you're looking for!
What Backpacks Do ILP Volunteers Recommend For Traveling Abroad?
Fjallraven Friluft

Cotopaxi

Swiss

Kimlee

Deuter
Fjallraven
Haley J. took this backpack on her semester abroad and loved how much it could hold, yet still wasn't huge. It runs for about $180.00 and you can find it here. This is a little more expensive than some of the others, but look around for sales!
"My backpack is a Fjallraven Friluft with 35 Litre capacity. I absolutely love it because it's designed for women so the frame is a bit smaller and more manageable. It's adjustable in loads of different places so it can get bigger when you need it (or smaller if the airline is giving you trouble). I've had it for three years and it doesn't really show any signs of wear so it's worth the investment. I can pack for a 10 day trip in it and not worry about trying to get a rolling suitcase through the cobblestone streets in Europe. I bought mine on sale from Moosejaw but if you shop around there are usually deals you can find from at least one retailer. "
Cotopaxi
Myra L. likes that her Luzon backpack because it isn't too big to use for shorter trips, but still big enough for longer trips. It ranges between $40 and $80 depending on the capacity (and if there is a sale). You can get 18L to 24L bags in the Luzon style.
"This is the Cotopaxi that I have! I love this bag because you can fill it up and carry a lot of things. I really like that it has a side pocket to access your stuff in so you don't always have to dig it all out. It's great for bringing on 10 day to two week trips (I've never taken it on longer, but I haven't had the opportunity either). It stretches when full without ripping which is really nice. You can also adjust how tall it is with the side straps which is great at the end of the trip when your bag has all your souvenirs In it. I've been to about 7 countries on three separate trips with that bag and I love it."

Swiss
Kylee B. loved this backpack because of the storage pockets and size. If you're looking for something sturdy she recommends checking this one out. It's a bit smaller than some of the others and is only about $20.
"So it [her backpack] is perfect! It is a great size- I never felt like it was too big, even when it was stuffed to the brim with clothes. It has a separate clothing compartment which allowed for easy organization rather then just shoving everything in the bag. I would use my packing cubes to really get my clothes as small as they could go, then it fit perfectly in the space of the bag. It has a little inside zipper pocket that fit my passport also. I never worried about it getting stolen because it was inside the bag, inside another pocket. The backpack also fit my HP laptop. I fit everything I needed for my 10 day vacation in it:) I also carried it around everywhere I went in Russia. I would go explore the city before I would teach at night, so I would have to carry all my school stuff around all day. The backpack became apart of me! So it is super sturdy and all around just a great bag!!"
Dueter
Jeremiah T. is a seasoned traveler who has volunteered with ILP multiple times. He shares that he loves Dueter backpacks! This is a great one from Dueter. These bags will be a little pricier than some of the others.
"I would say that Deuter is definitely one of Europe's most popular backpacks. Europeans love them! They are also very quite affordable! The brand has many different styles and varieties so there is definitely something for everyone. I love the specific one that I have because it is VERY sturdy. There are a lot of pockets and you can tell that the overall space of the backpack was thought out. They utilize every inch of it. I especially like that the entire front zips open so it's almost like a duffel bag and makes it easy to pack or unpack things. It isn't over sized yet I took it to Thailand and that's all I had for 12 days. It's awesome!"
Kimlee
Madison R. shared her thoughts about what she took on her trip to volunteer in China. It's only about $55 and can be found on Amazon — it's big enough to fit all of your things to pack (especially if you go travel size) but small enough to use as your carry on or personal item.
"For anyone looking for a decent, inexpensive backpack perfect for travel, check out this one! I took this one with me in Spring 2016 and it was perfect! It was small enough that I could use it as my personal item on the plane ride over and big enough for my 10 day vacation and weekend trips. "
Didn't find one you love? We have a list of five other favorite backpacks.
Serving abroad with ILP is an amazing way to spend a semester. You'll make lifelong friends with those in your ILP group, fall in love with new places, and make a difference in the lives of the kids you serve.
Pst: We have a master guide about packing for an international trip or just a short trip getaway. You'll want to read it before you travel anywhere!
Click the button below to learn more about what to expect during your semester.