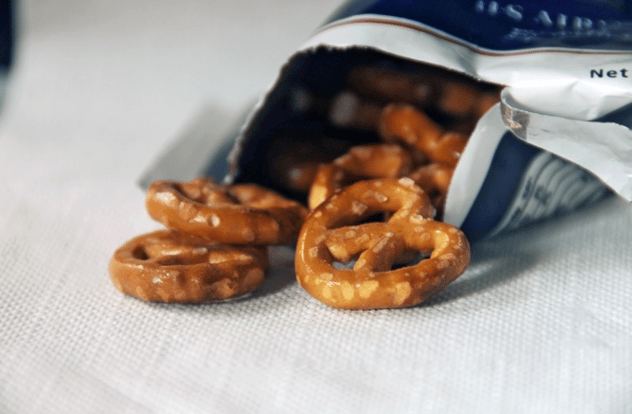 Going on a trip without snacks is not a good idea. Save yourself some money and keep yourself from getting hungry on your flight with these snacks.
Just so you know, we've got all you need to know about packing for your trip, right here. Snacks are important but you'll also need info on how to pack your carry on, what not to pack and how to avoid baggage fees, right?
Snacks are one of the most important things I pack in my personal item. Along with my passport, headphones and few other essentials these snacks come in handy on short or long flights:


Goldfish crackers
Beef Jerky
Peanut Butter
Fruit
Popcorn
Trail Mix
Protein Bars
Fruit Snacks/Roll Ups/Bars
+ Things to keep in mind
Goldfish Crackers
Crunchy, salty and delicious, I'm a big fan of traveling with these little guys. They help to settle an upset stomach or taste great when you just need something to munch on to help break up your long flight. I pack the mini-snack boxes rather than the paper bag to avoid them getting smushed.
Packing up a tupperware full is also a good option.
Beef Jerky
Jerky or anything like beef sticks are a good way to get in some portable protein that is fine to sit in your bag for 14 hours. It isn't messy, too smelly and won't get squished, making it a perfect option for air-travel.
Peanut Butter
Buy the little portable cups and you'll be good to go. Make mini-sandwiches (using Ritz crackers or bread if you'd like), or dip things like pretzels or fruit into peanut butter for a good snack.

These little to-go containers are perfect for traveling and won't make a mess.
Just so you know, thick pastes like peanut butter (or hummus) may count towards your total liquid amount when you're flying so be sure that you're packing less than 3.4 ounces unless you want it taken away at security.
Fruit
Fruit is something else that is easy to eat and pack. Just be smart with the fruit you take. Some fruit like plums get squished pretty easily and that means sticky juice all over your bag, so think of ones that may be a little bit more sturdy. Clementines (AKA cuties) and apples are great options. Bananas might be a good option too if you stash them in a safe, squish-free pocket.
Popcorn
I pop my own and stash it in a Tupperware or get small pre-popped bags with my favorite flavors like white cheddar or caramel corn. Similar to the crackers, make sure you pack this snack well so it doesn't get smashed during your flight.
Trail Mix
Trail Mix or nuts are always in my travel bag. Make your own Trail Mix by mixing your favorite nuts, dried fruit and candy together or purchase it already-made.
Protein Bars
If you think you'll need more than just a few snacks, pack up your favorite protein bar. I like nut-butter based and nut based, so I feel like I"m getting a little more substance, rather than those chocolate-and-wafer versions. I'm a big fan of the Nature Valley Protein varieties.
Fruit Snacks/Roll Ups/Bars
I also pack up some sort of fruit-based goodie, like 100% fruit juice snacks, or an all-natural fruit roll up, or fruit leather. Yum.

Fruit-based bars are also good. Things like Larabars are made with dried fruit and nuts so it's a sweet treat that still gives you a healthy snack. I love the cherry pie and apple pie flavors of those Larabars.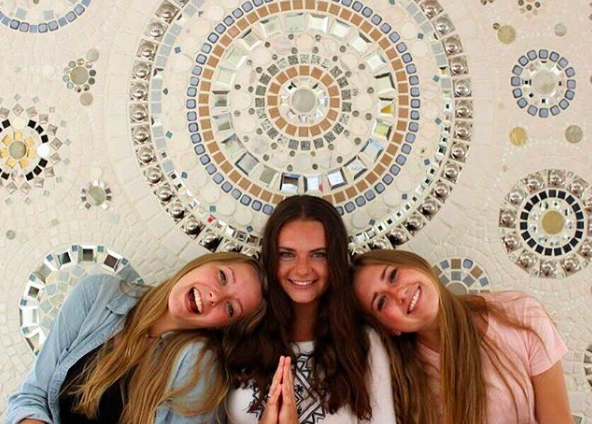 So, while you pick your favorite travel snacks here are two things I would keep in mind:
Don't pack anything that will get too squished in your bag. Some things get crushed super easily and then are hard to eat.
Don't take things that need to be refrigerated (unless you'll be eating that right away!)
Avoid smelly foods; while you might love the idea of a homemade garlic dip, your neighbors won't.
---
Oh, and one more thing — if you're into a semester full of plane rides, vacation days and the chance to live abroad for a whole semester, ILP can help you out with that.

Come volunteer in one of our countries and spend a semester giving back by teaching English (no experience necessary), plus you'll get things like your airfare, meals and housing covered. You'll be in charge of your own travel snacks, but we pretty much take care of the rest.
Interested? Of course you are — learn more about ILP and get answers to questions you may have, right here: