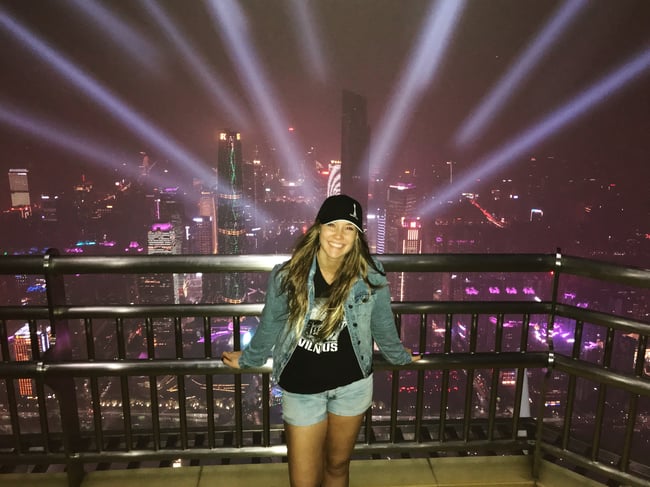 The views, the rides (yep, I said rides) and just the sheer height of this tower make this an easy bucket list item.

One of the best things about living in China for a semester is getting to see everything China has to offer! Guangzhou is a major city like Beijing or Shanghai which means there is so many things to do and places to see (like the Canton Tower). Here's more about the city of Guangzhou.
It's also a great jumping off point for transportation to nearby favorite vacation spots like Yangshuo, which is good news if you're spending some time in China.

---
Don't miss a thing with this China Destination Guide
---
You could easily spend an entire afternoon at the Tower trying to cover everything you can do there! WARNING: The Canton Tower is only for the brave!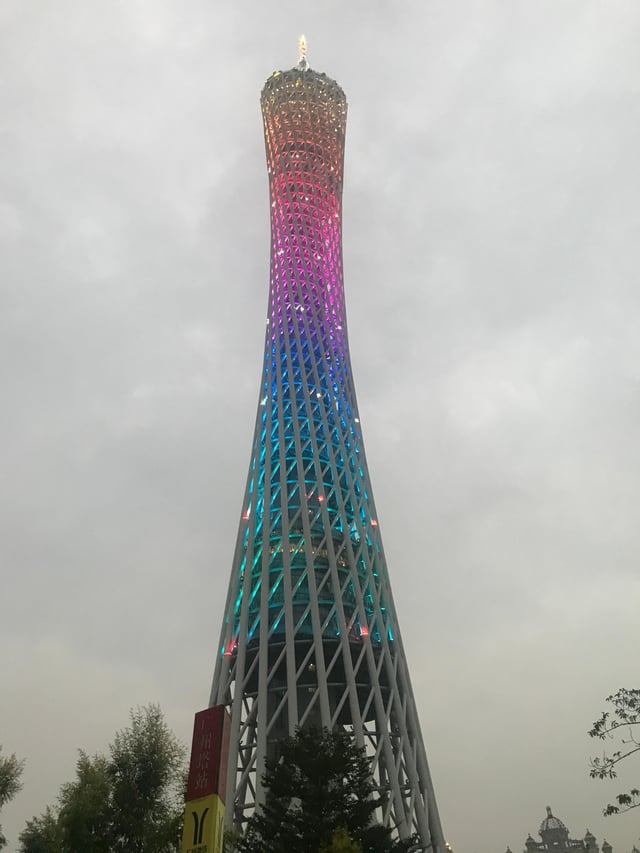 All About Visiting The Canton Tower:
488 Lookout
Sky Drop
Bubble Tram
Engineering Marvel Tour Hall
Star/Cloud Observation Deck
Zone D
Zone B Cinema
Riverside Cafe
488 Lookout
According to the Guinness Book of World Records, this lookout is the highest outdoor observation deck around the world. It sits at 1,601 feet high and gives you a 360 degree panoramic view of the city! It does not matter what time of day you do this. You will either get a 360 of the city, see a beautiful sunset or get to see the stars! Be careful if you have vertigo because this observation deck is way up high over the city.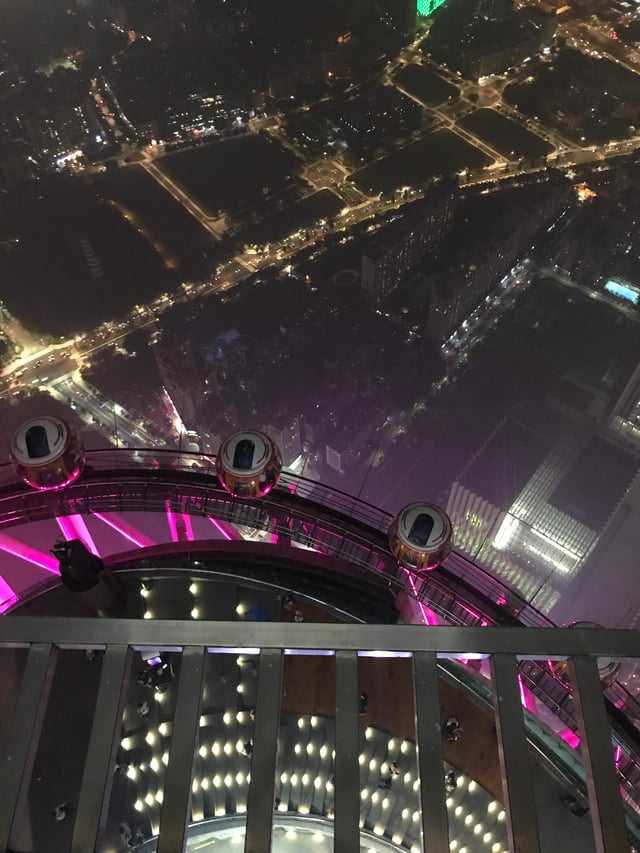 Sky Drop
For all you daredevils out there, this one is for you! You know the Tower of Terror at Disneyland? Well, this is that but even more intense. It starts at 1,591 feet in the air and you drop 100 feet...which may not seem like a ton, but picture still hanging over 1,400 feet in the air and not knowing when you'll stop dropping.
You can either opt in to do a traditional sitting drop or (if you're really feeling daring) go for the standing free fall drop. This ride is not for the faint of heart!
Bubble Tram
One of the more popular attractions of the tower! There are 16 sightseeing bubbles (if you will) that revolve around the tower at 1,492 feet, giving you some of the best views of the city you can find. While you're still very high in the air, the bubbles go very slow, so it's not scary (if you can get past the heights).
Get more info on prices for this part of the tower here.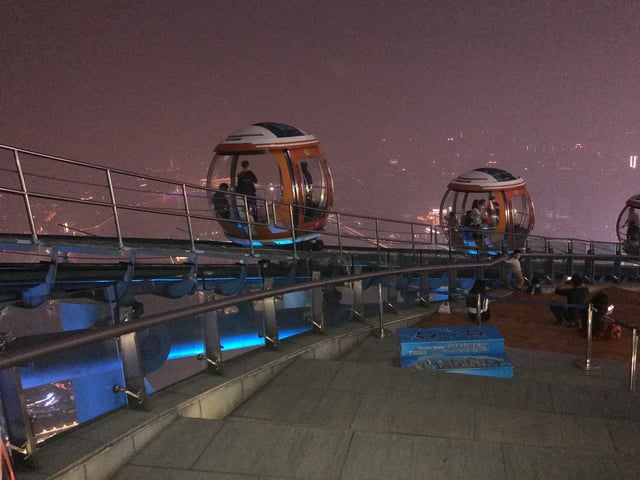 Engineering Marvel Tour Hall
On the 109th and 110th floor of the tower is the Engineering Marvel Tour Hall. While it's not a place you'd want to spend a ton of time, it's still cool to see. These two floors protect the tower from earthquakes and hurricanes. I don't know about you, but I know where I'd want to be if there is strong wind that day!
Star/Cloud Observation Deck
This observation deck is located on the 107th and 108th floors and is the highest indoor place for sightseeing. If you go during the day, you'll get to enjoy the big blue sky and clouds. At night, you can see the stars!
Zone D
If you like spiral staircases, make sure you stop by Zone D. Known as the "Spider Walk", it is the longest spiral staircase in the world. Be prepared to climb up 1,096 stairs and goes from 551 feet to 1095 feet high. Oh, by the way, the stairs are see-through.
Zone B Cinema
If your feet need a break, stop by the cinema. Reaching from the 17th to the 22nd floor, you'll find one 4D and two 3D cinemas.
Riverside Cafe
Surrounded by the Pearl River, you will get to enjoy the view and feel some fresh breeze from the river. Grab a table and enjoy the company of your ILP group before or after adventuring on top of the tower.
How To Get To Canton Tower + Costs
The Tower is super easy to get to from the metro. Thank goodness for metros in big cities, right? Just take metro line 3 to the Canton Tower Station and take Exit A. It's kind of hard to miss from that point.
Depending on what you want to do when you're there, the tower can either be pretty inexpensive or really expensive. Here's a list of their prices.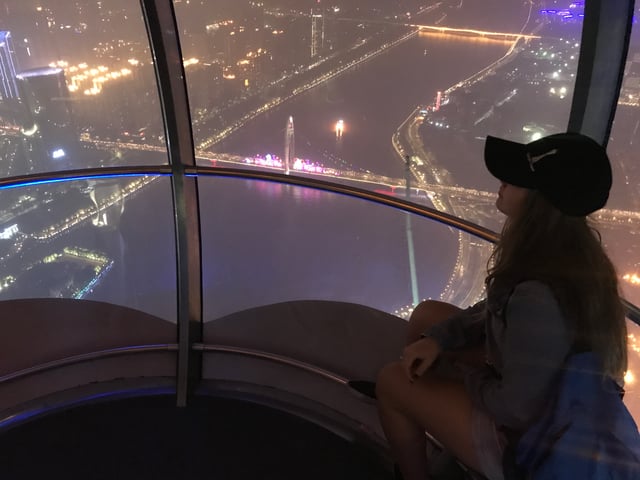 Since you're already in China ...
You might as well check out the Shanghai Wild Animal Park and go camping on the Great Wall of China too, right?
Get a glimpse of what a trip to China (or even a whole semester abroad) would like like right here: