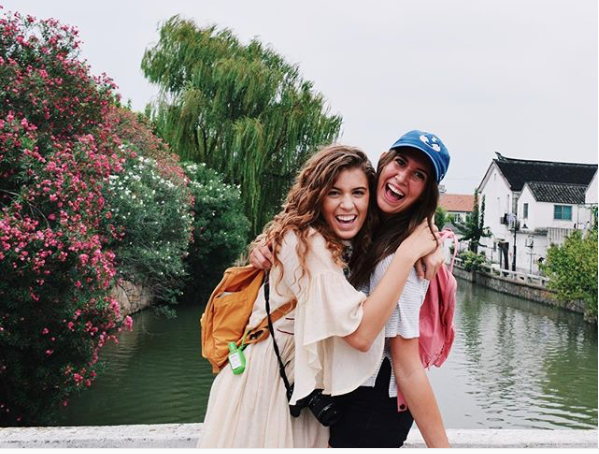 This dreamy Chinese city is often called the "Venice of the East" — and if you're into picturesque canals, classic looking Chinese buildings and the best (and prettiest) gardens around, you'll need our advice to visiting Suzhou.
There is so. much. to. see. in. China. Seriously, you can live here for months and months and still not see it all, but you can certainly try!
Pst: We have your China Destination Guide, right here.
Depending on where you're living in China, the city of Suzhou might be close enough for a weekend trip (that's the case for several ILP volunteers). But if you're living the high life next to the northern beaches or hanging down in warm South, you can definitely make a day trip here from the bustling city of Shanghai (which I'm sure you'll be visiting — hello Shanghai Disney!) Either way, here's what you need to know before your visit:
How To Get To Suzhou

Using The Suzhou Metro

Our 2 Favorite Spots In Suzhou

Pro Tips For Your Visit
How To Get To Suzhou
This depends on where you're living in China — probably the best way to get here regardless is by train; basically all train stations in China can get you to Shanghai if they can't directly take you to Suzhou, and you can easily get a train to Suzhou from Shanghai.
Suzhou does not have an airport, so traveling via train is best. You can fly into Shanghai and then train over to Suzhou.
C-Trip is the easiest way to book a train ticket in China. You do it all online and you don't need to know any Chinese — you don't even have to know any Chinese to read your Chinese train ticket if you know what to look for.
To recap again, if your city's train station can't connect you directly to Suzhou, we suggest taking a train to Shanghai, then booking a train to Suzhou from Shanghai. Bullet trains can get you there in 25 minutes, but if you want to pay a bit less (around $4 instead of $6) you can take a slower train that'll get you there in 35 minutes.
The city of Suzhou has several train stations, so just be aware that you're booking tickets for the right train station. Each one gets you to Suzhou, but they may be further away from things you want to see. We suggest booking tickets to the Suzhou Railway Station - it's very close to Shantang Street and Pinglonglu East (both favorite shopping and walking streets)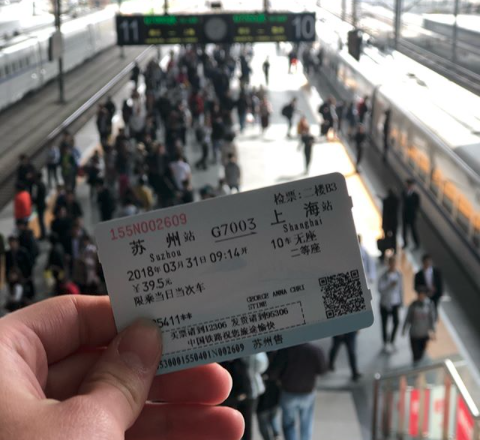 Using The Suzhou Metro
Luckily for you, Suzhou has a metro that can get you to all your favorite places in this pretty water town. It's also connected to the train station, so when you arrive in Suzhou you can just walk down the hall and jump on the metro - no need for taxis in Suzhou! There are two lines right now but they are looking to expand so keep an eye on the current metro to see all the new additions. One app makes getting around super easy — just download Metroman (free on IOS here and free on Android here).
First, you'll need to switch the city to "Suzhou" (there are tons and tons on there). On the "search" button on the bottom left you can easily type in the name of the train station you just arrived in, and the metro stop of your favorite garden or canal street and the app will tell you how long it takes to get there, what transfers you'll need to take and the cost of your ticket. Handy, right? This app has the metro maps of several Chinese cities so it's a lifesaver for your other trips.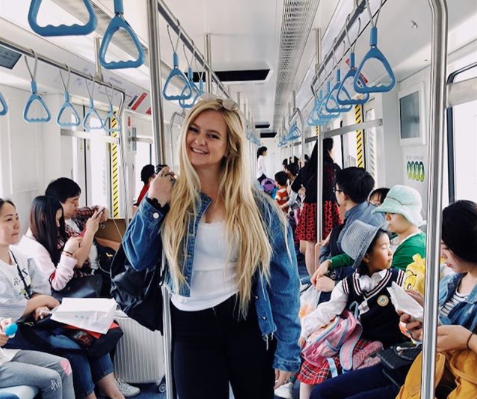 Our 2 Favorite Spots In Suzhou
It's tough picking just a couple of favorites but if you're here just for half a day or so, you won't have time to see it all. If that's you, we suggest checking out the highlights:
Shantang Street
This is the most famous street in Suzhou; it's got the iconic canals, lined with white-washed buildings and black tiled roofs that will fill up your camera feed. It's beyond picturesque, plus it's home to some of the cutest shops filled with some favorite Chinese treats, like these bubble waffle ice creams. Find these yummy snacks just being sold on the street-side stands all along Shantang.

The street is a couple miles long, and the most iconic shots are along the older sections — one of the most photograph spots (for good reason) is right by the circle bridge known as Tonggui Bridge. In the same section, you can spot old residential houses that have been there for hundreds of years … you'll also see lots of tea houses, snack stalls and souvenirs stands selling things like pottery, calligraphy sets and other favorites.
The best thing to do is just to wander the street, stopping to photograph the views and peeking into the cute shops and snack stalls.
Get here: Take Metro Line 2 to Shangtang Street. When you arrive, just walk out to the main street and hang a left. You're just a 2 minute walk from Shangtang street. When in doubt, just look for the crowds of people.
Head's up — A nearby street called PingJiang Lu is similar to Shantang Street and has some fun places to check out (like this place that will mail postcards to you in the future!). Both Shantang and PingJiang Lu are super similar, with pretty canals, and buildings and shops that are perfect for wandering. We suggest picking one because they are so similar if you are short on time.
Get to PingJiang Lu: Take Metro Line 2 and get of at Pinglonglu East. You can also take Metro Line 4 Pinglonglu West and go from there.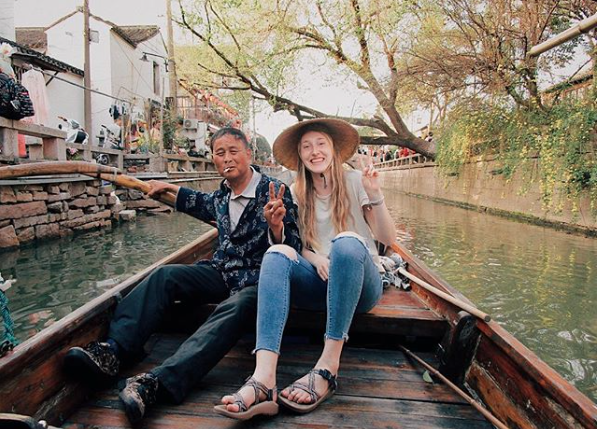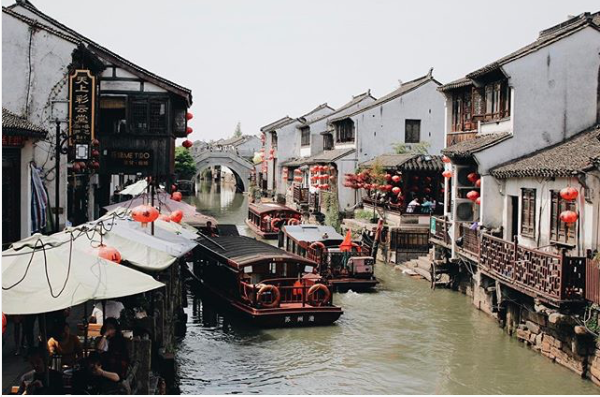 Master Of The Nets Garden
It was tough to pick which garden to visit because this city is full of them, but our volunteers tend to like the Master Of The Nets — it's not as popular or busy as the Humble Administrator's Garden (which is also gorgeous but comes with a higher price point — 70 yuan in the high season). The Master of the Nets Garden has a 40 or 30 yuan entry ticket, and is just as lovely.

Come to this garden for gorgeous garden houses with intricate carvings, bonsai trees, pinnacled pagodas and an emerald green reflecting pool. Suzhou is known as a city full of gardens, so feel free to explore a few more if you have the time (the Suzhou Wikitravel page has lots of garden recommendations and other details).
Get here: Take Metro line 4 to Lindunlu Stop — you can either walk to the garden (10 minutes walk) or catch a bus to the Wangshiyuan Stop (buses 202, 811, 55, 811 and 936 stop at Wangshiyuan Stop).
Hours: 7:30 AM to 5:00 (5:30 in April to October)
Address: Kuojiatou Alley NO. 11 Daichengqiao Road, Suzhou 215006, China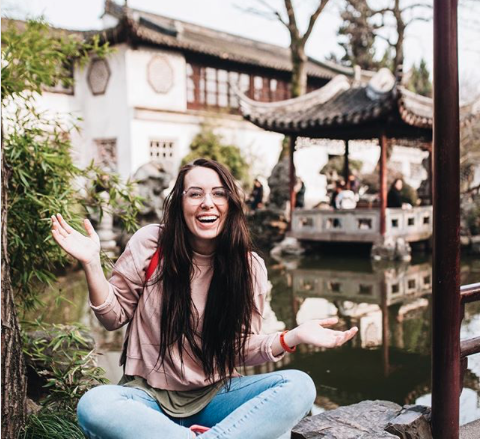 Pro Tips For Your Visit
How Long Do I Need In Suzhou?
You really can get the highlights in a day, so it makes for a good addition to a trip to Shanghai if you want to get out of the city and stop by. You can also spend more time here if you'd like — maybe a full weekend if you're living in a nearby ILP city.
If you're adding Suzhou onto your trip to Shanghai and are short on time, you can still see plenty in 1/2 a day or a full day here.
There are actually ILP volunteers living in Suzhou and they find plenty to do, so there's lots to keep you busy if you have the time. All in all through, you can see the highlights in just one day (or even a half day if you're really pressed for time).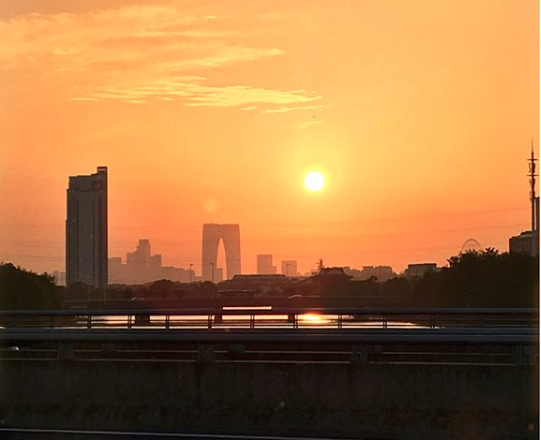 Things To See If You're Staying Longer
There are tons of other gardens to check out, and an iconic building nicknamed the Pants Building; it's named because it looks like a huge pair of pants looming over the Suzhou skyline.
— Get Here: Take Line 1 and stop off at Dongfangzhimen Station.
Tiger Hill is another remarkably pretty park, complete with a towering pagoda. You can even climb all the way to the top if you'd like and see the city from above. Plan on an 80 or 60 RMB fee depending on low or high season. The park is open from 7:30 AM to 5:30 PM.
— Get Here: Take Metro Line 2 and get off at Shantangjie Stop then take a bus to Tiger Hill — Public Bus 32 and 146 will take you there, as does Fast Bus 3 and Fast Bus 6.
Times Square is a huge hub for cool restaurants and a sprawling shopping district, complete with a rad downtown vibe. It's a fun place to walk around in at night if you're in the mood for some food and shopping, especially not the weekends. .
— Get here: Take Line 1 and get off at Times Square stop.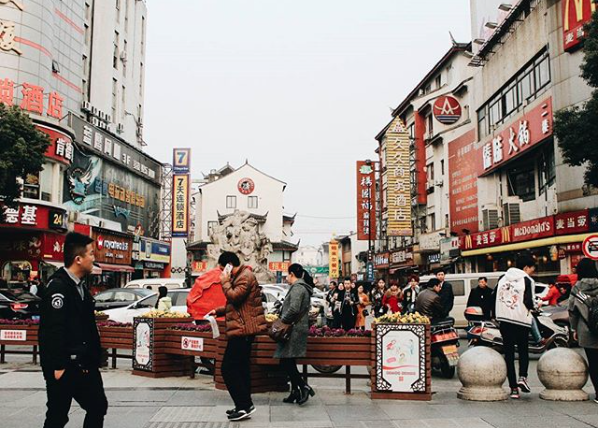 Treats To Eat
You'll find goodies all over Suzhou (and all over China) but we recommend a few — you can get an entire potato cut into a dizzying spiral and deep fried, a skewer full of cooked quails eggs, build-your-own-fruit-cups, those classic Bubble Waffle Ice cream cones (and other ice cream types), and my favorite, a flat round of bread cooked with spices and onions. Yummmm.
You'll also find fried squid, steamed dumplings and other favorites along the snack stalls that pop up on Pingjiang Lu and Shantang Street.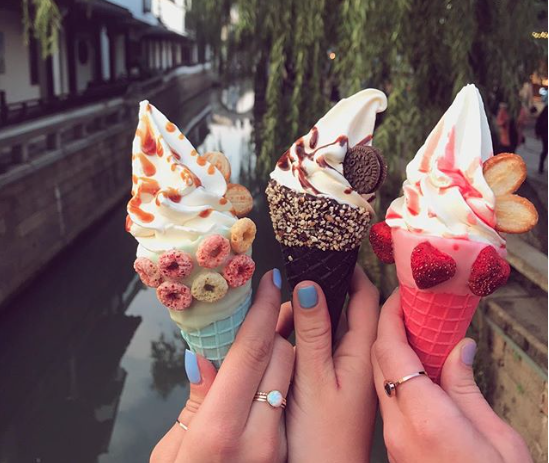 You're set for a day or two in Suzhou, but if you're needing more on China, we've got you covered. The ILP Blog has tons and tons of posts all about our favorite places in China and our favorite things to do ... perfect for someone who is gearing up to live in China for a semester.