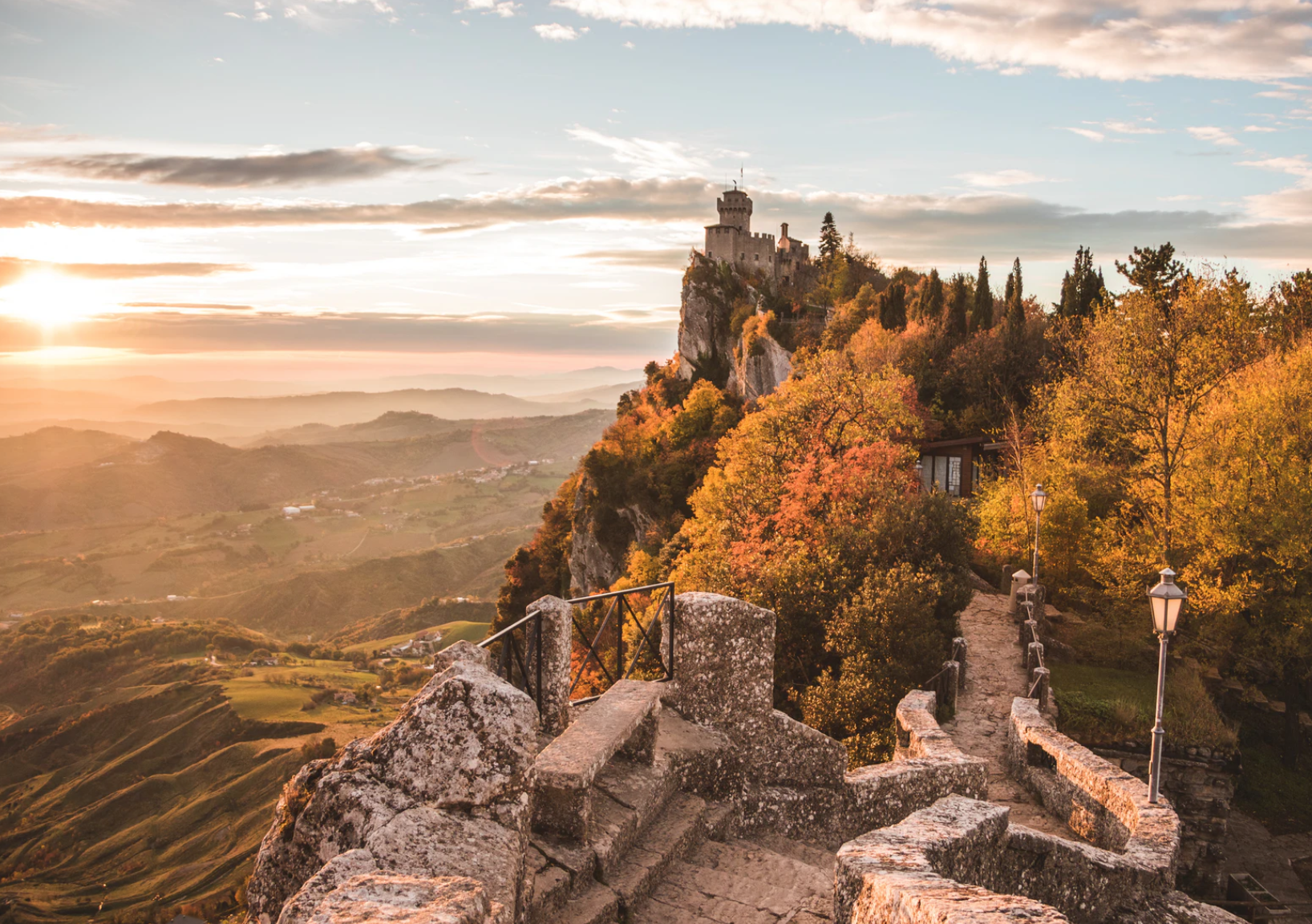 Counting up how many countries you have visited? If you're visiting Italy, San Marino is a really easy country you can add to the list ... because it's located right inside Italy.
Head to vacation in some of our favorite Italian cities like Florence and Bologna and you're just a bus ride away from this cutie country, home to fairytale castles on a hill.


---
Traveling around Europe?
We've got your destination guide right here!
---
If you're anything like me, you might not know a whole lot about San Marino. You probably won't read about San Marino on those articles floating around like "Best Destinations This Year" ... but I love that. Anytime you can escape the crowds in Europe, I say do it. Let's get you orientated so you can start planning your day trip to come see these postcard worthy sites.
Let Me Introduce You To San Marino
It's a tiny country sitting within Italy. But it's not actually part of Italy, which is a common misconception. That's right ... it's actually inside Italy. Like completely surrounded by Italy and you can only enter San Marino from Italy. Pretty unique huh?
How tiny is this country? Well it's one of the smallest countries in the world. About 23 square miles and a population of about 33,000 people. To put things in perspective for our Utah friends, that's about 1/5 of the size of Salt Lake City. Or 1/4 the size of Seattle. It's little! But mighty. One reason it has held fast to its own country status despite its size and location is that during the 1800s, it became of place of refuge for those who supported the unification of Italy. San Mario's land sits atop a hill, allowing for some security.
Even though it is completely surrounded by Italy, they are independent with their own government and laws.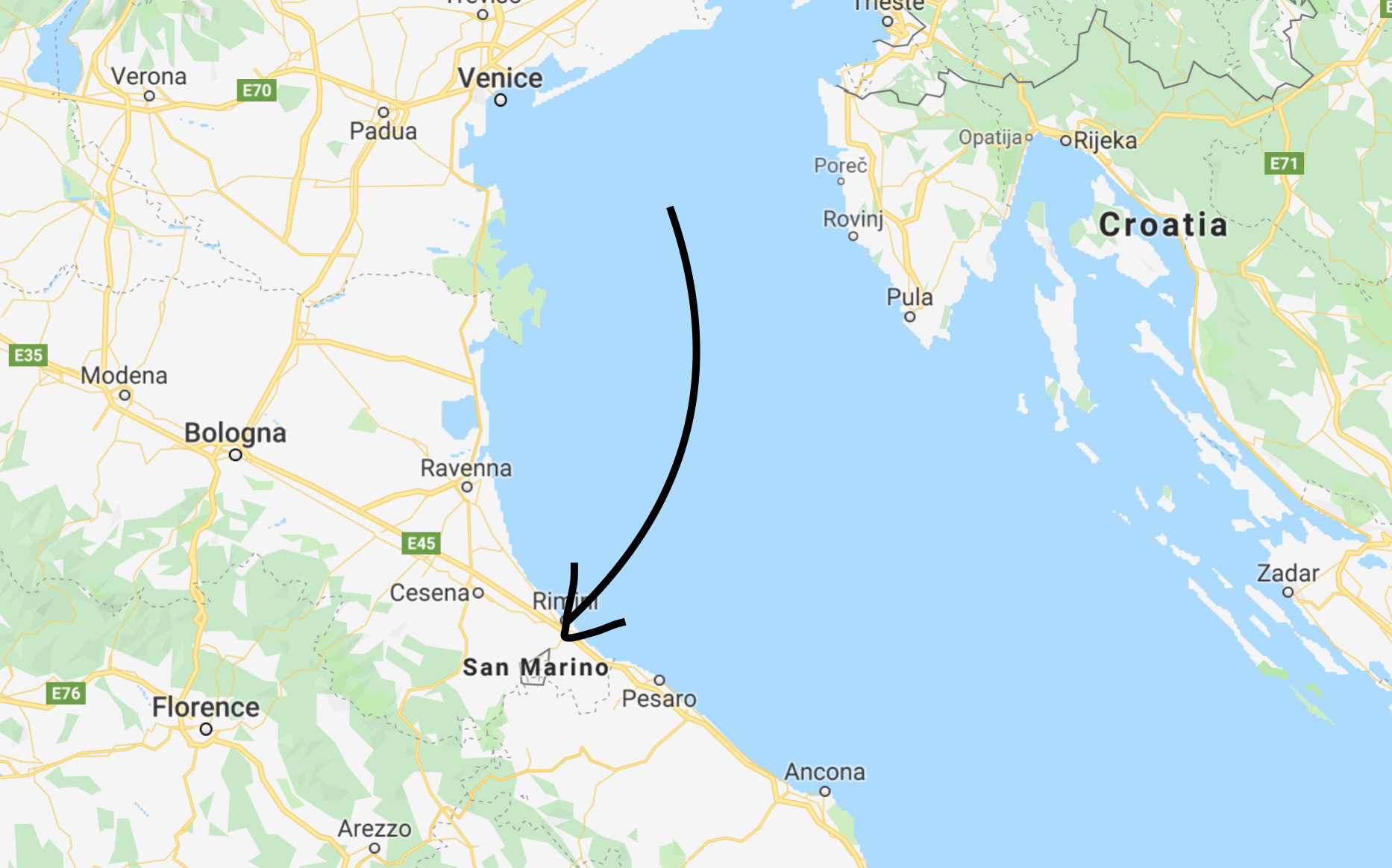 Must See Spots
To be real, it's pretty fun to just say you've been to not only another country (you can even get your passport stamped at the tourist information center for a small 5 euro fee), but we also love the fact that it's the world's oldest sovereign state, dating from fourth century AD!
Come for the medieval stone structures and stay for the history.
San Marino City +
Mount Titano
The center, and the highest point, lies the heart of the country (and the capital city). Possibly the most famous thing in San Marino, you can't skip it.
The original settlement is completed surrounded by a fortress of stone walls (and even closed off from traffic). This is the highest point for miles, giving you those coastal views in the distance. On a clear day, apparently you can even spot Croatia's coastline across the bay!
Because it's nearly completely pedestrian, this hilly city is the perfect place to stroll. It's basically impossible to get lost here, so put down your map and just enjoy the view. You'll want to head to Piazza della Libertà street which is lined cafes, restaurants, and shops. The cobblestone streets are quite steep though, so just make sure you've got some good walking shoes on.
There are three towers on Mount Titano, with the city at its foothills, and all together they make up San Marino's most famous sights: Rocca Guaita, Rocca Cesta, and Montale Tower. The three UNESCO heritage sites and are linked by a paved path you can follow known as the Passo delle Streghe (or Witches' Passage).

Rocca Guaita (Guaita Fortress)
The oldest of the three fortresses, built in the 11th century.
Heads up, it does take some climbing to get here but the panoramic views make the effort well worth it.
Rocca Cesta
Here you'll find a museum of medieval weapons upon weapons. You name it, you'll find it: swords, knives, and crossbows, as well as early firearms.
Public Palace
Come here for the "official" type of buildings, like Parliament and guard towers. It was once the spot for defense.
Liberty Square
The perfect spot to come people watch from a cutie cafe and give your feet a break. A fountain and statue sit here as well.
Basilica Di San Marino
This Catholic church is the main church in the area, but most notable about it is the Roman architecture. Beautiful to say the least!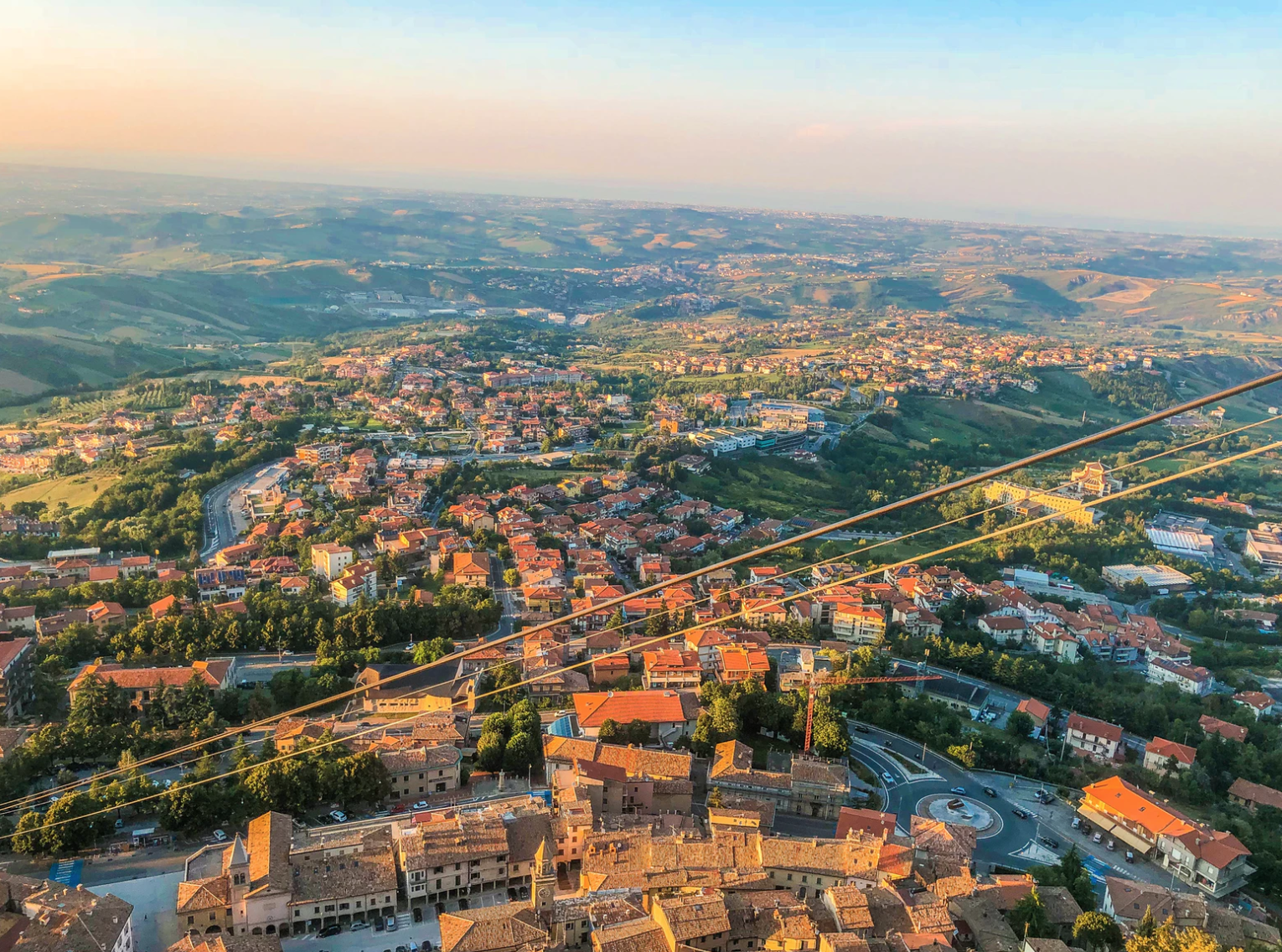 The Nearby Town of Borgo Maggiore
There are several towns at the base of Mount Titano that are worth visiting. You can either walk down the paved trail (about 30 mins) or take a cable car to Borgo Maggiore. Here you can (again) wander the streets of this cutie town, but this time you'll get the view looking up at Mount Titano.
The bus runs through the town, so it's convenient to jump back on it on your way back to Rimini.
Where To Eat
There's no shortage of restaurants on Mount Titano, so don't worry about going hungry. Since you're right next to (well technically inside of ) Italy, there's no surprise you'll find our favorite Italian dishes: pizza, pasta, and more ... you really can't go wrong.
Just beware, prices can get a bit steep. Mostly because it's a bit of a touristic spot, but also prices tend to be that way in general throughout Europe and it's no different here.
For incredible views without the highest prices, check out Bar Piadineria La Capanna.
Address: Salita alla Rocca 47
Where To Stay
There's several hotels in the area, and even up on Mount Titano, but if you're a budget backpacker like me, your best bet is to probably head back to other parts of Italy. There's not a ton of hostels in this country (yet) so I say, make San Marino a day trip.
If you would prefer to stay the night though, Hostel San Marino has prices for under $25 USD per night.
Getting To San Marino
You'll be bussing it into the country. Sometimes you can find flight deals on budget airlines like RyanAir that are going to the Italian city of Rimini which will get you really close, but there is no airport in San Marino. Unlike so many other parts of Europe, there's currently no trains running into San Marino (they were destroyed during WWII and yet to be rebuilt).
Get To Rimini, Italy
First you'll need to get yourself to Rimini, a coastal city just outside of San Marino. From there, buses run daily into San Marino.
From Bologna to Rimini, both train and bus routes are around 1.5 hours
From Florence to Rimini, train and bus routes are typically 2-3.5 hours

From Rome to Rimini, train routes are usually 4-6 hours, while bus routes may run 6-8 hours
A few tips:
Heads up — Prices will GREATLY vary depending on the time of year you go, and even the day of the week you go. For example, we found an awesome deal of $8 from Bologna, but a few days later the price jumped up to $40. If the deals tend to be high, see if you can play around with dates and adjust your plans.
We love Omio for great prices and they make it really easy to compare whether train or bus is better for you. Some days trains are much cheaper than buses, and vice versa.
Bus From Rimini To San Marino
From Rimini, it's a quick 30-40ish minute ride. Across the street from the Rimini station you'll be able to catch the bus. There's not a particular number you're looking for, but it will say something like "San Marino" or "Rimini to San Marino" in huge letters, you can't miss it. You'll pay 5 euro each way, but there's usually a discount where you pay 9 euro for a return trip.
The bus will even take you up the steep grade to the San Marino city center. From there it's just a short walk further up the hill to see the sites you came for.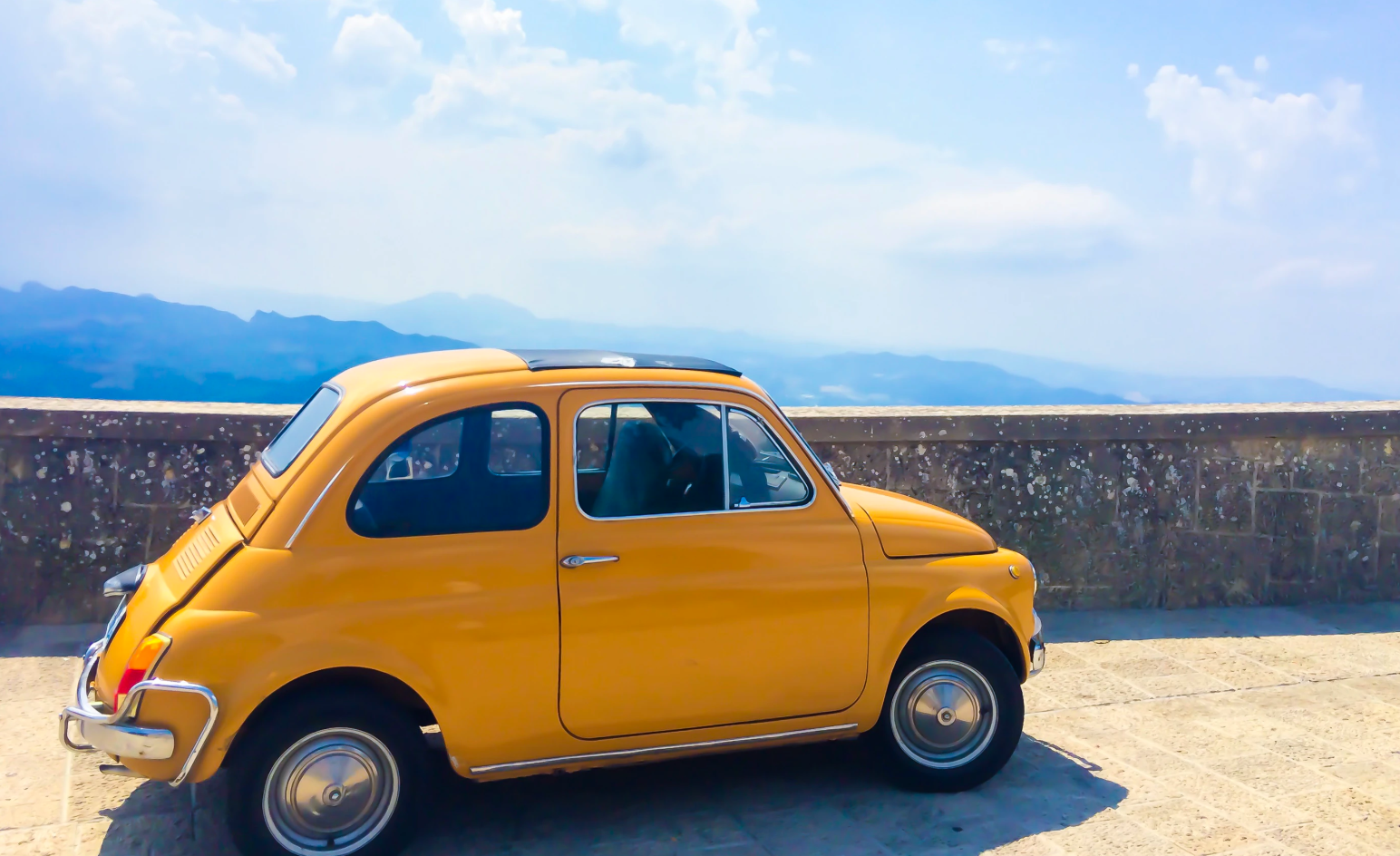 Ready for more adventures in Europe?
Our program, International Language Programs, is set up to provide a way for college-age travelers to live abroad (for about 4 months) and see the world. Our semester abroad program is volunteer based, making it affordable to travel and experience Europe. Plus, four months gives you enough time to see these hidden gems most travelers miss, like San Marino!
Not only will you get to travel, but you'll also get to volunteer. Help children learn English part time, meet the locals, and get a glimpse at how other cultures live! Learn how it all works by clicking that button.