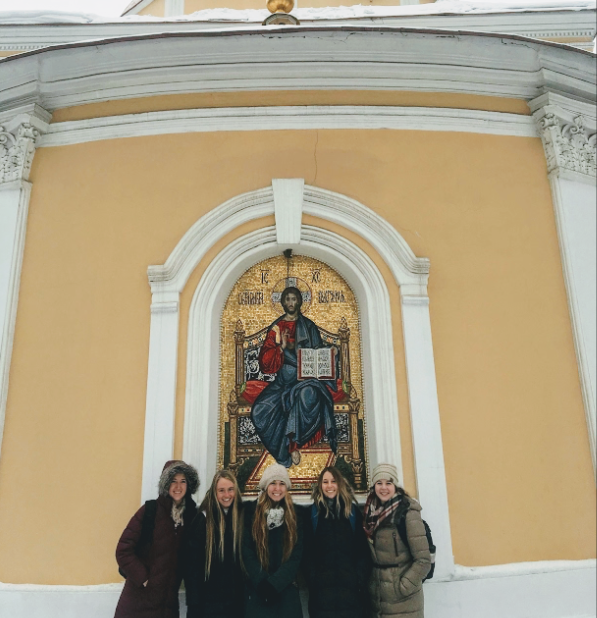 Lonely Planet calls the Novgorod region "one of Russia's gems". Oh, didn't you know? It's probably not an area that's on your radar yet … but totally needs to be. Luckily for you, your whole trip to Veliky Novgorod is all mapped out for you.
In the U.S. we hear a lot about major cities in Russia like Moscow. Which is great because I'm totally head over heels in love with that city. But there's so much to this country. If you haven't looked at a map recently, Russia is absolutely massive, and is hiding some of the coolest little weekend trips for our volunteering living in Russia for a semester.


---
I loved living in Europe for a semester
See what volunteering in Russia is all about
---

As a volunteer, you'll have loads of free time plus vacation days to explore Russia + all your favorite spots in Europe. With so much time off, why not check out a few of the hidden gems Russia's known for? Veliky Novgorod is a good place to start. It's one of the most important historic cities in Russia (known as the birthplace of the country, which is hecka rad) plus it's an easy stop over from Moscow to St. Petersburg, two cities that you absolutely have to visit. With that set up, you can definitely plan a time to see the oldest church in Russia, nestled in this quietly laid-back town. Talk about an ideal day trip.
The Tiniest History Recap
You Gotta Hit The Kremlin
A Couple Of Other Churches
Getting To Veliky Novgorod
The Tiniest History Recap
Okay before you actually visit a city called the "birthplace of Russia" you absolutely need a bit of background to really understand that title. Russia's massive and has been around forever, so the official birthplace of this impressive nation isn't a title to be taken lightly. Way back in 862, Prince Rurik pronounced the modern Russian state here, but also has been an important stronghold against a hefty Mongol attack plus, it's where the world famous pianist Sergei Rachmaninoff was born. This city is full of surprises.
You Gotta Hit The Kremlin
Spend any amount in a Russian city and you'll tour the kremlin. Most cities have them — the word "Kremlin" actually means "fortress inside a city" … you'll find kremlins all over the country, but when people say "the Kremlin", they most likely mean the one in Moscow. It's sometimes used to refer to Russia's government (kind of like how in the US we'll mention the White House to refer to the President and their executive office). Just a quick clarification.
But back to the kremlin you'll see in Veliky Novgorod. It's the oldest surviving kremlin in the country and houses the main attractions of the city. If you know a bit of Russian history, you'll recognize the name of Prince Yaroslav: he founded the area and set up the kremlin to be the social, religious, and administrative epicenter of the region way back when.
You can get a good visual at what's inside with this map and this tourist route through the kremlin here. The kremlin is the main attraction of the city, full of things to see. We're going to dive down into more detail about the more notable aspects below but those maps above give more of a detailed overview.
The kremlin is free to enter (but the 200 ruble fee to climb the Kokui tower is worth it — you get a great view of the city, backed by the river).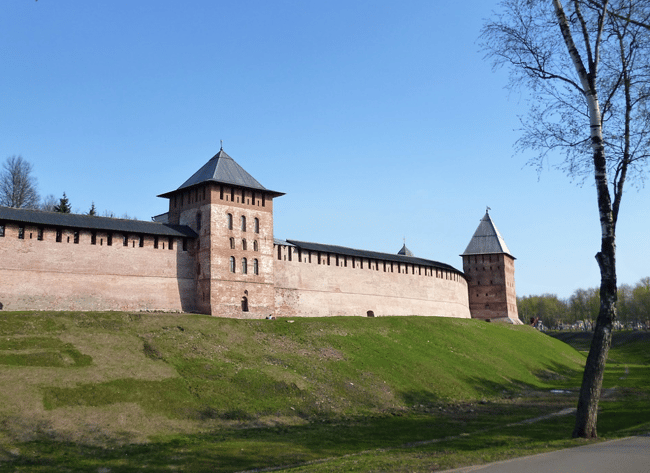 All About The Cathedral of St. Sophia
This church is the main attraction of Veliky Novgorod, found inside the Kremlin. It's only the oldest church in Russia so an obvious must see. It's also pretty hard to ignore. The city itself is pretty small and low-key, so the shimmering gold domes that pierce the sky just kind of pull you over to explore the church. The Cathedral of St. Sophia is officially a UNESCO world heritage site, built way back in the 11th century.

When it was first built, those golden domes housed an impressive library (full of thousands of books). The frescoes you can see on the walls are repainting done in the 1800's to replaces the originals destroyed in a fire. St. Sophia is also the final resting place of a few of Russia's most notable, like Prince Vladimir (who died in 1052). The last burial didn't take place that long ago, just in 1912.
Besides the imposing history, this church is a stunner. It's a gorgeous revival of Romanesque architecture, rather than the Greek style which was popular when it was being constructed. St. Sophia is crowned with pairs of shining silver domes and a glimmering gold one. It's also full of icons, one of which is believed to be almost 900 years old.
Entry is free (200 ruble fee to climb to the bell tower).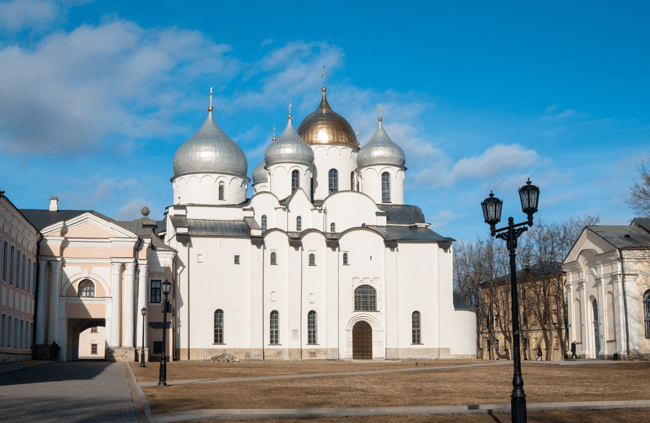 The Chamber of Archbishop
This German Gothic building also has a stronghold in history, the site where the most prestigious dinners and banquets were thrown for ambassadors. It once was the site where all parliamentary meetings took place, but now houses the golden relics that still have ties to the ancient city. You'll find peeling frescoes, ancient artwork, and impressive examples of religious iconography, formed from gold and precious jewels.
If you have some extra time, it may be worth poking into (but honestly, you'll see much more impressive artifacts and museums while in Moscow or St. Petersburg).
250 ruble fee (180 rubles for students)
+ A Few Extras Inside The Kremlin
There's a huge, bell-shaped monument (built in 1862) inside the kremlin, built to celebrate Russia's 1,000th birthday which is pretty neat.
The outer kremlin play host to a gorgeous set of gardens where you can also find a statue of Sergei Rachmaninoff.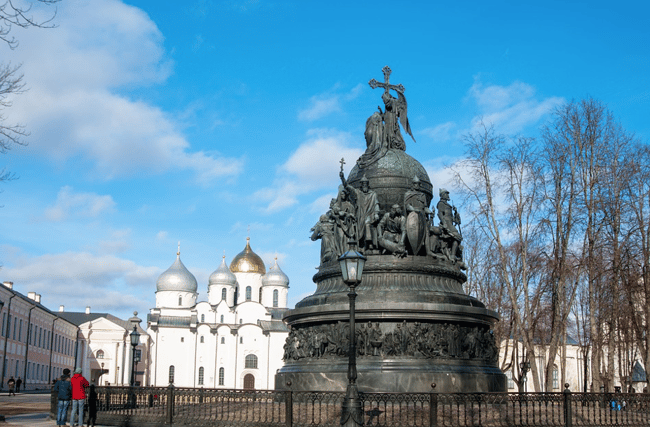 A Couple Of Other Churches
Church of the Transfiguration of Our Saviour on Ilyina Street
Built in 1374 (with some remaining frescoes from the original building) this church has been the home of the famous Our Lady of the Sign icon. It's a site of a few pilgrimages for believers who want to come to the original home of that icon. The frescoes are also worth talking about. Out of 40 or so churches painted by this Byzantine artist, Theophanes the Greek, this is the only church that has surviving scenes. The church itself is just really pretty to look at. Don't get me wrong, I love the detailed churches like St. Basil's in Moscow, or St. Petersburgs' Spilled Blood, but the stark white walls and single black onion dome is striking.
Find it: Ilyina St., Veliky Novgorod
Open: 10:00 AM to 5:00 PM
(Closed Monday & Tuesday, and the last Thursday of every month).
Cost: 200 rubles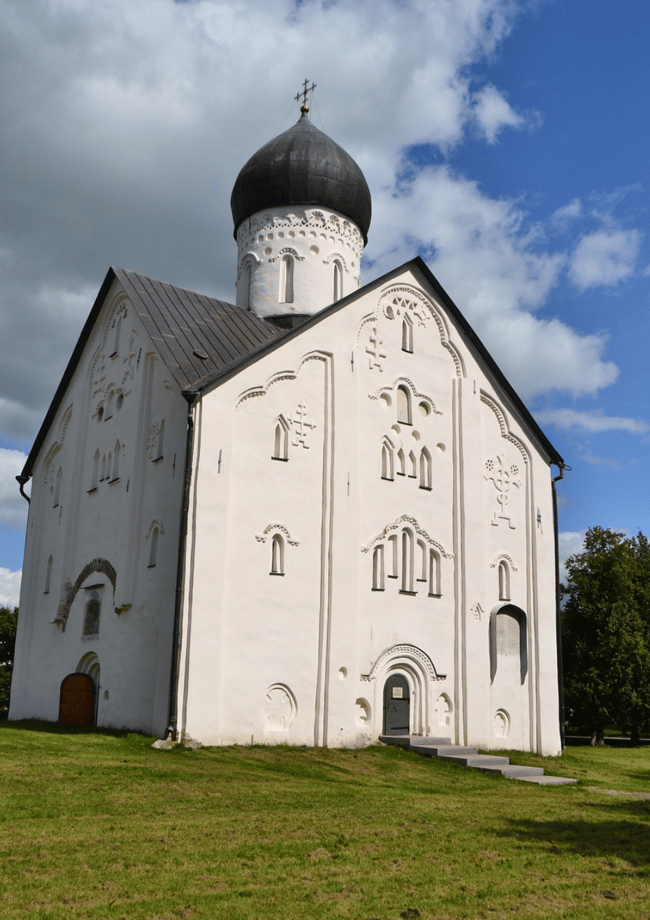 Yuriev Monastery
This monastery is an impressive complex, to say the least. It's full of a star-studded and blue-domed church, a towering belfry, and five other churches. The Yuriev monastery also comes with a complex past, supposedly found by Yaroslav the Wise, typically cited as Russia's oldest monastery, and heavily damaged in the 20th century.

The monastery was closed due to damage after the 1917 revolution, then endured even more destruction by the German and Spanish forces in WWII. Luckily for visitors now, there was strong restoration project, though you can still explore the ruins of one of the damage churches along the western part.
Find it: Jurievo village, Novgorod district
(You can take bus 7 or 7a to get here. Here's the schedule).
Open: 8:00 AM to 8:00 PM
Cost: Free (photo and video are extra)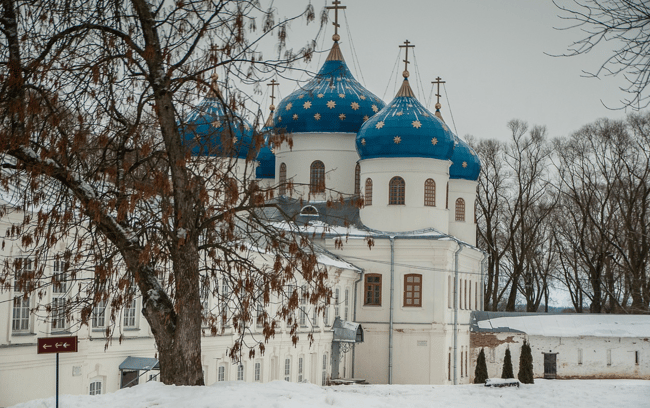 Getting To Veliky Novgorod
From Moscow, it's about a five hour train ride, and about 3 hours away from St. Petersburg. I'd recommend treating Veliky Novgorod as a day trip. You can catch a longer train ride (and an overnight route) from Moscow and get to the city in the morning, see the sites, then hop on a train bound for St. Petersburg. Since Veliky Novgorod sits between these two popular cities, it's easy to slip it in as a little side excursion.
RZD is my favorite place to book train tickets in Russia. You'll want to search for "Moscow"to "Velikii Novgorod", "Sankt -Peterburg" for St. Petersburg to "Velikii Novgorod" or whatever your chosen route. Prices are pretty affordable too, with $15 tickets from Moscow and tickets from St. Petersburg for less than $10.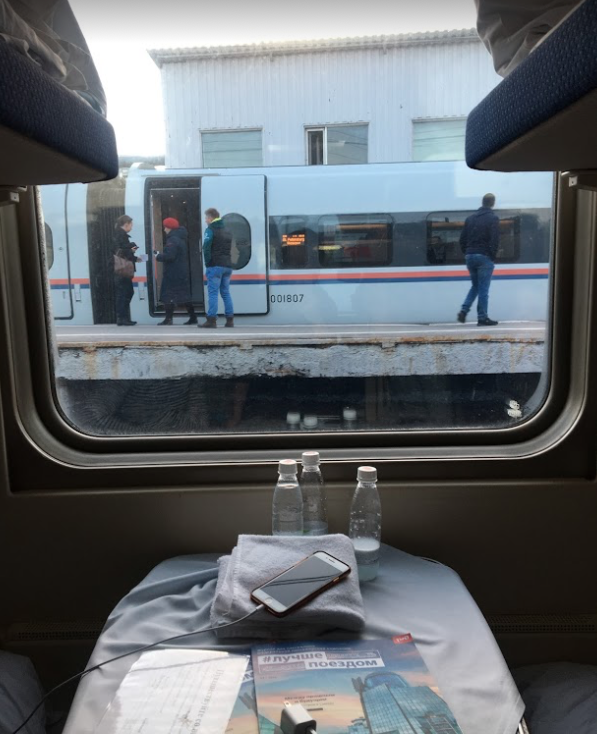 Ready to come experience this country for yourself?
Oh Russia, you're gorgeous. If you're interested in being a volunteer in Russia, consider helping children learn English as an ILP volunteer — no experience necessary.