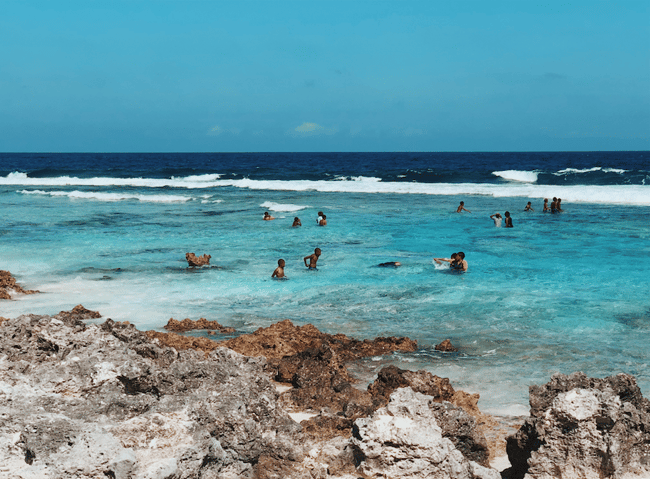 We can't stop gushing about all the reasons we love Vanuatu … and all of your vacay spots, like maybe Fiji, Australia, New Zealand and more.

Vanuatu is unlike another island paradise you've heard of and could not be prettier. Think miles of coastlines boasting beyond pristine beaches, times 83 … yep, there are 83 islands for you to explore during your semester. So if you're thinking of spending a few months plunging into picture perfect water to snorkel with manta rays, or to trek to jungle-filled islands to discover blue lagoons …. I have the best news for you — come volunteer in Vanuatu!
---
Say "hi" to our program in the South Pacific
Come apply to volunteer in Vanuatu right here.
---

A semester here with ILP means so many good things. First, you're living on the island of Efate, a popular spot that's home to more than its fair share of island adventures. It's also home to the capital city and main airport, Port Vila. That means means jumping around to these other islands is a cinch. In general, people agree that most tourists visit three islands in Vanuatu: Efate (where you'll live), Santo Espiritu, and Tanna, so we've pulled out some bucketlist things for these three. But trust me, this is just the start of all there is to do.
Oh and keep reading because we've also done some research on your favorite bucketlist vacations, like Australia, Fiji, New Zealand (what?!), New Caledonia and more.
Can't Miss Vanuatu Adventures + Vacations
Snorkel WWII history

Rope swing at the Blue Lagoon

Swim in this emerald sinkhole

Sunbathe on the golden sands
Waterslides at Mile Cascades

Tuck into piles of paw paw

Send an underwater postcard
Splash around with manta rays

Relax on the world's best beach

Canoe to a hidden oasis

Take a pony for a swim

Bike on this baby island

Time with a volcano
Rewind a few thousand years
One jet-black sand beach
Meet a dugong

Prove this fact
Have a meal like *this*
+ Visit Australia, Fiji, New Zealand and more
On Efate Island
Starting with the best news ever — since this is the island you'll call home all semester, you're in a good spot to have all of these experiences during the week or on any old weekend. You're here all semester long, but even that's not enough time to do everything on Efate. Here are just a few reasons why you'll instantly love all there is to do on your new home.
Snorkel A WWII Plane Wreck
WWII left a smattering of planes, tanks, and ships at the base of the ocean around Vanuatu. And combined with the crystal clear water you'll find surrounding the islands, this country is a big spot for diving and snorkeling. One easy to do weekend adventure is pulling on a snorkel mask to get a closer look at there wreckage of a fully intact submerged plane, found on the northern coast of Efate. It's just a quick swim down to the ocean floor where you can see coral and sea life clinging to the metal frame of the 1944 plane. You can actually read about the story here, from the pilot's own words recounting what happened (just scroll to the section "Return to Efate").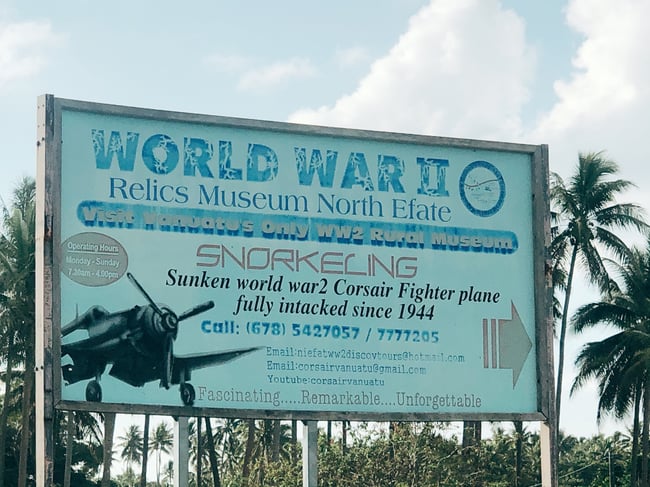 Rope Swing At The Blue Lagoon
The Blue Lagoon is famous for those in the know for a good reason. There are these massive, natural swimming pools sprinkled all over this island chain and the BLue Lagoon is one of the best of the best. It's close to the capital of Port Vila and is a pristine spot. Think blue-green water perfect for swimming all encircled by lush mangrove trees. You'll find a rope swing strung up in the treetops so you can perfect your plunge.
Get all the details about hanging out at the Blue Lagoon here.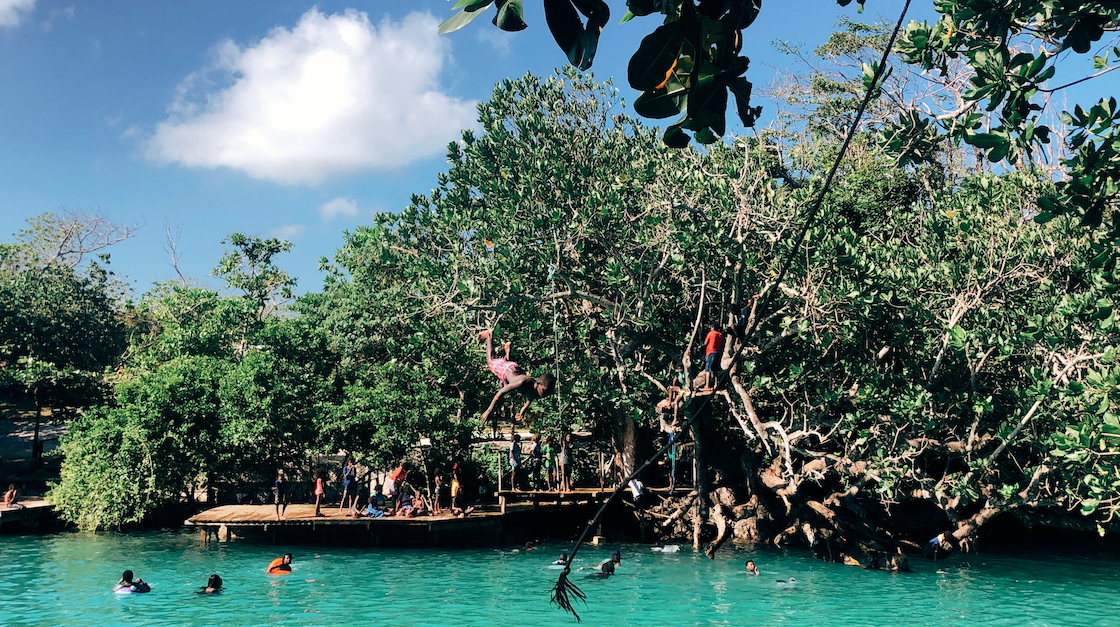 Swim In This Emerald Sinkhole
Starting out with another swimming spot which is more remote, a trek to get to, and is a spot you can have all to yourself. Hike through the thick jungles for the reward of diving into this emerald swimming hole fed by a spider web of waterfalls that tumble down from the mossy rocks above.
We think visiting Lololima Falls is going a favorite Saturday thing for our volunteers.
Sunbathe On The Golden Sands
Living on an island means time for the beach, obviously. One fan favorite is Eton Beach, a gorgeous stretch of "I can't believe this is real life" sand and water. It's a calm fringe of rocky coves and sugar soft sand, with swaying palm trees and thatched cabanas for some shade. Oh, and so much of that electric blue water you won't be able to get enough of. Paradise found.
Waterslides At Mele Cascades
Want to trade out some time along the coast for some fresh water fun? Abseil down to a secret garden or just plunge right into the waterfall down the naturally formed waterslides, into the emerald pools below. The Mele cascades are a collection of several falls ranging from gentle frothy ribbons to pummeling cascades. Get more info about the Mele Cascades here.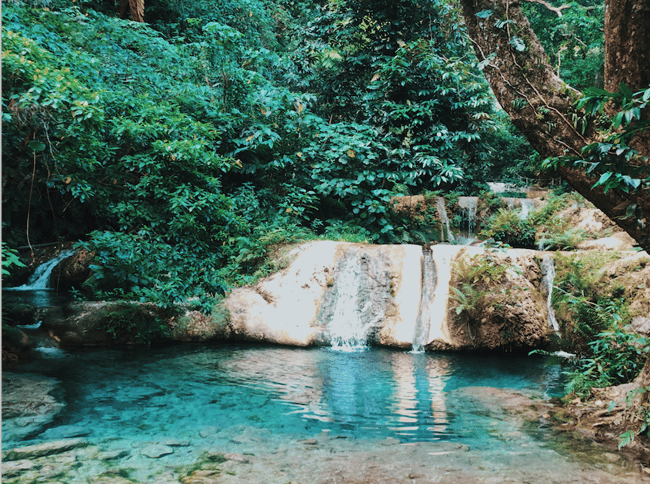 Tuck Into Piles Of Paw Paw
As if the "bordering on the unbelievably pretty" beaches and island life found on Efate isn't enough to convince you that you need to visit Vanuatu, stat, I think the food will.
All the thick humidity and tropical weather means your favorites are on every street corner. Think golden pineapples, towering bundles of bananas, spiny jackfruits (eaten with lime and coconut here … yum!), the vaguely sweet and citrusy soursop, bell-shaped rose apples, so many avocados, and of course, ripe paw paw. You know it as papaya, but we love the local nickname way more.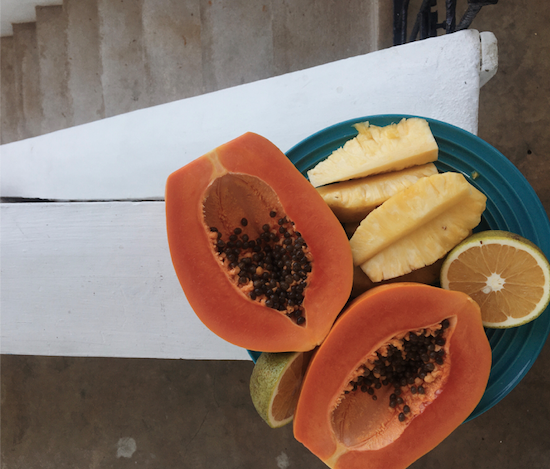 Send An Underwater Postcard
Found just off the coast of Efate is the world's only underwater post office. Found in the Marine Hideaway Sanctuary, divers and snorkelers can swim down and mail out a waterproof letter or postcard where it'll be picked up and mailed out. Not joking, this is actually real life. This is easily the best place to send a note home to mom and dad letting them know what life is like in paradise!
Splash Around With Manta Rays
Vanuatu is one of the best place to hang out these animals, and just off the coast of Efate you can go diving with manta rays. They're common around this island, but there's a spike in the months of March to September. Imagine floating on the electric blue water and peering down to see these graceful gliders below you. Um, unreal, right?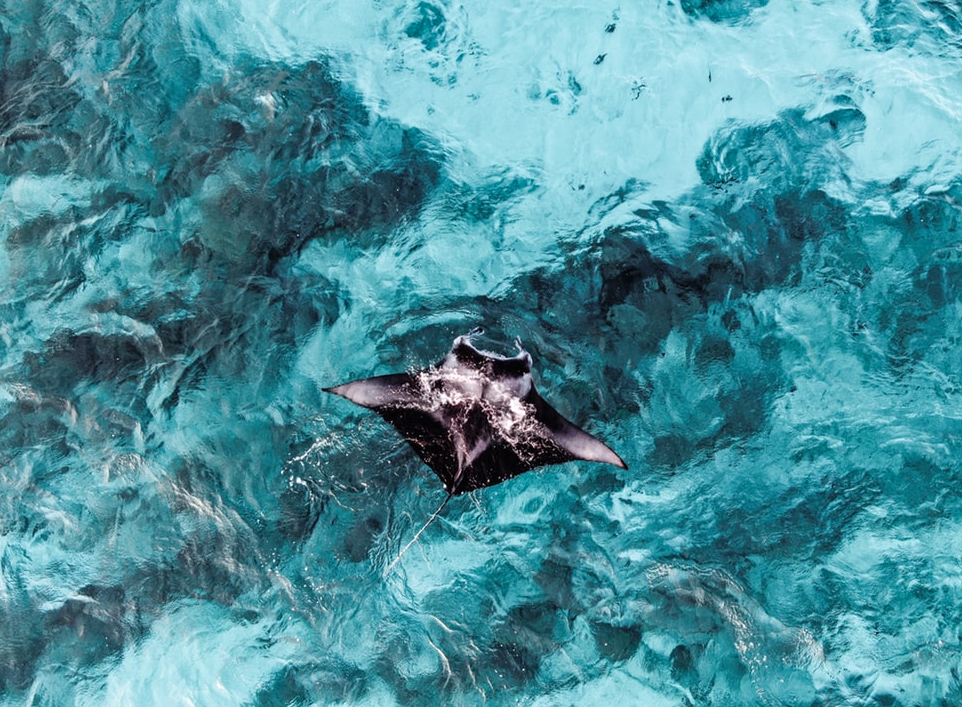 Looking for more at-home adventures?
We have your go to list of things to do on Efate, right here.

On Espiritu Santo
The largest and most popular island of the Vanuatu trio we're talking about today, and full of adventures galore. If you're just going to pick one other Vanuatu island to explore, make it Espiritu Santo. This island is home to one of the world's best beaches, tons of snorkeling, and more.
Relax on Champagne Beach
More than once, Champagne Beach has been named on of the world's best beaches, which is kinda a big deal.
This stretch of beyond picture perfect sand and surf made it into the top 50, out of almost 2,000 options. And what makes this beach so famous? Picture a lagoon filled with that shockingly of aqua colored water, framing powdery white grains of sand. All this curves into a rim of thick green jungles which creates a perfect postcard view. It's unreal and a popular option for anyone on Espiritu Santo, and for cruise ships. Make sure you're not visiting on a cruise ship day — it gets crowded.

If you're looking for a quieter beach experience with the same perks, Lonnec Beach is just five minutes away and boasts that same unreal water and soft sand, with a few seaside palm trees and thatched umbrellas for shade.
Canoe To A Hidden Oasis
We've mentioned a few of our fav blue holes on Efate, but this island is home to one of the most famous retreats, Nanda. These mysterious swimming spots are formed when underwater streams push up through the limestone to form deep pools that seem almost magical. Nanda is particularly pretty, completely encircled by a thick emerald jungle and a tangle of tree limbs. The water here is shockingly pretty, an shifting ombre of vivid aqua that melts into a deep blue as the water gets deeper.

The Riri Blue hole is another favorite, with a cloudier blue colored water that results in an almost creamy shade of teal or turquoise. We love the rope swing there too, but honestly, getting here is half the fun. You can walk through the seemingly impenetrable jungle or you can hop into a rustic outrigger canoe and be paddled to your oasis.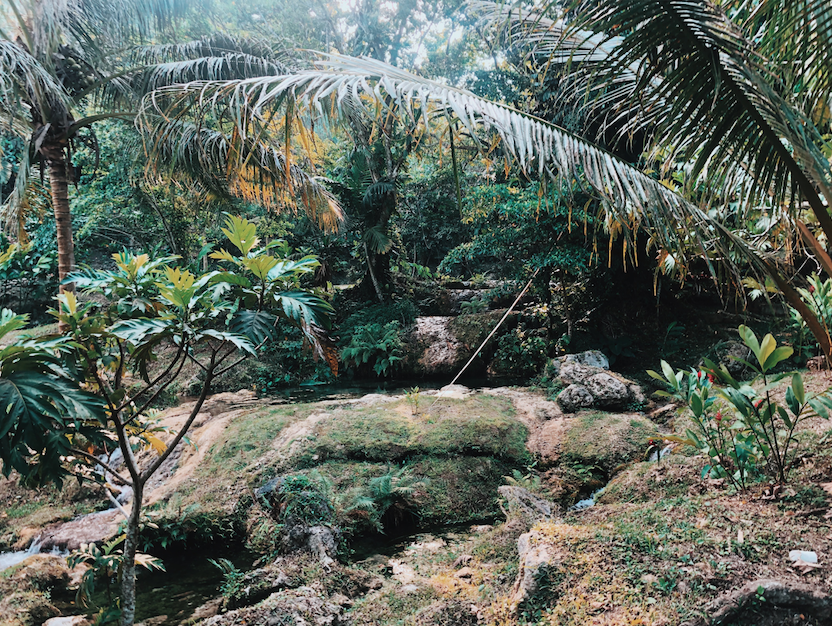 Take A Pony For A Swim
Espiritu Santo is one of the prime places to trek through the mangroves on horseback. There's one company, Santos Horse Adventures, who takes tourists on rides with a set of rescue ponies who absolutely love the gem-colored water on the island. In high tide, the water through the mangrove channels is high, reaching the backs of the ponies who sometimes love to duck underneath (head and all!) to cool off. You may be signing up for a 2 hour trek to swim with ponies, but they may be taking you for a swim instead!
Bike On This Baby Island
Take a short boat ride from the main Santo Espiritu island over to Aore island, a tiny dot fringed with coral reefs for snorkeling, white sand beaches for some sun, deep caves hiding hosts of bats, along with thick, humid jungles hiding WW11 bunkers. Our favorite thing to do is renting bikes to ride around the cocoa plantations. Come see what adventures you can find!
Here's more on vacationing on Santo Espiritu.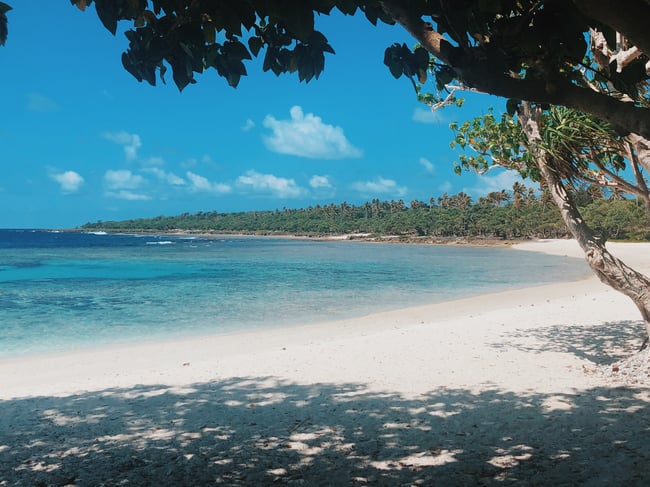 On Tanna Island
While tourism is mostly focused on Espiritu Santo and Efate, Tanna is also a place to visit. It's a peek into the past, an undeveloped island with a sprinkling of villages and local tribes who call the thick jungle their home. Or visit a single banyan tree that's as large as a football field. Out of the three islands we've talked about, Tanna is home to some of the most untouched experiences.
Time With A Volcano
Easily the most popular reason to visit Tanna, is the chance to see the "world's most accessible active volcano". Mount Yasur gives tourists the chance to make their way up the rocky slopes near sunset to stand next to the crater which often shoots out streams of fire and broiling lava. It makes for some of the coolest silhouette shots ... you framed against an orange cloud of sulfur and steam? Unreal.
Wanting even more of an adventure? You can go ashboarding on the slopes of this active volcano! Rent a board for about $20 and a guide for about $12 who can show you how to slide down the side on the gray ash … sounds kind of like the volcano boarding you do in Nicaragua, right?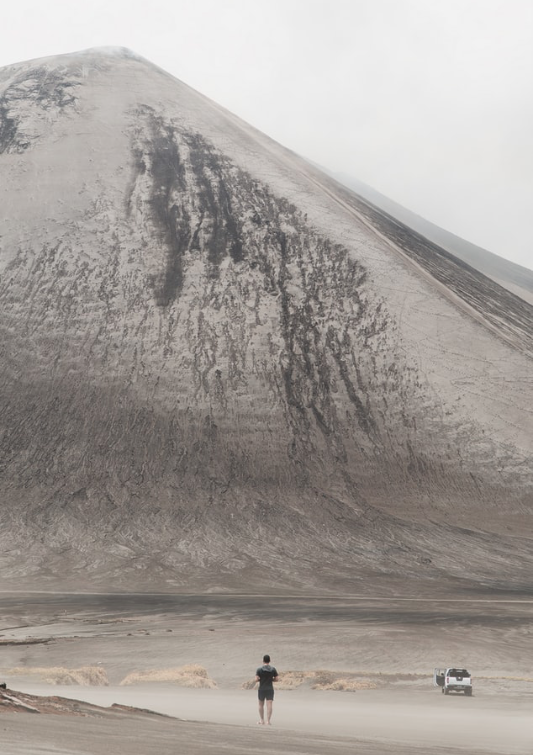 Rewind A Few Thousand Years
One of the most unique parts of experience Vanuatu is the local culture, the chance to step back into an untouched world where remote villages still dot the jungles practicing events that'll make your head spin. On Tanna, local tribes are led by a chief, wear lavalavas (or nothing much at all), who all live, work, eat, and worship just like their ancestors. Coming from a world so driven by technology, it's a step back to realize there are corners of the globe that haven't been pulled into the world of iPhones and computers.
The Banks Islands are totally off the grid, home to lobster fishing and the practice of making music is all about the water: slapping, swirling, splashing, and scooping the iridescent pools to create music. Just a few examples of the culture you'll experience while here!
One Jet-Black Sand Beach
While you'll find dreamy beaches on the other islands we've talked about, Tanna is famous when it comes to black sand … and Louneil is the king of all black sand beaches.
Found only on one part of the island (and takes quite a hike to get there), once you make the trek you'll find sweeping shores that are pitch black, with inky-grains curving around a crescent of that warm blue water.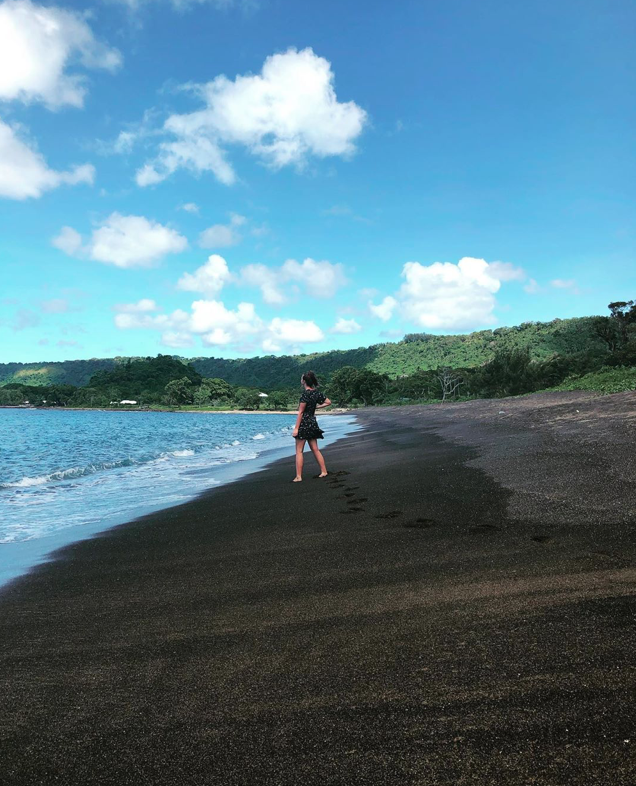 +Plus A Few Vanuatu Extras
Meet A Dugong
Planning on meeting a few friends on your ILP semester? Add a "dugong" to your list — a marine mammal similar to its cousin, the manatee (which are found in the Everglades of Florida). Dugongs are a protected species, making their home in the warm waters around the South Pacific, Australia, and Southeast Asia. Swimming with Dugongs is one rad experience, and something you can't get in many places! They've been known to hang around Port Vila on Efate island, but you may have better luck visiting Epi Island.
Prove This Fact
It's been said more than once that the people of Vanuatu (known as Ni-Vanuatu or Ni-Vans) are the happiest people on earth. Sounds like you need to see for yourself if that's true or not! Every ILP semester is all about a local experience, and a connection with the local people and the culture. We think after walking down your happy island home and meeting some of your neighbors you'll see why Vanuatu got this title.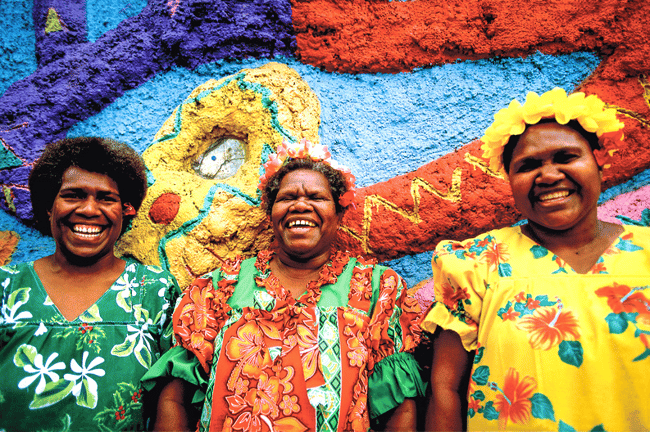 Have A Meal Like This
Ni-Vans are incredibly self sufficient, able to make so much of what the island has to offer. Many Ni-Vans keep gardens, growing and raising the food they need to survive. Tourists are hanging out in all the popular spots of the island, but volunteers get the chance to connect with the locals and see how life unfolds in paradise. We're thinking a major bucket list thing is to have a meal cooked all in local ingredients, all grown on the island: dishes with sweet potato, plantations, fresh seafood, or sweet pineapple, swirled together with creamy coconut milk.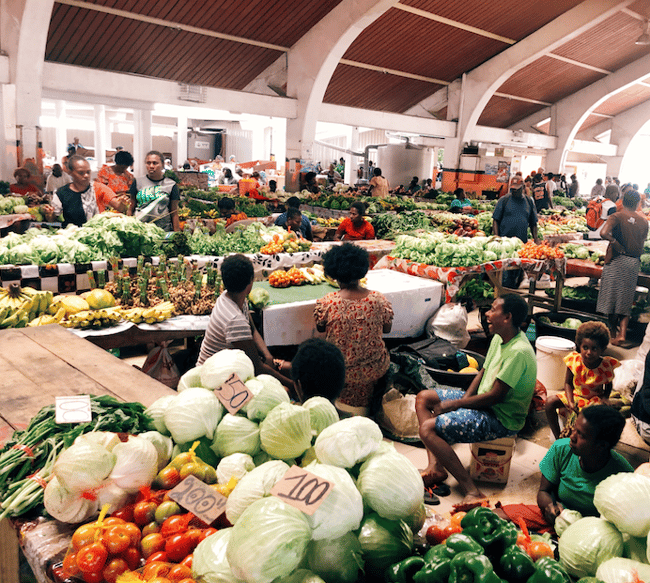 + Nearby Countries (AKA Your Dream Vacations)
So ... where should I vacation? We really think you'll want to spend lots of time on Efate, then get a glimpse of the other islands (we think Santo sounds like an absolute dream). But sometimes it's just way too hard to resist visiting another country! We know that being able to travel and see another part of the world is a huge part of your experience so we love being able to help you accomplish that. In Vanuatu you've got lots (and I mean LOTS) of choices on where you can vacation. Here are just a few!
Fiji
Is Fiji on your bucket list? Just kidding. I already know it is.
You're going to get a lot of the island things on Fiji that you would in Vanuatu, but I totally get the sense of adventure and wanting to add another stamp to your passport.
Getting here: I love Google Flights for checking out the best deals. A direct flight between Port Vila and Nadi (which is where I typically find the best deals) is usually about 2 hours. Prices really depend on the dates you're flying and can greatly vary, but I've seen quite a few roundtrip flights in the $300's (USD). The best deal I found to Fiji was $280 and I'd be all over that.
We've also got some tips here for planning a trip to Fiji you can actually afford. Fiji is one of those countries where prices can add up quickly because they have incredible options for tourists who can afford it, but that doesn't mean you can't do Fiji on a budget.
New Zealand
Ooooookay. New Zealand is one of the places that I'm always dreaming about going to but don't really know if I'll ever be able to make it happen because flights are expensive from the States and all that you know? If you're ever going to go to New Zealand, this is a perfect time to do it!
Flights to New Zealand are pretty comparable to the ones to Australia in both price and in duration. Sorry, I know that makes vacation choices even harder ... but that's just life as an ILP volunteer in Vanuatu!
Getting here: I've found the best flight deals usually take you to Auckland which is about a 3 hour flight from Port Vila. The best prices tend to hang in the mid $300's for a round trip flight.
Australia
Want to head over to the land down under for vacay? Me too.
Aussies love vacationing in South Pacific islands like Vanuatu because they're so close ... which is great for you because that means there are frequent flight options. You can often find direct flights and it's about 3 hours between Port Vila and Brisbane. I wouldn't overlook the flights with layovers though because you might get lucky and get a little 10 or 15 hour layover in another island ... somewhere like Fiji or New Caledonia (so that's one way to knock off more than one country in a trip).
Getting here: Again, I'd head to Google to compare airline options. You can find pretty similar price deals as you would to Fiji, and again they vary greatly depending on your date choices. The best deals are typically to eastern cities like Brisbane, Melbourne, and Sydney and I've found some stellar deals in the $300+ range for a roundtrip flight. Score.
New Caledonia
This French influenced island is the stuff vacations are made of. Thatched bungalows, a series of islands boating bluer-than-blue water, and bobbing boats in islet coves. Come for bike rides through vanilla plantations, a capital city that'll make you feel like you're in France, and a smattering of islands home to snorkeling, swimming, and gorgeous sites.
Getting here: Skyscanner pops up a couple of options, one is a nonstop from Port Vila on Efate, to Noumea which is new Caledonia's capital. It's a 90-minute flight in the $270 - $350 range when you find a deal.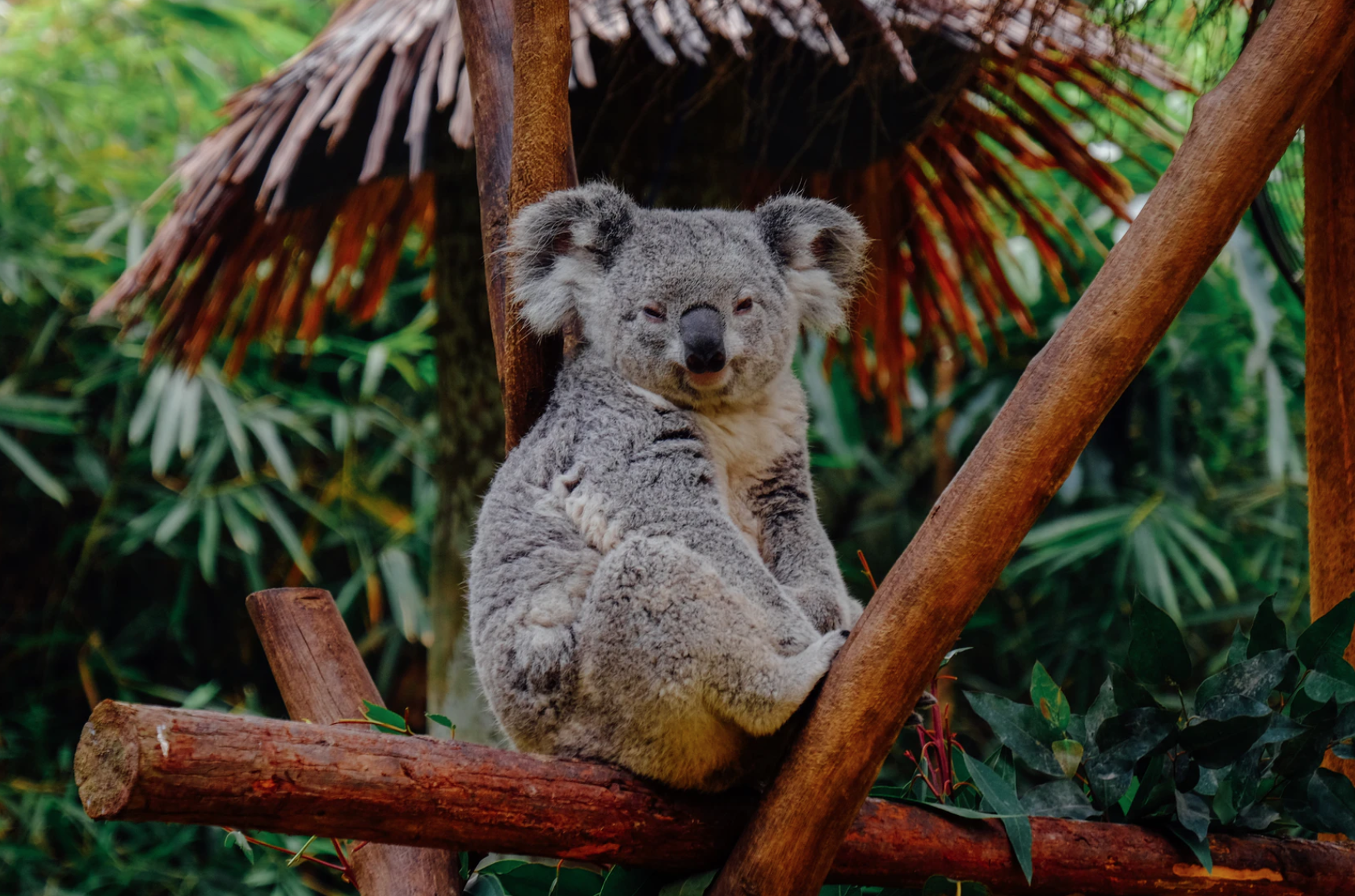 Some Travel Tips
Get creative when you're looking up flights. Resources like Google Flights and Skyscanner have really cool features that help you get the best deals by playing around with your options. Just type in "Port Vila" in the departure box, but then just click on the destination box (without typing a city in) — you'll get a drop down box of destinations, starting with the cheapest flight deals based on the dates you're flying. I love being open to lots of places and then using that tool to really save big cash money.
I was playing around with that tool looking at flights from Vanuatu for you guys and found a round trip flight to Tonga ... with a layover in Fiji for under $500. Can you even?? Dream vacation. Just be flexible and see what pops up for your travel dates.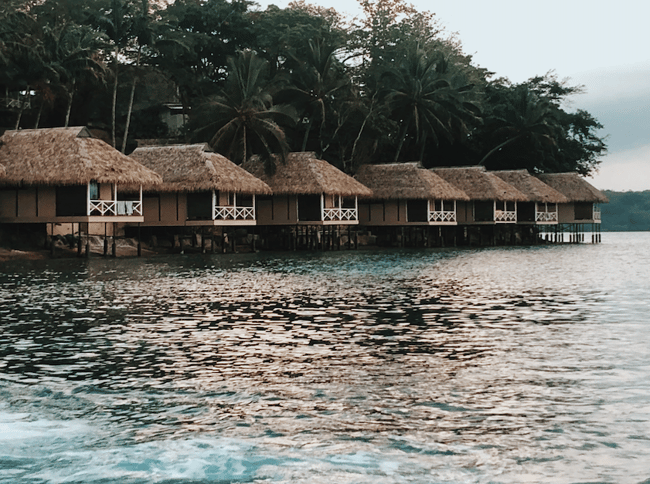 We're looking for island lovers!
If you absolutely cannot wait to grab a chance to do all of this bucket list things and more, come volunteer in Vanuatu! We're accepting applications to our humanitarian program in the South Pacific and think you'll love love love it. Click below to learn more about how volunteering here works: