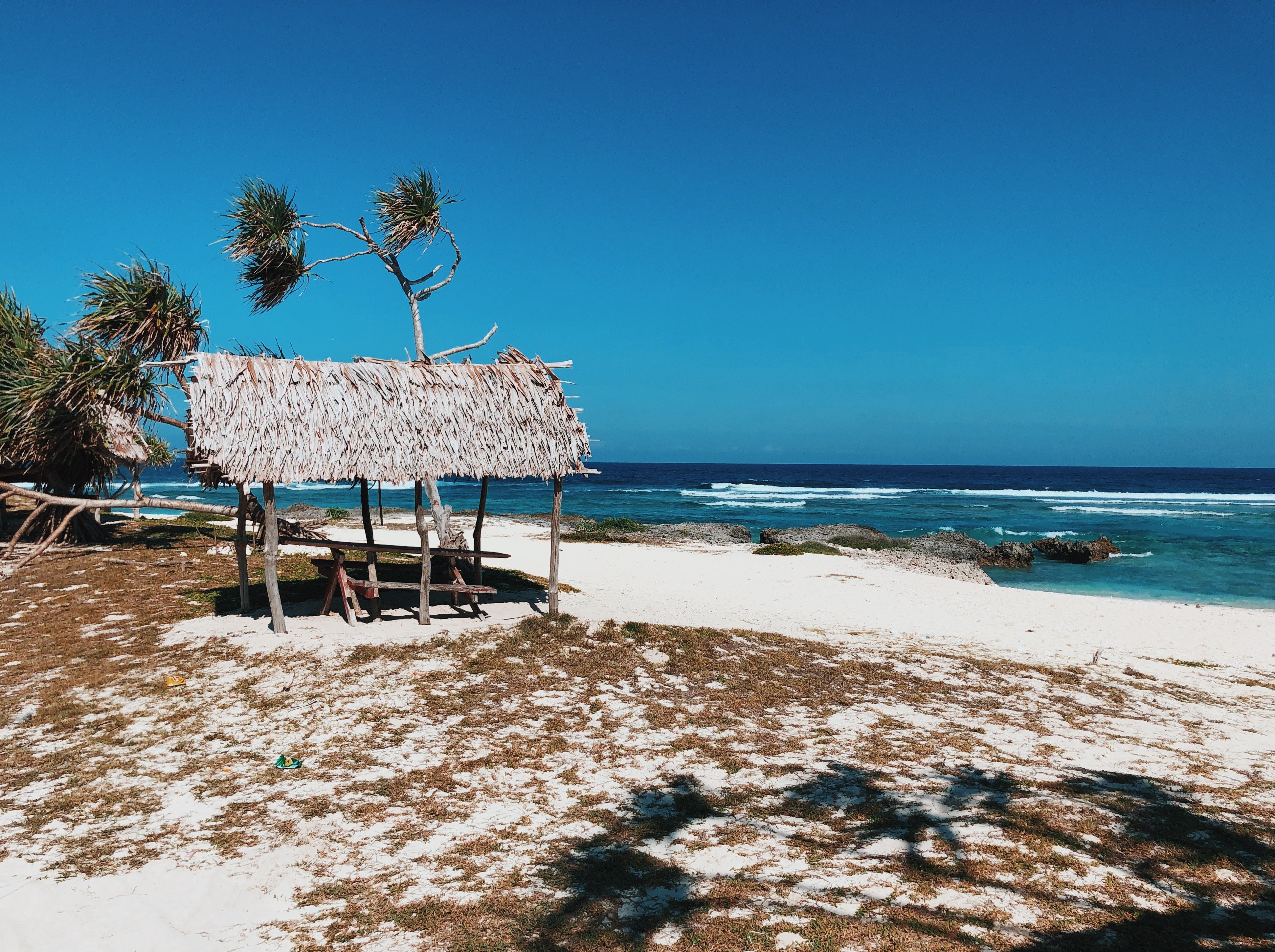 While you're volunteering in Vanuatu with International Language Programs, you'll have every weekend off ... which is a good thing because there are endless adventures close by.

I still can't get over all the fun island-y things that are right outside of your back door when you're living near Port Vila, Efate. We're talking the best swimming lagoons, pristine coral reefs to snorkel, and hikes to natural rock slides formed from waterfalls ... plus an entire island rimmed with South Pacific beaches. You know that show, Survivor? They filmed a season about 20 minutes away from where you'll be living if that helps paint the picture for you.



---
Spend your semester abroad in Vanuatu with us!
We're accepting applications right now, get started right here
---
Although Efate is the most developed area of the Vanuatu archipelago, it's small enough that you can reach just about any corner of the island in just over an hour (or much less). Actually so many of our favorite adventures for our ILP volunteers are seriously minutes from where you live!
For being as small as it is, the island is jam-packed with things to do, making it perfect for filling up every weekend of your semester here. Let's go clockwise around the island from your home base, just outside of the capital city Port Vila.
Efate Island Adventures
Honeymoon Beach
Erakor Island
Iririki Island
Port Vila Markets
Mele Bay
Mele Cascades
Jungle Zipline
Helicopter Rides Galore
Get A Jet Boat Adrenaline Rush
Movies on the Beach
Hideaway Island
Mangaliliu coast + UNESCO Site
Havannah Harbor + Moso Island
Siviri Caves
Saama + Top Rock Point
Pele + Nguna Marine Protected Area
WWII Crash Site + Museum
Takara Hot Springs
Epule River
Eton Beach
The Blue Lagoon
Rarru Cascades
Ekasup Village
Honeymoon Beach
ILP volunteers live just about a 3 minute walk to a pretty beach, but head just about 15 minutes further down the coast and you'll hit Honeymoon beach. Locals have told us it's their favorite beach on the entire island so it's definitely worth a mention. It's a bit of a local spot, still mostly undiscovered by those who aren't in the know. It's also a really popular wedding spot, hence the name.
Another honorable mention is the Breakas Beach Resort. It's not as far of a walk from your house (about 5-10 minutes away) and it's a well-loved resort for vacationers. Just buy a soda and they'll let you use this private beach for free!
This area of Efate is frequently listed as one of the top coves in the island ... and you get to actually live here for your semester abroad!.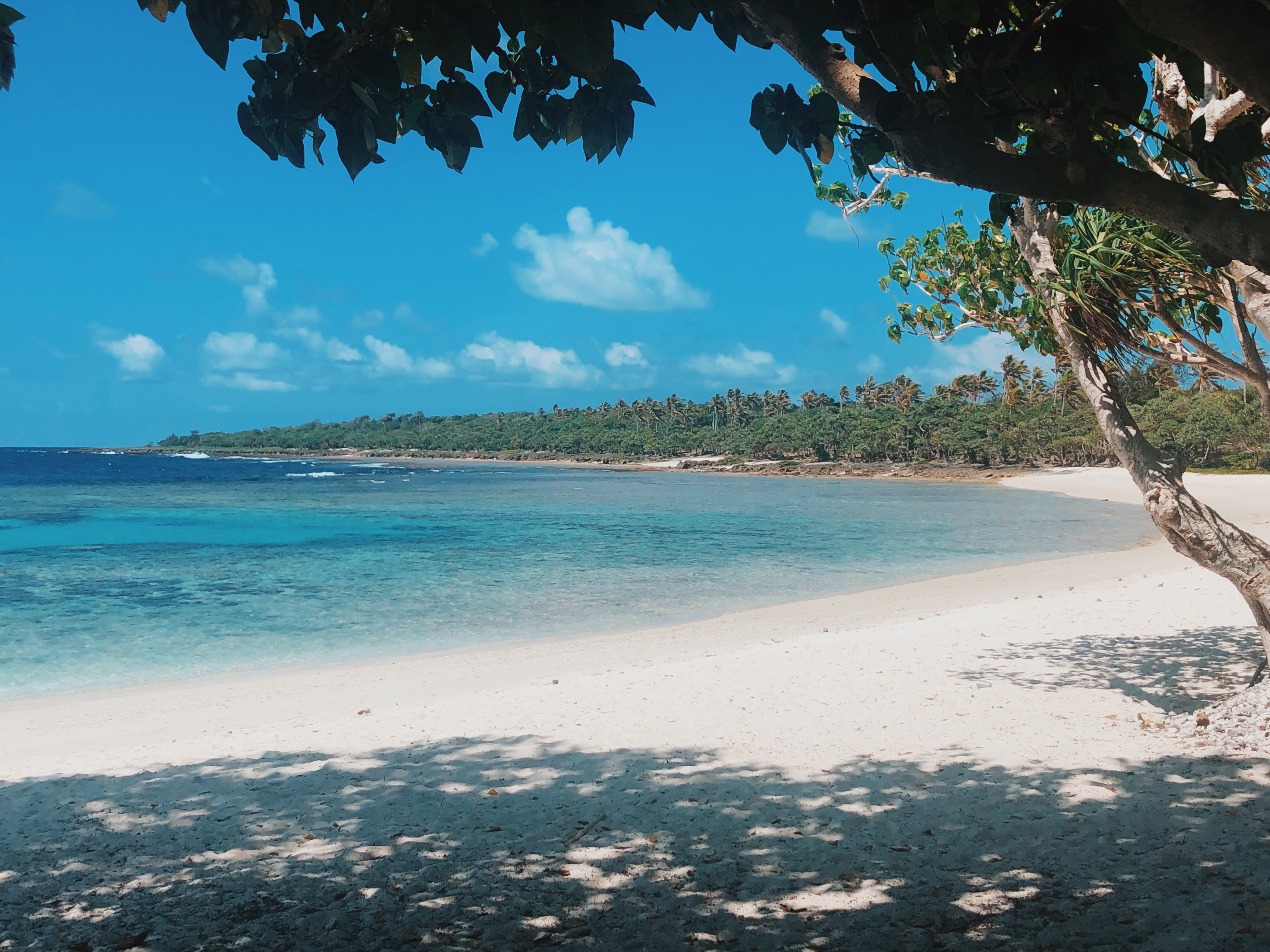 Erakor Island + Beach
Erakor Beach is another favorite, located on its very own island. Convenient for you, because it's located not far from Port Vila in the tropical Erakor Lagoon. It's a quiet spot so we love it for a little Saturday getaway for you.
Iririki Island
Another really cool day trip! Iririki is a pretty famous little island because it's entirely operated by a private resort. I mean, it's the kind of place where they have those classic, bungalow huts on the water you know? Tourists pay top dollar to come stay at this resort but you can get a day pass for about $14 USD and it will include your entry, all of the incredible snorkeling spots around the island, and you can even use their gorgeous infinity pool! It's just a quick ferry ride over to this island and definitely a fun little spot.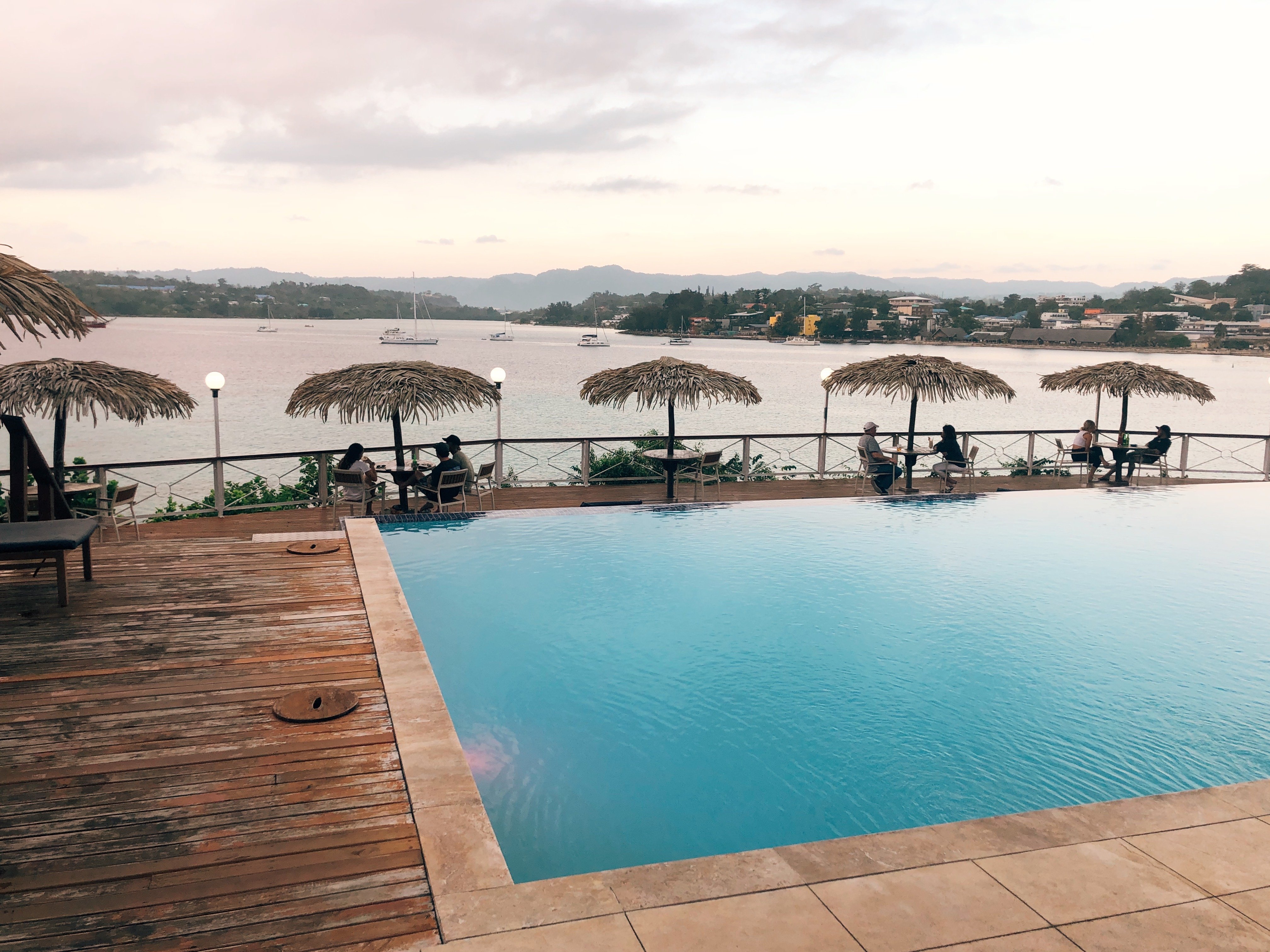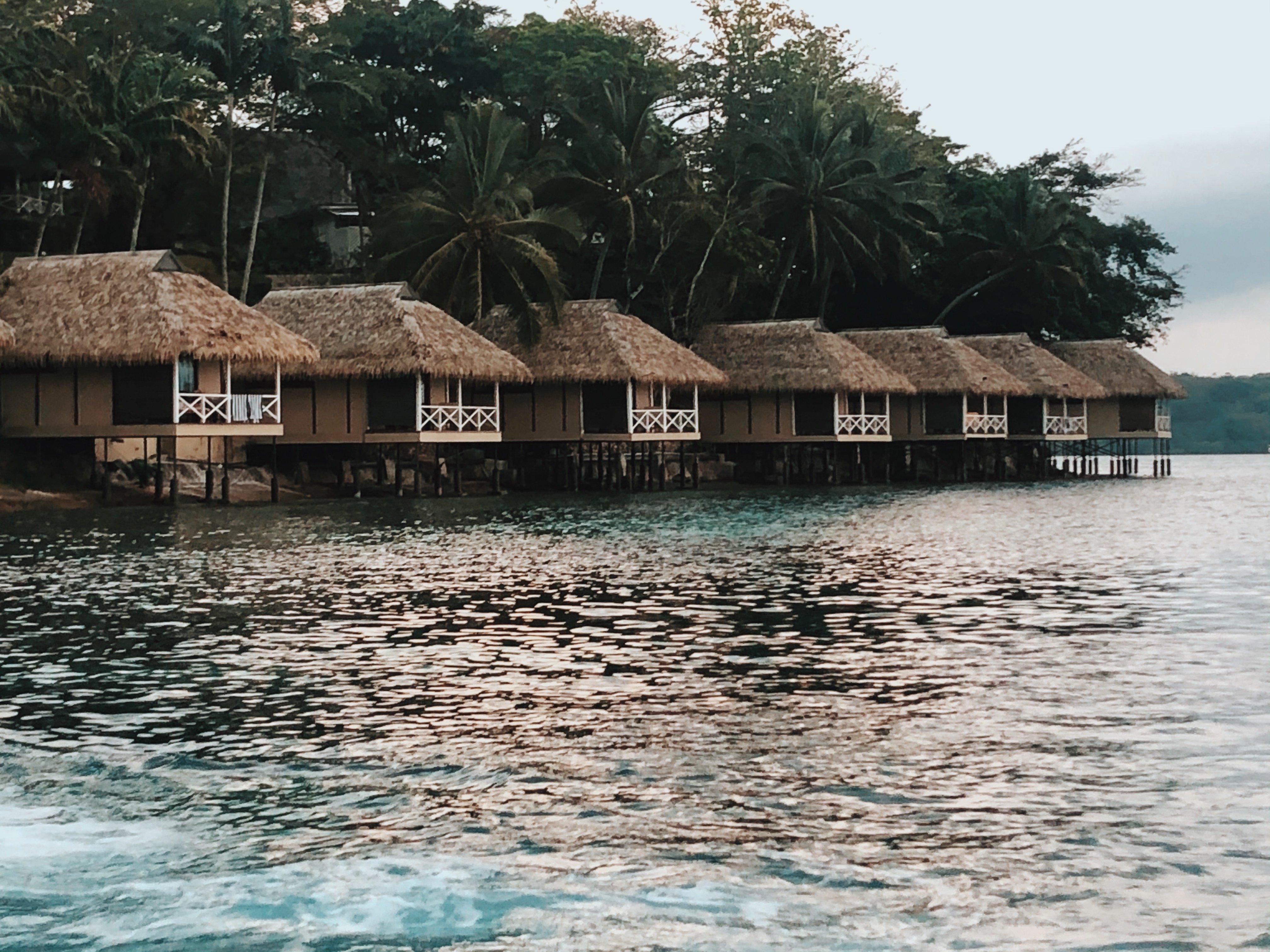 Port Vila Markets
If you're going to shop in Vanuatu, Port Vila is where it's done. All of the food at these markets are all organic and come straight from local farmers. These markets will be a dream come true if you love the local fruit. Because it's so fresh, the food is all seasonal, so flavorful, and so cheap! Swing by and grab some mangoes, fresh raspberries, pineapples, and avocados for some yummy snacks.
There's also a handicraft market not far from the main food market where you can purchase souvenirs that benefit local communities. We love shopping here because we love spots that support the locals directly. And unlike so many other countries throughout the world, there's no bargaining here which makes shopping even easier.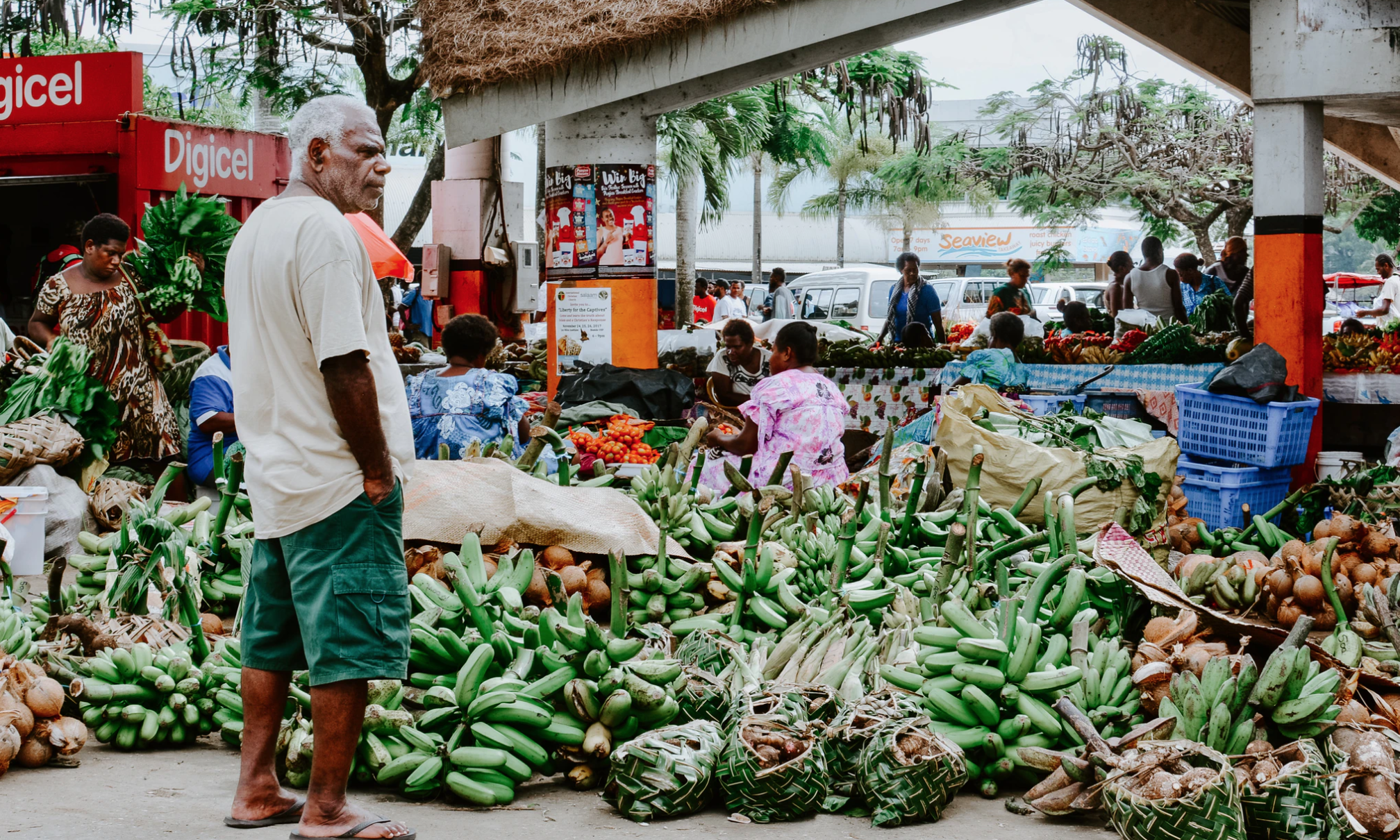 Mele Bay
Mele Bay has so much to do so it's pretty perfect that you're living right next to this little gem of a spot. You'll find an entire cove full of beaches (Blacksands is a favorite!), snorkeling, trips to nearby islands, and jungle adventures too.
Mele Cascades
Just 15 minutes outside of Port Vila you'll find these incredible waterfalls. The trek out to these falls will take you through the dense green jungle, walking in and out of river streams, passing by natural pools where you can take a break and cool off. But once you reach the cascading Mele pools? You'll fall in love. And per usual in Vanuatu, make sure you bring your swimming suit so you can jump in! There are plenty of pools to swim in and even some natural waterslides formed into the rocks.
This is a really famous spot and a lot of people say it's Efate's best natural attraction, but when we were there, we had the place entirely to ourselves! Get more on the Mele Cascades here.
Jungle Zipline
Come see the coastline of Mele Bay from the air with zipline tours that will take you right over the jungle. Some tours even take you right over the falls. Vanuatu Jungle Zipline does tours right outside of Port Vila, making this a go-to weekend adventure.
Hideaway Island
You'll find that there are tons of smaller islands surrounding Efate island. Hideaway is one of those, right in Mele Bay just outside of Port Vila. At low tide you can actually walk out to the island, otherwise take a quick ferry ride over. Once you arrive, it's easy to rent snorkel gear or grab a kayak or stand up paddle board. This is a great spot to snorkel and see lots of fish and coral, but even more famous is this underwater post office. You can actually buy a waterproof postcard and swim down to send your postcard through their mail system. Seriously!
Movies On The Beach
We're loving Nambawan Cafe located right on the coast in Port Vila. It's so close, plan on enjoying it any night of the week. They've got a full menu full of yummy fresh meals and drinks. Grab some pizza and a smoothie to watch the sunset, but then stay for the movie that they play right on the beach three nights a week. Movies + catered snacks on the sand under the stars ... yes, please.
And as much as I love the open-air movie theatre experience, I love going to an actual theatre as well, you know? If that's you, we have good news — Port Vila has one!
Horseback Riding
Even novice riders can come enjoy this one. Spend a day seeing Vanuatu's landscape via horseback. Bellevue Ranch is a locally owned company (so a great way to support local Ni-vans!) that offers rainforest, sunset, and waterfall rides. And even better for ILP volunteers is that they're located right in the Port Vila area making it easy to arrange a trip. Check out their info here.
Helicopter Rides Galore
Cross "dreamy helicopter ride for the best views" off your bucket list! Helicopter is one of the best way to see your island. How else do you get a view of the aqua blue water that rimes Efate? No matter where you are in the world there are very expensive packages you can book when it comes to helicopter rides, but one option is a short ride for about $80 USD. Not bad for a private helicopter ride!
Get A Jet Boat Adrenaline Rush
Calling all adrenaline junkies! Leave from Port Vila and zoom past places like Dream Cove and Paradise Cove in a faster-than-fast Tropic Thunder boat, captained by a driver who knows how to zip around on the turquoise waves. You'll do 360° donuts and sideways slides, set up with goggles for all the ocean spray that'll be splashed right in front of your face. But don't say you weren't warned .... they have the catchiest slogan, "the wetter the better". It's crazy thrilling, and a rush that often is the "highlight of the trip" according to a few tourists.
Rarru Cascades
Rarru Cascades is another swimming hole we love, situated next to tumbling waterfalls that are absolutely beautiful. Again, not far from Port Vila, this is an easy Saturday kind of adventure. These cascades are owned and operated by locals, so we love supporting that as well.
Mangaliliu Village
If you're a fan of Survivor you might remember the Vanuatu season? This is where it was filmed!
On Lelepa island, just west of the Mangaliliu coastline is home to a UNESCO Heritage Site, Chief Roi Mata's Domain. The Chief was an important figure in Vanuatu's heritage and was buried here.
You can come explore on your own or this company offers a walking tour which will give you greater insight into how the villagers utilize the land and even performances to give you a glimpse into traditional village life. Oh and this is all 20 minutes from Port Vila, making for another perfect weekend adventure.
Havannah Harbor + Moso Island
Looking for more snorkel spots? The northern coast of Efate is known to have some of the best and that includes this harbor. You'll get to see some incredible coral reefs, colorful fish, and if you're lucky you might spot some dolphins, turtles, and dugongs! Make sure to save some time to just lay around and enjoy the beach because you'll get those classic white sandy ones that Vanuatu is known for.
You can jump on a tour that will take you out to Moso Island, usually from Lelepa Island. If you're looking for one of those totally untouched, deserted island days, you'll find that in Moso. Often you can hire a boat to drop you off, enjoy the island to yourself, and arrange a time for them to come pick you back up later on.
It should take you around half an hour to drive up here from Port Vila.
Saama + Top Rock
While most tourists head to Havannah Harbor, locals say this is THE best snorkeling on the island. Along the northern coast of Efate, this spot is worth making the trip up to see (and still only about 45 minutes away from Port Vila).
Top Rock is a coastal lookout point from the cliffs, giving you sights of nearby Nguna and Pele islands, all surrounded by that crystal clear blue water. Near the entrance you can head down the steps to a large cavern called "Swallow Cave" that is a perfect spot to start you snorkel trip. The water is so clear here that it's easy to see all the tropical fish.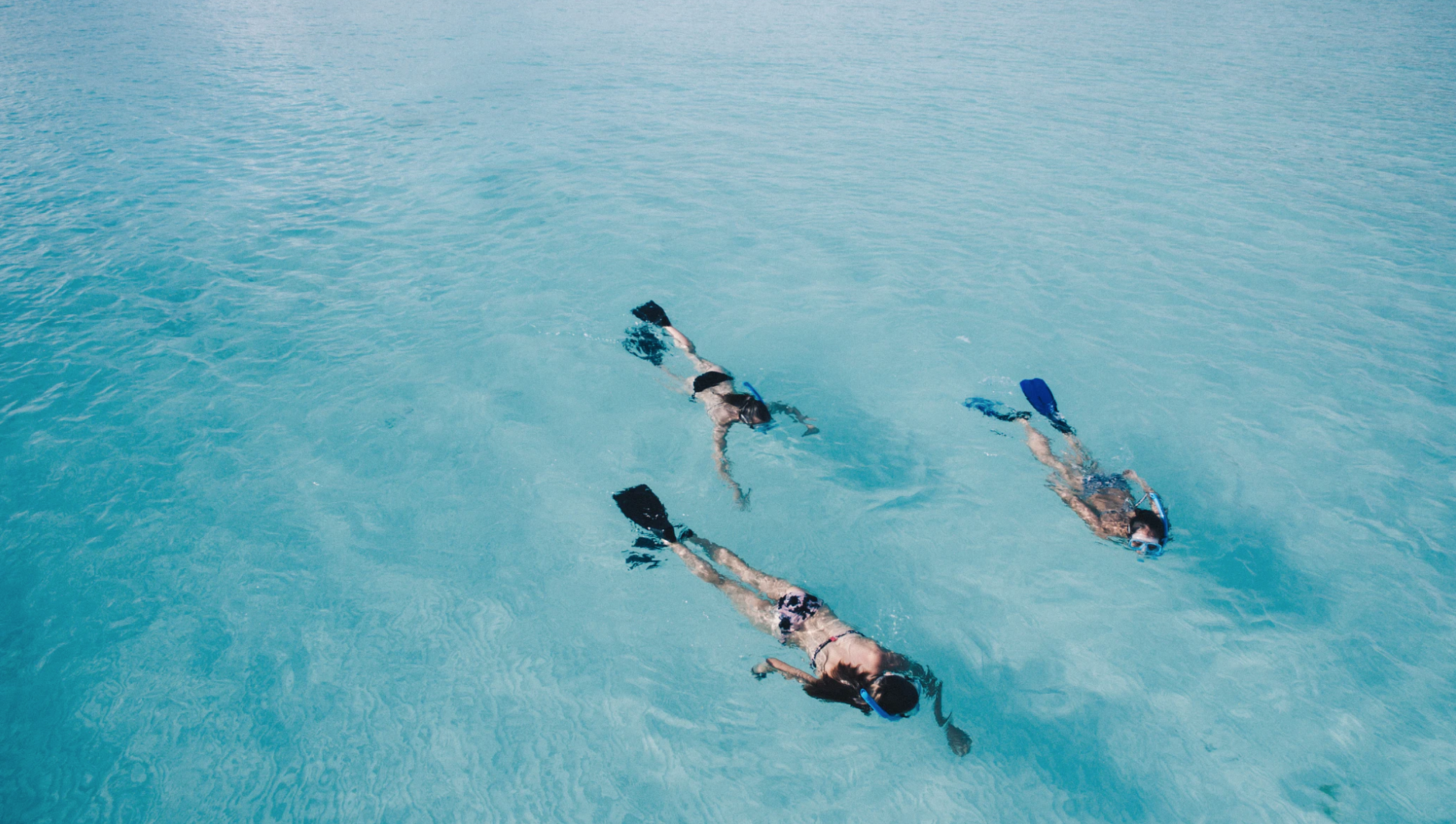 Pele + Nguna Island
I mean it's hard to say one island is more beautiful than another ... but Pele island ranks pretty high on the Vanuatu list (so we love the fact that it's only about 45 minutes from you in Port Vila). And we have just as much love for nearby Nguna island, so don't skip that one. I mean, people call this "Pacific Island Paradise" so there you go.
Both are known for being remote which makes us love them even more. Efate island is the busiest island in Vanuatu with tourism and shopping markets, so being able to quickly step off into a quieter corner is my kind of weekend trip. Actually - ILP volunteers, since you're here for about four months there's plenty of time to take more than one trip up to these islands!
Bring your camera and your beach towel because these are the sites that you're dreaming about when you're getting ready to come to Vanuatu. The waters are calm and that perfect turquoise color which makes for great swimming. You'll also come across the Nguna-Pele Marine Protected Area where you'll find the islands' most untouched coral reef. Marine life is thriving here and you'll find some of the most colorful reefs and tropical fish in the nation. Oh and if you're anything like me, after snorkeling you'll rent a kayak and explore the coastline that way, too.
If you want, you can join a tour coming out to the island which usually includes a BBQ lunch on the beach and a tour of local villages in Pele. Or just head to Emua Wharf where you can take a quick 10 minute boat ride over to Pele yourself.
Siviri Caves
These are small caves you can explore via kayak and a handheld light! It's definitely an experience for the brave, with narrow cracks, dark tunnels, and even glow worms illuminating the inky interior. Be ready for some bats, too!
There are mixed reviews on this experience, but if you're up for an adventure some say it's worth giving it a go.
Takara Hot Springs
At the Takara Hot Springs, you'll get that that spa experience ... but the island way! First, head to the mud pools to cover and exfoliate your skin with clay. Then, go relax and in the thermal hot springs. You'll come home with some ultra soft skin and maybe another bonus. The locals swear by the healing properties of the mud pools.
If you've been let us know how your experience was! We haven't been ourselves, but just have heard that it's pretty cool. Definitely worth checking out.
Kayak the Epule River
Yet another adventure that we say you seriously cannot skip (so it's a good thing this one is close by too).
Take a guided trip up the Epule River via kayak. There are lots of locals who live along the river so don't be surprised if kids come running to wave at you or are splashing around the banks. At the end of the river you'll find a perfect little swimming hole surrounded by those thick mangroves. You know the locals love a rope swing so you can expect to find that here, too.
Oh, and if you're making a weekend out of it and want a place to stay for a night or two, Le Life Resort tends to be highly recommended. They're located right by the Epule River and you can book tours through them for a good price. They can also help you arrange other activities like whale watching and surfing. For travelers on a budget, we love the affordable glamping option!
Eton Beach
You're on an island so there's going to be a huge list of beaches to choose from, but this is one of the top spots. This beach has gotten so well known that every tourist blogger will mention that they included it in their quick trip here. And we're not surprised. You'll get those classic white sandy beaches that Vanuatu is known for, surrounded by spindly palm trees. There's an inlet here which creates a calm cove of crystal clear water, perfect for swimming and just relaxing.
This beach is right next to the Blue Lagoon, so it's also about 1.5 hours from Port Vila.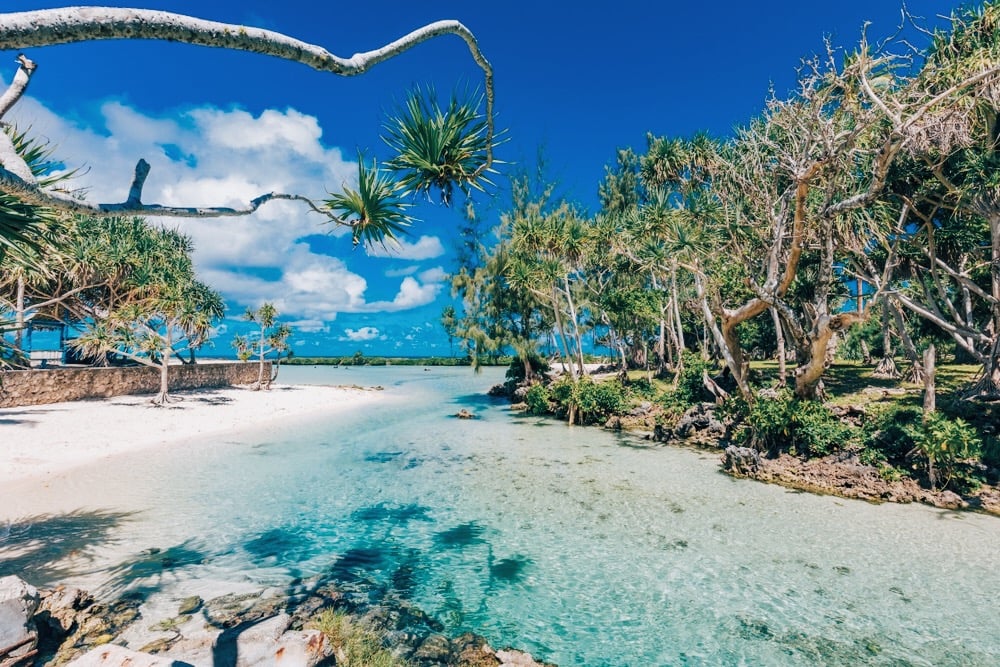 The Blue Lagoon
Vanuatu has some of the best, swimmable, clear water lagoons in the world. There are actually a bunch of really gorgeous ones spread throughout the islands and we have a feeling you'll visit more than one lagoon during your semester in Vanuatu, but when you're living in Port Vila you're only an hour and a half away from the most famous one — making it one of our favorite weekend adventures.
The lagoon is a large, turquoise-blue natural pool surrounded by lush green mangrove trees, complete with a rope swing. And yes, you'll definitely want to bring your swim suit and jump in! It's pretty famous so of course tourists do come here, but when we came we loved that it was used by local kids. Just avoid days when cruises come to town for their quick stops and this place is a serious gem.
Get more info on the Blue Lagoon (like directions, cost, and helpful tips) here.
Snorkel At A WWII Wreck Site
You'll find bits and pieces of WWII history around the island and this is one of them. The story goes that James Albert Vittitoe from California was on a mission escorting other pilots across the South Pacific when they realized they were lost and low on fuel. Just about half a mile from Efate's coastline his engine quit and he was going down. Luckily he was able to glide his plane in for a water landing, with his plane eventually settling half submerged into a coral reef. A couple of Vanuatu locals waded out and helped him back to shore. Tragically however, two other pilots were killed when their engines quit further inland, between the beach and the airstrip. You can actually read about the story here, from the Vittitoe's own words recounting what happened (just scroll to the section "Return to Efate").
You can visit a small museum here before you pull on some snorkel gear and head out to see the plane. This spot is still a pretty undiscovered gem in Efate.
The site is called the World War II Relics Museum of North Efate. Pretty cool fact: the owner of the site is actually the son of one of the two locals who witnessed the crash and helped the pilot back to shore. Between the villages of Baofatu and Takara there are signs posted from the ring road of where to turn off to find this site.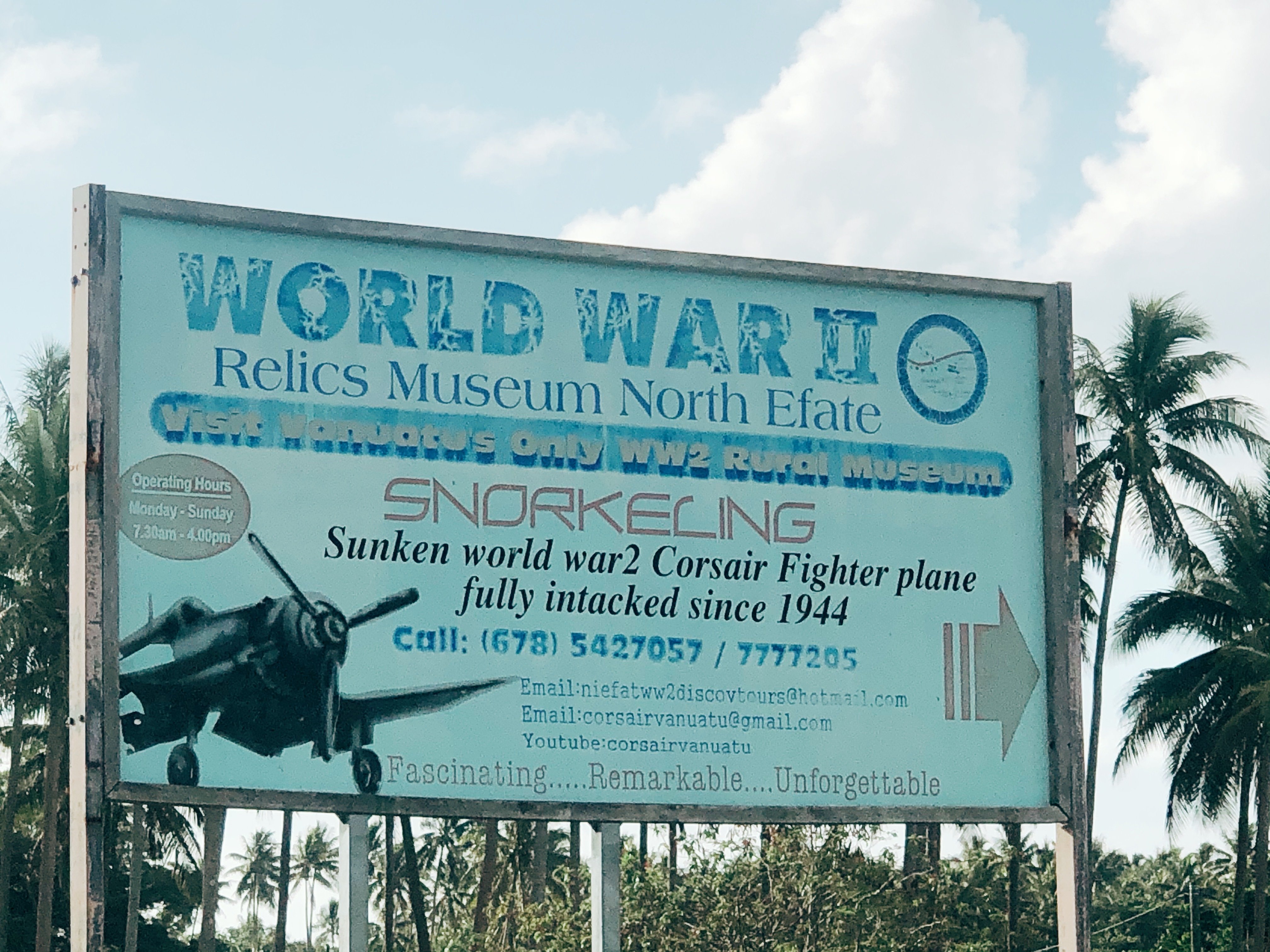 Ekasup Cultural Village
This is another great spot to not only support the locals, but also learn a little about tribal life. A lot of tourists come to Vanuatu for the world famous beaches (rightfully so) but the generations of families who have lived a self sustainable life off the island's natural resources and created years of traditions are really the heart of this nation. We've heard some reviews that this is the best spot on the island to get this sort of cultural experience, so come see and learn for yourself!
You'll get to meet some of the villagers who will show you traditions like preparing herbs for medicine, weaving baskets, and cooking lessons. You can book a tour here.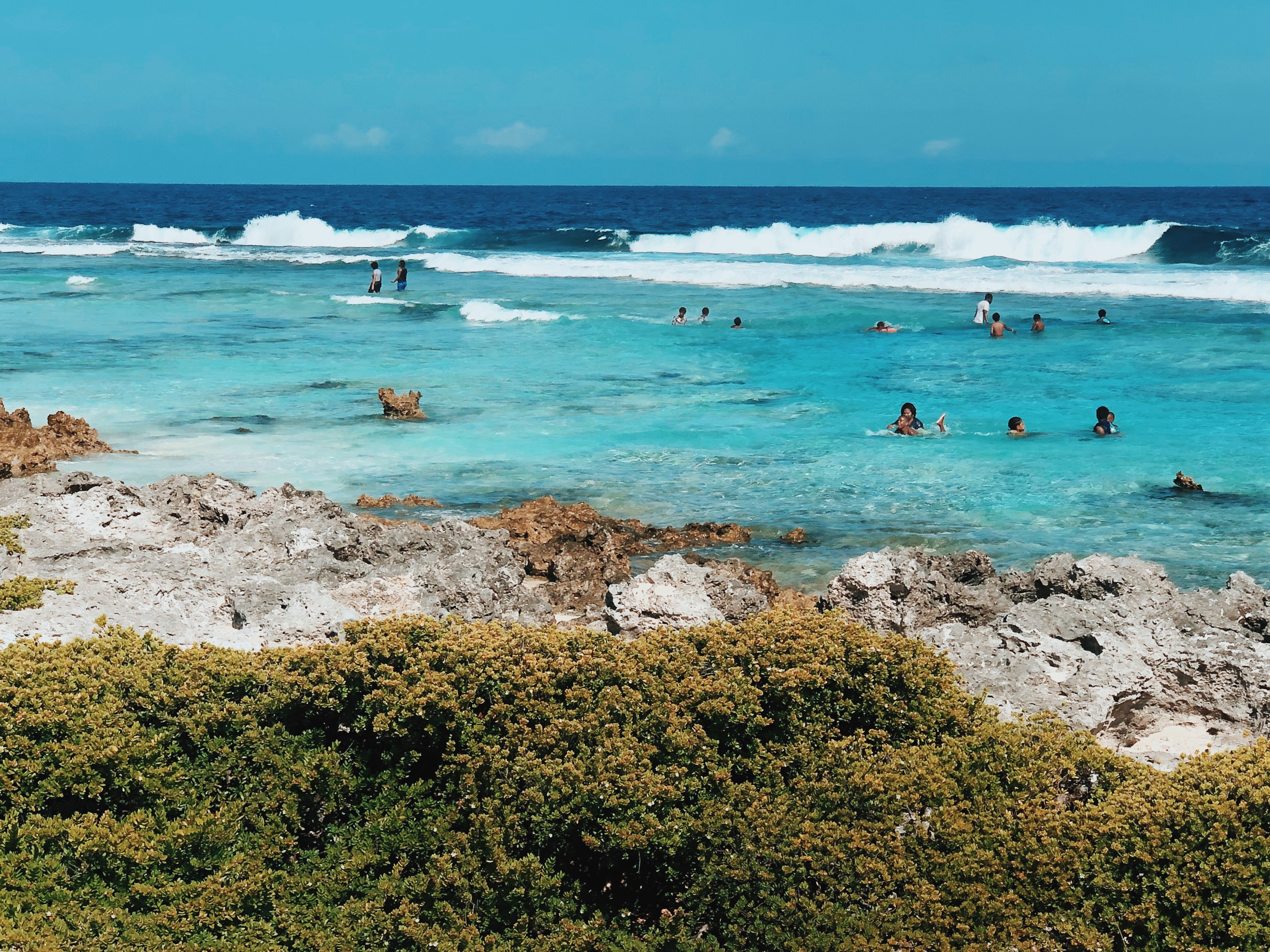 Live the island life next semester
These pics are really dreamy (because the island really is dreamy) but we can help you actually make it happen. We'll help you get prepared to go live in another part of the world, get you hooked up with locals who can help you adjust, place you with a team of other volunteers so you're never alone, and answer all your questions. Click that button below to learn a little more about how the Vanuatu volunteer program works.