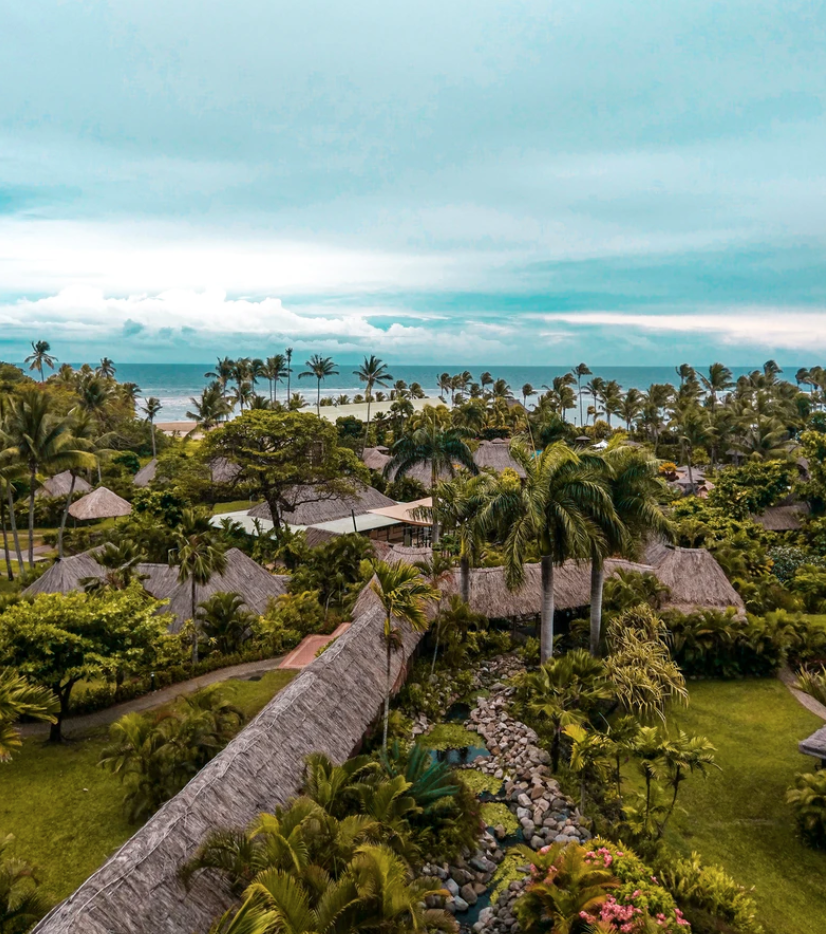 "Happiness is closer than you think." Fiji's main travel site has the tagline that says it all!
This is the country I've always wanted to see but figured I'd need to wait until I was older and retired before I could actually afford one of their dreamy vacays. I mean, if you're looking up those drool-worthy resorts that are floating around Pinterest you'll quickly realize that many cost thousands of dollars per night! That's a wee bit outside my budget unfortunately.
The biggest misconception about Fiji is that it's a dream you probably can't afford. That couldn't be further from the truth though, especially if you follow some of the tips that budget travelers always use.


---
Want more help making travel affordable?
We're sharing all the tips that help us travel on a budget
---
So, yes. Trips to Fiji may be on the pricier side, but that doesn't mean backpackers on a budget can't also make it happen.
Flights To Fiji
Flights to Fiji are often where the majority of your vacation budget is going to go. Luckily prices don't fluctuate too much throughout the year so you can get a general idea of what it will cost you year round.
There's over 300 Fiji islands spread across the South Pacific, but the main island Viti Levu is where you'll likely land. Most routes fly into two major airports here and then from there you can take off to whichever part of Fiji you're dying to see.
Nadi International Airport (NAN) — found on the western coast and is the busiest airport, most international flights land here

Nausori International Airport (SUV) — found on the southeastern coast, second only to Nadi but still sees quite a bit of travelers, especially coming from other nearby island countries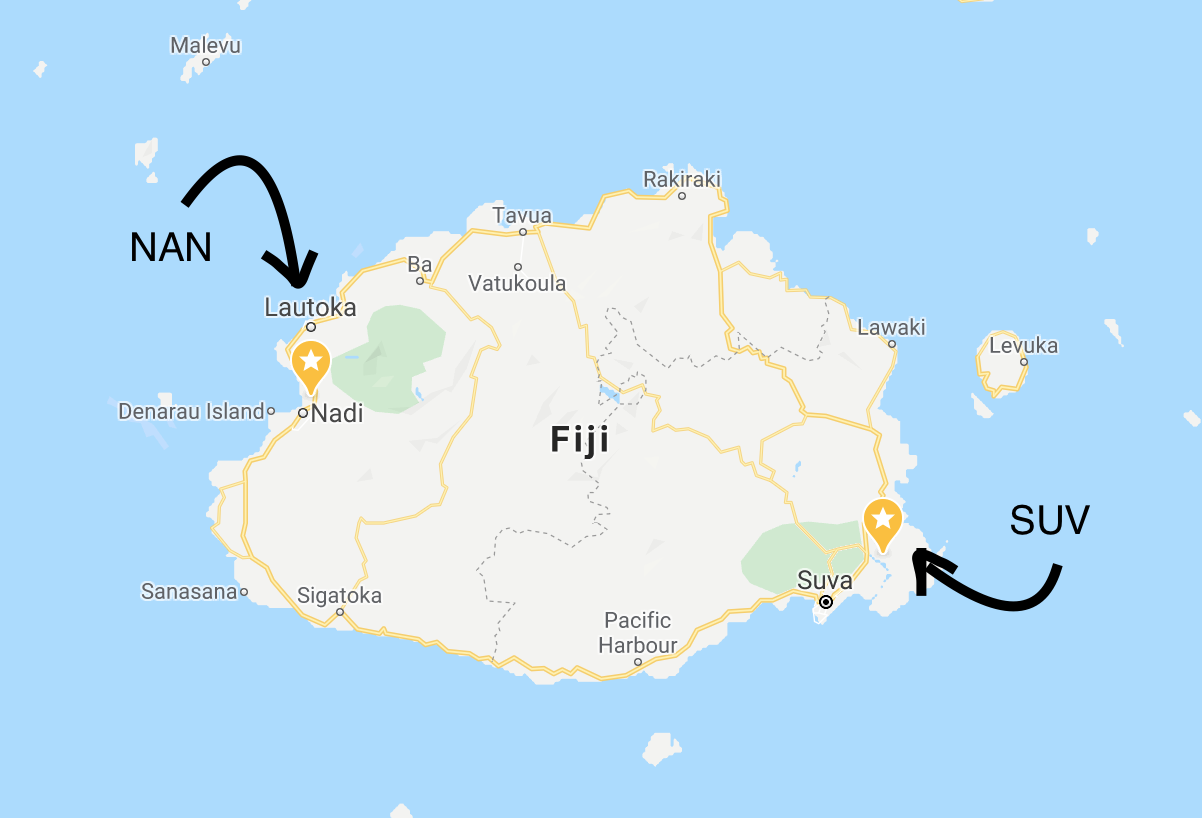 Airlines From Vanuatu
Our ILP volunteers who are spending their semester abroad helping out in our Vanuatu Humanitarian program are always on the lookout for good flight deals from Efate, so we'll focus on that area. It's only about 2 hours to fly into Nadi from Port Vila, so it makes for an awesome vacation for our volunteers!
There's two common airlines that fly between Port Vila, Vanuatu and Fiji : Air Vanuatu and Fiji Airways.
Your best bet may be booking directly on those sites, but I always check every resource to make sure I'm getting the best deal. Because why not? Utilize search tools like Google Flights and Kayak.
Prices
I've found that roundtrip flights between Port Vila and Nadi are typically in the $300's USD year round. Of course you may find flights that are twice as much if you aren't booking on the best days. If you find deals in the higher $200's you've majorly scored!
Hey ILP volunteers: If you're booking directly on those airline's sites, prices are often listed automatically in Australian dollars, so just remember to convert that before you get sticker shock! For example, I found a flight to Nadi for 497 ... but it was actually $330 when I converted it to USD.
Dates
Note that there aren't flights every day of the week, so if you can't be flexible with your vacation dates you'll want to check both airlines to see their schedules. There's often 1-3 flights per week between Port Vila and Nadi on each airline.
Tip for Fiji Airways: If you're just looking up flights and put in specific dates, it will give you a message if they don't have flights those days that just says something like "no flight found". However, it's really frustrating because you're wondering ... okay so when do you have flights so I can see if another day works?! If you're running into that issue like I did, head to this link and then click on the tab "flight schedules". You'll get a better calendar overview of days they do fly from there.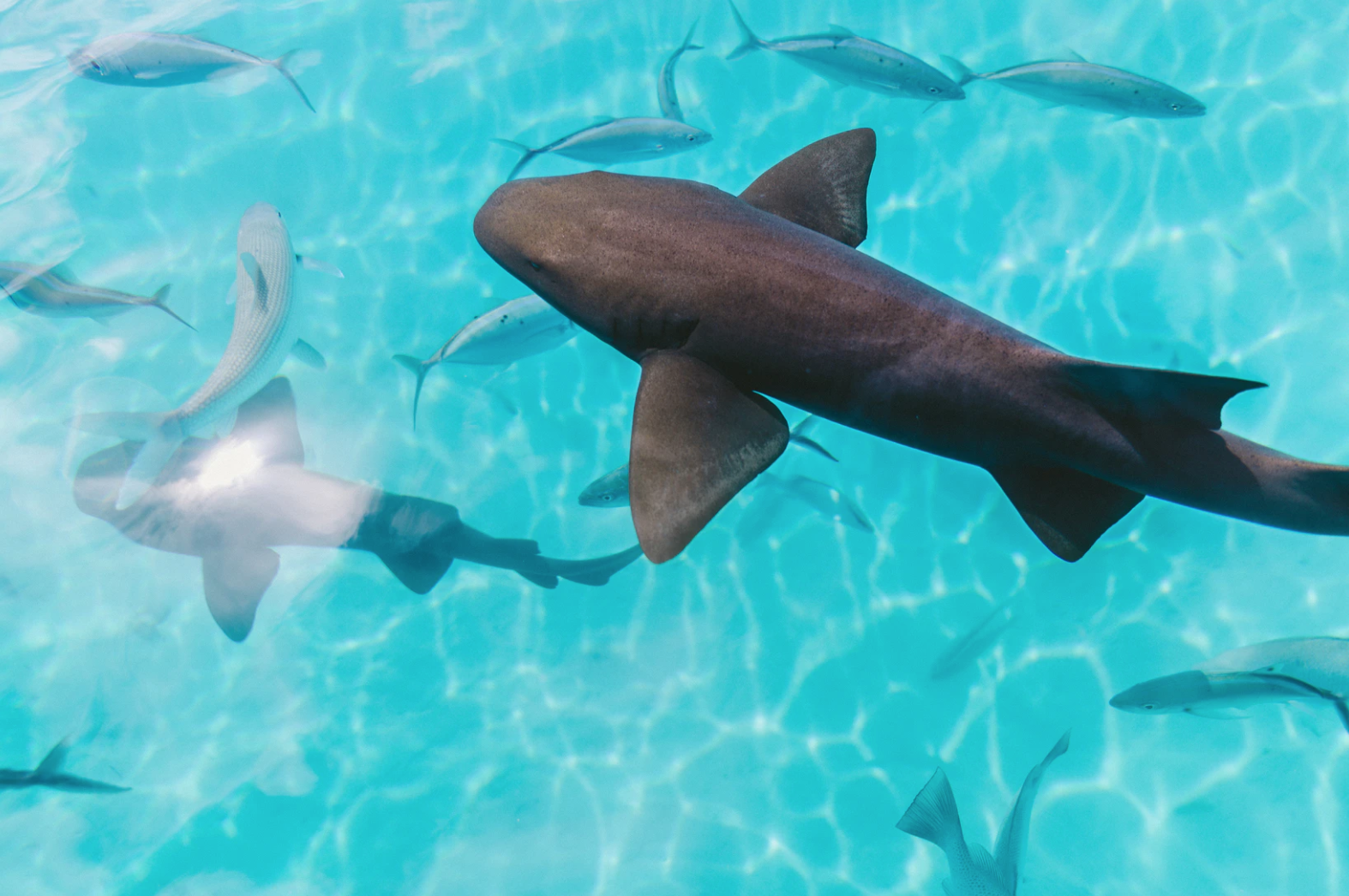 Where To Spend Your Vacation
This part is tricky to decide because like I mentioned earlier, Fiji is an archipelago of more than 300 islands! Some travelers do spend their time island hopping which is a lot of fun, but if you're on a budget my suggestion is to find part of the country and hang out there (especially if you have a limited amount of days in Fiji). You'll save quite a bit of cash by not having in-country transportation costs — oh and on top of the cost of just getting there, most islands have a "landing fee" that you have to pay to enter. Trust me, I know it's tempting to see as much as you can ... I mean you flew all the way here after all. But honestly you'll get an even more relaxing vacation if you stick to one spot, and your wallet will also thank you. Don't worry though, I've got some tips below that will let you do a bit of island hopping the budget way.
Wherever you go you can't really go wrong, but I put together a few places I'd suggest checking out.
Getting to other islands
If you decide to venture from Viti Levu, you can travel to other islands by boat. Many of the major rides are quite expensive (because it's basically usually tourists booking via their resort), however it's totally possible to book on your own and get a lower price.
But if you're concerned about your budget I would stick around Viti Levu. It's gorgeous and you can also do day-trip excursions to small nearby islands.
Destinations Near Nadi
Nadi isn't exactly a tourist's destination in itself, it's more of a collection of villages sitting just outside the high traffic international airport making it more of a travel hub. Most travelers fly into Nadi and then immediately take off to their resort, so they miss Nadi town altogether. However if you're more of a DIY backpacker, this area of the island is going to be really convenient for you because of how close it is, especially if you're limited on time. And just nearby you'll find that palm tree lined coastline you came to Fiji for.
Nadi Town
Just as a head's up, Nadi is pronounced like nan-dee. If you're near the downtown area you'll find shopping markets, colorful Hindu temples, zip lining and lots more, plus crazy cheap hostels to use as your home base (we're talking $7 to stay right on the beach). Wailoaloa Beach is only a 10 minute ride from the airport!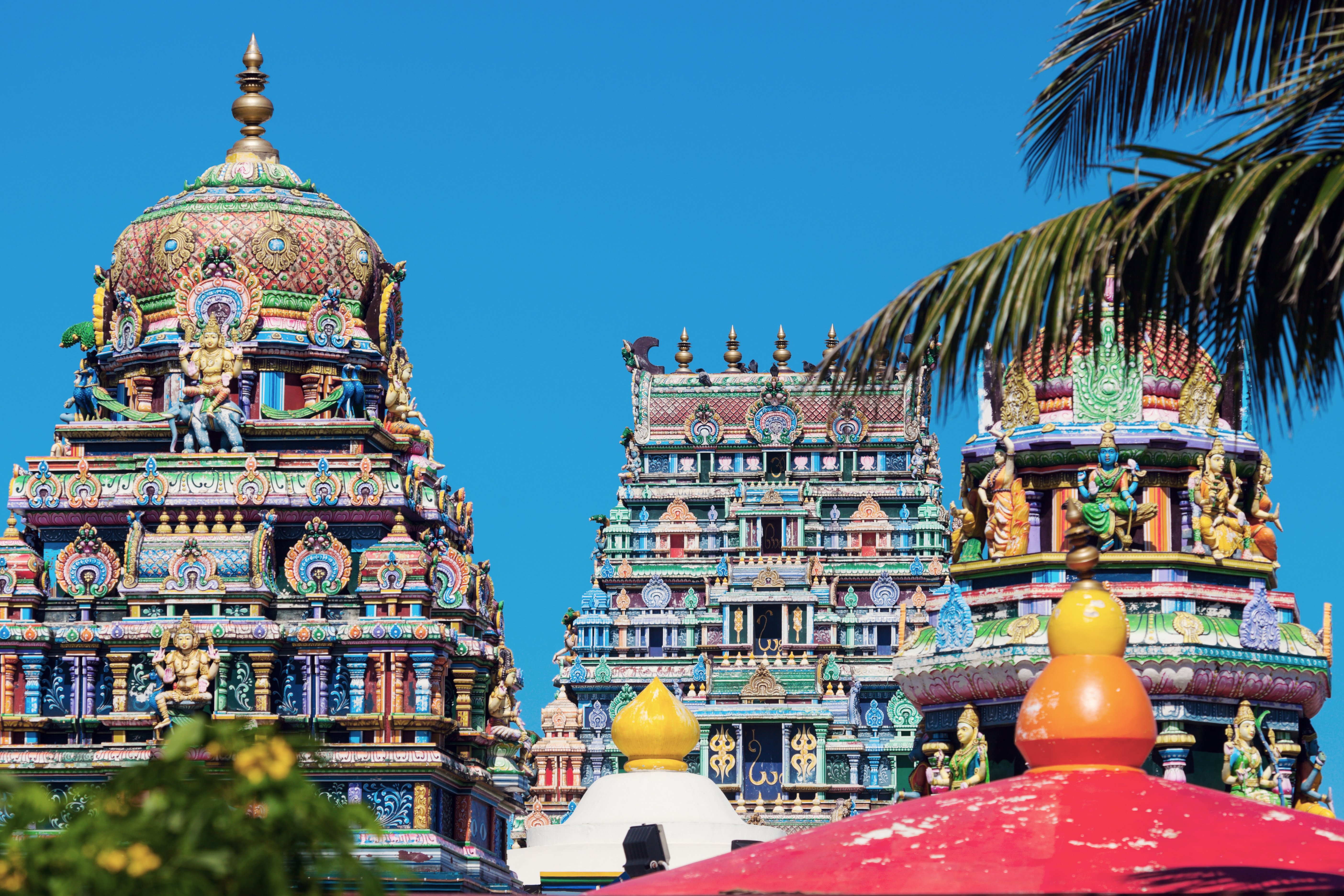 However most travelers do venture a bit farther from Nadi so let's talk about what's close by.
Denarau Island
An easy jump from Nadi Town with even better beaches. This is a pretty popular spot for lots of tourists and you can easily jump on day tours that get you out to other islands from here. Go sailing to white sand tiny islands, snorkeling and even swim with sharks, plus lots more. TripAdvisor has a list of a really popular excursions you could check out that will you a taste of the Mamanuca Islands for the day. Excursions are going to be a big part of your budget (like potentially $100 USD for the day's activity), but when you're able to have really fun adventures that totally make your trip, I personally think it's worth the price.
Mamanuca + Other Dreamy Islands
If you wanted to pick an island to jet off to, one of these 20 would be your best bet. This would actually be my pick if I was planning the trip for you. They're the closest to the airport so obviously the most convenient. And don't worry, they're as dreamy as you're hoping they would be! To give you an idea of the type of untouched paradise you can find, just know that Cast Away was filmed here. Remember that movie? Shout out to Wilson!
From Denarau and Wailoaloa (a beach near Nadi) you can take a ferry ride out to the islands that's only about 30 mins-1 hour. Easy peasy way to get to paradise!
From Denarau, the most budget friendly ferry rides are with Malola Cat and South Sea Cruise so check them out. The both leave multiple times a day, so that makes it pretty convenient for your schedule. Depending on where you go though, expect to pay $100+ for a two-way trip. Oh and just as a heads up, there's other services like private water taxis, and while ferry is usually the cheapest option, you might see if you can negotiate the price of the taxi so that when you split it with your entire group it's not so bad.
Little tip — the much cheaper option is to ferry from the Nadi area. Head to Wailoaloa and you'll save some cash on the ticket price. Check out Mana Flyer who offers transfers from Wailoaloa Beach to Mana, Beachcomber, Treasure and Bounty Islands every morning around 10-11AM.
In the islands you can find plenty of budget hostels, coral reefs to snorkel, kayaks and paddle boards to rent, and of course those white sandy beaches. This article has lots of tips to help you plan your trip to the islands.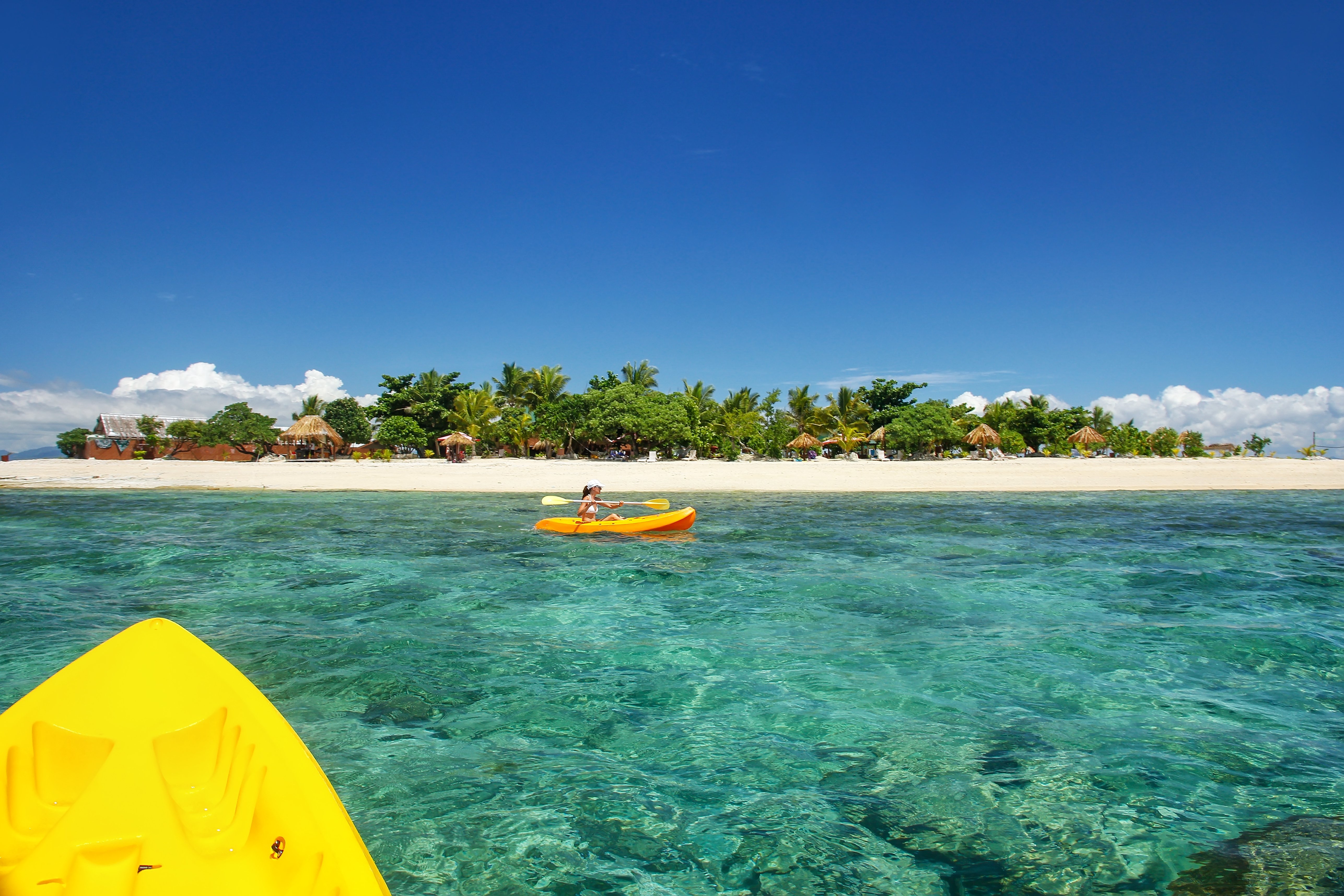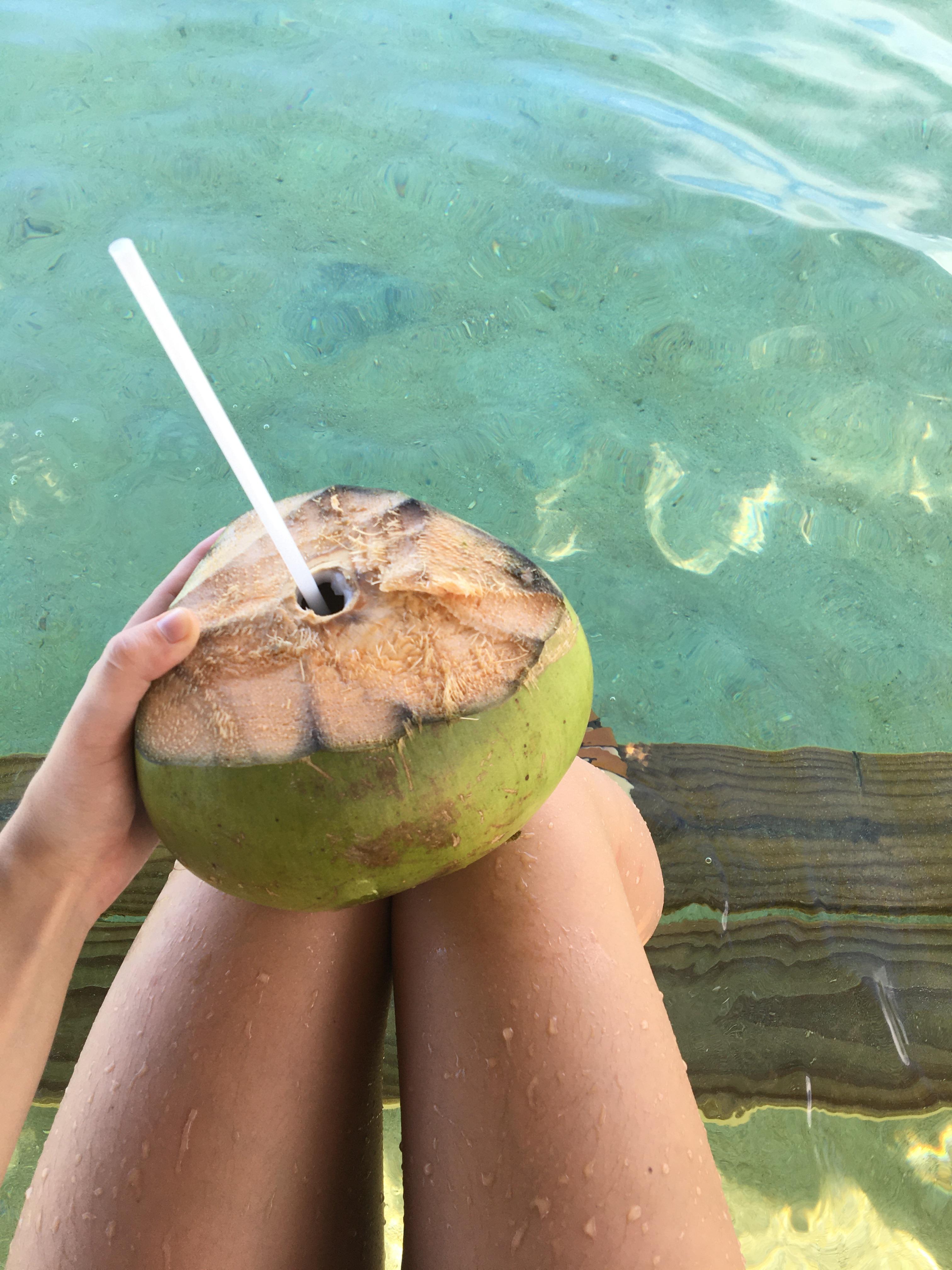 Finding Accommodation
Basically the more you can afford, the cooler the resort is. For me personally, I'd rather spend my budget on excursions and activities than where I'm sleeping for the night, but it's really up to you.
If you want to splurge a little bit, Fiji has some of those over the water bungalows that are what dreams are made of. This Marriott Resort in Momi Bay has some ... and while you probably don't want to spend the $800+ per night to actually stay in the bungalow, you could opt to do a room from the beach with a view of the bungalows! At the time this post was written, I found a room with a view that would house 4 friends for $333 per night. So, by the time you split the price you'd be paying a little over $80 per night. Definitely a splurge, so it just depends on how important that is for you. Considering most bungalow resorts cost much, much more, this could be one the cheapest ways to see a view like that.
But if you're reading this post, I'm assuming you're looking to score a deal where you can and where you stay is definitely one of the best ways to do that! You'll find hostels in Nadi with dorm beds for $5-10 USD per night (like this one right on the beach). Or if you head out to one of the islands you'll often find dorms for around $20 per night.
Check out sites like Hostelworld and don't forget about Airbnb too!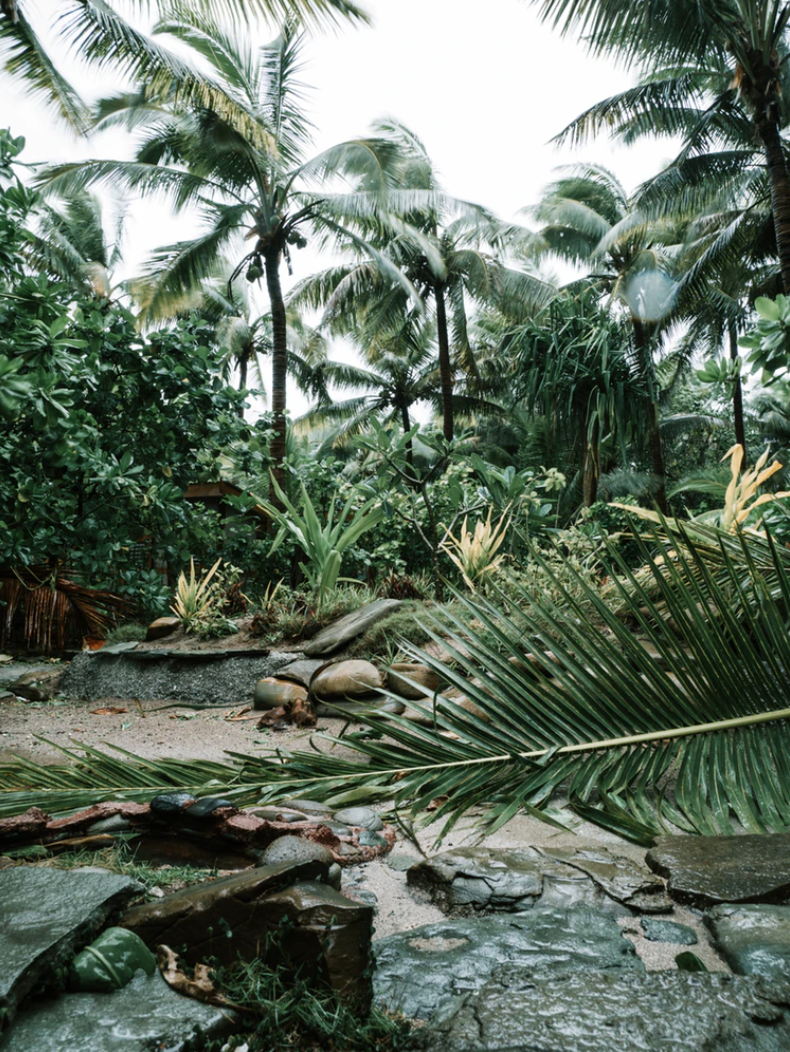 Quick Bonus Tips For Your Trip
Depending on your international phone plan, your data might be a bit slow in Fiji and Wifi sometimes hard to come by (plus it's generally not free). A lot of bloggers recommend purchasing a SIM card at the airport to give you a bit of data to get by. You can often get about 1gb for $5.
Cash is king in Fiji. There are ATMs around Nadi, so just make sure to pull out enough to take care of the majority of your purchases.
The low season is usually from November-April when there's more rainfall. The high season is their winter, which is usually from May-October. Most tourists come during the high season, so if you're able to plan your trip in the low season you're more likely to find better prices!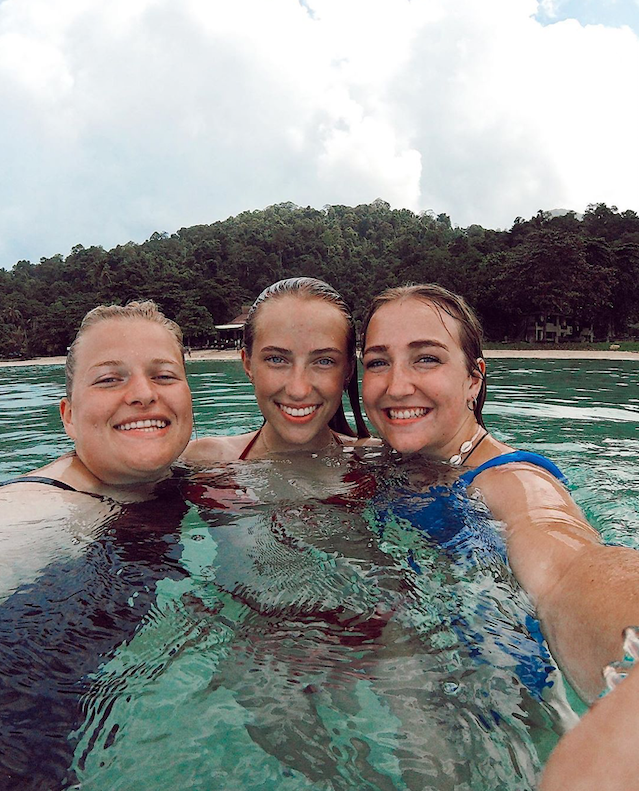 Oh and we've got volunteer opportunities in nearby Vanuatu!
International Language Programs (that's us!) is a non-profit based out of Utah in the United States. Our focus is on providing a way for college-age adults to travel and see the world in a way they can actually afford, and then to also be able to contribute to the communities by volunteering. We've got a Humanitarian in Vanuatu that we're in love with (especially since those lucky volunteers get to vacation in spots like Fiji), but there's also locations all over the world. Looking for other island destinations? Check out our Humanitarian program in the Dominican Republic!
Click that button below to learn more about how it all works and see if it's the right fit for you or something you could suggest to someone you know.