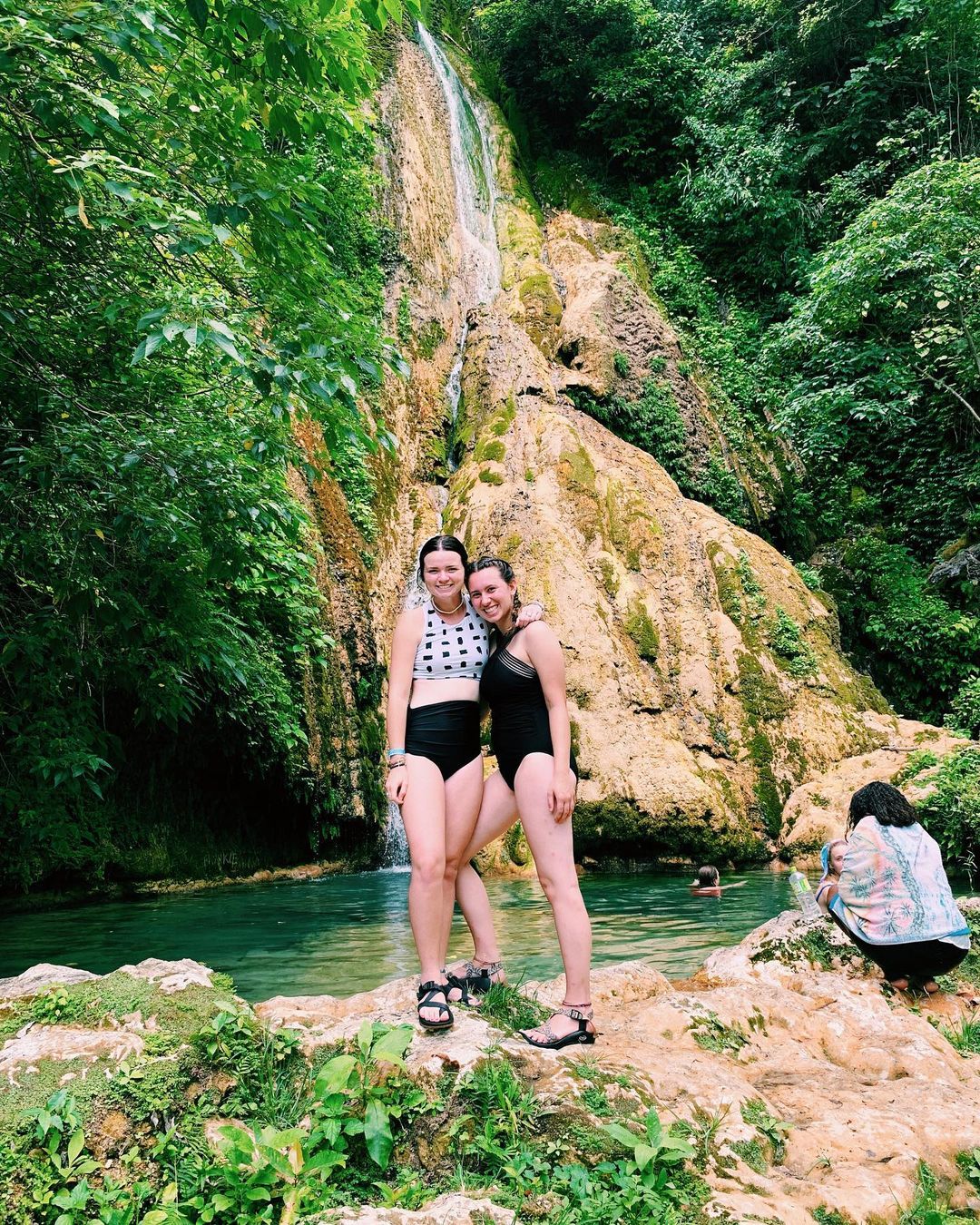 Visiting these turquoise pools is just something you have to do while you're on the tropical island of Efate.
Maybe you're just hearing about Vanuatu (I'm right there with you!) but just a little bit of research means delving right into an island full of cascading waterfalls, blue pools to swim in, stretches of pristine beaches and a few other reasons to hop on a plane here ASAP. It's a favorite vacation spot for Australians, and once the word got out about these waterfalls, people started coming from all over. Now, the Mele Cascades are easily one of the best things to do on Efate.
---
Looking for island lovers!
We're now accepting applications for volunteers in Vanuatu.
---
After you look at a few pictures I have a feeling you are absolutely going to want to see this place for yourself. Here are the details to help you plan your perfect visit.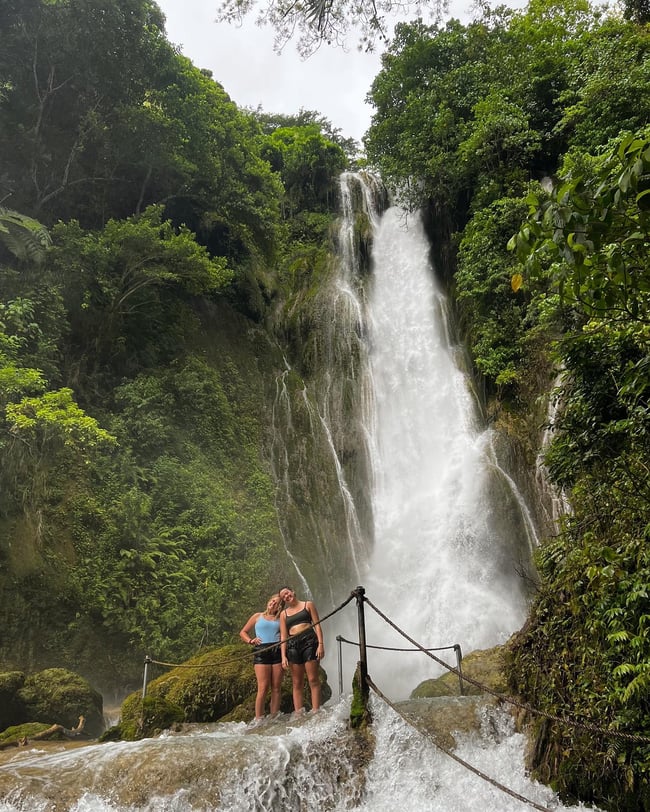 All About The Mele Cascades
Okay, first off … what are the Mele Cascades? They're a series of pools and waterfalls, some ranging from little terraces that are stacked into the hills (jacuzzi style) all leading up to a huge, thundering waterfall that's 100 feet tall. Some of the pools have natural rock slides that you can slip down, while others are set up more like a hot tub — more like a round swimming hole with sloping walls that you can just dip into. All of this is tucked away between little pockets of thick jungle, with bamboo lined pathways and rope trails that can lead you up the falls to the top. We have more about what hiking around here is like below.
There are a few hikes sort of similar to this around Efate, but this one tends to be the most popular for tourists. At times you may find it to be a bit crowded, but when we went we had the entire place to ourselves! Your best bet is to avoid days when the cruise ships have docked in Port Vila.

What Are The Hikes Like?
If you'd like to reach the huge waterfall at the top, you'll need to hike up there. When you first arrive, you'll walk past a couple of buildings where someone will walk out and charge you the entrance fee, then you're ready to start exploring. You'll first arrive at a little cafe/picnic area, then a trail that will lead you up to the falls. You'll cross over a wooden bridge, go through a trail that looks like it was cut right from the jungle, then you'll head right into the water, over little streams. It's almost like a little, rounded staircase carved right in the rock where the water dribbles over the pathway.
At some points, metal rods are placed in the pathway strung up with a rope you can hold onto to help keep your footing on the slippery rock. On either side of you (you'll essentially be surrounded) with little swimmings pots you can slide or jump into. Once you reach the top, there are pools to relax in, a great view of the surrounding Mele Bay and Hideaway Island, plus the thundering 100+ foot waterfall. You can do the hike up in under an hour, with more time if you're wanting to stop off and do some swimming.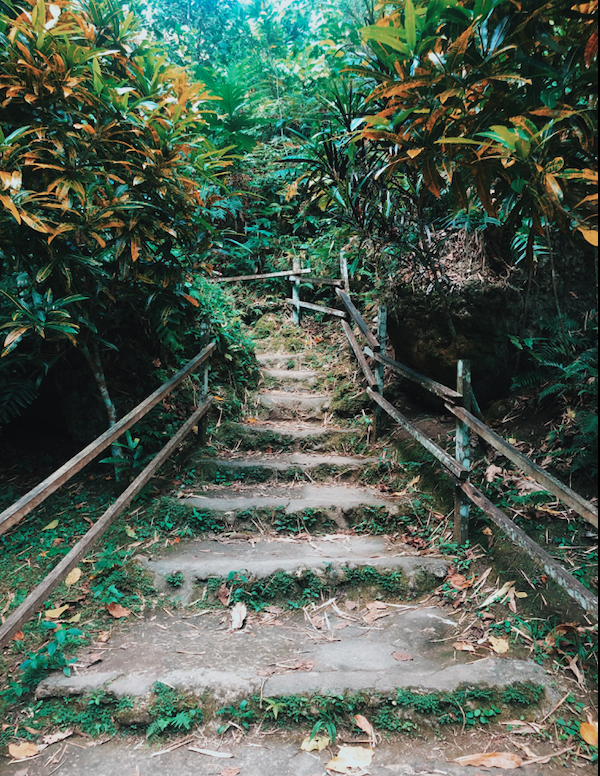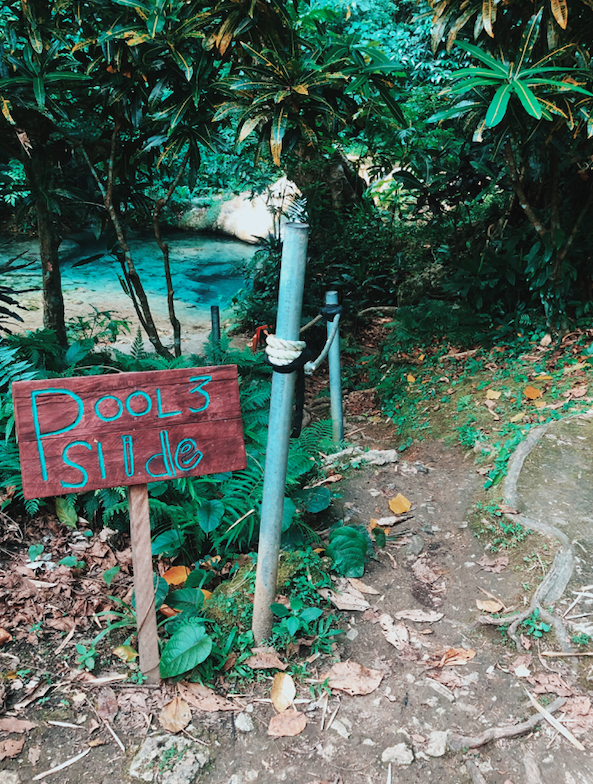 What To Bring
At the base of the falls, you can find a cafe (with WiFi on occasion), a picnic area, toilets, and changing rooms which is good to know. But for your day at the falls, you'll want to make sure you're ready to swim. You'll want waterproof shoes to hike in and swim in. We love options like Tevas or Chacos, or other similar type sandals that are good for some hiking but also good for any water adventures. The path up gets slippery, so wear something with decent grip.
You'll also want a towel and a swimming suit, and plan on changing once you arrive (or staying pretty covered up before and after your swim). Vanuatu's a pretty conservative country and we want to be respectful of that, so plan on changing once you arrive, or wearing an outfit that keeps you covered before you hop into the water.
It's smart to bring a dry bag for all of your gear (like your phone and any snacks you may want to pack). There's a lot of splashing and swimming that goes on, and you'll want to make sure valuables are in a waterproof bag.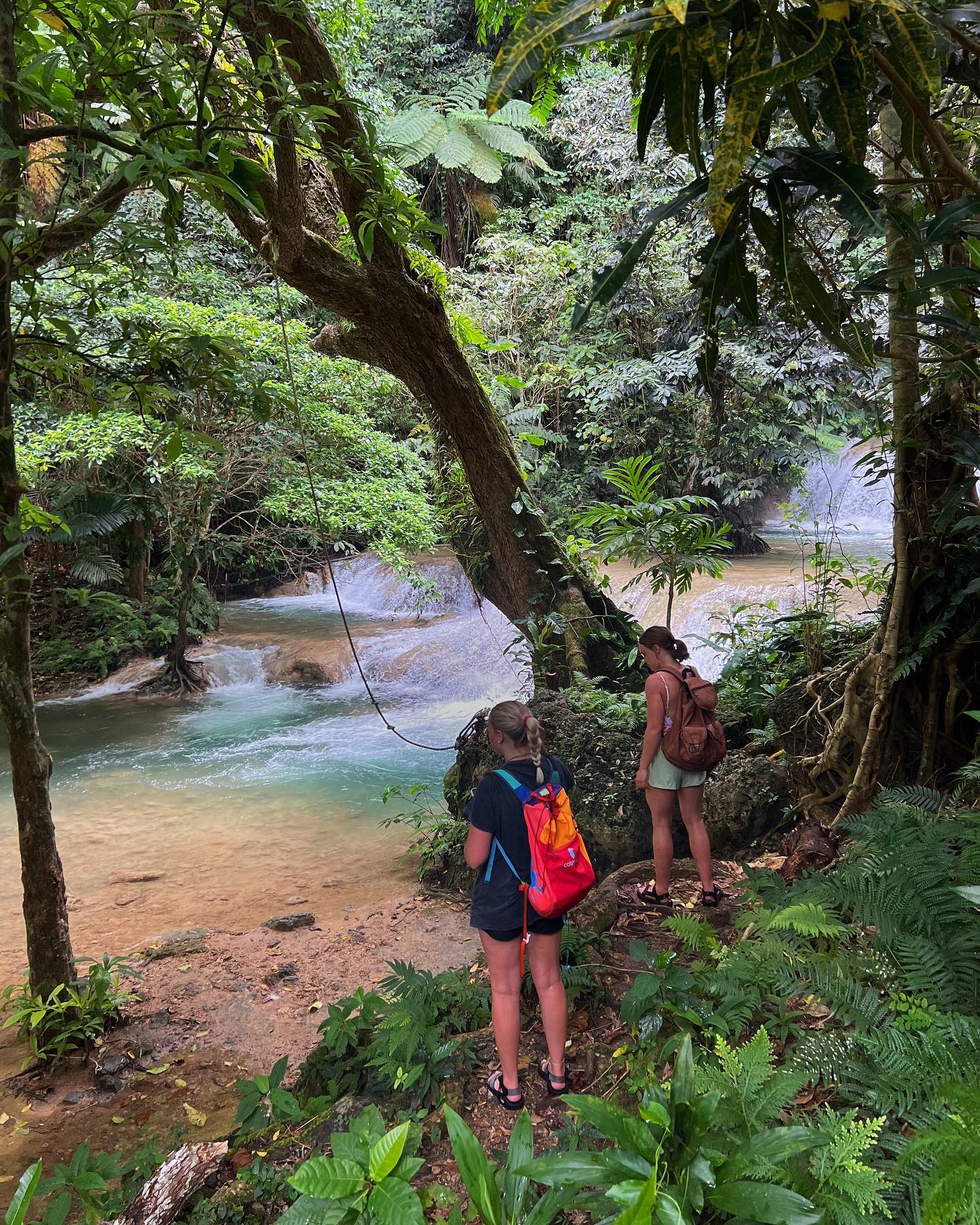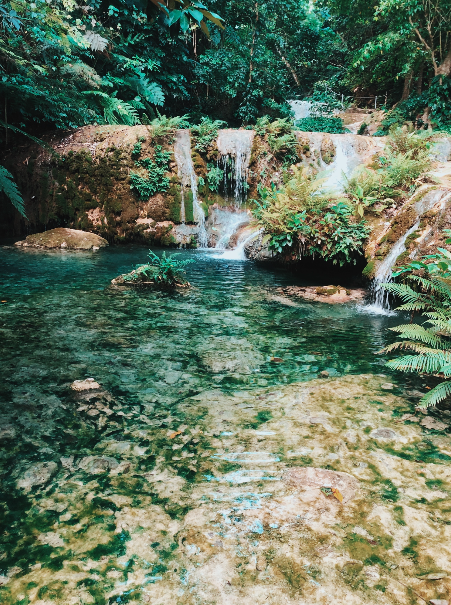 Hours + Cost
2,000 VT per person, best paid in cash (about $17 USD)
8:30 AM to 5:00 PM (typically)
Typically, most tourists spend about half a day here swimming, and around 1-2 hours if you just want to hike and do some exploring (but you're going to want to do some swimming). Like we mentioned, it's mostly not terribly crowded except on cruise days. When cruises come to port, there may be hundreds of people crowding the quiet pathways, so best to avoid visiting on cruise days.
A Little Background
We are all about supporting the local community while traveling, so it may be helpful for you to know that this series of waterfalls is not locally owned, but is instead owned by a Chinese company (which contributes to the high price). The waterfalls are a huge tourist attraction, and a lot of the funds raised by that entry fee is used for the cafe, picnic area, trail and other aspects you enjoy about your visit here.
The falls are absolutely beautiful and worth a visit (despite the price) but you may want to also look into other locally supported attractions during your time on Efate to help give back to this island community.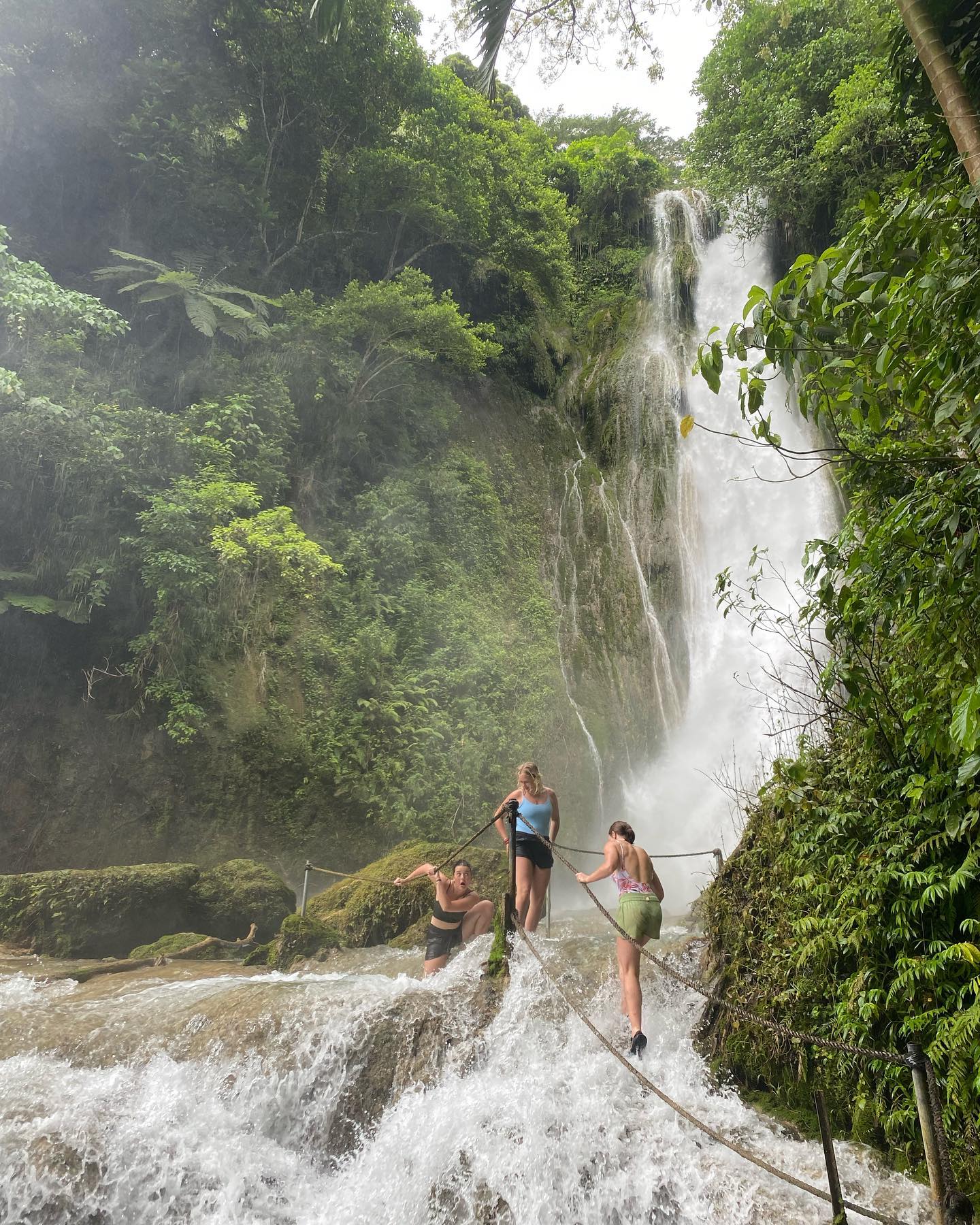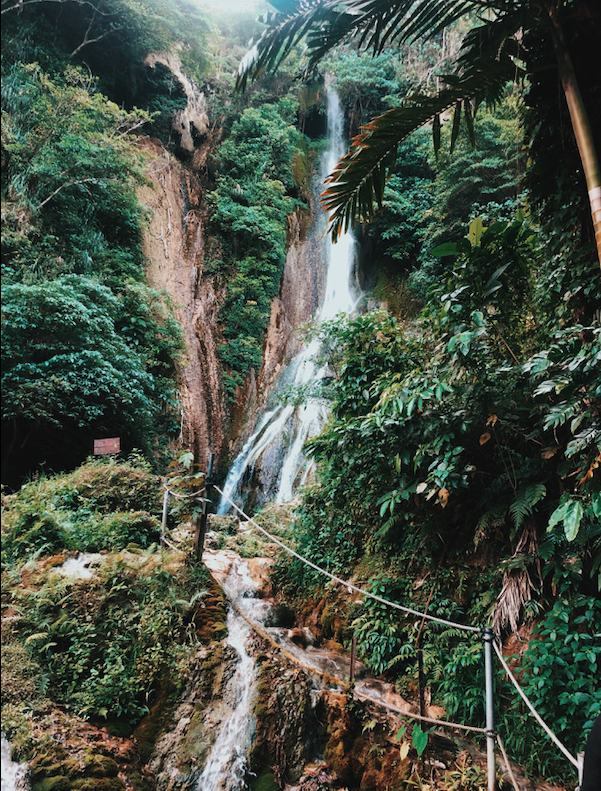 Getting Here
By Minibus
It's a cinch from Port Vila (or nearby). All around Efate, you'll find minibuses, which are basically like a public van crossed with a taxi. These mini buses have a certain route, but people just get on and off as they want. You can even ask the driver to take you to a certain part of the island (kinda like a taxi). Wondering how to find a minibus? Just peek at the license plate — you'll see the letter "B" that lets you know you can hop on and off.
Just flag one of these buses down and let them know you're looking to go to the Mele Cascades. It's a well-known spot, so your driver is going to know exactly where to take you. It's going to be about a 20 - 35 minute ride, for about 250-300 VTU.
By Tour
Going with a tour is an option, but an expensive one. They'll handle transportation but you won't get as much time with the falls. Evergreen is a popular option if you want to go that route, but I'm hands down a fan of the DIY option.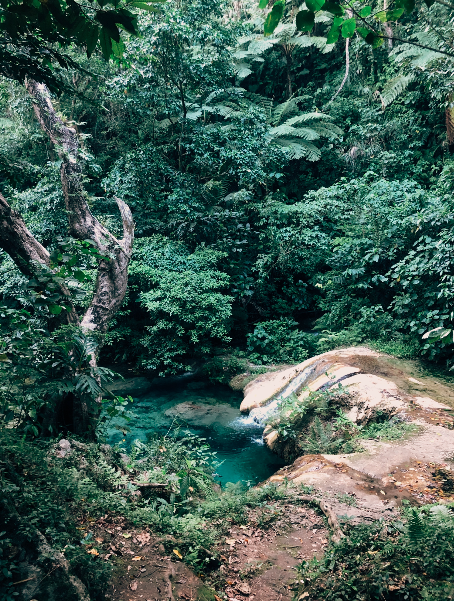 You're going to love it here.
Come to Vanuatu with us! ILP's a USA-based non-profit organization focused on sending college-aged volunteers abroad to teach English and make a difference. You'll be joining a group of fellow volunteers on this humanitarian program, spending your time teaching English and exploring your new island home (plus vacation days to do some country hopping).