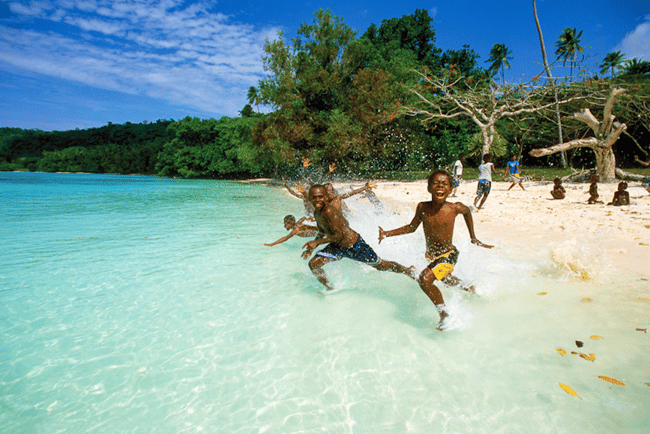 Vanuatu's biggest island is known for some of the best snorkeling, a collection of turquoise blue swimming holes, and a zillion other dreamy things to do. You can't miss a visit to this island ... especially since this post hits all the highlights.
The country of Vanuatu is made up of 83 tropical islands, boasting adventures like horseback rides through the turquoise mangroves, beaches so pretty you can't believe they're real, and swimming holes nestled in the jungle that you can only reach by kayak. Are you totally in love with Vanuatu yet?


---
Come volunteer in paradise
Now accepting applications to come volunteer in Vanuatu
---


A semester hanging out in this part of the South Pacific means living on an island and taking vacation days to go island hopping. And some of our favorite things to do are all found on the island of Santo.
The island of Espiritu Santo is the biggest and probably most famous, making it a no-brainer for a few of your vacation days. Nicknamed Santo, this gem is known for one of the world's best beaches, treks through the thick forests, pristine snorkeling, and loads of secluded stretches of sand peppered with bungalows. It's the definition of paradise, made even easier to visit thanks to all the tips found in this post:
Santo's Best Beaches
All About The Blue Hole
+ Other Can't Miss Adventure
Where To Stay On The Island
Booking A Flight Here
Santo's Best Beaches
Port Olry Beach
Are you picturing white sands with swaying palm trees and clear water that's a thousand different shades of blue? It's easily one of the best beaches in the country, and some people's favorite beach on the island. Port Olry is a perfect rim of powdery white sand, and gorgeous water. You'll find a couple of roughly cut wooden tables and chairs, along with little palm-tree thatched pavilions, but you're mostly set up to hang out in the sun and the sand. It's one of the best beaches you've never heard of.
There's plenty there to keep you for a full day, especially since you'll find cafes lining the sand and serving up dishes coconut crab curry (with slow, relaxed service that lets you order, take a swim, and be back before your order arrives) and the chance to do some island hopping after you're done enjoying the beach.
+ Visit Nearby Islands
There is also a collection of resorts that are set up, tucked away in the trees. Some visitors have had luck renting kayaks from Chez Louis Cafe, for about 500-1000 VT, and taken a quick paddle over to Malmas Island. The island is a part of a marine reserve so keep an eye out for turtles when you're in the ocean, and a huge colony of fruit bats when you're on the actual island. Malmas is found about 1 kilometer away from the Port Olry beach.
At low tide, you can even walk across the exposed sandbar to nearby Malet island.
Or, see if you can take an outrigger canoe over to Dolphin Island. You can contact Tarcisiusalguet@yahoo.com who's with the Little Paradise Bungalows. He can help you set up a boat trip (the boat fits five people) over to the island where you'll find a white-sand beach, and a couple of freshwater lakes, plus an overgrown trail that winds up the steep cliffs to Dolphin Rock. It's a killer viewpoint, but a total workout.
Getting Here
The beach is found north of the main city and capital, Luganville. If you're on a budget, you'll want to catch a bus there. Ask around to make sure the minibus still runs from Luganville to Port Orly. It's a 600 VT fare, leaving the Unity Pacific Garage. Or you can keep an eye out for minibuses driving around with the letter "B" on the license plate and ask for the price and route to Port Olry. It's about an hour drive by car, so a touch longer by bus.
You can catch a taxi there and take the hour drive to the village and beach of Port Olry. Taxis are going to be about 8,000 VT for a one-way driver, or 12,000 VT for a roundtrip.
Oh, one more thing: The village of Port Olry is something to experience before you leave the postcard tourist scene. The village is heavily reliant on fishing, just has it has been for hundreds of years. It's a more remote and removed section of the island, where it's not surprising to walk past a group of colorfully dressed mamas waving huge leaves to mats, used on the roofs of local houses.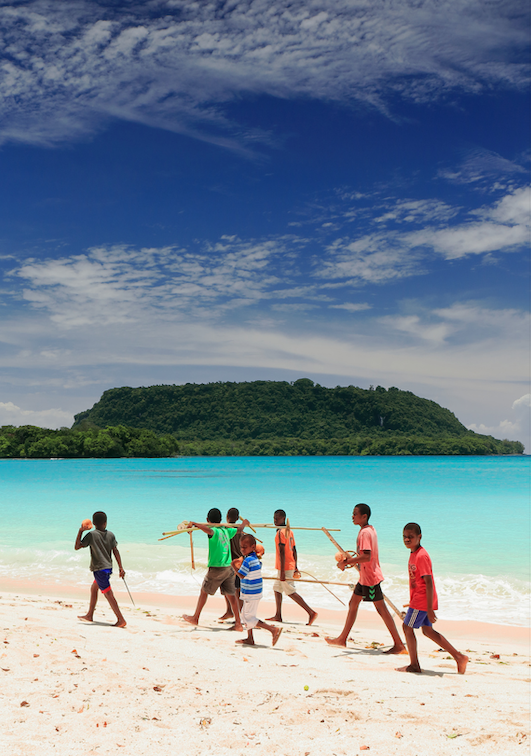 Champagne Beach (It's World Famous)
So every year someone puts together the world's list of the best beaches, and most times, Champagne beach makes the list. It hit #9 on this list put out by CNN if you're looking for proof. It's the ideal spot for swimming and just hanging out in the sugary-soft sand. It's a near perfect rim of that blue water, with a few grazing cows hanging out on the lawn behind the perfect beach. This spot is also a favorite hang out place for turtles … it's not unheard of to see turtles hanging out on the shore or seeing their head pop up from the turquoise waves. Unreal.
On one end of the beach is some stellar snorkeling, with bright blue starfish nestled in the sand and curving rounds of coral where colorful fish peer out to say hello. Be sure to bring your own gear if you want to snorkel. Hitting this spot at low tide is also an interesting experience. The beach gets its name from the slight "fizz" the water makes at this time (thanks to a volcanic base), creating similar phenomenon to popping bubbles in a flute of champagne.
Good To Know
There's a 500 VT to 2000 VT to enter the beach, so have cash on hand for that (the price fluctuates).
Avoid this spot on cruise day. It's easily the most famous beach on the island and is a must-hit spot for every nearby cruise ship. You'll find the serene scene flooded with tourists on those days, but visit on non-cruise days, and the beach is pretty isolated. Just make sure you pack up drinks and snacks for the day, there isn't much for sale nearby.
Though more remote, you will find some basic restrooms along with a shower you can use to rinse off.
Getting Here
The beach is found north of the main city and capital, Luganville. Take the bus if you don't want to splurge on a taxi. You can hail one down on the side of the road in Luganville and ask for Champagne beach. Just look for a minibus with the letter "B" on the license plate and ask for the price and route to Port Olry. Plan on paying around 500 VT for the hour-is drive.
You can catch a taxi there and take the hour plus drive to the village and beach of Port Olry. Taxi's are going to be about 8,000 VT for a one-way driver, or 12,000 VT for a roundtrip.
Nearby Lonnoc Beach
If you're looking for an amazing beach without all the hype of Champagne Beach, you'll love Lonnoc Beach. It's just a 10 minute walk from the world famous beach, and is just as pretty and pristine. It's more well known for a series of bungalows (the Lonnoc Beach Bungalows) where travelers can stay the night, but the beach is also an ideal hangout spot for the day. Similar to Champagne beach, you'll find that gorgeous calm water, soft white sand, a few palm trees waving in the breeze, and a couple of thatched roof pavilions for a spot of shade.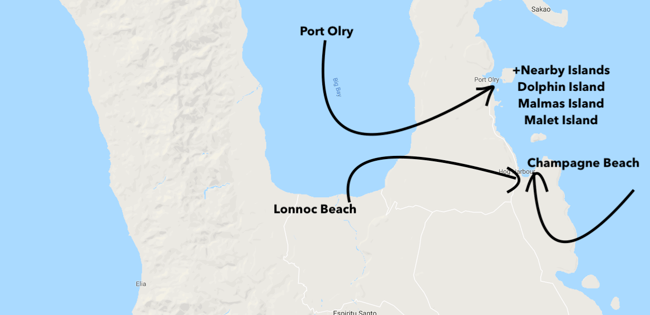 All About The Blue Holes
There are more than a few Blue Holes hiding on the island of Santos. Basically, these are natural swimming holes, boasting incredibly blue/green water hiding in the dense mangroves found on the island. I mean, just picture iridescent blue water surrounded by a thick jungle, just waiting for you to jump into for a quick swim. Most are outfitted with a rope swing and are just a crazy fun way to spend a day. While you'll find multiple islands peppered with blue holes (like this one on Efate), Santo is home to some of the most famous. There are more than a few on the island but these three are the most famous.
Oh and quick heads up — these holes all get their unbelievable color from the mineral content of the water. Don't alter the levels by jumping in with chemicals on! Please use ocean-safe sunscreen and bug spray before swimming.
Nanda Blue Hole
Some name this as the best blue hole in Vanuatu, so you have to check it out, right? Once you reach the car park and pay your entrance fee, you're just a short walk to some of the bluest water you've ever seen. The Nanda Blue Hole is a pristine oasis, framed by huge ferns and thick palms, with a little wooden boardwalk surrounding part of the swimming hole which makes for easy in-and-out access (or the best place to catch some sun). The water is unbelievably clear, with the chance for you to peek down and see little fishies flitting between the slats of the boardwalk. It's also freakishly blue, almost a magical shade that shifts the deeper it gets.
Apart from the swimming spot, you can find a little covered area where you can get soft drinks and coconuts (it's a little picnic area) and a platform + rope swing. The area around the blue hole have been specifically designed for day trippers, with a large under cover area, a bar with beer and soft drinks, picnic area and a swing with a platform.
Getting Here + Costs
It's about a 40 minute drive from Luganville, found on the east coast of the island. Minibus prices should be around 500 VT or so, with a taxi fare in the 4,000 VT range (from Luganville).
There's a 1000 VT fee to enter, paid in cash.
Riri Blue Hole
Out of the three, some think that the RiRi Blue Hole has the prettiest water. It's almost like a creamy sapphire blue — not as clear as the water you'll find at the Nando hole, but a stunning shade that is pretty hard to believe is totally natural, but is 100% mesmerizing. It's also pretty secluded without the luxury of the other holes there (you won't find a boardwalk like you will at Nando's, just a concrete border), but don't worry, there is a rope swing.
Getting Here + Costs
The Riri Blue Hole is the closest to the capital city, about a 35ish minute drive. You can reach this by taxi or by mini bus (prices are about the same as the other two for this). Supposedly, you can also reach this blue hole via outrigger canoe where a local will paddle you down the river to the blue hole and paddle you back after your swim, all for 500 VT. If that's an option for you, just ask the locals, near the bridge that crosses over the Ri Ri river.
There's a 500 VT entrance fee (pay this in cash).
Matevulu Blue Hole
Matevulu is home to probably the most famous rope swing, only reached if you can climb the curling banyan tree. Oh, and some really gorgeous water, colored an almost emerald green with a heavy mix of dark blue. It's a prime place to take a swim, surrounded by a thick forest with that giant banyan tree found right in the center.
Getting Here + Costs
It's about a 40 minute drive from Luganville, found on the east coast of the island. Minibus prices should be around 500 VT or so, with a taxi fare in the 4,000 VT range (from Luganville). But I'm a much bigger fan of hiring a kayak to get here instead. You'll paddle on the calm river through a Jurassic-Park like backdrop, before seeing the color of the water shift to that iridescent blue when you reach the Matevulu Blue Hole.
You can arrange kayaking through Island Time Kayaking. They have a 3.5 hour kayaking trip (that picks up in Luganville) for 6,000 vt. Get more info here.
There's a 500 VT fee to enter, paid in cash.
+Other Can't Miss Adventure
Ferry To Aore Island
Santo is the island known for fantastic beaches and amazing blue holes, but it's also the place for a slice of luxury. The little Aore island is just a couple of kilometers off shore from the capital of Luganville, making it an ideal day trip or mini, "side vacation" if you want to stay overnight in the luxurious bungalows who just have tall palm trees as their neighbors. The unassuming island is also home to a coconut plantation and some pristine gardens put up by the resort.
If you're thinking an overnight stay here comes with too big of price tag, don't worry. You can totally take advantage of all the amenities for the day as long as you buy lunch at the resort. So snag lunch, and you'll be able to feed fish at the wharf, snorkel (bring your own gear), spend time at the pool, and hang on the beach (of course). Get more info about the resort here: Aore Island Resort and more info about day guests here.
Getting Here
Take a ferry. It's a 15 minute ride from the mainland (the ferry leaves Philips Wharf, sometimes called BP wharf by the locals). It runs pretty consistently — leaving Santo at 7:30 AM, 8:30 AM, 11:30 AM, 2:30 PM, and 4:30 PM, and leaving the Aore Island Resort at 7:00 AM, 8:00 AM, 10:30 AM, 2:00 PM, and 4:00 PM, according to their Facebook page.
According to the resort policy, they suggest you arrive on the 11:30 AM ferry and return on the 2:00 PM or 4:00 PM ferry. Get more ferry detail here.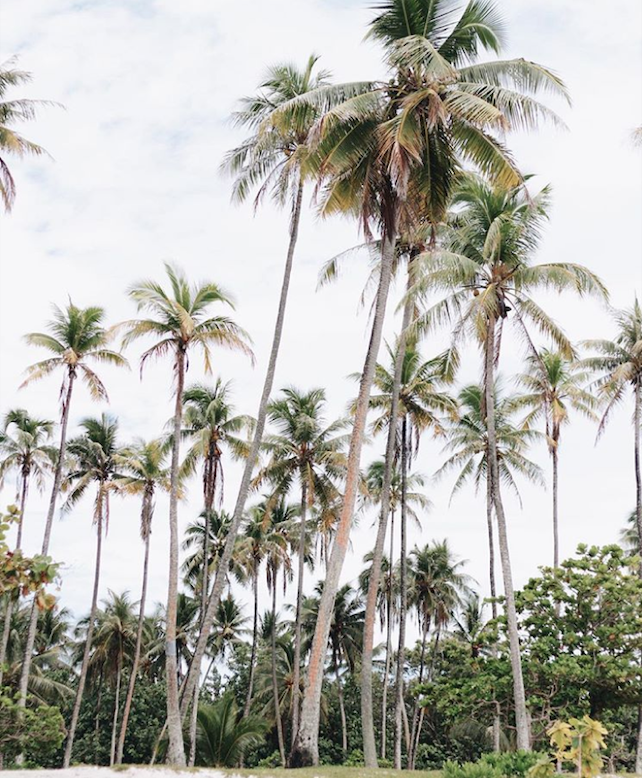 Mangrove Horse Rides
On Santo, there's a horse rescue center that takes visitors out on a pretty magical horseback ride. Yep, you'll hit the beach, but you'll also be able to ride through the channels of the mangrove forests, getting horse-deep in the pale aqua water …. make sure you're ready to get wet — some of the horses like to take a dip and dunk all the way underwater whether you're on their back or not!
Megan's the owner of Santo Horse Adventures, caring for each of the rescues and deciding which ones are ready for a ride that day. She also keeps groups small (about 8 riders) so you get a really tight knit experience during your ride.
It's 7,500 VT per person, which includes pick up at 8:30 AM. You'll finish around mid-day. You can send them a quick message on their Facebook page to get more info.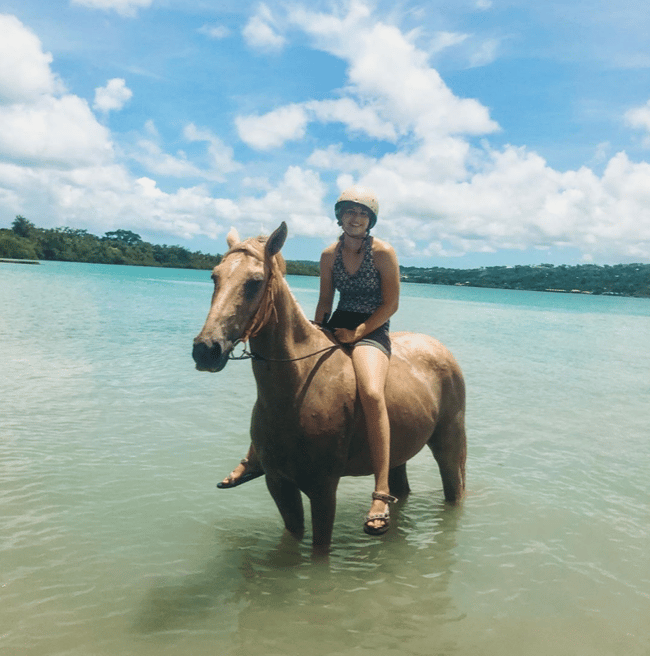 Adventure In The Millennium Cave
Trek through a coconut plantation and the Funaspef village before leaving civilization behind as you follow a guide deep into the caverns of the Millennium Cave, Santo's largest cave. In a nutshell, it's a day of trekking, caving, canyoning and swimming … but I know you want more info than that.
You'll cross bamboo bridges, delving (via river!) into the dark cavern, spotting bats and swallows before emerging on the other side. Hikers also get their fair share of thick jungles, a thundering waterfall, and a swim in the cool river. You'll need to scramble over mossy boulders, swim through the flowing current of the river, and rinse off in the cascading falls. Too many have said this is a can't miss adventure if you still need a bit more convincing.
Here's a link to a popular tour agency, who does this tour for 9,500 VT. Tours typically pick up in Luganville, or you can arrange to stay in the remotely rustic Vunasep village, a front row experience to the local village culture that continues to shape Vanuatu even in the 21 century.
Snorkel A WWII Wreck
The island is a hot spot for all things underwater with so many beaches that have really bomb snorkeling just off the coast. But if you're wanting to see more than just reefs and ocean life, you'll want to dive down to experience a few shipwrecks and memoirs of WWII. One of the most interesting is a spot called Million Dollar Point.
The United States had a military base in Vanuatu during the war. When it ended, the US tried selling the remaining materials (think ships, tanks, jeeps and more) to the French and British at an insanely low price, but didn't get any takers. Instead of leaving the goods for the taking, they were sunk creating the nickname "million dollar point". Millions of dollars of materials were dumped off short, now creating an ocean bed littered with remnants of the war, covered with blankets of coral. It's a mix of twisted metal and bright ocean life, creating a pretty unique place to snorkel.
It's a 500 VT fee. Bring your own snorkel gear and you'll be able to see quite a bit from the surface or a little bit of free diving. During low tide, you can see some of the wreckage on the sand.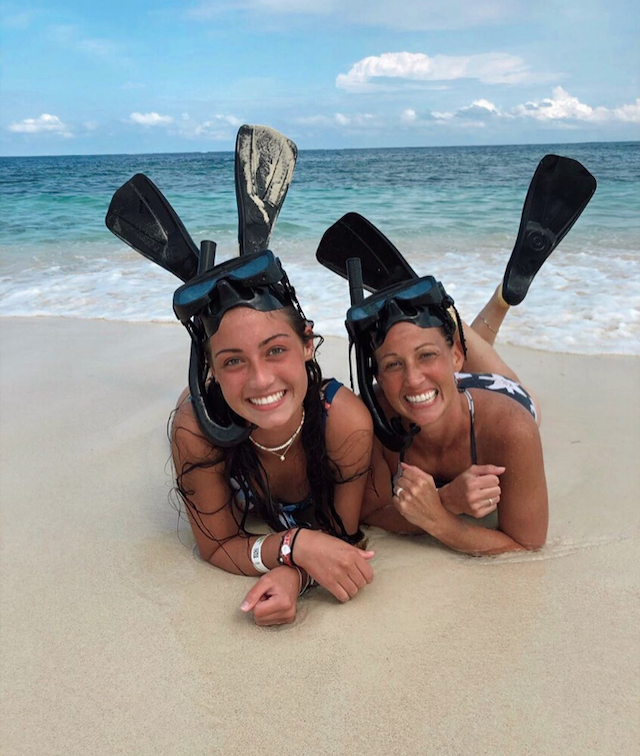 Where To Stay On The Island
Most of the island's attractions are on the eastern side of Santo. You're welcome to check out accommodation in Luganville, just know that most attractions are going to be a 30-60+ minute drive to reach some of the things you're wanting to go do. I'd suggest hanging out in the northern part of the island (around Port Olry beach, near Hog Harbor … maybe the Lonnoc Beach Bungalows?) for a couple of days so you can check out the beaches, then take a trip down to a couple of blue holes that are found between Hog Harbor and Luganville.
Then you might want to spend a day or say in or near Luganville, giving you the chance to hop over to Aore island, or be in a good pick up point to visit the Millennium Cave. Or visit the blue holes from here, they're all within a 40ish minute drive or so.
How Long To Stay
You'll want to spend 3-4 days here, that's the sweet spot. The island is full of all kinds of adventures, so a few days means time to lay around on the postcard beaches, take a half day to explore a blue hole or two, then a mostly full day adventure like a day on Aore Island or the Millennium Cave. Even with four days here, there will still be things you won't have time for, there's that much to see and do here.
Booking A Flight Here
From Efate
Flying island to island, your only domestic airline is Air Vanuatu, with available flight to other islands in Vanuatu as well as rates to nearby vacay spots like Australia and New Zealand. From Efate, you'll want to head to the only airport (Bauerfield International, VLI) to Santo Pekoa (SON). Flight costs can vary but you can snag roundtrip tickets for about under $300 USD.
Getting Around Santo
Like we've hinted at with the info above, you have a couple of choices. Taxis can get you pretty much anywhere but are going to be hands down the most expensive option. There are some public minibuses (marked with a "B" on the license plate) that you can just flag down on the side of the road. These are around 200 VT to get around Luganville, and more in the 600 VT range for places around an hour way. Most places you're wanting to visit are around an hour away from Luganville.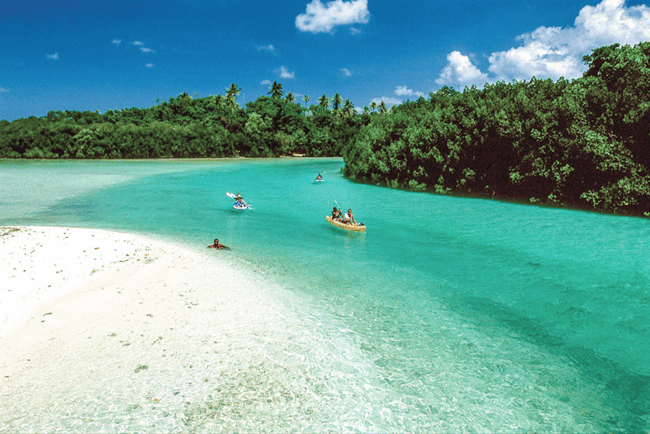 If you're ready for island life ....
You're ready for a semester in Vanuatu. This humanitarian program in the South Pacific is focused on teaching English to young kids in a village near the capital city, with plenty of free time to explore this country. You're set up with a group of college-aged volunteers to teach, travel, and explore with, with vacation days + weekends to really get the most out of your semester.