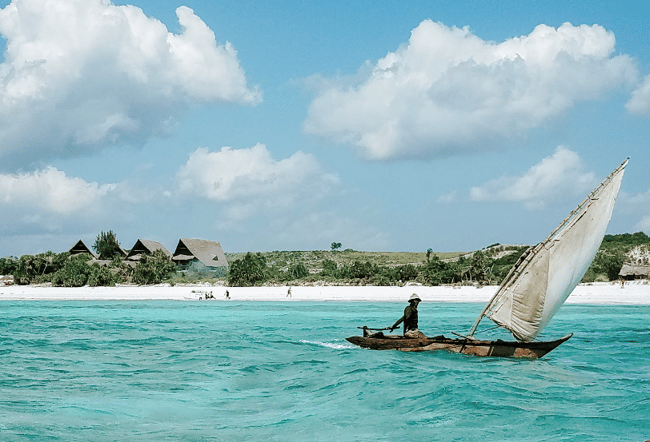 Our Africa volunteers are just a short flight away from what may be the most perfect beach vacation ever.The island of Zanzibar is exactly what you are looking for. Baby blue water, swaying palm trees, plus the chance to hike deep in the dense jungles to hang out with chameleons, pet giant tortoises, and monkeys. Fancy a trip around painted buildings in Stone Town? Or want to go swimming with wild dolphins? How about having a seafood dinner in the middle of a floating island, called "The Rock?"

You can totally do all these things in more when you vacation in Zanzibar.


---
Dying to see how you can make a semester in Africa happen?
Come see what volunteering in Uganda is all about.
---
Luckily for you, we have our best tips and tricks to making this vacation just about perfect.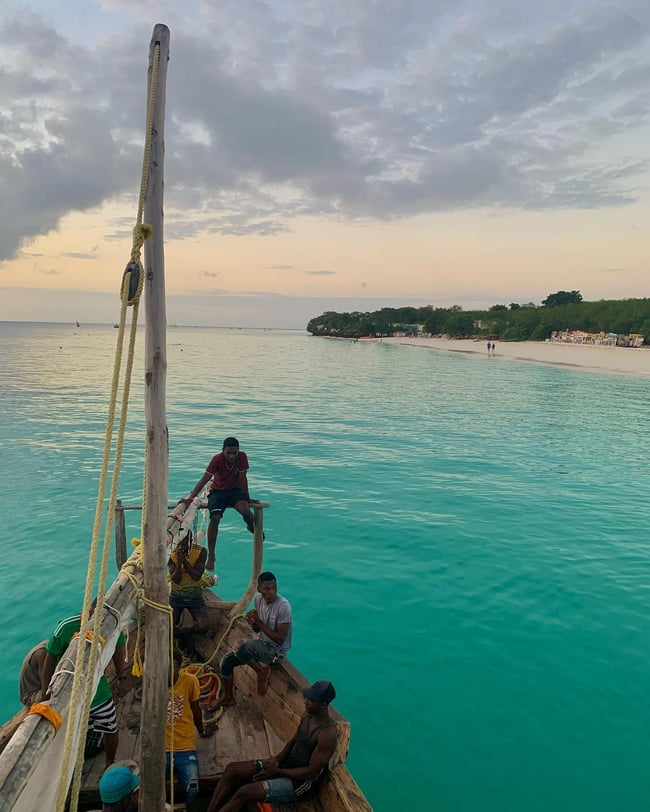 What You Have To Do
Come hit all the turquoise beaches, swim with wild dolphins, trek deep into the Jozani forest to hold chameleons and spot monkeys, go parasailing on blue blue blue waters, the most amazing boat rides, and get a henna tattoo after a day of wandering Stone Town … We have a total list of our favorite things to do in Zanzibar so be sure to give that a read before planning your days, but here are a few highlights:
Hit All The Best Beaches
Since you're probably coming to Zanzibar for time on the snow white sand and a few adventures like taking boat cruises out to that unbelievably clear water, you'll want serious time on the best beaches of the island. We're huge fans of booking a tour on the traditional wooden boots for a day of snorkeling, deep sea fishing or swimming with dolphins.
But for pretty beaches, you'll want to visit Nungwi, found up at the northernmost tip of Zanzibar. You'll want to avoid the southern beaches — they have a harsher tide (think more seaweed washed up on the sands) and a rockier coastline … But that's where the best tours are if you want to go swimming with wild dolphins.
There's a whole post all about the best beaches in Zanzibar that has everything blocked out in detail.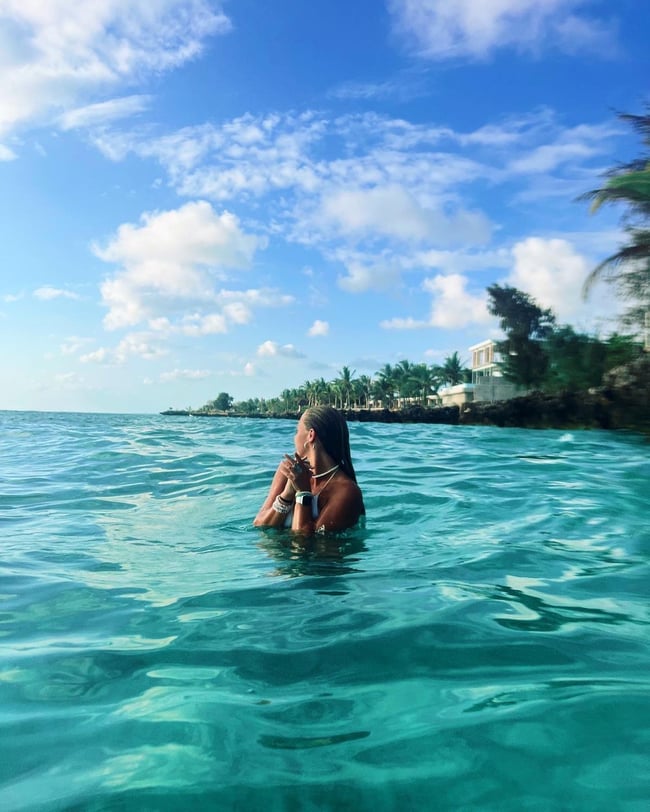 See Monkeys In The Jozani Forest + Visit Joreifa Park
We love love love the beaches, but are low-key obsessed with the animals found in the Jozani forest. It's the only national park on the island and is the ideal way to break up your days on the coastline, or the perfect activity for a rainy afternoon. Come for all the animals on your list — tons and tons of monkeys (including the Red and Black Colobus which are only found in this one national forest on this one island … talk about rare!). Keep an eye out for freshwater crabs chilling out in the rocky pools and the smallest tree frog in Africa (it's about the size of a pencil eraser).
The forest is found right in the middle of the island and is our go-to half day adventure, especially when you visit the nearby Joriefa Park to spend some up close and personal time with the chameleons and other animals.
Get all the info about visiting Jozani and Joriefa Parks here.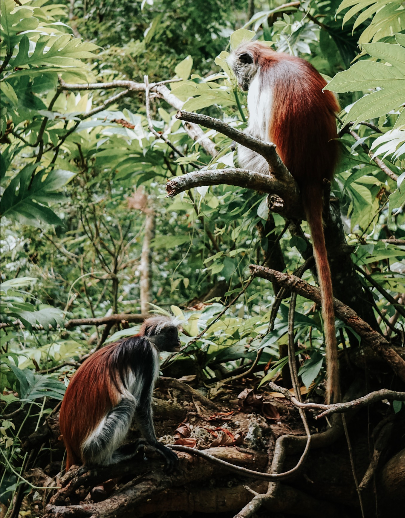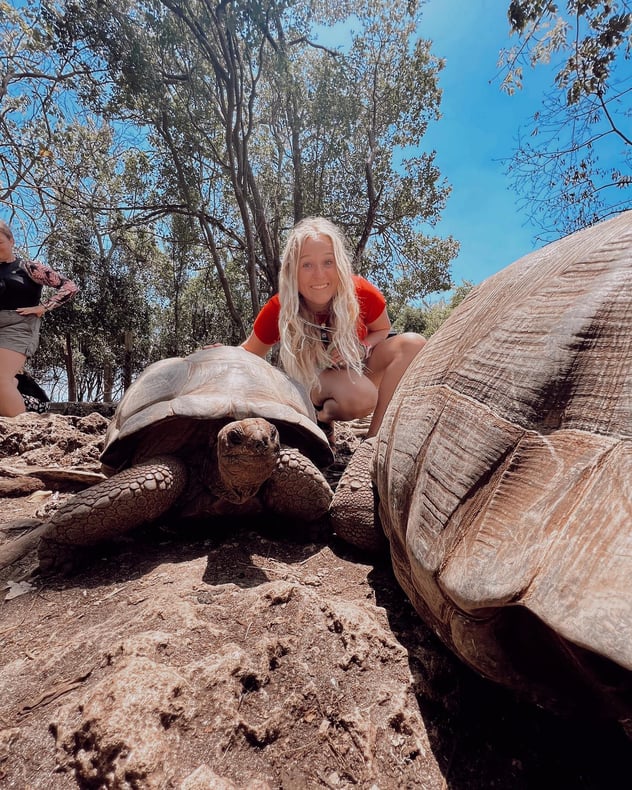 Swim With Sea Turtles
Past groups have visited the Baraka Natural Aquarium (it's in Nungwi) to get up close and personal with these animals. The aquarium is a reserve for sea turtles who have been caught up in fishermen's nets: they're monitored and released once they've reached a certain size (and are healthy/recovered from any injuries).
You can swim in the natural aquarium and get some seaweed to feed the turtles with (just be careful! They tend to bite when you have food available, so it's recommended that you feed the turtles from above and watch your fingers!). Bring a swimming suit (or wear one) — it's also recommended you don't wear a green swimming suit that could be confused with seaweed.
Address: Find it here (it's in Nungwi).
Hours: 8:00 AM to 6:45 PM, daily.
Cost: $10 USD
Explore All The Sites In Stone Town
Besides the fact that Freddie Mercury was born here (and you can totally see his house by the way) this place sounds so cool. Stone Town is a labyrinth of Arabic-esque alleyways with Indian and European architectural influence and winding pathways, filled with history. Stone Town used to be the center of the booming spice and unfortunately prosperous slave trade - the market is called the Old Slave Market by some. A big thing to do is just to wander around peeking into shops, open windows, bazaars, and passing by the occasional mosque, but we have some highlights to help you know what to see:

Visit Darajani Market, a sprawl of vendors with baskets full of local spices, piles of fresh fruit, a fish auction if you make it early enough, plus a mishmash of electronics, clothes, etc. If you're into shopping, get everything on your list here — shop for glimmering brass, copper, and beaded jewelry, bring home traditionally woven towels, giant hand carved chess, squares of handmade soaps, or pull a few containers of fresh spices from the giant baskets on the street. It's your classic African market experience. Or, grab lunch (or dinner) at Forodhani market. It's open in the late afternoon and gets busy, serving up fresh veggies, grilled fish and meat. Big fan of ordering some fresh fish grilled up with potato balls, naan bread and samosas.
Make sure you have your camera handy (and plan some time to get lost in the winding alleyways): there are beautifully designed doorways hiding around the corners.
Thinking you need more time in Stone Town? You're totally right — get our guide to Stone Town here.
Places To Stay
We're fans of staying in Stone Town for a day or two, then making your way to the beaches (some say to get as close as you can to "The Z Hotel" on Nungwi Beach to get the best location at what some say is the best beach).

Here are a couple of recommendations depending on where you're staying on the island:
Ten to Ten Hostel - In Stone Town
Right in the center of Stone Town with a helpful staff, 10 to 10 Hostel has a killer location and more than affordable rooms. Just note that there is a breakfast option you can pay for but in our experience, it was only nice if you had the time for it. Breakfast was supposed to start at 8:00, but it wasn't ready until a bit before 9:00. It's yummy, just inconvenient if you needed to be somewhere on time and didn't have time to wait for breakfast! Shared dorm rooms are around $20 a night, book here.
Lost & Found - In Stone Town
Found right in Stone Town (right by Freddie Mercury's house actually), this place has rave rave rave reviews. A helpful staff, a can't-be-beat location, and things like air conditioning which makes a difference on this tropical island. The hostel has a mini cafe you can eat at, sell water at the front desk, and is right around the corner from a few restaurants and a little market. Shared dorm rooms are about $10 a night, book here.
AirBnBs + Other Hotels
In the past, groups have opted to stay at AirBnBs — like this one.
This is another spot groups have stayed at, though it's a little far away from most of the spots on this itinerary. Book here.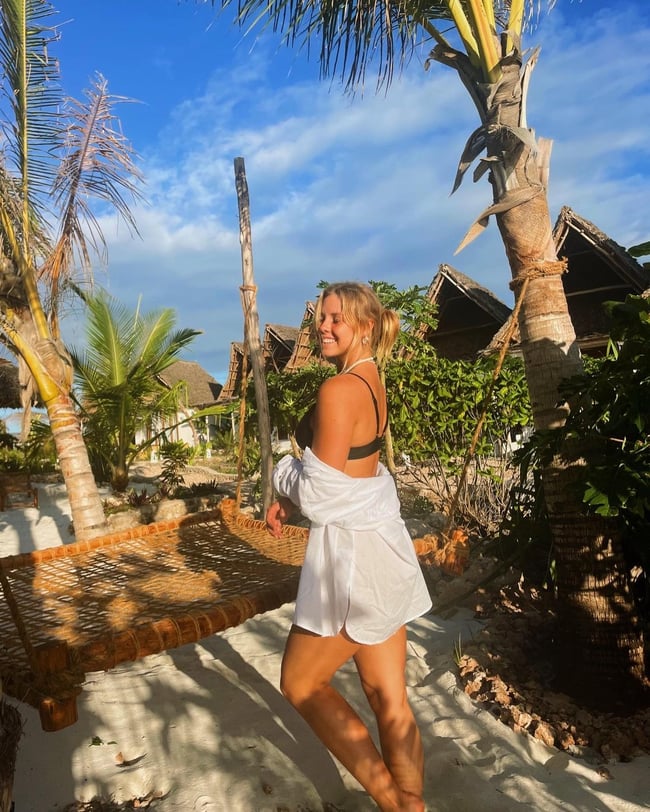 Recommended Restaurants + Things To Eat
Because we think you'll want to explore all the best parts of Zanzibar, we've pulled out our favorite restaurants and put them all in one place (along with where they can be found in Zanzibar).

Eat Zanzibar Pizza (In Stone Town)
You knew some research would include food, right? This local dish is a thin pancake like dough, filled with pretty much anything you could imagine (go sweet with chocolate and bananas or go savory with fillings like onions + tomatoes + eggs). You can find this local classic in a few places, just look for little pop-up stands in the Forodhani Market. Pro tip — this meal goes great with a glass of fresh pressed sugar cane juice.
Ma Shaa Allah (In Stone Town)
You'll find a little bit of everything on this menu; we're talking burgers, wraps sandwiches, even stir fried noodles … but we love love love the Indian curries you'll find and the more local dishes, like kabobs and rice. Prices are also great, with most meals priced about 10,000 - 12,000 shillings ($4-$5). Yum!
Gelato At Mama Mia (In Nungwi)
If you want to eat gelato right on the beach, come to this place in Nungwi. Plan on paying about $1.75 USD in flavors like coconut & Nutella, pina colada, peanut butter, mango, passion fruit, lime + more! If you're in the mood for something more than gelato, you can find a full Italian menu serving up favorites like pizza and pannacotta.
Dine At The Rock (In Pingwe)
One of the most famous restaurants in the area, and for good reason. It's a total photography, bucket-list adventure to eat at this fairytale restaurant perched on top of a rock right off the turquoise coast of Pingwe. Come visit at high tide and a boat will take you out, or come during low tide and walk across seaweed strewn sand to reach the restaurant.
Come peek at the menu here, and know that this will definitely be a bit of splurge (most main courses are in the $20- $30 range), but a dinner you won't ever forget. You absolutely need to book a table in advance here.
Best Time To Visit
You'll find warm, tropical weather year round, making it an ideal island getaway for anyone vacating during their ILP semester in Uganda. However, to keep all those gorgeous green jungles nice and lush, you'll see quite a bit of rain no matter when you are visiting. The worst of the rain tends to happen during monsoon season which is in November and December, and again in April and May. Some say the very best month to visit is June, but even then you'll get some cloudy and rainy days. You'll find that many times, a rainy day means a quick downpour for an hour or two (or less time) then it breaks and you'll see clouds or even sun again.
Our best advice for your visit is to come hang out in Zanzibar for about 3-6 days (or longer!) and plan activities that are rain friendly like visiting Stone Town and the Jozani forest and keeping an eye on the forecast for days sunny enough for a trip to the beaches.


A Few Local Tips
Pay In Cash
You will pay for almost everything in cash, including hostels, tours, tickets, and all of your meals. This is pretty crucial to know since there are limited ATMs on the island. A few (few!) places take cards in Zanzibar but they are few and far in between — even pretty universally accepted cards like Visa aren't popular options. Most places will take US dollars of schillings. On our visit, we found a few places in Nungwi that let you withdraw cash, but you'll want to be prepared with cash before you go just in case you run into issues on the island.
In Dar Es Salaam, we found an ATM so you can stock up before you go to the island. The ATM outside the Tanzania Women's Bank down the street from the Azam Marine Ferry Terminal (where you'll take the ferry on over) takes Visa and MasterCard but has a 400,000 Tanzanian schilling limit (that's pretty typical). There is also a National Bank of Commerce down on the corner from the Azam Marine Ferry Terminal and a sometimes out-of-order ATM in the airport to use before you visit Tanzania.
Getting Around The Island
Feel free to hop on a dala or a convoy — both are forms of public transportation that locals use. There aren't any official routes published online so you'll want to talk to some locals (restaurants or your hostel/hotel to get some help knowing where they pick up and drop off).

In general, buses to the northern part of the island (like Nungwi, Kendwa, Matemwe and Kiwengwa) leave near the Darajani Market in Stone Town. To head south (to places like Kizimkazi, Jambiani, Michamvi) you'll find some leaving from Darajani, but others leave by the East German Heritage apartments (it's around the corner to the right, or just look for a bus with the M/KWEREKWE) sign on the dash — it'll take you to where all the buses for the southern coast leave. You don't pay before boarding the bus: only pay the conductor when you are getting close to your location (they are typically in a blue or yellow shirt). Prices are about 2,000 TSH per person, but people will try to get you to pay more for a one-way ticket. If you have bags, you may be asked to pay 1,000 TSH, but don't pay more than that. You'll do all your negotiating with the conductor but others may try to say they are the conductor. Just keep your eye out for the scam.
If you'd rather not (or can't) take a dala or convoy you'll be relying on taxis, private drivers, and tour options which arrange our transportation to get to places too far to walk.
All taxi and private driver prices are totally negotiable, so make sure you agree on a price before getting in. You can rent a driver for the day for about $50 USD which isn't too bad if you're splitting it with 3-4 people. Some groups have gotten a taxi price down to $15 USD from Stone Town to Nungwi which is great bargaining, but they'll start at $50 or $40.
You'll probably be booking a few tours around the island (like to go swimming with dolphins, which typically is best in the southern part of the island) which often include transportation costs.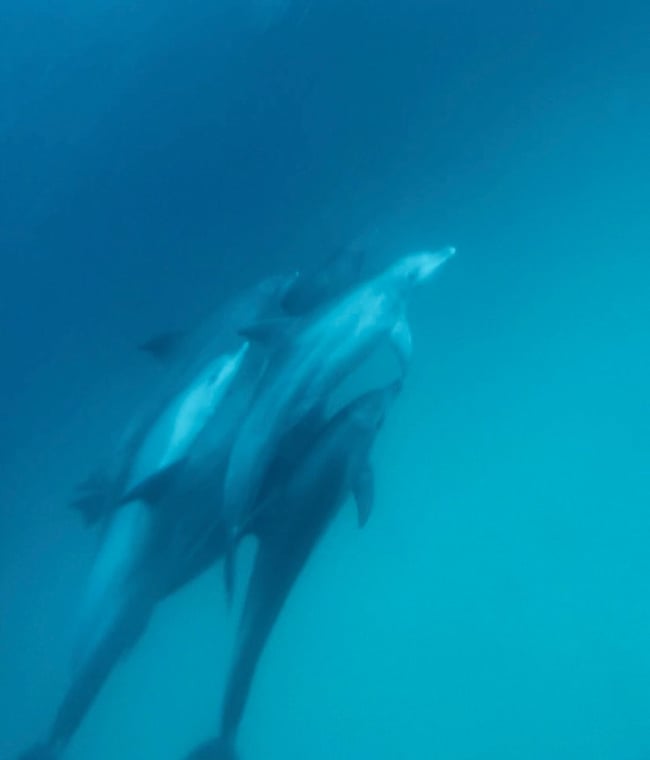 How To Dress
The island itself is very conservative, with a large Muslim population. While you're completely fine to walk around the beaches in your swimming suit (or your short dresses and shorts) when you're walking around Stone Town or other sections of the island, you're expected to cover up. Don't wear your beachwear out and about, cover your shoulders, and pull on your long, flowy dresses or pants for exploring the rest of Zanzibar.
Book In Person, Not Online
Don't book your tours online, they will be way more expensive. If you head to Nungwi beach you can easily set up tours aplenty. You can bargain hard to get their initial prices lower, and it never mentions that you'll be booking with a group to get a possible discount. ILP volunteers report that you can get a sunset tour on the old traditional wooden boats for $10 each for 8 people and a snorkeling/dolphin tour for $15 each for 8 people.
Personally, we booked a tour company right next the Mamma Gelato place, but you'll find lots and lots of vendors at a tourist booth to book for.

When you're around all these tourist spots (particularly in Nungwi), you'll be swarmed with vendors offering to go paddle boarding, snorkeling, fishing, etc. Be polite, but very firm if you are not interested because they are insistent.
How Long Should I Stay?
Our advice? Go for at least 4 or 5 full days, or more like 7 if you can! If you're going to want to explore a few different sections of the island to experience a variety of beaches and activities, you'll need four or five full days. Less than 4 means running around the island and not having a full day to spend on the beaches (which are unreal).
There is also way more to see and do than what you could even fit in a week if you want some serious days at the beaches or to spend more than just a few hours in your favorite section of the island. ILP volunteers might find that using their long vacation so that they can also spend a day or two in Dar es Salaam before heading out to enjoy Zanzibar for the rest of the time is the best way to experience Tanzania.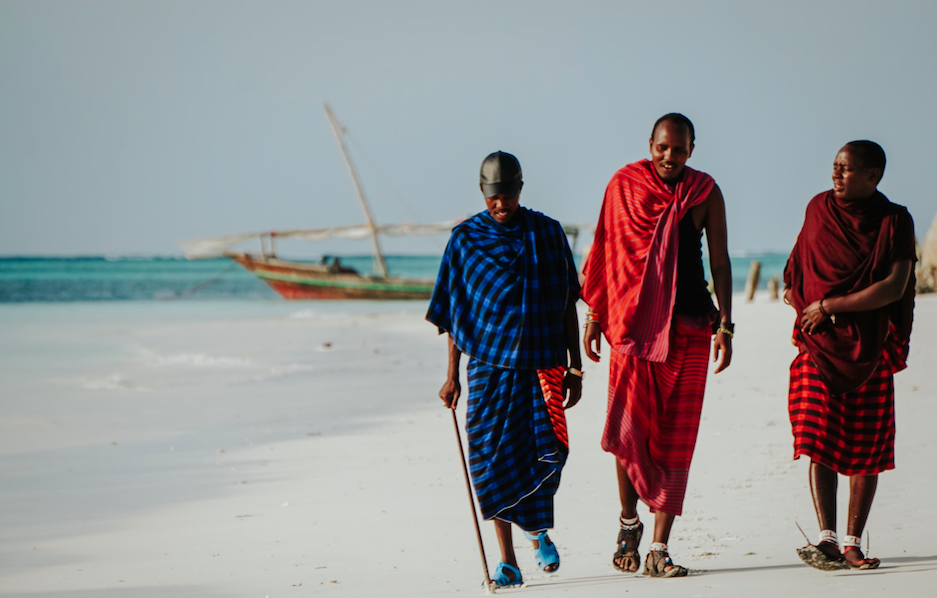 Getting To Zanzibar
Flying from Uganda
Hey ILP Volunteers — you'll want to search for a flight from Entebbe, Uganda to Dar es Salaam, Tanzania or straight to Zanzibar.
I like using Google's flight search tool for this flight, but feel free to check around on different websites to see if you can find other deals. Luckily prices remain pretty consistent throughout the year, so you don't really have to worry about high seasons that have a spike in prices. The best flights are typically around 4 hours total, including 1 layover and average at about $260-300 USD roundtrip (at the time of this post). You can find deals into Dar Es Salaam or right to Zanzibar itself. A screaming deal for a gorgeous island vacation if you ask me!
You Need A Visa
Visas are required for US citizens visiting Zanzibar (and Tanzania). You can check the current visa requirements here, but at the time this post was written, you will need proof of Yellow Fever Vaccination (which is also required for our ILP Uganda volunteers), and 1 blank passport page, and need a passport that is valid for at least 6 months. You will also need US cash for the visa fee, and bills have to be older than 2009.
You can get a visa on arrival — at the time this post was written, it's $100 for US Citizens (that gives you a multi-entry visa good for one year). Pay this in cash when arriving in Tanzania (most likely you'll be flying into Dar Es Salaam).
The visa process on arrival is time consuming, plus there are often traffic jams if you are traveling from the Dar es Salaam airport to the ferry port. You will want lots and lots of time (we would guess 6+ hours) between arriving in Tanzania and your transportation to the island of Zanzibar.
It is your responsibility to apply for your visa and make sure you understand the most up to date requirements.


Getting to the Island From Dar es Salaam
If you're not flying right to Zanzibar, you'll want to head to Dar es Salaam, which is the best jumping off point to get to Zanzibar. Here's our mini guide to Dar Es Salaam if you'll be spending some time in the city before going to Zanzibar.
You have two options — take a ferry or jump on a flight.
Taking A Ferry
Book your ferry tickets in advance. There are two companies who operate ferries between Dar es Salaam and Zanzibar, Aza Marine Ferries and Fast Ferries, though we suggest booking with Aza Marine ferries. You will want to be at the ferry terminal at least 45 minutes before your departure. There are multiple departures each day that vary according to the time of year, but generally there are ferries every 2-4 hours starting at 5:30 AM to 6:00 PM. You can check the schedule when you book online. Be at the main ferry office an hour before departure.
Prices depend on the class of seat you choose (economy up to business class or VIP tickets) and cost anywhere from $35 to about $50 for non-residents. No need to splurge to get a higher class ticket unless the weather is bad. The seats are all essentially the same, but economy seats are uncovered while business class seats are inside and cost $40. They only accept US cash (older than 2009 or Tanzanian shillings, not a card).

The ferry ride is about 2-3 hours long. If you're prone to sea sickness bring something for motion sickness. Supposedly the boats traveling earlier in the morning have calmer waters, but you'll still want something to settle your stomach. There's nothing worse than being stuck on a boat for another hour while you're feeling sick.
You'll be dropped off at the Zanzibar Port, go through immigration, and you'll see a huge crowd of taxi drivers wanting to take you into Stone Town. It's a short walk (1 km) to the center of Stone Town if you're up to walking and don't want to spend money on a car. Just exit the ferry terminal, turn right, and walk for about 10-15 minutes — boom, there you are in the heart of Stone Town.
A note on porters + the crowds: You'll see a crowd of luggage porters (with official vests and tags) waiting to take your luggage. Don't allow them to do so unless you plan to tip them (10,000 - 20,000 schillings each, about 8 USD). It will be very crowded, and you'll want to hold tightly to your belongings — don't wave your phone around, and have your passport accessible, but in a safe place that's not easy for someone else to grab. The crowd will push you around and you'll need to work to stick together if you want to sit together with your group!

Taking A Flight
Flying is also an option, and sometimes, prices aren't even too much more than the ferry. There are lots and lots of flights each day during peak season (sometimes as many as 30 a day) so you'll typically find flights leaving every hour of the day. The flight is short (just 20-30 minutes). Look for airlines like Coastal Aviation or Auric Air, or ZanAir. Flights are typically anywhere from $35 - $58 each way, but can sometimes spike to double that price. Look for routes between DAR - ZNZ or ZAN - DAR.
One option for your itinerary is to look at flying one way and taking the ferry the other way. You're more restricted on time slots for the ferry, so flying can give you more flexibility either on the way there or the way back from Zanzibar.
Going Back To Uganda?
Our ILP Volunteers who are vacationing in Tanzania during their semester will also need to get another visa for Uganda when re-entering the country — your current visa you initially arrived with will be invalid once you leave the country to go to Tanzania. Apply for your re-entry visa several weeks in advance before your re-entry date. The process can take as long as 2 weeks, so we suggest applying for your Uganda visa at least 3-4 weeks before you need to re-enter the country. It's $50, and pretty easy to apply online.
It is your responsibility to apply for your visa and make sure you understand the most up to date requirements.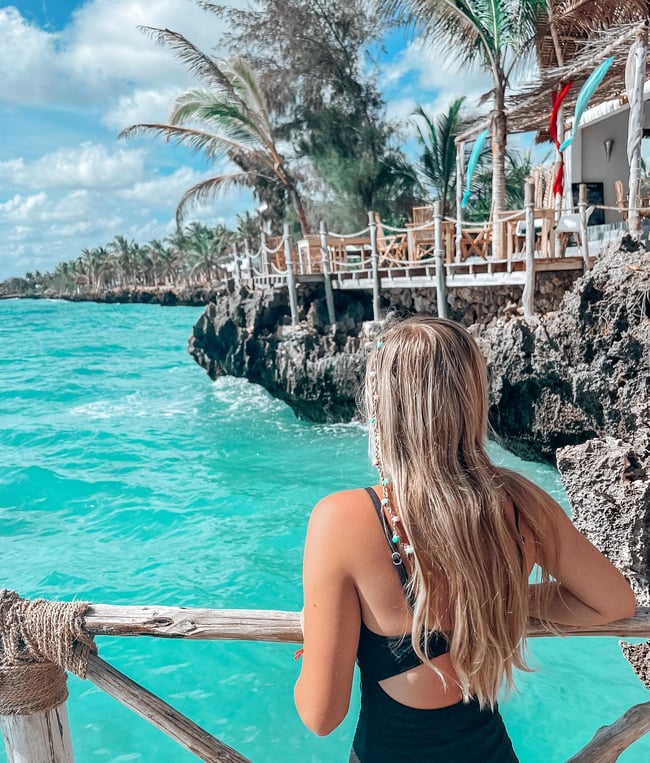 We're in love with Zanzibar
But even more in love with the idea of spending a whole semester in Africa as an ILP Volunteer. Come teach English, spend weekends exploring spots around Uganda, and head to places like Zanzibar on vacation.