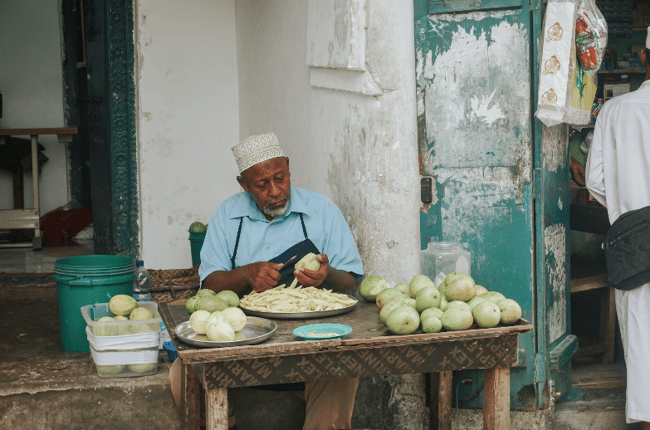 I know you're here in Zanzibar for the beyond dreamy beaches, but you'll be missing out if you're not spending at least some time in Stone Town.
If you'll be volunteering in Africa, a vacation to the island of Zanzibar is an absolute must. It's the stuff island dreams are made of — that vibrant aqua water, soft white sand beaches, palm trees in that coastal breeze, plus adventures like swimming with wild dolphins. Can you tell we love it here?


---
Looking for travelers ready for a semester in Africa
See what volunteering in Uganda is like!
---
Luckily for you, we've done our research on Zanzibar to make sure your vacation here is just perfect. This Zanzibar guide is full of info about the best beaches, how to get to the island, where to stay, and a complete list of our go-to adventures here. But this post is all about Stone Town, the historic, market riddled epicenter of this tropical paradise. It's a labyrinth of Arabic-esque alleyways with a strong smack of Indian and European architecture, and somewhere you should spend at least a bit of time.
A Tiny Bit Of History
Once a coastal Swahili Town, you can see the remnants of the spice trade along with strong European, Arab, and Indian, and African influences. The name "Stone Town" comes from the towering and ornate houses built by Arab traders involved in the spice and slave industry. The city has a long history, first settled by fishing communities which flourished into a trading operation, before the Portuguese took over rule there … only to be outed by the Sultan of Oman.
From there, this section of Zanzibar became the forefront of the spice and slave trade — it's estimated over half a million slaves passed through here. And trading was international, with people and spices (mostly cloves) reaching Europe, India, Oman, and Persia in the 19th century. While there was a revolution that allowed locals to once again take control of the area, you can still see very visible remnants of this history. A big thing to do is just to wander around peeking into shops, open windows, bazaars, and passing by the occasional mosque, but we have some highlights to help you know what to see here: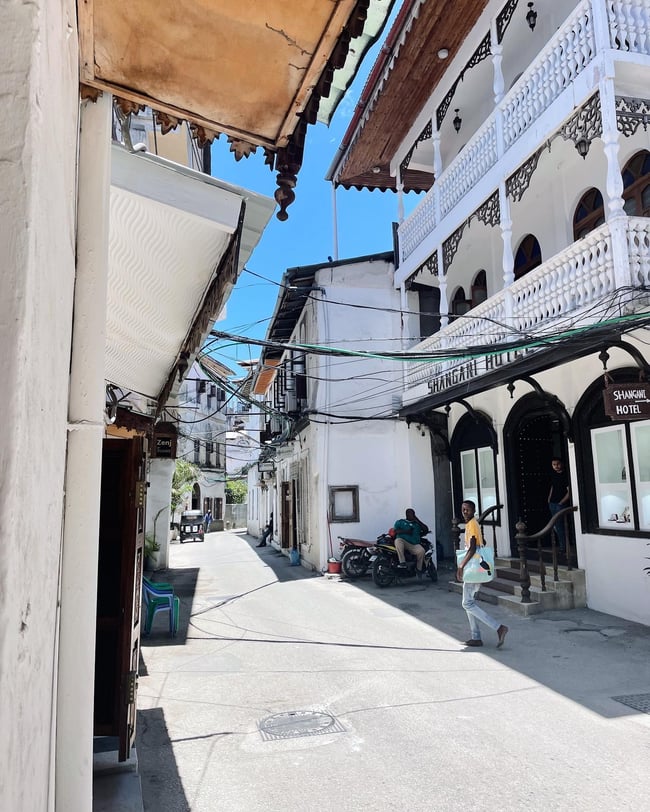 All The Stone Town Things
See Freddie Mercury's House
Big fan of Queen? The lead singer of this iconic band was born here (as Farrokh Bulsara), to a middle-class, Indian family with Persian descent. The city hasn't done too much as a claim to fame, just placing a plaque above the doorway which reads "Mercury House" and a nearby restaurant named Mercury.
Visit The Dispensary
Found on the northern side of the seafront is one of the area's most iconic buildings, the old dispensary. Built by a wealthy Indian merchant, the space once served as a hospital for the poor. Now, it's home to a small shop and a local travel agency, but tourists mostly come to gawk at the curving "horseshoe' windows and lavish balcony. Entrance is free if you'd like to peek inside.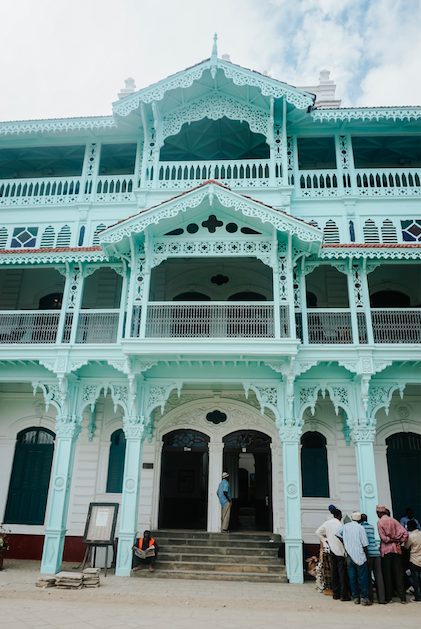 Shop At Darajani Market
Visit Darajani Market, a sprawl of vendors with baskets full of local spices, piles of fresh fruit, a fish auction if you make it early enough, meat hanging from hooks above wooden slabs, plus a mishmash of electronics, clothes, etc. If you're into shopping, get everything on your list here — shop for glimmering brass, copper, and beaded jewelry, bring home traditionally woven towels, giant hand carved chess, squares of handmade soaps, or pull a few containers of fresh spices from the giant baskets on the street. It's your classic African market experience.
However you'll find lots of shopping just lined up on the streets below the stone buildings. Leaning panels sporting gold jewelry, racks of flowy printed pants, shelves hanging colorful bags and handwoven baskets, etc.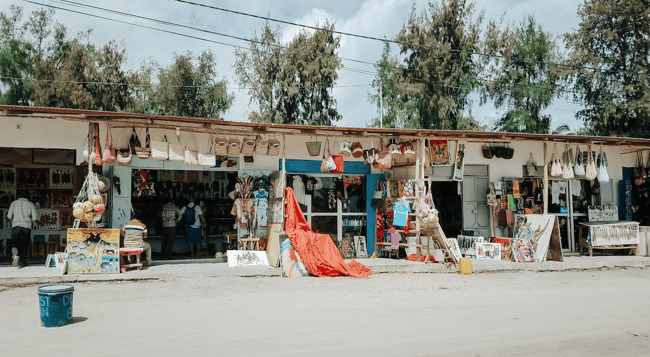 Find Your Favorite Buildings + Doors
The mishmash of cultures and rulers and influences found in the network of the streets are all reflected in Stone Town's buildings. While some uphold that same level of grandeur present years ago, some are fading fast adding to the crumbling facade of urban decay between the colorful streets. Any visit to Stone Town should involve some camera time, photographing your favorite corner of this city and your favorite doors.
Round the corners of the spice-filled alleyways and see huge, ornately carved and painted wooden doors marking the entrance to dozens of buildings. The tradition stems from India, where the most decorated doors designated your wealth. You'll find some adorned with shimmering bronze knobs, which has its roots in protecting Indian soldiers from charging elephants. But here in Stone Town, they're purely a way to communicate your high status.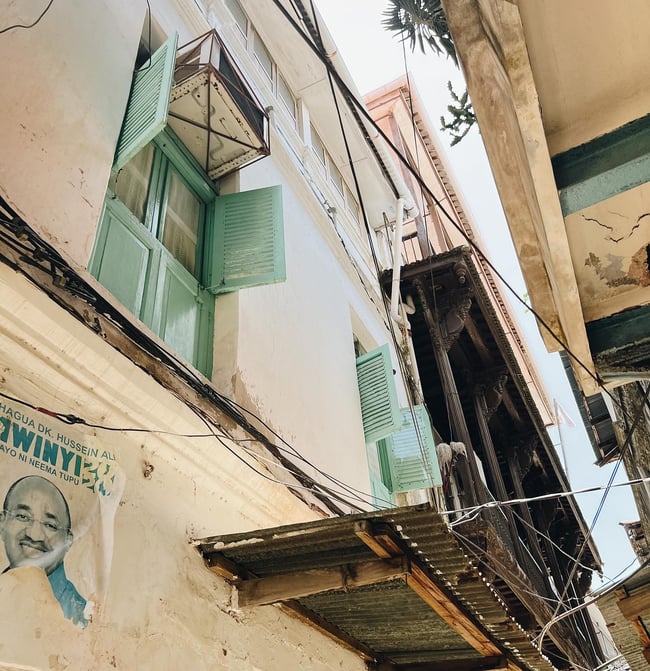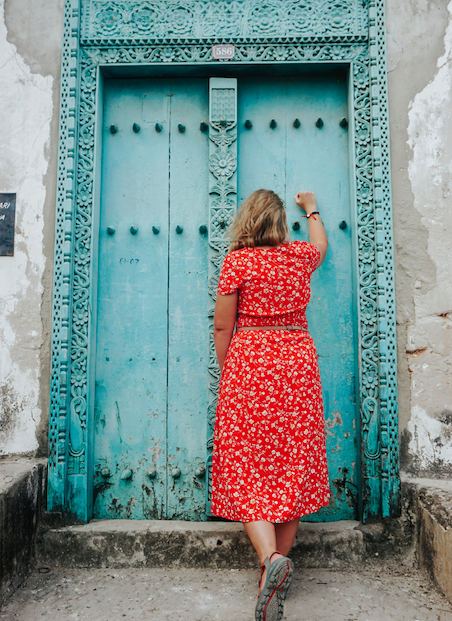 See The Former Slave Market
The grim history of the city can be visited by taking a tour of the former slave market where thousands of families were torn apart and sold. While there were slave markets dotting the coastline to fulfill the demand of the East African Slave Trade, the one in Stone Town was the world's last open market. When you arrive, you'll find guides who can walk you through the site (where now an Anglican church stands) for 7,000 TSH which is about $3.00 USD. Entrance fee is about $5 USD.
Go On A Tour Or Two
Spice Tours are really popular, letting you walk through the streets past vendors selling what helped put this island on the map: bundles of cinnamon, spicy clove, and bright turmeric just to name a few. You'll find lots and lots of options for a tour (prices can be in the $10 range for about 2 hours, and you can book in person with someone hanging around by the Old Fort).

Visiting the tortoises at Prison Island is a very popular day trip from Stone Town. Prison Island is home to about 100 giant (and rare) tortoises and a dark history. Head across the aquamarine water to Changuu Island (also known as Prison Island) and in about 30 minutes you'll arrive — the island was initially used to house slaves before being shipped off to the Middle East or Europe, then was used to house violent prisoners, and finally was used to quarantine those who fell sick from Yellow Fever or Cholera. The tortoises are the main attractions nowadays, a center of rehabilitation for a rare and dying species on this island that has had an unfortunate dark past.
You can get the info about this tortoise tour at the bottom of this post.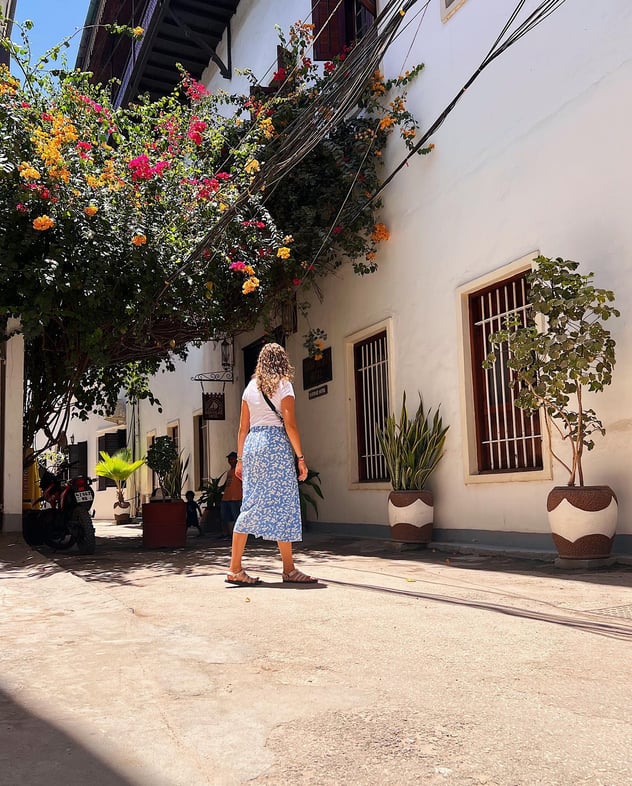 Where To Stay
We're fans of staying in Stone Town and making that your base to explore the other sections of the island but we have a couple of other hostel recommendations for a few more of our favorite spots in Zanzibar for longer trips (where you want to spend more than a day visiting the eastern coast).
Ten To Ten Hostel
Right in the center of Stone Town with a helpful staff, 10 to 10 Hostel has a killer location and more than affordable rooms. It's our favorite! One ILP group also booked a few tours through this hostel (a city walking tour which was free, and a Blue Safari tour for $35 which was a huge hit. They did say not to book a swimming with dolphins tour through them, just as a heads up).
Just note that there is a breakfast option you can pay for but in our experience, it was only nice if you had the time for it. Breakfast was supposed to start at 8:00, but it wasn't ready until a bit before 9:00. It's yummy, just inconvenient if you needed to be somewhere on time and didn't have time to wait for breakfast! Shared dorm rooms are around $20 a night, book here.
Lost & Found Hostel
Found right in Stone Town (right by Freddie Mercury's house actually), this place has rave rave rave reviews. A helpful staff, a can't-be-beat location, and things like air conditioning which makes a difference on this tropical island. The hostel has a mini cafe you can eat at, sell water at the front desk, and is right around the corner from a few restaurants and a little market. Shared dorm rooms are about $10 a night, book here.

Where + What To Eat
So much of a perfect trip is all about the food. Stone Town is the hub of this island, so you'll find a concentration of restaurants, street vendors, and piles of fruit and veg for sale in the winding labyrinth of streets. Here are a few recommendations to get you started (I've mentioned some foods you have to try as well as a restaurant or two).
Eat Zanzibar Pizza
You knew some trip research would include food, right? This local dish is a thin pancake like dough, filled with pretty much anything you could imagine (go sweet with chocolate and bananas, or go savory with fillings like onions + tomatoes + eggs). You can find this local classic a few places, just look for little pop-up stands in the Forodhani Market. You can get this dish for about 5,000 and typically is a safe bet since it's filled and fried right before your eyes so you know it's hot and fresh. Pro tip — this meal goes great with a glass of fresh pressed sugar cane juice. Here, it's hand cranked and typically served with a squeeze of lime and a hint of ginger. So. Good.
Visit Fordonhani Market
Or, grab lunch (or dinner) at Forodhani market. It's open in the late afternoon and gets busy, serving up fresh veggies, grilled fish, skewers of seafood, blistered flatbread, and other yummy things like stuffed samosas. In the evenings, the place picks up, and all your menu options are illuminated by oil lamps. This market is one of the best places to try some of the local dishes of the area for a good price.
Ma Shaa Allah
You'll find a little bit of everything on this menu; we're talking burgers, wraps sandwiches, even stir fried noodles … but we love love love the Indian curries you'll find and the more local dishes, like kabobs and rice. Prices are also great, with most meals priced about 10,000 - 12,000 shillings ($4-$5). Yum!
Hours: 6:00 AM to 10:00 PM
Lazuli Cafe
A bright cafe, full of menu options that are healthy and fresh. Find things like wraps, sandwiches, burgers, juices, and seafood curries. Their smoothies are also popular, with lots of the tropical fruit you came here for, like pineapple, banana, dates, and coconut.
Hours: 12:00 PM to 10:00 PM, closed Sunday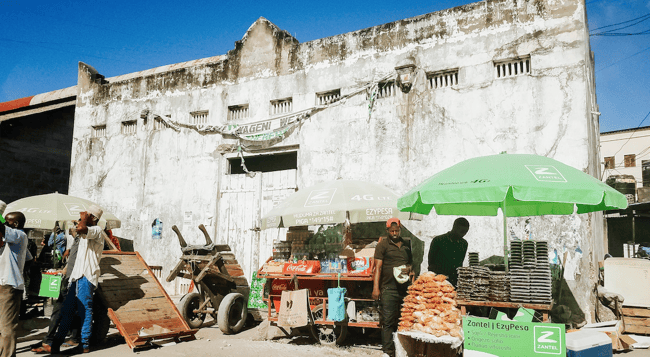 Tips You'll Be Glad To Know
How Long Should I Stay?
One to two days in Stone Town seem to be about perfect. Overall, we're thinking three to six days (or more!) is our ideal time in Zanzibar, but you won't want to spend all of your time in this city. The best beaches in Zanzibar are where you'll want to spend the bulk of your time, but one or two days on Stone Town gives you time to hit the highlights.
Check The Weather
It rains often in Zanzibar and it might be food to plan your time in Zanzibar around the weather. That way, you can check out the museums and the buildings and such in Stone Town under a drizzle and some gray skies, instead of the clouds ruining a great beach day. One ILP group was glad they booked accommodations a bit last minute so they could plan Stone Town adventures for their rainy day, then had sunshine when they were up north visiting the pretty beaches.
Skip The Beaches Here
Even though Stone Town sits right on the coast, the real highlight of the island are found in the north at the beaches there. You'll definitely want to hang out at places like Nungwi. Here's more on the best beaches in Zanzibar.
If you must get some time on the coast, we suggest walking the northern beach side around sunset, but saving your true beach days to places like Nungwi.
Getting Around The City
Everything in Stone Town is walkable, though it can be a sensory overload: vendors setting up wooden carts piled high with fruit, fishermen walking the streets with their catch of the day strung up in a bundle, and alleyways too small for cars that end up crowded with bicycles and motorcycles zipping by. There are some tour guides and companies who are more than willing to walk you around the city if you're interested instead of doing your own wandering. If you're interested, talk to your hostel or hotel about recommendations (it's a common scam for people to ask to guide you around and charge you too much).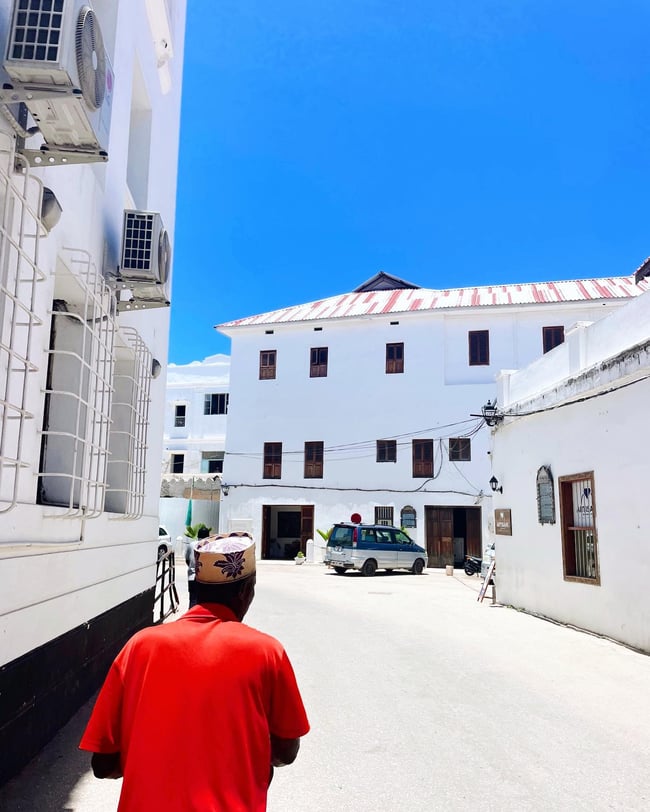 Looking for travelers!

Come to Africa with ILP! You'll be volunteering in Uganda, as a part of our Humanitarian Program there. Give back by teaching English and building wells to provide fresh water, then have vacation time for safaris and island getaways to places like Zanzibar.