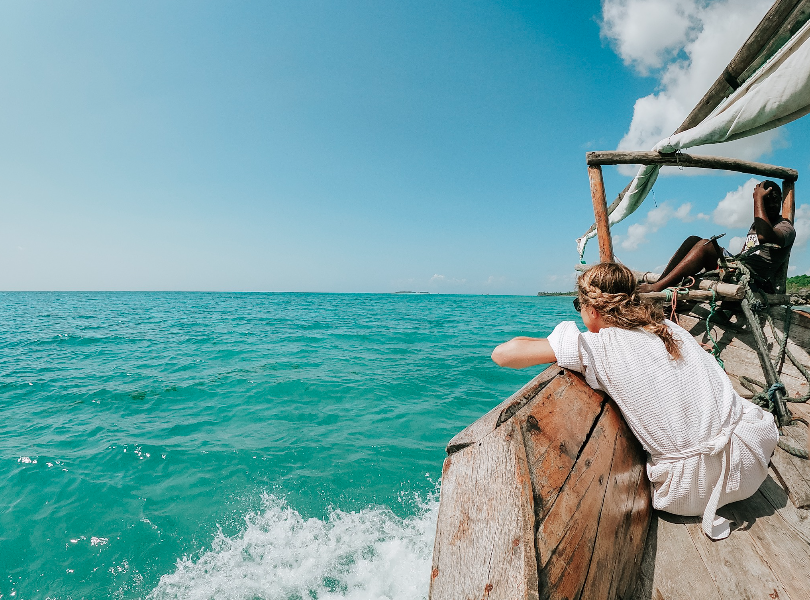 Our newest favorite destination has the prettiest blue water and about a dozen fantastic adventures you have to try.
Get ready to fall in love with Zanzibar. This African island might not be at the top of your travel list but that's only because you haven't seen the pictures yet. Our volunteers in Uganda are set up to come vacation in this dreamy spot which should be full of beach hopping all over the island and timing your visit right to swim with wild dolphins.


---
Africa's waiting for you
Volunteering in Uganda
---

We have a post all about Zanzibar which outlines things like how to get there, info about your visa, some places to stay, and other recommendations, but we are all about the beaches in this post.

There's a sharp difference between the beaches in the north and the ones in the south, plus there are a handful of islands you can visit just offshore of Zanzibar. Some are great for snorkeling, others are not swimming beaches, and just one is the best place for dolphins. This post maps that all out for you (handy, right?).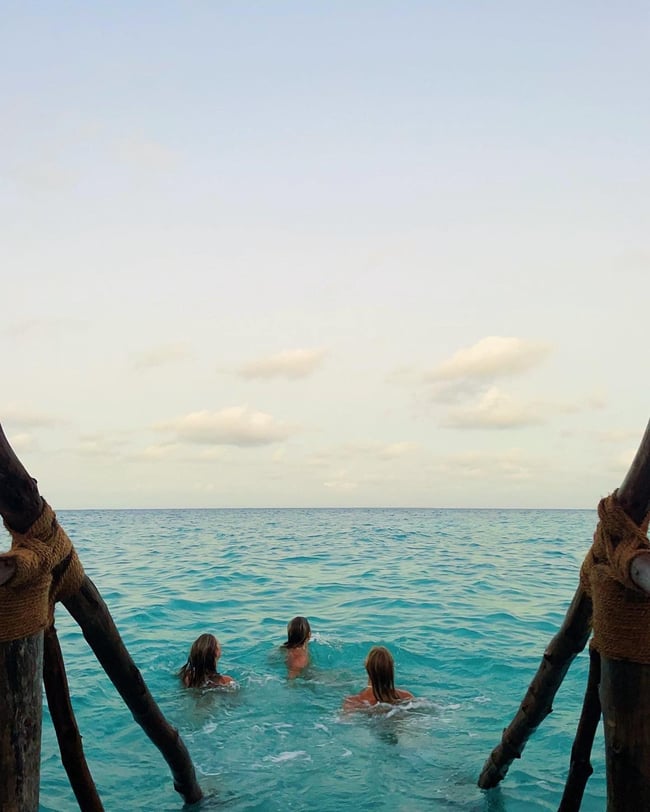 The Northern Beaches
Come for: The prettiest beaches, best for swimming, snorkeling, boat trips + more (we think the best beaches are in the north).
Nungwi
Nungwi's our #1 pick for a day of swimming and other water adventures. It's possibly the most famous beach in the island, a pristine stretch of sugar soft sand boasting blue, blue, blue water. One side is lined with busy hostels and resorts, while the other side is quieter — more for those looking to find a secluded spot of sand to relax in. Nungwi's beaches are quite popular because they don't suffer from the drastic tides that pull the ocean out a mile or two from shore, meaning you can swim all day here without needing to chase the waves. The coast also sports colorful networks of coral under the waves, making it an ideal spot for snorkeling and diving.

Popular with tourists, you'll be badgered with tour companies offering half-day or full-day adventures: things like paddle boarding, snorkeling, trips on the gorgeous handmade wooden Dhow boats, and more. If you take a snorkel or diving tour, keep an eye out for schools of striped fish and maybe the odd green turtle.
The area is surrounded by Nungwi village, which is home to restaurants, cafes, and rental shops where you can book a tour or get some gear for the day. Be sure to stop by Mamma Mia for some gelato to eat on the beach.
Getting Here: It's about a $40-$60 taxi ride to get from Stone Town to Nungwi for 8 people. But if you're good at bargaining start low, and you can get one for $15 USD (30,000 TZS), according to some ILP volunteers.
Or you can catch a Dala Dala by Darajani Market for 3,000 TZS per person from Stone Town to Nungwi.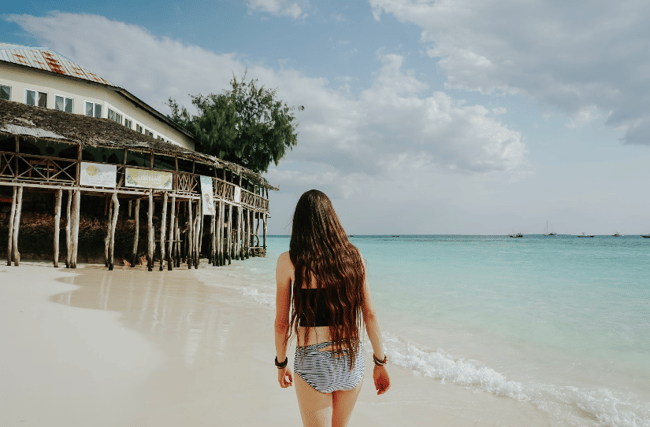 Kendwa
What's sometimes called Nungwi's little sister, Kendwa is just south from Nungwi. It has the same pristine sand and water, with little impact from the tides so you can swim all day long. Similar to Nungwi, you'll find this as one of the best swimming, snorkeling and diving beaches on Zanzibar. In Kendwa, brightly colored starfish are found just off shore — bring your waterproof camera to get pictures of these beauties (but don't pick them up!).
Kendwa village is a small smattering of resorts and restaurants, with a few vendors offering things like parasailing. Vendors selling fruit, souvenirs, henna, and massages on Kendwa, but typically vendors stick more to Nungwi (but you may still see some).
Kendwa beach is just a 15 minute drive from Nungwi beach.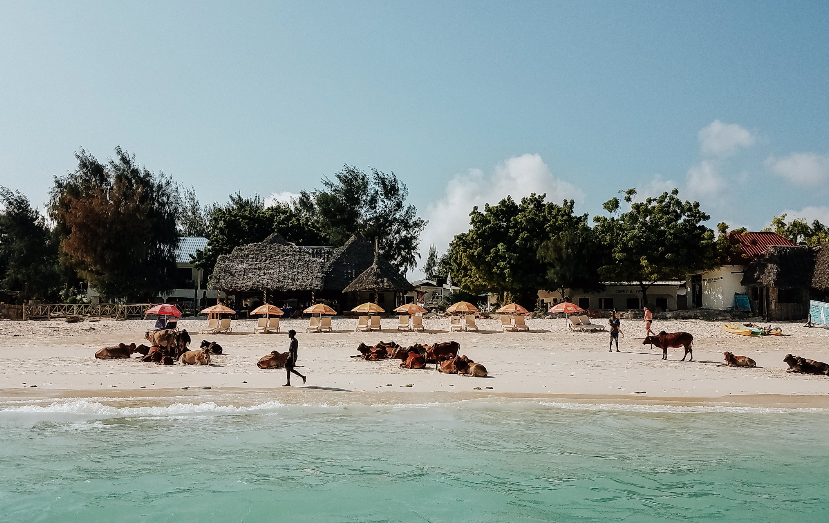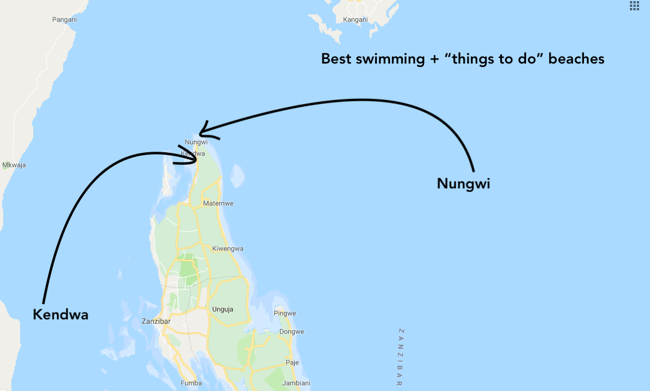 The Northeastern Beaches
Come for: beaches known for kitesurfing, luxury resorts and remote fishing villages. Swimming only during high tide.
Kiwengwa
Kiwengwa's the most popular beach on this side of Zanzibar, known for kitesurfing and windsurfing (and that unbelievably white sand and blue water you came to Zanzibar for). Come relax on the sand, rent an umbrella, and just say "Hapana" ["no"] if you're interested in anything the vendors are trying to sell you. The northern part of the island is better for just relaxing on the beach, but the entire area is very popular, especially with Italian tourists who stay at the upscale resorts behind the beach. It's a popular place with tourists, so you'll find restaurants, cafes, and cabanas to rent, along with tourist booths selling excursions and gear for a day of kite surfing.
Visitors also mention that you will want to get out of the water when the windsurfers are out (some come inexperienced and the winds can be unpredictable, causing some danger to anyone in the water). You'll only want to swim at high tide: at low tide, the ocean is pulled back and you'll have to walk 15-20 minutes down the beach to get to the water (avoiding some sea urchins and seaweed).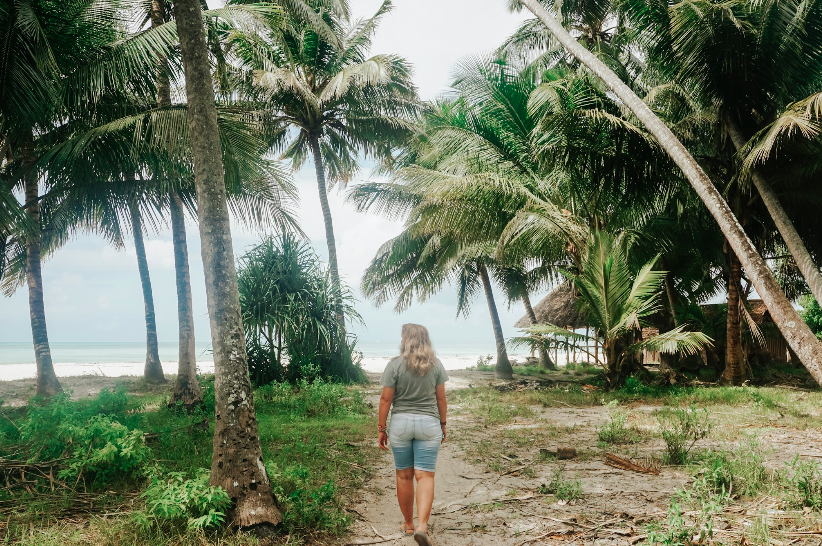 Matemwe
The small village here is a quiet fishing village, with colonial style buildings hiding fish markets and a few vendors on one side, sprinkled with a few high-rise resorts. The main pull of Matemwe is the seclusion: there are a few boats that will take you to nearby Mnemba island (more on that below, in our guide to the nearby islands), but you'll find a quieter paradise without all the things to do. If you want to just hang on the beach, and not do much else, Matemwe is the spot for you.
Just know the beach battles the tide — it's not an ideal swimming beach: low tide pulls the water out from the shore, creating a huge sandy short (a mile out) dotted with sea urchins and seaweed.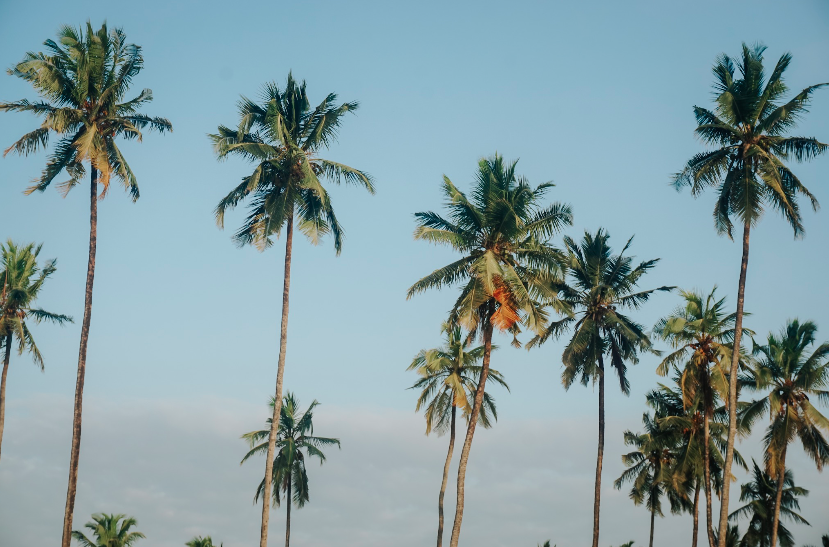 The Eastern Beaches
Come for: the prettiest beaches, kitesurfing, snorkeling, boat trips, swimming (depending on the time of day) and some gorgeous views. Some think the eastern beaches are the best on Zanzibar, but only if you stick to the ones including and south of Paje — up by Pongwei and Uroa aren't worth your time (and have had reports of some dangerous activity ... best to skip 'em).
Paje
A total favorite for beach bums and kitesurfers. The beach here is full of cafes and restaurants but has a relaxed vibe, bookended by lodges and hostels with some more upscale resorts. Paje has more of a backpacker vibe, with all those postcard views you're wanting: soft, white sand, swaying palm trees, and gorgeously clear and blue water. Our volunteers mention that it's way pretty, cheaper than Nungwi, but was a bit more crowded.
Paje is a mecca for expat travelers: come for amazing views, crystal clear water perfect for snorkeling, and some yummy restaurants. Imagine sipping a green smoothie while sitting in a beanbag right on the sand at Mr. Kahawa – that's what a day in Paje looks for.
Especially during December to February, and between May and October, Paje is the #1 spot for kitesurfers, meaning if you visit during these times of the year, you'll want to pick your sunbathing spot carefully: large spots of sand are used to putting the kites together, but it's beyond fun to watch.
You'll also want to be careful when you're in the water (avoid any accidents in the water!). As far as swimming goes, Paje is a fab option if you're there during high tide (you know the drill, low tide pulls the water out far from the beachfront). Here, low tide does reveal some low water pools across the beach where you may spot some crab or starfish friends.
Jambiani
Some say they can't relax with so many people asking if you want to buy some fresh fruit, tours for the day, or jewelry while you try and snooze on the white sands of beaches like Nungwi, but you won't find that in Jambiani. It's a chill, relaxed, and quiet fishing village surrounded with one of the stunning beaches Zanzibar is known for. You'll need to catch shade in the palm trees rather than paying for an umbrella: this spot is secluded.
A day on Jambiani's sand means exploring the different section of beach (Check out coral beach!), completely unwind with a book and a fresh coconut in your hand, and soak in the baby blue water. You'll find a few people who can rent out snorkel gear by asking around (the beach is fringed with cool cafes and restaurants, but the place stays quiet). The snorkeling is rather fantastic here.
It's also quite popular to rent bikes for the day and peddle down the coast. Like other beaches on this side of Zanzibar, it has spectacular swimming, just not at low tide. You'll also see a more natural beach (some of the busier beaches will have beachcombers to remove all of the seaweed for a pristine look — not the case in Jambiani).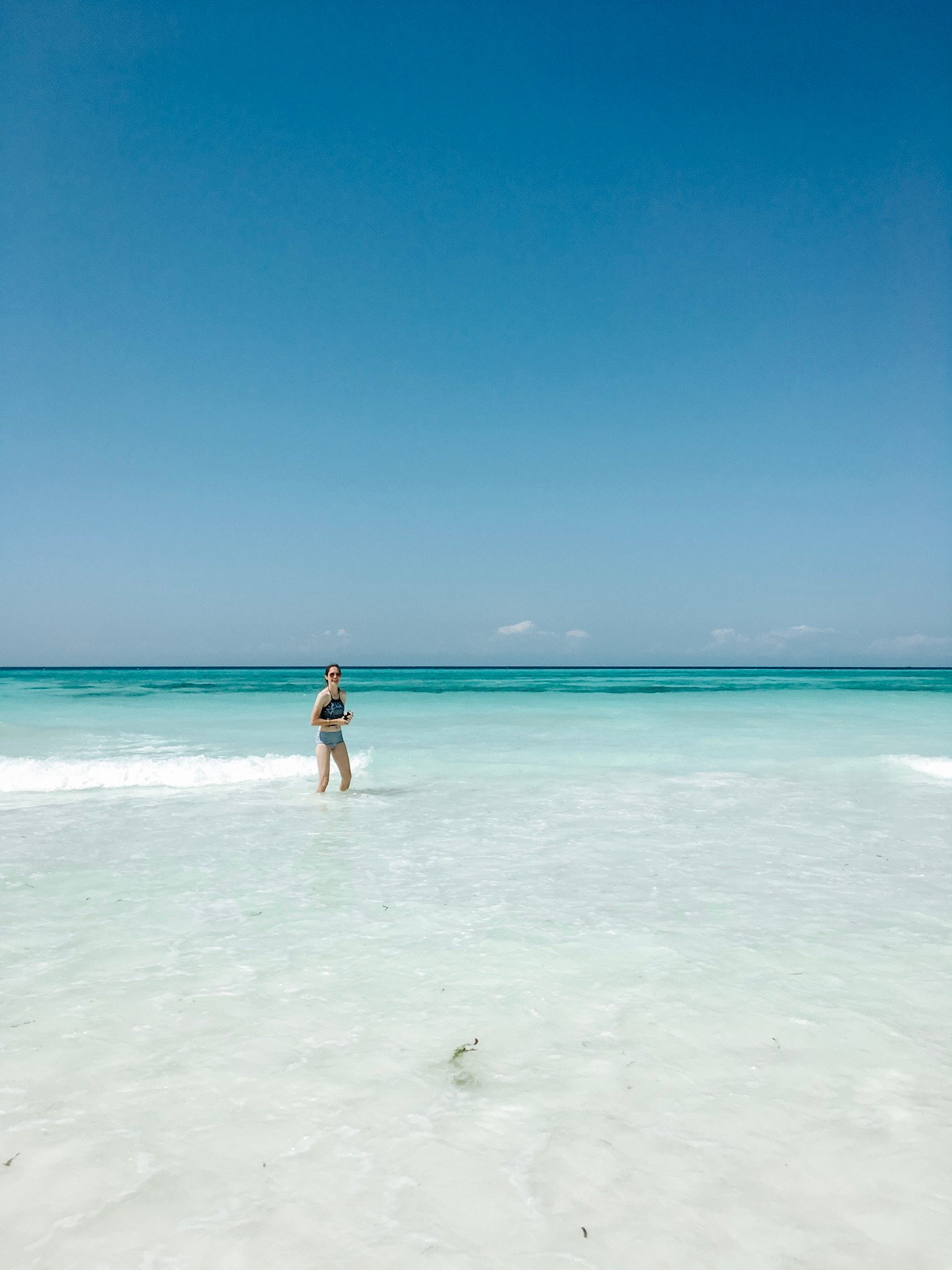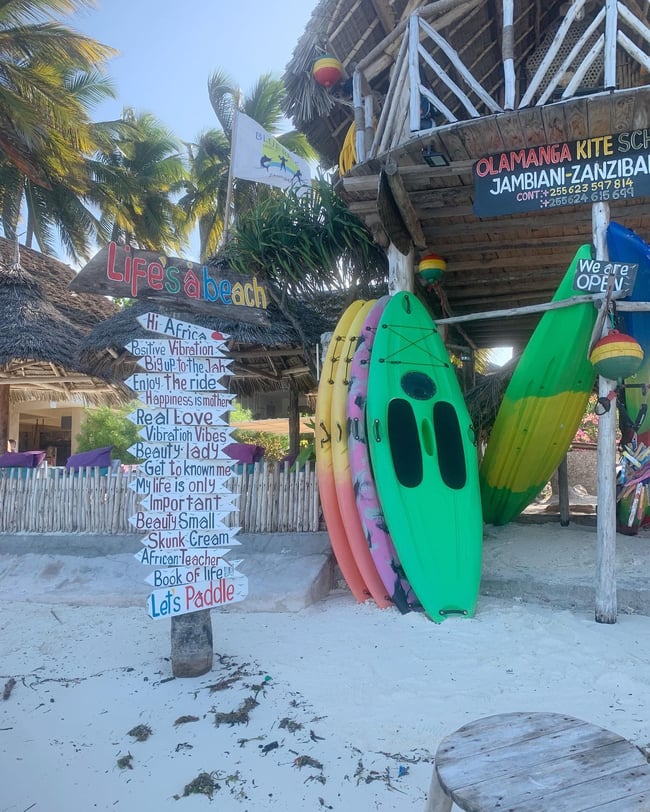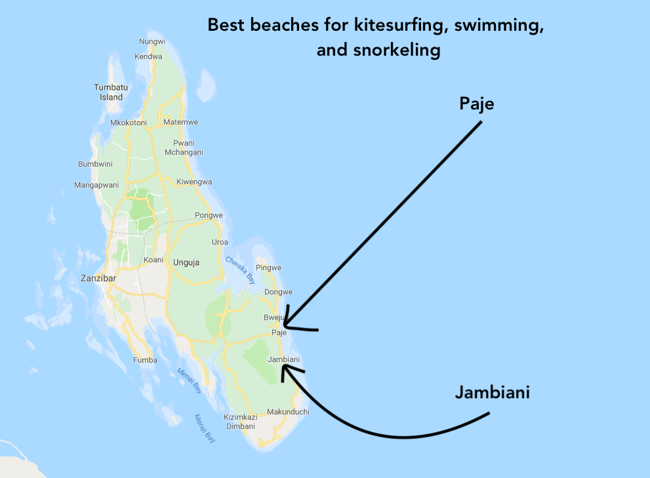 The Southern Beaches
Come for: swimming with dolphins (this is not a swimming beach)
Kizimkazi
This is the "beach" for dolphin spotting tours. During high tide there isn't any beach and low tide means trekking out a mile through the seaweed strewn sand to even glimpse the ocean. Good thing you don't head here for the days on the sand ... you're here in Kizimkazi to come swim with dolphins. You'll find two types that are very popular in this section of the Indian Ocean, the playful (and more common) bottlenose dolphins and the Indo-Pacific humpback dolphins.
Swimming with wild dolphins is a total adventure — you'll hop on a boat and get all geared up with a mask, flippers, and ride along, looking for pods of wild dolphins. Suddenly, someone will shout for you to hop in the water and over the edge you go, straight into the ocean! Underwater, you can see a pod of dolphins swimming all around you (listen closely and you can hear them hum and tweet at each other). Once they quickly swim away, you'll climb back into the boat and zoom next to the pod and jump back in when you get close enough. It's exhausting but quite the experience.
Things To Keep In Mind
You're swimming with wild animals. These animals are not used to human contact and it's important to listen to any safety briefings given by your tour organizer.
Do not touch the dolphins, though it can be tempting. This activity is best for confident swimmers: it can be unnerving to jump into the choppy ocean and be surrounded by a pod of dolphins who may swim close to you. Animal behavior is always unpredictable and you'll need to understand the risks before jumping on in.
Book The Right Tour
With any animal experience, research the company you go with for an ethical organization focused on conservation. Some companies (less so in Zanzibar, but still present) "present" the dolphins they find in the wild, but actually keep them enclosed in a section off the shore. You'll find loads and loads of tours all over the island, even inland in Stone Town. Do your research for a company who aims to provide conservation efforts by respecting their environment and helping you find dolphins who are truly in the wild, undisturbed by tourism as much as possible.
Tour prices can vary wildly! Some tours start at $100 for the day which normally includes transportation and includes the $15-$35 boats in Kizimkazi charge. Book in Kizimkazi, and you'll end up paying less.
Supposedly, the dolphins are more playful in the morning hours, and some tours start as early as 6:00 AM. It's best to arrange a tour (that includes transportation) from somewhere like Stone Town or Paje — it just takes too long to get there from somewhere like Nwungi, though it's an option if the others aren't.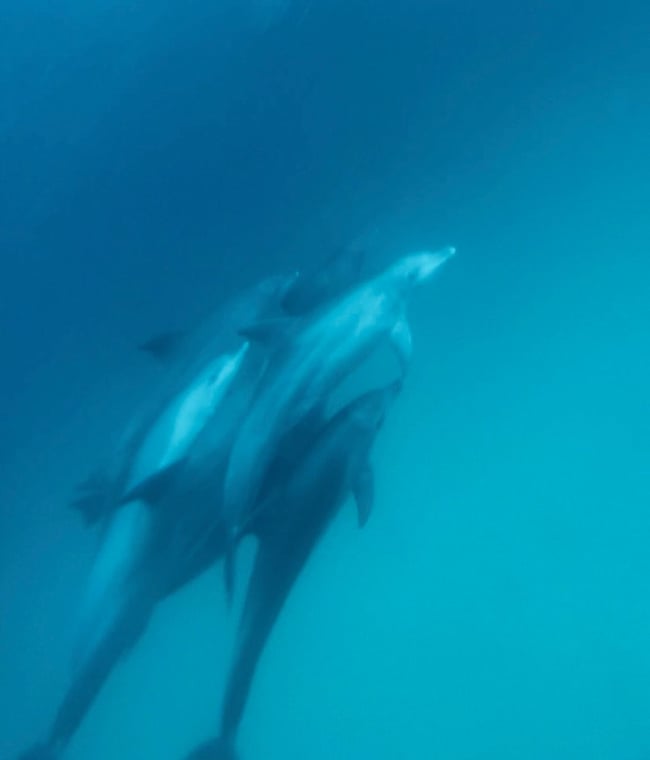 Day Trips To Other Islands
A popular option for snorkel and Dhow boat trips, don't miss the chance to island hop while you're in Zanzibar.
Prison Island's Tortoises
A very popular option from Stone Town, Prison Island is home to about 100 giant (and rare) tortoises and a dark history. Head across the aquamarine water to Changuu Island (also known as Prison Island) and in about 30 minutes you'll arrive — the island was initially used to house slaves before being shipped off to the Middle East or Europe, then was used to house violent prisoners, and finally to quarantine those who fell sick from Yellow Fever or Cholera. The tortoises are the main attractions, a center of rehabilitation for a rare and dying species on this island that has had an unfortunately dark past.

The Aldabra tortoise is one of the largest species in the world and can weigh over 500 pounds. These guys are massive (and the same ones you can see on the Seychelles … The Seychelles gifted Chenguu Island 4 tortoises in 1919). When you visit, you can pay $6 to enter the island's rehabilitation center and hang out with these big guys. You're welcome to feed them and pet them, and take all the pictures you want.
Getting Here: You can book your own boat by heading to the dock outside of Stone Town: Prices are about $30-$40 per boat which can seat up to 10 people (not bad if you're splitting that with your ILP group!). The entry fee is $6 to enter the tortoise reserve, but there are also lots (and lots) of tour options which will handle everything for you. Book in Stone Town.
The island is also known for spectacular snorkeling when the water is clear (make sure your tour to Changuu Island includes that option if you're interested).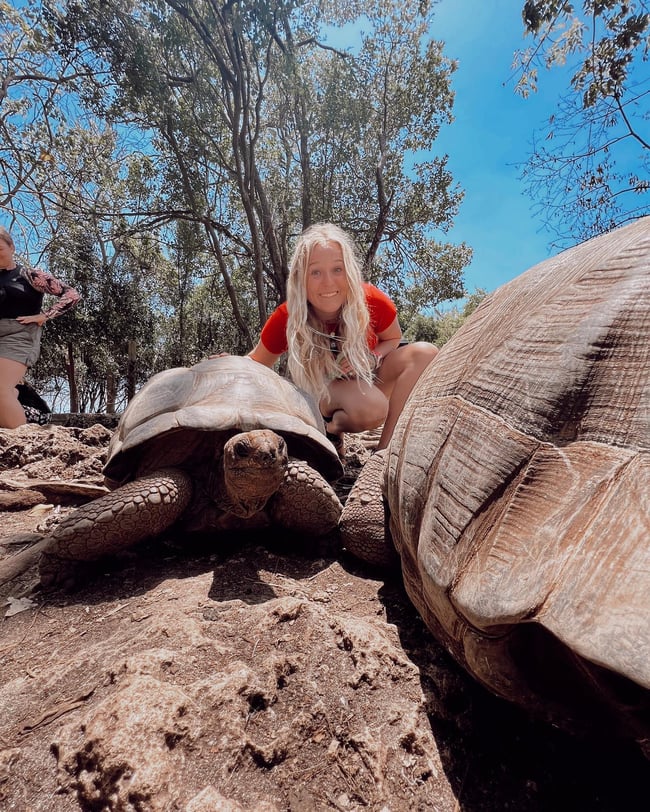 Mnemba Island's Snorkeling
Just a couple of miles from the northeastern tipped beach Matemwe, Mnemba island is the most popular place to snorkel around. The whole area surrounding the island is a marine conservation area, where you take a boat to a reef, get set up with a snorkel and a mask and float on the clear water: look for shoals of snappers, clownfish hiding in the anemones, blue starfish spread across the earth-toned coral. Since the area is protected, there's a much higher density of ocean life in this area. If you're lucky, you may spot a green sea turtle (they come to the beaches to lay their eggs).
Getting Here: This is one of the most popular places to snorkel and can get crowded (but there is plenty of reef for everyone). Booking a tour is very straightforward (you'll find many options in Stone Town, and vendors walking around Nungwi. Some tours include lunch at Matemwe since stepping foot on Mnemba without a reservation will cost you a hefty dime. Nicknamed "millionaire's island", it costs a minimum of $1,000 a night to stay just one night!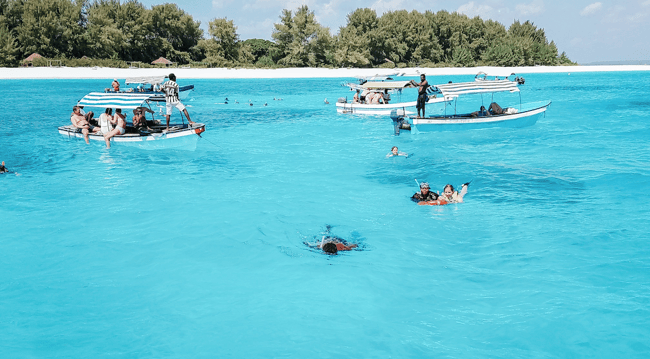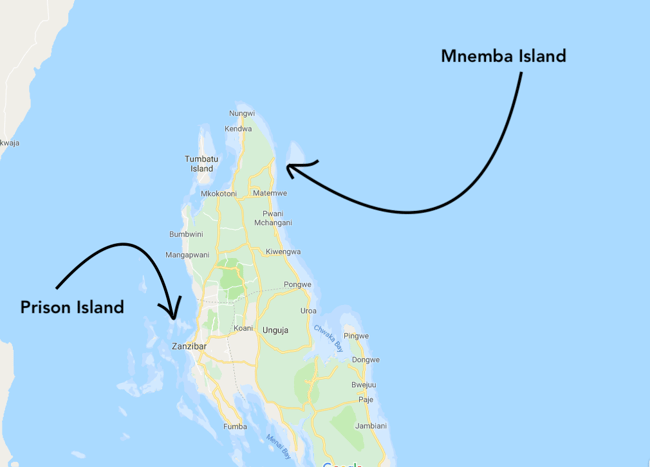 Been ready for a vacation like Zanzibar?
Join our group of volunteers for a semester abroad in Uganda! You'll get the chance to really experience the culture in Uganda, help out in humanitarian efforts, and still have time to book some rad vacations. Jump on a quick flight with your group and come spend a week in Zanzibar!