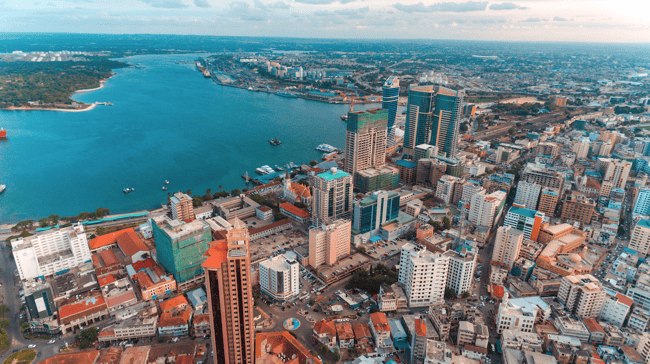 Come spend a day or two in this coastal capital city before jumping off to picture perfect islands.
Come spend a semester volunteering in Africa with ILP and get ready for some serious adventures. You'll have plenty of free weekends to explore all the things Uganda has to offer (we're talking safaris, hikes to thundering waterfalls, and trips to whitewater raft the Nile river) but when you have some vacation days, we think Tanzania should be the number one country on your list.


---
Been thinking about volunteering in Africa?
See what volunteering in Uganda is all about.
---
The coastal capital of Dar Es Salaam is a melting pot — it's a capital city that boasts busy markets, towering skyscrapers, a huge expat population, and is the jumping off point to a few Tanzanian adventures. We're big fans of this city because it's the best gateway to actual paradise: Zanzibar. We've pulled together all the tips to visiting Dar Es Salaam + Zanzibar to make your vacation here even easier to plan:
Things To Do In Dar Es Salaam
The National Museum Of Tanzania
A small museum housing collections that span the country's history. You'll see artifacts that celebrate the success of the country, plus ones that remind visitors of the deep scars still present from British colonization and difficult presidential struggles. The National Museum Of Tanzania is actually a collection of five museums, all focused on preserving the history and natural environment of the country. You'll see current artworks by influential local artists, prehistoric fossils, presidential cars, plus a 100 year old fig tree outside in the courtyard (and more) on your visit.
Address: 5 Shaaban Robert St, Dar es Salaam, Tanzania
Hours: 9:30 AM to 6:00 PM
Cost: about 6,500 schillings (about $3 USD).
Beach Time + Nearby Islands
Found right on the coast, this capital city boasts some impressive stretches of sand just right outside the chaos and traffic of the city. There are a few beaches worth visiting + some nearby islands if you have the time (but if you're asking for my honest opinion, if you're wanting beautiful beaches, you best hang out in Zanzibar, which is just a ferry ride away from Dar Es Salaam. We have more on that below).
Kigamoni Beach
Found just about 5 miles outside of the city, Kgamoni beach (sometimes known as Kipepeo beach, or South Beach), you'll find lots to do on this beach. It's owned by a resort, so visiting requires a 5,000 schilling fee, but once you're on the sand you'll have options for snorkeling, parasailing, and kayak tours. The sand is soft, the water is a gorgeous shade of blue, and the entire beach sports calm waves that are great for swimming.
Coco Beach
One of the most popular options (and busiest, especially on the weekends), Coco beach is a public beach with calmer waves and a good sunset view. It's not the clearest or most picturesque beach around, so it's best to visit this beach just to hang out and people watch. You'll run into lots of vendors selling snacks and fruit (things like sugarcane juice, coconuts, skewers, etc). It's a decent beach, but does tend to get very very very crowded and isn't the cleanest. With a few other stellar beaches to choose from, it shouldn't be your first pick.
Bongoyo Island
Bongoyo's a small, uninhabited island that possesses prettier beaches than you can find on the mainland. With sugary sand, gentle waves and pretty stunning views, it's a favorite getaway. The island does have a small (basic) restaurant, but you're welcome to bring your own food and drinks and have a bit of a picnic on the sand if you're not a big fan of seafood. There is a supermarket at the Slipway (where you'll catch your boat over to the island) so you can grab snacks and water for the day before heading out.
Getting Here: Catch a ferry or a dhow boat from the Slipway Shopping Center (a fancy yacht club that's lined with markets and restaurants) and ask around for boats to Bongoyo island. They'll leave when full, so you may need to wait for the boat to fill up even though it's past your "official" departure time: for the dhow boats, that means 4-6 people. They leave at 9:30, 11:30, 1:30 and 3:30, then come back to the mainland at 10:30, 12:30, 2:30, and 5:00. The ride is about 30 minutes long, and your roundtrip ticket is about $20 USD.
You might want to time your visit to do a little shopping and sightseeing around the Slipway — it's a gorgeous place to watch the sunset and has some yummy seafood restaurants if you want to grab dinner, plus some great souvenir shopping.
Mbudya Island
This island is a marine reserve, a pristine stretch of sand that is hiding some colorful reefs underneath the waves. The island is very quiet, free from hotels and restaurants (just a small hut serving up some local dishes and seafood), so finding a spot to hang out for the day won't be an issue. Plan on spending a couple hours here to wander through the sandy trails in search of another beach, or trekking into the thick jungles on the hunt for massive coconut crabs that climb up the swaying trunks to have lunch or dinner on the tropical fruit (no, seriously).
Getting Here: You'll want to catch a boat over the island, best caught by the White Sands Beach Resort where you can tell the doorman that you want tickets to Mbudya island. They'll charge you for the price of the boat and the entrance fee for the island (total, about $16 USD). From here, the boat ride to the island is about 25 minutes. You can also get a boat from the Belinda Ocean Resort on Mbezi Beach. From here, the boat ride is about 15 minutes.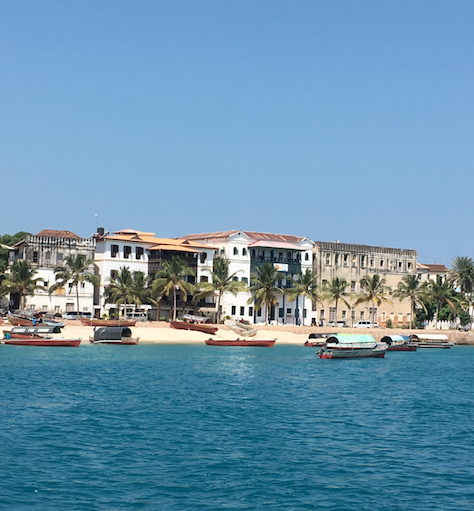 The Markets
Kariakoo Market + Kanga Shop on Uhuru Street
Kariakoo market is the chaotic market experience you may be wishing for. It's a crowded maze absolutely stuffed full of everything you could be looking for: an overwhelming walk through enticing (and unfamiliar) smells, sounds and sights. You'll find piles of fresh fruit, dried fish, baskets of spices, discarded electronics, bags of clothing, stacks of tupperware, bins of bottles, and more. This market isn't for everyone, but it is the cheapest market around for souvenirs, if you're willing to haggle. You'll find brightly dyed fabrics, colorful African necklaces for 2,000 schillings, small drums for 5,000 - 10,000 schillings, and other favorites like carvings and paintings. This market is also well known for selling kangas, which are sarong-like cloths with Swahili sayings around the bottom. They come in a rainbow of colors, and are typically priced about 4,000 schillings. Check along Uhuru Street (just next to the sprawl of Kariakoo market).
Like any crowded place, you'll want to make sure you keep your valuables hidden away, and not flash around your cash (pickpockets are common). Also, it's important to keep in mind that the vendors here aren't wealthy, and while haggling is encouraged, it's kind to give where you can. An extra dollar for you might not seem that much, but it can go a long way towards feeding someone's family.
Getting Here: Swahili St, Dar es Salaam, Tanzania
Hours: Open morning, afternoon, and evening (no set times).
Kivukoni Fish Market
Not for the faint of heart, but ideal for tourists wanting a glimpse of local life, a visit to the Kivukoni fish market is overwhelming. Hundreds of varieties of freshly caught seafood are on display on wooden tables, with plenty of shouting and haggling between vendor and customer to get the best prices. The market is right on the water where you can see colorful boats strewn with a tangle of nets bringing in the catch of the day. There are also vendors who are frying up fish favorites if you'd like to stay for lunch. It goes without saying, but the entire experience is a sensory overload, with a strong fish smell (especially later in the day) and shouting. It's an experience, that's for sure!
Getting Here: Find the market on Barack Obama Dr, Dar es Salaam, Tanzania.
Hours: Open from 9:00 AM to 5:00 PM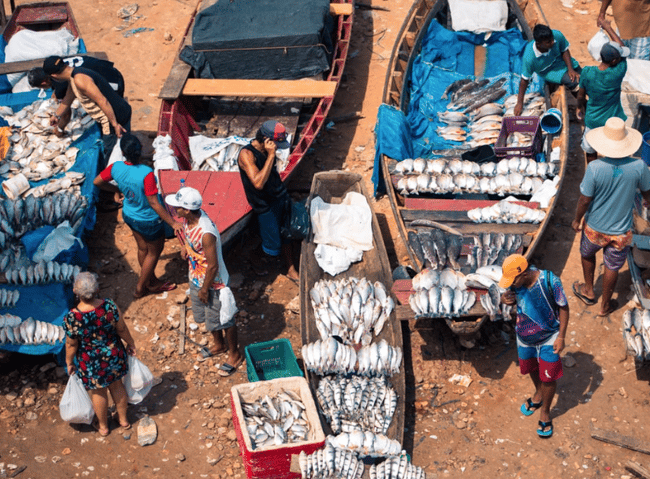 Head Over To Zanzibar
Our absolute favorite beach vacation for our volunteers in Africa, because it's impossible to not fall in love with water this pretty. The island of Zanzibar is lined with some of the world's most pristine beaches, with island adventures to keep you busy for more than a few days. Come swim with wild dolphins, snorkel the rainbow reefs, trek out to an island to hang out with tortoises, meander the maze-like markets of Stone Town, and more. You'll need to take a ferry over (or a quick flight) to visit Zanzibar, and we suggest spending 2-5 days of perfection there.
Our guide to Zanzibar has all of your questions answered (and is full of the prettiest pictures).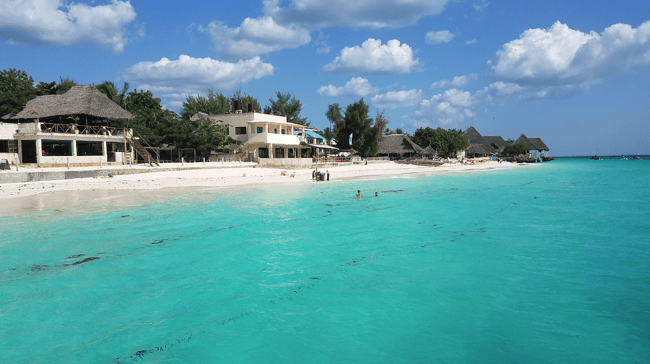 Tips For Your Visit
Stay For 1-2 Days
Dar es Salaam is a big city that's used more as a jumping off point to other places in Tanzania + Africa, rather than a destination spot (we're big fans of using this city as a way to get to Zanzibar, rather than spending the majority of your vacation time here). Typically, ILP volunteers have experienced a lot of what Dar es Salaam has to offer, just in Uganda. Things like sprawling and busy markets, and treks out to safari in the African savannah. What makes Dar es Salaam is the coastline and fishing influence — so head here for a day to tour the fish market and maybe trek out to one of the islands before heading over to someplace like Zanzibar.
Watch How You Dress
The country of Tanzania is very (very) conservative. It has a large Muslim population, and tourists are expected to conform to the culture of modesty that's present in Tanzania. While you're completely fine to walk around the beaches in your swimming suit (or your short dresses and shorts) when you're walking the city (or anywhere that isn't the beach itself) you're expected to be very covered up. Don't wear your beachwear out and about (shorts, swimming suits, short dresses, etc), cover your shoulders, and pull on your long, flowy dresses or pants for exploring Dar Es Salaam.
ATMS Are Scarce
Particularly important if you are heading over to Zanzibar (where you won't find many ATMS) you'll want to pull out cash when you see an ATM. We had luck getting cash out of the ATM outside the Tanzania Women's Bank down the street from the Azam Marine Ferry Terminal (where you'll board a ferry to take you over to Zanzibar). It takes Visa and Mastercard, and has a 400,000 Tanzanian shilling limit. If you want to take out more maybe try the National Bank of Commerce down on the corner.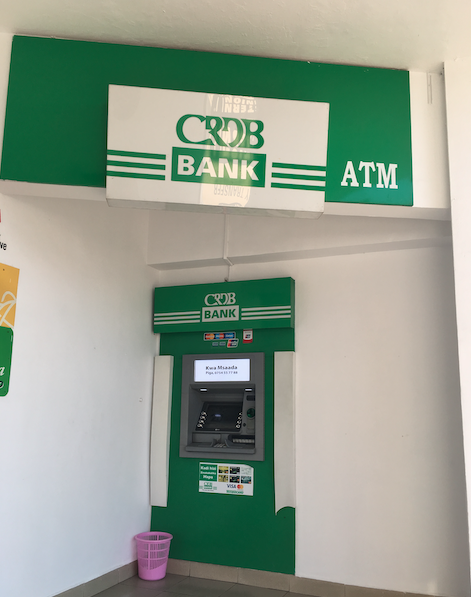 Getting A Visa
Visas are required for US citizens visiting Tanzania. You can check the current visa requirements here, but at the time this post was written, you will need proof of Yellow Fever Vaccination (which is also required for our ILP Uganda volunteers), 1 blank passport page, and a passport that is valid for at least 6 months. You will also need US cash for the visa fee.
You can get a visa on arrival — at the time this post was written, it's $100 for US Citizens (that gives you a multi-entry visa good for one year). Pay this in cash when arriving in Dar es Salaam, Tanzania. Bills must be older than 2009, so double check the dates on the cash you have to make sure you have enough.
It is your responsibility to apply for your visa and make sure you understand the most up to date requirements.
Wait! Will You Be Going Back To Uganda?
Our ILP Volunteers who are vacationing in Tanzania during their semester will also need to get another visa for Uganda when re-entering the country — your current visa you initially arrived with will be invalid once you leave the country to go to Tanzania. Apply for your re-entry visa several weeks in advance before your re-entry date. The process can take as long as 2 weeks, so we suggest applying for your Uganda visa at least 3-4 weeks before you need to re-enter the country. It's $50, and pretty easy to apply online.
It is your responsibility to apply for your visa and make sure you understand the most up to date requirements.
Getting Here From Entebbe, Uganda
Hey ILP Volunteers — you'll want to search for a flight from Entebbe, Uganda to Dar es Salaam, Tanzania. I like using Google's flight search tool for this flight, but feel free to check around on different websites to see if you can find other deals. Luckily prices remain pretty consistent throughout the year, so you don't really have to worry about high seasons that have a spike in prices. The best flight routes are typically around 4 hours total, including 1 layover and average at about $260-300 USD roundtrip (at the time of this post). A screaming deal for a gorgeous island vacation if you ask me!
Just so you know, there's a serious traffic problem in Dar es Salaam, so expect to get stuck in traffic on the way from the airport to the city center (it's about 10 miles away, and typically cost about $6-$10 USD to get you there). Same goes for when you're headed back to the airport to fly back to Uganda: don't make the mistake of not leaving early enough and missing your flight!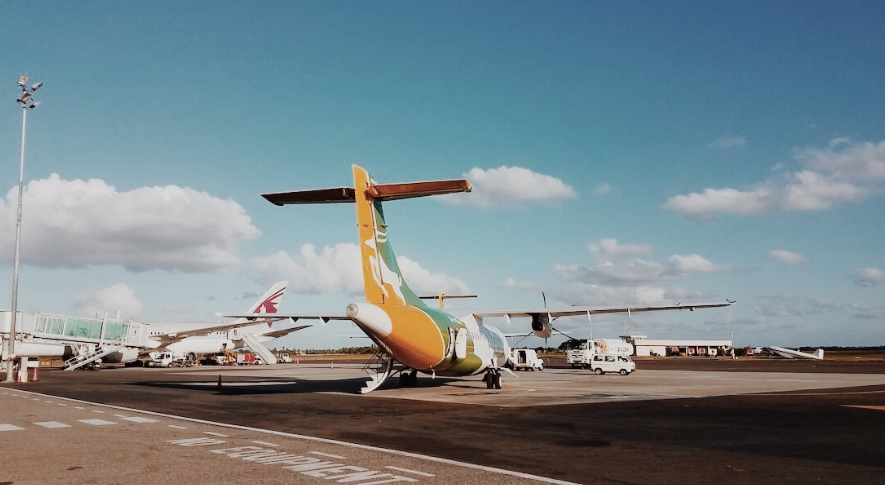 Africa's easier to get to than you think.
Come volunteer in Uganda with ILP! We're now accepting applications for college-aged volunteers who want to have a semester full of humanitarian service and adventures (like trips to Tanzania).