Our ILP Africa volunteers found the beyond-beautiful beaches on Zanzibar, but have loved hanging out with the cutest monkeys, holding chameleons, spotting giant tortoises, and even saying "hi" to the giant pythons. Welcome to Jozani Forest!
Zanzibar's beaches get all of the attention, and for good reason. Every time I see pictures and vids of this place, I cannot believe the sand is so white and the water is that electric blue. It's freakishly pretty and makes for the best kind of vacation for our ILP Africa volunteers (they love taking a quick flight and ferry over to Zanzibar on vacation … can you blame them?).


---
Go on safari, teach English, and vacation in places like Zanzibar.
All about a semester in Uganda
---

But there is so much more to do here than hang out on the beach. Jozani Forest is a top pick for more than a few reasons. This is the only national park on the island and it's a place you won't want to miss! It's a nice little activity to add to the mix after you've been spending your days on the beach. If you head right to the center of Zanzibar, you can talk a walk through this thick lush green forest and spot all kinds of animals from birds and butterflies and monkeys galore, plus a few others. Even though it's very rare to see, it's even thought to be inhabited by a leopard or two.
Because we know you'll want to jump at the chance to see these animal friends, here's all the info you need to know about visiting Jozani Forest.
About The Park
Officially known as the Jozani Chwaka Bay National Park, this spot was established in 2004 and is the only national park in Zanzibar (and one that's focused on conservation). For almost 10 years, the park was sponsored to help support a local wilderness development project, and today, part of your ticket cost goes to help construct schools and health clinics on the island. We love that this section of Zanzibar is not only focused on creating a safe home for so many animal species (some endangered) but is also finding ways to give back to the community.
The park is a dense collection of trees fringed with mangroves, and home to a smattering of incredible animals. Visitors can spot their favorites while walking on the network of trails that crisscross the park. The main trail starts at the park entrance and takes about an hour to finish if you're walking pretty leisurely. Sections of the trail can get pretty muddy if it's been raining, so be prepared for that ... but not all the trails are muddy. You'll also spend time walking on boardwalk trails if you venture to the fringes of the park where you'll find the mangroves.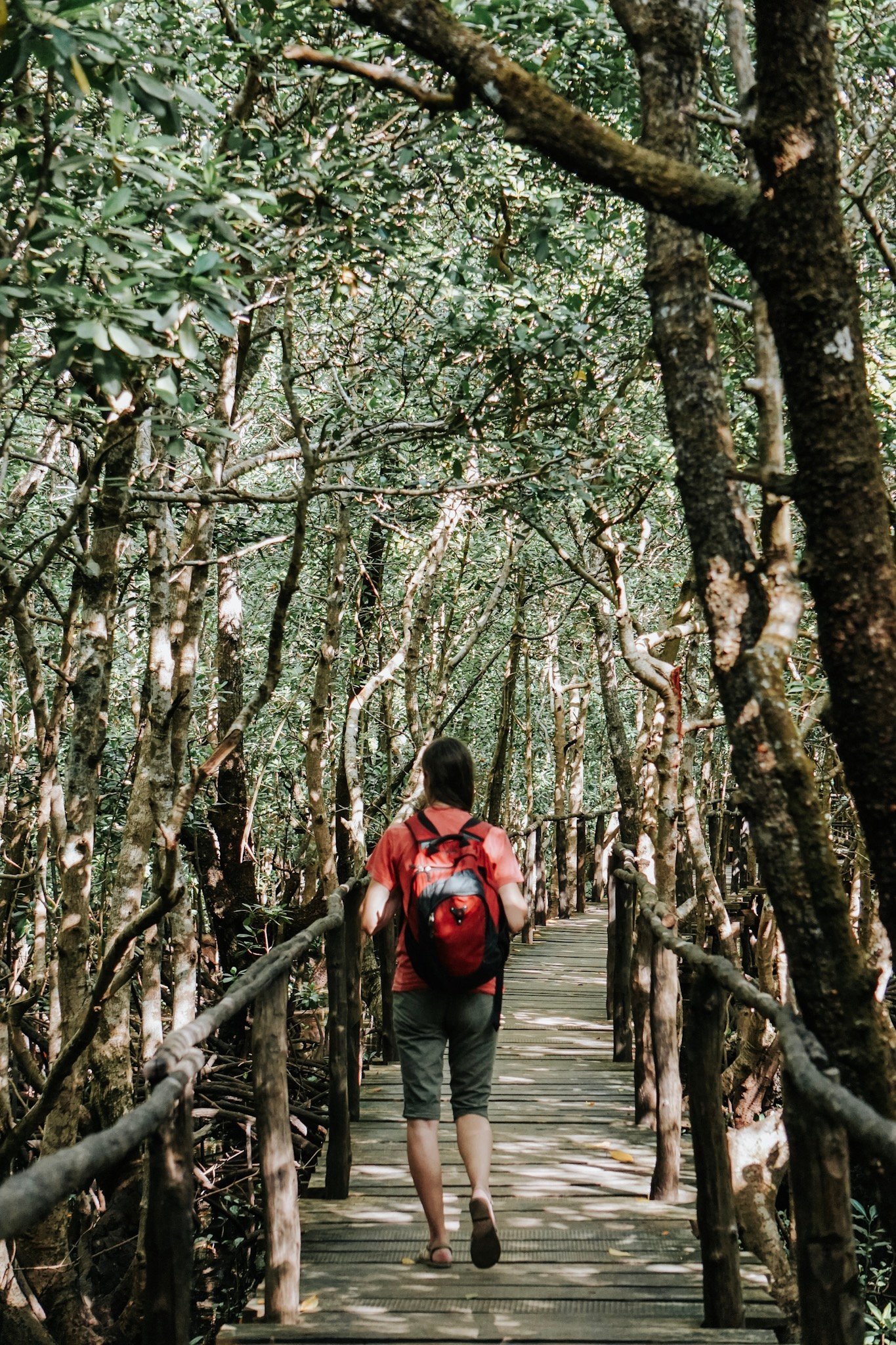 All The Animals To See
This is the reason you're here, right? Inside, researchers have found several species of monkeys, more than 50 butterfly species, and almost that many different bird species. There are more elusive animals, too, like the Zanzibar tree hyrax (it's a small, nocturnal mammal that's distantly related to the elephant!). There are also rumors that the forest is home to a rare leopard. The Zanzibar leopard is reported to be extinct, but there have been occasional sitings in 2003 and 2018. You can also keep an eye out for freshwater crabs chilling out in the rocky pools and the smallest tree frog in Africa (it's about the size of a pencil eraser).
The real stars of the show are the monkeys, however. There are several species on the island but the Red and Black Colobus are rare ... the Red Colobus monkeys only live one place on earth ... this island! These guys are so cute, sporting really beautiful (and long!) coats. Years ago they were in danger of extinction, but conservation projects put into place have been very successful and there are now more than 6,000 of that species here. It's a real treat to see them munching on leaves in the treetops on your visit.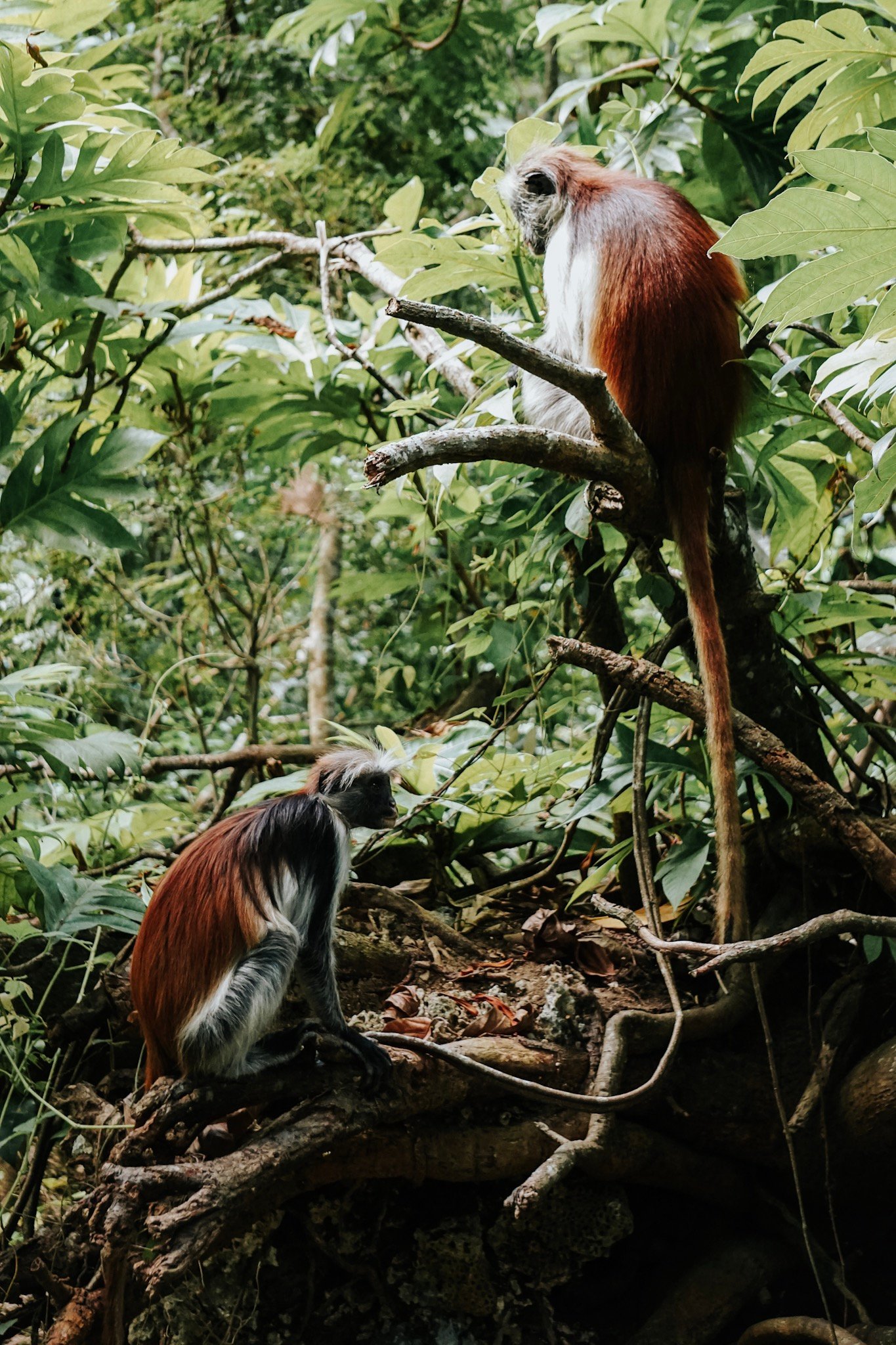 + Visit Joriefa Park
When you've had your fill of the adventures inside Jozani Park, ask your guide about visiting Joriefa Park. It's just right at the entrance of Jozani so it's easy to tack on. It's another local community conversation effort; you're expected to pay about a $6 USD donation as an entrance fee. Here, you can see some of your forest friends up close — brave enough to hold a rock python? Want to hang out with some giant tortoises and give 'em a pat? Excited to spend time with a dozen chameleons? Do all that here.
Among other things, they have a really unique habitat for the chameleons that mimic their natural habitat but allow visitors to get up closer to take a look. Some of these little guys are even brave enough to slowly crawl up and onto your hands which makes for the coolest pictures.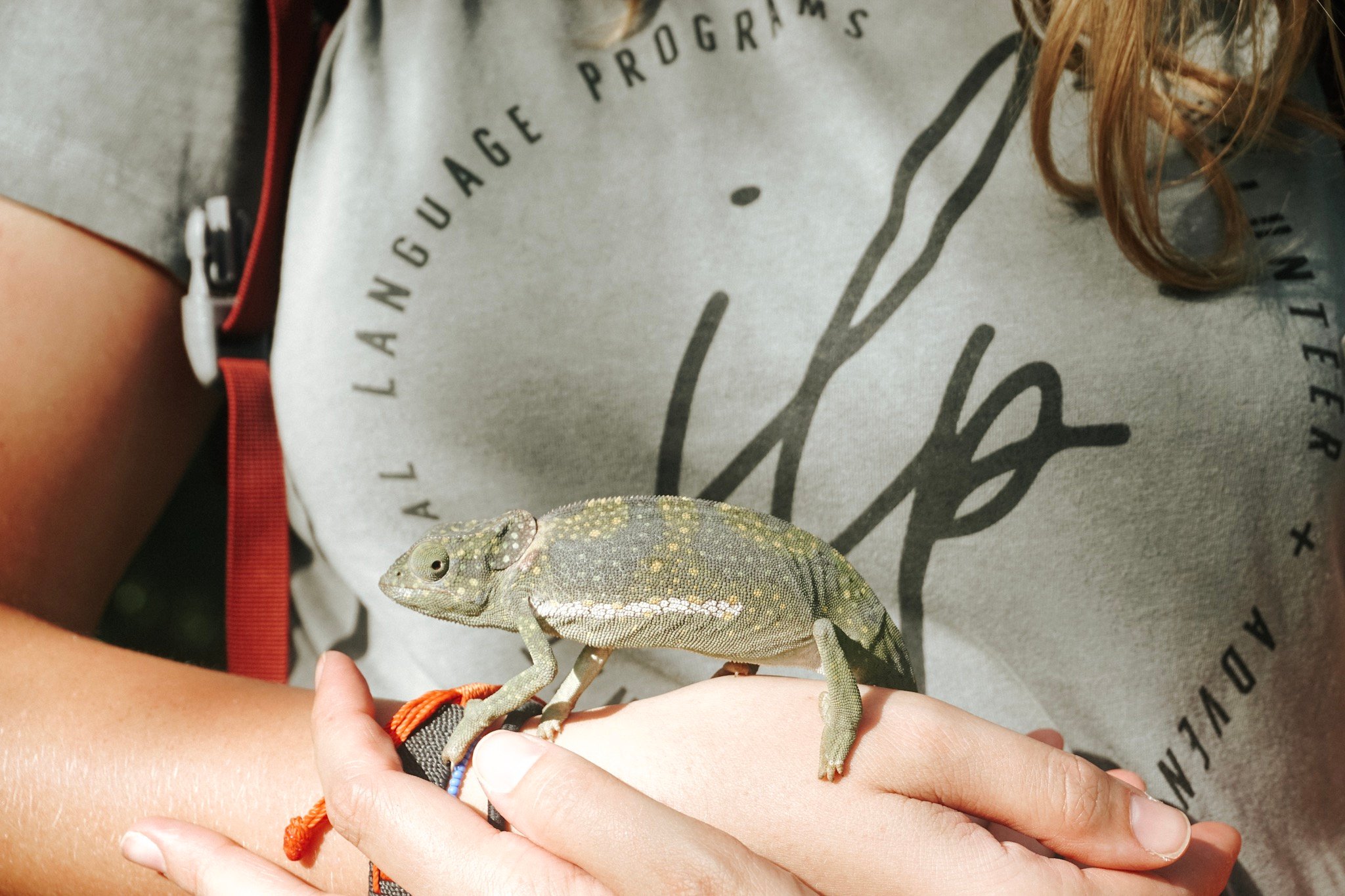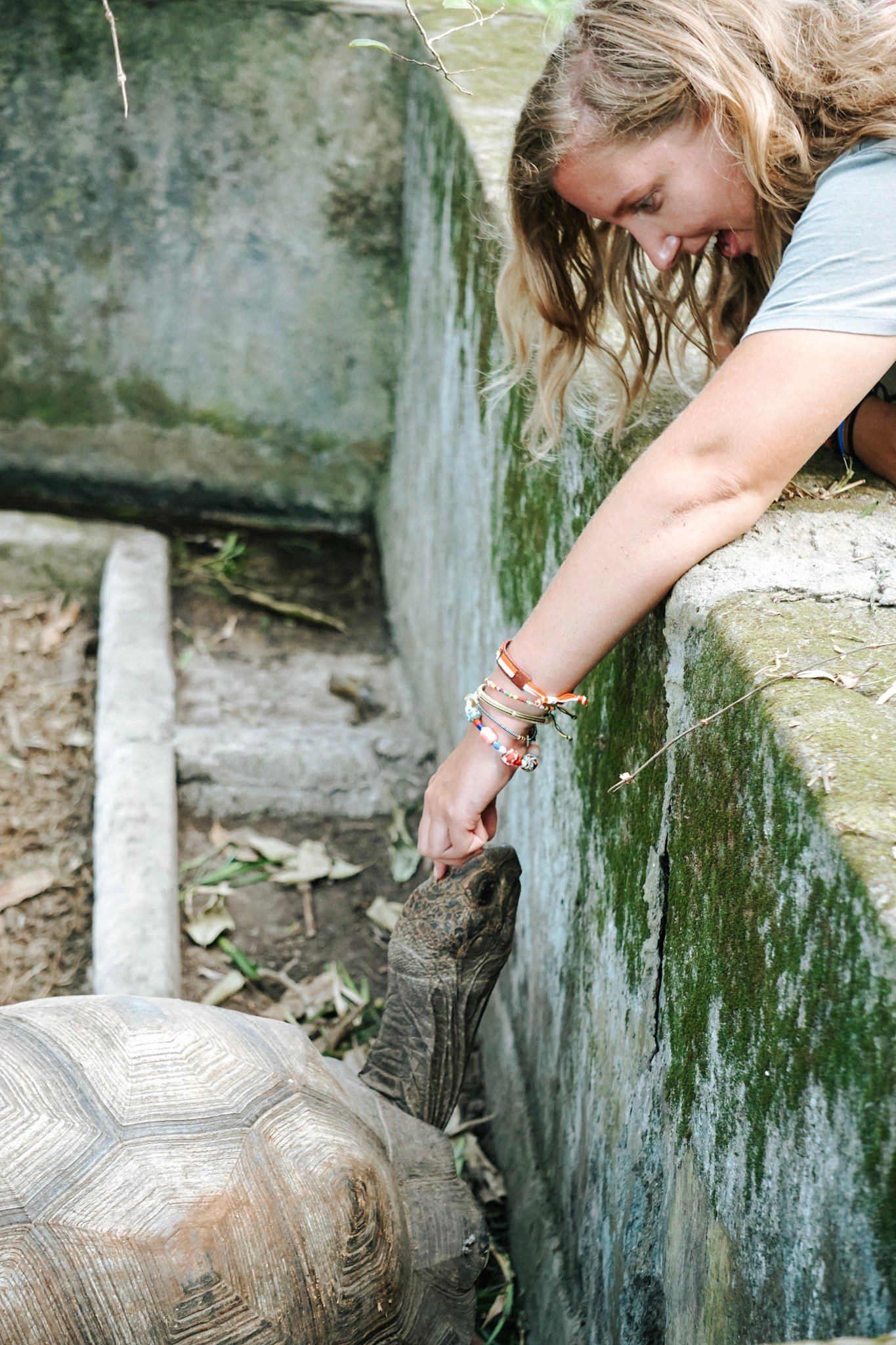 Planning Your Trip (Tickets, Hours, Etc)

Tickets
Your entrance fee is 25,000 shillings (about $11 USD) and that includes a forest guide (just know that tipping is expected, so plan a few extra shillings for that). Remember, you can talk to your guide about also taking you to Joriefa Park so add another $6 onto your ticket costs if you in go ... but honestly, I wouldn't skip that! You get to see more animals up close, so it's a fan fav.
Hours
The park is open from 7:30 AM to 5:00 PM. It's recommended to visit earlier in the morning if you want to spot more wildlife. Some say that by 9:00 AM there were more people there than they would have liked.
How Long To Stay?
It should take about two hours to explore Jozani forest with your guide, and you can hang out at Joriefa for about 1 hour (or as long as you'd like ... I cannot get enough of those chameleons). The two parks together make for a fun half-day activity.
Getting Here + Around
Transportation around Zanzibar is a bit of an adventure. We have more details about the island here (it's your go-to guide for planning a vacation in Zanzibar). That post has a longer, overall explanation about the local public transportation and taxi/driver prices but you should be able to grab a taxi from Stone Town to take you over there.
You can also hire a tour company to take you there and back, but prices are typically $65-$100 which is why most ILP volunteers just do it on their own. If you'd rather go that route, you can talk with your hotel or hostel about tour options, or walk around for vendors while exploring Stone Town. It's not hard to book a tour in person once you're there.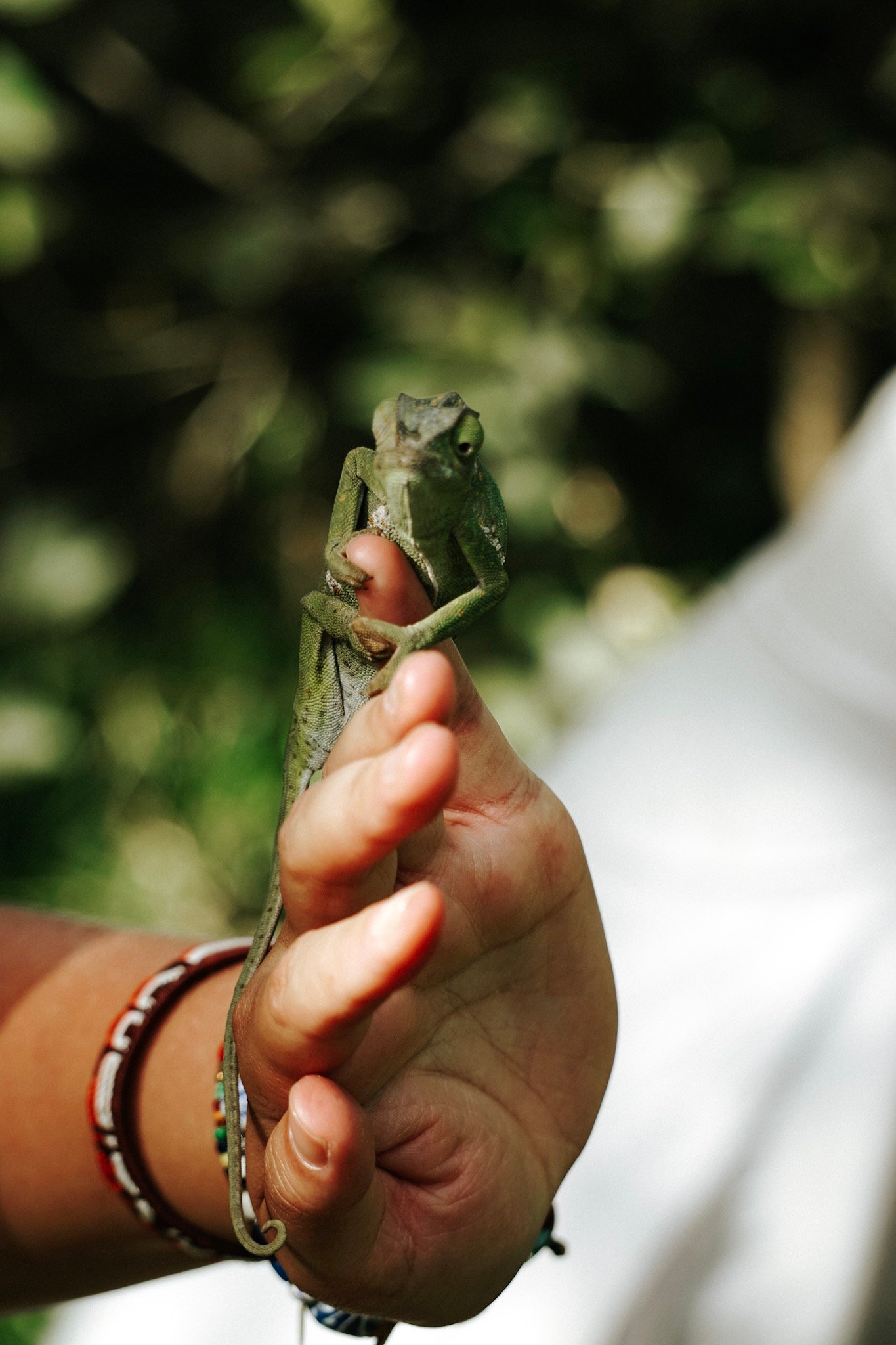 Come join us for a semester abroad in Africa!
Is travel your dream? You just don't know how to make it happen? That's where we come in!
International Language Programs (that's us) is a non-profit based in Utah, USA. We help college-age volunteers get set up to have an experience of a life-time, like a semester abroad exploring Africa. You'll get to join a group of American volunteers your age (so a group of new friends!), live together in Uganda for four months, help kids learn English, help with other projects like building springs so that more locals have access to clean drinking water, travel around, and so much more. Check it all out below.