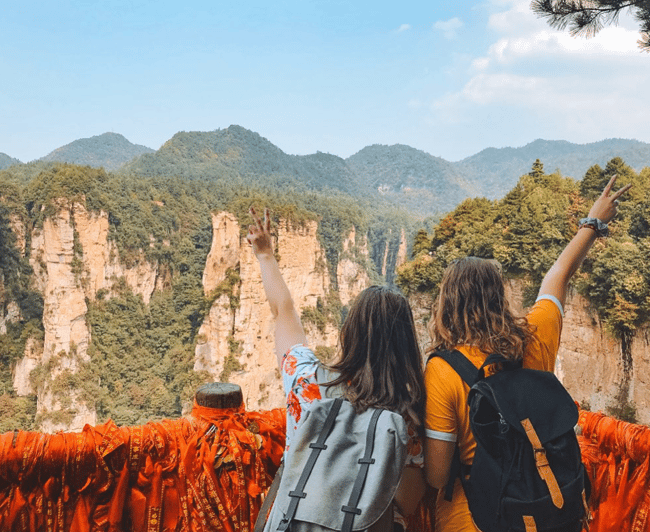 You've planned a trip to Zhangjiajie but only have enough time to see one mountain. Between the Avatar Mountains and Tianmen, which one do you go to?
I faced the same dilemma. I was visiting the city of Zhangjiajie on a bit of vacation while I was living in China and needing someone to lay out all the pros of one mountain, and the perks of visiting the other. Good thing this post does just that!
---
Wondering how to get the most out of China?
We have your go-to China destination guide for all things China
---
In a perfect world, you'd have time to do both; the stunning pinnacle mountains that inspired the Avatar movie are so cool! But so is Tianmen mountain; the world's longest cable car ride brings you up to dizzying heights and stunning views. Both are in Zhangjiajie but are a couple hours apart (more on that here : that post maps out the two parks and has tons of info like how to get to Zhangjiajie and the costs/perks of the parks.)
But this post is all about what you're looking for. Between Tianmen and the Avatar mountains, one really isn't better than the other, they are just different. So, which one do you choose?
The Avatar Mountains: Come For
Hiking
Monkeys
Different Viewpoints
Boat Rides
Tianmen Mountain: Come FOr
The World's Longest Cable Car Ride
Heaven's Gate
Glass Cliff Walkways
Easier To Navigate
The Avatar Mountains
They are AMAZING. Instagrammer Zoe Lazerson (@zoelaz) has been in China with ILP this week and her pictures should give you a pretty good glimpse at just how beautiful they are. Fog swirls around the bottom of these spectacular mountains and make for some amazing photographs, though seeing it in person is way better. Trust me on that one.
Ticket prices depend on when you go; high season (April - October) costs 245 CNY while low season is 145 CNY.
Bring your student ID and passport - students under 23 get half off! Your ticket is actually a 3 day pass that also gives you free rides on the shuttles within the park. Here's what you should see:
Hiking
Zhangjiajie is made for hiking and adventuring! There are basically two levels to the park and tons to see; one level hugs the forest floor and has spectacular walkways that wind around the rivers and the base of the pinnacle mountains. You can easily spend a couple days hiking different trails on both levels of the park. Many visitors get a multi-way pass because you can spend days and days hiking all of the different hiking trails. They have trails that cater to all sorts of levels whether you're a pro or just want to wander around soaking in all the sites.
If you want multiple days of hiking, pick the Avatar Mountains.
Monkeys
They are everywhere and love to get their photo taken (especially if you have a snack you are willing to share). The monkeys here come right up to you and say hi, which is pretty cool. You won't get this in Tianmen mountain, so come here if you want to see monkeys up close.
You're more likely to spot monkeys when you're exploring the base of the mountains. There's a pathway that winds in between some pinnacles along the side of a river where these cuties like to hang out.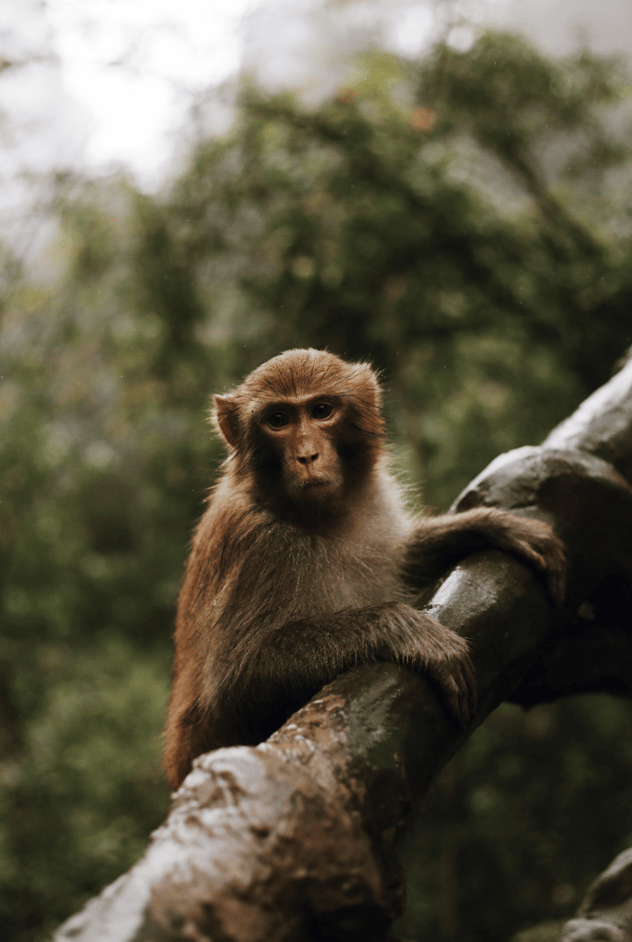 Different Viewpoints
The park is huge and gives you a lot to see. The lower level has most of the monkeys. To me, it felt like hiking through the redwoods, but that could just be the eerie and misty weather I was experiencing when I got to visit. There are trails that lead you below these pinnacle mountains, so you can gaze up and see them from below.

However, the viewpoints up top are probably why you came. Like I mentioned, the park has multiple routes that divide up the park into sections. You can also get a stellar viewpoint to see the mountains from above. There's even the opportunity to take the glass elevator (or cable car) up to the upper level of the park and see some really unique and dramatic mountain views.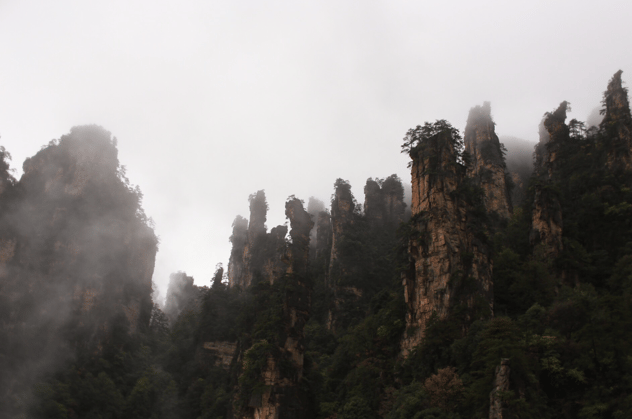 Boat Rides
Though Baofeng Lake is outside of the park, it would be easy to add onto your itinerary of adventuring in the Avatar Mountains. The dreamy and mysterious Baofeng Lake is seriously beautiful; think emerald green water surrounded by jungley mountains and swirled with mist.
This is a great half day (or 2-4 hour long) activity, so plan on doing this in the morning before catching a night train or flight out of town. Or, plan on doing this first before heading into the Avatar park…or on your last day after taking in those breathtaking mountains. Here's way more info about this hot spot.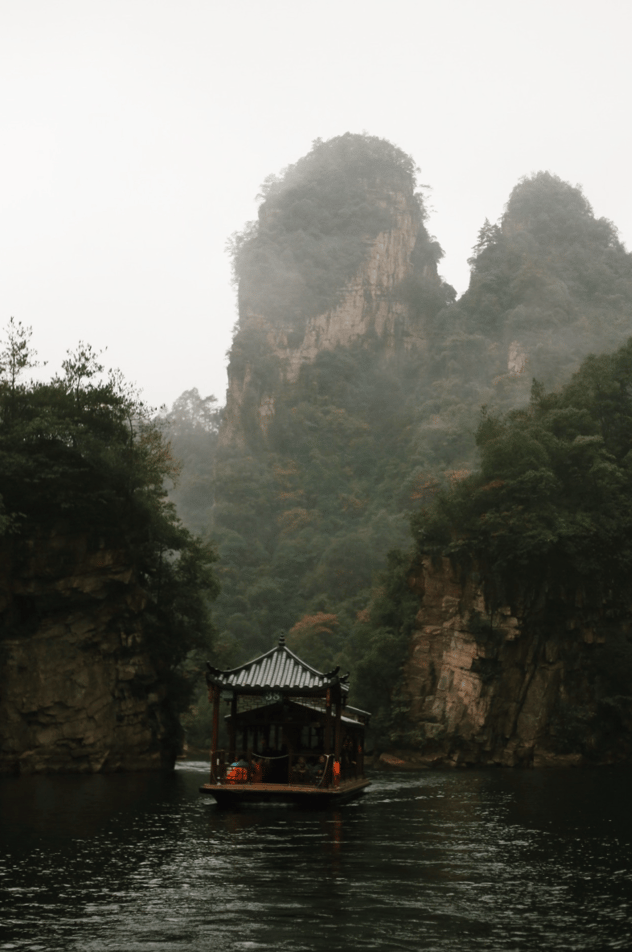 Get The Scoop on Tianmen Mountain
Tianmen Mountain is closer to the Zhangjiajie City (Yes, there's a city and a park by the same name - see a map to make this a bit more clear right here), and is absolutely incredible; even getting there is an adventure.
Choose between a road with 99 hairpin turns, or the world's longest cable car ride before you get to the top where you can check out some dizzying heights. Zoe Laz is traveling around China and snapped this shot of the road you can drive all the way to the top; do you think you can handle it?


Tickets should be about 258 CNY depending on how you choose to get up to Tianmen and back to Zhangjiajie city…and don't lose your ticket!
On the mountain, some things you will need to pay extra for (like the glass walkway) but some things are included in your ticket price, so keep track of it while you see the sites, like these ones!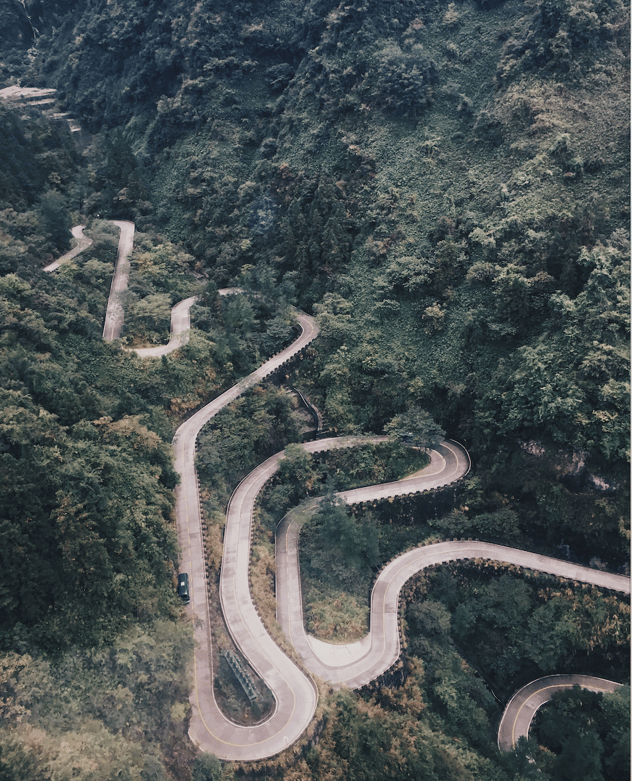 The World's Longest Cable Car Ride
Take this cable car up to the mountain or take it down; either way gives you amazing views. The ride is about 30 minutes long and goes right over Zhangjiajie city and little villages at the base of the mountain. It's an incredible ride that makes you feel like you are floating in the clouds because you are up so high.
It's really the only way to do the mountain. I mean, when I was visiting, we did run into a group of Portuguese hikers who had woken up at some insane hour of the morning in order to hike up to the actual mountain, but most tourists take the beyond-scenic ride up. It's my recommendation, hands down. It's also something really unique to this mountain. I loved my time hiking the Avatar Mountains, but I liked how this was a single peak that you could cable car up to, then hike around once you reach the top.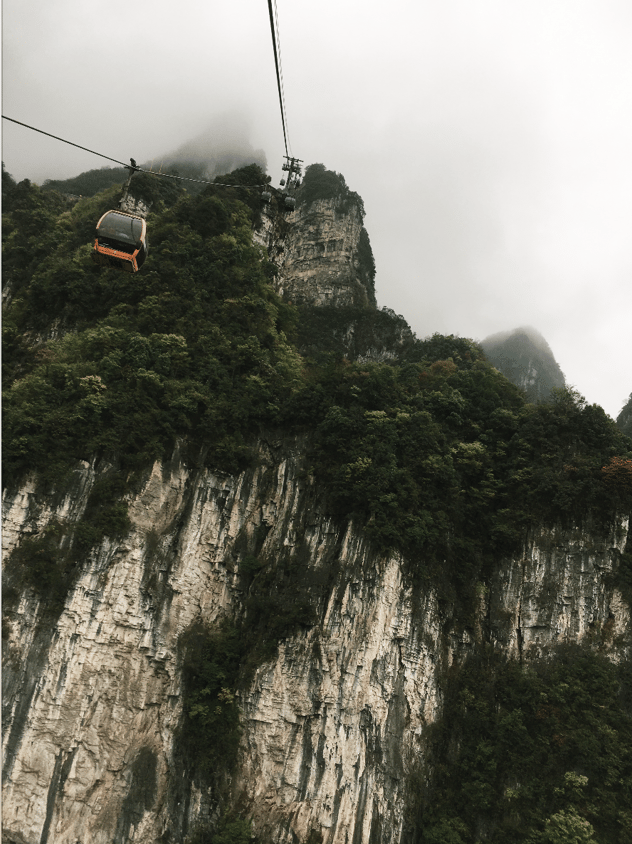 Heaven's Gate
This is why most people visit this mountain, so don't miss it! 999 steps lead you up to this huge archway in the mountain that looks like the entrance to heaven. You can either choose to hike up all the steps, or get to the mountain from behind and climb down all 999 stairs.
When I went to Tianmen Mountain, I took this photo halfway down…even going down all these stairs is exhausting but is so worth it!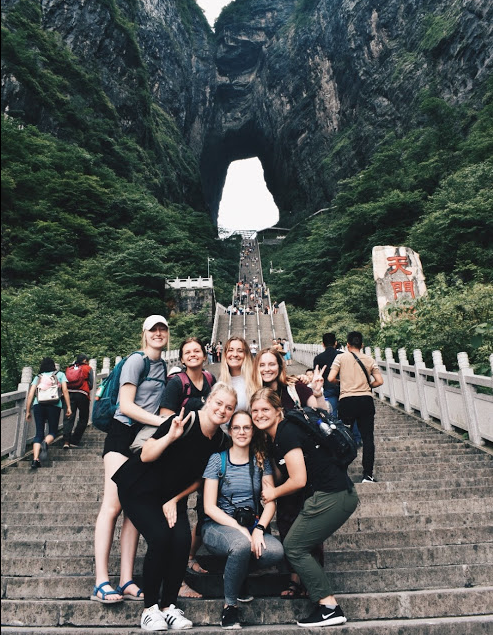 Glass Cliff Walkways
Tianmen gives you quite an adrenaline rush if you want to walk across one the glass walkways! Narrow paths hug the side of a massive cliff and the glass panels let you see past your feet to the dizzying drops below.…so cool!

If you're itching to try out a massive glass-walkway over a Grand-Canyon like drop, you've got to come here.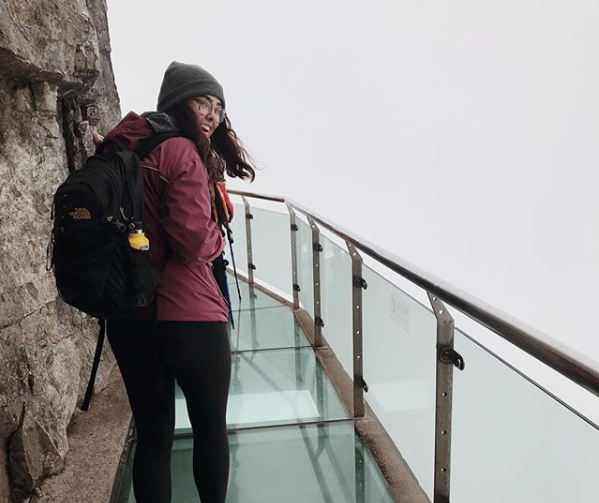 Easier To Navigate
Tianmen mountain isn't as big as Zhangjiajie park so you only need less than a full day to see the highlights. There also aren't as many hikes you can take on top of the mountain. When hiking the Avatar Mountains, I felt like I was constantly referring back to the map deciding which trail to hit that day, then heading back to the hostel and deciding our route for the next day. Not the case with Tianmen Mountain. Since you're riding up to the single peak, you can just take a couple of options once you're at the top. Maybe you want to hike up to Heaven's Gate. Or maybe you want to trek down. Your options are more limited, so it's way easier to navigate (and can be done in a single day).
If you are looking to see some spectacular sites, a bit short on time and want to hike a specific trail, visit Tianmen Mountain.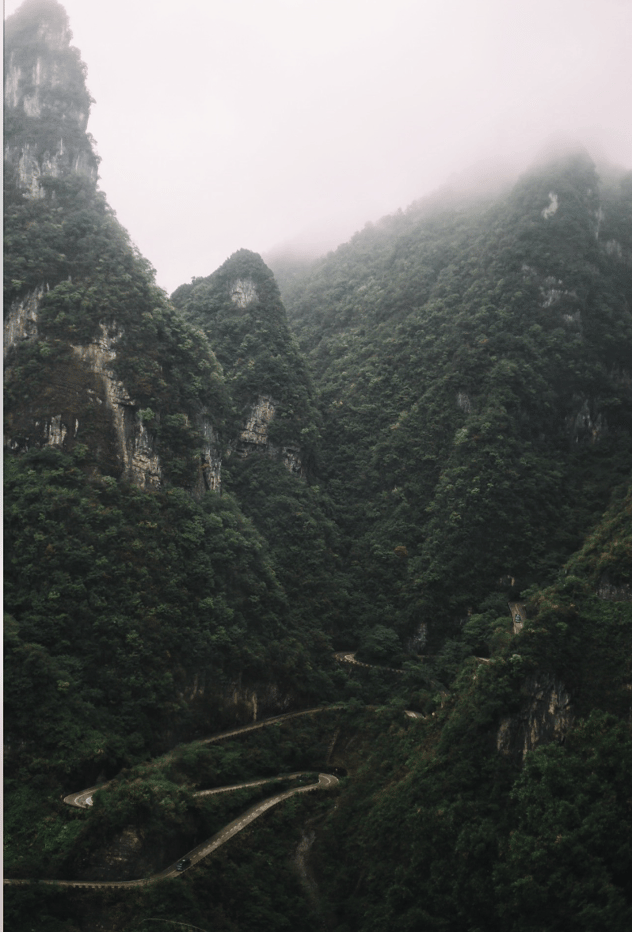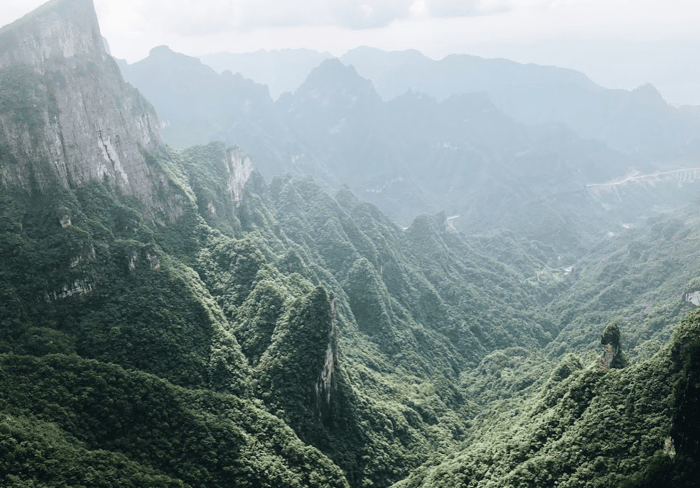 Want to know how you can live abroad in China?
International Language Programs gives volunteers the chance to live in foreign countries all around the world, teaching English and volunteering in an orphanage, but also gives you vacation time to see places like Zhangjiajie. Here's what it takes to be an ILP volunteer and you can get some questions answered by clicking below: