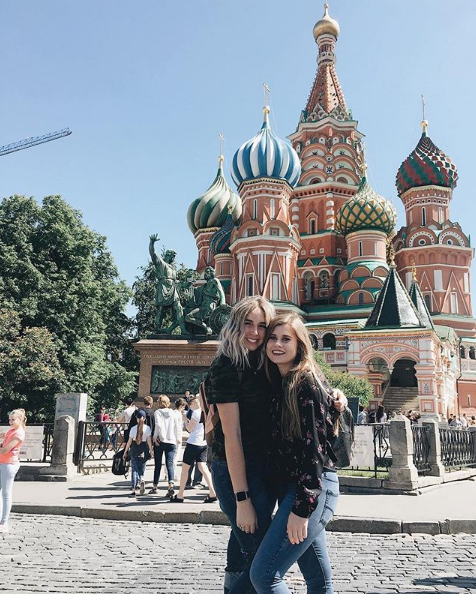 Moscow is full of sites you'd expect to see, and adventures you didn't know you could have in this Russian City.
Moscow has no shortage of things to do. After you get your fill of the typical adventures (like visiting Red Square) you'll need to check out the stranger side of the city.
---
Get all you need to know here — our best tips for exploring Moscow
---
While tourists who are just visiting might not get the chance to experience these things, if you call this city home for a semester, you'll have plenty of time. Here are a handful of "off the beaten track" adventures to have in Moscow.
Visit Mini Moscow
Head to to the Ukraina Hotel a.k.a the tallest hotel in Russia, and you can find a "Mini Moscow". This model is of the entire city and is seriously the cutest, most detailed thing ever. Listen closely and you can hear the clock striking on the Spasskaya Tower of the Moscow Kremlin and the bells ringing at the Cathedral of Christ. Its pretty neat to get a bird's eye view of the city and see how amazing the layout it from above, plus there's a little narration you can listen to that lays out the history of the detailed model.
Address: 2-Brestskaya Street, 6
Admission: Free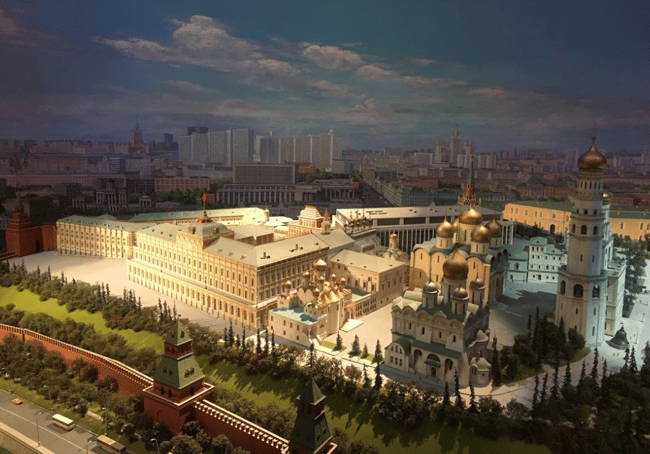 Wander Novodevichy Cemetery
See people from the history books of Russia in person at the Novodevichy Cemetery. This became a popular and prestigious place to be buried, second only to internment in the walls of the Kremlin(!). The graveyard gained more attention when Stalin ordered several necropolis and graves were to be destroyed, and has now become one of Moscow's most popular (albeit eerie) tourist destinations, but there are undiscovered corners of the cemetery worth exploring.

Come see the impressive resting place of historic cosmonauts like Pavel Belyayev, Joseph Stalin's wife, former president Boris Yeltsin, the famous author Nikolai Gogol, and several tombs of Russian musicians, poets, actors, leaders, scientists, authors, musicians, and playwrights.
Address: Luzhnetskiy Proyezd, 2, Moskva, Russia, 119048

Hours: 9:00 AM to 5:00 PM
Free Admission, but there's a 250 Ruble excursion charge for foreigners.
Insider tip: These place can become inundated with tour buses so visiting right when it opens or right before closing on weekends is probably your less-busy times to visit.
Visit The Prettiest Metro (In The World)
The Moscow metro currently has 12 lines, all named and colored. This metro is busy; every year millions and millions of people ride back and forth underground Russia's capital city and some of the stops are absolutely breathtaking. The Park Podeby stop is one of the deepest in the whole world and the stops themselves are absolutely gorgeous…some of them are actually protected by the government!
In some stations, there are statues, murals, and even vendors you can run into while walking around these underground stations. Some you might want to check out are Kievskaya, Park Kultury (Line 5), Komsomolskaya (Line 5), Mayakovskaya, Park Pobedy, Ploschad Revolutsii and Dostoevskyaya.
Get more info about the Moscow Metro here.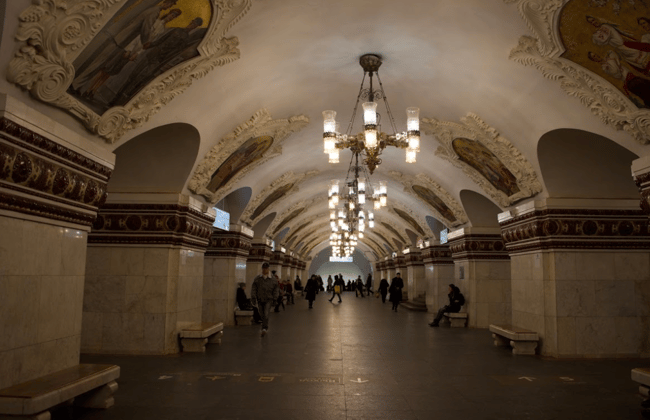 Play Soviet Arcade Games
Get ready to release your inner child! This museum is full of old Soviet Era arcade games, some of which you can actually play. Try your hand at the Morskoi Boi (which is kind of like Battleship) or Soviet table football.
Address:

Ulitsa Kuznetskiy Most, 12, Moskva, Russia, 107031

Admission: $7.25 (includes Soviet-Era coins to play games with and a short tour)
Hours: 11:00 AM to 9:00 PM


Shop At The Oldest Grocery Store In Moscow
This tsar-ist era grocery store just turned 118 years old. Woah. This place opened in 1901, as a chain of grocery stores splattered over Moscow and St. Petersburg, the creation of Grigory Yeliseyev. Yeliseyev was one of Russia's top businessmen, and was all about providing glitz and glamour, with products imported from all over Europe. Considering Yeliseyev's grandfather was a humble merchant who sold oranges on the street corners, this was quite the change.
The grocery store has been through a lot in the 100+ years its been open. In Soviet times with food shortages, the store was renamed Gastronom №1 (and served products rare to find in times of shortages). For a bit in the 1930's, it was the only place in the whole entire USSR who stocked pineapples.
Get more info + favorite snacks to buy here.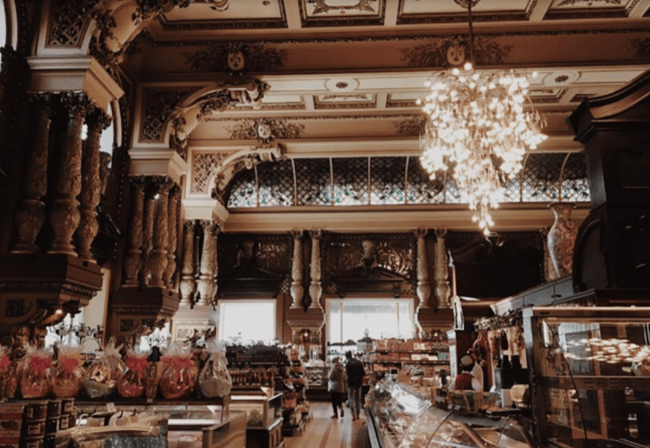 See Lenin's Preserved Body
Originally the Russian revolutionary Vladimir Lenin was going to be buried underground at his passing, but the government received over 10,000 telegrams from people asking that his body be preserved for future generations to see. Against Lenin's wishes, the government listened and now you can visit Lenin's Mausoleum and you can see his preserved body.
Address:

Red Square, Moskva, Russia, 109012

Admission: Free
Hours: Tuesday, Wednesday, Thursday, Saturday: 10:00 AM to 1:00 PM
Head's up: lines can get extremely long, so arrive early or dress for the weather if you need to wait in line for a bit.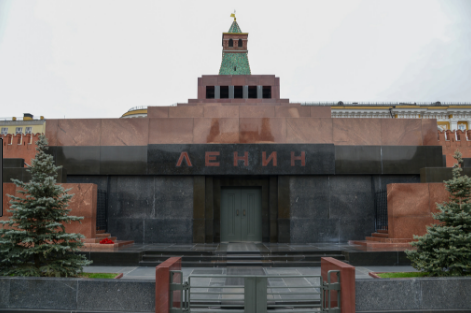 Drink A Cup of Chocolate
One of the most delicious things you'll taste in Russia! At this cafe, if you order a "hot chocolate" you'll get something a little different than expected. Your waiter will bring you a cup of delicious, rich, literal melted chocolate. And, it's amazing. You can find it in a lot of cafes but a favorite of ours is Cafe Pushkin or French Kiss.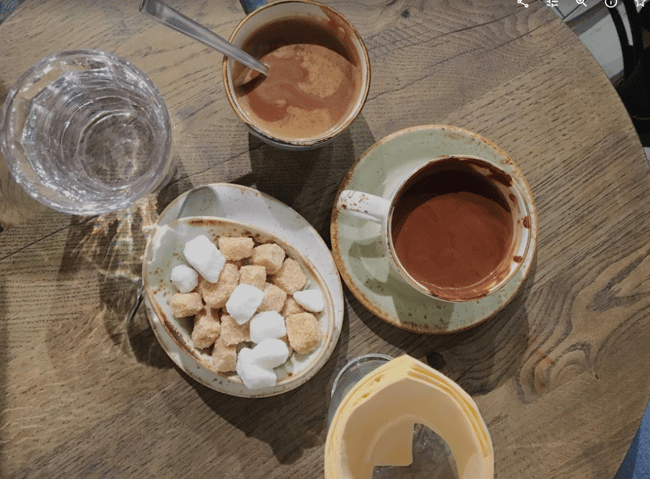 Visit A Botanical Garden
Any time of the year is a beautiful time to visit the gardens, though you'll get a winter wonderland if you're not visiting in August (as you might guess) when the garden is in full bloom, you'll enjoy a Japanese Garden, oak tree grove, flower gardens, fountains, and more.
Admission: Entrance to the park is free. There is additional fees for entrance to specific park of the gardens (ie: Japanese Gardens). The fees are only between $.50- $5.50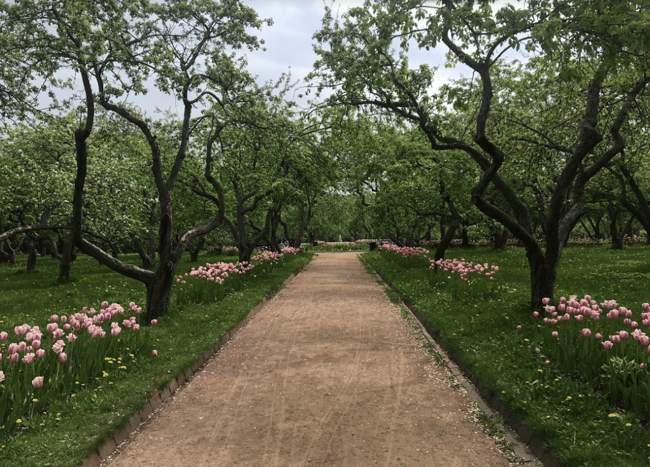 See Tins Of Soviet Space Food
Calling anyone interested in Russia's space race! This particular museum is completely dedicated to Russia's space exploration missions, visitors can check out space suits, the Sputnik model, life-like models of the first dogs to enter space, and more … you can even try some space food if you're interested. It's definitely one of the museums you'll have to visit if you have any interest in Space exploration, especially from the Russian perspective.
Tickets: 250 Rubles (people typically spend about 1-2 hours here)
*On every 3rd Sunday, this museum is free to visit!
Hours: Closed Mondays
10:00 AM to 9:00 PM on Thursdays and Saturdays.
10:00 AM to 7:00 PM on Tuesday, Wednesday, Friday and Sunday.
If you'd like to visit something a little bit different there are hundreds (literally hundreds) of museums in Moscow. Here's a list of our favorite museums to visit in Moscow.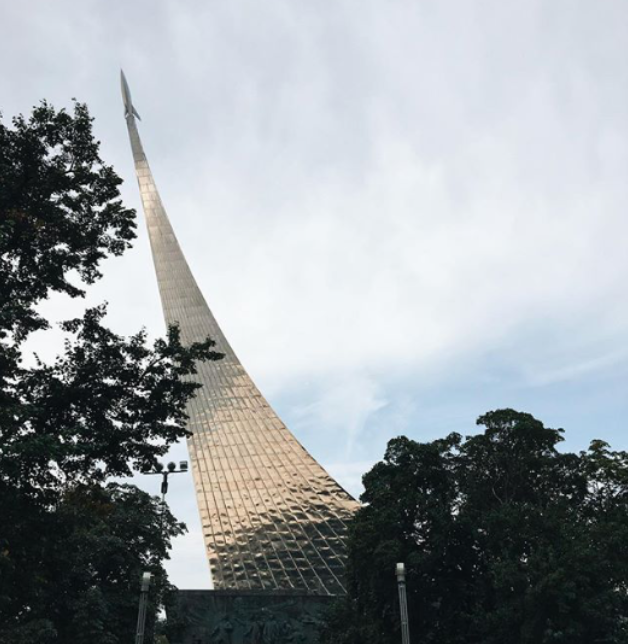 Shop At The Vernisazg Flea Market
This is an awesome place to buy cheap souvenirs. You can find most things you want here like nesting dolls, lacquer boxes, tea towels, pins, antiques, artwork, rugs, and more, plus a few more antiques if you have the eye for them. Bargain and you can get great deals, especially if you brush up on your basic Russian.
Check this link out for hours the market is open and other details. We also have more in-depth details on how to get there.
Address: Izmailovskoye schosse 73zh - Get off at the Partizanskaya metro stop and just follow the groups of people you see.
Go To The Beach
You probably don't think of going to the beach while you are in Russia but you can if you'd like. It's not the sandy beaches you may be used to, but there are several places to go relax and swim at in Moscow. Check out this list for perfect places to cool down and hangout with locals.
Visit The Moscow Zoo
The zoo was started in the 1860's by two professors but was then transferred to the city in the 1920's, creating a uniquely old kind of zoo. The entrance to the zoo itself is hard to miss and is built to like an old, stone, fairytale castle with waterfalls and towers. You can't miss it when walking by! Now over 100 years later you can find over 3,000 animals and 40+ acres to walk through.
How To Get There:

The entrance to the zoo is right across the street from the Barrikadnaya metro stop. Just get to that stop, and head up to the main road.

B. Gruzinskaya 1

,

Moscow 123242, Russia

Admission Fee: $9 or free with Student ID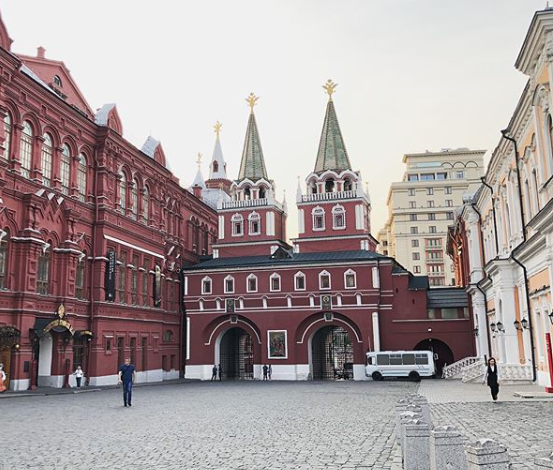 Looking for a way to make a difference and volunteer abroad?
We have a guide all about volunteering in Russia that you might be interested in, full of info about what a typical day looks like, how teaching works, and information about weekends off and vacation days.