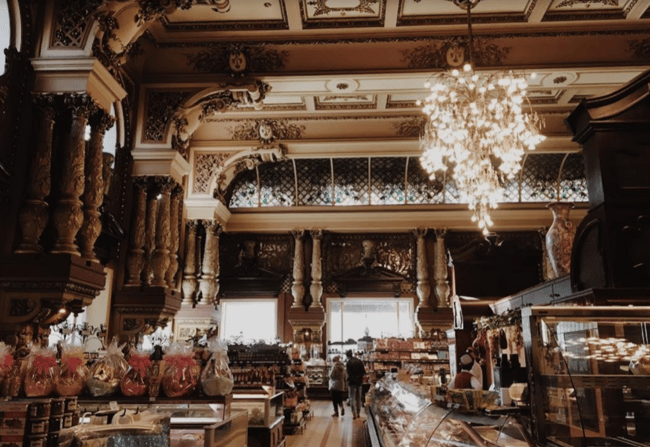 Not sure if you can be completely obsessed with a grocery store? Get ready to fall in love with this 100+ year old market.
I'm kinda into grocery stores, especially when I travel. There's something about wandering down aisles of food printed with labels that you can't read that's pretty captivating. Plus, you can run into some pretty fantastic snacks to stash in your backpack when you're out exploring.
When I was living in Russia as a volunteer, it didn't take me long to find the coolest grocery store I'd ever been to. This place is hung with crystal chandeliers, huge gold mirrors, and columns carved with ornate flourishes. Welcome to Eliseyevskiy.


---
Come to Europe with us!
See what volunteering in Russia is all about
---
As an ILP volunteer, I was only teaching English part time, which left loads of free time to explore Moscow, a city I'm 100% in love with. One thing I adore about this country is all of the history, hiding on the street corners. One street is home to Eliseyevskiy, the oldest (and prettiest) grocery in Moscow.
A Tiny Bit Of History
My Favorite Treats

Getting Here + Hours
A Tiny Bit Of History
This tsar-ist era grocery store just turned 118 years old. Woah. This place opened in 1901, as a chain of grocery stores splattered over Moscow and St. Petersburg, the creation of Grigory Yeliseyev. Yeliseyev was one of Russia's top businessmen, and was all about providing glitz and glamour, with products imported from all over Europe. Considering Yeliseyev's grandfather was a humble merchant who sold oranges on the street corners, this was quite the change.
The grocery store has been through a lot in the 100+ years its been open. In Soviet times with food shortages, the store was renamed Gastronom №1 (and served products rare to find in times of shortages). For a bit in the 1930's, it was the only place in the whole entire USSR who stocked pineapples.
Now, it's an upscale grocery store found not far from famous Red Square, and was a place I visited probably a dozen times when I was living in Moscow. I love it there!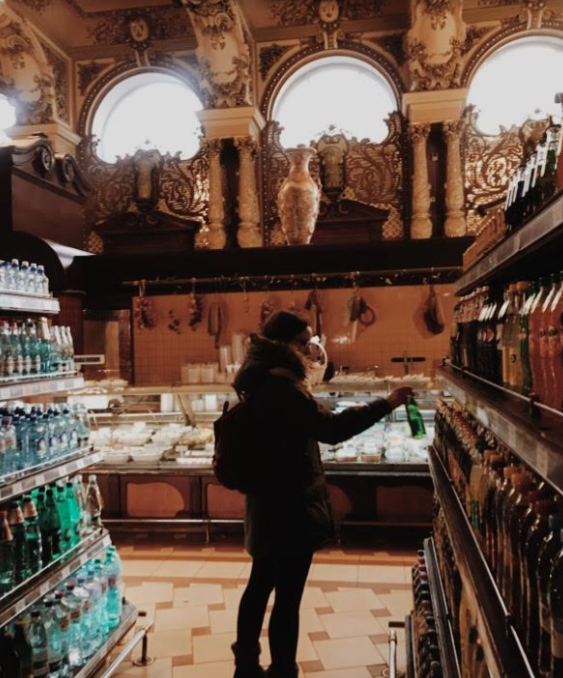 My Favorite Treats
Alright, so this place is a grocery store. Yes, it's hung with glittery chandeliers and soaring vaulted ceilings, but you'll find some basics here (albeit slightly more expensive than other stores). Juices, soda, bottled water, produce, tins of caviar, frozen staples like pelmini, boxes of souvenir chocolates, imported cheeses and meats … you know, grocery store things. There is also a deli that serves favorites like borscht and marinated mushrooms if you want to stay for lunch.
All good things but I always headed straight to the pastry counter and the cheesecake bars.
Medovik Cake
Also known as honey cake, and it's delicious. It's a layered cake with almost a graham-cracker taste and a cream cheese-esque frosting. Yum. Small disclaimer: I ate a lot of cake in Russia and this was one of my favorites … and this was my favorite place to get it. I tested out a few cake shops and patisseries but Eliseyevskiy was my go-to. They serve it in slices and as a whole cake … I've definitely purchased both (and one time ate a slice just like a piece of pizza. True story).
Find it in the pastry country along the windows of the store that look out to the street outside.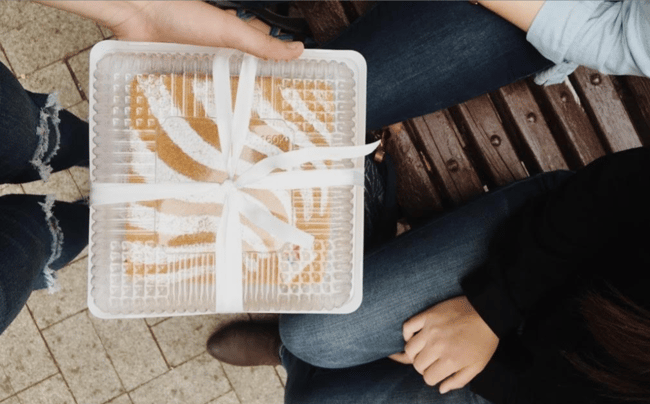 Napoleon Cake
Another favorite, this is flaky layers of pastry sandwiched between thick cream and usually dusted with powdered sugar. The cream sorta soaks into the pastry making a stack of creamy, sweet, deliciousness. You can find this cake pretty much all over the city, but Eliseyevskiy has a pretty good one.
Find it in the pastry country along the windows of the store that look out to the street outside.
Tvorik Danishes
Tvorik is a type of soft cheese, and you can find it in a lot of sweet and savory dishes in Russia. But one of my favorite ways to eat tvorik is in this danish. It's a big circle of this soft, tangy cheese surrounded by freshly baked bread. Eliseyevskiy sometimes has these still warm from the oven.
You can find these in the pastry case with all the cakes, but you can also find them wrapped in plastic wrap in a little shelf by the pastry case. I liked the ones wrapped in plastic because they are slightly less expensive and you can just toss them into your bag.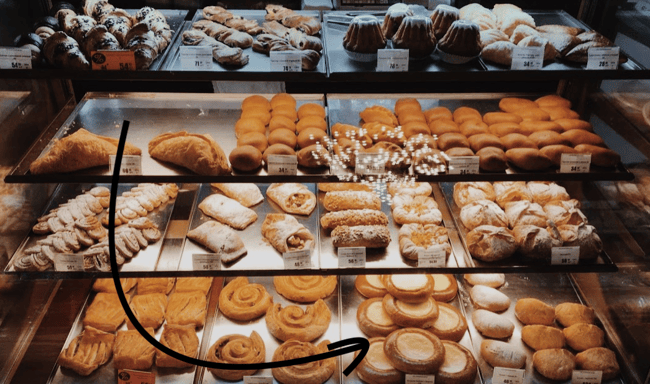 Cheesecake Bars
If you need a reason to come to Russia, let it be these cheesecake bars. They're technically known as "cirok" (seEEEr-rock) and they are all over the place. Imagine a fun-sized candy bar (like Snickers), all covered in chocolate, but instead of nuts, caramel, and nougat inside, you have a little square of cheesecake. Chocolate, strawberry, caramel, lemon, orange, vanilla … yum.
Eliseyevskiy has a mini section of cirok bars along the back in the refrigerated section (by the yogurt). There are tons of brands and tons of flavors to try.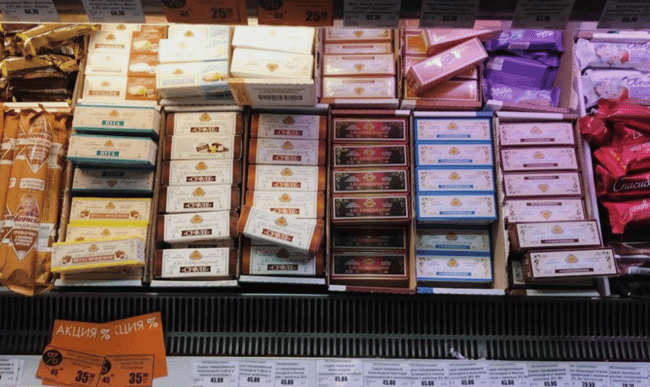 Getting Here + Hours
Address: Tverskaya St, 14, Moscow, Russia, 125009
It's most easily reached by the metro, using the Tverskaya metro stop (it's on the gray line). We have your total guide to the Moscow metro here which outlines how to use my favorite app which makes getting around this city a breeze.
Hours: 24 hours a day
Oh and a pro tip? There's a park just around the corner set up with benches (and great people watching) and yes, the serve these pastries to go.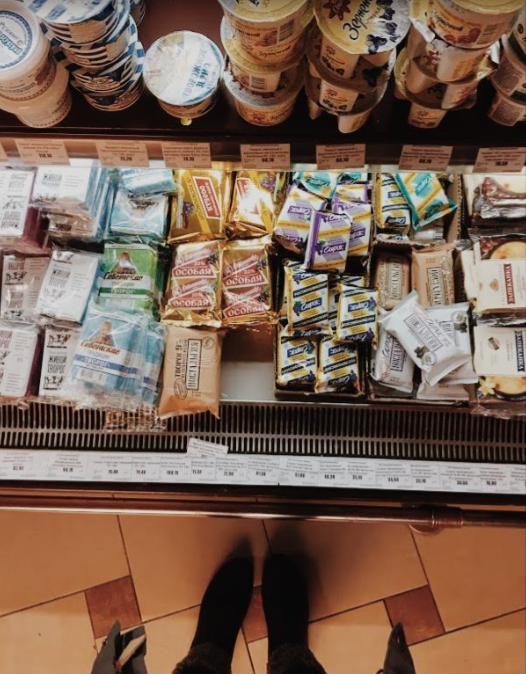 Travel all over Europe and call Russia home
That's exactly what my plan was when I signed up to volunteer with ILP! I spent a semester teaching English (no worries, I had zero experience) and had all the free time to explore Moscow. Oh and on vacation? I visited all the countries on my Europe bucket list.