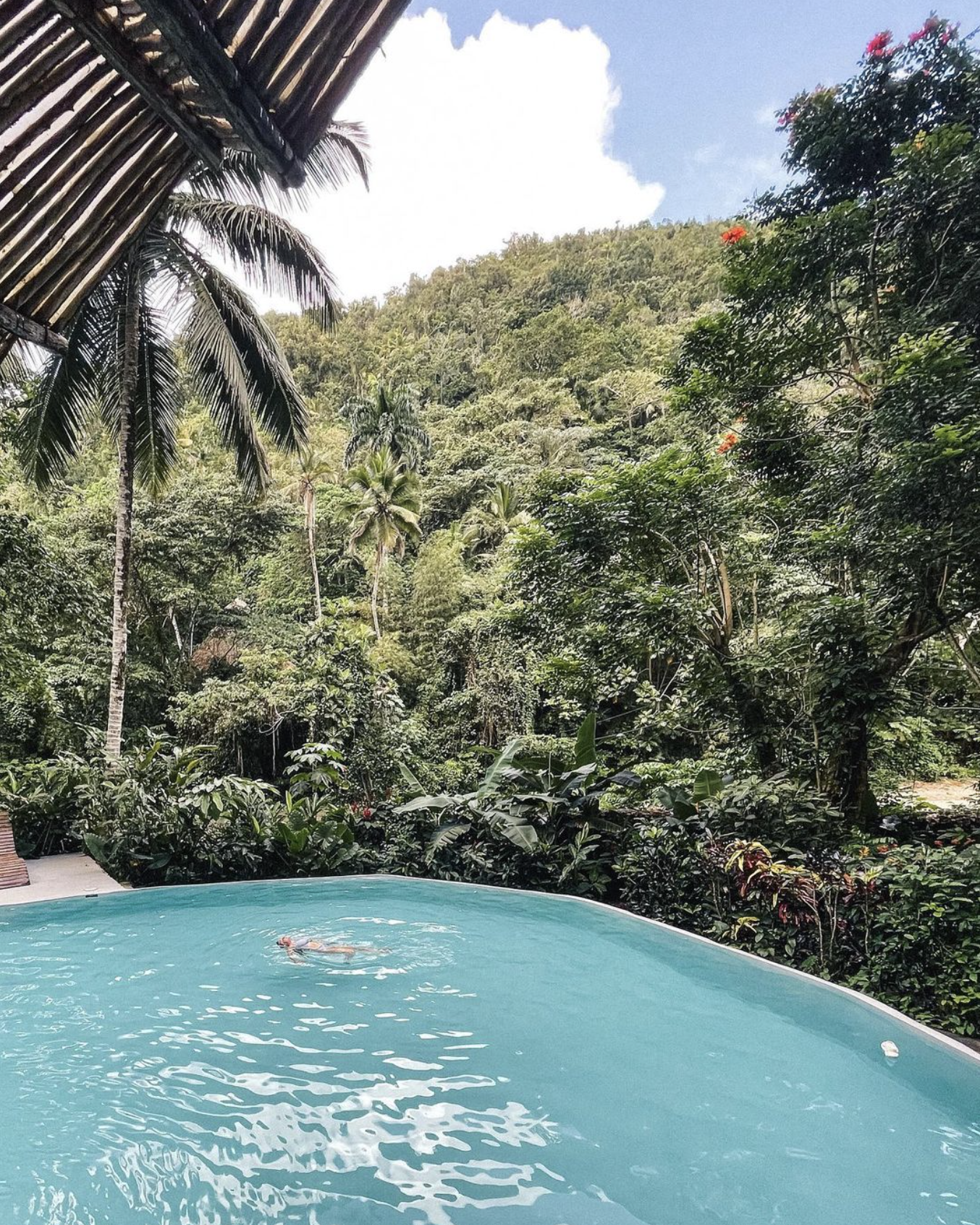 Stay in a villa on the beach or up the treetops in a waterfall-filled jungle, all on a budget.
There are just times that the places you can stay are so unique and add so much to the experience of it all — One of the best memories I have of some of my vacations are the places we stayed. In Europe, I stayed in a beautiful AirBnB right by this world-famous museum, overlooking the town square. In Central America, it was all about this amazing bungalow right in the jungle, next to the farmer's market where we got fresh fruit for breakfast in the morning.
And in the Dominican Republic? You have more than a few choices for places that can just put your vacation over the top (while still staying in your budget).
We're thinking this little list will come in handy especially for ILP volunteers, who have vacation time (and every weekend off) for little island getaways but don't always have the budget to stay at a resort every time.


---
Deciding where to spend your semester abroad?
Come see how our program in the Dominican Republic works!
---
To help you out, we've pulled ideas that fit into the budget of a typical ILP volunteer and provided a bit of background before we dive into our list. You'll find all of this (and some vacation resources) below:
Before We Start
When it comes to places to stay in the Dominican Republic, you have a few options. Most tourists opt for hotels or resorts (or all-inclusive options) which can be a fun splurge, but we love these more unique options that add more to your experience. These places are in that middle zone — not as expensive as some of the hotels and resorts you can stay at, and not always your most affordable option (like a hostel) — but places that will make your adventure that much more memorable.
Check out the list below for our top picks on places that will make the experience, plus links to our vacation guides that will help you plan the rest of your trip's details. These vacation guides have info on things to do, places to eat, how to get there, and other info that makes trip-planning a cinch.
Dreamiest Places To Stay
We have our list below, with a few pointers to help you out. In addition to the vacay guides, we've grouped things geographically to make things even easier. We're starting on the north coast in Fricolandia and moving clockwise (roughly) around the island, ending in Jarabacoa, which is found in the middle of the country.
Find Paradise In Fricolandia
Fricolandia is our newest obsession in the DR, a picturesque overlook that's been transformed into an incredible swimming spot, complete with a row of thatched-roof cabanas that wind down the cliffs to the ocean below. There are little stairways that lead you down the rocky drop-off for a salty swim in the waves and a coastal grill so you can stay all day long. Get way more about Fricolandia here (and the details about where to stay below).
If you want to spend the night nearby instead of treating this as a day trip, we're loving one particular AirBnB, with basic rooms that have an amazing view. You'll have access to a private beach, and pool overlooking the ocean on the wooden patio. Book here.

This Infinity Pool Cabana In Samana
Traveling with a group? This AirBnB sleeps up to 16, meaning you can easily split the splurgy price (around $1,400 a night!) to be more like $85 a night, per person, if you have a large group. This place is a rustic wood villa set above Samana bay, complete with rooms that face the seaside, and an infinity pool tucked away in tropical gardens. Talk about dreamy.
Treehouse Villages In Samana
The Dominican Tree House Village is what dreams are made of. Nestled deep in the Dominican jungle, imagine spending your mornings eating breakfast overlooking the lush treetops, swinging in hammocks, and then climbing down ladders to go spend your afternoon at the beach.
There are multiple cabins that are connected by rope bridges, there are garden paths to explore, the green trees of the untouched jungle around you, a pool to splash in and fireplace on the grounds, a yoga studio to relax in, and a bunch of additionally lovely ways to spend your time. Around the property are a waterfall and a beach which are other ways to stay busy. It's one our volunteers just love.
Get more info about the resort, here.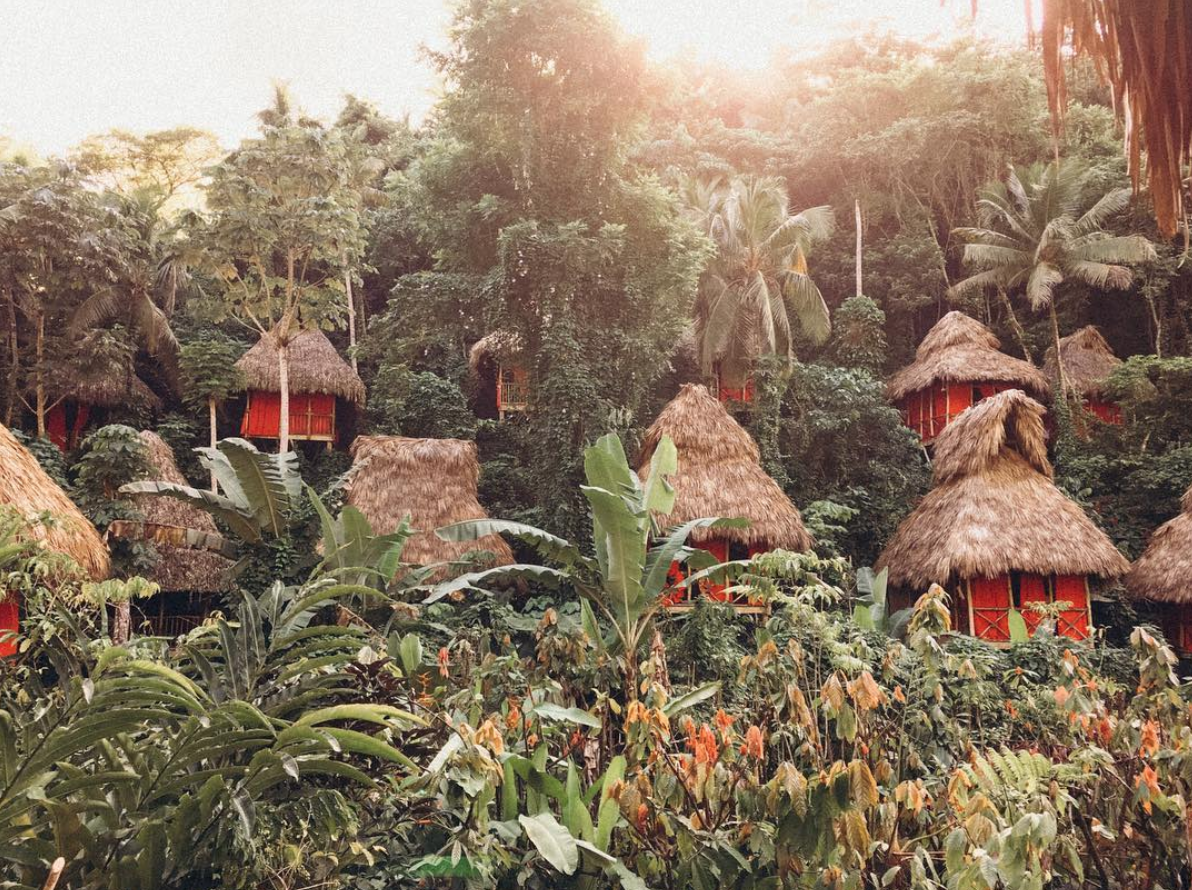 Private Beach + Pool In Punta Cana
A trip to Punta Cana is a hot spot for tourists (and can feel a bit crowded), but not when you slip away to your villa's own private beach. You can rent a night tucked away in the exclusive gated community in Tortuga Bay which gives you access to the private beach there. Plus, your villa has its own pool, tropical back garden, and patios filled with furniture that's perfect for lounging.
Book here (and get the details on Punta Cana) .
Poolside Cinema In Punta Cana
If you're looking for another splurge, we found the place for you. Found in the private gated community in Tortuga, this spot has two terraces for lounging, and a pool, but that's not all. The yard is outfitted with a huge screen perfect for movies you can watch from the pool, or from either terrace. It's pretty spendy ($1,200 a night) but can sleep up to 12 if your group is up for a little luxury.
Book here (and get the details on Punta Cana)
Beach Camping In Barahona
Have a more rustic experience by camping in Barahona, a stretch of amazing beaches that are just as pretty to swim in, as they are to hike to see — the viewpoint hike in Barahona is just something you gotta do! While we love a little taste of luxury found with the other options on this list, there's something amazing about falling asleep to the sound of the crashing waves after having a bonfire on the beach.
Get all the info about camping in Barahona, here.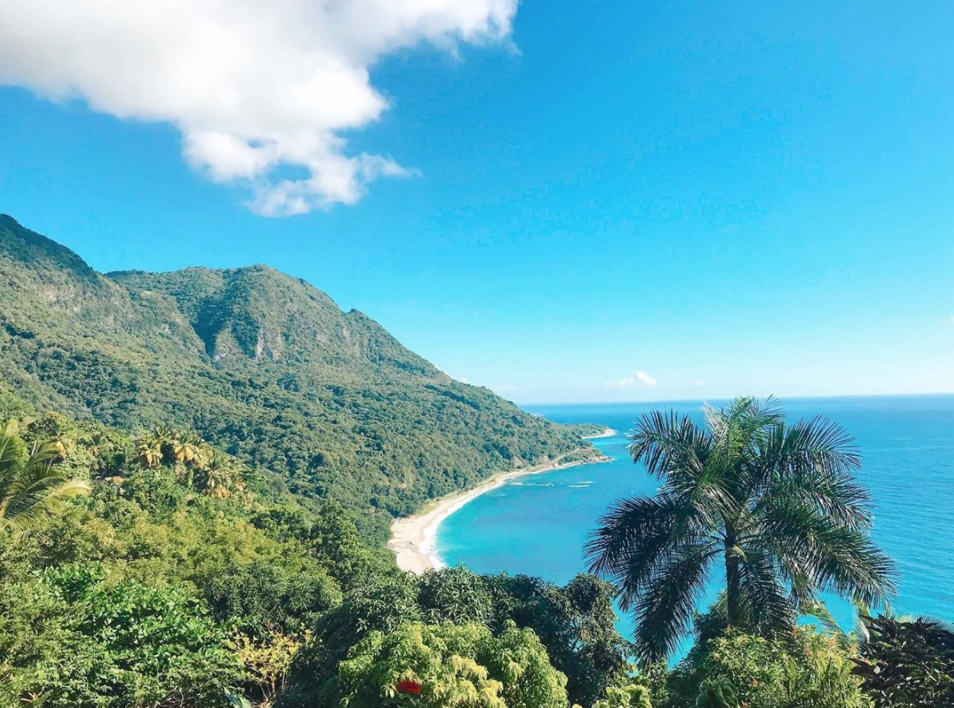 A Castle-Like Stay For Santo Domingo
One of the highlights of the capital city is the history and architecture, stemming back from the time of Christopher Columbus ... so what better place to stay than in a converted convent? This 16th-century structure is found in the historic downtown, and has been updated, but just enough to keep the charming stone walls, open courtyards, and mosaic-tiled floors.
Book here, with more about Santo Domingo here.
Find Zen In Jarabacoa
We cannot get enough of the adventure-packed area of Jarabacoa ... or the idea of coming home to such a beautifully relaxing AirBnB after a day of waterfall rappelling, rafting, or horseback riding. This modern space sports big windows, muted colors, and natural decorations to help you unwind after a day of adrenaline. It sleeps 8, making it an affordable option to split with friends.
Book here — plus, here's our vacation guide to all the things to do in Jaraboca.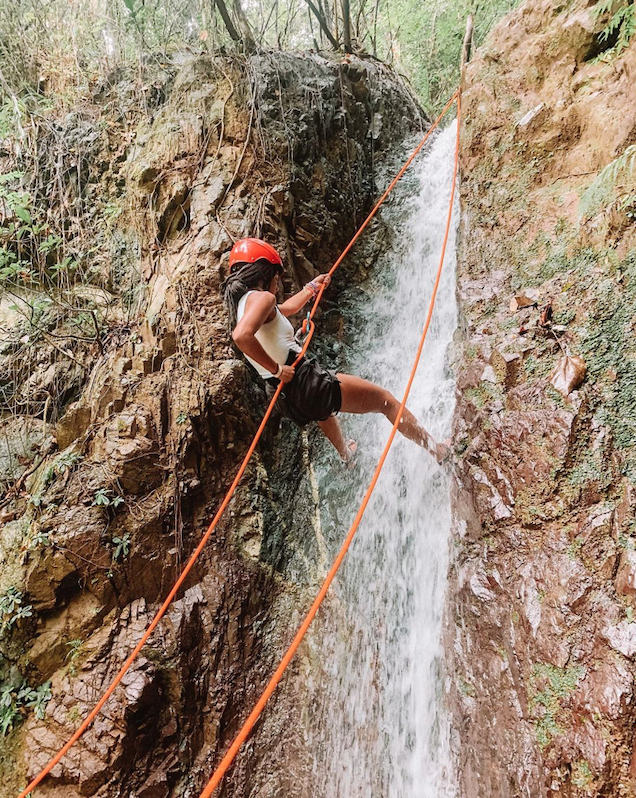 Looking to spend time in the DR?
Instead of just traveling and visiting the Dominican Republic, how about something better? Come make a difference and serve while living there for a semester abroad with International Language Programs (ILP).
We're sending groups of college-aged volunteers for a semester of teaching English (on a part-time schedule), with vacation days and weekends off. You're set up with a group of friends from the US and Canada to travel, teach, and adventure with. Come learn more!