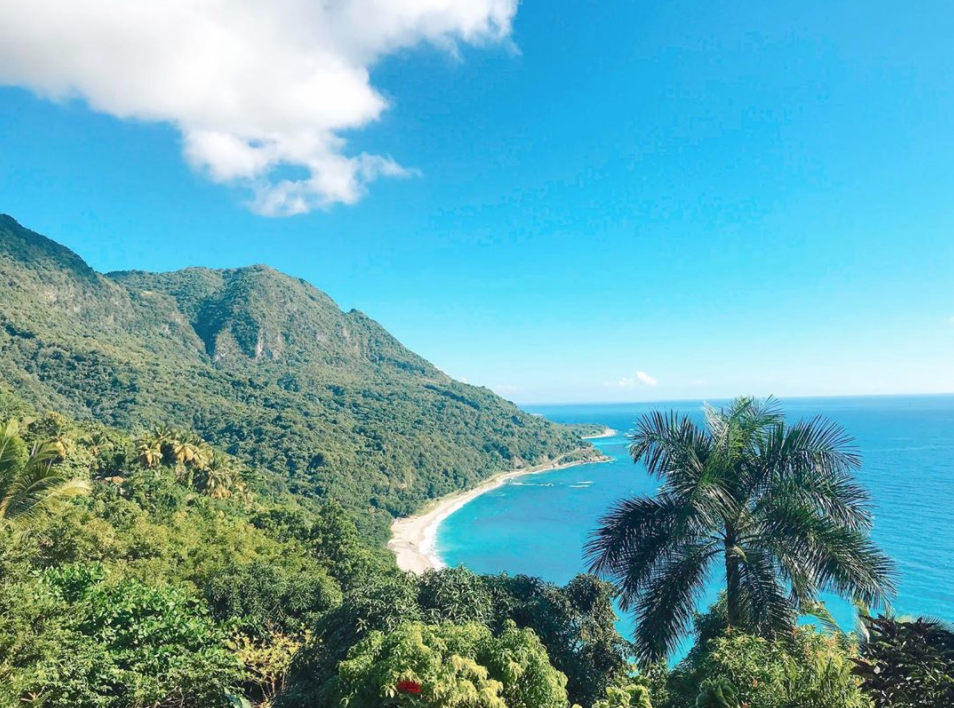 Come hike to one of our favorite viewpoints in the Dominican Republic, watch the sunset while you have a bonfire, and wake up to the sunrise from your tent right on the beach. We're dishing on one of our favorite vacation gems, found in Barahona!
ILP volunteers have been coming to the Dominican Republic for years, spending four months of their lives getting to know the country, the people, and of course ... all of the best vacation spots. We've shared our top pics like this spot in Samana where you can spend the night in a tree house. Or this little island in the north where the crystal clear waters are bluer than blue. Now we're sharing about this spot where you can come enjoy and sleep on this beautiful beach, far away from the tourist crowds.


---
Deciding where to spend your semester abroad?
Come see how our program in the Dominican Republic works!
---
We love promoting tourism in this country that directly benefits the locals. And this excursion is one of those.
Book A Stay At Raylin's Eco-Surf Beach Camping
To jump on this adventure, you first need to book your stay at Raylin's Eco Surf Camp. Raylin and his wife (an American he met while she was in the DR with the Peace Corps) run a little Airbnb of sorts in Barahona. The experience is truly unique and not like any other Airbnb you've ever stayed at.
Barahona is about a 3 hour bus ride west from Santo Domingo. We've got a guide to Barahona right here if that helps, including directions on how to get here. But we feel like Barahona has some of the best beaches in the entire country, so Raylin's just makes the adventure here that much better. This stay is on San Rafael beach, in a little cove with blue waters with a beach backed up against tall, lush green mountains.
The hosts speak fluent English which makes it really nice for us. From our past experiences staying here, they take really good care of their guests. They treated us like family, making sure we had the best experience!
Adventures To Be Had
Camping On The Beach
This is the biggest part of the experience! You'll be sleeping in tents, right on the beach. Don't be expecting a hot shower and power to charge up your phone — this vacation is all about the tent life, unplugging from social media, and just enjoying the fact that you're in the Dominican!
They'll set you up with the 2-3 man tent, a sleeping bag, and a foam pad to make it a bit more comfy. Oh and the best part is waking up in the morning at sunrise! When we were here, there was an option for Raylin's mom to come make a yummy breakfast for a small extra charge. If you're able to do that, I say do it!
If the weather gets bad they do have a mountain house and an Airbnb house nearby that can be used as backup. But I'm crossing my fingers you have great weather because nothing beats the adventure sleeping on the beach.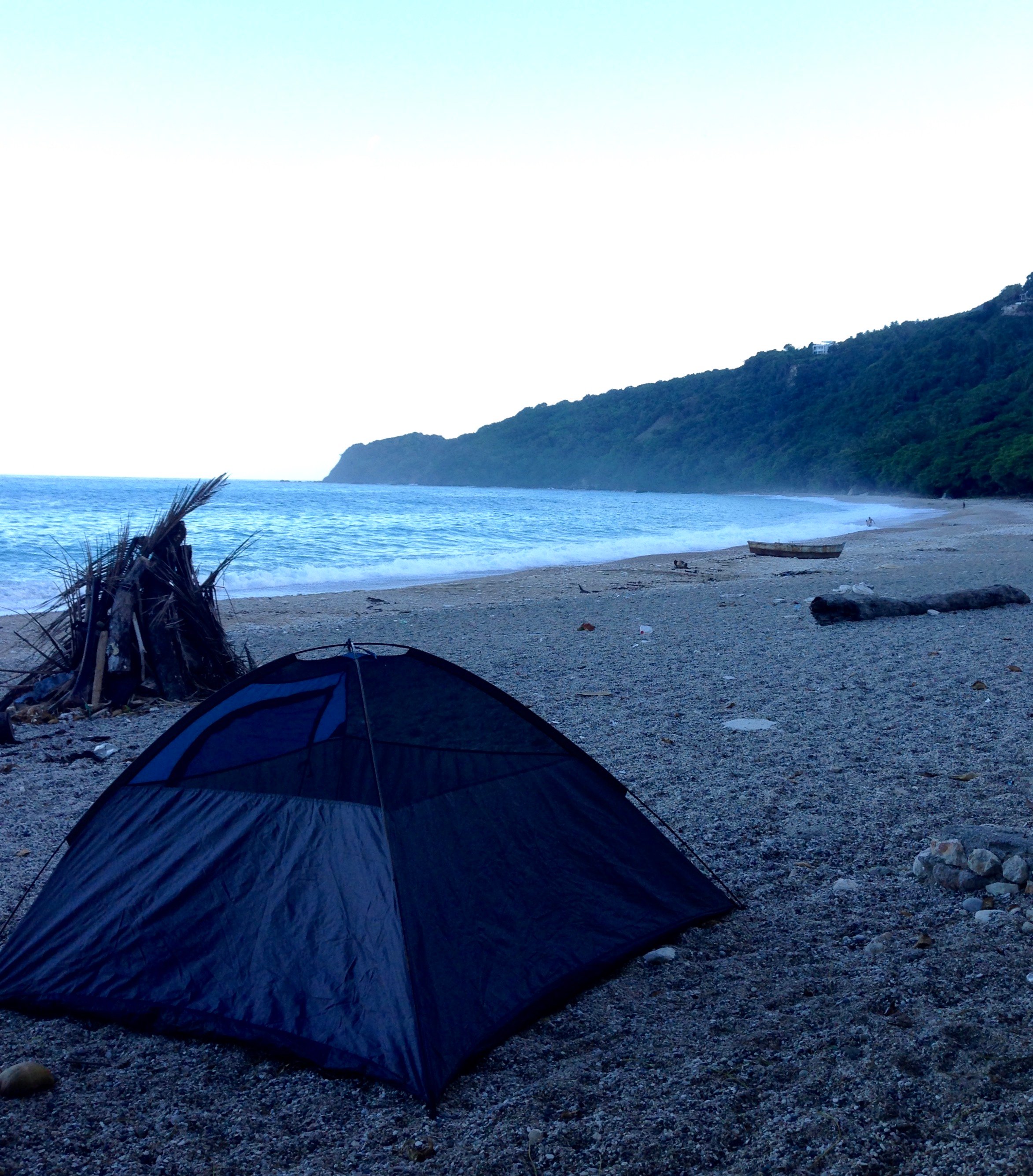 Swim In River Pools + The Ocean
We love the coastline here because the water is quite a bit cooler than in other parts of the island, which is really nice to help beat the humidity! The waves are also really big here unlike other parts of the DR. It's pretty fun to just hang on the beach and watch the waves rolling in.
But there's also something really rad here — There's several rivers that flow from the forest down into the ocean with pools created along the way. You're totally welcome to come play in the river and the pools! The water is pretty cold but we still love it. Just make sure to grab your waterproof camera because you'll want pics of this experience.
Oh and you can also take surf lessons if you'd like!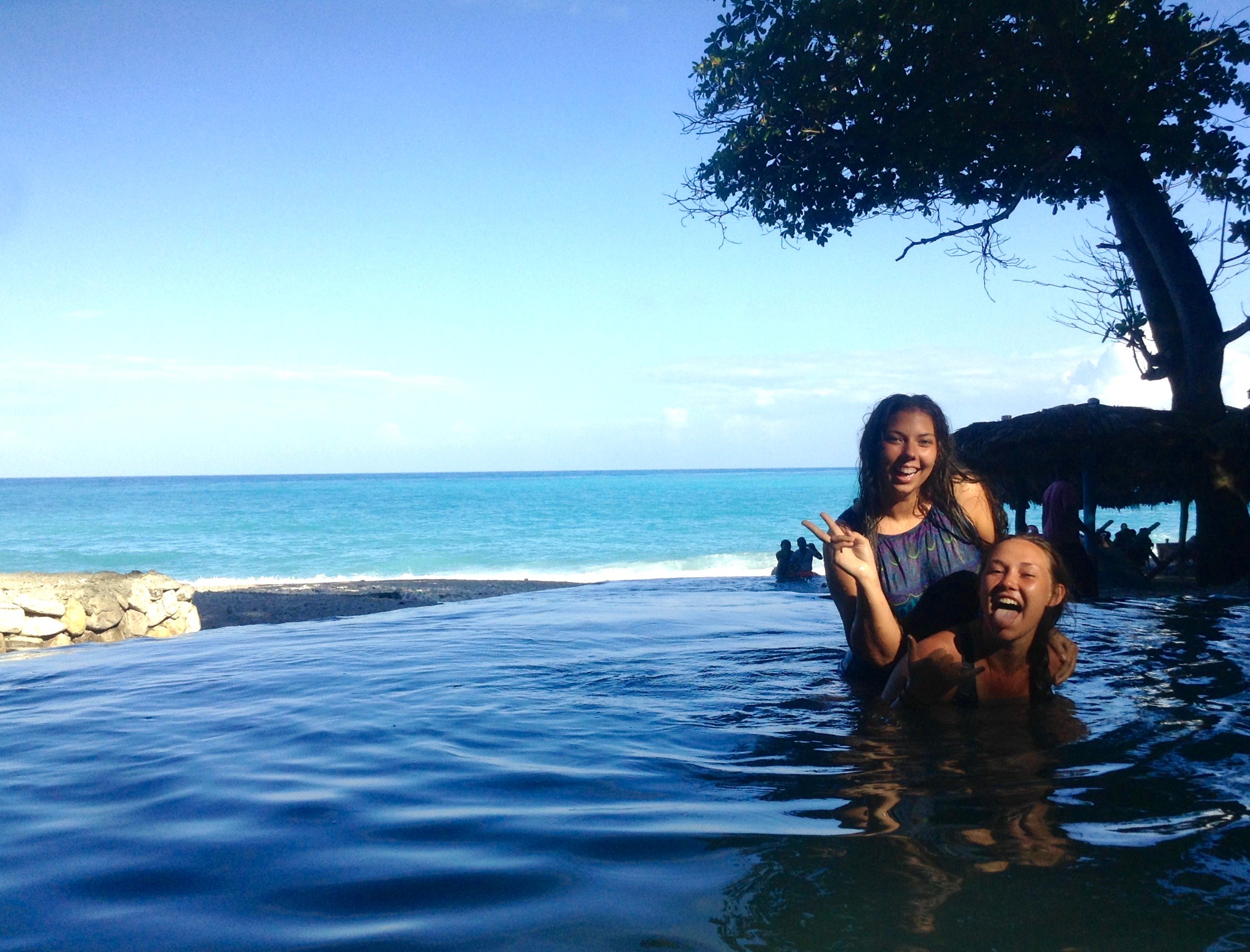 Hiking To This Spot
If you've had your fill of hanging on the beach, Raylin knows all the best trails. He'll set you up with a guide or two that can take you on a hike back into the forest and up to this incredible viewpoint, giving you a bird's eye view of the lush green mountains set along those blue waters. Again, you're going to want your camera to capture this.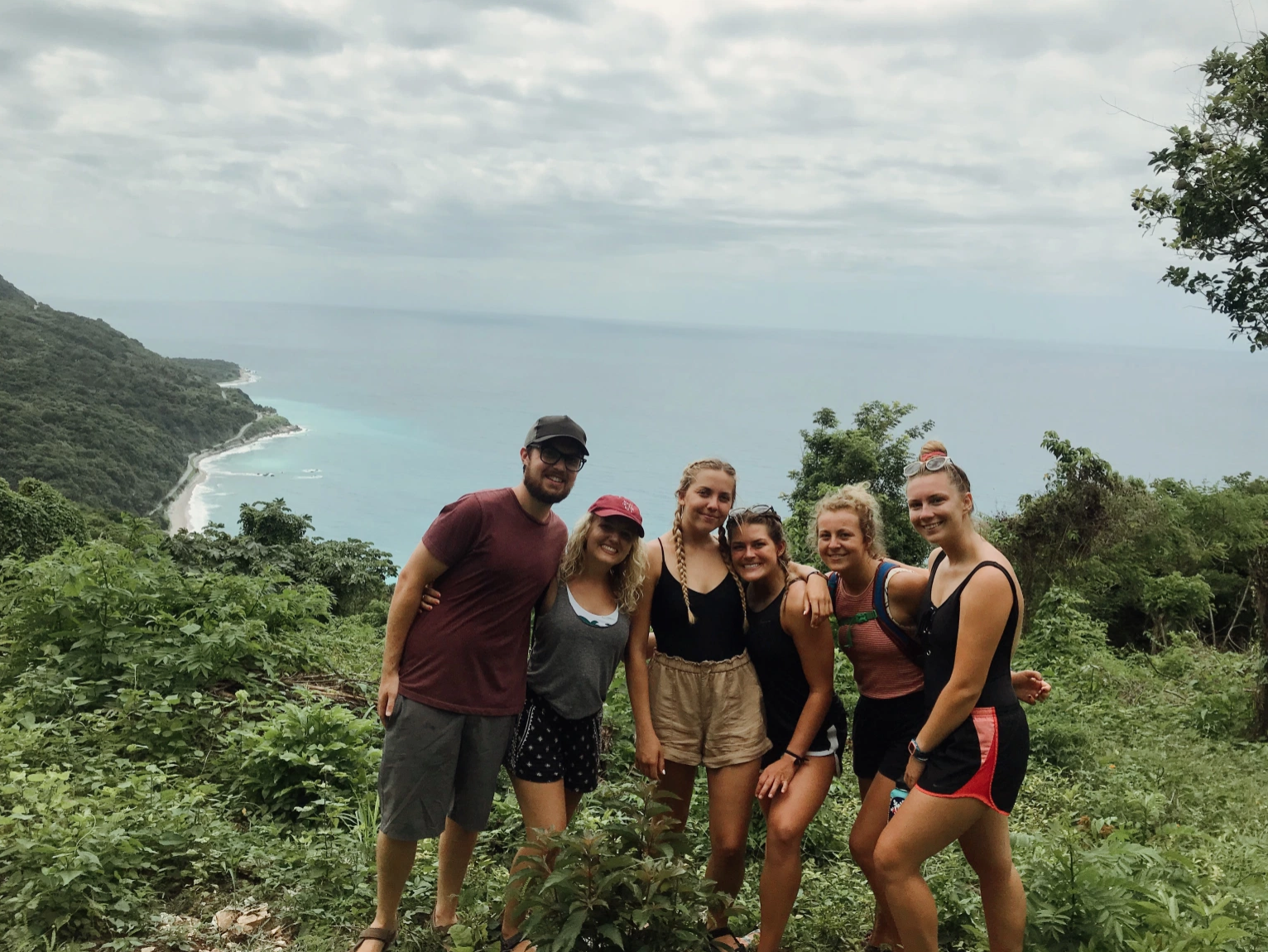 Sunset + Bonfires
They've been known to set up a bonfire after the sun goes down for their guests, which we love!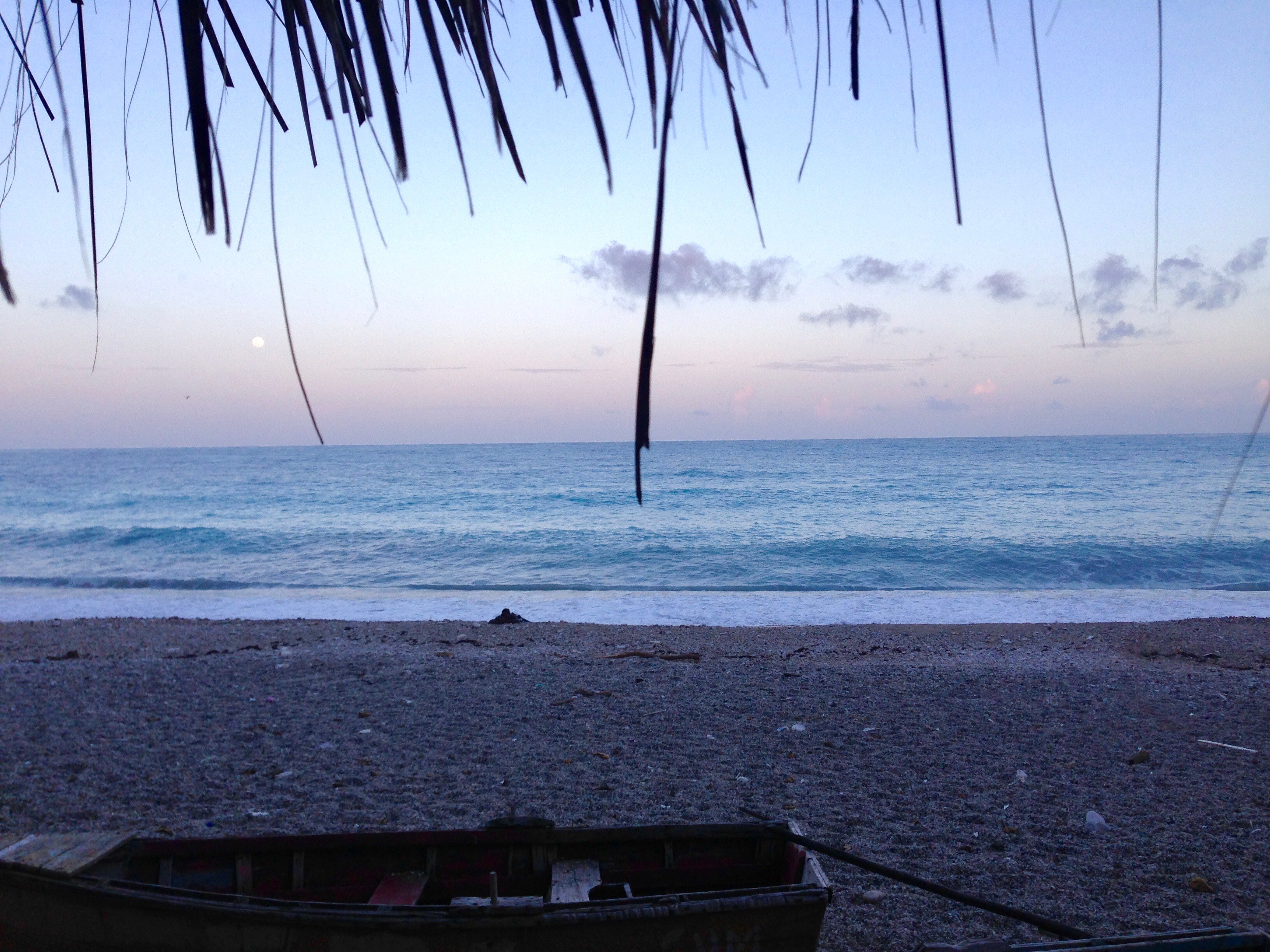 Setting Up Your Trip
Contact + Booking
You can book your stay on Airbnb. Or, if you're in Barahona and don't want to spend the night, but just want to do the hike — you can book that on TripAdvisor.
You can also find them on Instagram.
Costs
To sleep on the beach, it's $17/night USD. You'll want to budget in extra cash for other activities you might do (like surf lessons, hiking, etc).
To give you an estimate though, one of our ILP volunteers said and her husband paid $80 USD for two nights, all their food, and the hike excursion. That's a killer deal for such a rad experience if you ask me!
Getting Here
Barahona is located west of Santo Domingo, just about 3 hours away on a bus. Santo Domingo seems to be the best jumping off point to get here, but you can also book buses from all across the country (there may just be a stopover in Santo Domingo first).
We have a guide to Barahona that may help, including information about how to get here from Santo Domingo.
Then, just talk to the host after booking your stay for more detailed instructions.
See Other's Experiences
One of our past ILP volunteers keeps a blog where she wrote a post raving about her trip here. Check it out here (plus she has lots of great pics!).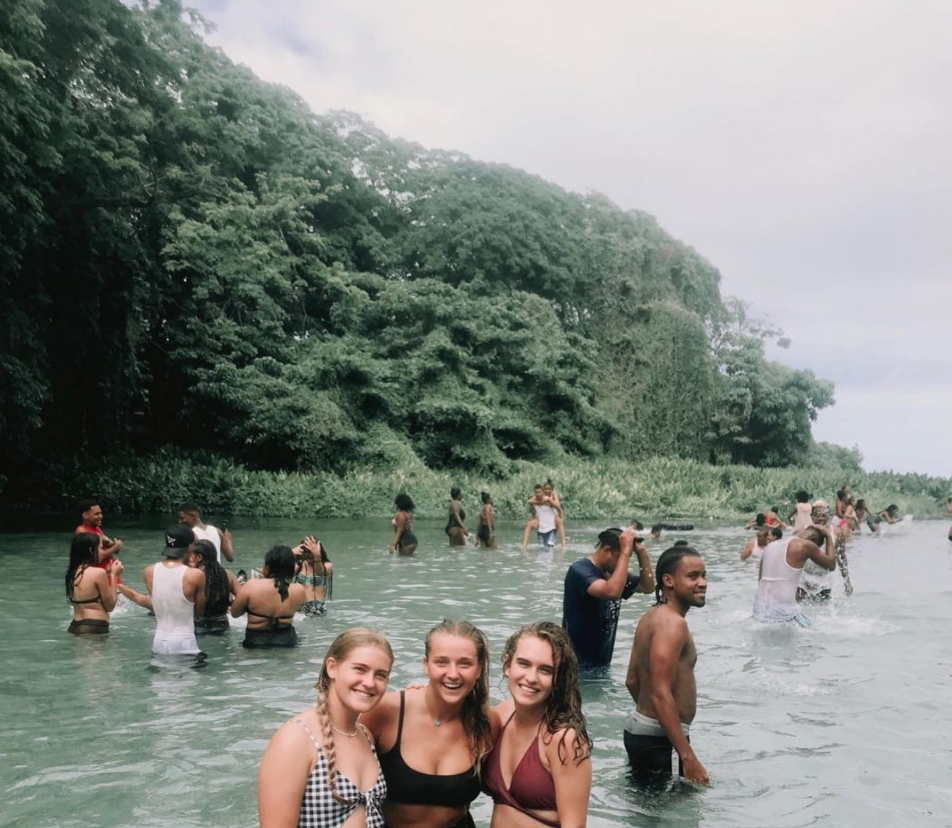 Come experience the DR!
What are these ILP volunteers we've been talking about? International Language Programs (that's where the "ILP" comes from) is a program where college-age volunteers can come in groups to the DR to live together for about 4 months. You get to live in local neighborhoods and get to know a more authentic side to the culture and the way of life. You get to teach English to young kids in our Humanitarian Program. And — of course — you get to come see all the coolest and most beautiful parts to the country, like Barahona!
Follow us on Instagram, we're always sharing pics that our volunteers take to help you give a glimpse of what a semester here can look like.