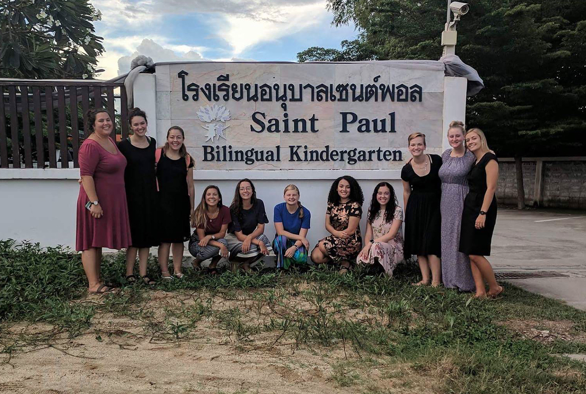 No, you don't need to be a teaching major in order to be an ILP volunteer. You don't need to be an international studies major either. Actually, you don't even need to be in school at all.
If a major isn't required, then why are we suggesting you need to change it? Good question — Here's why...
Hands on experience allows you to see what's right for you (plus a semester volunteering abroad lets you take a break and decide what you really want in life). By spending a semester in the classroom you may find that:
You want to be a teacher
You don't want to teach at all
You have strengths you never considered before
The Washington Post cited that only 27% of college graduates actually worked in their fields of study.... maybe one reason is because graduates didn't really know that they didn't enjoy their field until they actually started working in it? How many people have spent four years studying psychology before realizing that they didn't actually enjoy psychology? And now they have to spend the rest of their days unhappily advising rocky relationships? Switching to a career that was not a part of your original plan is not the end of the world...but maybe you could have figured out what you wanted earlier (while living abroad, by chance?)
After a semester of teaching with ILP, you may decide that teaching is definitely your thing. Education majors might realize that wow, teaching is exhausting and while kids are cute, this is not something they want to do the rest of their lives. You might meet a mentor in Ukraine who sparks your interest in wood working. I don't know what your path is...but having lots of experiences (like volunteering abroad) will help you to figure it out.
Why Brianna Changed Her Major
Brianna, an ILP volunteer changed her career path after spending a semester teaching in Asia. She fell in love with her students and one in particular named "Blaze". She quickly saw that Blaze had some sort of learning disability and stood out from the other students. When Brianna came into the classroom, Blaze was running wild. He was never the "A student" who was sitting in his seat participating in the lesson. Politely as she could, she asked the other teachers why they let him run around and why he wasn't required to do the work. Their response was, "because he just won't do it."
Brianna decided to pour her focus into Blaze. She felt that he needed more attention than he was given. She spent her free time sitting with him and giving that one-on-one attention that he just had never received. They spent hours together writing the ABC's over and over.
By the end of the semester, Blaze's behavior had noticeably improved and he was also able to write almost as well as his peers. Brianna's success brought her to the realization that she loved working with kids. She went home and immediately changed her major to elementary education. Success!
So whatever you do, get out there and do it. Know that hands on experience is just as vital to your future as your in classroom learning. Do an internship of some form. Maybe an international experience is just what you need to figure out where your future could be headed. Maybe, you just might change your major.
Wondering more about the chance to try teaching out first-hand?
Learn more about teaching abroad with ILP! We send volunteers abroad for a whole semester, with a part-time teaching schedule, part-time adventure schedule so you can get a taste of teaching (and traveling). We train you on our method, so no need to have any teaching experience at all! Come learn more here: