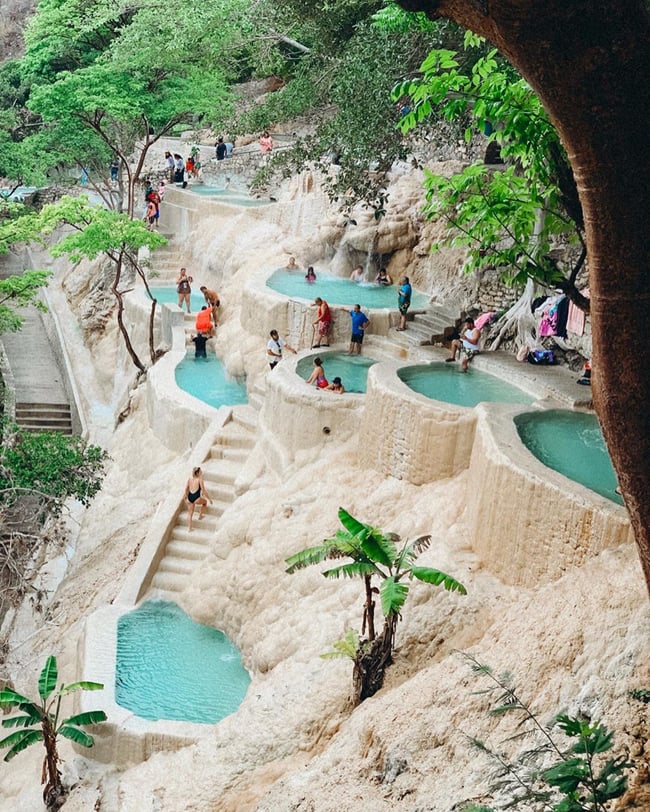 There's this beautiful little hidden gem just a few hours north of Mexico City that you absolutely have to travel to — unless you're not into vividly blue, warm water hot springs!
There are some major perks to living as a volunteer in Mexico for a semester with ILP. Not only are you teaching English (to a group of cutie kids!) you're only teaching for 15-20 per week, giving you plenty of time to explore during the day. Plus, you'll have weekends off to adventure to nearby Hidalgo and hang out in these dreamy hot springs.


---
Looking into Mexico as your ILP semester destination?
Here's our guide to fill you in on our favorite tips, recommendations, and spots most tourists miss!
---

One quick thing — I've linked to a product or two that I love. This post has affiliate links for your convenience (which means if you make a purchase after clicking a link, we earn a small commission). I'm only sharing what I use and love to help you out! Now, let's dive into what you need to know about these majestic hot springs!
What's All The Fuss?
Well, the Grutas de Tolantongo is absolutely gorgeous if you didn't know. Also, it's crazy inexpensive to do all the things which we, as budget travelers, love. There is also so so so so much to do here!
Grutas is a collection of hot springs perched right in the mountainside. The warm water is heated by surrounding volcanic mountains between the rocky canyon, complete with waterfalls for you to soak under. There are a 15+ pools in the mountainside, creating the most magically dreamy infinity pool effect.

But that's not all — along with the pools to soak in, there's a hot water cave that you can swim in found on the other side of the park, with a cascading waterfall pouring into one side. There's also a river that flows in front of the whole park, with some small rapids you can swim in. Oh, and there is also a zip line over the green valley and crystal waters (it's one of the best places to zip line in Mexico). See why we love this place?
If you keep reading there's a map attached that helps you paint a picture of what the park looks like.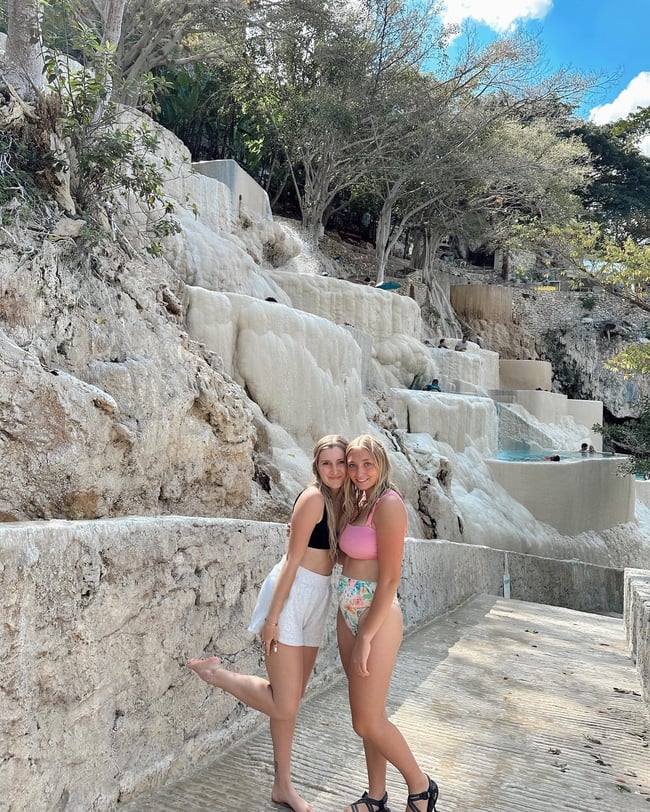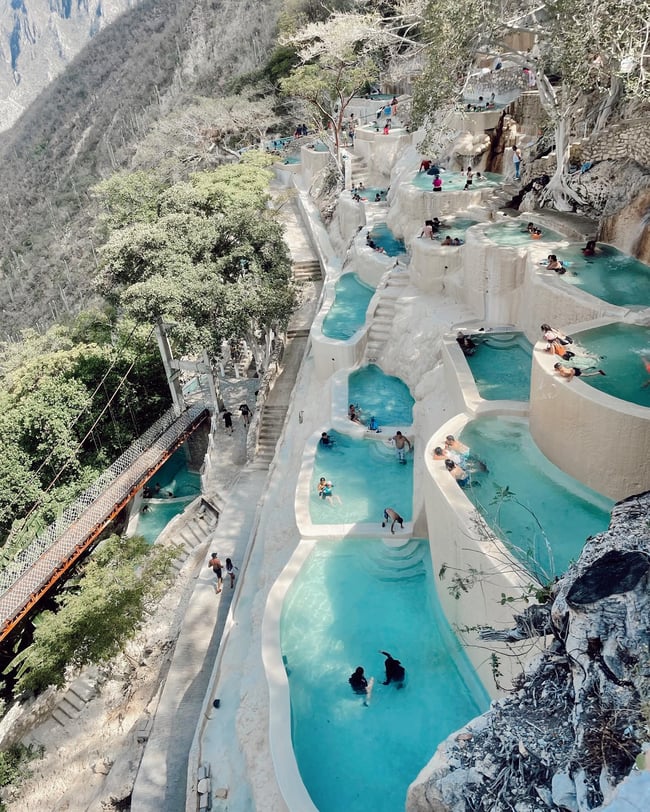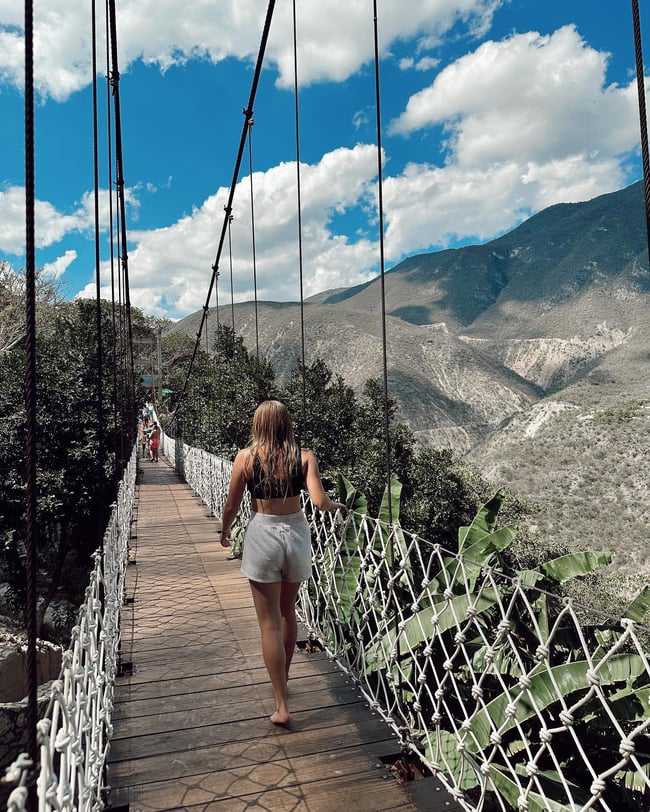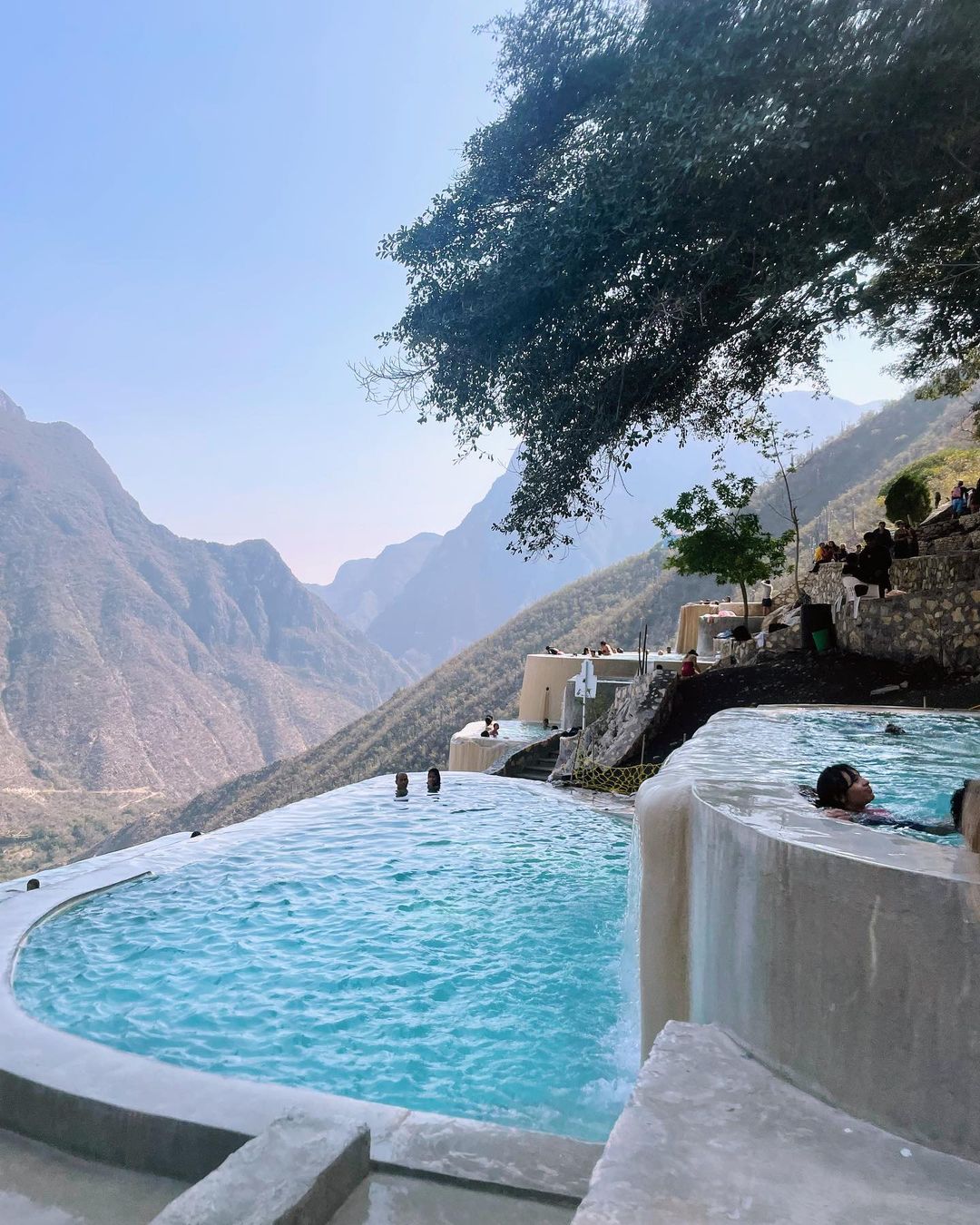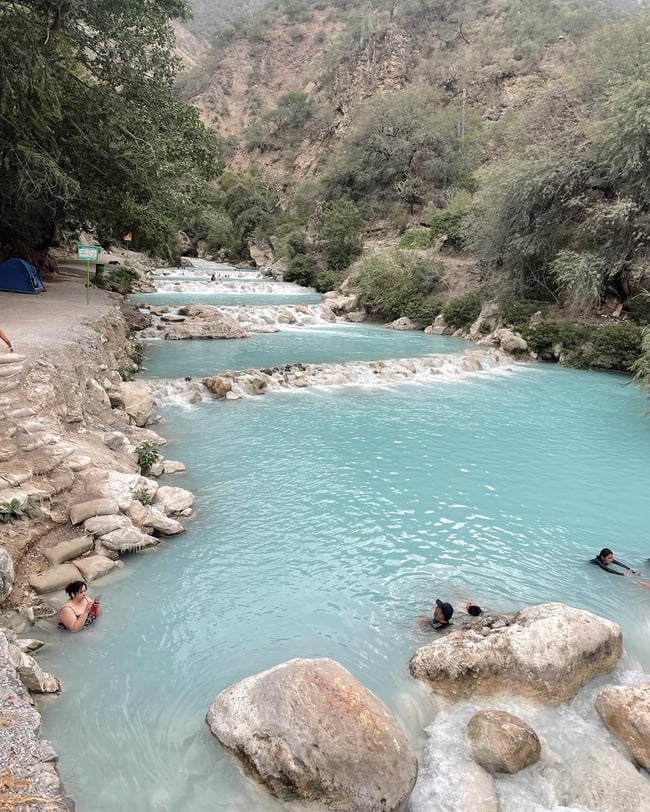 What Else Is At The Park?
There are lockers you can rent for 100 pesos a day, as well as bathrooms and changing rooms and showers. You can find places for food and drinks in a few spots around the park. The prices aren't too bad, but most restaurants are serving the same thing, so the food can get repetitive if you're staying for several meals. Here's a peek at the restaurants available at the park.
The whole area is pretty large, so expect to do a bit of walking to trek between all the things to do at the park. There are some less visited caves that are tucked way up above the most popular pools so leave room for lots of exploring. There are moto-taxis you can catch a ride on to cut down on some of the walking if you'd like to go that route: they are 80 pesos per person, with a max of three people per mototaxi.
Can I Get A Map?
We have you covered. We have some of the more basic sections outlined with arrows, but there's a numbered and color coordinated key below that has things broken down into more detail if you want to zoom in. For now, this map is a good way for you to visualize how big the park is — the hotel perched way up at the top of the hill is 8 km from the main section of the park to help you orient the space.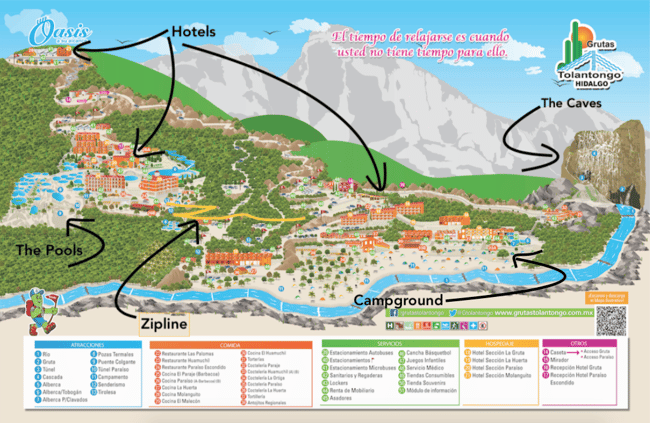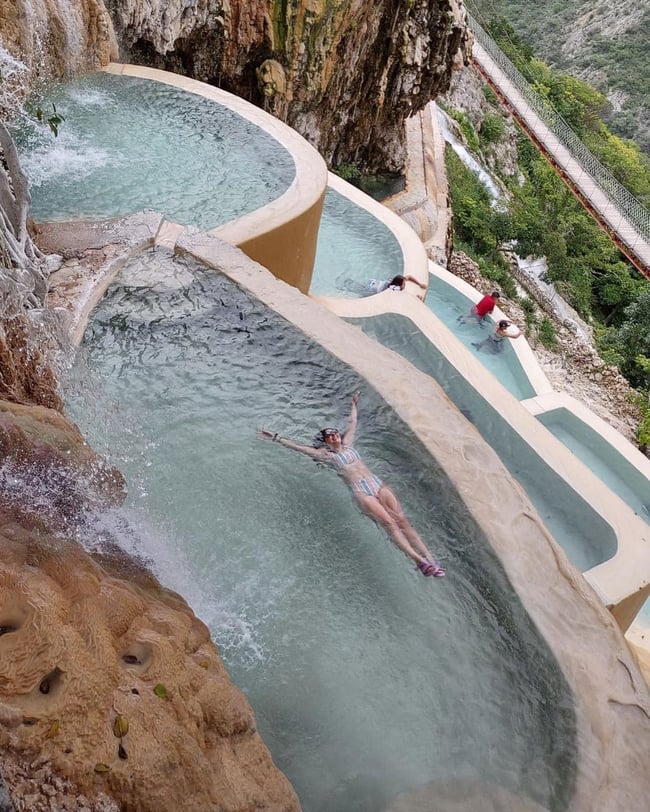 How Much Does It Cost? What Are The Hours?
For a day pass, plan on paying $150 pesos (about $8 USD) which gives you access to the pools, waterfalls, cave, the river, and the rest of the park (minus the zip lines, which are extra). If you stay at one of the hotels by the park (marked on the map above), you'll need to buy a ticket for each day you're in the area (so if you visit on a Saturday and Sunday, you'll need a Saturday ticket and a Sunday ticket) — we have more information about staying at the hotels below.
If you want to do the zip line, it is an additional fee. There are three zip lines and they range from $5-10 USD depending on which length you choose: the 350 yard + 306 yard zip line is 100 pesos, the 754 yard + 656 yard zip line is 150 pesos, and the complete zip line (2066 yards) is 200 pesos. I would definitely recommend doing one, especially because it's so cheap!
Your ticket is good from 7:00 AM to 8:00 PM which means you can spend a full day relaxing and playing in the water.
Some mention that the waterslide is only open from 2:00 - 4:00 PM, if that's an important thing for you to time out for your visit.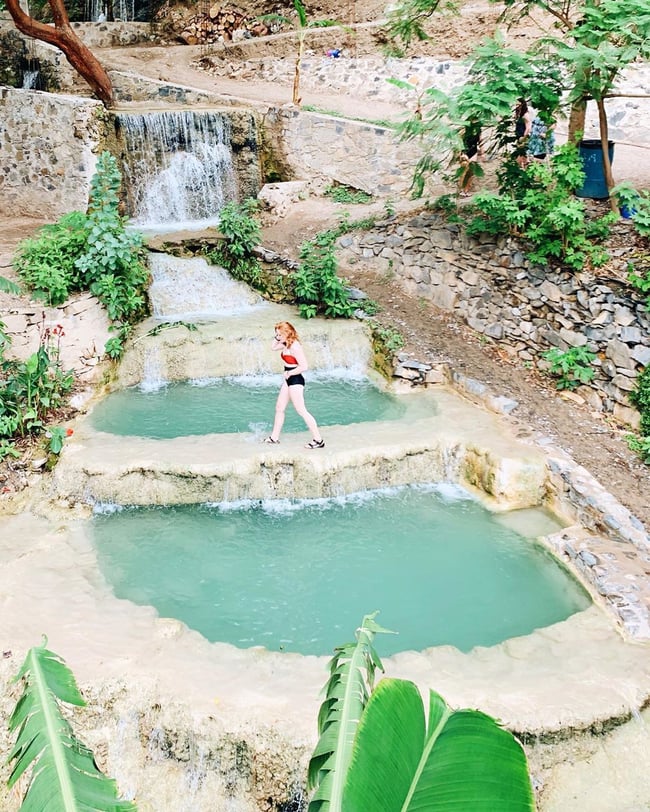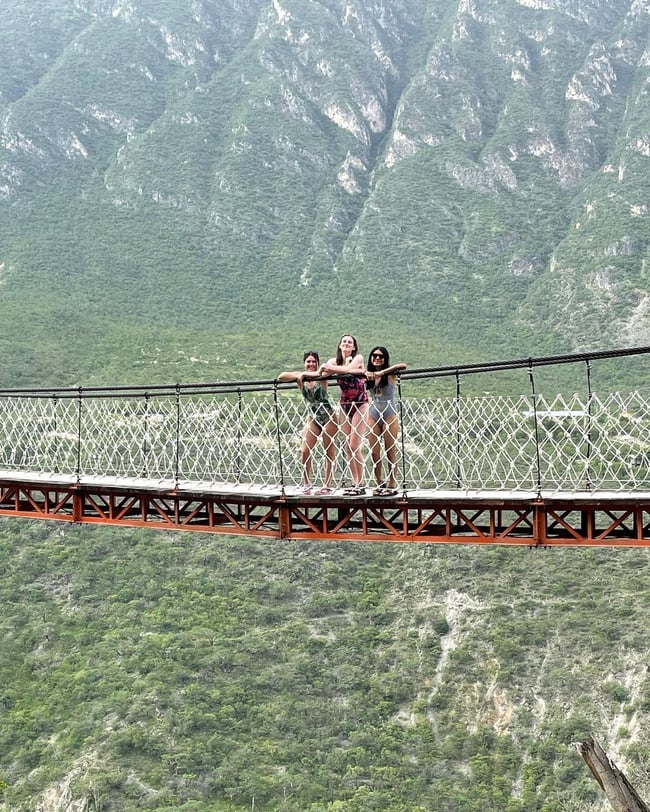 Where Do I Stay When Visiting?
Because it takes some time to arrive at the park, which is tucked up in this impressive mountainous canyon, most people visit on an overnight trip, spending a full day at the springs, sleeping overnight, then spending another half day at the park before leaving. We have the accommodation options outlined here, which you'll want to read pretty carefully:
Hotels By The Springs
Around the springs, there are four hotels you can stay at: La Gruta Hotel, La Paraiso Escondido Hotel, La Huerta Hotel, and Molanguito Hotel. These hotels are spread out in the park: Hotel Paraiso is right by the hot springs, Molanguito hotel is perched above the park and is the farthest away. La Huerta Hotel is found right below the zip line, and La Gruta is spread out by the campground, right in front of the river.
They are all pretty basic, with no A/C and no WiFi or television so just know going in you're just paying for a place to sleep for the night! The rooms fill up very quickly, especially if you're visiting on a weekend .... and they don't take reservations so there's a bit of a system to know about:
Check in at 8:00 AM. If there are not rooms available for you, you can put your name on a waiting list where check in will be at 2:00 PM. Check out is at 12:00 PM. To rent a room at any of the hotels by the springs, you have to have a ticket to the Grutas hot springs for the day you arrive and the day you check out of the hotel. (remember, tickets for the pools are at 7:00 AM to 8:00 PM). Let's make that a little more clear: If you arrive to Grutas Tolantongo on a Saturday morning, and you want to rent a room for Saturday night, and check out on Sunday. You'll need two park tickets, one for Saturday and one for Sunday, as well as payment for the room for Saturday night.
Also good to know — you have to pay for your room in cash, cards are not accepted.
Get a list of room prices for all four hotels here, along with some pictures and other details for each hotel.
Getting To The Springs From Your Hotel
There is a shuttle service you can pay for that will pick you up at your hotel and take you down to other sections of the park (There's a Molanguito shuttle that can take you down to to the springs for 20 pesos, and there are shuttles that connect all the other hotels). Shuttles leave when full (some routes have a 5 person maximum some have up to an 8 person maximum). Routes are affordable, anywhere from 10 pesos to 80 pesos per way.
Camping At The Park
Since the hotels tend to fill up pretty quickly, the park also rents out camping gear and has a campground set up near the river. ILP volunteers have headed to Grutas and were unable to get a spot in one of the rooms and then ended up packing (so it's a good backup option).
You can rent all the gear you'll need for your stay. They have 4 person tents for 120 pesos, 8 person tends for 200 pesos, and 10 person tents for 250 pesos. You can also rent out an inflatable mattress (350 pesos) and a blanket (110) and a bunch of other supplies you might need. Get a list of prices and what you can rent out here.

The campground is set up with showers, bathrooms, changing rooms, but it's probably not like a camping spot you've been too before. Think of a big open area, filled with gravel with tons of tents. You can find a "better" campsite if you do a little more hunting, as an FYI so you can cater your expectations. Like the hotels, you can't make a reservation for the campground, so come early to snag a spot! Another thing to know? There isn't water available so plan on bringing it in or buying it in jugs at the stores there (for drinking, brushing teeth, washing faces, etc).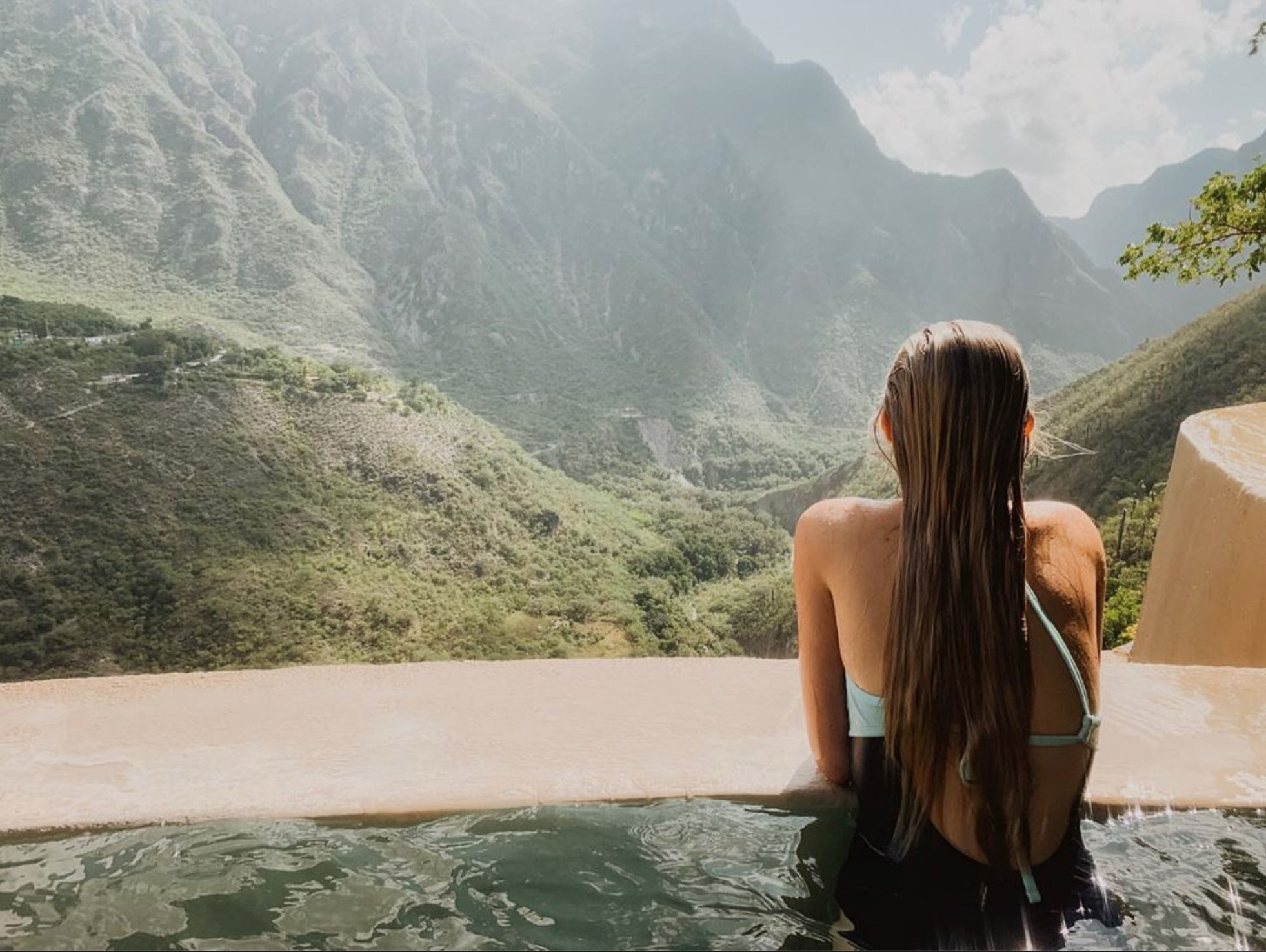 +Tips For Your Visit
Along with everything you might need for an overnight stay, plan on packing/wearing water shoes. If you explore the caves, you'll want protection from the stones that litter the bottom. Also, there are a few fast-moving-water activities so you'll want shoes that stay one. We love wearing adventure sandals, something like Chacos or Tevas that are both waterproof, but something you can hike around in.

Something else to note: this is the place to pack up a Go-Pro or waterproof camera if you have one! You will absolutely want pictures of this place, but you'll get wet. Make sure your phone is in a waterproof case or pouch (I like this one), or bring on the Go Pro.
There are lockers to use. They're rather spacious and affordable (some volunteers were able to fit two smaller bags/backpacks in each locker) and you get them for the whole day which is nice.

Bring cash! Once you're in the park they don't accept cards and the closest ATM is more than an hour away. Bring cash to pay for everything (admission to the park, overnight lodging, food and water for the day, plus your transportation to/around the park).

You can bring your own food to the park. There are restaurants around but you may want to offset some of your costs for your trip by bringing in some of your own snacks.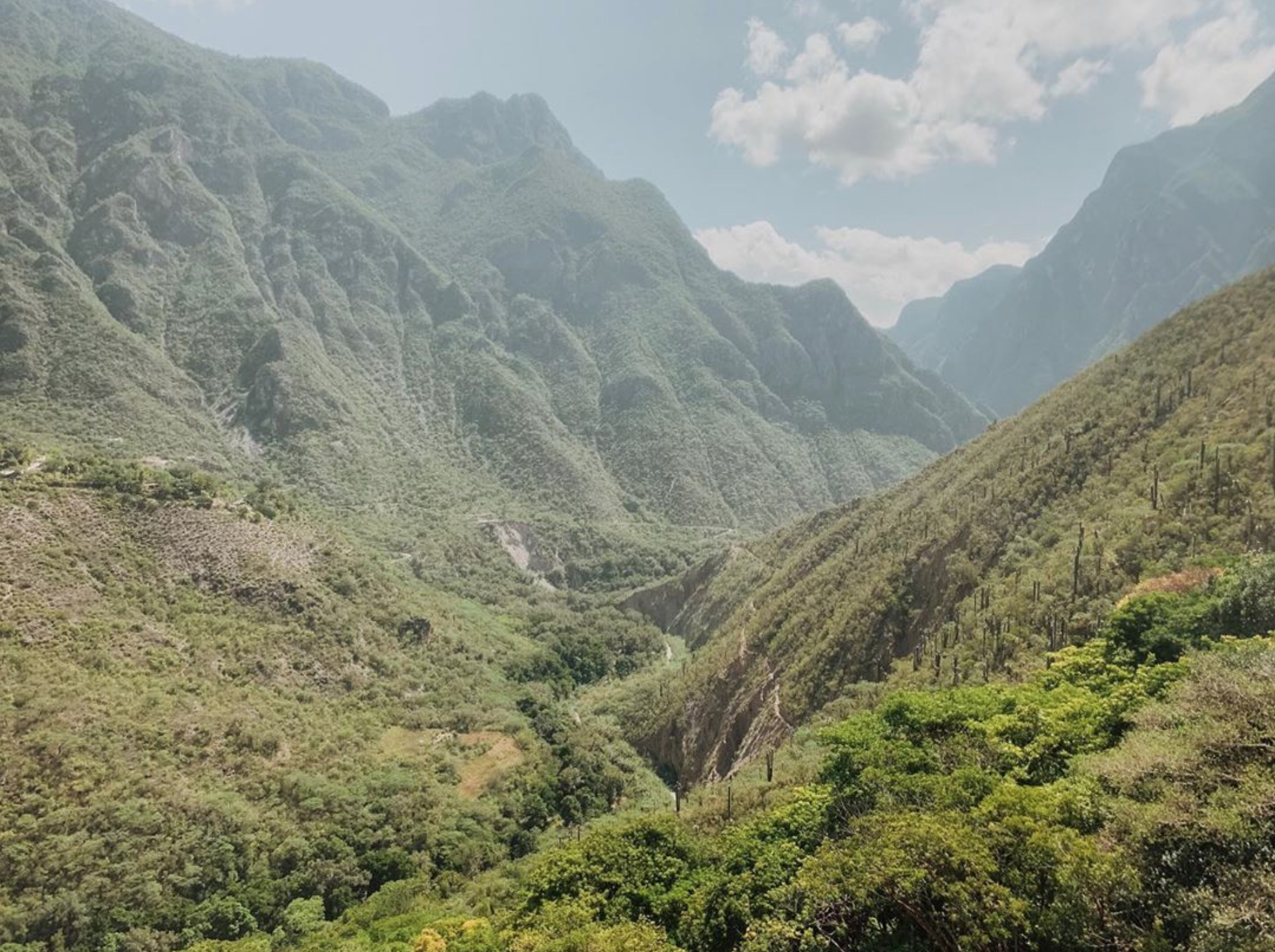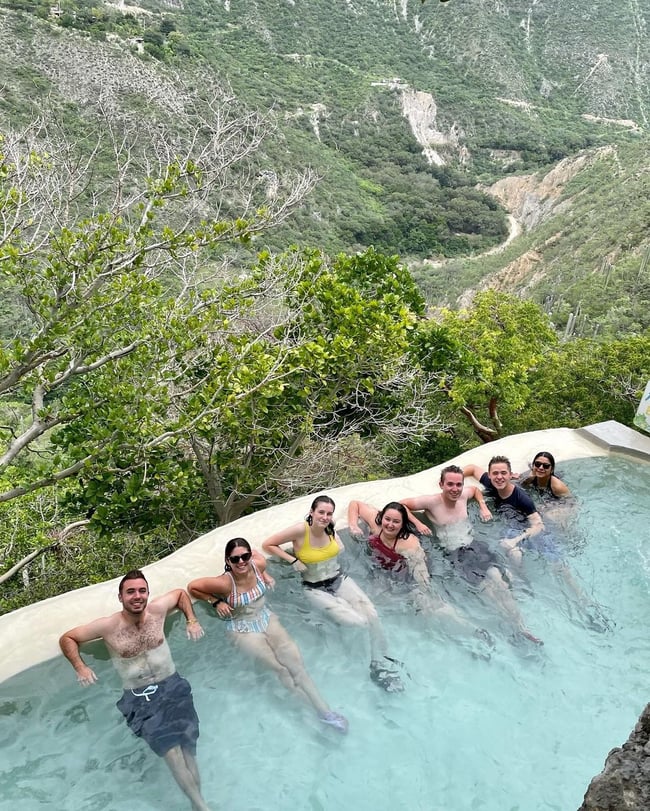 How Do I Get There?
The springs are located deep in a canyon near San Cristobal, Hidalgo just outside of Ixmiquilpan.
Hiring A Van
In the past, ILP groups have had some luck talking to their Local Coordinator to help them hire a van to take them from the city they live in to Grutas. Every ILP location has a coordinator who is from that area, lives nearby, and manages a lot of the "behind the scenes" things for your semester. It's not a guarantee they can make it happen, but it's been possible in the past. This is typically how most ILP volunteers make the trip out to the hot springs.
Taking A Bus
From all over Mexico, try to get to Ixmiquilpan. We've had volunteers get connections from the city they're volunteering in or visiting over to Ixmiquilpan. One group who was currently in Pachuca was able to get 2 hour OVNIBUS from Ixmiquilpan for 60 pesos and then walked to the Grutas public bus station and got the bus from there to Grutas for 50 pesos. You can check the schedule here — just know that buses tend to leave when they are full, rather than the time listed. One group planned on arriving for the 9:30 bus, but ended up leaving at 11:30, when the bus was full.
We also have some more detailed info from a couple of other spots in Mexico if that's helpful from where you're coming from:
From Mexico City
From Mexico City, you can head to the North Bus Station on head to a bus on platform 7 or 8 (look for the OVNIBUS or FLECHA ROJA line) headed towards Ixmiquilpan Hidalgo City. When you arrive at Ixmiquilpan Hidalgo City, you can take a collective bus from de Ixmiquilpan bus station, headed towards the Ixmiquilpan center city. Get off when you stop in front of the "Morelos Market" ( It's a green and red building). In the "San Antonio" parking, you can find microbuses directly to Grutas Tolantongo. (It's about a 45 minute to 1 hour journey from here).
On Monday through Thursday, these buses leave at 9:30 AM, 11:30 AM, 1:30 PM, 3:30 PM, 5:30 AM, and 6:30 PM. On Friday to Sunday, buses leave from 9:30 AM to 6:30 PM, every hour. You can check the schedule here.
It's about a 5-6 + hour journey from Mexico city, depending on how you can coordinate the different buses and transfers.
From Querétaro
From Querétaro, head to the bus station (by Corregidora Stadium) and take a bus on Sale B of the CONEXION line, heading towards Huichapan - Ixmiquilpan - Pachuca. When you arrive at Ixmiquilpan Hidalgo City, take a collectivo bus from the Ixmiquilpan bus station towards the Ixmiquilpan center city. You'll pass the municipal garden before you arrive in front of the "Morelos Market". It's a green and red building. From there, you'll find microbuses directly to Grutas Tolantongo (it's about a 45 minute to 1 hour journey from here). On Monday through Thursday, these buses leave at 9:30 AM, 11:30 AM, 1:30 PM, 3:30 PM, 5:30 AM, and 6:30 PM. On Friday to Sunday, buses leave from 9:30 AM to 6:30 PM, every hour. You can check the schedule here.
It's about a 4-5+ hour journey from Querétaro thanks to all the different bus routes and transfers.
Also, the official website has transfer options from places like Mexico City, Tepotzotlan, and Queretaro with really easy step-by-step directions to look into.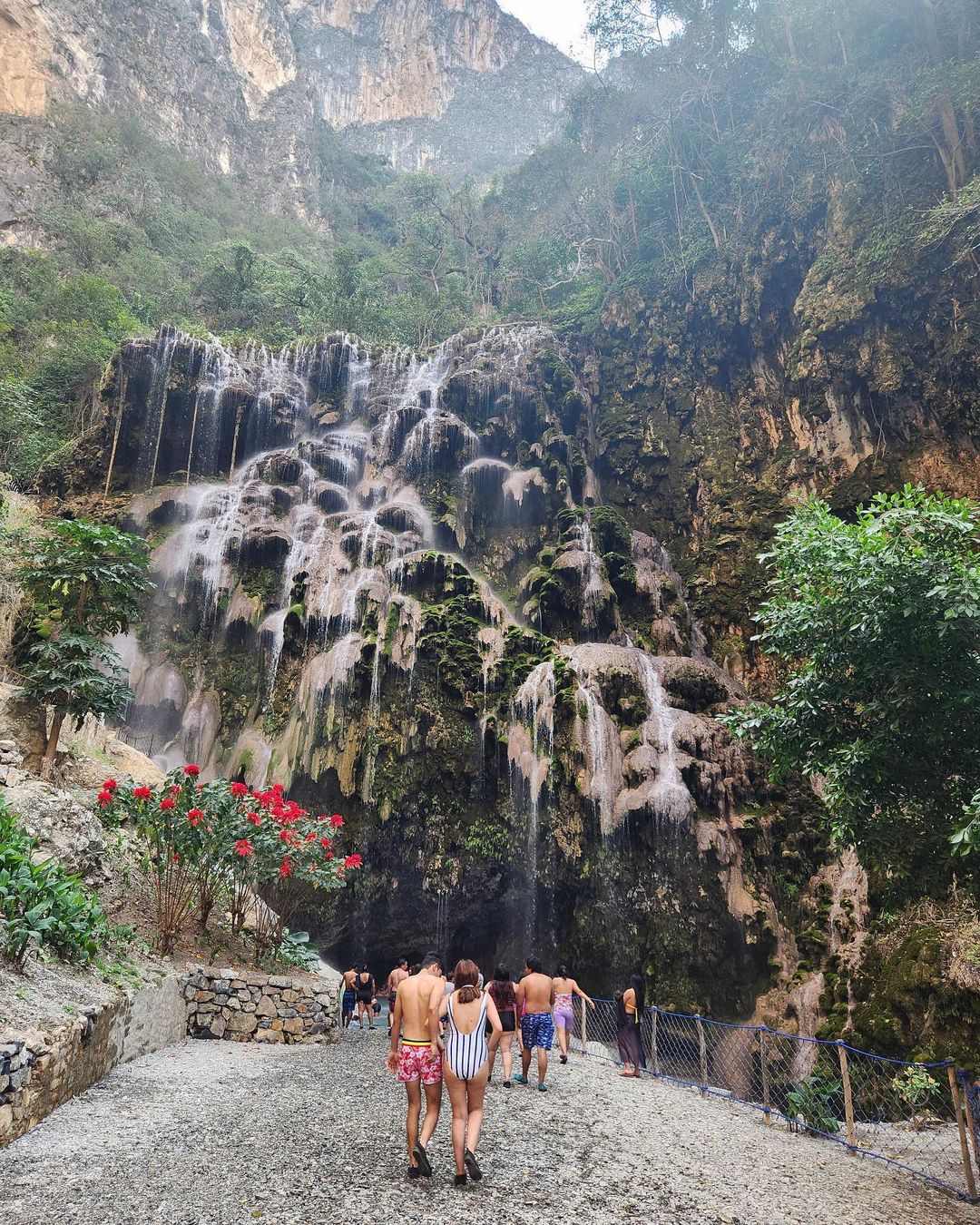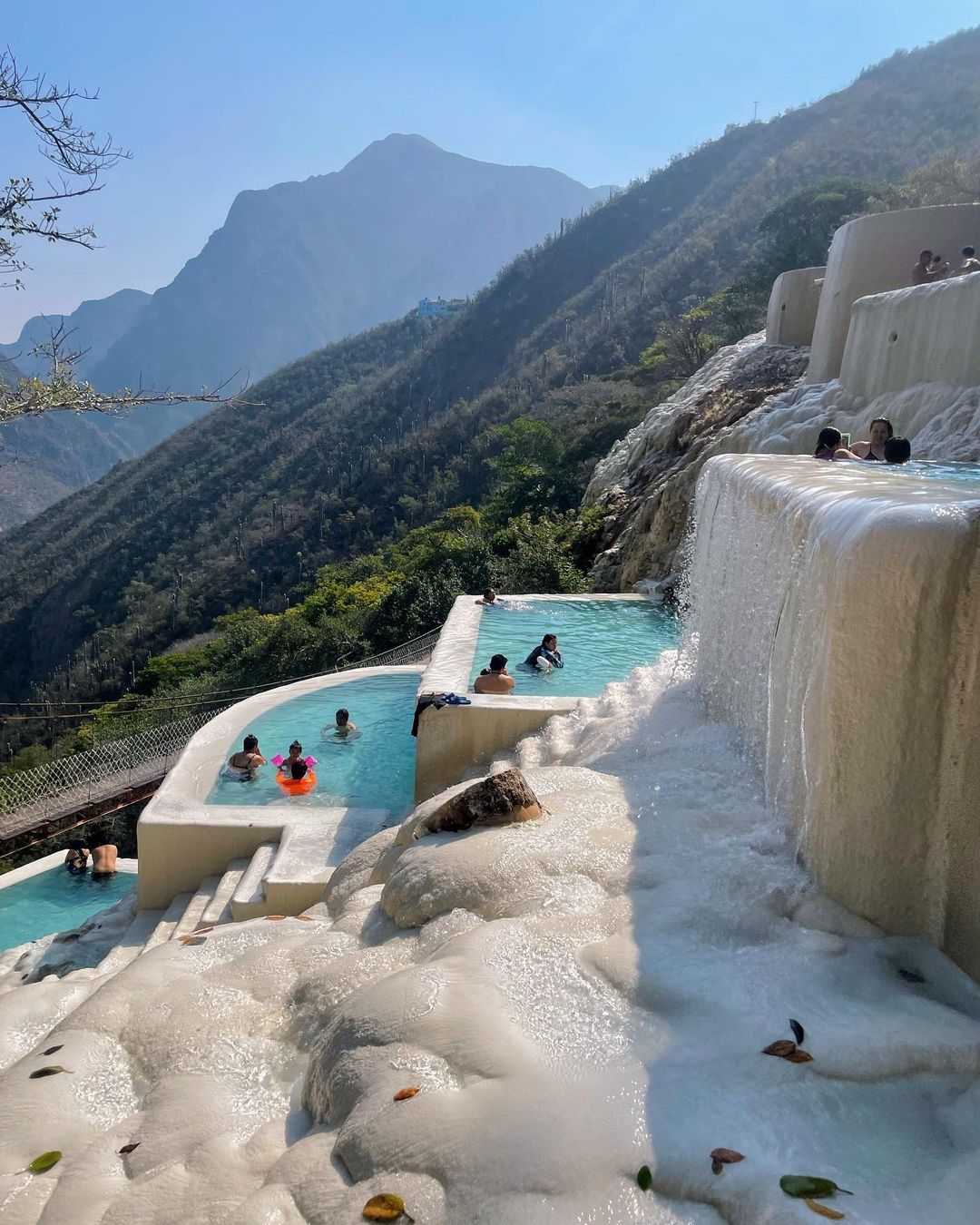 Interested in seeing more of Mexico?
Think about living there as an ILP volunteer! Our volunteers spend a semester living in Mexico teaching cute little kids how to speak English. Click the button below to learn more about volunteering in Mexico!