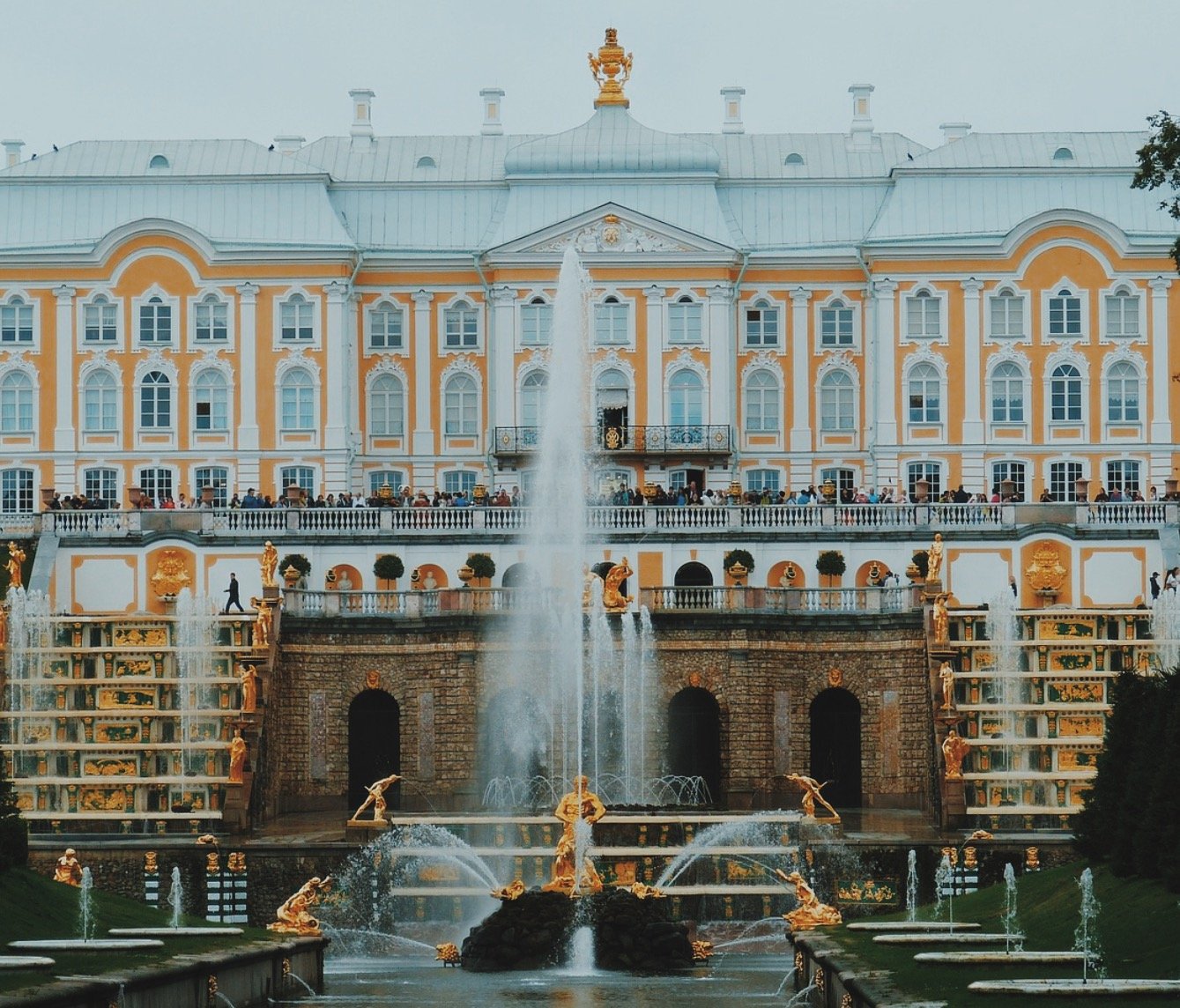 Don't tell, but we think the real gem of St. Petersburg Russia is outside of the city, in a huge sprawling palace called Peterhof.
Need another reason to love Russia? Get ready for a weekend in St. Petersburg. This is a favorite mini-vacation spot for our ILP volunteers living in other Russian cities; we can't get enough of St. Pete's. A couple of days here will have you falling in love with the prettiest buildings and palaces around, especially if you take a trip to Peterhof Palace.


---
Spend your weekends traveling all over Russia and Europe
Volunteering in Russia
---
This is such a gem, we wouldn't want anyone to miss it, which is why we have this guide of all the details and answers to all of your questions. Helpful, right?
What is Peterhof Palace?

How Do I Get Here?

What Is There To See?

How Do Tickets Work?
What Is Peterhof Palace?
You don't really need a history lesson to realize how gorgeous the palace and grounds are, but learning just a bit about Peter the Great helps you appreciate this place even more. Peter the Great took a trip to Versailles in 1717 and decided he wanted a palace and grounds as ornate and lavish (or even more) than the ones he saw in France, which is a pretty tall order if you've seen Versailles. Full of intricate fountains, manicured lawns, sprawling gardens and towering pavilions (plus an enormous palace), Peterhof certainly competes with Versailles.

After Peter the Great enjoyed this elaborate palace, other influential leaders like Nicoholas II spent quite a bit of time here. The entire complex has had its struggles though, and was nearly entirely destroyed the siege of Leningrad (what we know as St. Petersburg). Luckily, the grounds and palace have been meticulously restored so you can take dreamy trips to see this stunning spot in person.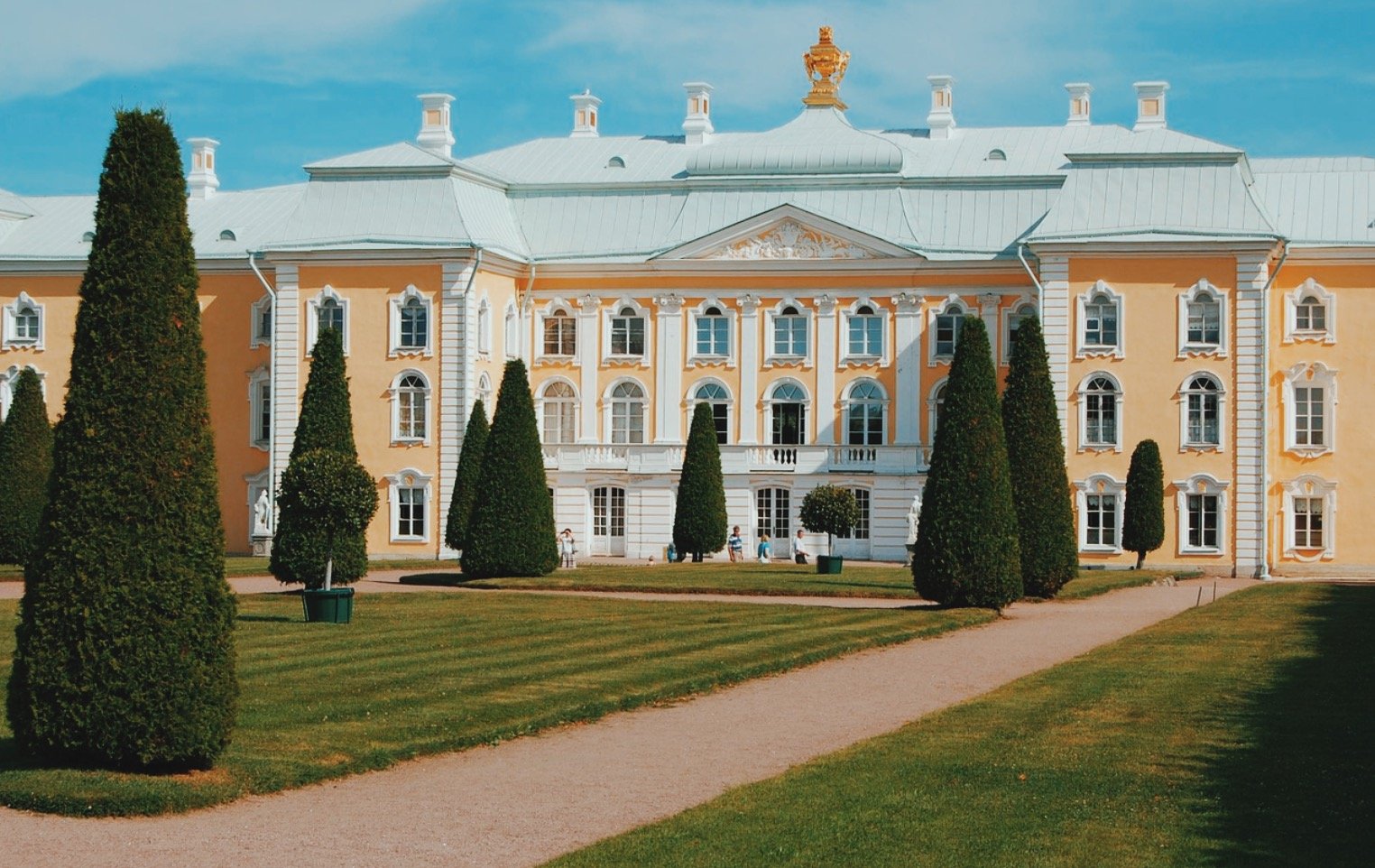 How Do I Get Here?
The palace itself is a bit far out from the city center. We suggest getting up early and heading over to Peterhof so you can spend an entire day here and not feel rushed. There are several ways to get to Peterhof, but each mode of transportation takes around 35 - 95 minutes each way so factor that into your itinerary.
Take the Mini Buses (Marshrutkas)
You can hop on a marshrutkas to the palace outside of three metro stops:
From the Avtovo Metro Station: № К-300, К-424, К-424А. Look for buses stamped with Фонтанты (Fountains - at the palace).
— Tickets cost 80 Rubles. Buses arrive and depart every 10-20 minutes. The ride takes about 30-35 minutes.
From the Leninsky Prospect Metro Station: № К-224, К420 or From the Prospect Veteranov Metro Station: № К-343, K-639-б
— These tickets cost 70 Rubles. Buses arrive and depart less frequently, but usually are less crowded than the ones at Avtovo. The ride takes about 45-65 minutes.

Go By Boat
This isn't the cheapest option, but it is definitely the coolest. Visitors can arrive to Peterhof via hydrofoil, which is a long boat divided up with viewing windows and platforms, giving you the chance to admire the sites of the Gulf of Finland as you make your way to the palace. You'll need to buy tickets behind the Hermitage Museum (get off at the Admiralteyskaya stop — the purple "5" line) at the Dvortsovaya embankment, or at the Angliyskaya embankment which is opposite the St. Isaac's Cathedral.
Insider tip - It's better to go to the Dvorsovaya embankment because there are multiple hydrofoil companies that can take you there, where as the Dvorsovaya embankment only has one operating company. By the river, you'll see lots of people walking around in orange vests offering to walk you to the ticket office to buy a hydrofoil ticket.
Things To Know:
You can only travel via hydrofoil certain times of the year; they usually open up in the early spring and close mid-October.
The ride is 30ish minutes long; Hydrofoils leave every 15-60 minutes depending on the season. You cannot buy tickets in advance in person; you'll buy tickets for the next hydrofoil out. Typically the first hydrofoil leaves at 11:00 AM, and the last one departs the palace at 6:30 PM.
Tickets are a bit expensive. A one-way is 850 Rubles (about $13 USD), but you do save if you book a roundtrip ticket (it's about 723 Rubles each way if you book online for a roundtrip ticket). I'd suggest giving yourself about 2-5 hours at the palace (less if you just want the gardens, more if you're also touring the inside).
Hire A Guide
ILP Groups in the past have worked with their Local Coordinator to set them up with a guide for their entire St. Petersburg trip. You'll usually work with your Head Teacher to figure out a budget for your trip, make a list of what you want to see, then match that criteria to a tour company and guide.

Jessica M. was a Head Teacher in Voronezh and highly recommends this option. They worked with Dima who tours on the side, when he's not using his PhD in Russian History, that is. Dima speaks excellent English and can tell you all the details about the palaces and cathedrals you'll be viewing on your trip. The tour costs included lodging and transportation and tickets to places like Peterhof and other favorites.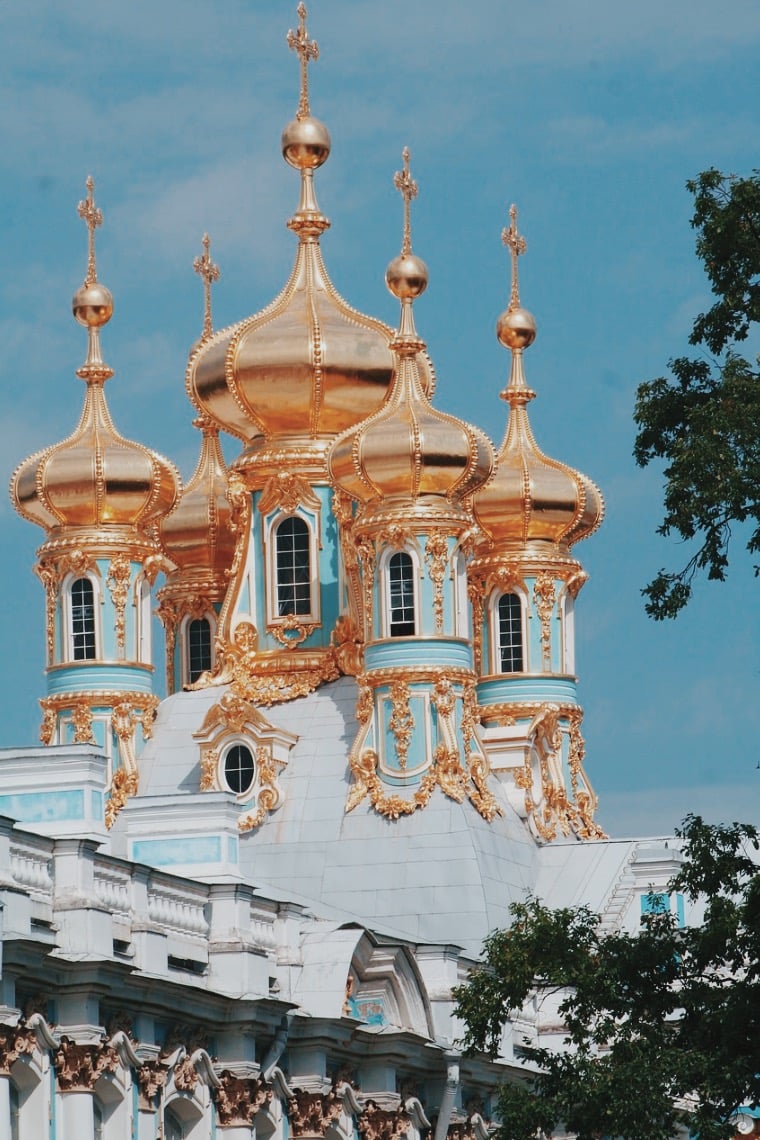 What Is There To See At Peterhof Palace?
This place is huge!! Some of it is free, there are tons and tons of museums and palaces and carriage houses that require a fee, and other sections that do require admission. Here's a breakdown of the highlights:
Upper Gardens
— Free

This is probably where you will get dropped off if you are taking the bus. Huge yellow and green gates fence in this immaculate and formal garden that leads you to the Grand Palace. The gardens here are totally free to explore, but we highly suggest spending most of your time in the lower gardens (they are much much much more impressive with loads more things to see).
The Grand Palace — 600 Rubles (300 for students)
Towering three stories high and gilded with gold and teal rooftops, this palace sites between the upper and lower gardens; it's impressive, it's lavish, it's massive, it's the crowning jewel of Peterhof and it's hard to miss. The outside is stunning to see, but if you'd like a glimpse into what it was like to live like royalty in Russia, pay for a tour inside. You'll walk through expansive ballrooms hung with red velvet curtains and opulent chandeliers, impossively ornate dining halls, towering ceilings lined with commissioned portraits, grand oak studies, floral dressing rooms, luxurious sitting rooms and more. Get the picture? This place is fancy, to say the least.
If you won't be going through with your own guide, you might want to pay 500 Rubles for an audio guide to really understand what you're seeing. One option is to split the cost with your ILP group and then appoint an audio guide listener who will recap the facts to the whole group if you each don't want to buy one.
One thing to note: If you'll be touring other places in St. Petersburg (like the Winter Palace) you will be seeing a similar set of incredibly lavish rooms. We're not here to tell you not to skip out on the Grand Palace, but you'll be seeing the same level of richness in other palaces, like the Winter Palace. If you are short on time or money, we think you can get the picture of Russian royalty at another palace if you'd like spent more time and spend your money on the lower gardens.
Palace Hours:
Closed on Mondays
Open from 10:30 - 9:00 (last admission 8:00 PM)


Lower Gardens
— 500 Rubles
*

(and free in the winter)


This is our favorite part of Peterhof! Picture an impossibly expansive garden that blankets rolling hills and stretches all the way out to the Gulf of Finland. You pay your admission tickets (free in the Winter Season and 500 Rubles full price for the summer) but that gets you hours worth of wandering.

You'll see the massive gold gilded statues pictured below, but venture father out to see dozens of little trick fountains that only turn on when you step on a certain stone. Or another fountain that cascades down a staircase painted like a huge checkerboard. Or a towering fountain that spurts out powerful jets, all via water pressure. That's right; none of these fountains use modern plumbing which makes them even more impressive.

There are 20+ impressive fountains to see for yourself in the lower gardens, and all are well worth your time. There are several little pavilions and other houses and churches you can pay to enter if you're interested, but honestly, there is so much to explore on the ground so the lower garden, you may not have time!.
When are the fountains operating?
The fountains are truly spectacular, and we highly recommend planning your visit to see them while they are operating. Typically the fountains are in operation from Early May to Early October, from 11:00 to 5:00 PM. Do a quick Google Search "Peterhof Fountain Schedule" for the month and year you're visiting to double check that they'll be operating.
Things To Know
Once you leave the lower gardens, you cannot re-enter without paying another ticket fee. If you will be riding back via hydrofoil you will be picked up at the lower gardens, so make sure you don't explore this section of the palace grounds until you are ready to leave. You can't see the lower gardens, then tour the grand palace and get back to the lower gardens again without paying ... make sense?
Best to see the upper gardens, then the Grand Palace, then the lower gardens, in that order.



How Do Tickets Work?
What do you need a ticket for?
The upper garden is free. All other attractions require a ticket.

The main things we suggest you see are the Grand Palace and the Lower Gardens. If you have to pick one for timing or budget reasons, we vote the lower gardens but only if you'll be seeing another palace (like the Winter Palace). There are also countless little churches, special museums, carriage houses, private residences on the estate, luxurious bird aviaries, private collections, etc. that are either offshoots of the palace or sprinkled around the grounds. These all require a separate ticket, ranging from 150 Rubles to 500 Rubles. Get a full list here.
One of these side-musems is shown in the picture below.
How to save money on tickets
Bring your student ID! Russia in particular has amazing deals for students, and our ILP volunteers have saved loads and loads of rubles by having an ISIC card (which doubles as a Student ID for discounts and protective travel insurance). We're talking half off for entrance into the Grand Palace and the Lower Gardens with a student ID.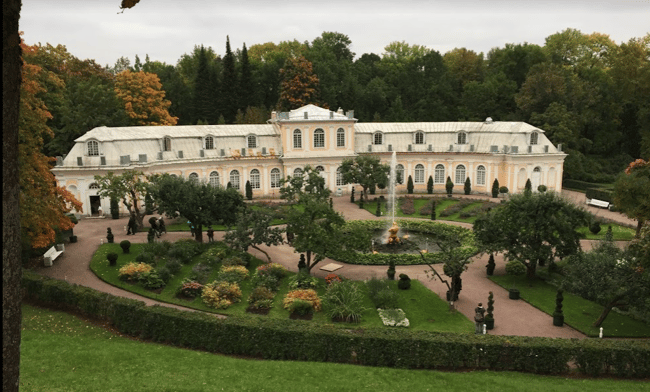 Looking for all things Russia?
Come sign up to teach English in Russia and spend a semester making a difference and traveling around! You'll have time to travel throughout Europe, but don't forget about all the gems we love within Russia.

Get more of your questions answered here about how a semester abroad works with ILP and find out if it's the right fit for you: