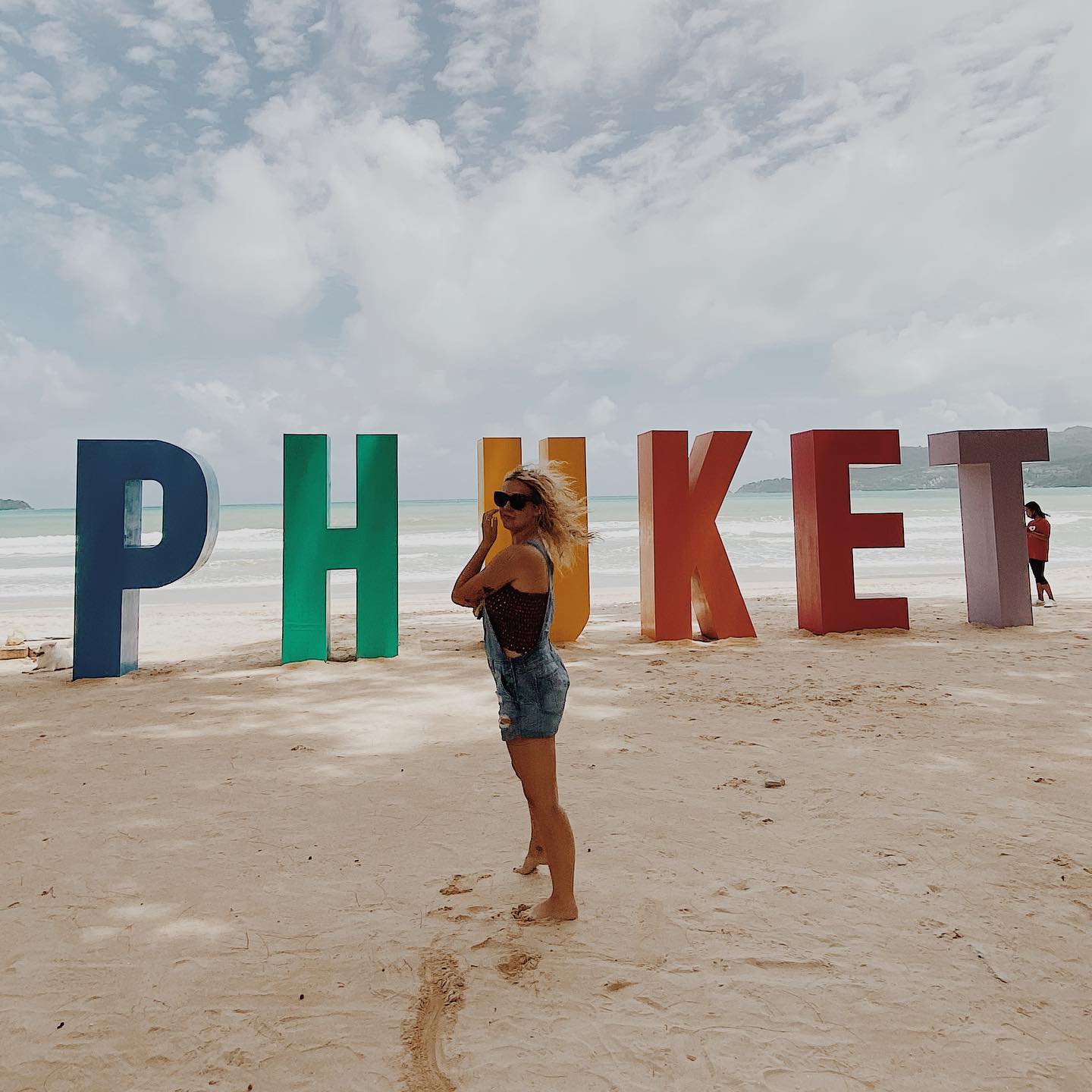 Phuket is definitely a major bucketlist destination for many travelers, and it is mostly popular because it is a great jumping off point to the other Thai islands. However, we've discovered lots of gems on this island that make it well worth a visit!
We're going to be totally honest, Phuket isn't our first choice when it comes to the Thai Islands, because it can be a little too...touristy! It's a pretty popular spot because it's one of the few locations near the islands with an airport, so that's why so many tourists find themselves here on their vacation.
And as a head's up, Krabi is another great gateway to the islands because it also has an airport and is beautiful (and has less crowds/tourists), so you've got options. And we've also got this little guide to planning your Thai island trip that may help you decide between Phuket and Krabi.


---
Want to see even more of this incredible country?
Volunteer in Thailand with ILP for a whole semester!

---
But if you find yourself in Phuket know that there are so many once-in-a-lifetime experiences to be had here that will make your trip. We've got a list below of all the very best things to do during your stay!
Getting Around
The best ways to travel around Phuket are by Tuk-Tuk or by Grab Taxi!
TukTuk
There will be colorful tuk-tuk trucks everywhere you go! They are smaller, open-air, and usually rickety trucks that can hold up to around 4 passengers in the back with the driver in the front. If you're walking around you may see them wave at you to ask if you want a ride and you can just hail them down by waving to get their attention.
Just tell the driver where you're headed or show them the address and they will take you there. Tuk-tuks are a fun and unique way to travel while in Thailand, so it's an experience all on its own. You can often bargain with the driver on the price (although some common routes are just set), so make sure to ask what the price is before the ride begins.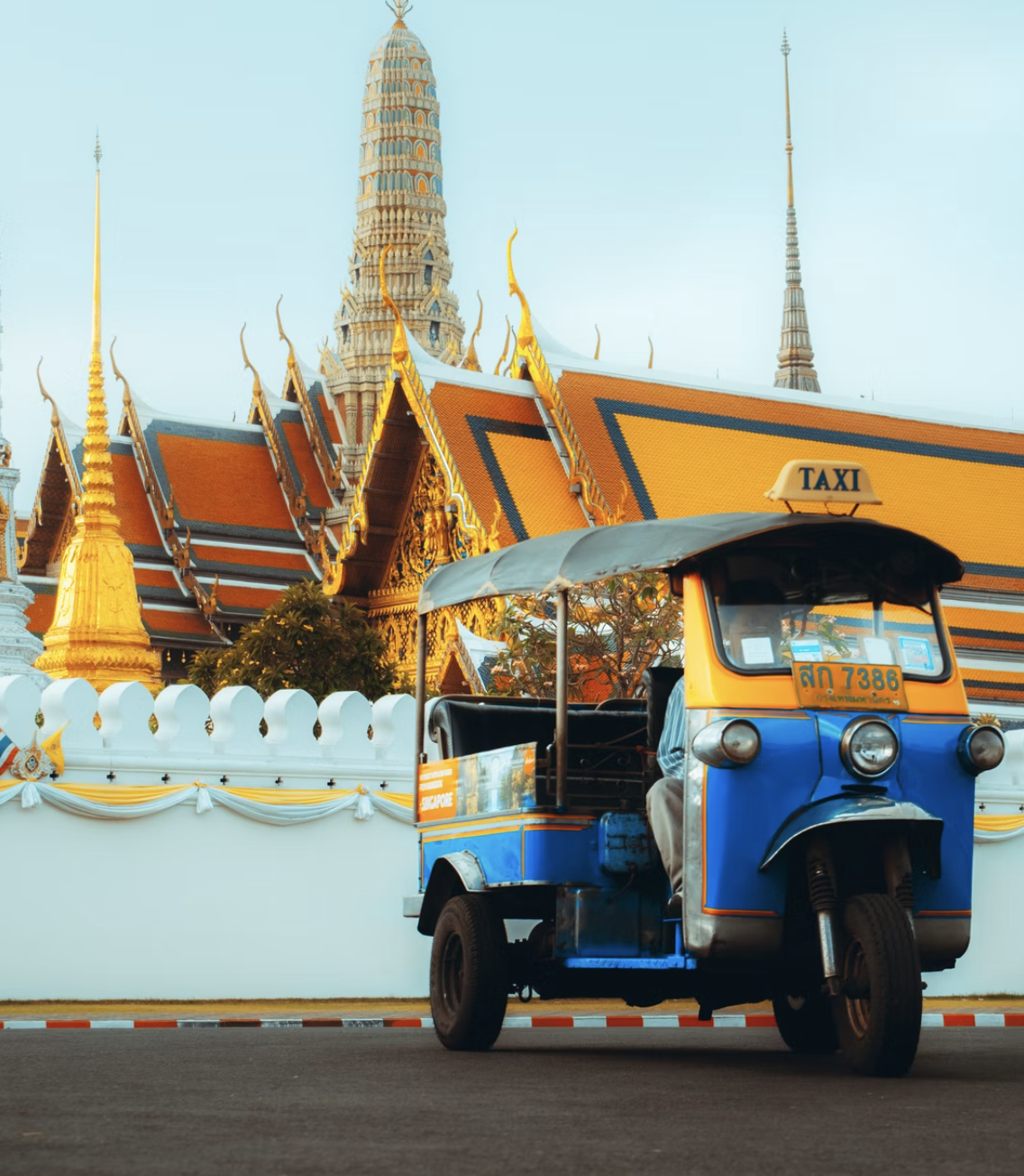 Grab
Grab Taxi is an excellent alternative to tuk-tuks if you prefer a more conventional way to get around the island. Grab is basically the same idea as Uber or Lyft where you can order a ride all from your phone. Just make sure to download the Grab app ahead of time. (Uber and Lyft are not currently available in Thailand.)
Of course the major perks are the ease of use, especially for foreigners — you don't have to worry about the language barrier when making sure your driver is headed to the right destination because you have the entire journey mapped out on your phone. The price is also determined ahead of time so you know what to expect and don't need to worry about trying to bargain down the price.
Things to Do In Town
Elephant Sanctuaries
One of the most popular things to do in Thailand is see the elephants. These beautiful animals are so gentle (and so beautiful to see up close), so it's no wonder everyone visiting Thailand wants to make some elephant friends. Sadly though, way too many tour organizations notoriously mistreat the elephants. There are some organizations that strive to be more ethical and sustainable that have the best intentions for both their elephants and for you and we're always looking to support better options.
It can be tricky to know which ones to go with (especially when almost all claim to treat their animals respectfully because that's becoming more and more demanded by tourists). If you want to see elephants, look for reputable rescue or sanctuary parks that often take elephants from where they are being mistreated and give them a better life, one where they're able to heal and do elephant things all day long! Our ILP volunteers who live in Thailand for a few months have shared a few recommendations of organizations that they went with a reported having a good experience. These are a few spots you might want to check out in Phuket:
—Elephant Jungle Sanctuary
—Green Elephant Sanctuary Park
—Elephant Retirement Park
Check out our complete blog post all about visiting elephant sanctuaries here!
Phuket Old Town
Famous for its cute and colorful shophouses and delicious cuisine, you'll specifically want to check out Thalang Road and Phang Nga Road because they are the most picturesque! Wander the charming streets lined with darling buildings painted in pastel colors, have a fun photoshoot, browse the shops for souvenirs (like beautiful ceramics) and grab a bite to eat at one of the many adorable cafes!
Address: Talat Yai, Mueang Phuket District, Phuket 83000, Thailand
Big Buddha
This absolutely huge, 150-foot-tall, white Buddha is one of the most famous landmarks in all of Phuket! This iconic landmark sits at the top of Nakkerd Hills and is made from white marble that sparkles in the sunlight!
We also love that from the top of the hill you are able to get an incredible panoramic view of the island. Keep in mind this is a sacred site, (like any other temple on the island) so visitors are asked to dress politely. You should wear clothing that covers your shoulders and knees. Avoid beachwear, short skirts, and T-shirts with offensive images.
Entrance Fee: Free
Address: Soi Yot Sane 1, Chaofa West Road, Chalong, Phuket Town, Phuket 83100
Hours: 6AM to 7PM, open every day.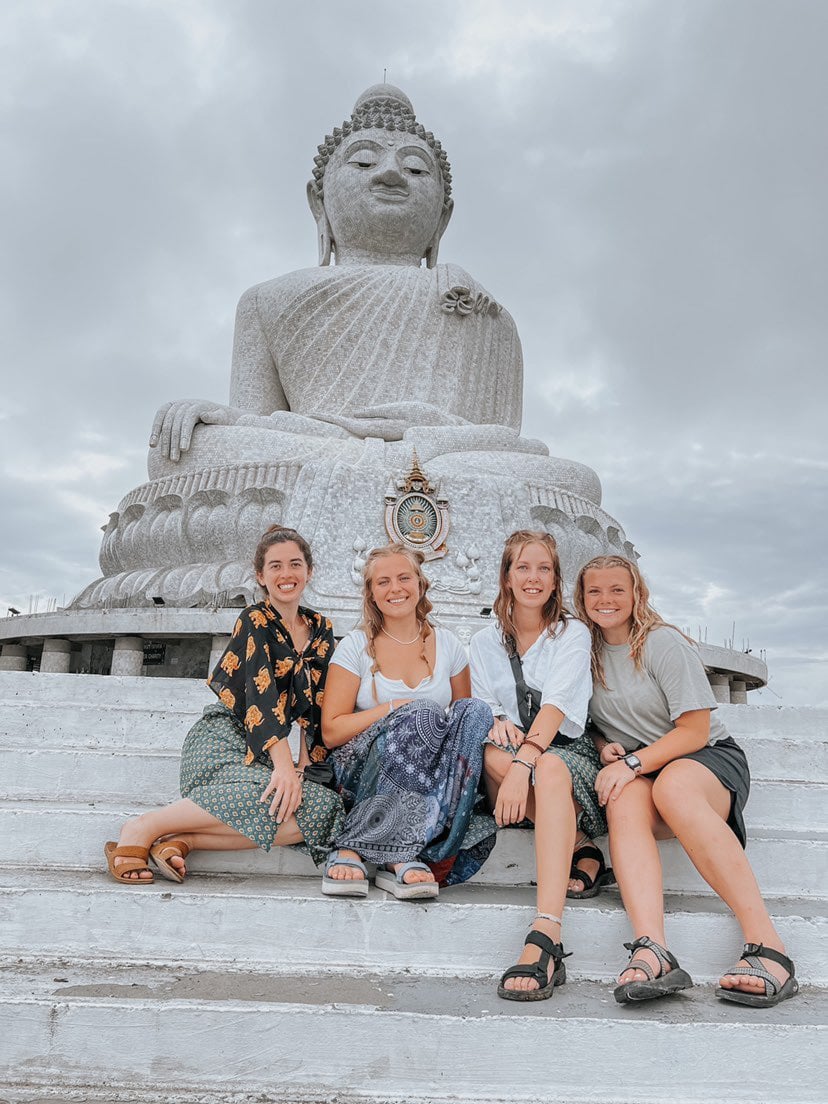 Wat Chalong
Phuket has many beautiful Buddhist temples but Wat Chalong is definitely the biggest and most popular! The entire temple complex is massive and complete with landscaped gardens, golden statues, and stunning architecture! Inside the walls and ceiling are decorated with intricate paintings that illustrate the life of Buddha. Entry to the temple is free, however, there is a strict dress code and you will be required to remove your shoes, and wear clothing that is modest and covers your shoulders and knees. Keep in mind to be respectful here as it is a sacred place.
Entry Fee: Free
Address: 6 Chaofa Road, Tambon Chalong, Muang Chang Wat Phuket 83130
Hours: 7AM to 5PM open every day.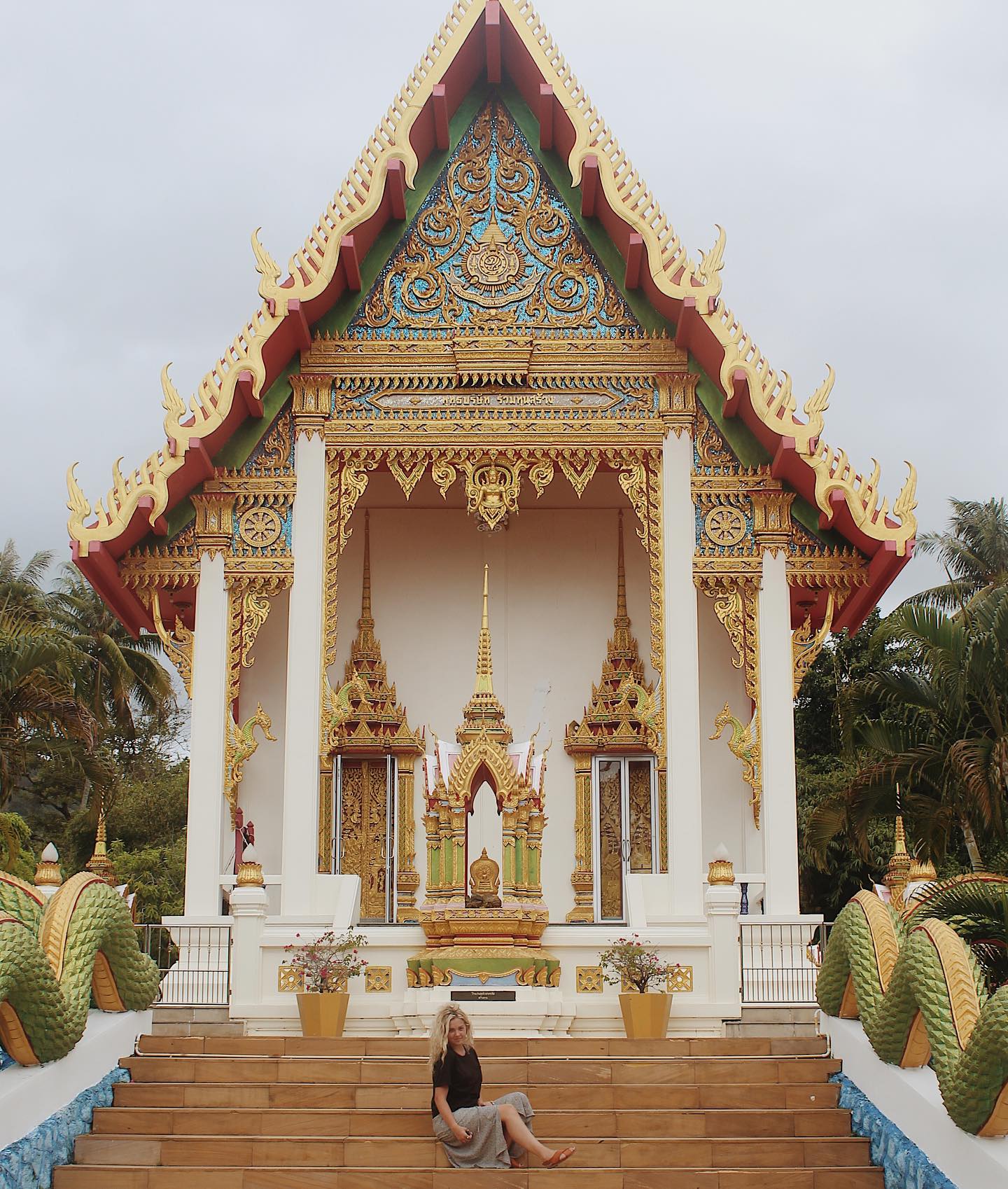 Venture to Khao Phra National Park
This is one of the best things to do in Phuket for nature lovers! Get away from the crowded beaches and spend a day exploring the lush forest near the eastern coast of the island to find some dreamy waterfalls! There are two main waterfalls in this national park:
The Bang Pae Waterfall
This is the biggest waterfall in Phuket, standing at almost 60 feet tall! This dreamy oasis is the perfect place to take a quick dip.
Ton Sai Waterfall
This is the second-highest waterfall in the park, and it is near Bang Pae Waterfall, so you could definitely see both in one day!
Entry Fee: 200 Baht for the Khao Phra Thaeo National Park
Hours: 8AM-6PM open every day
Address: Pa Klok, Thalang District, Phuket 83110
Hang out with Monkeys
Known as Toh Sae Hill, Monkey Hill is located at the back of Phuket Town and is the highest point. There are about 400 macaques living in little groups all over the hill. If you've always wanted to hang out with and photograph monkeys up close then this is a perfect opportunity to do so! The best part is that it's totally free.
Keep in mind that they are mischievous little critters, so keep an eye on your belongings so that your bag isn't snatched while they scour for snacks (yep, this actually happens). This blogger goes into more detail to help you plan your trip to Monkey Hill, so make sure to check that out before you go!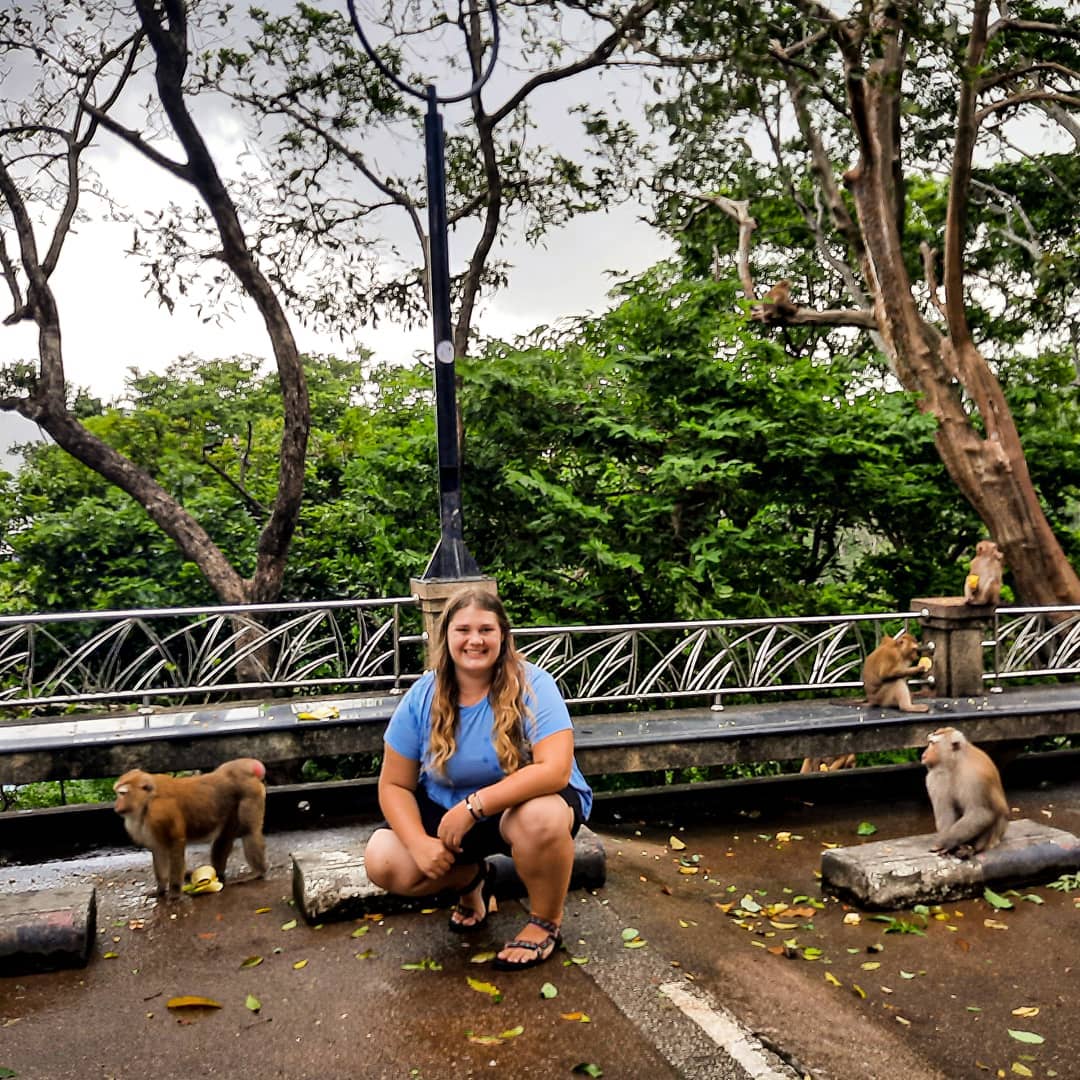 Shop on Bangla Road
Bangla Road, alternatively known as Patong Walking Street is a bustling street right next to Patong Beach, surrounded by restaurants, cafes, and nightlife! Walking down this street is like an explosion of neon lights, loud music and colorful booths filled with everything from souvenirs to yummy local dishes!
Address: Pa Tong, Kathu District, Phuket 83150, Thailand

Hours: The market comes alive each night around sunset!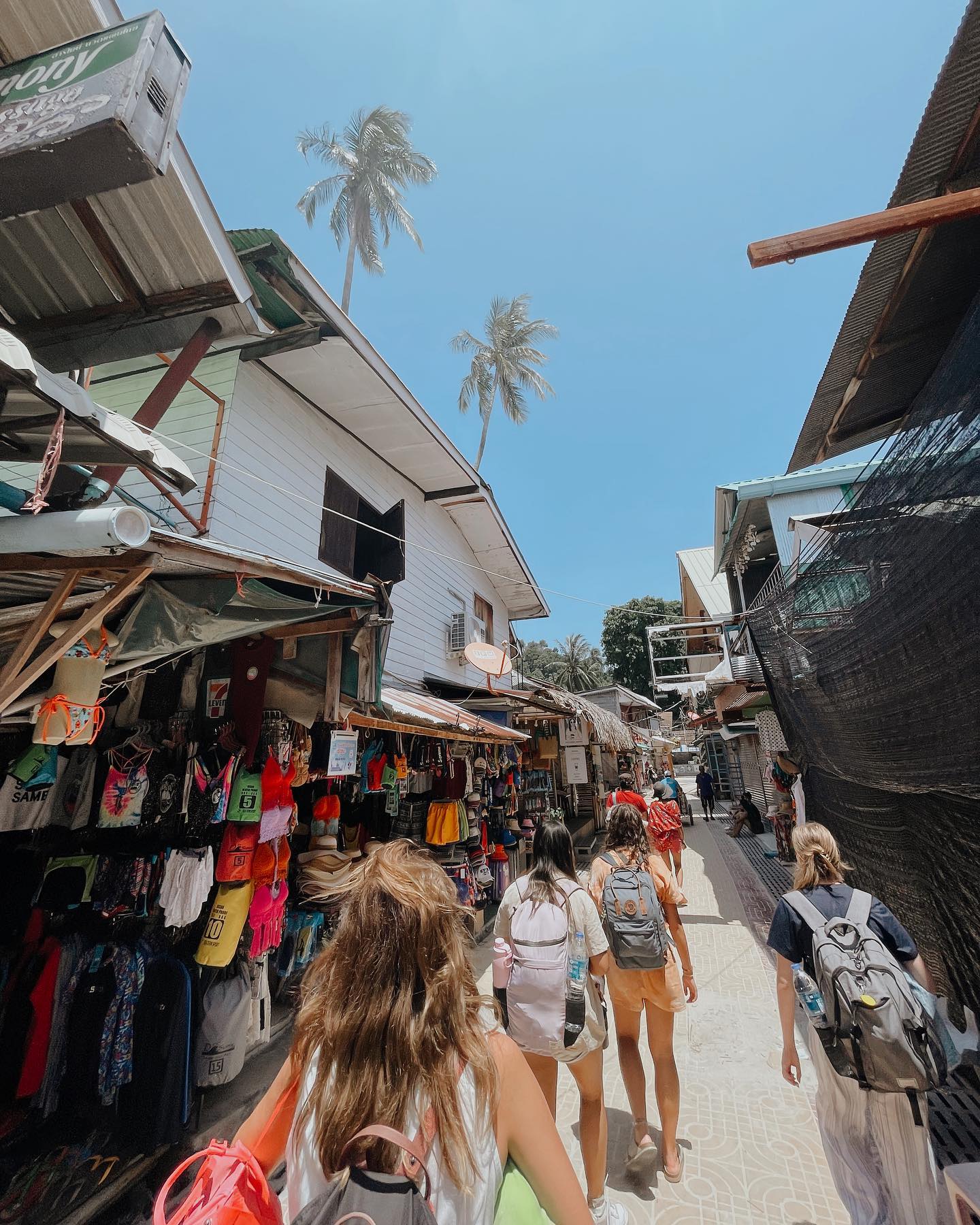 Beaches
Like we mentioned earlier, as Thailand's largest island and home to an international airport, a lot of the beaches get really crowded and it can be a bit of a tourist trap if we're being honest. But you're here and the beaches are gorgeous so here are a few words for the wise to help you have the best experience.
Freedom Beach
Hidden just south of Phuket's most popular beach (Patong) sits Thailand's best-kept secret — Freedom Beach! It's a stretch of white sand that sits between the bright blue, crystal clear water and the jungle-covered hills. This cove is more secluded because tourists can't just walk there. So it's a bit more effort to get here vs somewhere like Patong, but we think it's well worth it.
To get here you'll need to hire a long-tail boat. Long tail boats are those classic Thailand boats, the long wooden ones that often have those colorful ribbons hanging from the front. You may have vendors walking up to you near the popular asking if you want to go for a ride, or you could talk to your hostel to ask where the best place is to find a boat.
The ride from Patong to Freedom beach is a dreamy, 15-minute scenic ride so make sure to have your camera ready.
Fee: Costs around 200 baht per person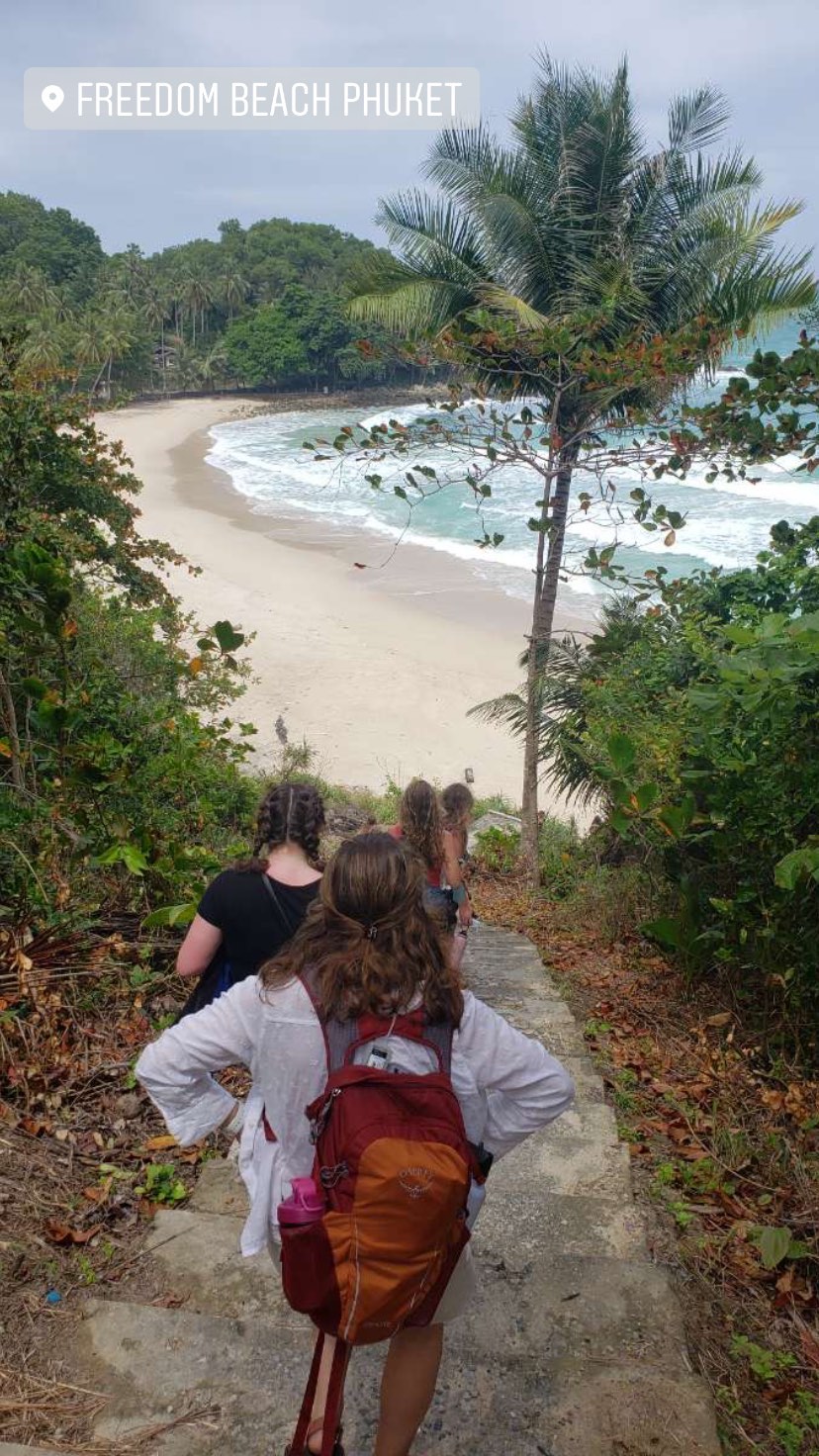 Kamala Beach
This is another favorite, with some ILP volunteers claiming it as their favorite beach in Phuket (it's typically less crowded and touristy than the ever-popular Patong beach). It's found just a few miles north of Patong, so you'll find the same stretch of gorgeous ocean and sand, but with far fewer vendors trying to sell you something. Head to the north end or the middle of the beach for the best swimming.
Address: Kamala, Kathu District, Phuket 83120, Thailand
Karon Beach
Karon beach is one of the longest beaches on the island, spanning 3 miles of fine white sand overlooking the Andaman Sea. Because this beach is so spacious, it's much easier to find a nice spot that you can have all to yourself (you might just have to walk a ways to get to it).
Address: Karon, Mueang Phuket District, Phuket 83100, Thailand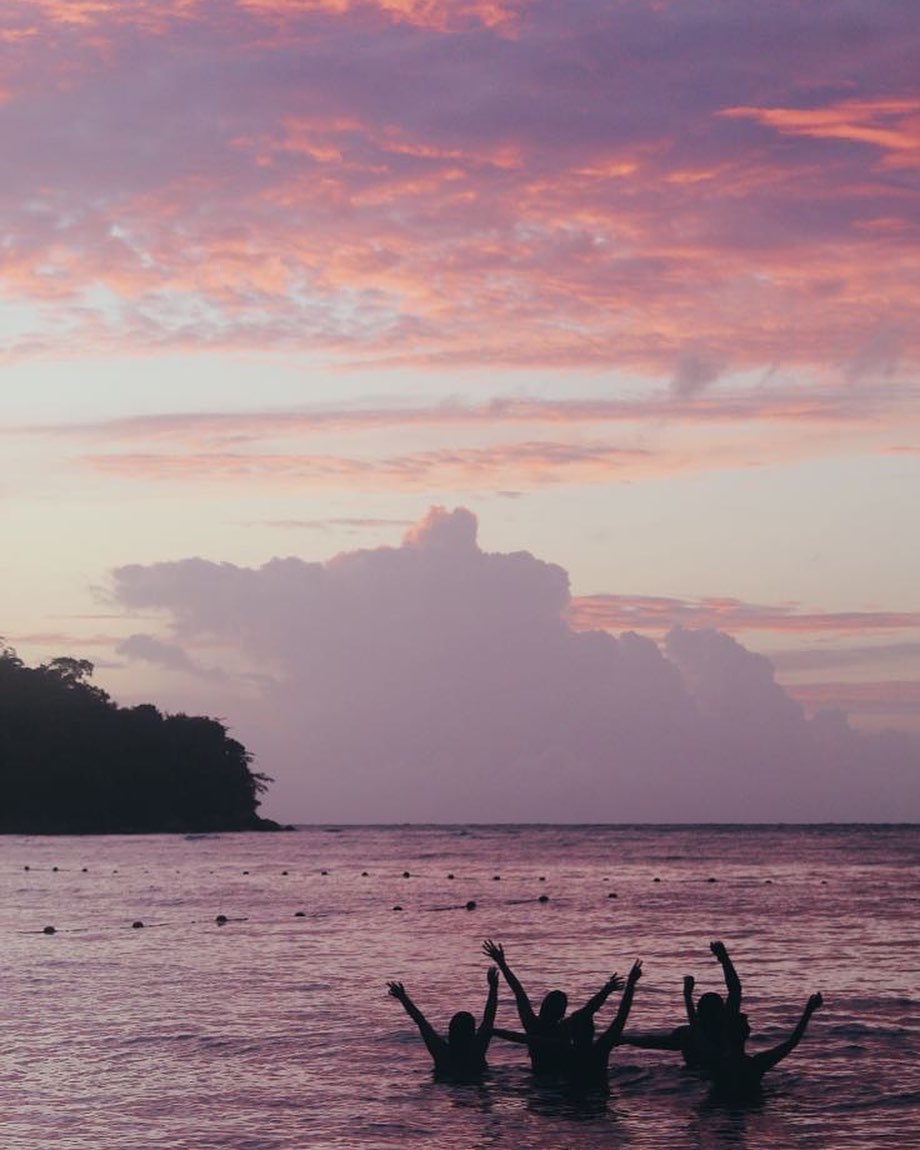 Island Hopping
We've saved the very best for last, island hopping! Our favorite part of Phuket is that it is a perfect jumping-off point for so many incredible adventures. Phuket is an ideal base for island hopping, as many of the Thai islands can be seen on a day trip.
Phi Phi Islands
Koh Phi Phi is the absolutely bucketlist destination everyone is dying to see and you can reach these islands easily from Phuket. The name Koh Phi Phi actually refers to a cluster of six islands, however, most day trips and tours will focus on just the two biggest islands — Ko Phi Phi Don and Ko Phi Phi Lee.
There are many ferry and speedboat connections between Phuket and Phi Phi Don. There are a couple of options that work great and just depend on your priorities. A speedboat takes about an hour and costs around $30 USD (you can book a speedboat here). A ferry is a bit slower and takes about 2 hours, but only costs around $15 USD (you can book a ferry here.)
We've got a more detailed guide to Koh Phi Phi right here.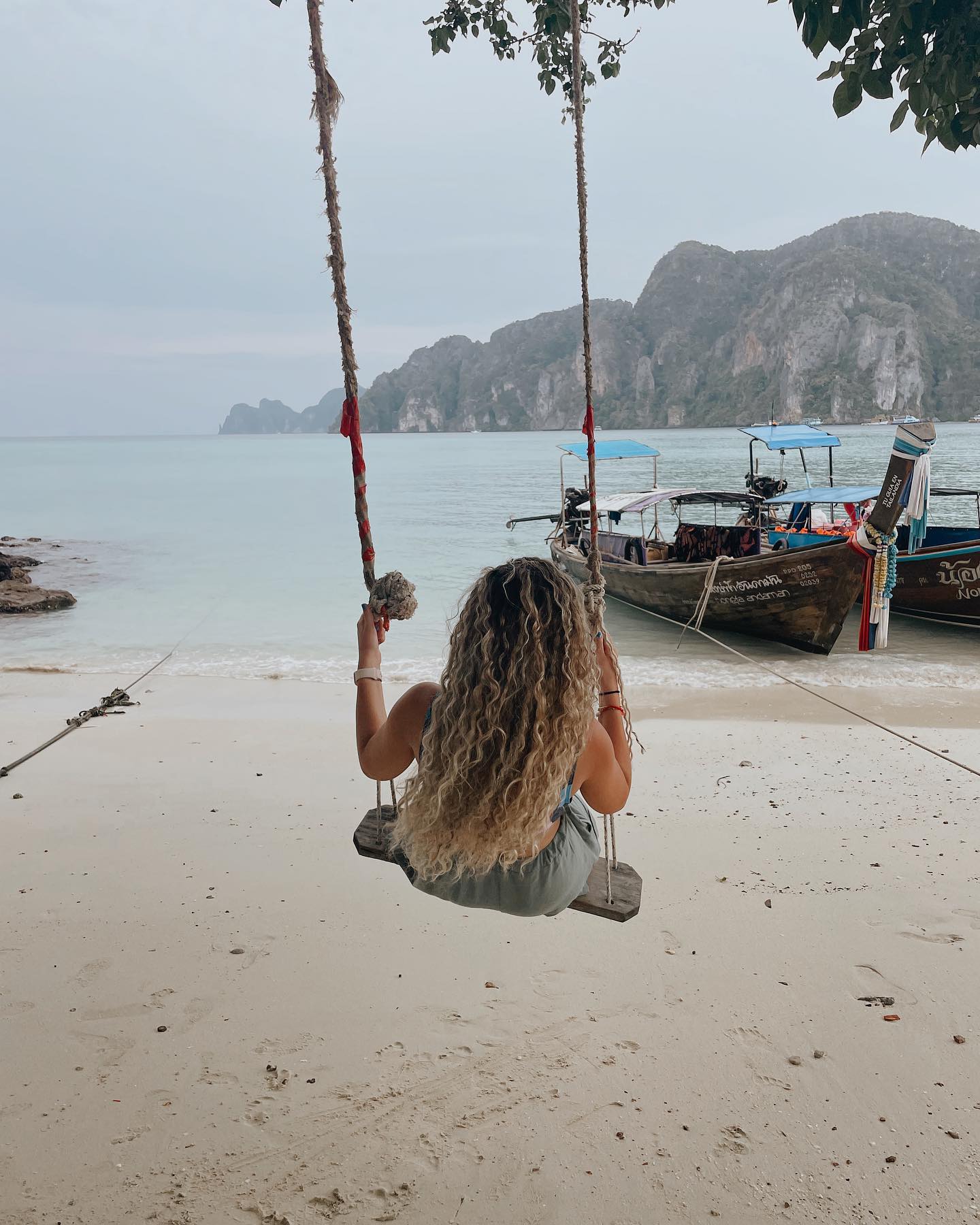 Phang Nga Bay & James Bond Island
Phang Nga Bay has around 100 craggy limestone islands that are covered in greenery and jetting out from the emerald water, many of which are peculiar shapes. The most famous is James Bond Island (aka Koh Tapu) with its signature picture-perfect rocky pinnacle. It's been a major attraction since it was featured in a James Bond movie, "The Man with the Golden Gun" in 1974.
You can book a tour ahead of time online or find one and negotiate a price once you get to Phuket. From Phuket, Phang Nga Bay is only about 25 miles away, so many tour companies offer full-day and half-day tours and it's typically pretty easy to snag a deal in person. Because this is such a popular destination most tours offer similar packages, including a few stops at other popular islands in the Andaman Sea, such as Koh Panyee, which is a Muslim fishing village built on stilts, and the sacred Buddha Cave Temple.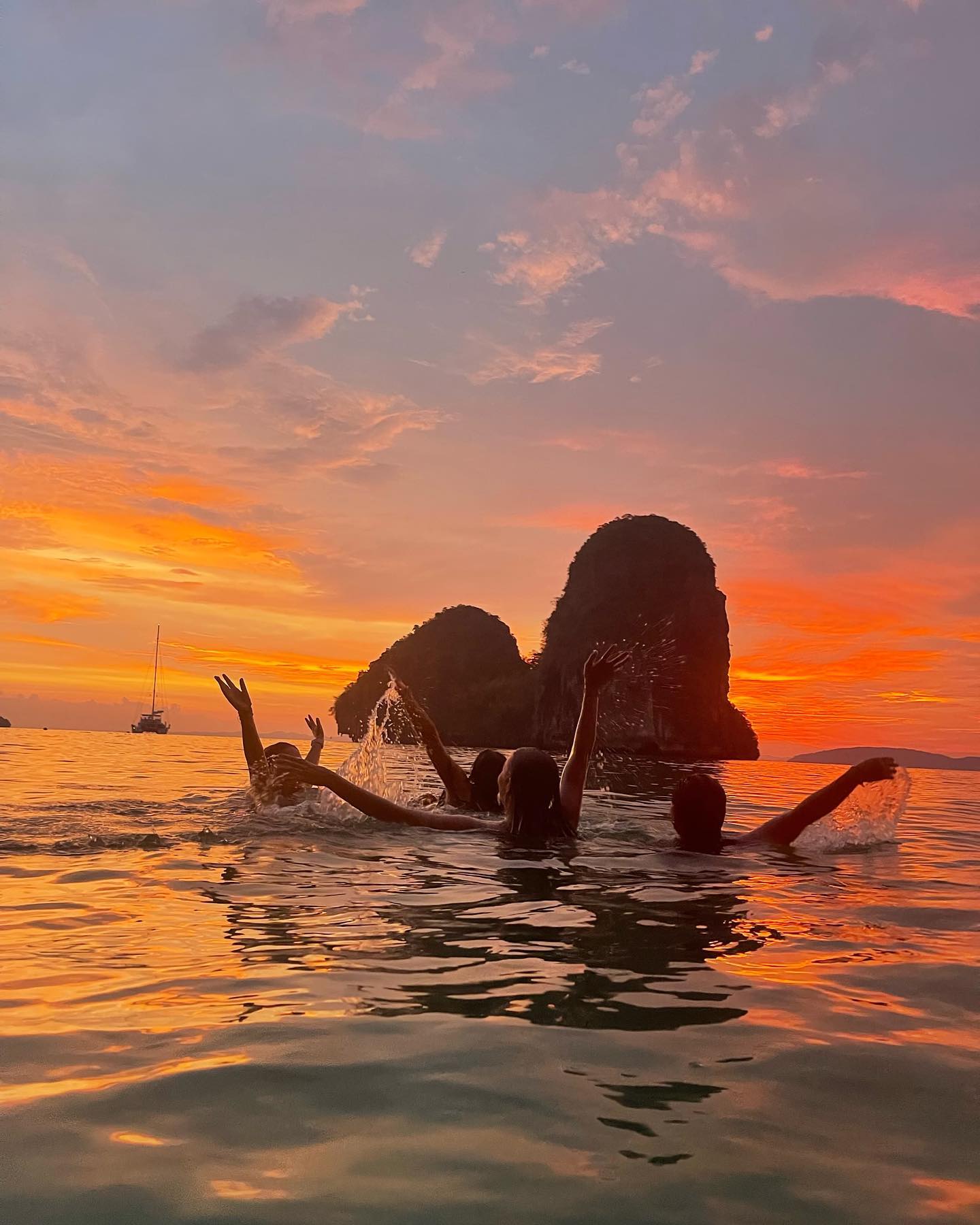 Getting Here
Phuket is pretty out of the way from most other major destinations in Thailand, which is why everyone is flying in. The airport is international so travelers are coming from all over the world, but if you're arriving from within Thailand the best option is usually to snag a flight from Bangkok where there are multiple airlines and departures every day. The flight is about 1 1/2 hours long and is actually really affordable with prices typically between $30-$60 for roundtrip airfare!
Look up flights on your favorite search engines like Skyscanner or Google flights and many will come up. I look for budget airlines like Air Asia, Thai Vietjet Air, Nok Air, and Thai Lion Air.
Read even more about planning your vacation to the Thai Islands here.
Address: BKK (Bangkok Airport) Suvarnabhumi Airport
999 หมู่ 1 Nong Prue, Bang Phli District, Samut Prakan 10540, Thailand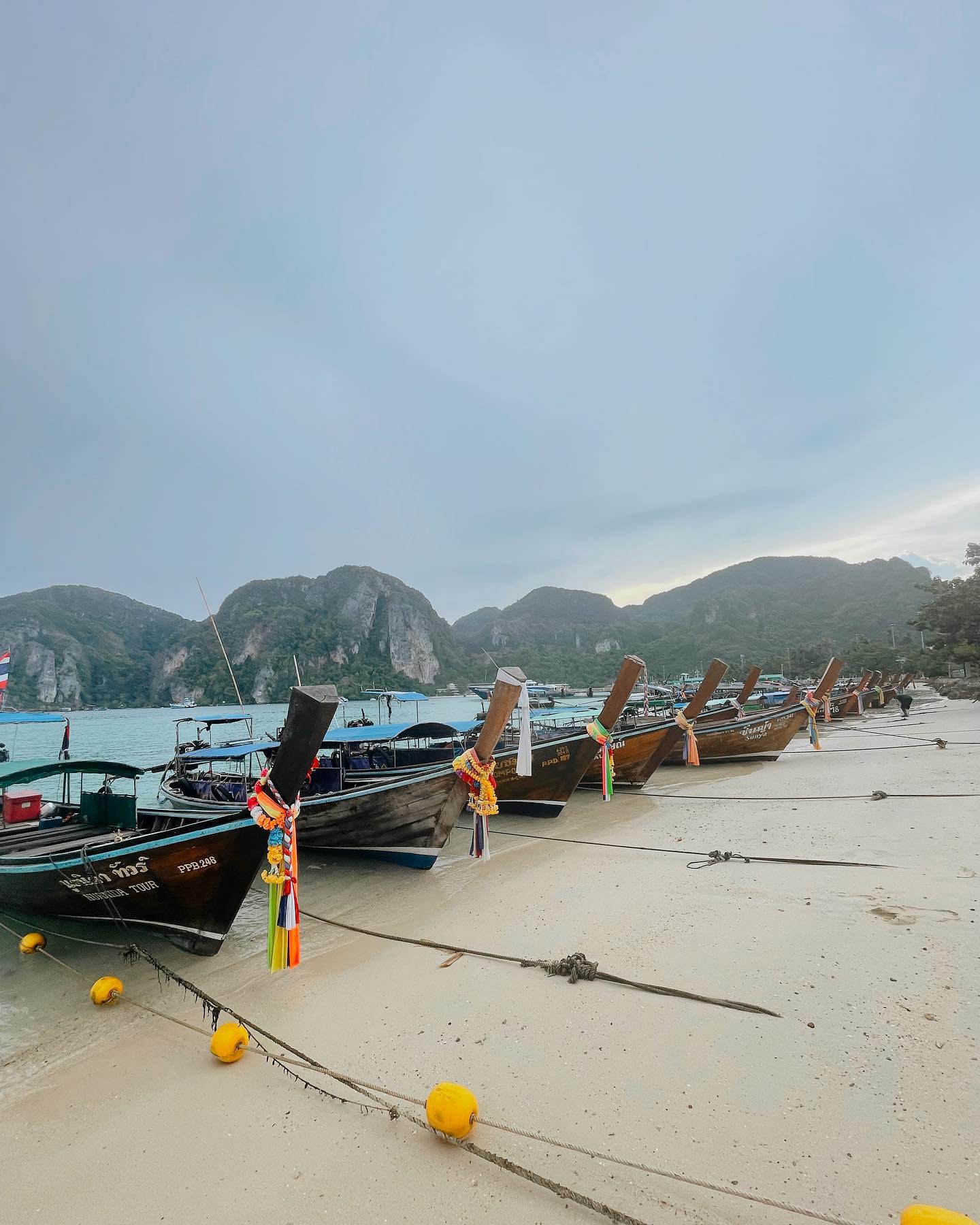 Ready for a dreamy vacay to the Thai Islands?
Why settle for a one week trip to Thailand when you can spend a couple months here? Check out what it's like to be a volunteer with ILP in this incredible country!