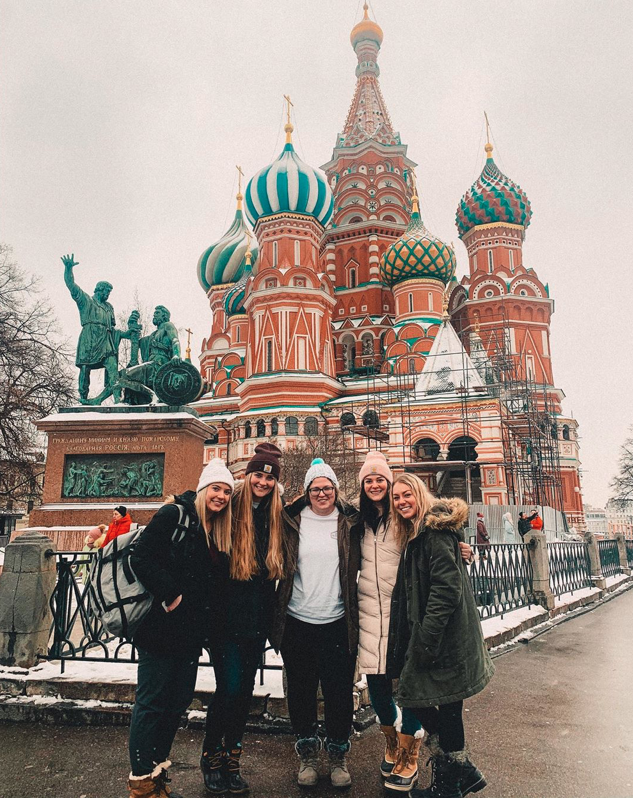 Volunteering in Eastern Europe? If you're an ILP volunteer you're not required to speak another language, but since not everyone you meet will know English...you might want to learn some common phrases before you arrive!
---
You'll use quite a bit of Russian if you volunteer there
We have a guide all about volunteering in Russia that you might be interested in
---

As an ILP volunteer, you'll spend about four hours a day playing with young children and speaking to them entirely in English. No foreign language is required! But what about the rest of your day? I have a feeling you'll want to get out and explore your new home around you. Speaking even a little bit of Russian will help you to have more meaningful experiences while living abroad.
Russian is spoken in more countries than just Russia. If you're headed pretty much anywhere in Eastern Europe you might want to think about learning basic Russian to help you out — for example Lithuanian is the official language in Lithuania and Ukrainian is the official language in Ukraine, but there are many languages spoken in those countries and Russian is a big one you will encounter from time to time.
If you're planning on spending time in these countries, learning a little Russian will go a long way. One ILP volunteer had this to say about her semester:
"Speaking Russian with the locals has definitely been my favorite part of this experience. Meeting, getting to know, learning from, and serving these people in their native language is indescribable, IT BRINGS ME SO MUCH JOY. Languages are so empowering! I'm so grateful for the chance to teach the English language to our little Ukrainian students and hope they too will one day find greater doors of opportunity open up for them!"
Must know phrases:
Preevyet = Hi
(Sounds like pre-vee-et) This is the informal hello that you might use with your friends.
Do svidaniya = Goodbye
(Sounds like doe-s-vee-dawn-yuh)
Spaseeba = Thank you
(Sounds like spa-see-bah)
Pozhaluysta = You're welcome/Please
(Sounds like puh-zhal-stuh)
Useful phrases
Meenya zavoot... = My name is...
(Sounds like min-yah-za-voot)
Ya nee paneemayoo = I don't understand
(Sounds like yah-knee-pah-knee-my-you) This is a pretty fun word to say. It's our favorite anyways :)
Eezveeneete = Excuse me/I'm sorry
(Sounds like ease-vin-ee-cha)
Kak dela? = How are you?
(Sounds like cock-dea-la)
Spaseeba Normalna = Good, thank you!
(Sounds like spa-see-bah nor-mal-na) In Russian you'll hear an answer that essentially means normal - which means good in Russia! The weather is normal. I'm normal - that's all good.
Ura = Yay!
(Sounds like oo-rah)
Приятного аппетита! = Enjoy your meal
(Sounds like pree-yaht-nah-vah ah-pee-tee-tah) Before you begin a meal you may hear this phrase which basically is a friendly gesture to say enjoy your meal. You may hear this in a cafe as someone serves you or walks by. Have fun saying it to others!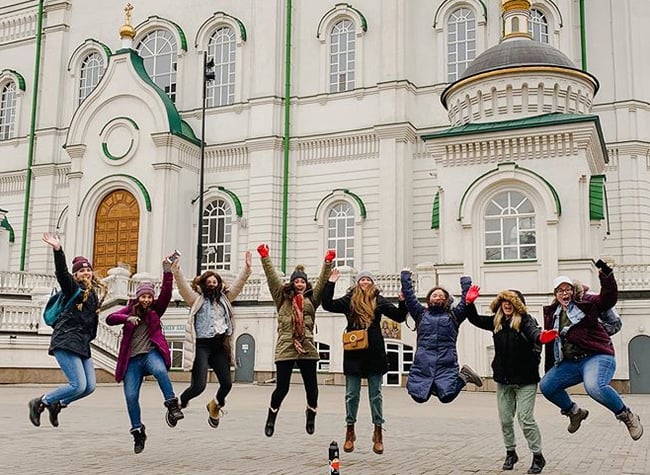 But If You Really Want To Learn ...
Start With The Alphabet
If you want to learn the language (instead of just memorizing some basic phrases), you have to start with the Russian alphabet — it's the Cyrillic alphabet and has 33 letters for you to learn. Using some Russian Alphabet Flashcards can help you quickly get the letters down so you can start sounding out words.
I love that set on Quizlet because there are lots of features to help you learn. They have a test feature, options that let you type out your answer, matching quizzes and more to help you really learn the material.
On Youtube, there's a cute (ala-Sesame Street) alphabet song that helps you keep track of all of your letters.
Then, Learn Some

Vocabulary

Once you know the alphabet, you'll be able to sound out words — this is easier when they are little words or ones that sound similar to words we have in English.

I loved using the app, Duolingo; it's a free app where you do daily mini-language sessions. The lessons are short and you get to practice what you get wrong. They start with the bare basics (know the alphabet before you start!) and it moves you up, slowly integrating more vocabulary and grammar lessons.

I learn best by immersion, so I also downloaded some podcasts to help me learn. You can find these all over Youtube; I really like the ones that slow it down for beginners so I have plenty of time to review what I'm learning and follow along as they revisit what we just covered.
Time To Go Abroad!
Once you get down the basics, you're welcome to get to a more advanced level; I suggest getting a book of the high-frequency words in Russian to help you learn even more ... but it is so incredibly helpful to just be surrounded by the language. As an ILP volunteer, you might be living with host families who speak Russian which gives you tons of opportunities to practice.
You'll also be sorta forced to use what you know; read signs on your way to shopping for the best Russian souvenirs, order your meal in Russian, talk to someone at the bus stop ... You'll make mistakes, but that will help you learn.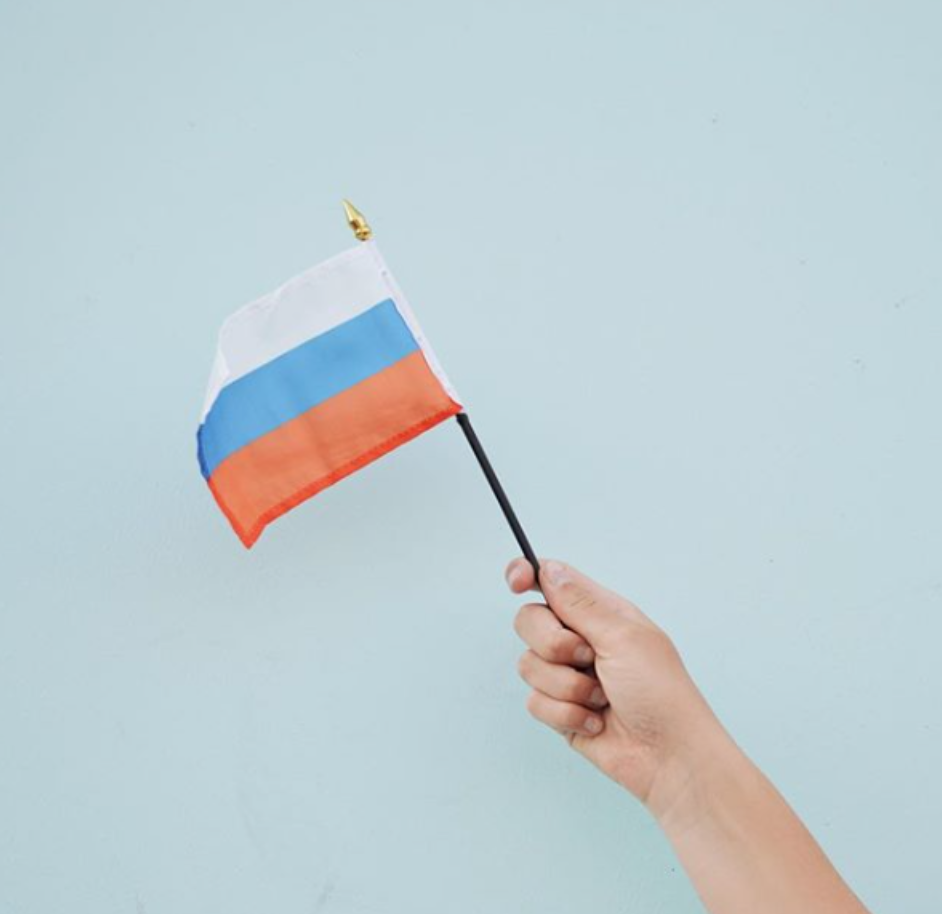 Here's more tips on learning a new language,
but you know the best way to learn a language?


Live in another country and immerse yourself in their culture! Click below to speak to someone about volunteering for a semester in Russia, Ukraine, or Lithuania, or any of the ILP countries: