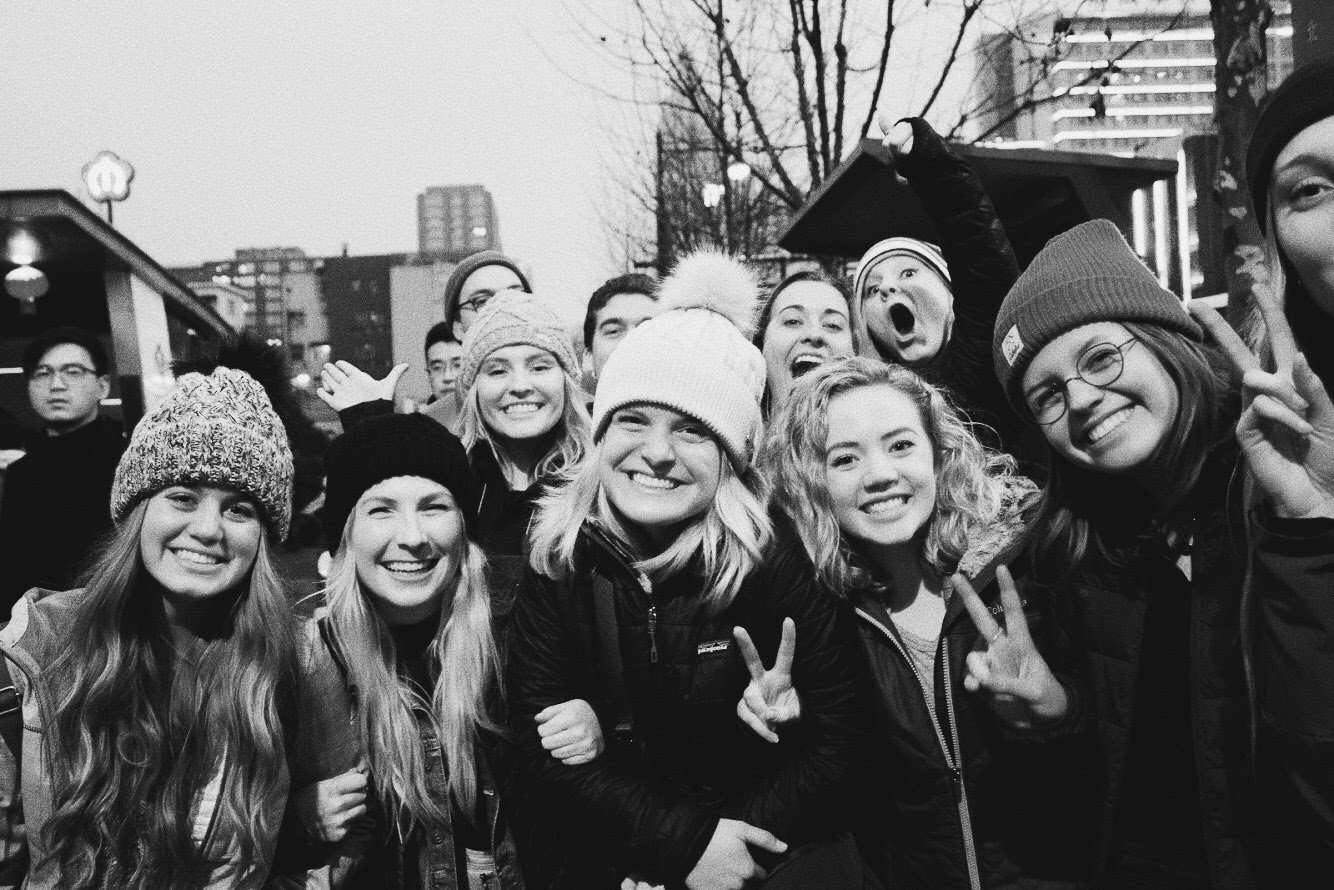 When you think of China, you probably think about the pagoda roof tops, the Great Wall of China and giant pandas. What if I told you you should add mountains to that list? Particularly this one!
The Wudang Mountain is something that should be on everyone's China bucket list, but it's more of a hidden gem still.


---
*Quick ILP Update — we have closed our semester abroad program in China and are not updating info found in this post. We're keeping this post live as it may be a helpful resource for you, but know that information was last up to date at the time this post was published.
---

Now, the Wudang Mountain is not like Avatar Mountains or the Yellow Mountains in size, but they are every bit as worthy of a visit. This mountain range consists of a smaller range in the northwestern part of China and is home to many famous temples and monasteries. It is also known as the Taihe Mountain!
Everything you need to know about visiting the Wudang Mountain:
How to get there

How long your should stay

Entrance fees
Where you should stay
What you should do
Best time to visit
Other tips
How to get there
First things first, you gotta get there, right? The mountain is located in central China, south of Xi'an, west of Chengdu, and quite a bit east of Shanghai.
Obviously, how you're getting there will totally depend on your starting point. Two common jumping off points are going to be Beijing and Wuhan, but other major cities like Shanghai, Guangzhou, Xi'an and Chengdu are also possibilities. This area is well connected by transportation from many cities.
The closest city to the mountain is Shiyan City, Hubei Province. There is an airport here (Shiyan Wudang Mountain Airport) as well as train and bus stations.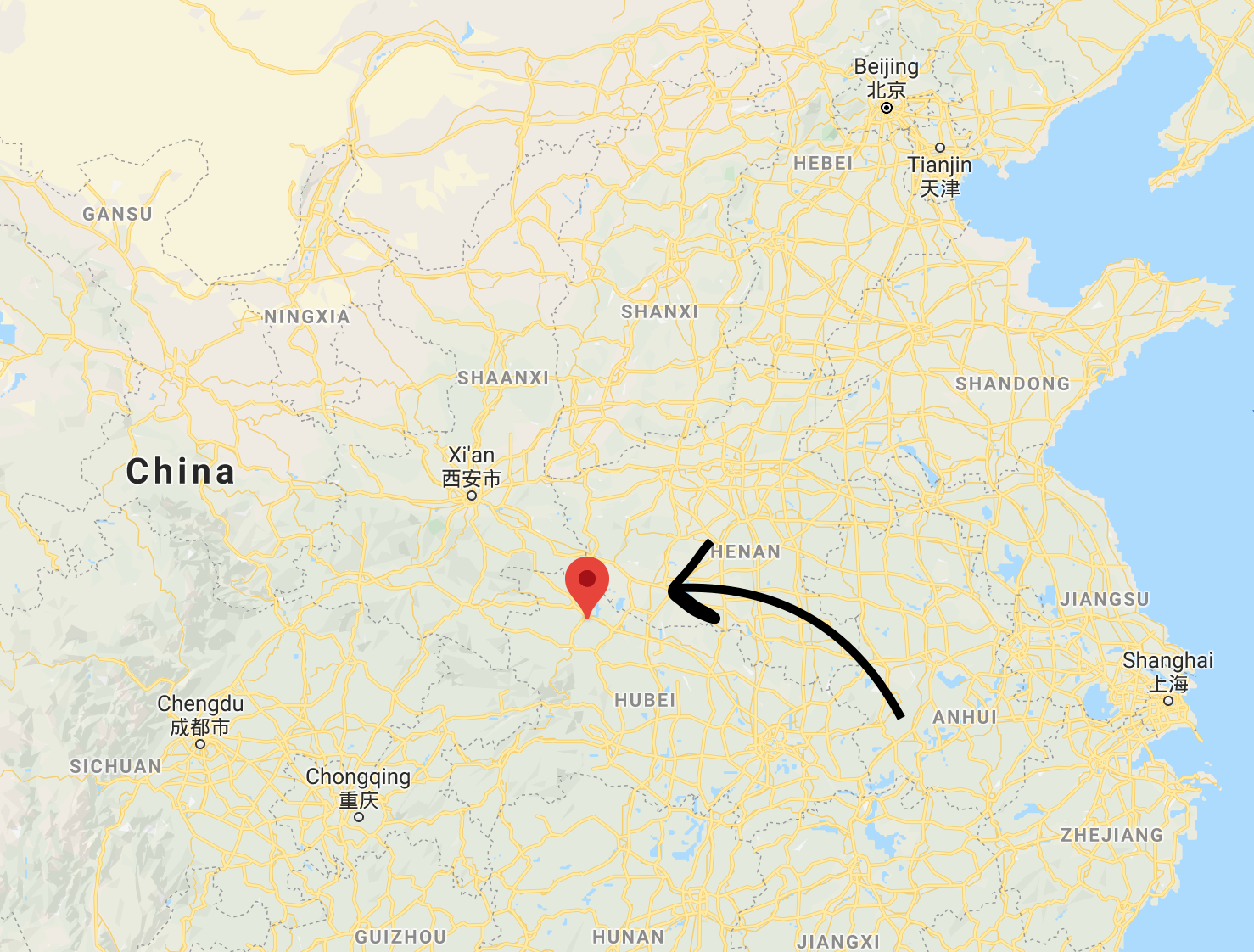 From Beijing
There are many ways to get to the Wudang Mountain from Beijing. The most popular ways are by air, train and bus.
Get here by air:
Flying from Beijing is very convenient, however it is also the most expensive option. Depending on the airline, you can get a direct flight almost any day of the week. The best airlines to use are China United Airlines and Air China. Here are the timetables for their direct flights:
| | | |
| --- | --- | --- |
| Airlines: | Days: | Depart/Arrive: |
| China United Airlines | M, W, F, Su | 7:50 am/10:00 am |
| Air China | Tu, Th, F, Sa, Su | 6:15 pm/8:35 pm |

*As always, flight times/dates frequently change. Make sure you double check for yourself!
Depending on the day and how far out you are able to book your tickets, you will be looking at paying between $140-$400. I highly recommend booking as early as you can. Obviously, booking last minute means paying more!
Once you arrive, you will need to either use a pick up service (about $40) or get a taxi over the Wudang Mountain (it's about 40 minutes).
Get here by train:
Going by train is a lot slower than flying, but it'll also be much cheaper. There are two train stations in Wudang: Wudang Mountain Railway Station and Shiyan Railway Station near Wudang Mountain Scenic Area.
You will want to make sure you're going to the Wudang Mountain Railway Station. This station is much closer and once you exit the station, you can easily take public transportation (like the bus) or a taxi over the mountain.
There are three trains from Beijing to Wudangshan. You will need to go to the Beijing West Station. Here are the timetables:
| | | |
| --- | --- | --- |
| Train #: | Depart/Arrive: | Duration: |
| K279 | 9:52 am/5:43 am | 19 hrs 51 mins |
| K261 | 5:18 pm/12:29 pm | 19 hrs 11 mins |
| K507 | 9:23 pm/2:54 pm | 17 hrs 31 mins |
*Double check all times and fares -- they are subject to change
As with most trains in China, you can pick between a hard seat, soft seat, hard sleeper and soft sleeper. Depending on the amount of luxury you opt in for (I'm going soft sleeper all the way), you'll pay between $24-$67! Not too bad.
Get there by bus:
IMO, buses are NOT the way to go. They make for a long journey and it takes more stops and transfers than a train. If you're set on going by bus, it's totally possible.
The first thing you'll need to do is head to the Beijing bus station. You will be getting on a bus heading to Taiyuan. The buses will leave every four hours and will cost around $25. This part of the trip takes about 7 1/2 hours.
Once you've arrived in Taiyuan, you will need to stay at the same station, but get a ticket going to Shiyan. There is only one bus that leaves per day, so make sure you look up the time for your date and plan to be there an hour or so beforehand. This leg will be about $41 and will take about 13 hours.
Now that you've arrive in Shiyan, you will need to walk over to the train station (it's about a 7 minutes walk. You'll see signs for it). From there, you'll take the train into Wadangshan or you can just grab a taxi. It's about 35 minutes and $5-$10 for the train.
The bus is soo much more complicated and more expensive than the train. Do yourself a favor and put your money towards the sleepers on the train!
From Wuhan
Getting from Wuhan to the Wudang Mountain is fairly easy and you'll either need to go by bus or train.
By bus:
There are many bus stations in Wuhan that will get you to the Wudang Mountain. Here are some of the main ones that people typically head to:
Hankou Jinjiadun Bus Station (Main Passenger Terminal in Wuhan)

Hankou Xinhua Road Bus Station

Hongji Bus Station

Fujiapo Bus Station.
Depending on which bus station terminal you go to (I'd recommend which ever is closest, they are all equally good), you will need to check the schedule for departure times.
By bus, it will take about six hours to arrive in Wudangshan.
By train:
Your other option (and the more popular way) is by train. There are multiple trains that leave from Wuhan every day, and it's so easy to hop on one! All you need to do is head to the Wuhan Wuchang Station.
From the Wuhan Wuchang Station, there are trains that leave in the morning (between 6:20 am - noon) and then there are a couple of overnight trains that leave closer to midnight. Here's is the schedule in full!
By train, it will take in between five and half to six and a half hours (depending on which train you select) and it'll cost between $10-$28 -- depending on if you want hard seat, hard sleeper or soft sleepers!
How long you should stay
It is recommended to give yourself two days to explore the Wudang Mountain itself and maybe a day or so to explore the little town around it.
Entrance fees
The entrance fee for the Wudang Mountain can range from is CNY 140 to 248 ($20-$37) depending on what is going on and the time of year. It changes, so double check the price before you go. This entrance fee will include multi-day entrance to the park and access to the sightseeing bus. However, it does exclude the Golden Palace (CNY 27 to get in) and the Grand Purple Cloud Palace (CNY 15).
There is also a cable car you can take. Here's the schedule:
February 1-October 31: CNY 90 (up); CNY 80 (down)
November 1-January 31: CNY 70 (up); CNY 60 (down)
The hours for the mountain are 8:00 am to 5:00 pm.
Where you should stay
You can either chose to stay in Wudangshan near the mountain or you can stay on the mountain; all of which are pretty reasonably priced.
IMO - Airbnb is always the way to go over a hotel or hostel, especially if you have a group. When looking for an Airbnb there, make sure you double check the location to see if it's where you want!
If you want to go for a hotel, here are some great, cheap options!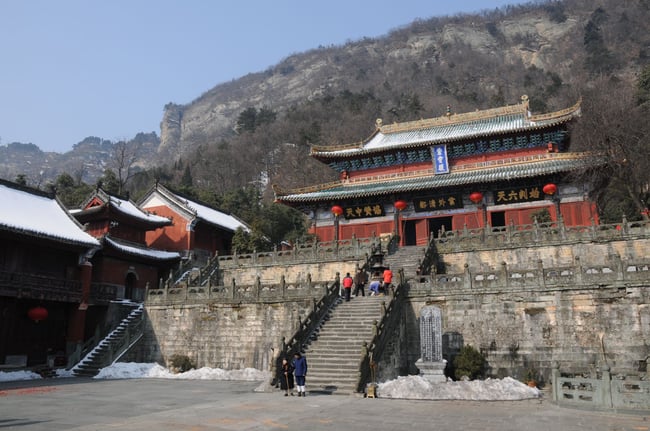 What you should do
There are many things you should do while visiting the Wudang Mountain. On the mountain, you will want to make sure you visit the palaces and enjoy the hikes to each of the palaces. Just a warning -- some of the hikes to these palaces/temples can take hours if not all day! They do cost a little extra, but they're worth it! Here are the most popular ones to visit:
Golden Roof Palace (highest point of Wudang Mountain)
Purple Clouds Palace
Nanyan Temple (South Cliff Temple) -- This hike is long!
Prince Slope (Fuzhenguan)
Golden Roof Palace
The Golden Roof Palace is the highest point of the Wudang Mountain and can not be missed! You can either take a cable car up to the top or you can take the stairs. Be warned- the hike up is intense and you should take lots and lots of water! This will cost about CNY 27 to get in.
Purple Cloud Palace
This is the filming sight for Crouching Tiger, Hidden Dragon and the court yard is used by a Tai Chi school in the morning. It'll cost about CNY 15 to get in.
Nanyan Temple
Also known as the South Cliff Temple. This is one of the more important Taoist Temples. This hike is long and hard as well, so be cautious before heading out!
Prince Slope
Also known as Fuzhenguan. It's named after a price of the Jingle Kingdom that ran away at the age of 15 to the Wudang Mountain. He had aspirations to go to heaven and climbed the mountain and studied Taoism. The history is interesting and the temple up there is beautiful!
Aside from the hikes, palaces/temples, you will also be able to catch some martial arts performances if you plan it out right! There is also a lake nearby if you want to relax and take in some more nature!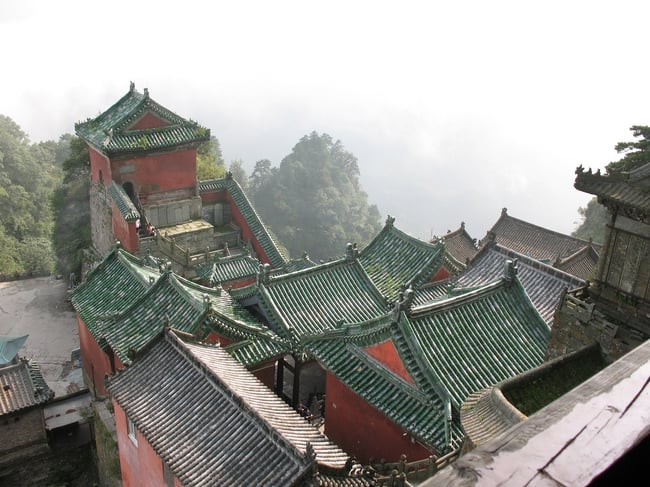 Best time to visit
The best time to visit the Wudang Mountain is between mid May and mid September! You can visit all year round, but these months will provide the best weather for your outdoor activities!
Other tips
Here are a few other tips to keep in mind before heading out on your adventure to the Wudang Mountain!
Bring lots of water with you if you can (it's expensive up there)
Take food with you (you can find some up there, but it's limited)
Wear good walking shoes (you'll be walking and hiking a lot)
Bring an umbrella or rain gear
You can spend the night in the mountain in you want. Be prepared to pay CNY 30 every time you leave the mountain though. You can't go and come as you please for free.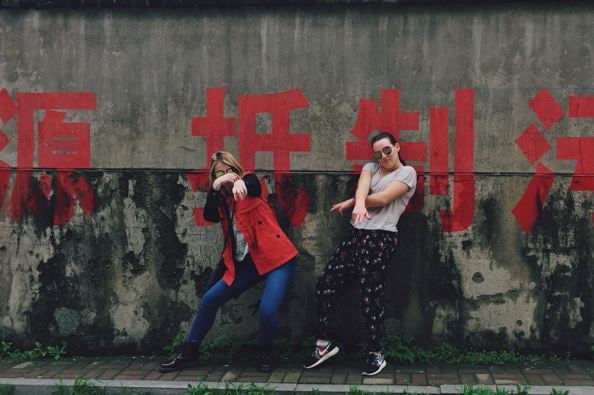 Ready for more world adventures?
We (International Language Programs) host volunteer programs in a handful of different parts of the world. Our volunteers are college-aged individuals who teach English part-time and have weekends plus vacation days off to travel. This means that you get to teach the cutest kids during the week, then hop on a train, plane, or bus to explore everything that country has to offer! Learn more on our Instagram: